Tesla Model S, Designed in Silicon Valley, Protected at Brands Hatch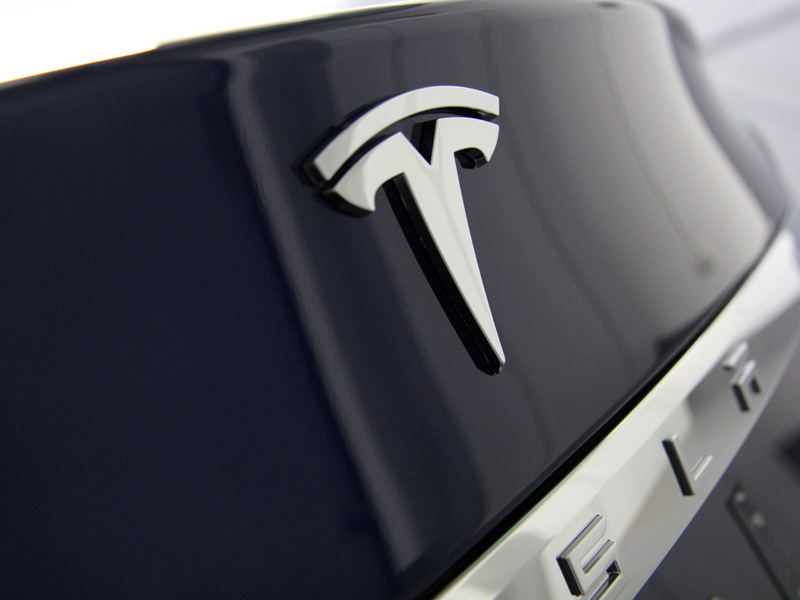 On the face of it, the Tesla Model S is a luxury 5 seat electric sedan. Take a moment to really look though and you can instantly see that it's so much more.
Arguably the most advanced offering from the all-electric brigade, the Model S is a marvellous blend of engineering, innovation and technology. The electric drive chain means there's only one moving part: the rotor. Consequently, acceleration is smooth and instant, with none of the lag experienced when driving standard combustion engine vehicles. It's also unbelievably quiet, apart from a hushed whine on acceleration that sounds like something straight out of Star Trek. And boasting an impressive 0-60 mph in 3.1 seconds, you'd be forgiven for thinking you'd achieved warp speed!
The sci-fi analogies don't stop there. Tesla Motors is leading the way in auto-pilot technology, with the Model S featuring in-lane steering, lane change and speed management controlled through active, traffic aware cruise control. It can also scan for a parking space, tell you when there's one nearby and then parallel park on command for you!
Back to the nuts and bolts of it: the all-wheel drive delivers power to all four wheels, allowing for that instant grip so necessary for instant acceleration. The battery has had part of the synthetic graphite content of the anode replaced with silicon, and with upgraded metal battery contacts power is boosted from 1300 amps to 1500amp allowing for an increase in both range and acceleration. Once escape velocity has been achieved (OK, we're really talking about friction between tyres and the road!) at around 30 miles per hour, the limitation on acceleration becomes about how much current can safely be drawn from the battery pack. No matter where you are in the speed range, an extra 60 miles per hour can be added to your current speed in just 3.1 seconds. Elon Musk, engineer, inventor and early investor of Tesla Motors, says with the right tyres, the Model S will corner at 1G. And as he notes, "most people have no idea what that feels like." Yet driven sensibly, the Model S has a range of around 300 miles if maintaining a steady speed of 65 mph before requiring a charge. The relocation of the batteries now recessed in the floor pan means extra space in the boot giving extra practicality and, of course, being electric is produces zero emissions too!
One of the most striking features of the interior is the large display screen – extremely handy if you're looking for a famous race circuit in Kent!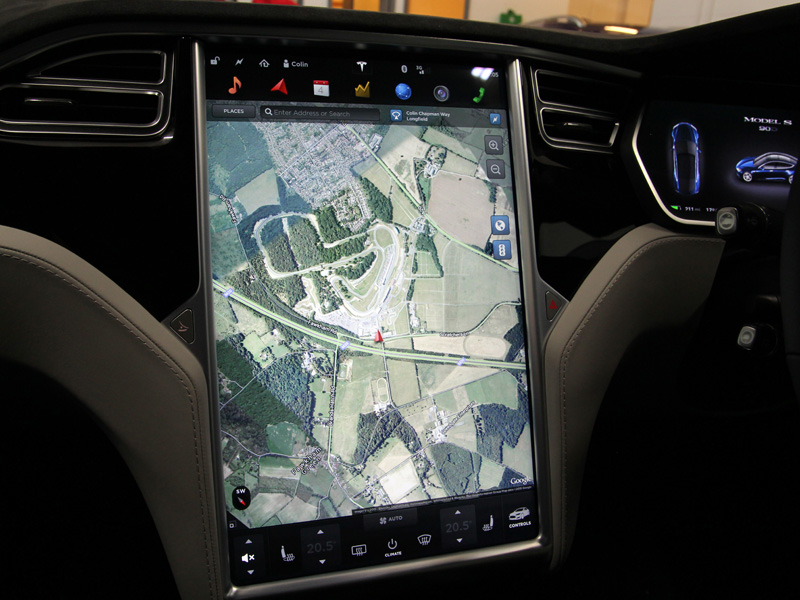 When it was released in 2012, the Model S Performance model boasted a drag coefficient of Cd=0.24; lower than any other road going car – a fact confirmed during independent testing by Car and Driver Magazine in May 2014. Given this impressive fact the customer had decided to specify that Gtechniq Crystal Serum be used as to protect his new acquisition.
Gtechniq supply the Sahara Force India F1 Team with C0 Aerobat, a bespoke coating which helps their cars to maintain aerodynamic efficiency during high-speed Formula One races. As such it seemed fitting to protect the Tesla with Gtechniq's flagship sealant, Crystal Serum. – Jez Gilman, UF
This P90D variant of the Tesla Model S with uprated 90 kWh battery had been driven to UF's Brand Hatch based Detailing Studio the day after it had been collected from the dealership. November weather being what it is, the car had already accumulated a significant amount of road debris and environmental fallout. Booked in for a New Car Protection Treatment, UF got to work on it straight away.
Initially the bodywork and wheels were treated for iron contamination which may have been collected either whilst the car was in transit to the dealership or during the drive to the detailing studio. Hot metal particles bond readily to the surfaces and left untreated will cause pitting. Nanolex Wheel Cleaner & Iron Remover changes colour on contact with ferrous particles and causes them to shrink, breaking the bond between particle and substrate. UF Wheel Woolies were used to ensure the rear section of the wheels were thoroughly cleaned before safely rinsing the contamination away.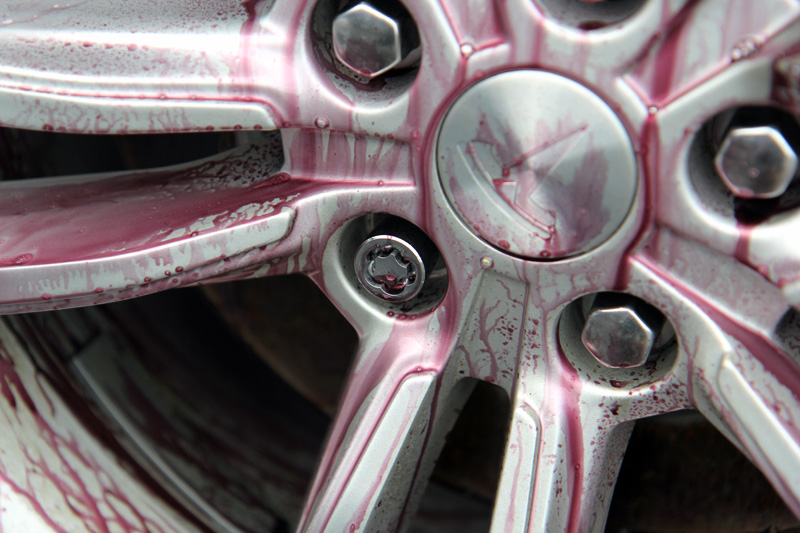 The Tesla was degreased using Bilt-Hamber Surfex HD to remove diesel splatter and oily residues.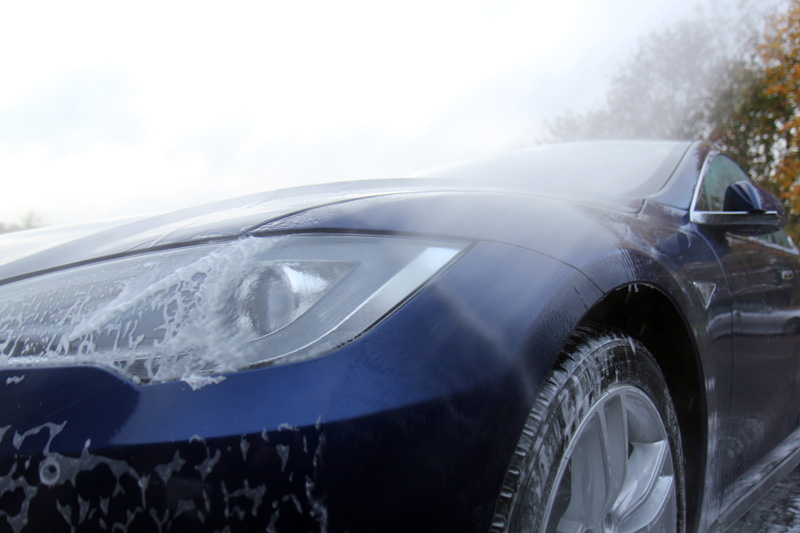 Ultimate Snow Foam was applied to deliver a thorough pre-clean. This high foaming, non-contact cleaner lifts larger particles of dirt and grit away from the surface of the vehicle, making the wash process much safer.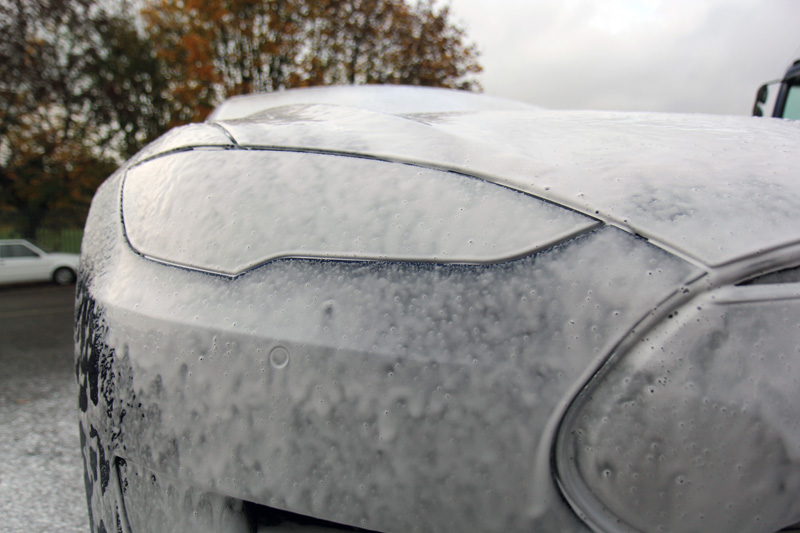 The Tesla was then washed using the Two Bucket Method, Gtechniq G-Wash Shampoo and an Ulti-Mitt Double Sided Merino Wash Mitt. With all surfaces carefully cleaned, the suds were rinsed away before an Aqua Gleam De-ionising Water Filter was connected to the hose to give a final, pure water rinse. Dried using UF Ultra-Soft Microfibre Drying Towels, the Tesla was brought in to the detailing studio and the paintwork inspected for defects and damage under high intensity lighting.
As you'd expect from a brand new car, the paintwork was in pretty good condition except in some really tucked away areas – most people wouldn't notice but then that's what we're here to do! It's important to check everywhere thoroughly as Crystal Serum cures incredibly hard, so it's imperative to make sure the paintwork is perfect before you seal it. – Matt Back, UF.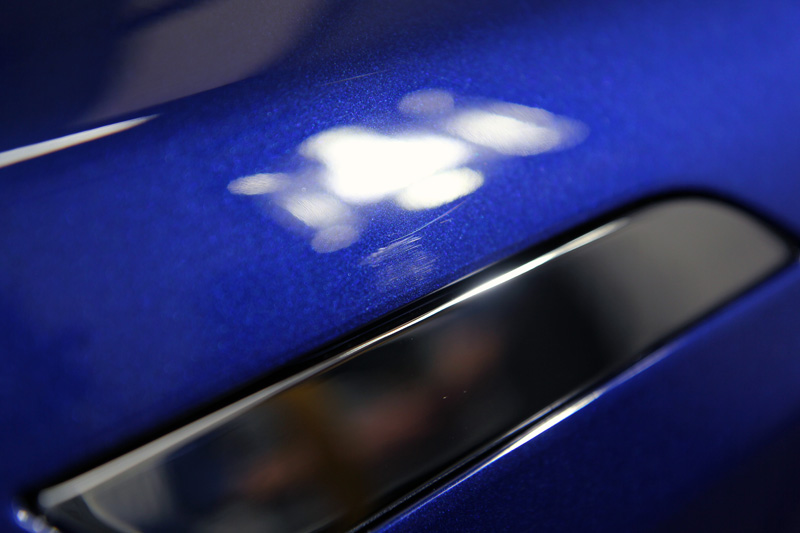 The rear plastic tail light lens covers had wash induced swirls on the surface too.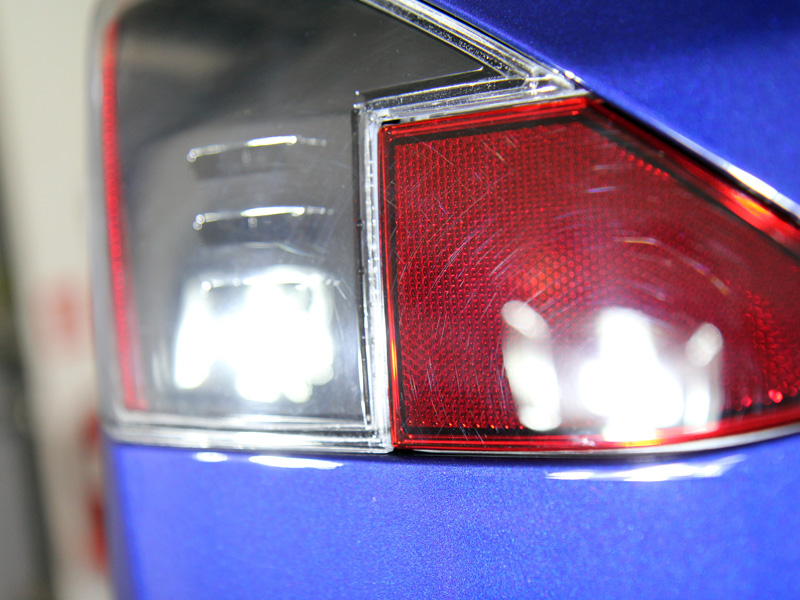 To correct the paintwork and to ensure the maximum shine possible, a RUPES BigFoot LHR15ES machine polisher was used with a RUPES White UltraFine Finishing Pad and SCHOLL Concepts S20 Black One-Step Compound.
S20 Black was perfect in this situation. The diminishing abrasives quickly resolve the blemishes and fine out to produce a high shine without holograms. It worked perfectly and left the Tesla paintwork absolutely glowing! Matt Back, UF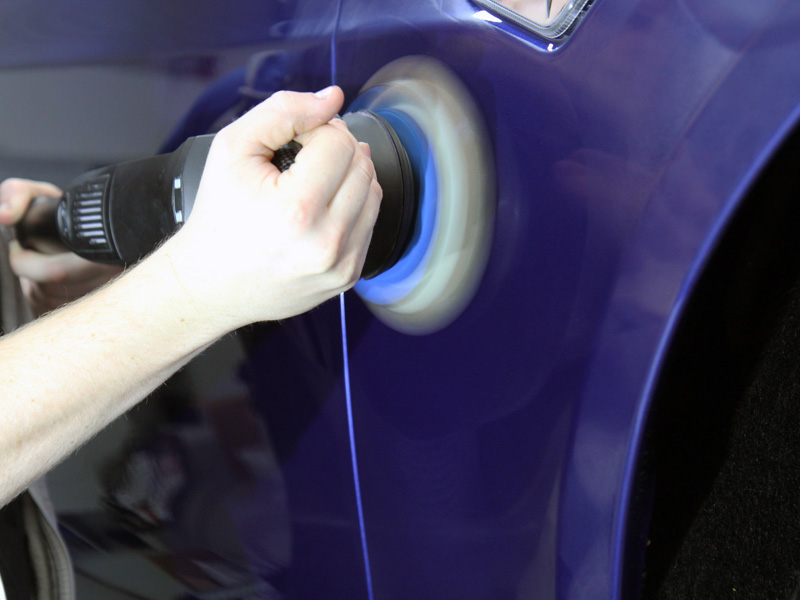 For the smaller, contoured and harder to reach areas, the all-new FLEX PE8-4 Mini Rotary Machine Polisher with a FLEX Black Soft Finishing 2 Inch Spot Pad was used along with S20 Black.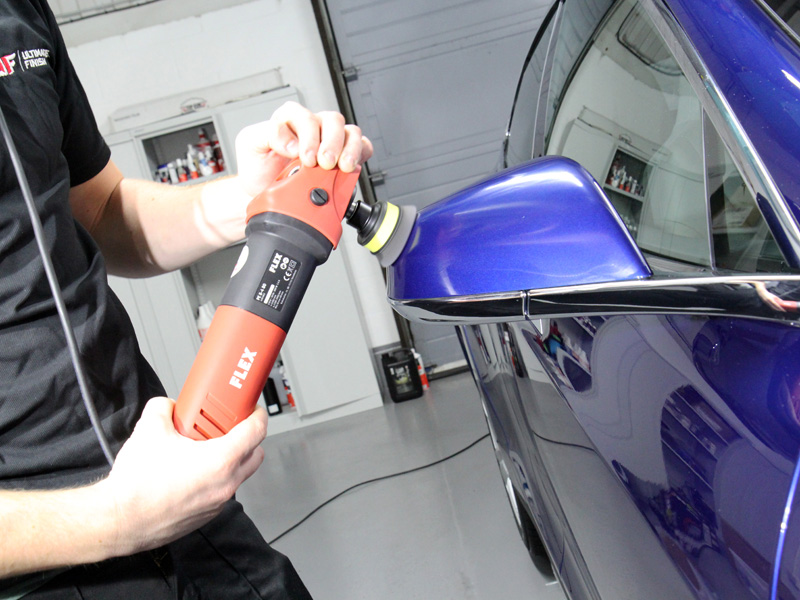 With the paintwork now in perfect condition the bodywork and wheels were cleansed using Gtechniq Panel Wipe. This cleaner contains aromatic solvents and pure alcohols which dissolve any polish and silicone residues remaining on the surface. Panel Wipe then flashes off taking the contamination with it. The result is a perfectly bare surface that is then able to form the highest possible number of bonds with the sealant.
Crystal Serum is a ceramic sealant and its performance and longevity depends largely on the number of chemical bonds formed between the coating and the substrate. Because it works at the molecular level, the bonds the sealant create are incredibly tough. Crystal Serum actually forms a dual layer: a lower layer that's slightly softer – around 7H on the pencil scale of hardness and the upper layer, which cures to around 9H. The lower layer flexes under impact and the top layer provides resistance to pressure. This clever combination results in a layer that's swirl resistant as well as being virtually impervious to chemicals and it leaves an incredibly reflective, glossy surface. – Matt Back, UF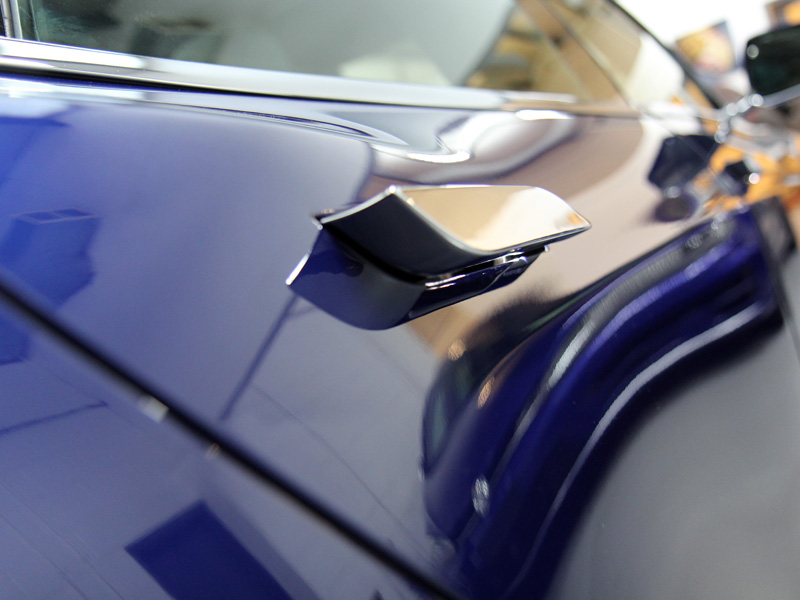 In addition to the careful surface preparation, Crystal Serum must be applied in specific conditions where moisture, ambient temperature and humidity are all controlled. For these reasons, Crystal Serum is available as a service only through Gtechniq-approved detailing studios.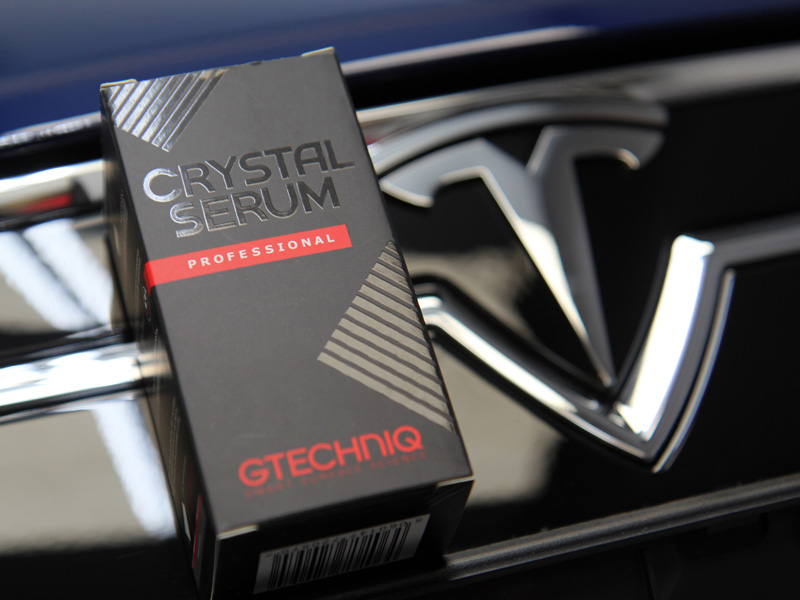 The wheels were coated with Gtechniq C5 Alloy Wheel Armour, a hydrophobic nano-ceramic sealant that actively repels water, dirt, grime and inhibits brake dust from adhering to the surface. As a result wheels stay cleaner for longer and are easier to clean during the weekly wash.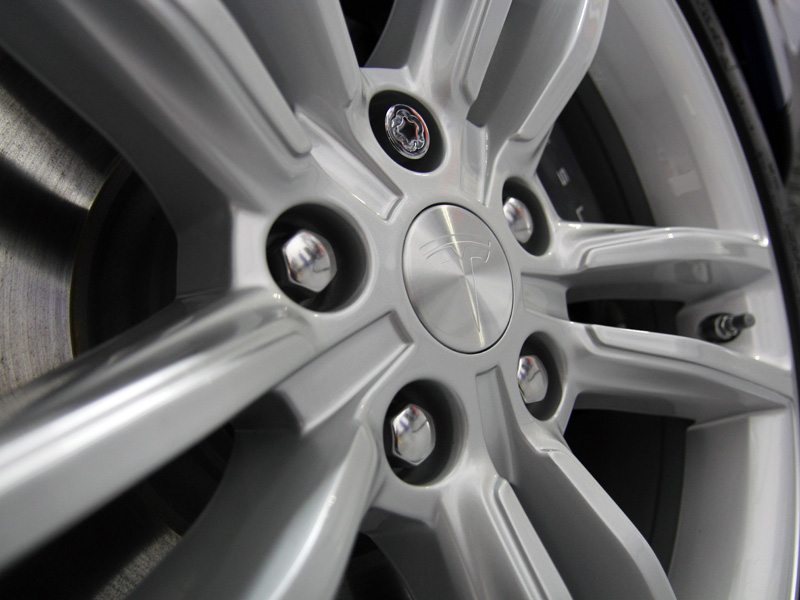 To protect the black plastic trim Gtechniq C4 Permanent Trim Restorer was used. This flexible coating forms strong chemical bonds with plastics to protect against UV fade.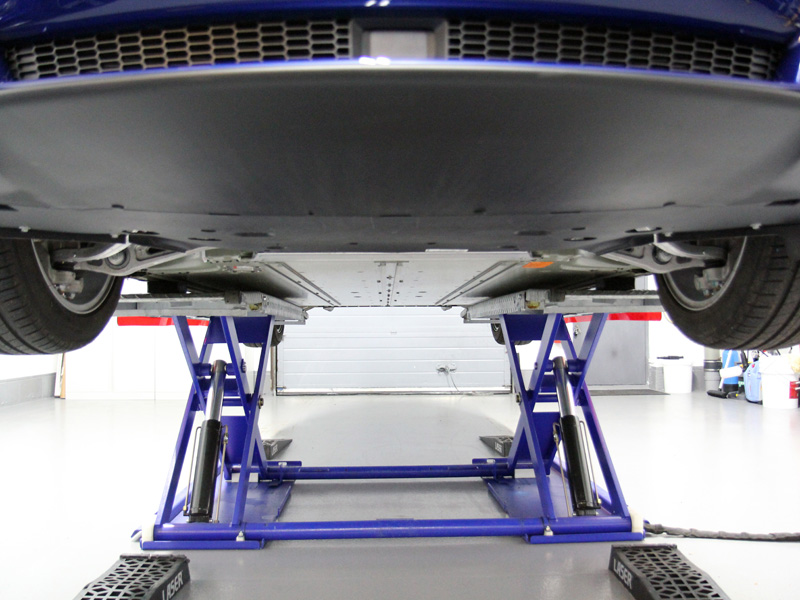 The glass was cleaned and then sealed with Gtechniq G1 ClearVision Smart Glass, a hydrophobic sealant to help repel rain water, snow and ice. Finally the tyres were dressed using T2 Tyre Dressing to leave a natural satin sheen.
The final look was absolutely stunning. A truly innovative car protected with a truly innovative nano-ceramic sealant!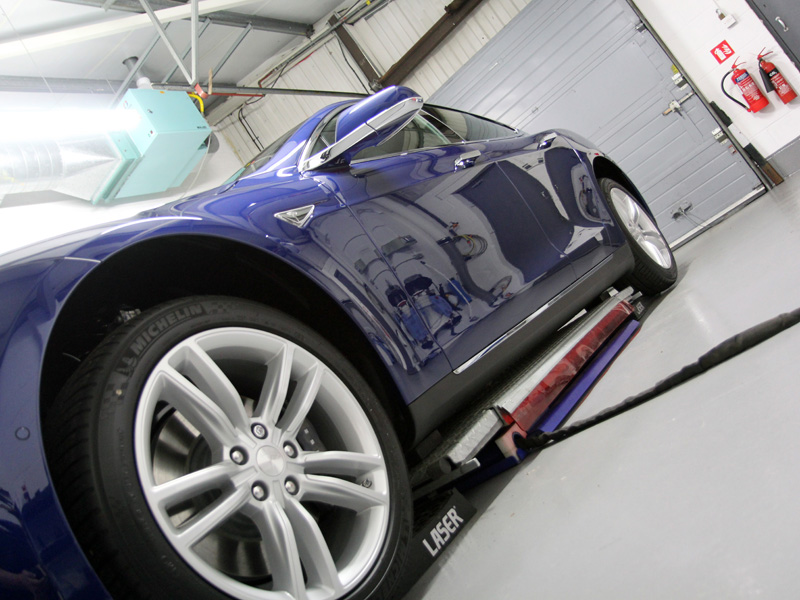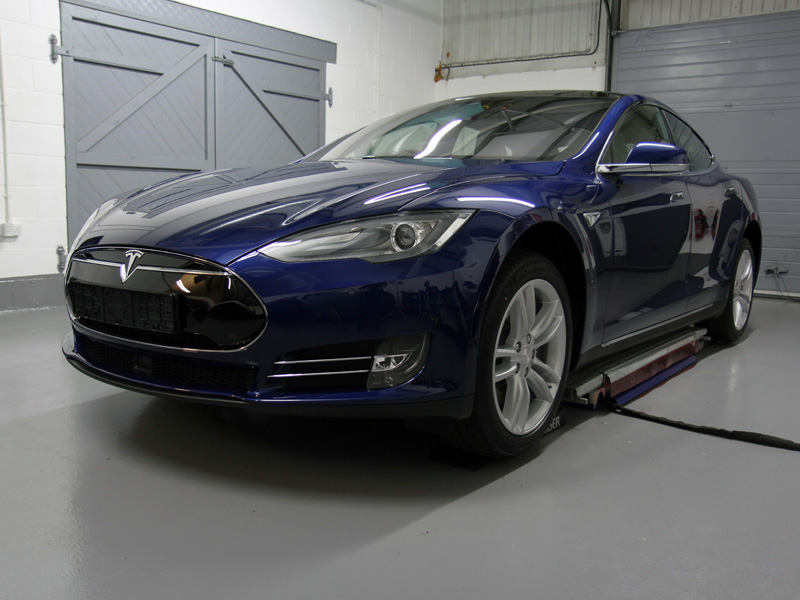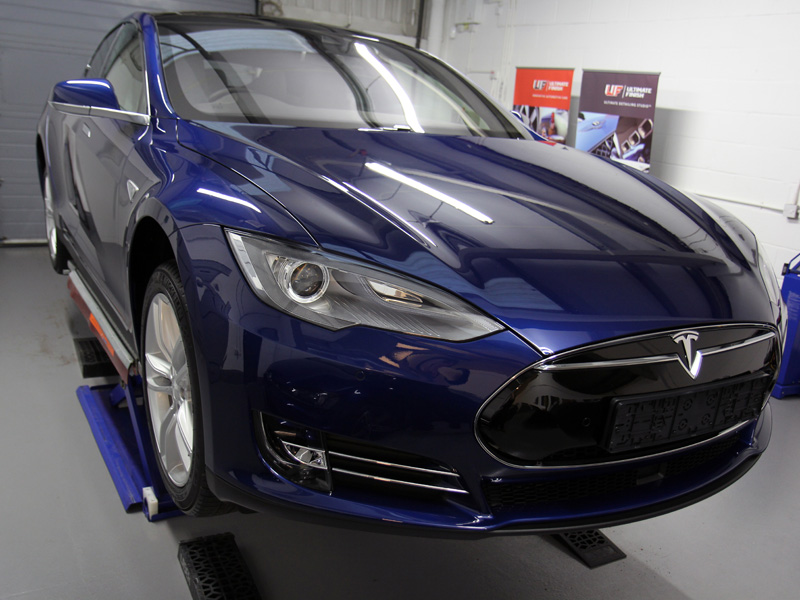 UF Detailing Studio – Award Winning Detailing. Call 0333 800 8004 to discuss your requirements and arrange a free vehicle appraisal.