Falcon-Winged Tesla Model X Protected By Advanced Nanotechnology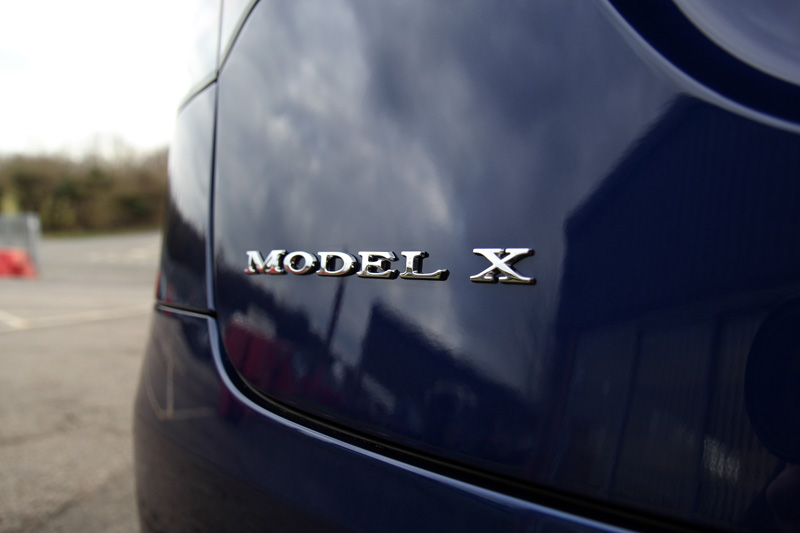 The Tesla Model X is an all-electric sports utility vehicle like never before seen. Firstly, it has an outstanding range for an electric vehicle, at around 351 miles. Secondly, it's quick, exceptionally so. Ever heard of an SUV achieving 0-60mph in under three seconds? You have now! It's not a small SUV either – it has ample capacity for seven adults, plus all the gear an SUV being used for purpose might be expected to be toting. Another unusual feature is the Falcon Wing rear passenger doors, giving the SUV an overall space-age, futuristic look (although it wouldn't look out of place in an episode of Battlestar Galactica or Buck Rogers!) And of course, it has full self-driving hardware built-in – whether you opt for the software is up to you.
It's an incredibly safe car too aided by various features specific to electric models. There's no petrol tank, so in the event of an accident, combustion risk is significantly reduced. The electric battery is floor mounted, lowering the centre of gravity and reducing rollover potential by half making the Tesla Model X safer than other vehicles in its class. Tesla also claims the positioning of the battery strengthens against side-impact damage, whilst the large boot (at the front of the car) acts as a crumple zone for front end collisions. Although it's yet to be NCAP-tested, Tesla's own safety testing results show the Model X should receive the highest ratings in every category – a first for a sports utility vehicle.
Everything about Tesla cars is designed to deliver an advanced quality driving experience. A tall panoramic glass windshield provides a comprehensive view forwards and upwards, whilst being tinted to reduce solar glare. Attention to detail too when it comes to the arrangement of the second and third-row seats, designed to give each passenger enough flexibility to manipulate the seat to their requirements. The rear seats fold flat for additional storage and the middle row folds forward, again for maximum storage use. The Falcon Wing doors allow easy access even when the car is parked in a tight space, and the positioning of them makes putting children into car seats much easier – no more bumped heads – something parents worldwide will be able to relate to!
Tesla claims the autopilot software delivers an increased level of safety over that which can be expected from a human driver. The latest update has improved sensitivity to stop-start traffic conditions. Active safety technologies, including collision avoidance and automatic emergency braking, are now available as over-the-air updates. In short, the Model X is a glimpse of the future. The owner of this Tesla Model X had opted for the self-driving software and enjoys the freedom it offers, particularly when the children are in the car and on long journeys on the continent. With autopilot engaged, the future has arrived!
With just a few miles on the clock, the Model X arrived at UF's Brands Hatch Detailing Studio for New Car Protection complete with an optional 'Platinum' sealant upgrade. As the car lives down a typical country lane, it was caked with mud and dirt, particularly under the wheel arches. In addition to protecting the paintwork, the owner also opted for the glass to be coated and for the wheels to be recoloured in a custom satin black finish and then protected.
The initial order of the day was decontamination and thorough cleaning.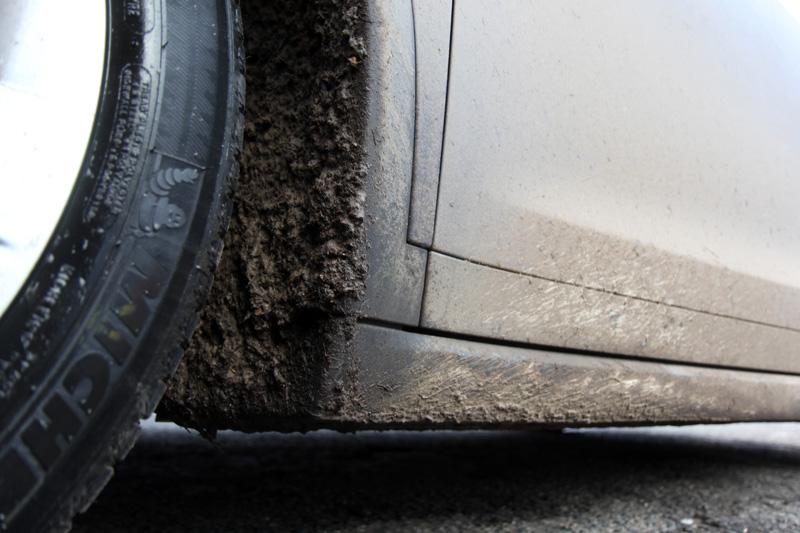 The wheel arches were jet washed to remove the larger chunks of mud.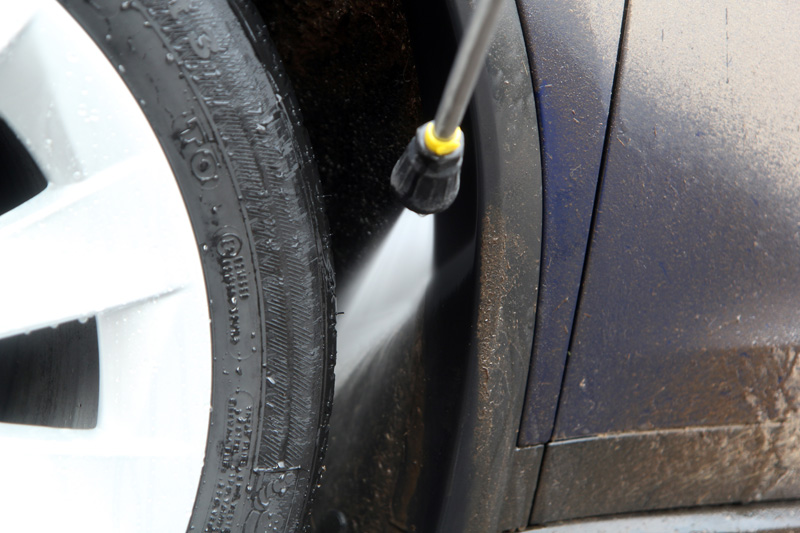 The bodywork and wheels were treated for iron contamination using Bilt-Hamber Korrosol and then with a degreaser to remove oily deposits and diesel splatters. There was a large amount of tar that had collected on the bodywork and particularly behind the wheel arches and these were removed using Gtechniq W7 Tar & Glue Remover. Bilt-Hamber Auto Foam was sprayed thickly into the wheel arches and across the car.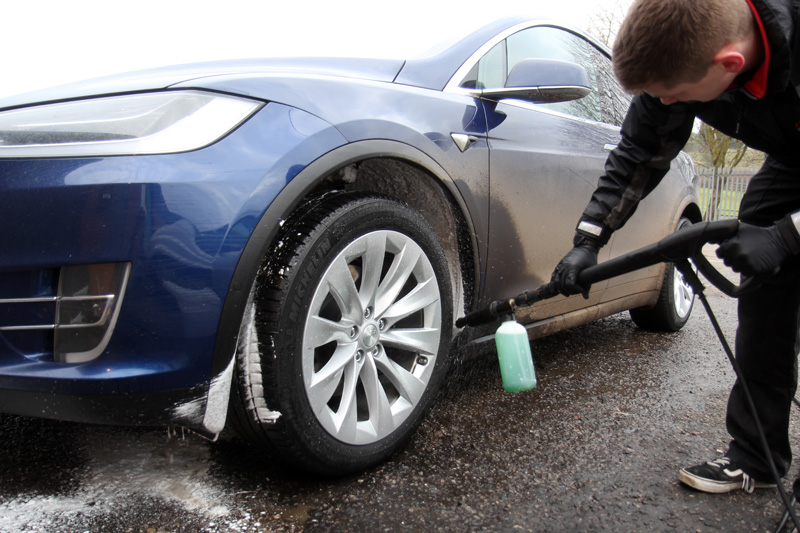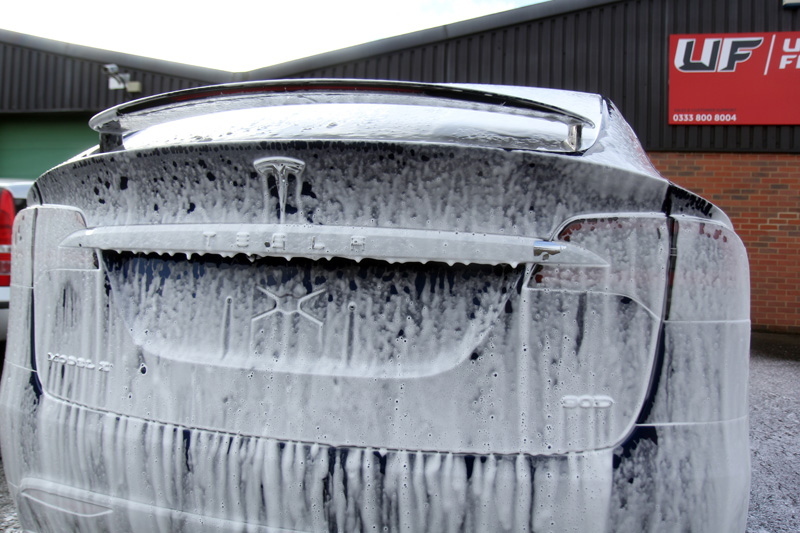 The suds were rinsed away and the Model X washed using the Two Bucket Method, an Ulti-Mitt Double Sided Merino Wash Mitt and Gtechniq G-Wash, a pure shampoo that rinses away leaving no residues, additives or gloss enhancers that may interfere with the final sealant.
After the suds were rinsed away, an Aqua Gleam De-ionising Water Filter was attached in-line with the hose to give a final, pure water rinse. The car was then brought into the detailing studio. The wheels were removed and sent off for refinishing. The paintwork was lightly polished by hand using Menzerna Final Finish 3000 (formerly PO85U) to remove any light swirls and to enhance the gloss prior to sealing. Nanolex EX Residue remover was used to ensure the paintwork was completely free from polish residues and oils. This process allows the sealant to form a greater number of bonds with the surface helping to increase durability.
Kamikaze Collection ENREI is a professional two-stage sealant system. Developed over a number of years using the Japanese 'Kaizen' concept of continuous improvement through small changes, ENREI is a next generation ceramic coating.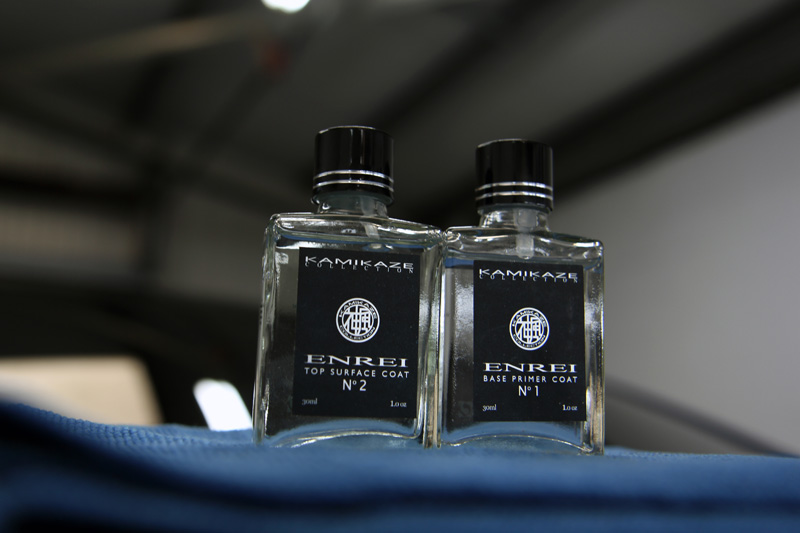 ENREI No 1 base coat acts as a primer locking into the paint's clear coat and encouraging the No 2 top coat to bond to it effectively, ensuring an entirely uniform surface. The top coat provides hydrophobic protection, repelling water, dirt and oils. Treated surfaces remain cleaner for longer, contamination does not stick as well to the coating making wash maintenance simple and straightforward. The top coat also provides a brilliant, candy-gloss shine. In order to ensure maximum performance and durability, strict application protocols must be followed and environment must also be controlled. For these reasons, ENREI is available only to Kamikaze Collection trained detailing studios.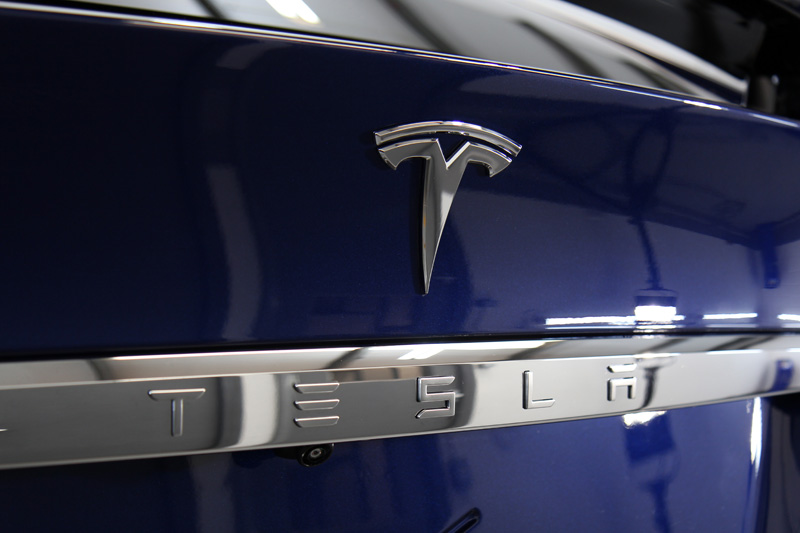 To encourage rainwater to bead and roll away, Gtechniq G1 ClearVision was applied to all glass including the panoramic windshield. Treated surfaces repel water, making driving less tiring during inclement weather conditions.
The wheels arrived having been recoloured satin black. To protect the finish, Gtechniq C5 Alloy Wheel Armour was applied. Suitable for use on satin finishes as well as gloss lacquered, C5 is a nanotechnology-based coating that forms a chemical bond with the wheel to become the new surface. As such, C5 provides a heat resistant barrier that will not burn off or wash away, and repels water, dirt, oils and road grime.
The wheels were degreased using Gtechniq Panel Wipe followed by a coat of C5 Wheel Armour carefully buffed off with seamless microfibres. Normally C5 takes around 12 hours before it is ready to face the elements but in this instance the curing time was shortened by using infrared lamps.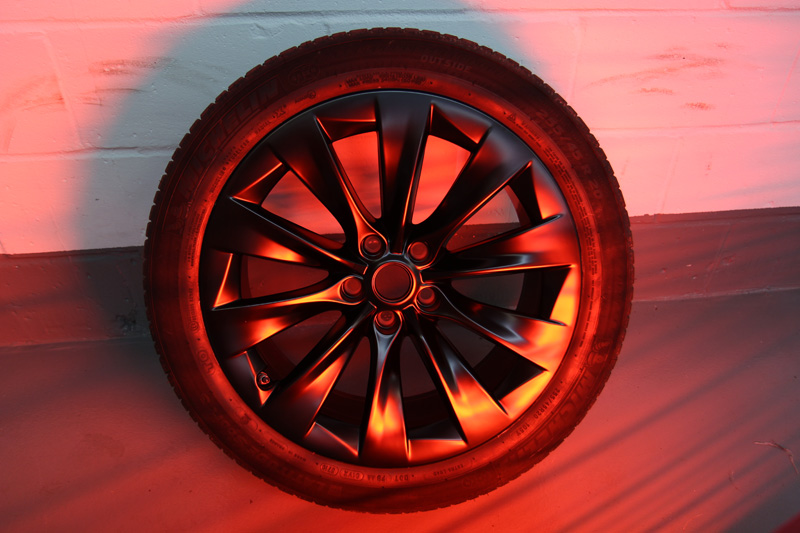 The tyres were dressed using Gtechniq T2 Tyre Dressing to provide a long-lasting satin sheen to compliment the satin wheel finish.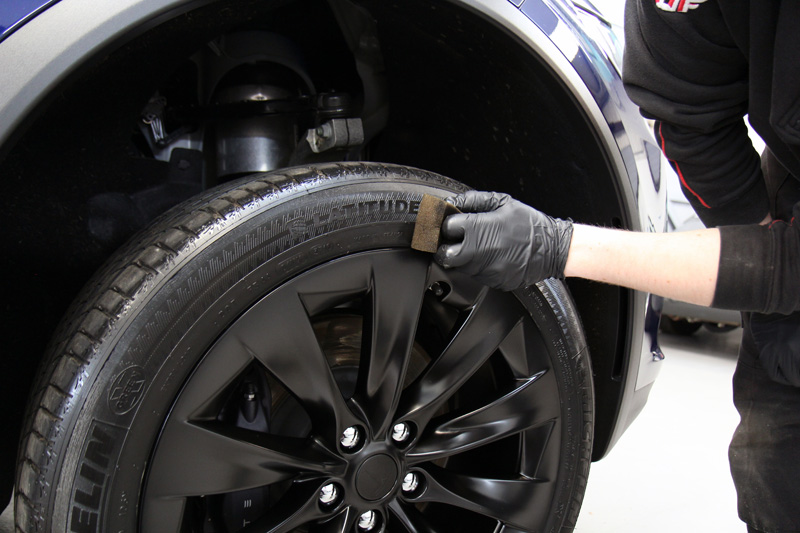 Now fully protected with the very latest in nanotechnology coatings, the Model X was ready for whatever the future could throw at it!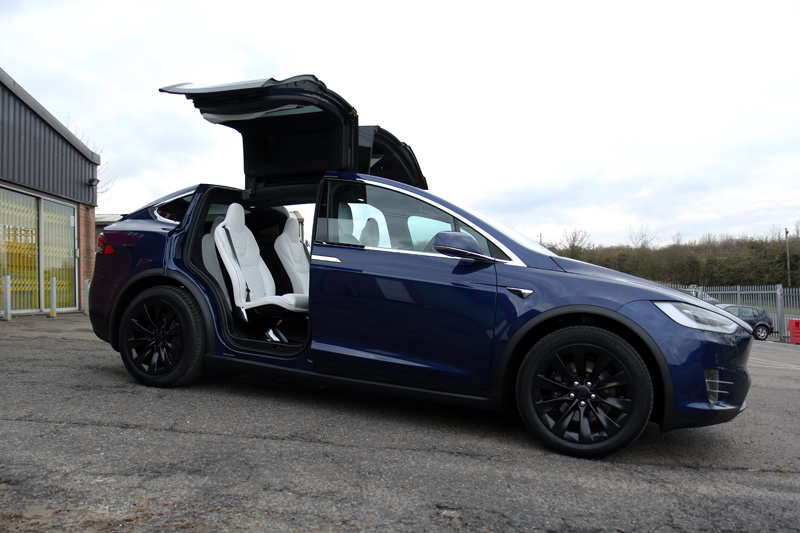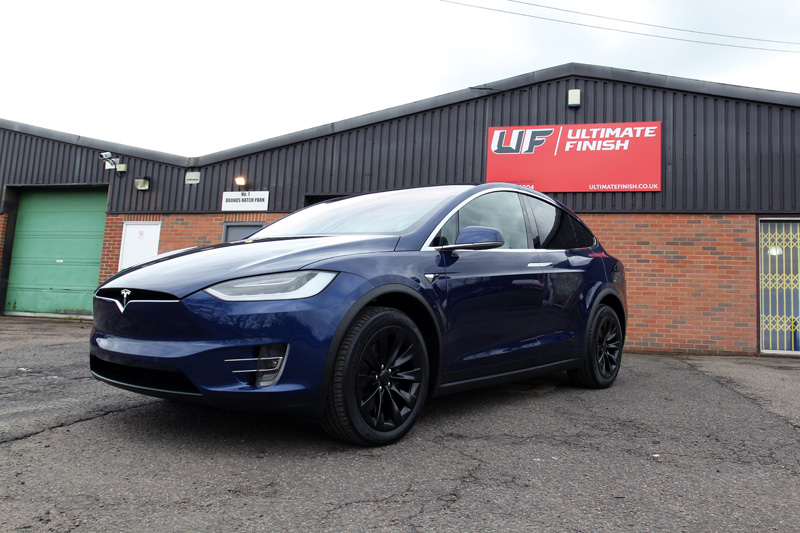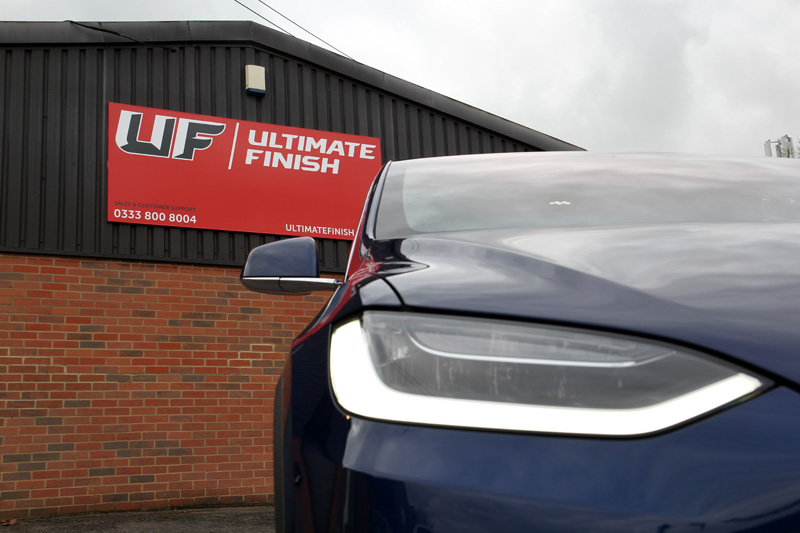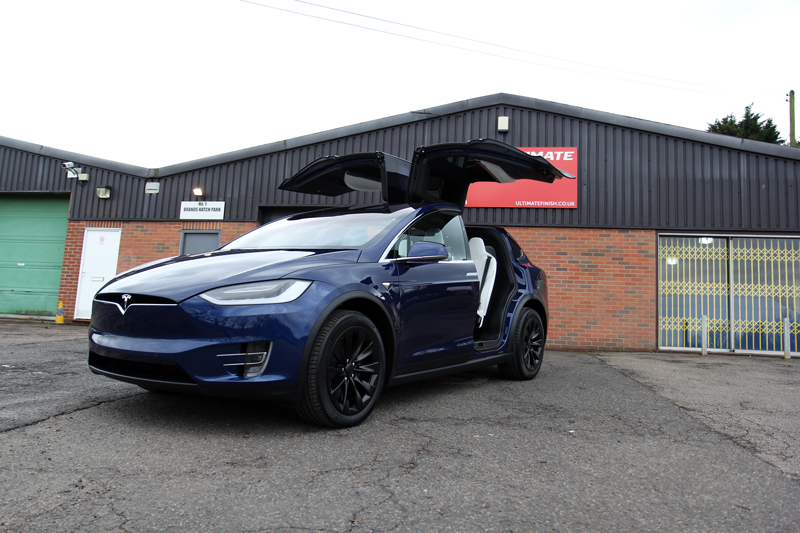 Read about ENREI Coat and the first Kamikaze Collection training day, hosted at UF Detailing Studio.
UF Detailing Studio – Award Winning Detailing. Call 0333 800 8004 to discuss your requirements.