RUPES BigFoot UHS System Takes Years Off A VW Golf V6 4Motion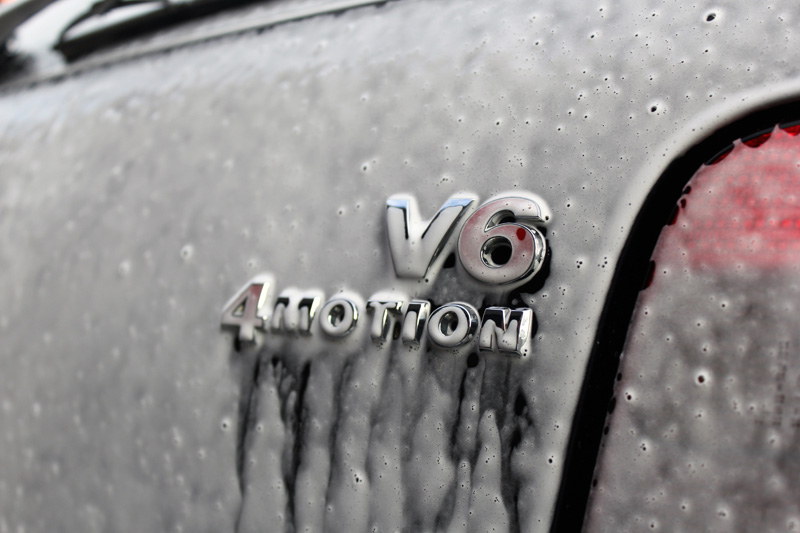 VW Golf owners are a loyal breed. Offering the perfect combination of power, fun and practicality along with superb build quality – it's easy to see why it remains one of the most popular hatchbacks of all time. The V6 4Motion is a sparkling example of the best VW has to offer for this model. The 204 bhp 2.8L naturally aspirated engine delivers immediate power as soon as the accelerator pedal is engaged. Featuring permanent four wheel drive, a Haldex clutch directs power to which ever wheels have the most traction. The electronic braking distribution system prevents over braking on the rear wheels – great for avoiding the unintentional 360!
This V6 4Motion arrived at the Ultimate Detailing Studio in a condition reflecting the owner's love for driving. The paintwork was swirled and scratched and there were several small patches of heavy touch-up paint over various parts of the bodywork, particularly on the bumper. Initially it was thought the bumper would need a complete respray, however it transpired a respray was unnecessary.
We quite often have cars in with some filler or touch up paint on the bodywork. Even before cleaning the car signs of wash damage were visible but this is to be expected with a car that's been used regularly over the last fourteen or so years. All in all it was a great project to get started on! – Derek Ginger, Master Detailer, UDS
Initially the V6 bodywork and wheels were treated with Nanolex Wheel Cleaner & Iron Remover to remove bonded ferrous contamination from both the wheels and the bodywork. UF Wheel Woolies were used to get between the spokes of the alloy wheels to ensure the back of the wheel was thoroughly decontaminated and clean. Contamination tends to be quite heavy on 'drivers' cars due to brake pads shredding when they're hot.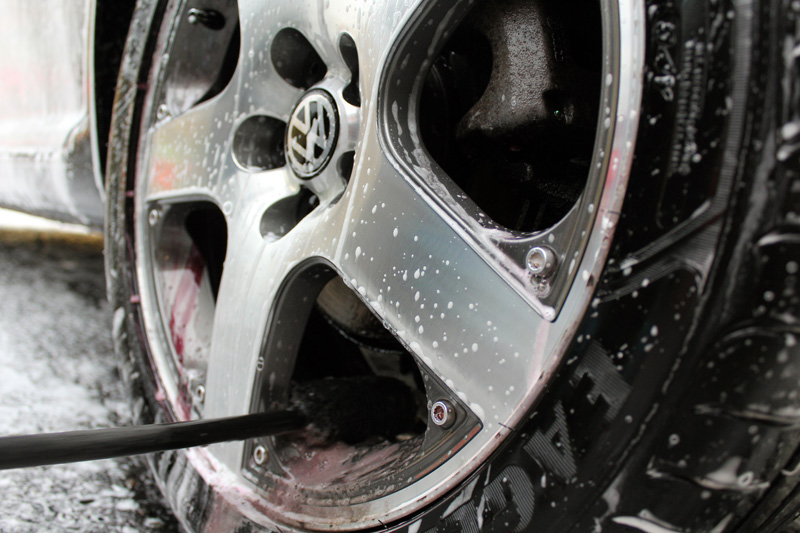 After rinsing the V6 was treated with Bilt-Hamber Surfex HD to degrease it, removing build-up of road oils, diesels and grime. The V6 was rinsed again, then treated with Valet Pro Citrus Tar & Glue Remover to dissolve bonded adhesives such as tar and tree sap. Finally it was pre-cleaned using Ultimate Snow Foam to remove larger particles of dirt and grit from the bodywork and wheels.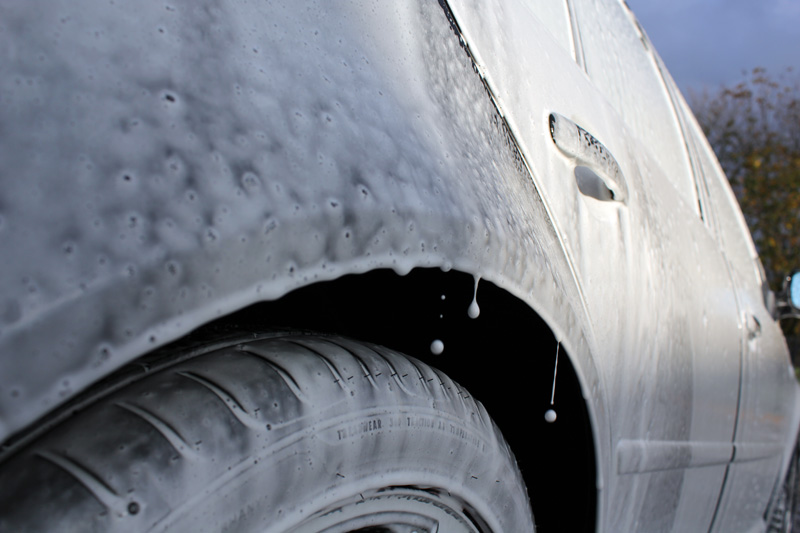 After the bodywork had been thoroughly decontaminated and pre-cleaned I treated the areas where the paint had been filled with 'touch up' paint with a carbide de-nibber. This removed a lot of the excess and it then became clear that underneath there were just a few deep, but correctable scratches. Rather than go to the expense of having the entire bumper resprayed it was agreed to correct it by machine polisher as much as possible. – Derek Ginger, Master Detailer, UDS.
The V6 was washed using Swissvax Car Bath and the Two Bucket Method before being given a final rinse with an Aqua Gleam  De-ionising water filter. Then it was dried and brought in to the studio for evaluation and machine polishing.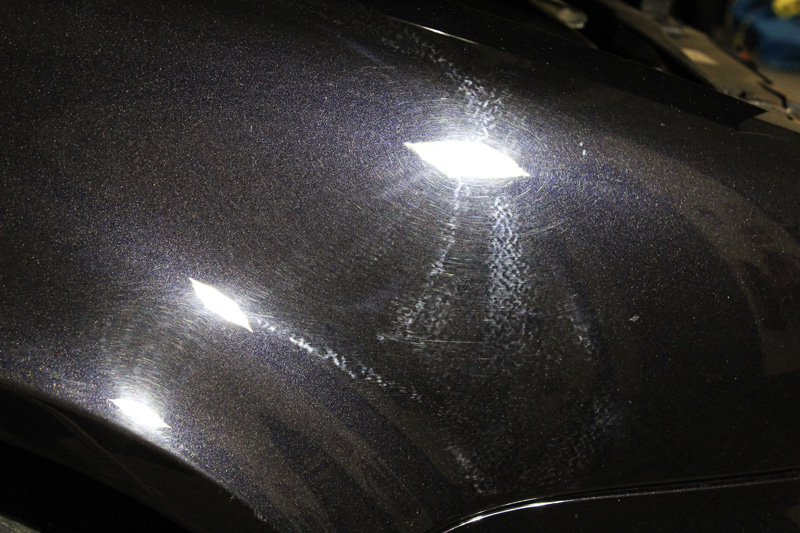 VW paintwork tends to be relatively hard which can be time consuming to correct, but it also makes it easier to refine than very soft paint. RUPES has recently launched the UHS system which has been specifically designed to tackle surface imperfections on scratch resistant clearcoats in a single step. The V6 had typically hard, dark coloured paintwork – precisely the combination the UHS system excels at correcting. – Derek Ginger, Master Detailer, UDS.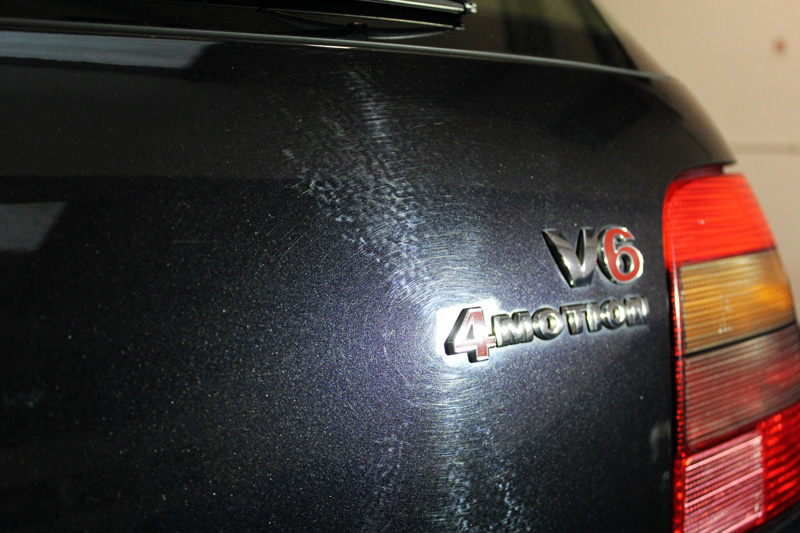 Over the course of two days the paintwork was corrected and refined using a RUPES BigFoot LHR15ES with a RUPES UHS Machine Polishing Foam Pad and the UHS Easy Gloss Compound.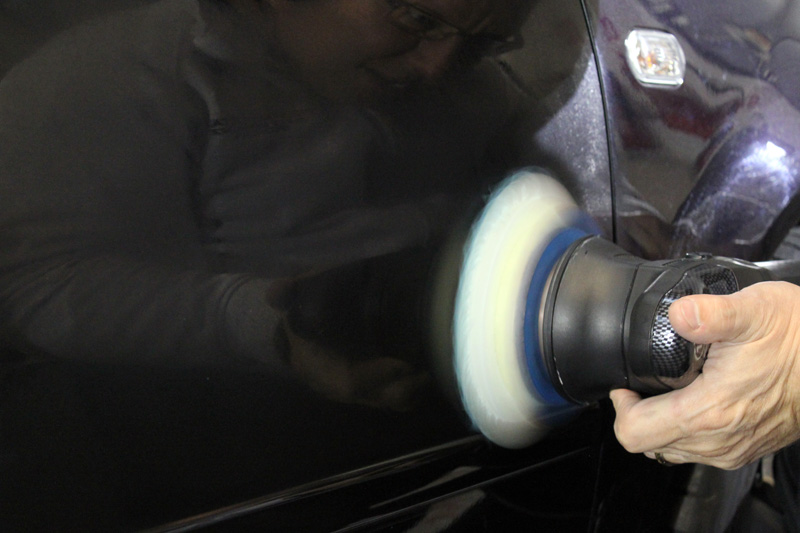 To get into the tight, harder to reach areas the RUPES LHR 75E Mini Random Orbital Polisher was used with a RUPES 100mm (4″) UHS Polishing Foam pad.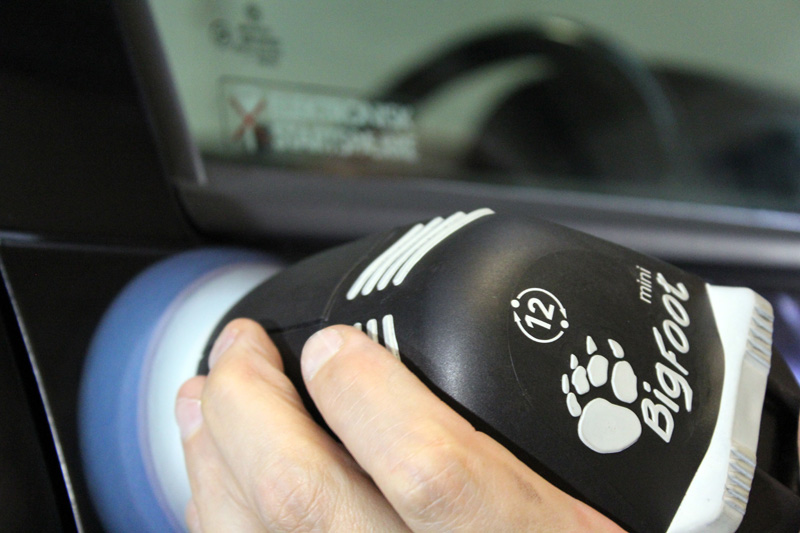 Working hard, dark paint with this amount of marring takes time, working each panel using several passes. Some of the scratches were really deep, particularly the ones around the bumper, so these took longer to remove. The BigFoot's Dual Action means it doesn't generate excessive heat, so you don't have to worry about overheating on plastic bumpers even though you're working an area for a long period of time. I also like the fact there's no dust – it makes the whole process a lot cleaner and faster! – Derek Ginger, Master Detailer, UDS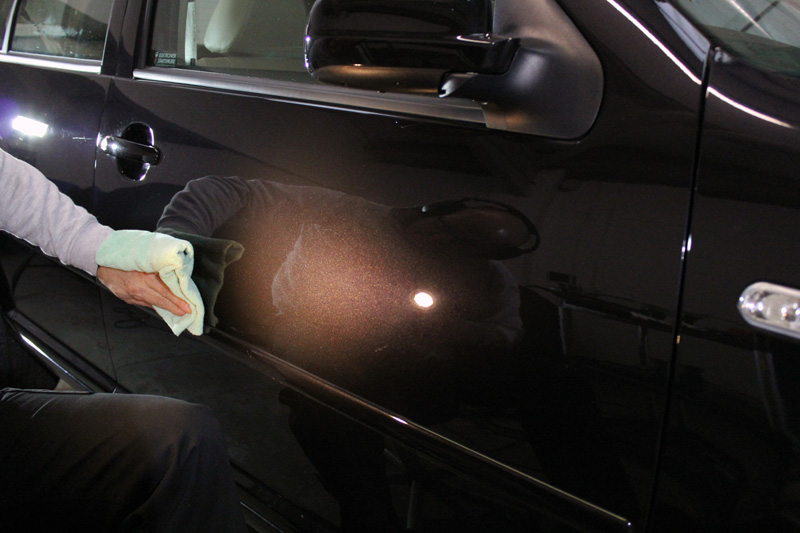 With the paintwork corrected it was time to protect the finish. After cleansing the paint with Nanolex Premium Paint Cleaner to remove any polishing residue and oils, a layer of Nanolex Professional Paint & Alloy Sealant was applied. This sealant provides a hydrophobic and oleo phobic barrier, repelling dirty water and oils and inhibiting contamination from adhering to surfaces. Paintwork will subsequently stay cleaner for longer and be much easier to wash.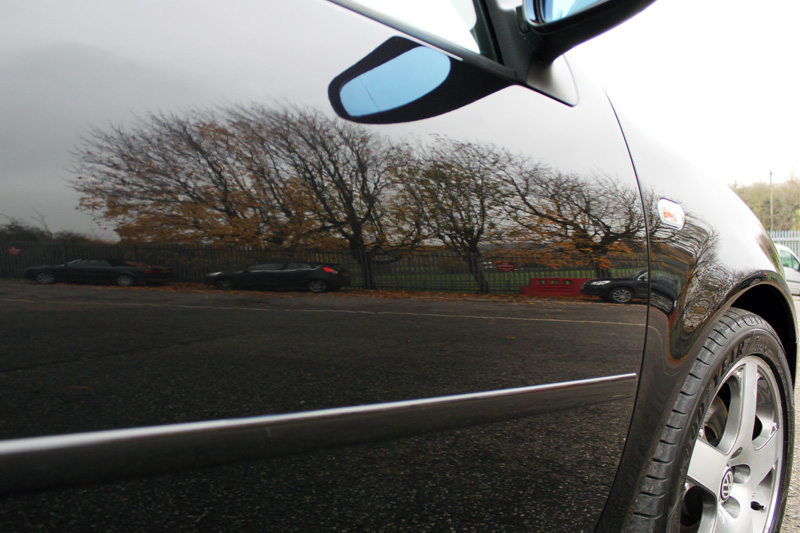 To finish the look the V6 4Motion was treated to a layer of Swissvax Crystal Rock, enhancing the gloss and leaving a deep, wet-look shine.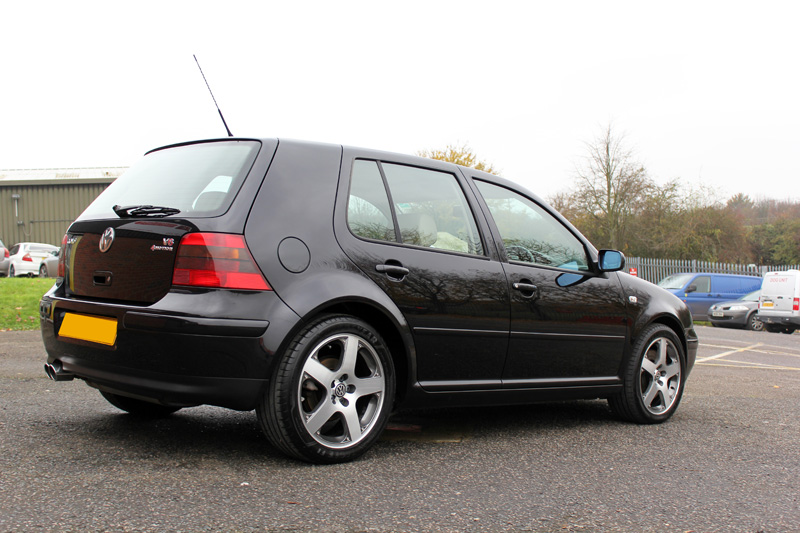 By the end of its two-day stay at the Ultimate Detailing Studio, the V6 4Motion was looking very impressive. The customer remarked how the Paintwork Correction Treatment had 'taken years off the age' of the car. Safe to say, he'll be enjoying the V6 for some years to come!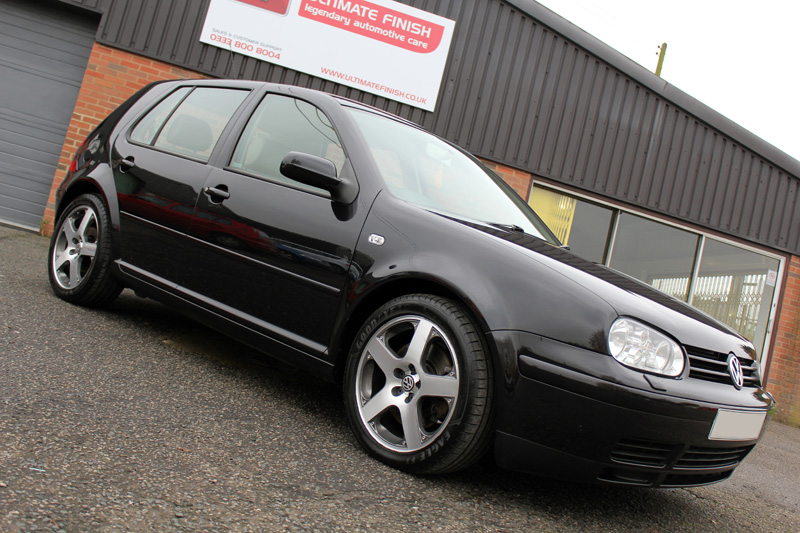 Ultimate Detailing Studio – Award Winning Detailing. Call 0333 800 8004 to discuss your requirements and arrange a free vehicle appraisal.
Ultimate Finish – Innovative Automotive Care since 1999.