Bilt-Hamber Auto Wheel, Auto Express 'Best Wheel Cleaner'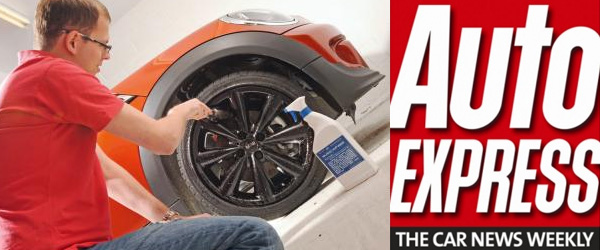 Auto Express magazine is generally considered a leading light when it comes to product testing and reviews.
Last year they put a host of wheel cleaners to the test, looking to determine a winner based on ease of use, amount of dirt removed and of course, value for money. The overall winner of this test and for the 2012 Best Product Awards was the Bilt-Hamber Auto Wheel.
Bilt-Hamber Auto Wheel is a pH-neutral wheel cleaner which works by shrinking dirt particles bonded to wheels, forcing them to release their grip on the surface and allowing them to be washed freely away. The cleaner changes colour from clear to a deep purple, letting you know it's working! In the original test it outstripped all its rivals in both performance and value for money.
With HubiKote Hubi Wheels being released Auto Express decided to run a mini-test to see how it fared against the original winner.
The Test:
Weeks of road dirt on a filthy wheel (the left front alloy of a front wheel drive hatchback to be precise!)
The Verdict:
Bilt-Hamber Auto Wheel is still The Best!
We can't argue that Hubi Wheels is an extremely powerful wheel cleaner. But the Bilt-Hamber offered similar performance and better value. – Jamie Fretwell, Auto Express Magazine
Read the Auto-Express Product Awards 2012 Best Wheel Cleaner test here.
Bilt-Hamber available from Ultimate Finish – Legendary Car Care since 1999.