Audi R8 V10 Plus – Revolution On The Inside, Evolution On The Outside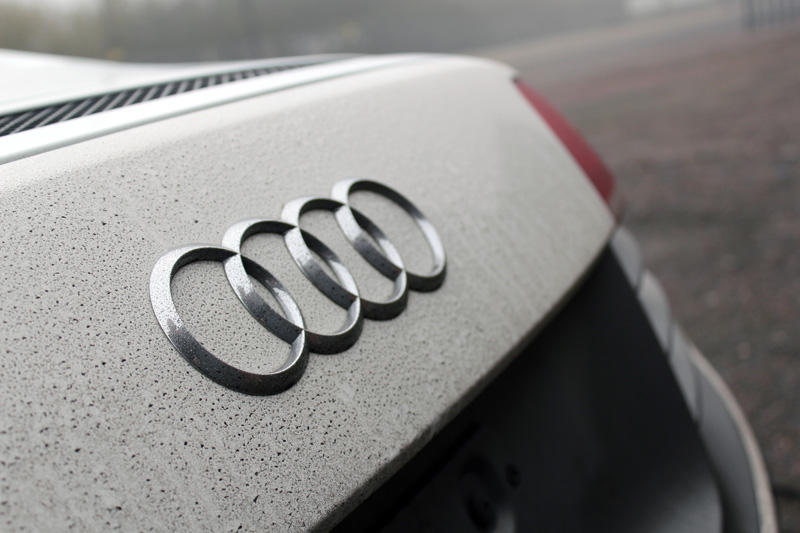 When technology conspires with power and design, something incredible happens. The Audi R8 V10 Plus is just such a beast. The familiar R8 body-styling is there, with some powerful lines added for an overall more aggressive look but it's on the inside the difference becomes apparent. A newly designed engine and gearbox give an entirely new meaning to the phrase 'visceral driving pleasure'. Marketed with the tagline 'Evolution on the outside, Revolution on the inside', a few seconds in the company of this impressive piece of engineering is guaranteed to leave a childlike smile on your face even whilst the ringing in your ears subsides.
This Audi R8 5.2 FSI quattro V10 Plus in Ibis White arrived at the Ultimate Detailing Studio for a Gloss Enhancement Treatment, stone chip repair to the paint and owing to some damage on each of the four factory gloss black alloys, a full wheel refurbish.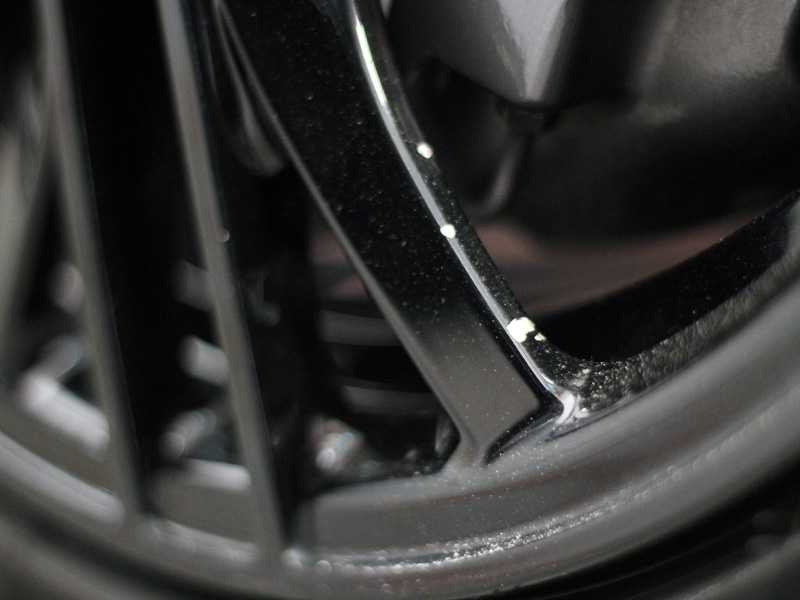 Initially the R8 was treated with Gtechniq W6 Iron & General Fallout Remover to remove any bonded ferrous contamination from the bodywork. On brand new cars this type of contamination is normally the result of the car having been stored close to railway sidings en route from the manufacturer to the supplying dealership. With most used vehicles it's typically accumulated as a result of brake pads shredding when they're hot. The iron particles become airborne and attach to the bodywork and wheels where they bond and begin to oxidise (rust). The oxidation causes the particles to swell and left untreated will cause permanent pitting in the substrate. W6 works by shrinking the particle causing it to break the bond it has formed and allowing it to be freely rinsed away. However, as the R8 V10 Plus comes with standard-fit carbon ceramic brakes, the ferrous contamination caused by the brakes was minimal.
After rinsing using a Kranzle K7-122 Pressure Washer, the R8 was then treated with Gtechniq W5 Citrus All Purpose Cleaner to tackle oily road grime residue. Particular attention was paid to the boot, bonnet, door shuts and fuel cap, all of which have a propensity for collecting and trapping dirt. After further rinsing the R8 V10 was treated with Ultimate Snow Foam. The foam lifts the larger contaminants away from the surface of the paintwork and allows them to be freely rinsed away before a wash mitt comes into to contact with them. This makes the wash process safer and less likely to incur unsightly swirls.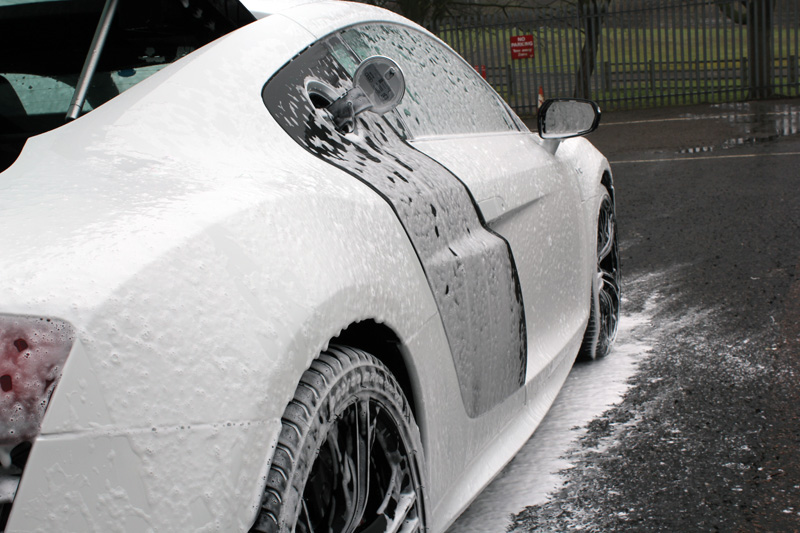 A second application of Ultimate Snow Foam was used as a lubricant for a fine grade Dodo Juice Square Sponge Clay Pad. This washable, reusable pad performs the function of detailing clay, pulling nubby contamination away from the surface of the paintwork. Unlike regular clay, these pads can be washed and reused and, because they're bigger than regular clay they're easier to grip on to!
Finally the R8 V10 was washed using the Two Bucket Method, Gtechniq G-Wash Shampoo and the new Ulti-Mitt Double Sided Merino Wool Wash Mitt. For a final rinse an Aqua Gleam De-ionising water filter was attached to the hose. These filters neutralise impurities found in normal tap water to give a pure water rinse that leaves an extra sparkle on the paintwork.
After the lengthy and comprehensive decontamination process the R8 was brought into the studio and dried using soft microfibre towels and an air blower to ensure residual water was removed from all the nooks and crannies including the glorious engine bay!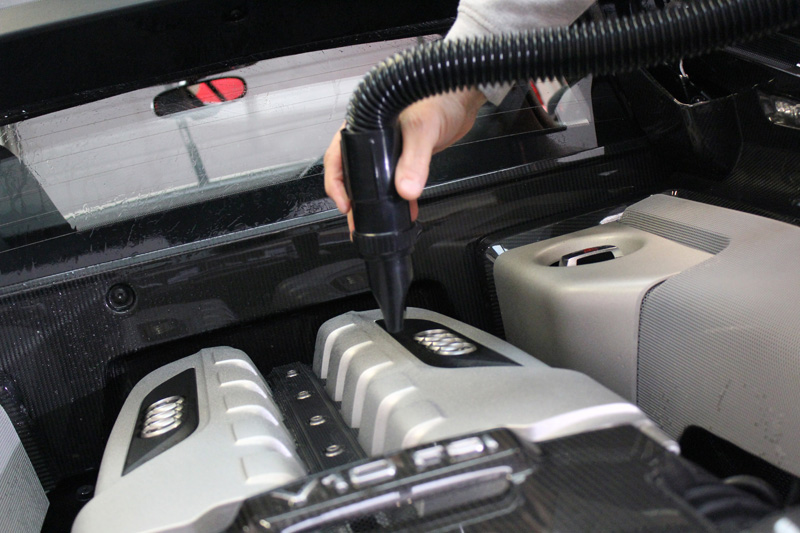 Before the correction work commenced, the paintwork was inspected under high intensity lighting and paint depth readings were taken on all panels.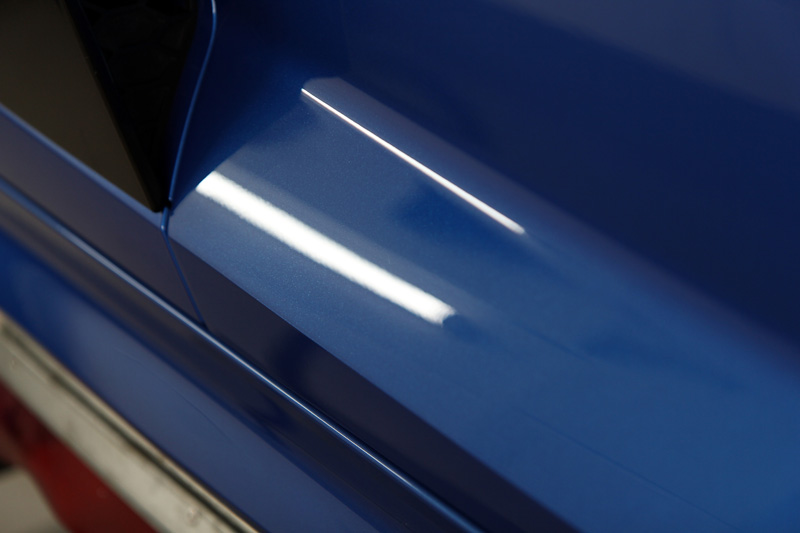 Audi paintwork is quite hard, and solid white is particularly so. There were some wash swirls and random deep scratches (RDS), plus a few stone chips, but on the whole it wasn't in bad condition. The wheels were 19 inch, 5 arm double spoke alloys and because they're finished in gloss black they show up every mark. There were a few stone chips which had completely removed the black paint revealing lighter primer, so they were really obvious. At the customer's request we removed the wheels and sent them off for professional refurbishing. – Derek Ginger, Master Detailer, UDS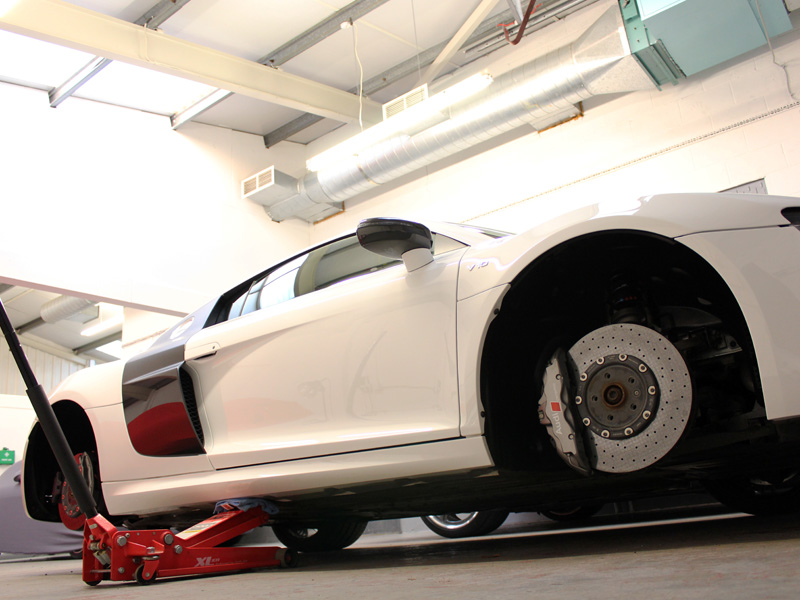 The stone chips on the paintwork were cleaned and then filled using the ChipEx Paint Chip Repair System. Unlike many generic stone chip solutions ChipEx use the manufacturer's paint code to ensure the paint colour is an exact match for the vehicle. ChipEx is dabbed into the stone chip to build up the missing paint layers using the supplied applicator.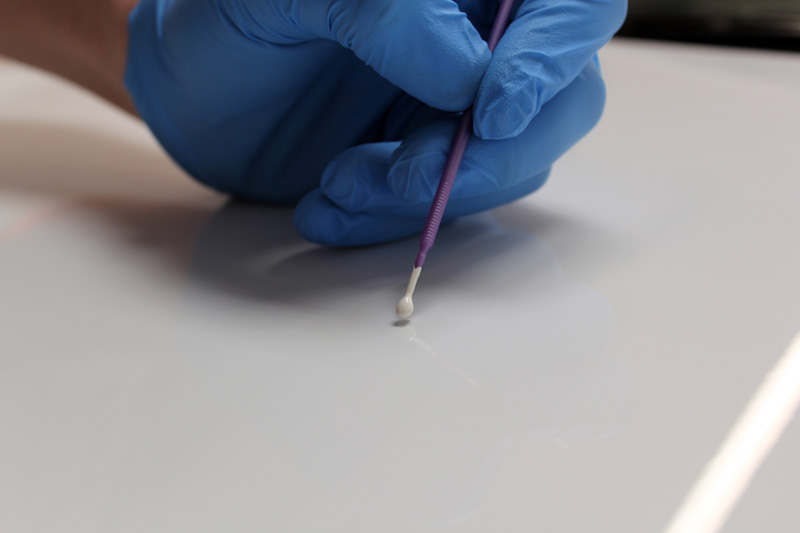 Once the paint has cured, the area is refined using a specialist polish to leave a smooth and vastly improved finish. ChipEx paint contains an acrylic lacquer designed to give a factory shine.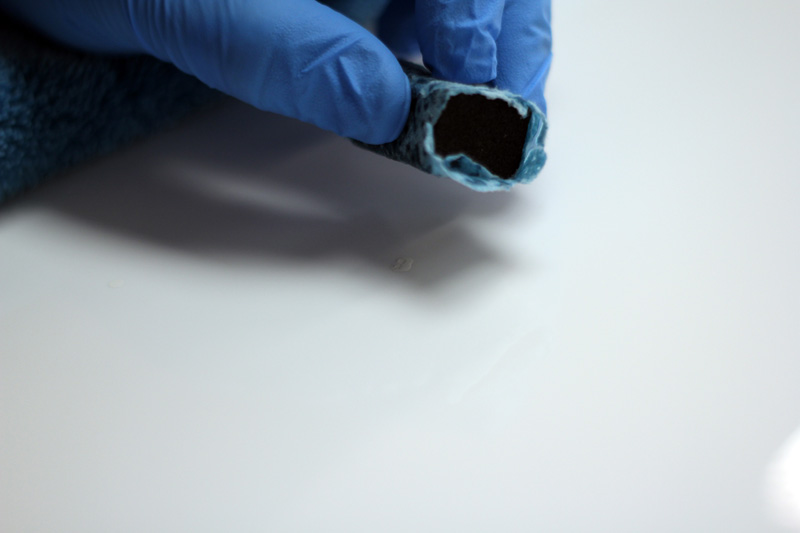 To correct both the paintwork and the visual carbon fibre, a RUPES BigFoot LHR15ES was used with a Flexipads Microfibre Cutting Pad and PolishAngel Master Compound I. This cutting agent contains micro-abrasive particles which get to work quickly, tackling scratches and swirls without leave holograms. Scratches were removed from the carbon sigma trim using the RUPES LHR 75E BigFoot Mini which concentrates energy over a smaller area.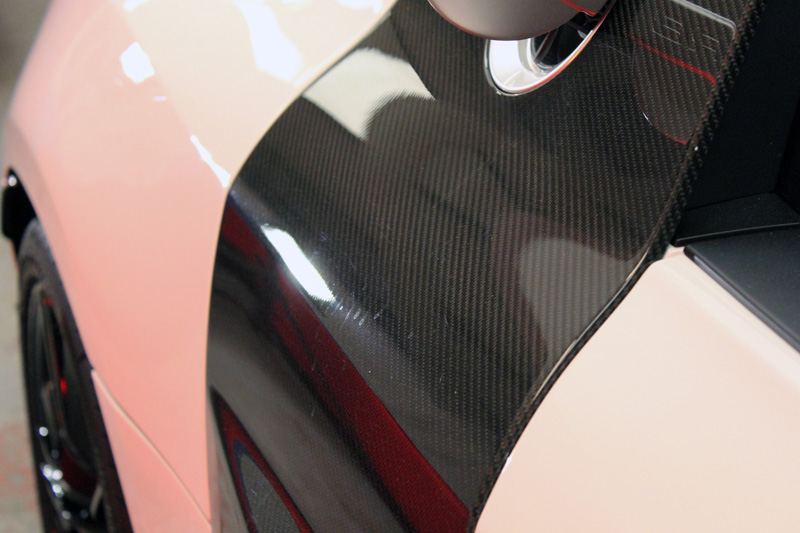 The refining process was completed using the FLEX PE14-2-150 Rotary Machine Polisher, a 3M Black Polishing Pad and PolishAngel Final Polish II.
White paint is notoriously difficult to burnish so I switched from a DA to a rotary so I could increase the speed to really generate the shine. You can't do it for all paint types because the heat generation can be too much, but with solid white Audi paint I knew it would work brilliantly. – Derek Ginger, Master Detailer, UDS
The engine bay was finished with carbon sigma pattern inlay and this was polished by hand using PolishAngel Esclate Lotion.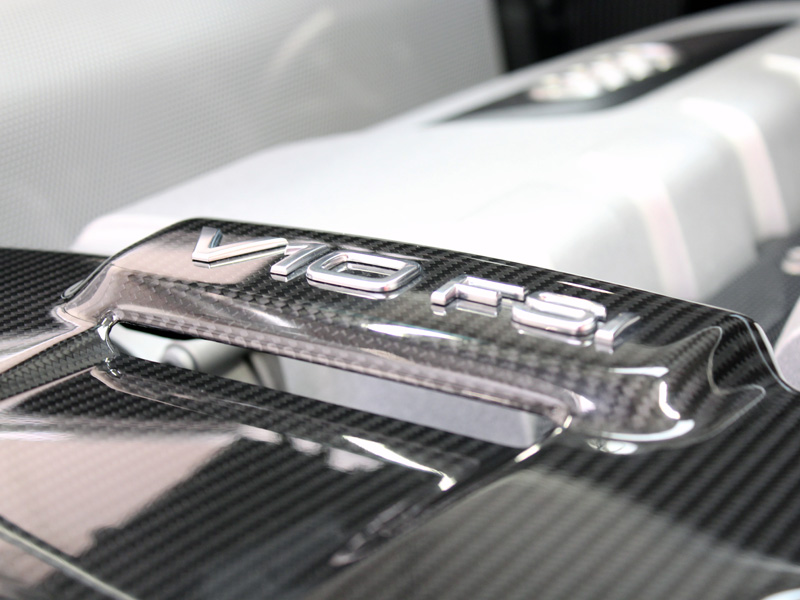 The interior was vacuumed and detailed using Gtechniq C6 Matt Dash, an anti-static cleaner which leaves a natural finish to interior surfaces.
The glass was cleaned then treated with Gtechniq G1 ClearVision Smart Glass. This bonds with the glass to form a hydrophobic barrier which repels water, reducing the need for windscreen wipers and making driving less tiring during inclement weather. As a result, ice and snow do not bond as readily with treated surfaces, making defrosting windows much easier on cold mornings!
The wheels were returned, fully refurbished and back to the original Audi factory gloss black. They were replaced on the R8 and then the bodywork and wheels were thoroughly cleansed with Panel Wipe to ensure the removal of any polish residues, silicones or any other contaminants that may interfere with the final sealant bonding fully. The paintwork and trim was then protected using Gtechniq Crystal Serum, a highly advanced nanotechnology based sealant which cures extremely hard, providing lasting protection from chemical and environmental fallout as well as being highly resistant to wash induced swirls.
Crystal Serum leaves an incredibly tough finish – it's been tested and can withstand extremes in pH – so it's resistant to harsh chemicals and acid rain fallout. The double layer it forms when it cures, provides protection against wash swirls and the shine it imparts is outstanding. It has to be applied in tightly controlled conditions because prior to curing it's sensitive to water. Once it cures it's extremely difficult to remove. For this reason Crystal Serum is not offered as a product but as a service and is only available through Gtechniq accredited detailing studios. – Derek Ginger, Master Detailer, UDS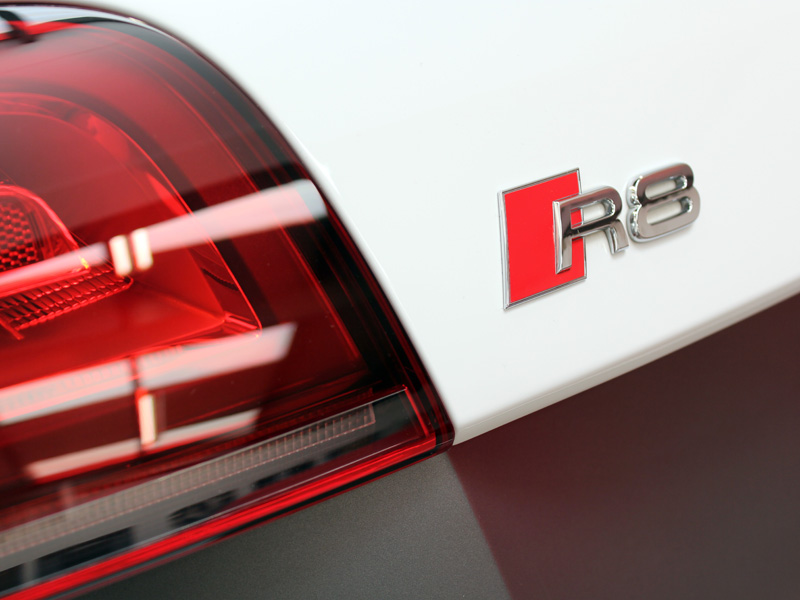 The gloss black wheels were protected using Gtechniq C5 Alloy Wheel Armour. This heat resistant coating helps prevent brake dust and road grime from bonding with hot wheels, protecting them from contamination and making them much easier to clean during maintenance washing, negating the need to use harsh chemicals.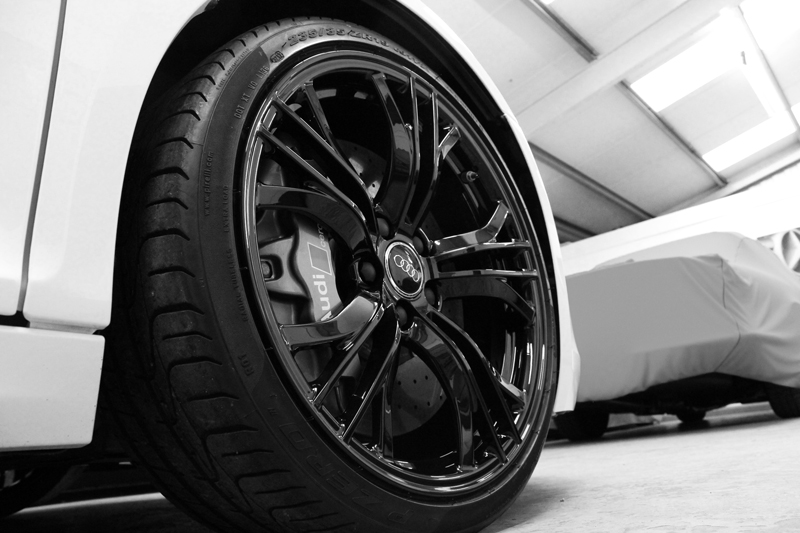 Fully protected, the R8 looked absolutely stunning and its new crystalline shine will continue to draw head-turning admiring looks for some considerable time to come.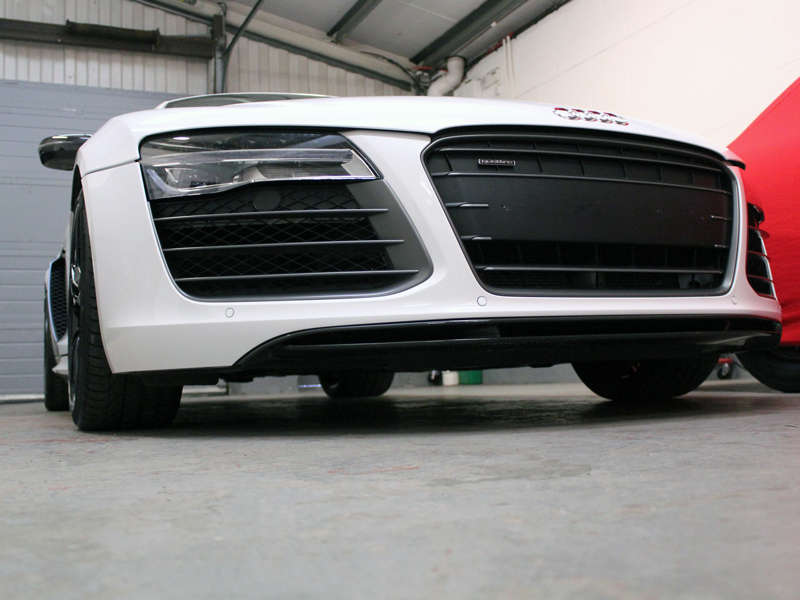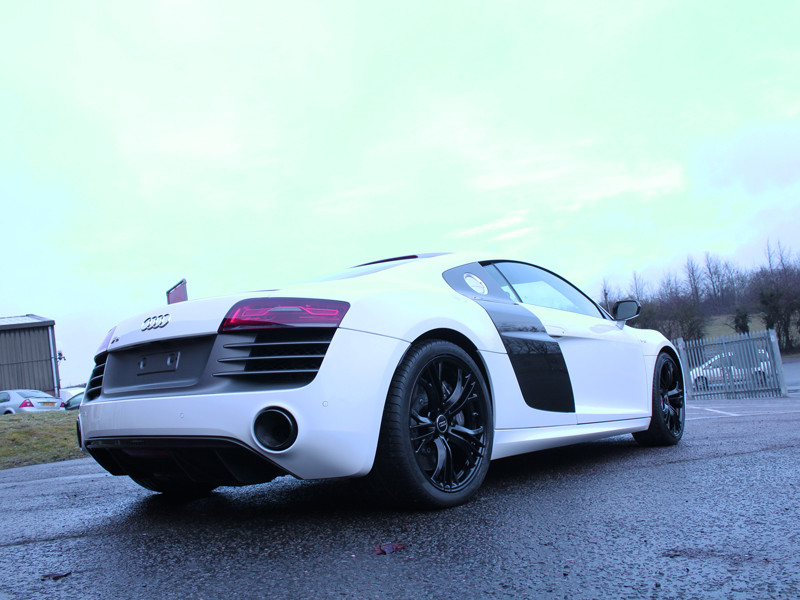 Ultimate Detailing Studio – Award Winning Detailing. Call 0333 800 8004 to discuss your requirements and arrange a free vehicle appraisal.
Ultimate Finish – Innovative Automotive Care since 1999.