Bentley Flying Spur – Cosmetic Restoration Part II
Last week saw Part I of the cosmetic restoration of a 2005 Bentley Flying Spur. In Part II, the restoration is completed, inside and out, and all surfaces of the Flying Spur protected using the most advanced nano-sealant technologies available.
The interior of the car was vacuumed thoroughly to remove loose debris. The Saddle and Burnt Oak leather upholstery was cleaned using Colourlock Mild Leather Cleaner. This is applied using a sponge, then worked into the grain using a leather brush, lifting dirt out from the fibres of the material. The area is then wiped with a soft microfibre cloth and allowed to dry. Kamikaze Collection Musashi Leather Coat was applied to protect the cleaned leather.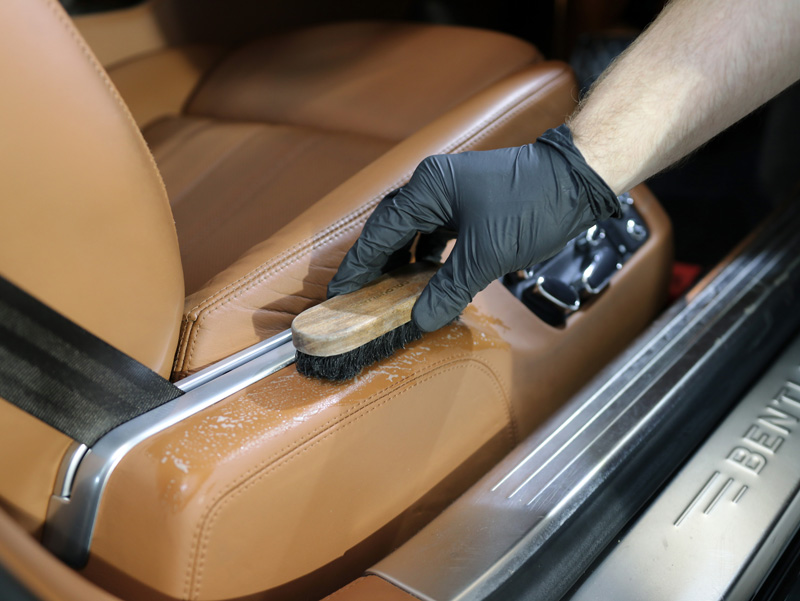 Musashi lays down an invisible layer that seals the leather with an abrasion resistant, hydrophobic coating, providing enhanced protection from wear and tear and staining. UV inhibitors help prevent the leather from becoming faded or dried out, maintaining the supple texture and luxury feel of the interior.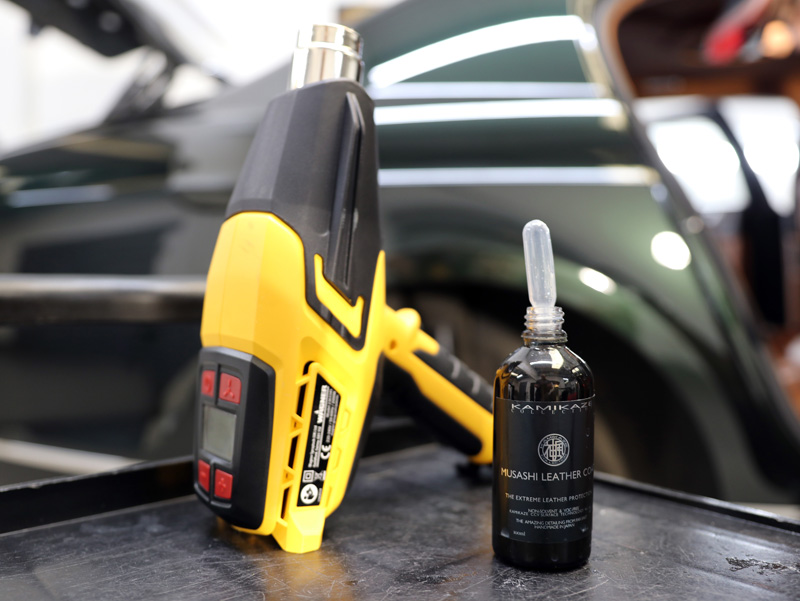 Once Musashi had been applied, the leather was heated with a heat gun to accelerate curing. Once curing is complete, dependent on usage, Musashi will protect the leather for up to three years.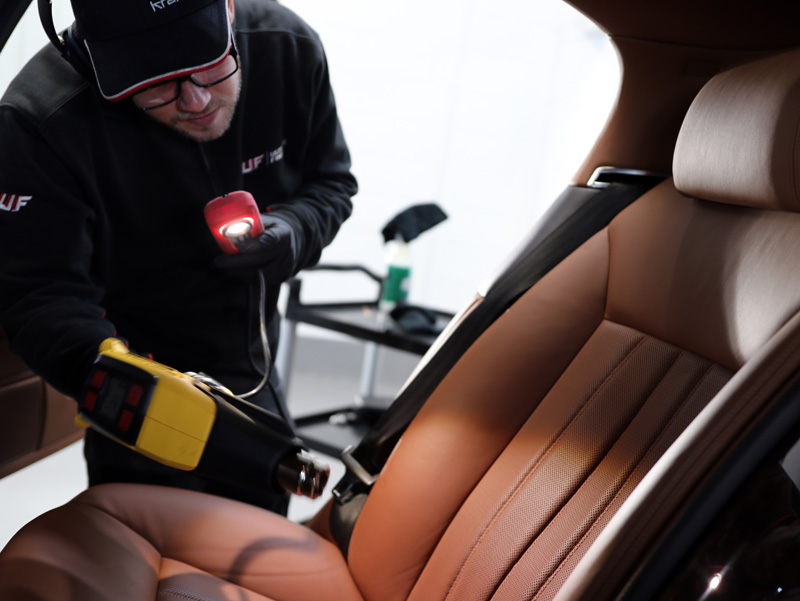 The carpets and mats were sprayed with Gtechniq I1 Smart Fabric AB to protect against water-based stains caused by accidental spillages, rainwater, wet shoes and mud. The fibres are coating individually, helping maintain their flexible texture. 'AB' denotes an antibacterial function, as I1 Smart Fabric contains Biocote, an ingredient that kills more than 99% of bacteria, inhibiting the growth of organisms responsible for unpleasant smells.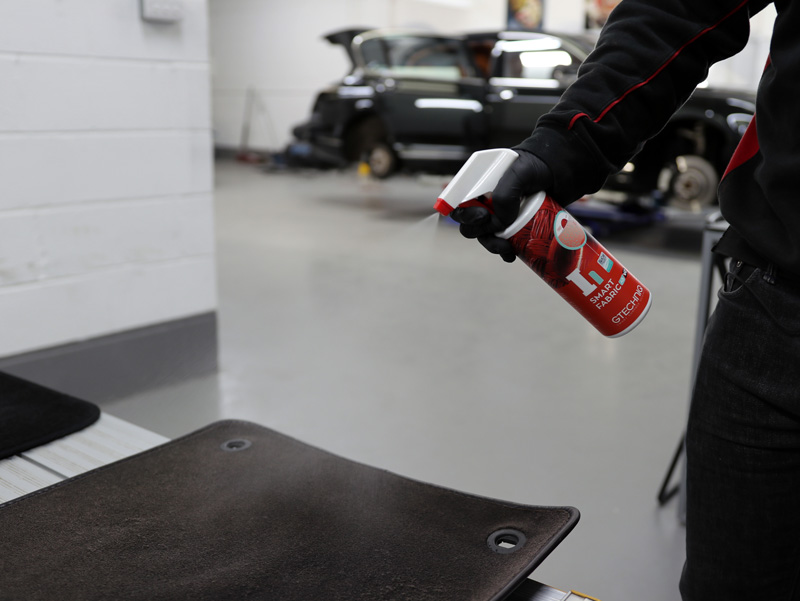 The Flying Spur's interior was trimmed with Burr Walnut veneer and this was cleaned and protected using Gtechniq C6 Matte Dash AB. This provides an anti-static layer that repels dust and leaves a natural finish. Again, the AB denotes an antibacterial function, helping to keep the interior fresh and clean.
The mesh grille required polishing to remove stubborn debris and water spot marks to restore the brilliant shine. To achieve this, a cone-shaped sponge was used with Menzerna Super Finish Plus 3800, gently lifting the calcium carbonate deposits away from the chrome finish.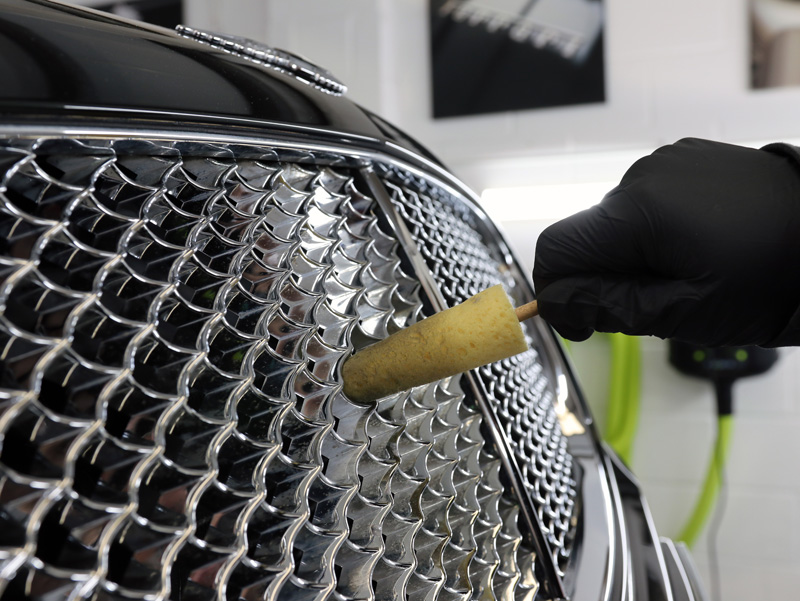 The Flying Spur's intricate grille was then sprayed with Kamikaze Collection Over Coat 2.1, enhancing the shine and helping prevent contamination adhering to the surface, making it easier to clean in the future.
Gtechniq Panel Wipe, a blend of aromatic solvents and pure alcohols, effective in the removal of silicone and polish residues, was used to prepare the surface for the sealant, Kamikaze Collection ENREI.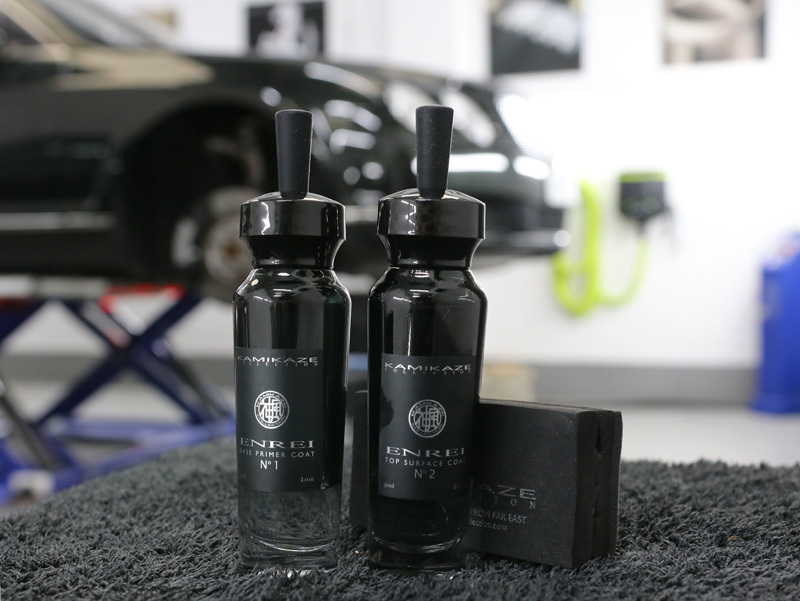 ENREI is Kamikaze Collection's flagship coating. A result of extensive research and development, ENREI has been formulated using the finest quality ingredients sourced from Germany and Japan and engineered using the latest in ceramic coating technology. Step 1 is No.1 Base Coat Primer and its principle functions are to penetrate the microscopic pores of lacquer, anchoring itself firmly and evening out any imperfections in the uniformity of the surface. It also has a higher chemical affinity to No.2 Top Coat than lacquer does, so when No.2 is applied, a greater number of bonds are formed. No.2 Top Coat repels water, dirt and other contamination, the slick surface encouraging a self-cleaning action keeping the paintwork cleaner for longer. The finished result is a tough, swirl resistant coating, virtually impervious to extremes of pH, able to withstand industrial and environmental fallout. ENREI must be applied according to strict methods developed by Kamikaze Collection's research team, and the coatings must be laid down in conditions where ambient temperature and humidity are strictly controlled. Failure to comply with the set parameters and application method will impede the performance and longevity of the coating as well as interfere with its optical clarity. UF Studio guarantees the performance of ENREI for up to 60,000 miles.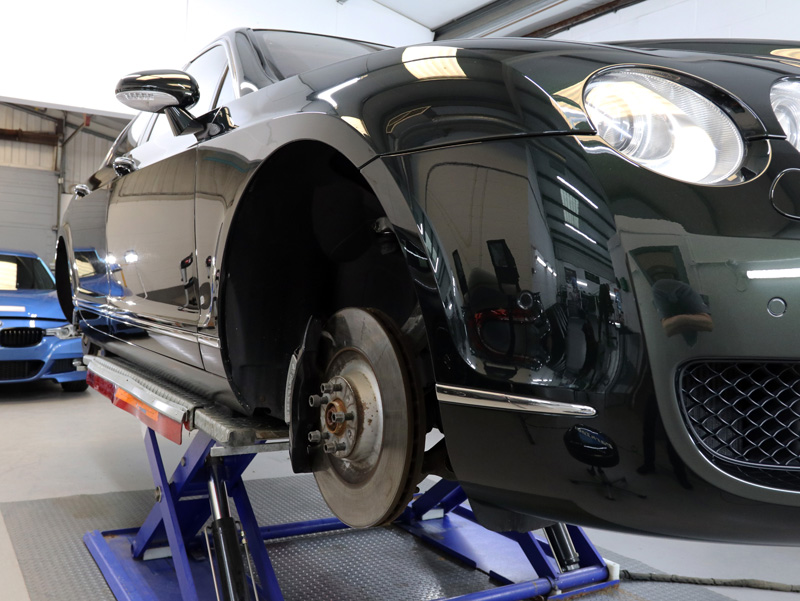 The wheels had been sent for factory standard refurbishment, an extensive process, consisting of a 6-stages. Initially, the tyres are inspected for signs of damage or wear and tear before being removed, along with the weights and valve. Rather than using a chemical bath, the rim is immersed in a solution for several hours to remove old paint, lacquer and accumulated deposits. The rim is washed, rinsed and then, if the surface requires welding, or if the rim is buckled or cracked, the issues are resolved at this stage. Using low pressure, the rim is aqua blasted (using wet abrasives) or bead blasted (using fine glass beads) to create a perfect surface for painting. To prime the rim, it is placed on a conveyor system and passed through an oven, the heat drawing out trapped air that may cause bubbles in the paint or lacquer. Powder coating primer is applied before the rim passes through a second oven for baking. After inspection to ensure there no imperfections in the finished primer, the wheel is pre-heated, passed into a sealed booth and then spray-painted. Lacquer is applied immediately over the top of the fresh paint, to protect the rim from salt, brake dust and general contamination. The rim is then inspected for quality control purposes, tyres replaced, a new valve inserted and the tyre and wheel balanced.
The wheels arrived back at UF Studio ready for a ceramic coating to give them enhanced protection from the elements. After treating with panel wipe, Kamikaze Collection Stance Rim Coat was applied to the face and the rear of the rims.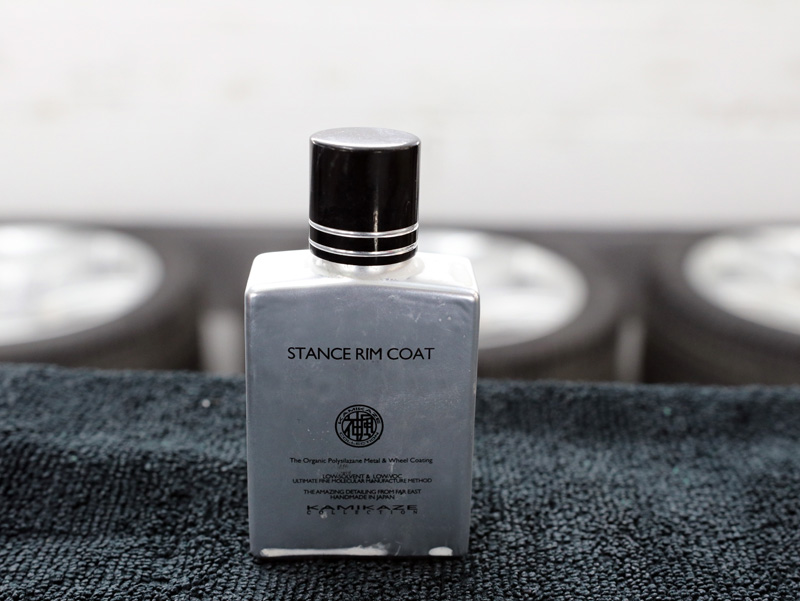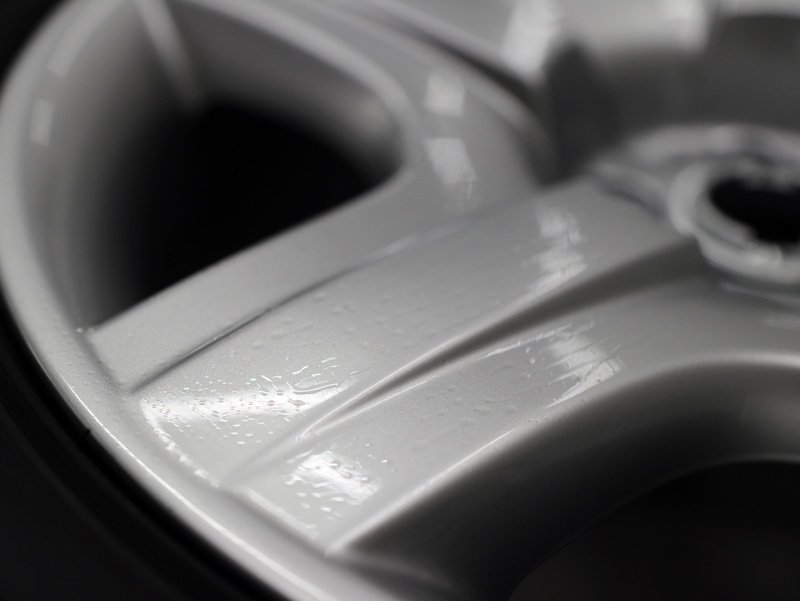 After allowing Stance Rim Coat to cure for a few minutes, the residue was buffed with a soft microfibre towel to a high shine. Treated wheels are better able to repel contamination such as dirt, grime and brake dust. Stance Rim Coat is impervious to harsh wash chemicals and is also heat resistant to extreme temperatures and so will not wash off or burn away.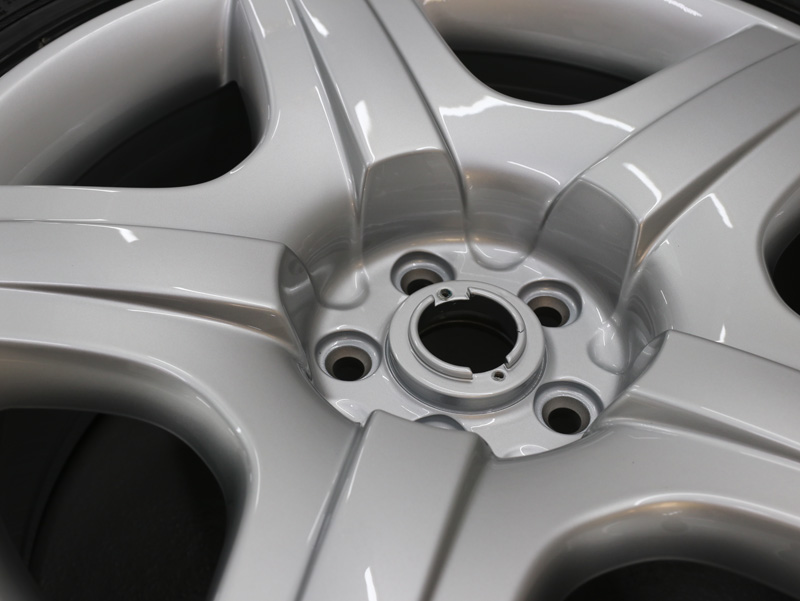 The wheels were carefully replaced on the Flying Spur taking care to ensure the correct torque settings were used.
The exterior glass was coated with Gtechniq G1 ClearVision Smart Glass , a hydrophobic sealant that repels rainwater and waterborne contamination, keeping windows clearer and cleaner for longer. This helps alleviate the fatigue caused during inclement weather conditions. In addition, snow and ice do not bond as strongly to treated surfaces making early morning starts easier on frosty winter mornings.
With the extensive cosmetic work now complete  and the Bentley Flying Spur restored to its former glory, the owner will be able to enjoy his car for many years to come.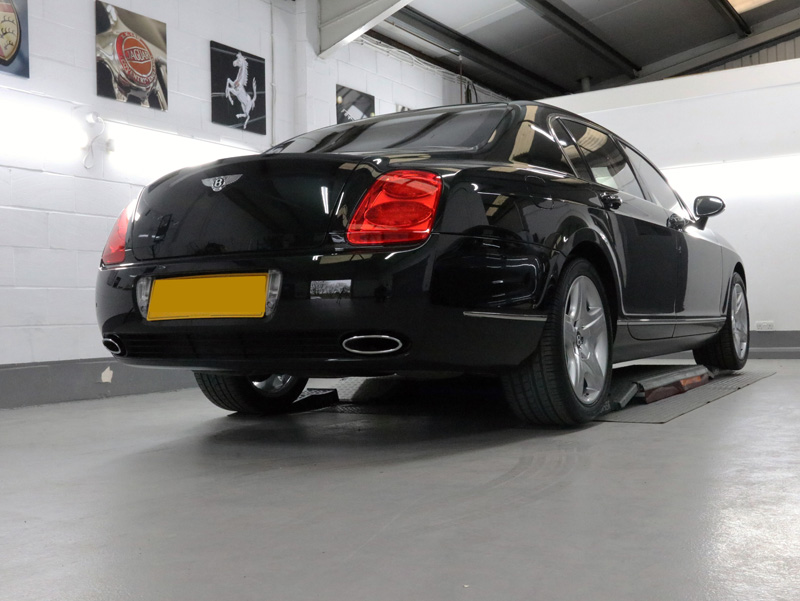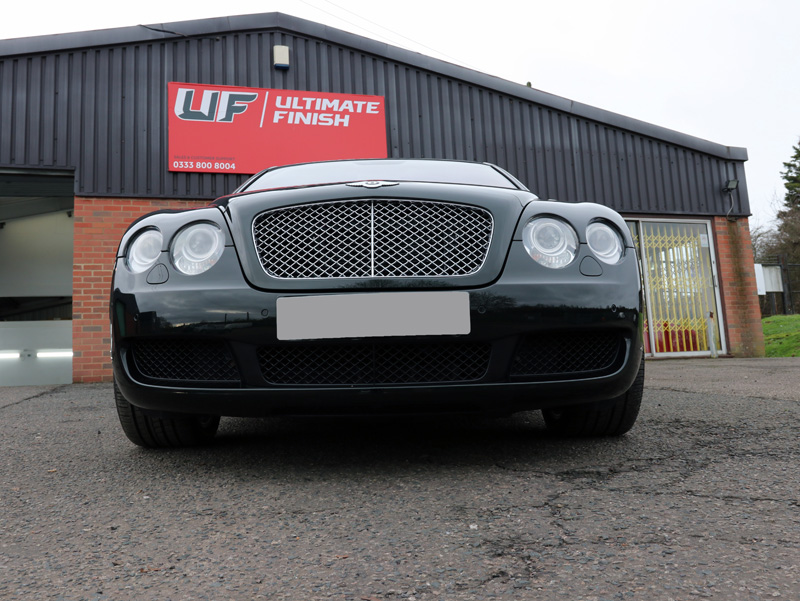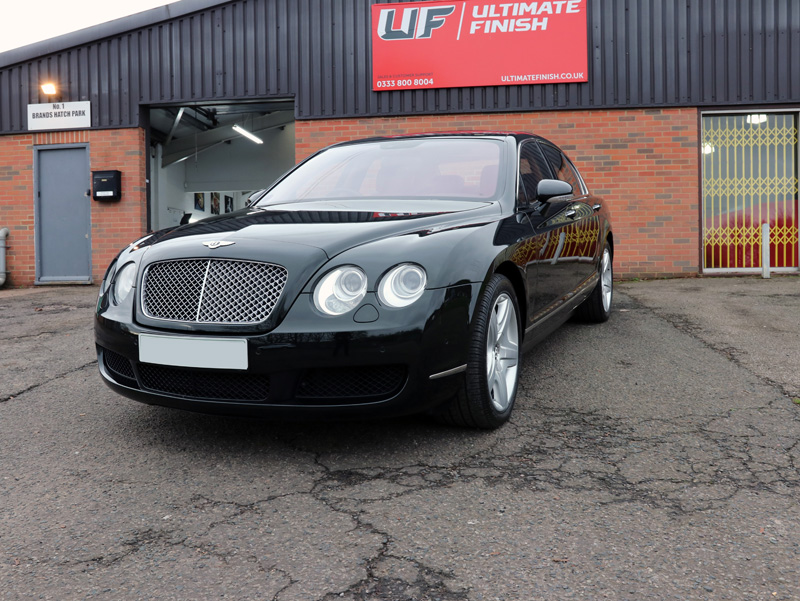 UF Studio – Award Winning Detailing. Call 0333 800 8004 to discuss your requirements or complete the online enquiry form here to receive a bespoke no-obligation quotation by email.
UF Direct – Shop The World's Best Car Care Products