3.4 Cleaning & Drying Convertible Roofs (Vinyl)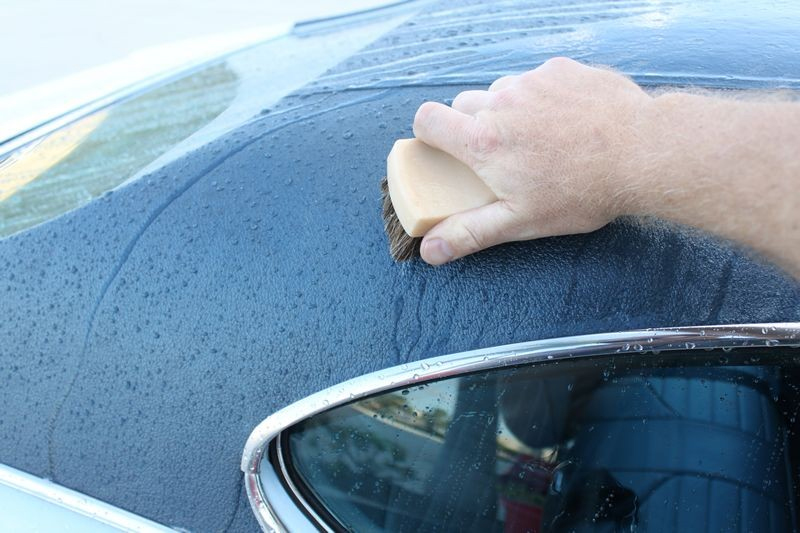 Note: This article refers to vinyl roofs. For painted hard top roofs such as those found on convertibles where the roof retracts into the boot, please see articles on paintwork care.
The textured nature of some convertible vinyl roofs means dirt and grime become embedded in the grain and can be tricky to remove. Whilst All Purpose Cleaners will work to remove these contaminants, their formulation can be quite strong, so sticking to products specifically formulated to treat convertible roofs is recommended in order to prevent premature fading of the vinyl.
Equipment:
Convertible vinyl roof cleaner in a bottle with a trigger spray head
Soft bristle brush
Hosepipe connected to mains water or pressure washer
Soft drying towel
Method:
Step 1 – Rinse vinyl roof with water to remove loose dirt
Step 2 – Spray convertible vinyl roof cleaner all over the roof
Step 3 – Gently agitate the solution on the roof using the soft bristle brush to loosen any stubborn dirt and staining
Step 4 – Rinse roof using clean water
Step 5 – Dry roof using soft drying towel. A waffle-weave drying towel is recommended rather than a microfibre drying towel in order to prevent lint catching on the textured surface
Browse Cabriolet & Soft Top Care (Vinyl)

← Car Care & Detailing Guides