New Bilt-Hamber Additions Now Available At Ultimate Finish
There is always a rumble of excitement here at UF HQ when we get wind of new products from the well-respected Bilt-Hamber. The Essex based brand produces products using rigorous testing to ensure their efficacy, with new developments always being at the sharp end of innovation.
The latest additions to the range come courtesy of 'Touch-Less' and 'Touch-On' and they are no exception to the Bilt-Hamber rule. The first product in question is Touch-Less, and, it is fair to say this new addition has raised a few eyebrows in so-called 'detailing circles'!
New Bilt-Hamber: Touch-Less
The main reason for that is where it sits in the range in terms of its functionality. Seasoned Bilt-Hamber enthusiasts will be well aware of the firmly established pre-wash cleaner that is Auto-Foam – but what separates the old from the new and is Touch-Less the replacement for Auto Foam?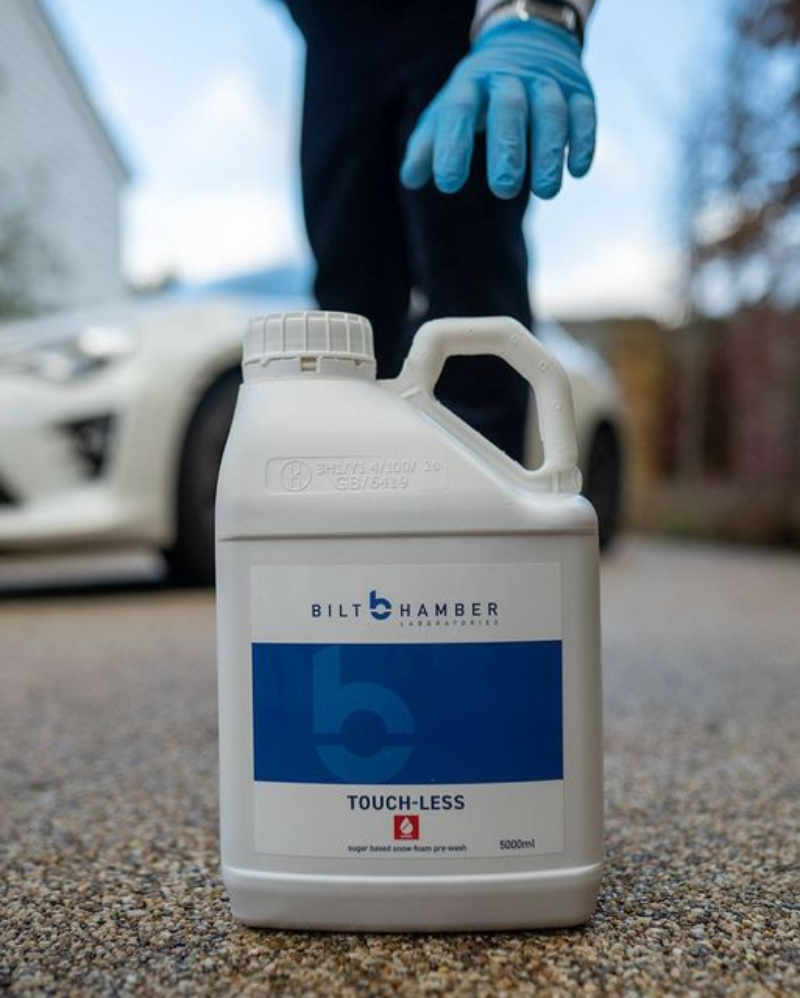 The answer to that is, no! You needn't worry about Auto-Foam disappearing any time soon. Although there are similarities in the products, their functionalities and cleaning properties are certainly different. Touch-Less doesn't produce the same dwell time or thickness of foam that Auto Foam does, instead, the thinner, sugar-based solution will slide off surfaces a little quicker. This doesn't mean it isn't cleaning though. Blasting the product away with your pressure washer will reveal all the dirt it has safely lifted away.
Bilt-Hamber themselves have even said if you are asking which is the better cleaner, the answer will largely depend on the type of traffic film that is being treated. Seeing is believing on this one, so take a look at this simple test the boffins at Bilt-Hamber put together to see exactly how the two compares on a stubborn traffic film covered works van, here.
New Bilt-Hamber: Touch-On
The second part of the new Bilt-Hamber experience comes courtesy of Touch-On. This is a paint-protection product designed for the wash stage, containing a ceramic formula, it can be applied either via the foam lance on your pressure washer or using a simple bucket wash. The Touch-On package consists of 10 sachets, with a recommended usage of once per month, maximum. It's been a while since we can remember seeing a product come in this form and we rather like it.
The simplicity of tearing open a sachet and adding to your desired application tool, be it bucket or foam lance, means there is no confusion with regards to depositing the correct quantity of product. This means that you've never got the added risk of overusing the product or running out quicker than you should.
The aim of Touch-On is to be used in the wash stage after the application of Touch-Less. With surfaces suitably prepared, Touch-On is mixed with water similarly to a shampoo and applied. Touch-On is not a particularly foamy product (this kind of goes hand in hand with anything ceramic based), however it will have your noodle wash mitt gliding over the surface very easily indeed. Before you know it, once you've moved on to your drying stage, the ease at which you can drape a high-quality towel around the car is clear to see.
Touch-Less £19.95
Touch-Less is the latest eco-friendly pressure-washer, pre-clean, snow foam from Bilt-Hamber which can be applied by pump spray or trigger. Applied at typically a 4% PIR the bio-degradable sugar-based product provides exceptional levels of cleaning for all automotive exterior paintwork. Unlike other petrochemical-based cleaners Touch-Less delivers free and easy rinsing, reducing the effort required of subsequent bucket washes and helping post-treatments to bond more effectively. Touch-Less also contains corrosion inhibitors, is pH ~12, and contains no phosphates, solvents, NTA, or caustic soda.
Touch-Less is designed to allow for superior and simple application of Bilt-Hamber's latest paint protection product, Touch-On.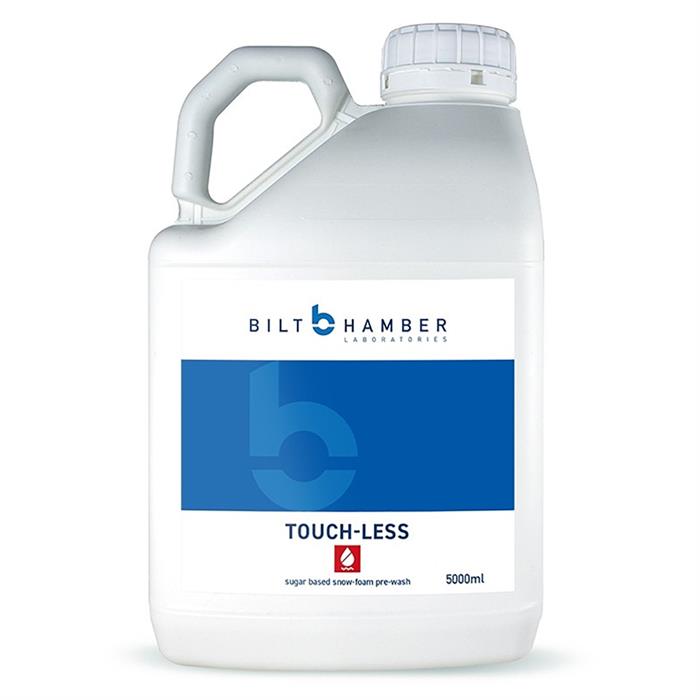 Eco-friendly pressure-washer, pre-clean, snow foam
Bio-degradable & sugar-based
Contains corrosion inhibitors
pH ~12, Touch-Less contains no phosphates, solvents, NTA, or caustic soda
Eases the effort of subsequent bucket washes & helps post-treatments bond too
Touch-On £11.95
Shampoo based, paint protection solution
Low-foaming
Powerful detergent
Helps produce superior contactless results
Water based, containing no alcohol or petrochemical solvents
Bilt-Hamber's latest paint protection and shampoo product Touch-On can be applied via a pressure washer, pump-spray, trigger, or bucket and delivers durable hydrophobic ceramic paint protection. The low-foaming, powerful detergency works in conjunction with second stage bucket washes to further clean paintwork while simultaneously applying protection. Once applied, Touch-On's dirt releasing properties work in conjunction with Bilt-Hamber Touch-Less in subsequent wash routines to produce superior contactless results. The product comes in one dose sized 30ml sachets and are recommended for application no more than once per month. Touch-On is water based, is not flammable and does not contain alcohol or petrochemical solvents.
Recommended for use after the application of Bilt-Hamber Touch-Less.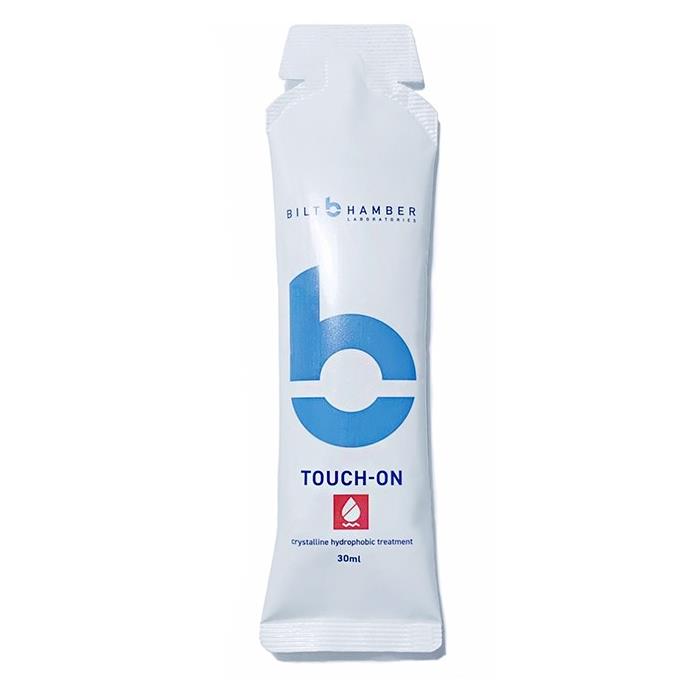 Shampoo based, paint protection solution
Low-foaming
Powerful detergent
Helps produce superior contactless results
Water based, containing no alcohol or petrochemical solvents
The full range of Bilt-Hamber products can be found here.
Visit Ultimate Finish for the best car care and detailing products from around the globe.
Have a question on any of our products? Email sales@theultimatefinish.co.uk or call 01474 360 360.
Our team is on hand, Monday to Friday, 8am-5pm.