Polishing Perfection – A Training Day At Pilgrim Motorsports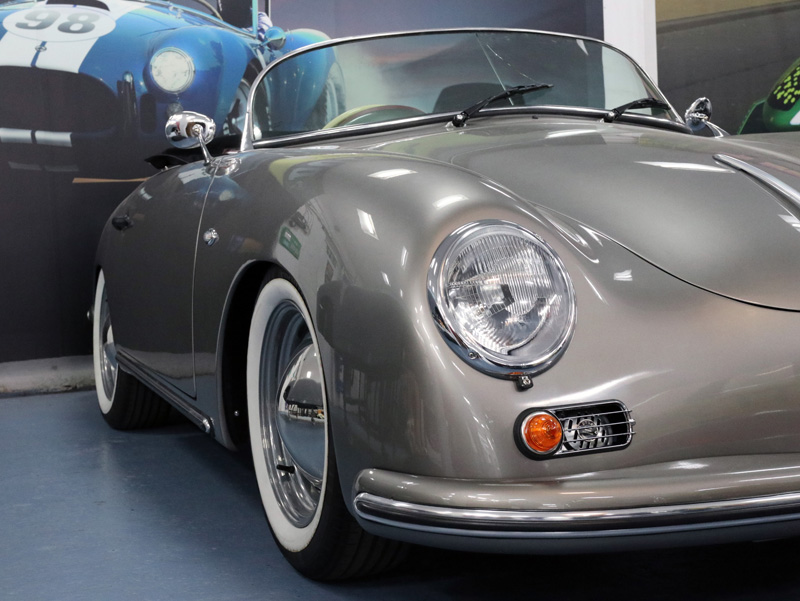 UF has been involved in the detailing scene for over twenty years, selling the world's best car care products online, dispatching orders from their state-of-the-art distribution centre in Burgess Hill, West Sussex whilst offering cutting edge cosmetic restoration services at their Brands Hatch detailing studio in Kent. Using this experience, UF has introduced a range of car care training courses from one-day events teaching enthusiasts the best methods to safely decontaminate, wash, dry and machine polish their cars, to five-day sessions designed for those offering detailing services professionally.
Pilgrim has been building cars since the 1960's, re-branding as Pilgrim Motorsports in 2014 after being bought by Adrian Hewetson and Paul Bennett, the company is primarily known for building the Pilgrim 356 Speedster 1986, a replica of the Porsche 356 Speedster, and the Pilgrim Sumo 1985, a replica of the AC Cobra. At their workshop near Brighton, they fabricate chassis, suspension components, and manifolds plus a range of other parts. They produce their body shells at their fibreglass and laminating workshop, all from their own moulds. So, aside from the galvanising process for the chassis, the replicas are all made entirely in-house.
Pilgrim Motorsports also imports and retails classic American muscle cars, including 1060's Ford Mustangs and Chevrolet Camaros, from their Sussex base, along with a few other exotic, unusual and cult classic vehicles. Past occupants of the forecourt have included a 1925 Morris Cowley Bullnose and a 1973 VW Camper Van, restored to the highest specifications by a local VW specialist. Since January of this year, Pilgrim Motorsports has offered classic car servicing too.
We recognised that whilst classic American cars are increasingly popularity, the number of garages with the specialist tools and knowledge required to perform regular servicing and maintenance hasn't kept pace with growing demand. As we have the tools, the knowledge and the room, we decided to start offering these in addition to our fabrication and retail services. – Paul Bennett, Co-owner & Sales Director, Pilgrim Motorsports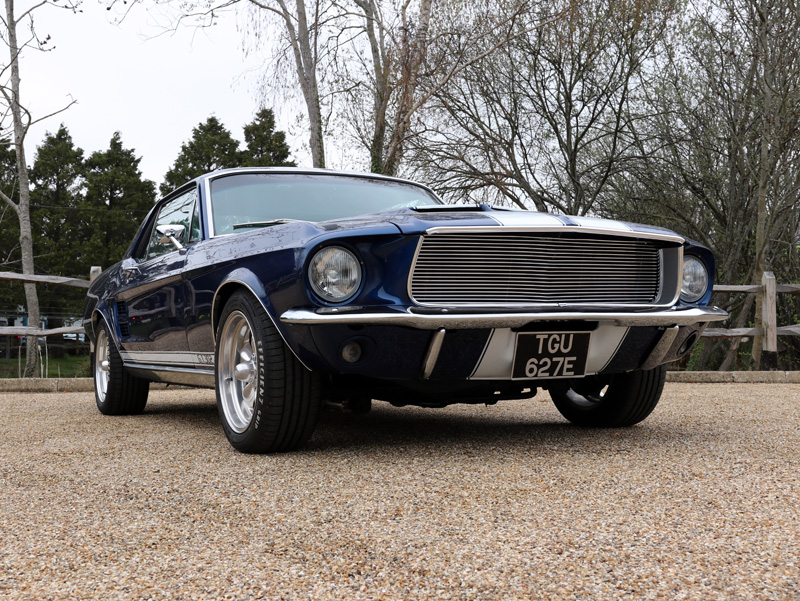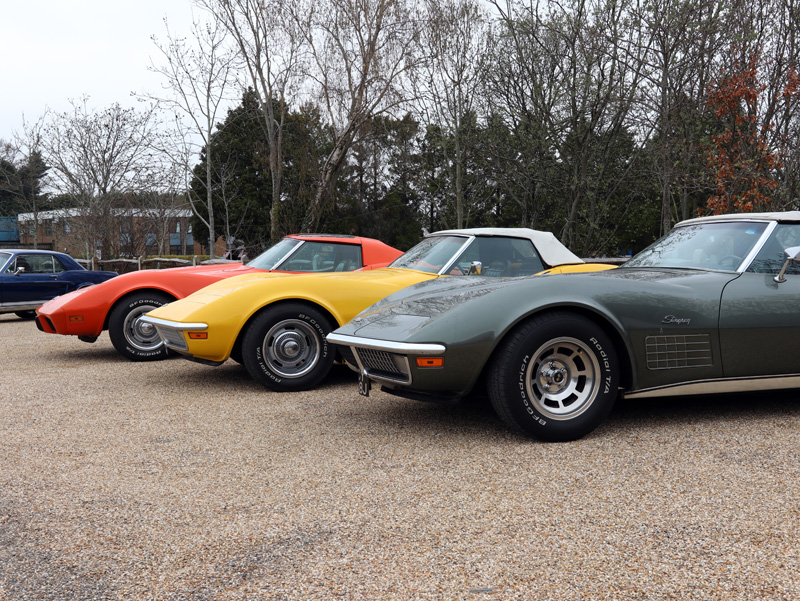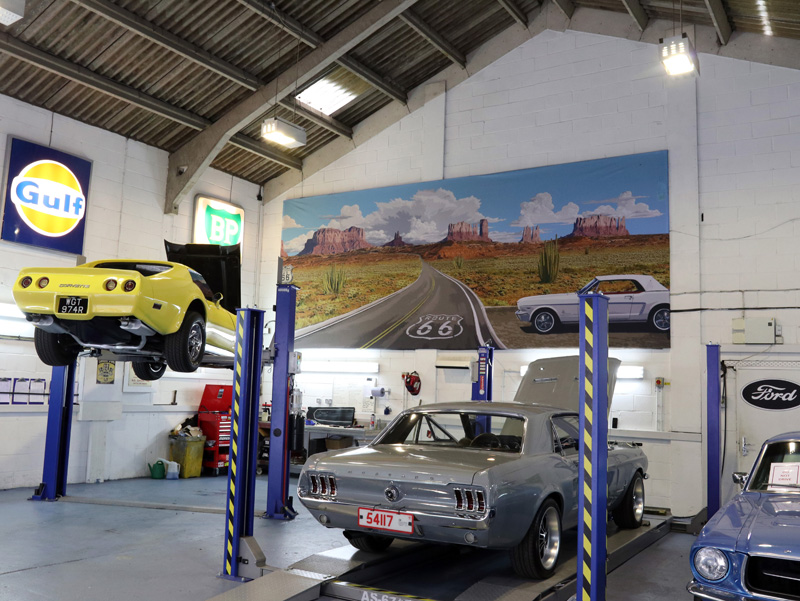 Looking to deliver a final finish as impressive as the vehicles they build, Pilgrim booked a bespoke one-day training session at their Henfield base. The session was tailored to meet their specific requirements, incorporating safe decontamination, washing and drying techniques as well as using a machine polisher to correct, refine and finish paintwork.
We realised that car care has evolved significantly over the years and decided it was time to update our knowledge. We contacted UF who were helpful, enthusiastic and clearly knowledgeable, and with their help purchased a range of products and tools. It was arranged for two of their team to come to our base in Henfield for a day to deliver training in how to safely decontaminate and wash our vehicles, then machine polish and protect them. – Paul Bennett, Co-owner & Sales Director, Pilgrim Motorsports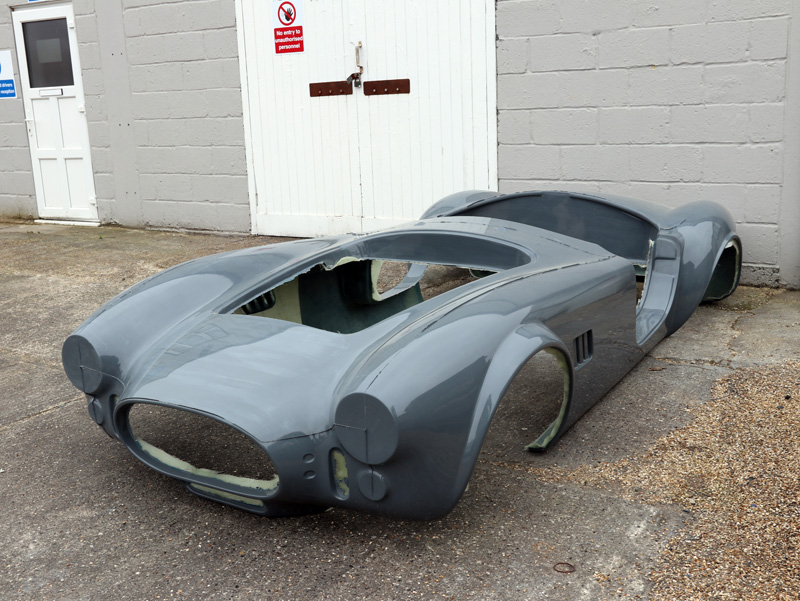 Pilgrim Motorsports builds exceptional cars and understandably they wanted them cosmetically finished to the same high standard. As such, Pilgrim's owners felt the technicians would benefit from some detailing and machine polishing training. In addition to building the replicas, Pilgrim Motorsports also imports the finest examples of American muscle cars directly from the US as well as trading in other exotic vehicles. In fact, at the moment their forecourt boasts an E-Type Series 1 Jaguar and a couple of Ferraris, including the Testarossa gifted to Nigel Mansell when he signed for Ferrari in 1989. Given the quality of the cars, Pilgrim wanted to ensure they were doing each car justice. – Jez Gilman, UF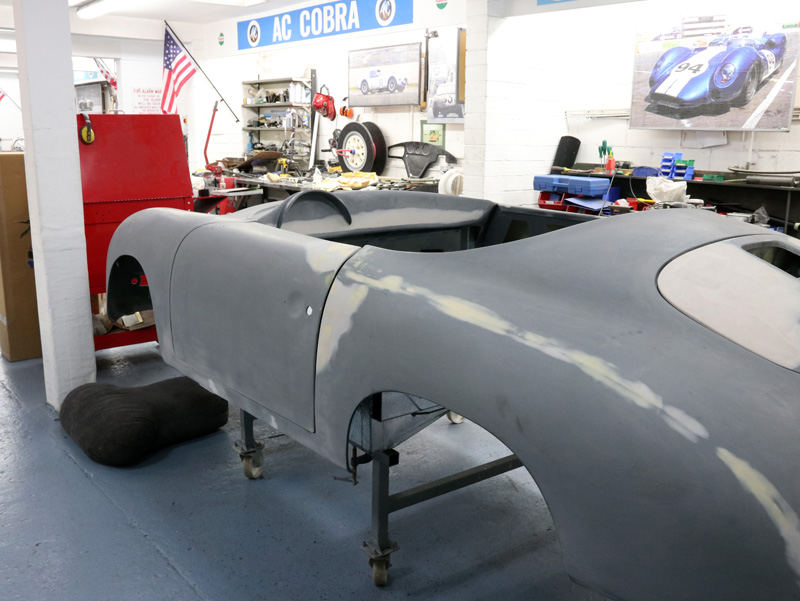 The key to successful machine polishing lies in the preparation. After an initial discussion with the Pilgrim team, it was discovered they were getting through machine polishing pads at a fairly high rate. Further consultation revealed some steps that were currently being missed at the preparation stage that would help to alleviate that issue. To this end, the Pilgrim team was taken through the extensive decontamination processes employed by UF Studio. Initially, Ultimate Snow Foam is sprayed onto the wheels and arches and allowed to dwell for a few minutes. The arches, wheels, and tyres are then cleaned using brushes where necessary to ensure all loose debris and old tyre dressings are removed. After rinsing, the same area is treated with an iron-contamination remover to release brake dust particles, built up over a period of time. The colour-change function of these products highlights the presence of brake dust.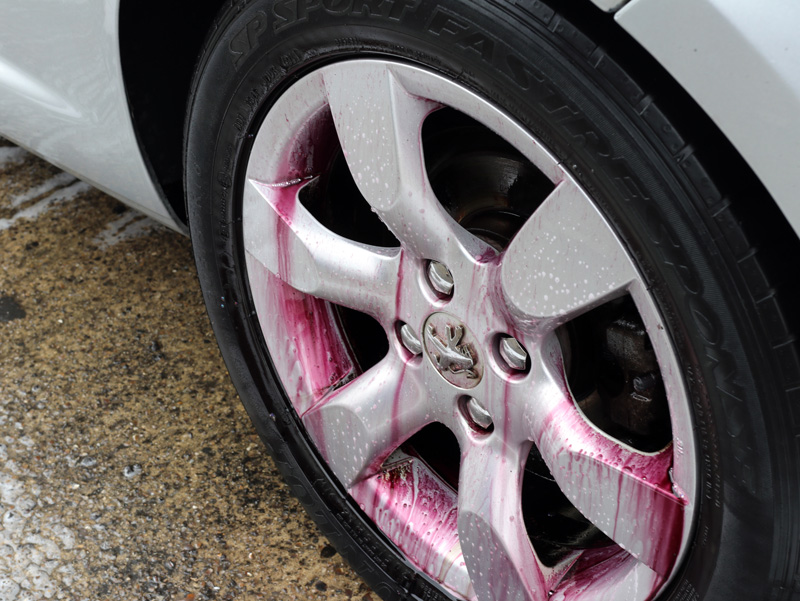 When the colour development stabilises, the product and the brake dust can be easily rinsed away. As brake dust particles are sharp, attempting to remove these by machine polishing often results in the particles being trapped in the face of the polishing pad causing scratches and swirls in the paintwork.
The bodywork is then also snow foamed, the thick lather lifting larger particles of dirt and grit away from the surface of the panels. The whole vehicle is rinsed using a pressure washer to remove cleaning solution and contamination. Then, to highlight how bonded contamination can remain, even when a surface appears clean, some cling film was used.
Taking cling film and wrapping it around your fingers, then running your fingers across the panels highlights the presence of any contamination. The team was surprised at how bumpy the panels felt even though they looked clean. A perfect finish relies on the surface being as smooth to the touch – any disruption on the surface affects how light bounces off it. Having a smooth as glass surface to work with should end up with a mirror-like reflection! – Matt Back, UF Studio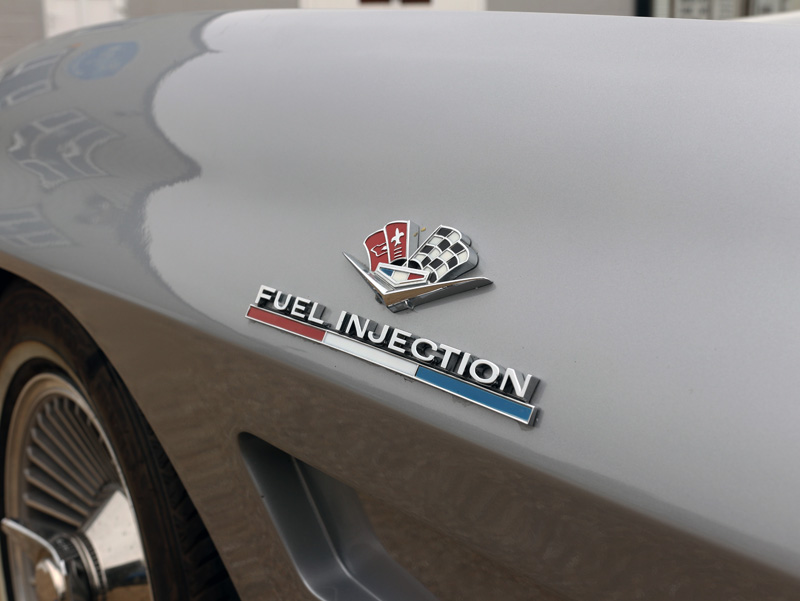 Removing bonded contamination with a machine polisher can result in the polishing pads being worn quickly as any larger particles can tear the pad face. Using a clay bar to remove this contamination will help preserve the pads. Safe claying methods were then demonstrated, with an explanation of the different types of clay, the various lubricants available, the varying grades of clays and the pros and cons of clay bars and clay mitts. After this, the car was washed using the Two Bucket Method which uses a Wash Bucket and Rinse Bucket to keep wash solution separate from rinse water. Both buckets have a Grit Guard placed in the bottom. A wash mitt is dunked into the Wash Bucket which holds warm water and a pure shampoo, such as Nanolex Pure Shampoo. This type of shampoo does not contain additives or gloss enhancers which might leave residues on the paintwork. After loading the mitt with wash solution, a section of the vehicle is cleaned. The mitt is then rinsed in the Wash Bucket, brushed across the Grit Guard to release particles of dirt from the mitt's pile. The mitt is then wrung out before being dunked back into the Wash Bucket and the process repeated until the car is completely clean. This keeps the dirt removed from the car in the Rinse Water, helping prevent that dirt from being reintroduced to the car's panels and potentially causing swirls and scratches. Once clean, the suds were rinsed and the car dried using soft microfibre drying towels.
Once the car is decontaminated, washed and dried, it is then ready to be inspected under high-intensity lighting. Bright LEDs mimic sunlight, highlighting all swirls, scratches and blemishes even on lighter coloured paintwork which can hide imperfections. – Matt Back, UF Studio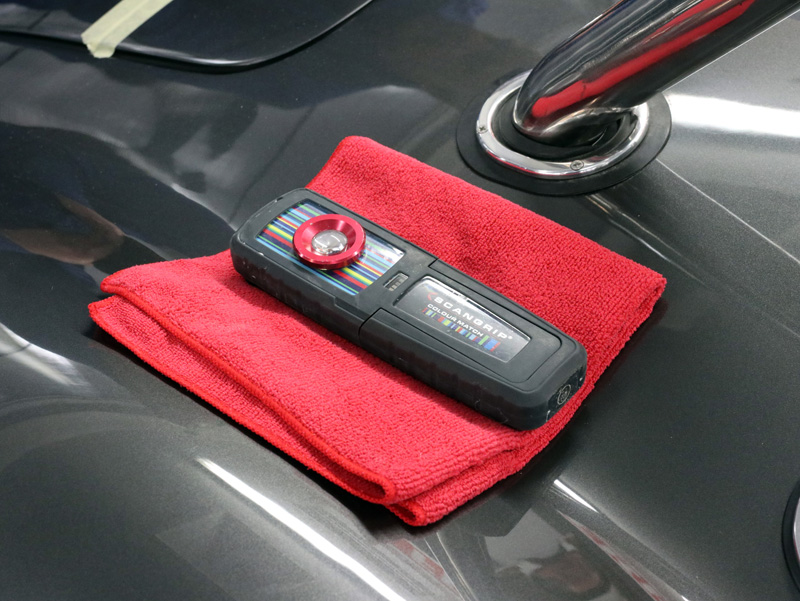 What a detailer sees when they look at a painted panel is completely different to what a car manufacturer sees – we're looking for different things. You have to be taught how to look at paint so you can really see what's there. So, this was the time to introduce the team to a new way of looking at paintwork. Using a SCANGRIP Sunmatch detailing light, the paintwork on the demonstration car was inspected and the various types of imperfection pointed out and explained. – Matt Back, UF Studio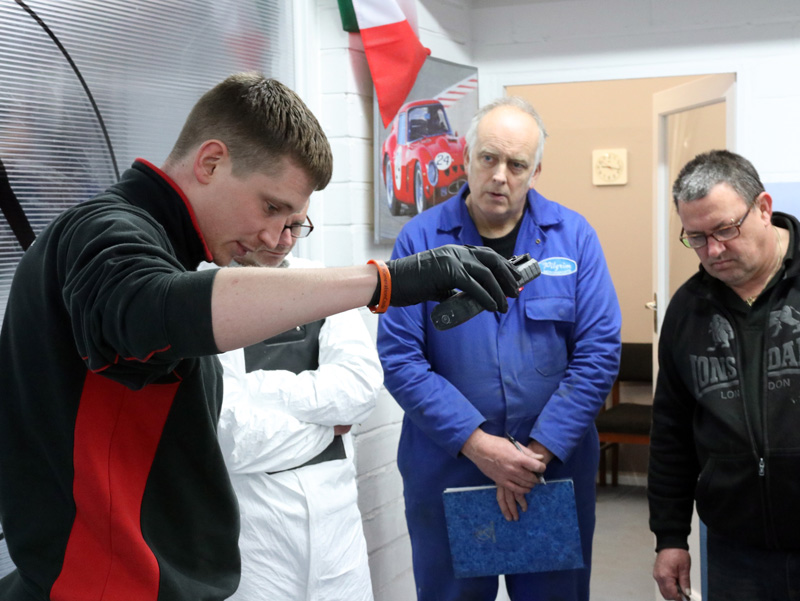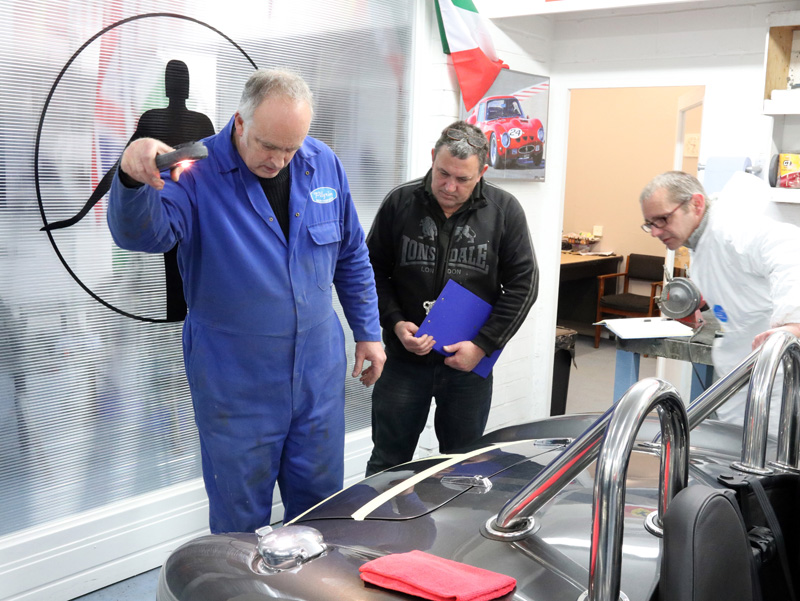 UF had recently supplied a RUPES BigFoot LHR 15ES Mark II dual action polisher, so the team was keen to receive training on using this tool. Prior to commencing machine polishing, pads and compounds must be carefully selected bearing in mind it is the combination of the two that produces the result. A particular pad will have a different impact when a more aggressive or more refined compound is used. Likewise, the same compound used with different grades of pad will also produce a different result. This was demonstrated using a FLEXIPADS Hex-Logic Orange Cutting Pad and a Kamikaze Collection Banzai Dynamics Black Finishing Pad.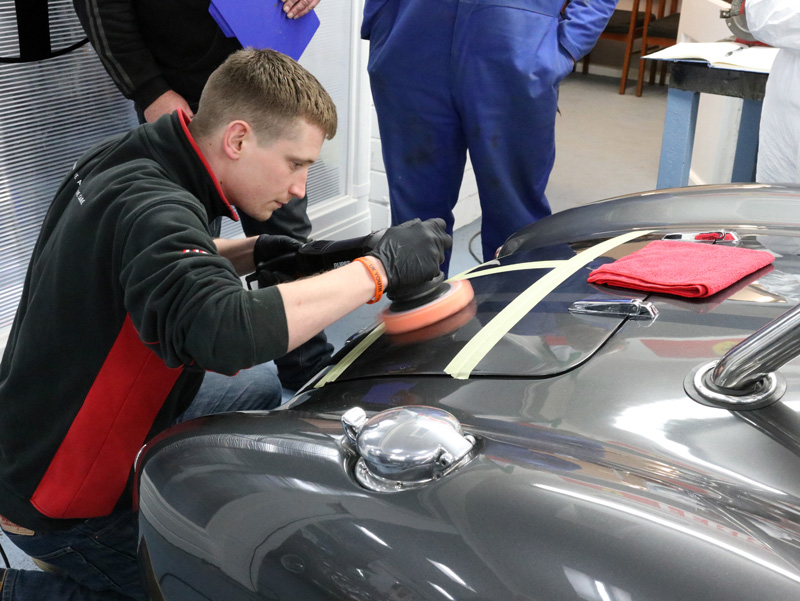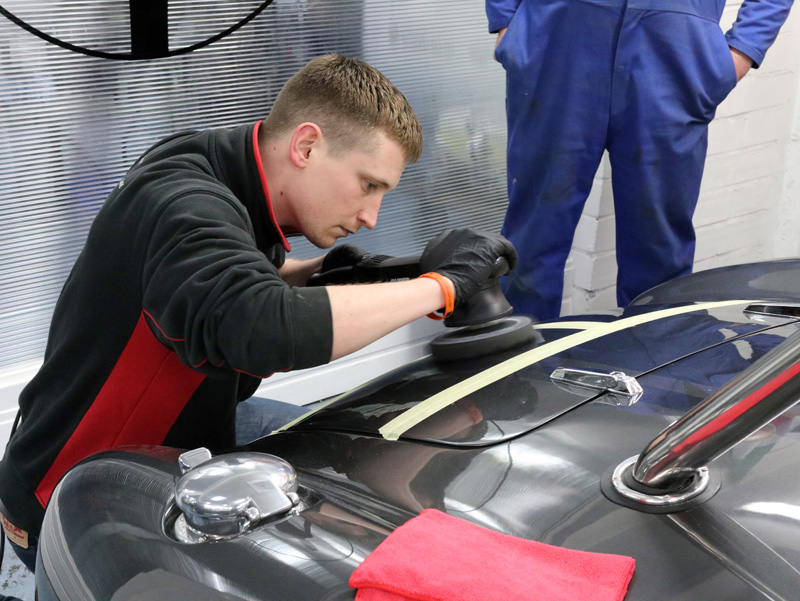 The deck lid had been sectioned with detailing tape, allowing for comparison later. Initially, a demonstration of paint correction was carried out with an explanation as to the technique being employed. Then, each member of the Pilgrim team had the opportunity to use their Mark II LHR15 ES under careful instruction.
When learning to machine polish, it's easy to get carried away with the machine's oscillation. It's important to ensure the pad lays flat against the paintwork, as having it an angle will affect how the machine spins. The pad must be held flat against the panel to ensure uniform results so it's vital to consider the angle of the polisher against the contours of the panel and monitor it constantly. – Matt Back, UF Studio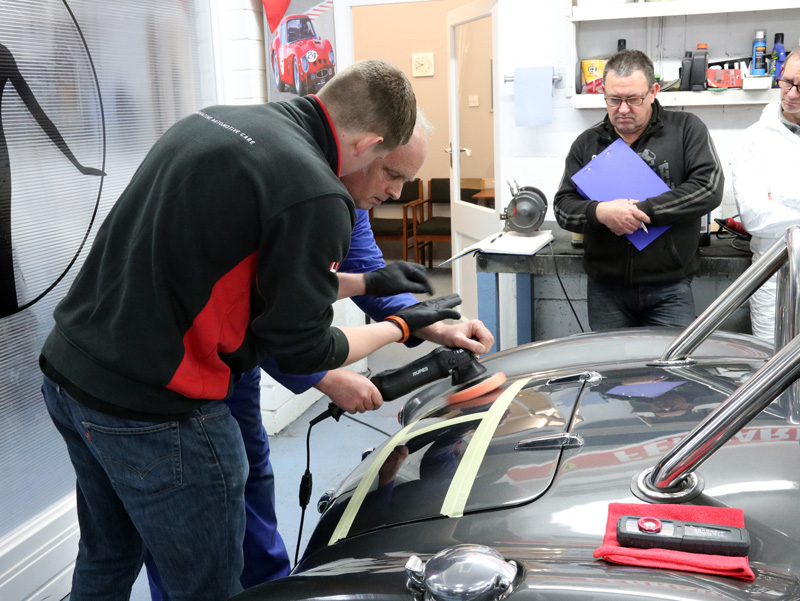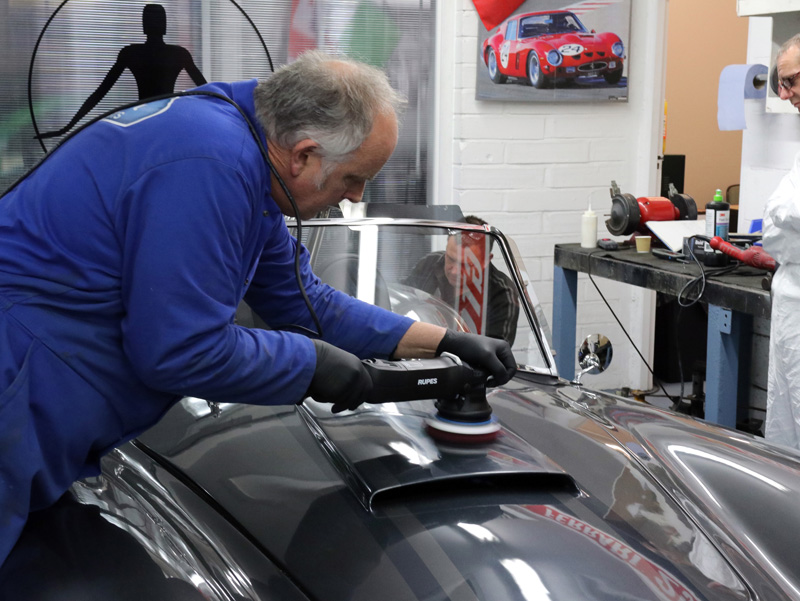 After each member of the team had been taken through both the correction and refining stages, the different sections were compared.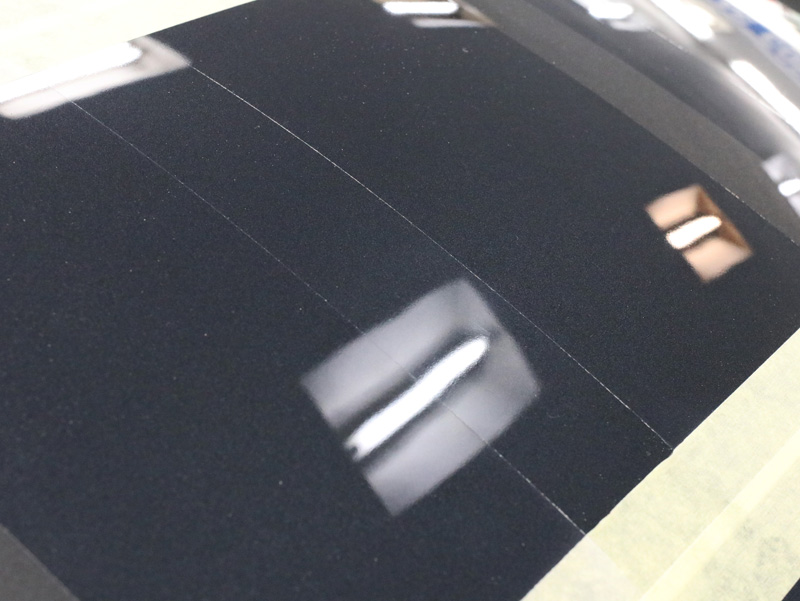 The right-hand side was where I had been demonstrating, the left-hand side was where the Pilgrim team had been working. The strip down the middle had been covered with detailing tape so hadn't been touched. The team was able to see the difference between all three sections and I could use it to highlight various issues. For example, when you're working on a section, the natural tendency is to pay more attention to the side you begin on so there can be inconsistencies in the finish. Additionally, the edges of each section can be neglected, so this was a really useful exercise to be able to show them how easy it is for this to happen so they can be aware of it for the future. – Matt Back, UF Studio
The team was introduced to a RUPES LHR75E Mini Dual Action Polisher to demonstrate how narrow sections or curvy panels benefit from different tools.
There are many different machine polishers available today and they've been developed to tackle specific issues. Standard machines work well for larger, flatter panels, however for narrow areas, such as along the tops of doors, around wheel arches, door pillars, door shuts, and so on, using a polisher with a smaller head is more effective than a standard machine, where you have to polish narrow areas with the edge of the pad. With a smaller machine, the polishing action is concentrated around the central point of spin so the machine is easier to control and the results are uniform. – Matt Back, UF Studio
With the machine polishing training completed, discussion moved on to last step protection products. Ceramic coatings, carnauba waxes, hybrid waxes and polymer sealants are the main choices when it comes to last step products. The differences in terms of application, longevity, gloss, resistance to pH and contamination, and water repellency were explained. Ceramic coatings protect for longer but require careful application within tightly controlled environmental conditions. Carnauba waxes produce a deep, wet-gloss shine but are not as durable. Hybrid waxes contain both natural carnauba and ceramic coating elements. These are generally easier to apply than ceramic coatings but may not be as easy to apply as pure carnauba waxes. Polymer sealants are easy to apply but their performance is usually limited to a matter of weeks. Pilgrim Motorsports decided their classic vehicles would benefit from carnauba wax protection which offers a good balance protection and versatility whilst being straightforward to apply. The gloss carnauba wax imparts to paintwork is stunning too!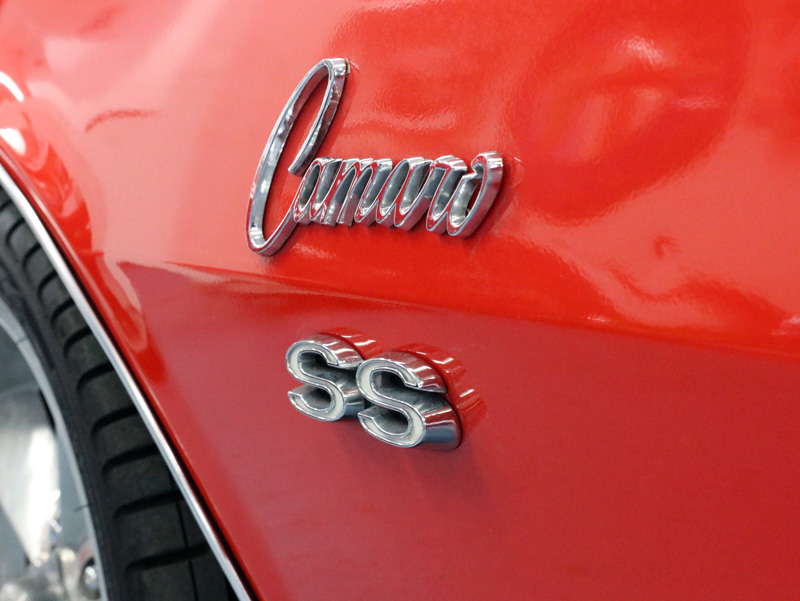 The training day completed, the team at Pilgrim Motorsports was now far more confident in their ability to get the most from machine polisher and felt they had a comprehensive understanding of the techniques required to finish a car to the same exacting standards by which they build them.
It was a successful day. The team was excited and amazed at the level to which car care has risen and they are all looking forward to having more time to put their new skills and knowledge to use. We were very happy with the service we received from the UF team and no doubt we'll be inviting them down again as we want to continue to ensure our cars are finished to the very highest of standards. – Paul Bennett, Co-owner & Sales Director, Pilgrim Motorsports
The Pilgrim Motorsports web site can be found here.
Training Courses are available at UF Studio, Brands Hatch, Kent. For further information, upcoming dates and to book a place, please visit the Training Courses section.
UF Studio – Award Winning Detailing. Call 0333 800 8004 to discuss your requirements or complete the online enquiry form here to receive a bespoke no-obligation quotation by email.