A Black Audi Q7 Receives Much Needed Gloss Enhancement
No-one would argue that the Audi Q7 has significant road presence and when seen growling up behind in the rear view mirror with the grille teeth showing they do look suitably menacing. Our customer brought his black Q7 in to Ultimate Detailing Studio for a Gloss Enhancement Treatment as, being black, the swirls and scratches were quite visible and they were getting him down!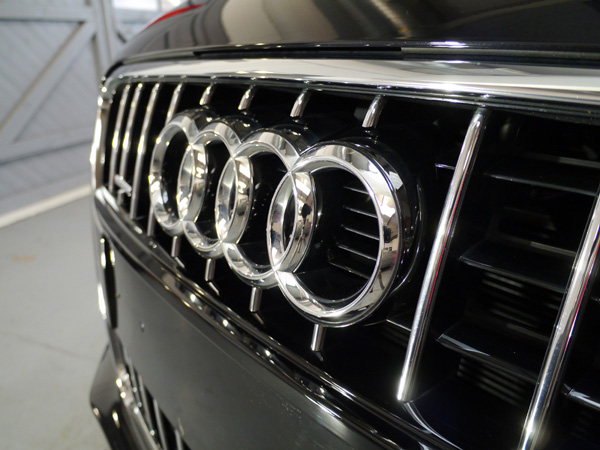 This Q7 had lots of swirls and scratches over the bodywork. Black always suffers with this – it shows up everything. The Q7 is a considerable piece of motoring real estate and you really want the paint in the best condition to show it off to the max. – Master Detailer, UDS
It all started with a pre-wash using Ultimate Snow Foam to remove the larger particles of dirt. This prevents introducing further swirls marks during the main wash. The whole car was then washed thoroughly using the 2 Bucket Method, Swissvax Car Bath and Waschpudel. The wheels were first cleaned with Valet Pro Dragon's Breath to remove the bonded iron particles which embed – these come mostly from brake pads and bond readily with hot wheels! Dragon's Breath sprays on to the wheel and dwells, changing colour when it's working to shrink the particles and release them from the surface of the wheel. The wheels were then given an extra clean using Valet Pro Bilberry Wheel Cleaner and a Long Reach Wheel Brush.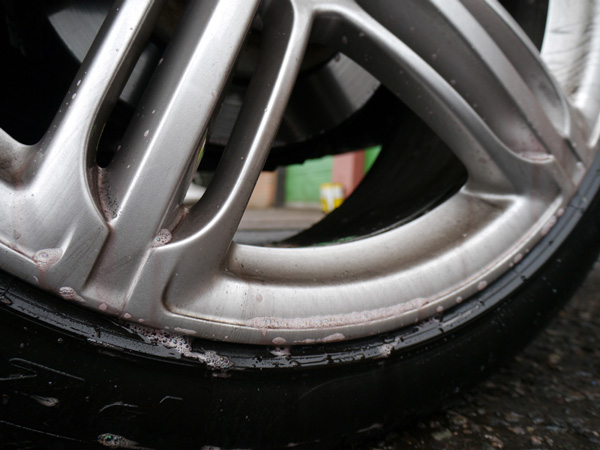 All the door, boot and engine shuts were cleaned using Meguiar's All Purpose Cleaner. Once the car had been rinsed off and given a final rinse with an Aqua Gleam de-ionising water filter (which removes impurities from the water), the Q7 was patted dry using Swissvax Micro-Dry Wonder Drying Towels.
With the paintwork free from dirt our Master Detailer turned the 3M Sun Gun Colour Check Light on to assess the extent of the marring. As can be seen from the picture, the swirling was quite extensive.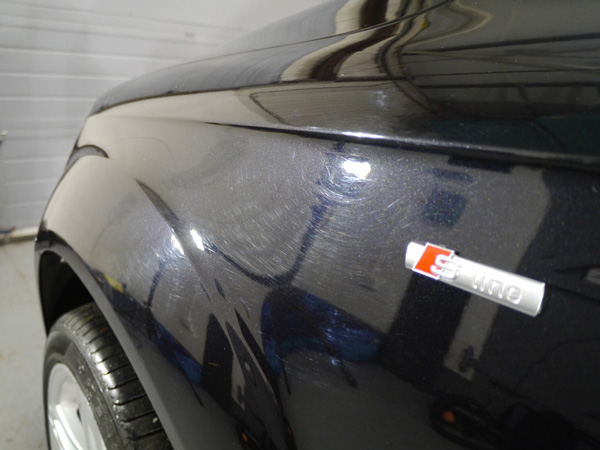 I always say you have to be careful about stereotyping paints by car marque. This was a classic example. Typically you would expect to need SCHOLL Concepts S3 Gold for Audi paintwork because, 'typically' it's quite hard. However this Q7 didn't have hard paint and neither was it particularly sticky, so the S3 Gold was a bit too much for it. I settled for S17+ with a 3M Yellow Polishing Pad and it worked a treat. – Master Detailer, UDS
To refine the paintwork our Master Detailer used SCHOLL Concepts S40 with a 3M Blue Polishing Pad. Then all the panels were wiped down using IPA solution to ensure they were completely free from any polish residues; this allows the glass coat sealant to bond fully with the paintwork, giving maximum protection and longevity.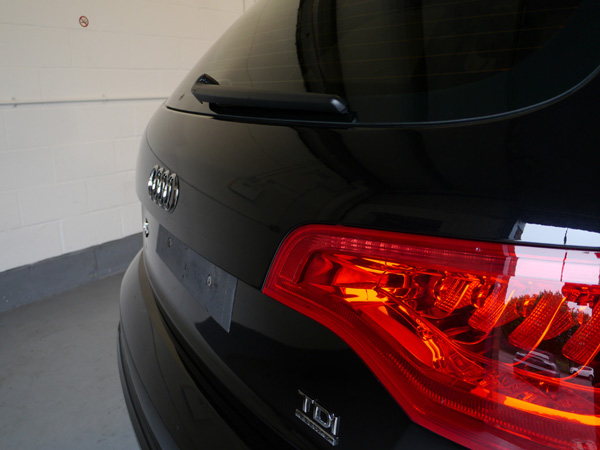 The paintwork was now ready to receive a layer of 22PLE VX1 Pro Signature Glass Coat, a solvent-free sealant which fully cures to provide an ultra-scratch resistant layer protecting the surface of the clear coat from scratching, as well as providing a hydrophobic, oleophobic and dirt repellent layer. Not only does it protect the surface – it makes it easier to clean too!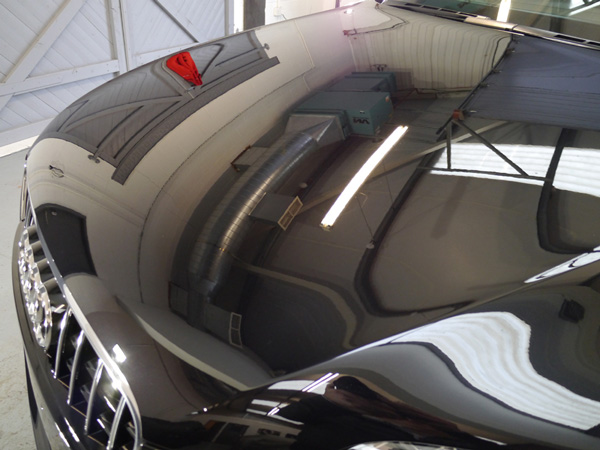 The wheels were also wiped down with IPA solution and 22PLE VM1 Rim & Metal Coat was applied. This dries extremely hard to provide a barrier to dirt and, most importantly, brake dust. Once applied it will typically provide up to 2 years protection and ensure the wheels are a lot easier to keep clean.
Our customer had elected to have a layer of Swissvax Crystal Rock over the top of the VX1 Pro Signature Glass Coat to really deepen the shine.
Black really lends itself to a layer of a really good carnauba wax, because it just makes it look so gloriously glossy. It just gives it that something extra and for a big car like the Q7 it really does look impressive. – Master Detailer, UDS
Ultimate Detailing Studio – Award Winning Detailing. Call 0845 838 1200 to discuss your requirements and arrange a preliminary inspection.
Ultimate Finish – Legendary Automotive Care since 1999.