Aston Martin DB6 MkII Volante – Full Paintwork Correction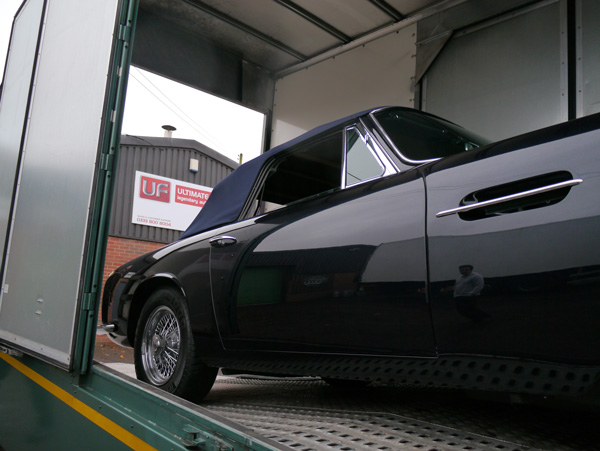 At Ultimate Finish, we're used to dealing with special cars, but occasionally one comes along which makes us both excited, and slightly weak at the knees.On this occasion, something of distinction was brought in to be detailed. The car? A 1970 Aston Martin DB6 MkII Volante. One of only thirty-eight ever produced, this alluring Aston is indeed a work of art, styled beautifully and using only the highest standard of craftsmanship and materials.
From the front, the DB6 Volante MkII is curvaceous and graceful, yet somehow also very masculine in its stance. From the side and rear, the Volante's look is clean – almost understated – as it is free from swage lines and design strokes. It is, in fact, the personification of understated class. Handsome and arresting, the Aston Martin DB6 MkII Volante is a car to fall in love with, even.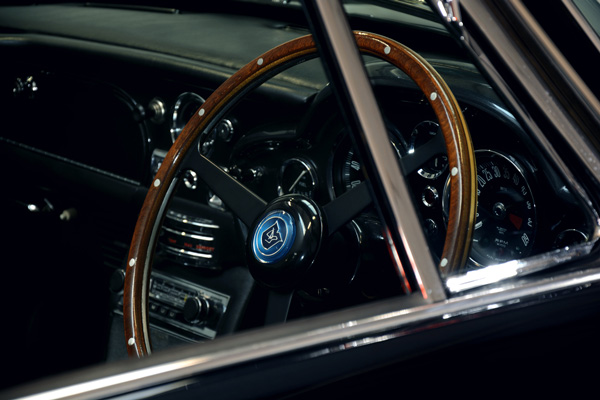 Amongst the other 37 owners is Prince Charles, who lent his personal DB6 Mk2 Volante to Prince William, to drive from his wedding to the reception. Not a bad way to do it.
Powering the Volante is a 4.7 litre all-alloy twin cam 6-cylinder engine with 330 bhp, which is good amount for back in the day. This particular model though, is very special, as in 1996 it was commissioned by an overseas Royal Household for total body-off restoration by Aston Martin Works Services. Since then, this car has been absolutely looked after to the highest degree, being stored in a climate controlled environment and covering a mere 2,114 miles since its complete restoration.
This Aston Martin's value is heading into seven figures, so we were honoured to have the customer choose us to undertake a 5-day Full Paintwork Correction and Engine Detail on their prized Volante. Derek Ginger of the Ultimate Detailing Studio was the one to detail this stunning and rare Aston.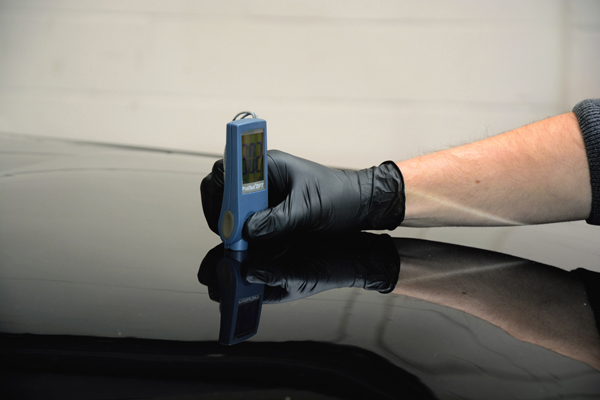 On the first day, the DB6 arrived for its appraisal, where we measured the paint depth using the highly accurate PosiTest DFT Paint Depth Gauge. The results of this were between a low of 280 microns and highs of 540 microns, plenty of paint to work with. After this, we inspected the paintwork for any damage, using a super-intense 3M Sun Gun, under which we were able to see swirling of the paintwork. Derek commented 'Considering the car had been re-commissioned by Aston Martin Works back in 1996, the 17 year old paint was in excellent condition [overall].'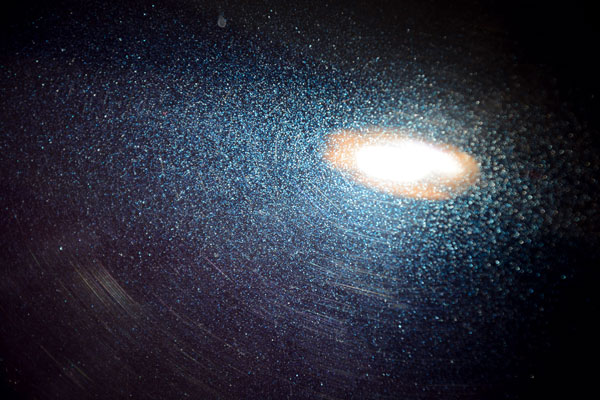 The second day would be extremely busy, with much to fit in. This started with the engine decontamination and clean stage, which was done using the pleasantly-fragranced Meguiar's Super Degreaser. That done, it was onto cleaning the exterior.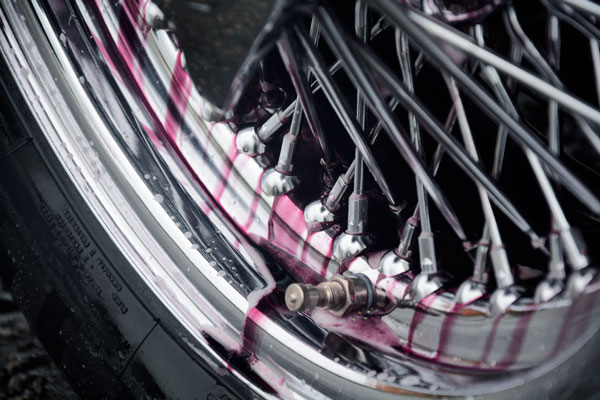 Valet Pro Bilberry Wheel Cleaner was used on the stunning wire wheels, ensuring a safe-but-effective cleaning of them. Bilt-Hamber Korrosol was also utilised, to remove any ingrained brake dust or metal particles.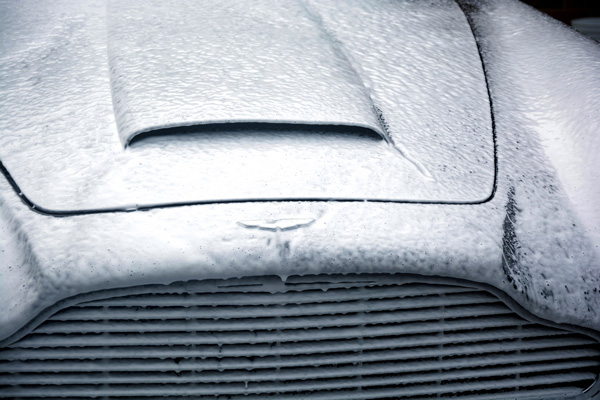 To ensure every panel gap, door shut and sill was fully cleansed thoroughly, the biodegradable and non-toxic cleaner Bilt Hamber Surfex HD was put into action, full removing any trace of grease or grime. Our own Ultimate Snow Foam was then used, as it is safe for all paintwork, before a final wash with the luxurious Swissvax Car Bath.
The engine detail was to be meticulous, as this DB6 is at concours-winning level. This stage involved the washer fluid bottle being removed, the SU carburettor suction chambers removed and polished, plus the rocker covers, radiator housing, carburettor linkages and air box all being polished too.
Swissvax Seal Feed was applied to rubber and hoses, for its excellent feeding and protection qualities, while Swissvax Metal Polish was used for the fact it cleans deeply, is free from any aggressive cutting agents and offers long-term protection.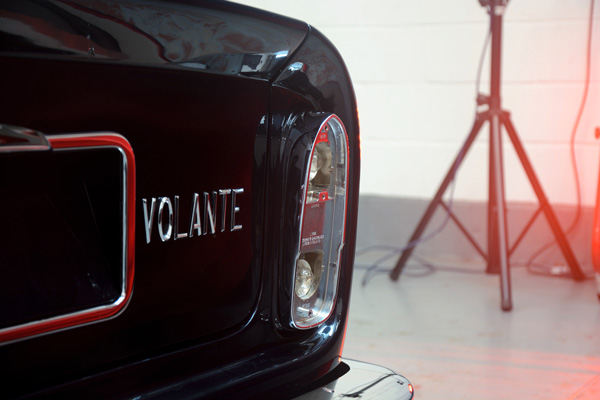 Next, we dismantled and cleaned – inside and out – the headlight covers, rear light clusters, reversing light lens and indicators, ready for their cleaning process at the end of the detail, and that ended day two.
Day's three and four would be taken up with paintwork correction, and we started out with panel testing, to discern what the best products would be to use. Using the ever-reliable FLEX PE14-2 150 Rotary Machine Polisher, we decided upon SCHOLL Concepts S3 Gold, as it is entirely safe on all paint finishes, and also free from wax and silicone – it also works in quickly, allowing us to do the job in good time. Application was carried out with a Purple Polishing Pad, a medium-hard pad with a great cutting quality and ideal for hard paint finishes. Four passes with the machine polisher were undertaken per panel to ensure the full correction of any defects.
The final finish polishing was done using the Flex PE14-2 machine polisher again, along with SCHOLL Concepts S40 for its especially-effective finish on darker-coloured paintwork, and it was applied using a soft Black Waffle Finishing Pad.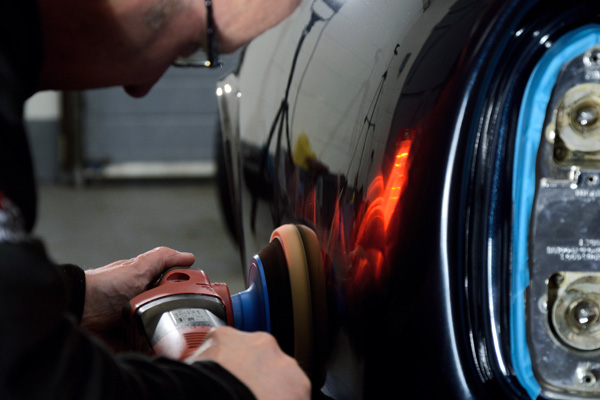 This done, the car was once again washed with Ultimate Snow Foam, and rinsed to remove all traces of polishing compound residue, readying the Aston Martin for the waxing stage.
The DB6 Volante deserved a wax with a finish as stunning as the car. Swissvax Crystal Rock was to have the privilege of gracing the Aston's beautiful blue paint. Crystal Rock has 76% by wax volume of pure Brazilian ivory carnauba wax – one of the highest contents of carnauba in any wax today.
The finish is smooth and glossy, yet tough and protective with water-repellent film, and with a longevity of 6 – 12 months, the Volante's paintwork will be very well protected now.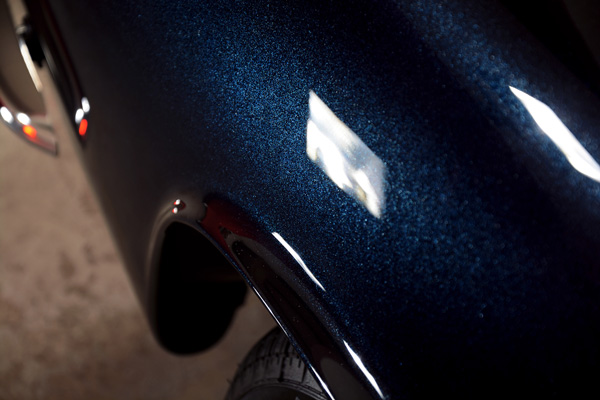 The final stages included the previously-removed headlight covers, rear light clusters, reversing light lens and indicators all being cleaned and polished before re-attachment, and britework such as the exhausts, wheels and bumpers being cleaned and protected with the superb Swissvax Metal Polish.
The tyres were given a coating of Swissvax Pneu, which restores and protects, leaving behind a deep and healthy black finish. The perfect way to complete the look of the car.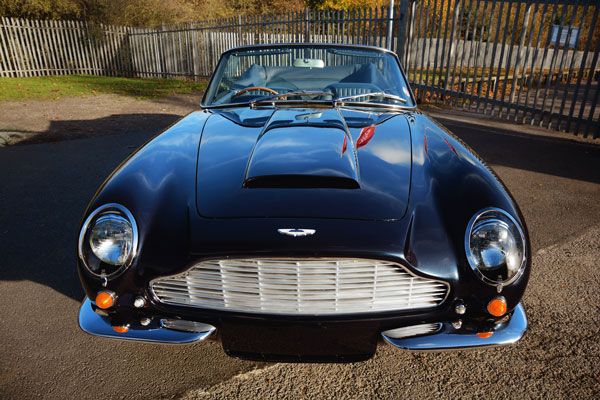 One final thing to do was to get some protection down on the convertible top. Firstly, the entire car was masked to avoid any of the product getting onto the pristine paintwork. Next, the roof was put into place treated with Swissvax Lotos, the name being the clue as to the finish. With the applied, the roof will now be extremely hydrophobic, sheeting and beading water to the highest degree.
After five whole days of going through the Full Paintwork Correction and Engine Detail, our detailing aficionado Derek Ginger sums up the finished look; "It's been an absolute honour and privilege to work on this special DB6 MkII Volante. Cars like this don't come round very often and I thoroughly enjoyed the experience, the results were everything I could have hoped for"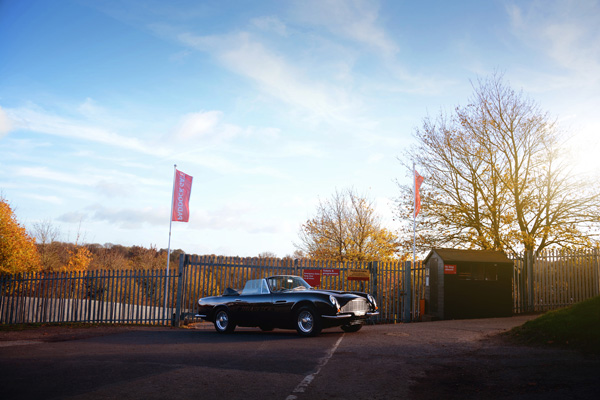 Ultimate Detailing Studio – Award Winning Detailing. Call 0845 838 1200 to discuss your requirements and arrange a free vehicle appraisal.
Ultimate Finish – Legendary Automotive Care since 1999.
A big thanks to Mark O'Donoghue @ Officially Made for the stunning photography.