Dealer Applied Sealants – Is There A Better Option?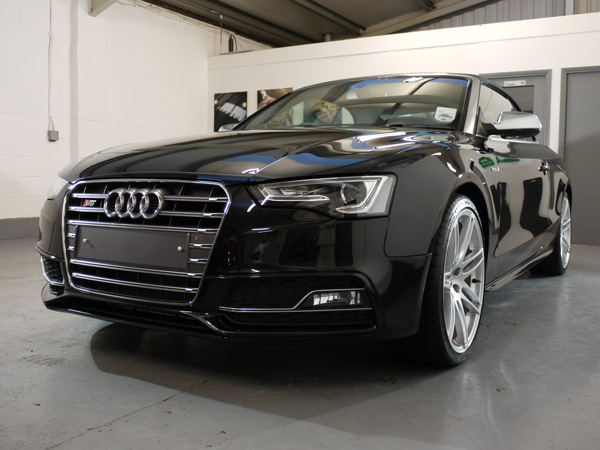 The Ultimate Detailing Studio has been busy again, this time performing a Full Paintwork Correction Treatment on a brand new Audi S5 cabriolet in Phantom Black.
Our customer brought his new car to us having collected it from the dealership where he had been convinced the standard dealership "Teflon coating protection" was a good idea. It was purported to have "great protective qualities" and would mean he "wouldn't have to do anything other than wash the car for the next three years" because this sealant would ensure the paintwork would always look polished. Subsequently however, having heard there were alternative protectants on the market giving more comprehensive protection and a brilliant shine, he was keen for us to remove the dealership sealant and apply a glass-based sealant to his Audi. Additionally, paintwork correction was required; it's a common misconception that new car paintwork is perfect – unfortunately, this is seldom the case and most new cars features swirls and scratches picked up along the journey from car plant to showroom! With the dealer applied sealant in situ plus the micro-marring (along with a couple of fairly significant scratches) it was necessary to perform a Full Paintwork Correction Treatment.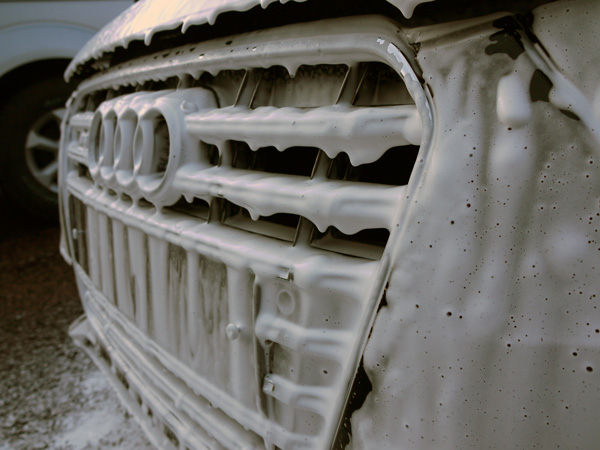 Our in house Master Detailer began by using Ultimate Snow Foam to remove larger particles of dirt, followed by a thorough degreasing with R222 Autowash. Then came the full wash process using the two bucket method along with Swissvax Car Bath. It was immediately obvious the dealership sealant did not provide any kind of water beading properties at all.
After drying the car using Swissvax Micro-Dry Wonder Drying Towels, the engine was cleaned using Meguiars All Purpose Cleaner. To remove the existing sealant from the paintwork our Master Detailer used 3M Extra Fine Cut Compound with the 3M Yellow Polishing Pad using his FLEX PE14-2-150 rotary polisher.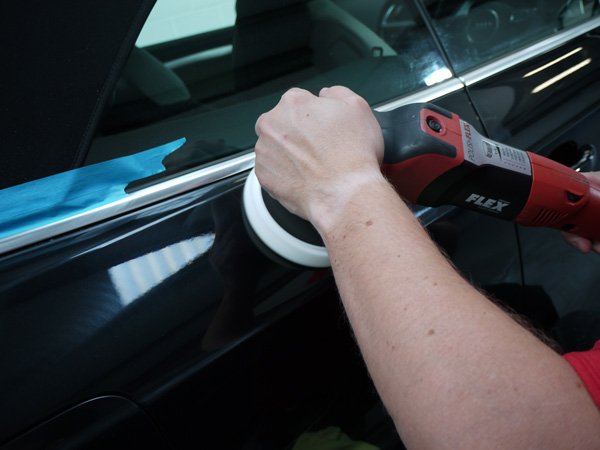 Each panel was then wiped down with IPA solution to prepare it for the 22PLE VX1 Pro Signature Glass Coat.
VX1 Pro Signature Glass Coat is a newly released glass-based sealant which dries as hard as glass, providing exceptional levels of scratch resistance – great news for any car enthusiast who wants to give their paintwork the best possible protection. We gave the Audi S5 its first coat and allowed it to cure for 6 hours before applying a second layer for maximum shine and protection.
22PLE has also released the VM1 Signature Rim & Metal Coat which was applied to the wheels of the S5. VM1 is exceptionally tough (almost diamond-tough!) and has a heat tolerance up to 700 degrees Celsius – making it ideal for rims and calipers. From now on our customer will find dirt, grease, grime and brake dust are much easier to wash away!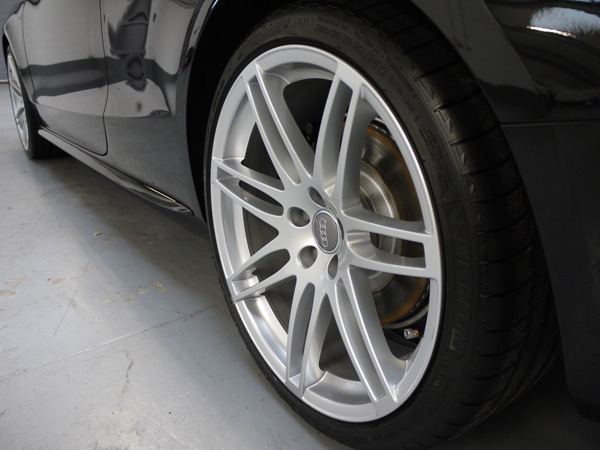 We knew the customer was going to be pleased and in order to keep up the suspense, we covered the car with the dealer supplied Prestige Fully Tailored Indoor Cover Made by Yorkshire-based manufacturer, Specialised Covers. As they are the official supplier to Audi worldwide, the cover really does fit like a glove and because Ultimate Finish has been supplying Specialised Covers for some considerable time we knew the super-soft inner lining would take care of the paintwork nicely! The sleek black cover with Audi rings and silver piping looked elegant and stylish, keeping the S5 dust free until the customer came to collect his car.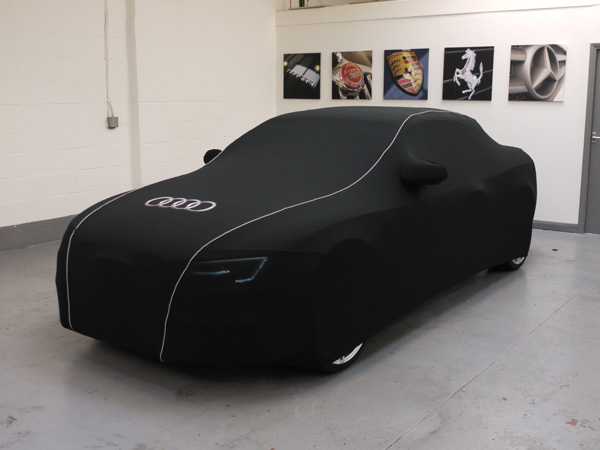 On collecting the vehicle the customer was extremely pleased he'd opted for the 22PLE glass coating feeling it had given him much better value for money than the dealer-applied sealant.
I really thought I was making the right decision when the dealer offered me their standard sealant but now I've seen VX1 Pro I know I've really got it right this time. The shine is unbelievable and I guess now I really will only have to wash the car regularly to keep it looking great!
With the Prestige cover neatly stowed in the boot, the customer went up the road, safe in the knowledge his Audi was fully protected – whether it was inside or out!
Details of our comprehensive range of award winning detailing services can be found here