Bentley Mulsanne V8 – Gloss Enhancement Treatment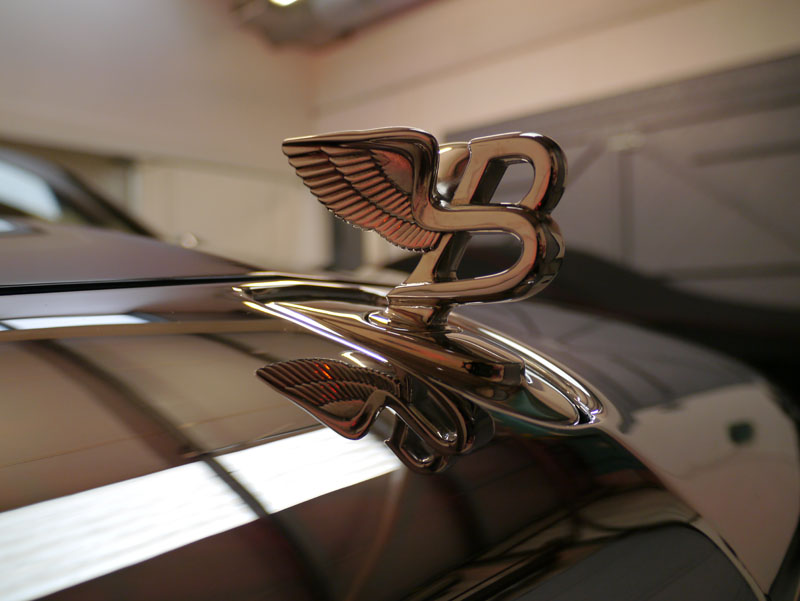 The Bentley Mulsanne is likely the finest continent-crushing automobile available today. Racing fans will recognise this Bentleys name from the legendary Le Mans 24-hour race – the Mulsanne Straight being the long section where cars hit their heady top speeds before braking hard for that severe right-hand corner at the bottom.
It's an exciting section of the road-based track, and cars have to be planted and steady when hitting the top-end their racers are capable of – the Bentley Mulsanne then, is aptly-named. Why? Bentley engineers were set three challengers, one of them being '[The Mulsanne] should maintain the highest levels of refinement at any speed. High-speed tests filmed by Bentley show the Mulsanne rock-solid at even its top speed, with sound levels still kept unbelievably low.
A twin-turbo V8 6 & 3/4 litre engine producing 505 horsepower and 752 lb. ft of torque is the thumping heart of the Bentley, and given that it weighs in at almost 2.7 tons, its 0 – 60 mph time of 5.1 seconds is quite staggering.
All this performance is accompanies by a hand-crafted interior, using only the very finest craftsmen and materials available. No wonder then, that the Bentley Mulsanne is chosen as a luxury car of choice to be part of a fleet of chauffeur-driven cars, based near Buckingham Palace, in London.
This particular car is a 2011 Mulsanne, and has covered a mere 2,000 miles in two years – all within London! It has also been washed at least once a day, but unfortunately using bad techniques. The Bentley has got to be absolutely pristine for the prestigious customers that will grace its seats, and we were given the task of bringing the Mulsanne back to its former glory.
After we had finished the detail, we met the personnel in charge of cleaning the cars, who were eager to be given the correct techniques of washing and maintaining their beautiful fleet, ensuring that in future they would be kept in as good condition as possible.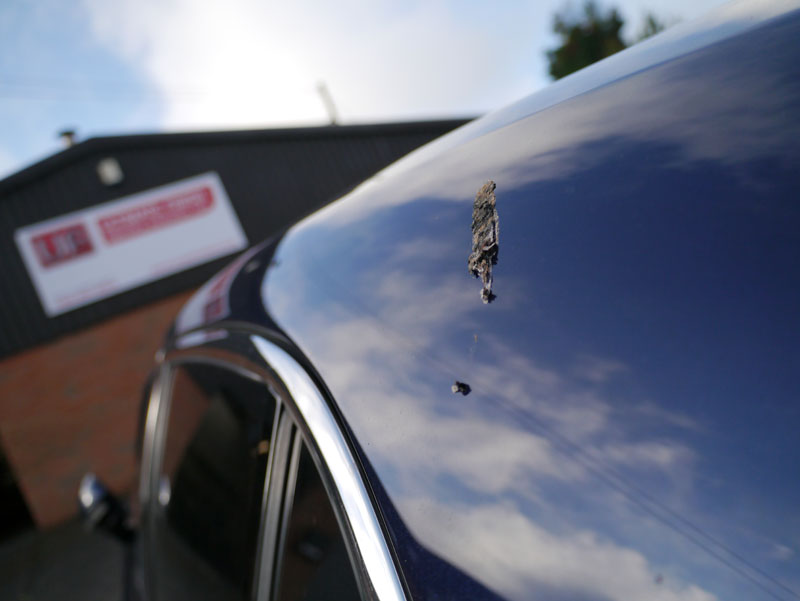 The Bentley was covered in not only swirl marks, but also etch marks from the evil that is acidic bird muck. The 5.5 metre-long (18.3′) would take us two full days to complete our Gloss Enhancement Treatment detail, so it was time to begin.
The 21″ chrome alloy wheels are a thing of beauty, and obviously needed a product that would be both gentle, and yet clean well. With that in mind, we used both Bilt-Hamber Korrosol Fallout Remover and Valet Pro Bilberry Wheel Cleaner, which clean safely and deeply, leaving the wheel gleaming.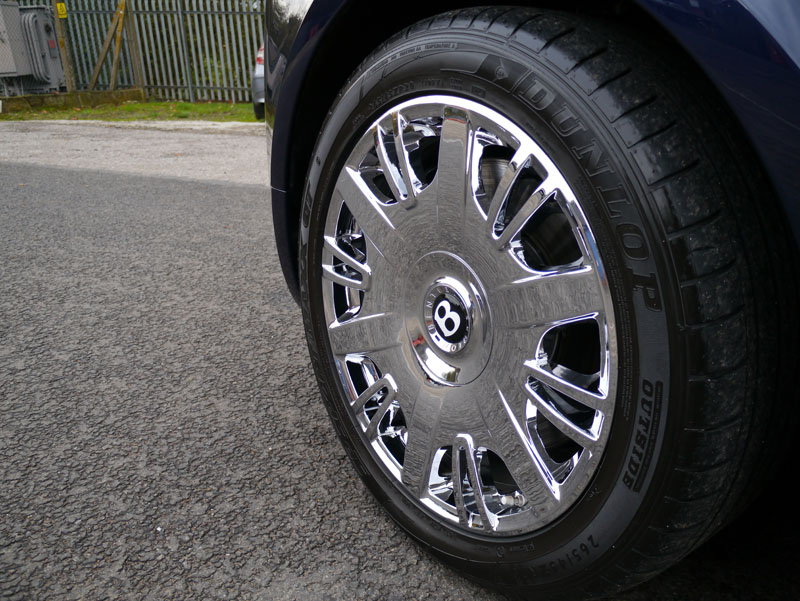 The Mulsanne was then washed with our own Ultimate Snow Foam – Pre-Wash Non-Contact Cleaner to loosen any heavy dirt, while any road contamination was removed using the quick and effective ValetPRO Citrus Tar & Glue Remover, and then final part of this stage was to clean any shuts and panel gaps, with the biodegradable degreaser Bilt Hamber Surfex HD.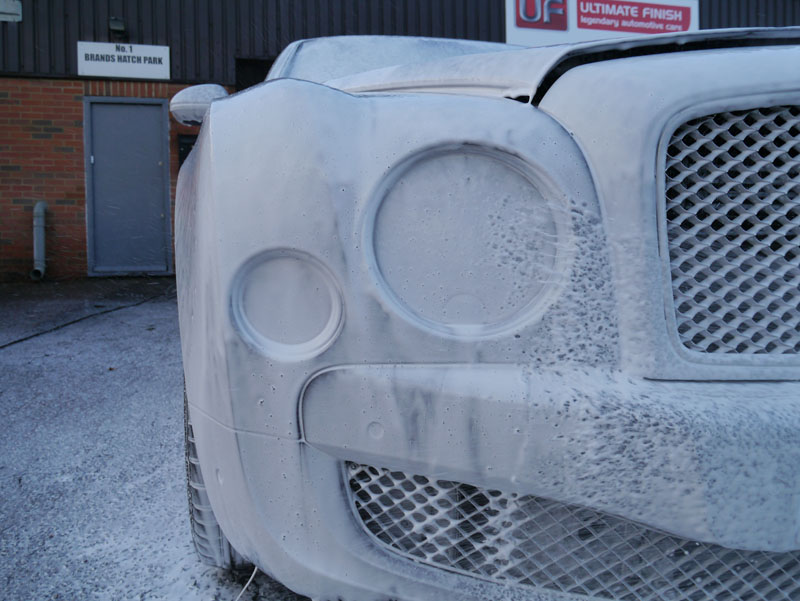 Onto the main wash stage, and time to break out our own high-quality UF Wash & Rinse Bucket Set to safely wash the Mulsanne. Our chosen shampoo was Valet Pro pH Neutral Shampoo as it contains zero wax, alongside the German-designed and made Microfibre Madness Incredimitt Wash Mitt. Rinsing was done by running the water firstly through AQUA GLEAM De-ionising Water Filters, ensuring 100% mineral-free water was used, leaving behind zero watermarks. The Bentley was then towel-dried using a Gtechniq Zero Scratch Microfibre Drying Towel – the clue to why we use them is in the name.
Next, the paintwork was decontaminated with a medium-hardness Bilt-Hamber Auto-Clay, before wiping down and air-drying the car once more.
Bringing the Dark Sapphire paintwork back up to par would of course involve machine-polishing, and for this we used the highly dependable FLEX PE14-2 150 Rotary Machine Polisher. As the paint was covered in heavy swirls and bird-muck markings, Meguiar's Ultimate Compound was the choice of polishing compound, and was used on a 3M PERFECT-IT III Yellow Polishing Pad.
That done, it was onto a final finish polish. A SCHOLL Concepts Black SOFTouch Waffle Finishing Pad was used, with SCHOLL Concepts S40 Anti Swirl-Compound as this product is especially effective on darker-coloured paintwork, and leaves behind a high shine.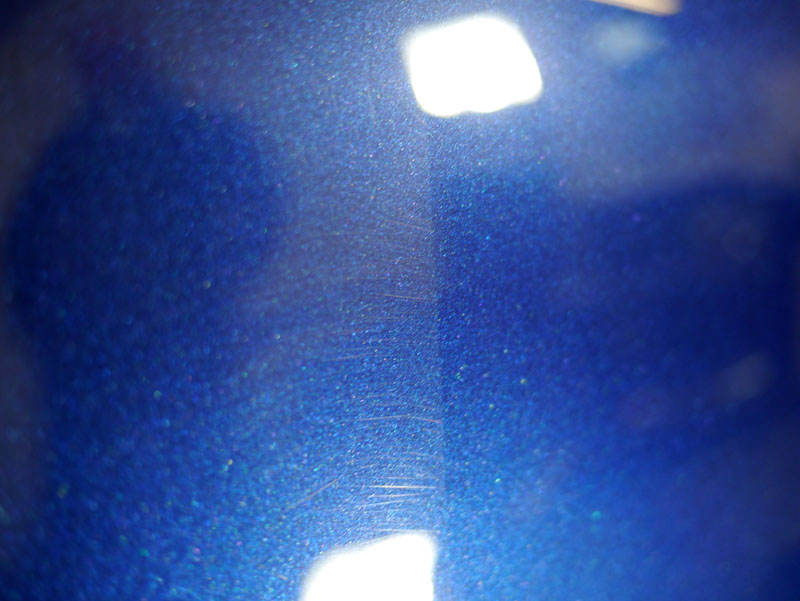 After another rinse-down to remove most of the excess polish, we used Gtechniq Panel Wipe Slow Evaporation Residue Remover, as it blends pure alcohols with aromatic solvents to dissolve any polish residues, leaving a completely decontaminated surface ready for the wax stages.
The wax chosen was Swissvax Endurance, a professional-grade wax involving carefully heating each panel to 30˚ Celcius, before applying a layer and leaving it cure. After the Swissvax had hardened, the dried product was wiped down using soft microfibre cloths.
The process was then repeated, but this time we left the Endurance wax to cure overnight.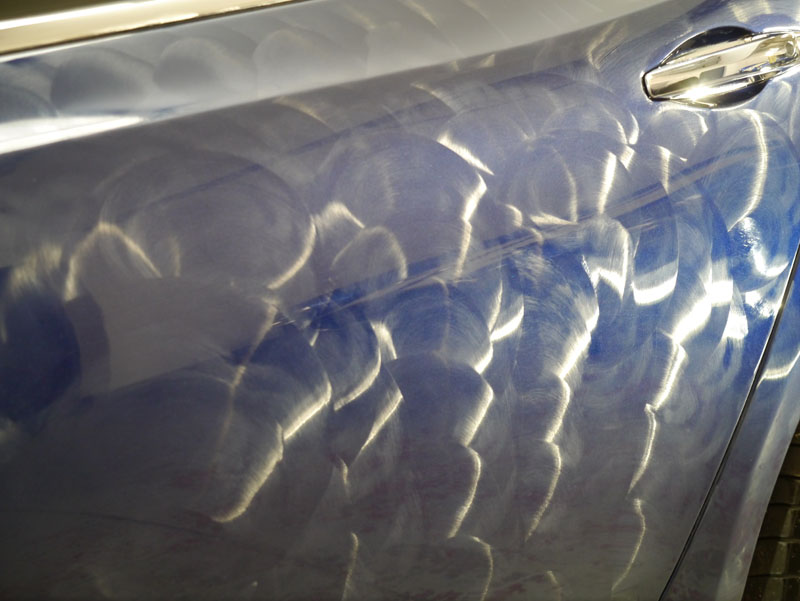 Next the chrome, grille, exhaust tips and chrome wheels were cleaned with
Gtechniq M1 All Metal Polish, before being waxed using Swissvax Endurance, as per the body.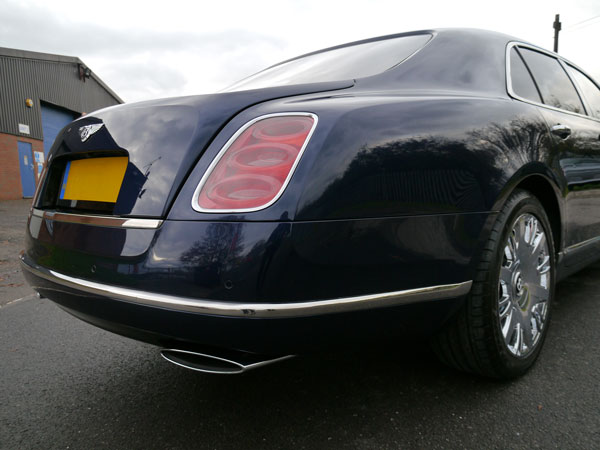 The tyres needed a classy finish, so the silicone-free Swissvax Pneu tyre dressing was applied, giving them an elegant satin sheen. Finally, a Gtechniq ClearVision Screen Kit was used to clean, polish and seal the glass for ultimate visibility in any poor weather conditions.
All done, this handsome Bentley Mulsanne once again shines like new, and will glide through London reflecting the beautiful architecture in its rich blue paintwork.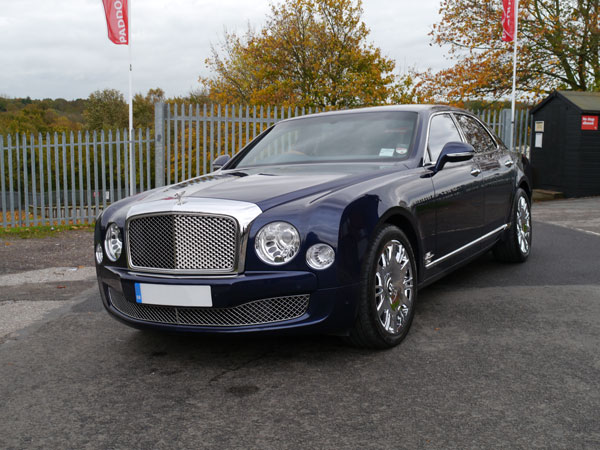 Ultimate Detailing Studio – Award Winning Detailing. Call 0845 838 1200 to discuss your requirements and arrange a free vehicle appraisal.
Ultimate Finish – Legendary Automotive Care since 1999.