BMW Alpina B3 S Convertible (E46) Limited Edition (No. 113)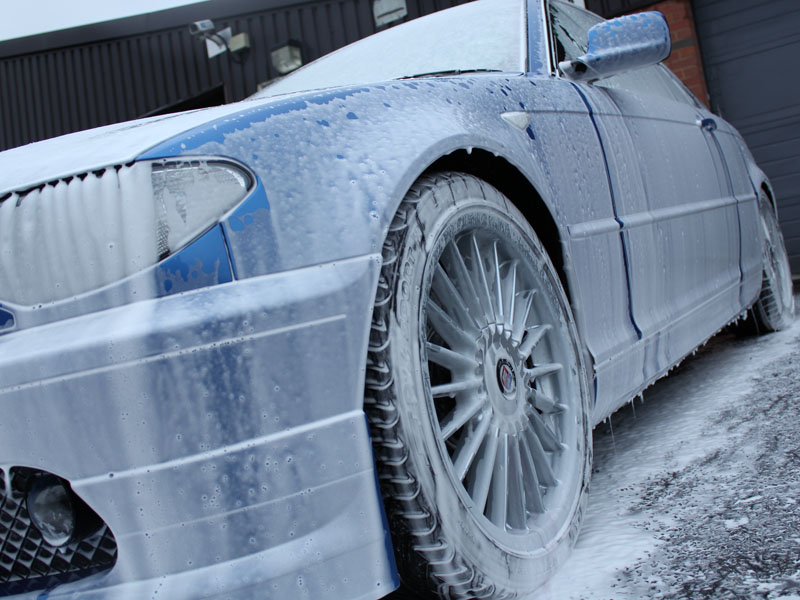 Hearing the word Alpina is good for the soul of any car enthusiast. Alpina is the official BMW tuning company responsible for creating some of the fastest and most desirable cars on the road. To see one in the flesh is a rare sight, and think yourself lucky if you do. UF recently had the privilege of working on a Supercharged Alpina B5 and the owner was so impressed with the results that they booked their second Alpina in for the award winning Gloss Enhancement Treatment – some people are just plain greedy!
The car in question was a Limited Edition 2003 E46 BMW Alpina B3 S Convertible. Based on the E46 BMW 330i, the E46 B3 S was produced between 2002 and 2006, and its engine was the E5/1, a 3.4 litre straight 6-cylinder Bi-Turbo, putting out 305 bhp and 267 lbs ft (362 Nm) of torque. This pushed the Convertible from 0 – 62 mph in 5.8 seconds – or 6.6 seconds should you own the Switch-Tronic automatic model – and on to 164 mph (264 kph) for the manual, and 160 mph (259 kph) for the Switch-Tronic.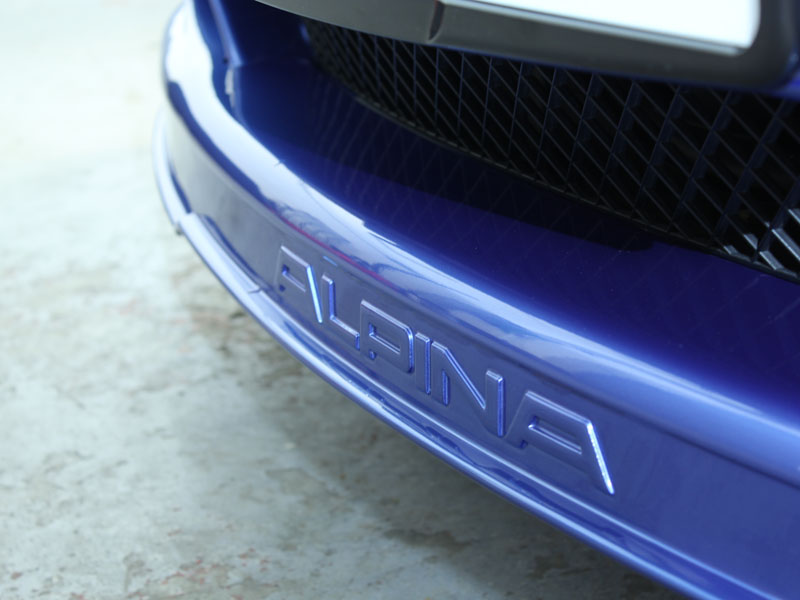 Badged number 113, this E46 B3 S had covered just 14,450 miles since 2003 to now (2014), equating to only around 1,300 miles per year! Although it had covered very few miles over the years, it had been in long-term storage with zero protection on the paintwork, showing this visibly by water pooling on bodywork, instead of beading or sheeting away. Time then to protect it with a Gloss Enhancement Treatment in readiness for its new active life.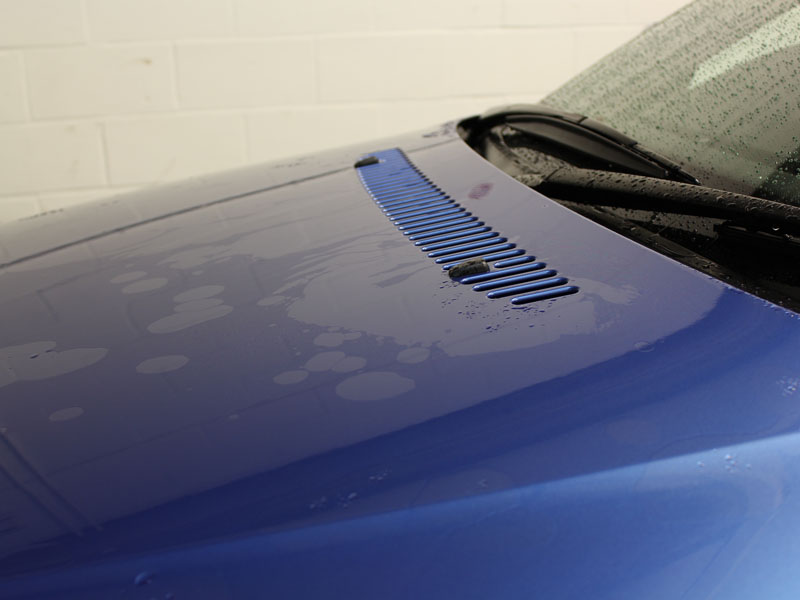 The recognisable E46 Alpina multi-spoke alloy wheels were first decontaminated by removing any metal particles embedded in the paintwork using Bilt-Hamber Korrosol, before moving on to the safe Valet PRO Bilberry Wheel Cleaner to thoroughly cleanse the rims and inner wheel arches of any brake dust build-up. The panel gaps, door shuts and sills were degreased with the solvent-free Bilt-Hamber Surfex HD – a superb product that removes even heavier build-ups quickly and effectively.
The next stage of the process was to pre-wash the car using snow foam. Ultimate Snow Foam was sprayed onto the bodywork through a Professional Foam Lance and left to dwell for around 2 minutes. Snow foam breaks the dirt's bond with the paintwork, allowing it to be rinsed away safely, reducing the chance of adding further scratches to the as yet unprotected surface. To ensure that the car was thoroughly clean, the snow foam was worked into the panel gaps and any small areas – such as around the badges and in the mesh grille – with a soft Valet PRO Sash Brush.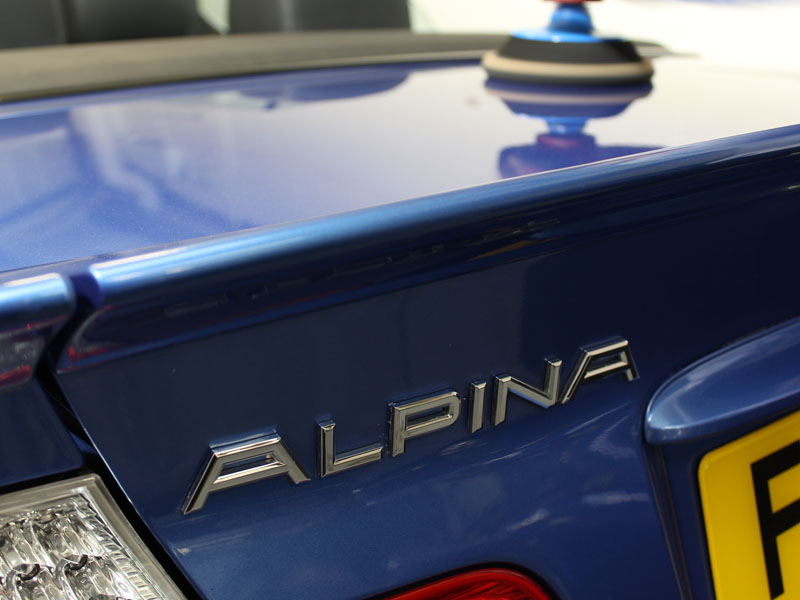 After snow foam had performed its magic on the E46, it was rinsed off with pure water from an Aqua Gleam De-ionising Water Filter. Harmful water-spotting and streaking is often seen on cars washed with normal tap water, but the Aqua Gleam system removes calcium and other unwanted minerals eliminating these marks. It's a brilliant system, and highly recommended if you want a spotless finish after washing your car!
The second stage of the process was completed using two buckets (Wash & Rinse) complete with grit guards, to prevent scratching during washing. Gtechniq G-Wash was chosen as it's a pH neutral shampoo that effectively wraps a layer of lubrication around dirt, helping its safe removal from the paints surface. Again, the Aqua Gleam system was used to final rinse away the suds. The Alpina was then carefully hand dried with a super-absorbent Gtechniq Zero Scratch Microfibre Drying Towel.
The car was now ready for the lengthy paintwork correction and refinement process, beginning with a Bilt-Hamber Auto-Clay bar to remove any natural or industrial fallout embedded in the paintwork, making it smooth to touch. Estoril Blue Metallic is a fabulous colour, but after the cars lengthy storage, it needed to be refined and protected to bring back the clarity and depth of shine it had when first manufactured.
To achieve this the RUPES LHR 15ES BigFoot DA (Dual-Action) machine polisher was used, as it easily covers large sections of bodywork quickly and efficiently. The chosen combination for the correction stage was RUPES Keramik Gloss, a fine abrasive gel that removes scratches without leaving holograms or marring on a Green Polishing Pad – suitable for both heavy and light compounds.
To refine and finish the paint to a blemish free high gloss, RUPES Diamond Gloss an ultra-fine abrasive gel was applied on a RUPES White UltraFine Finishing Pad. The Alpina's hard top was then removed to be machine polished separately and stored safely.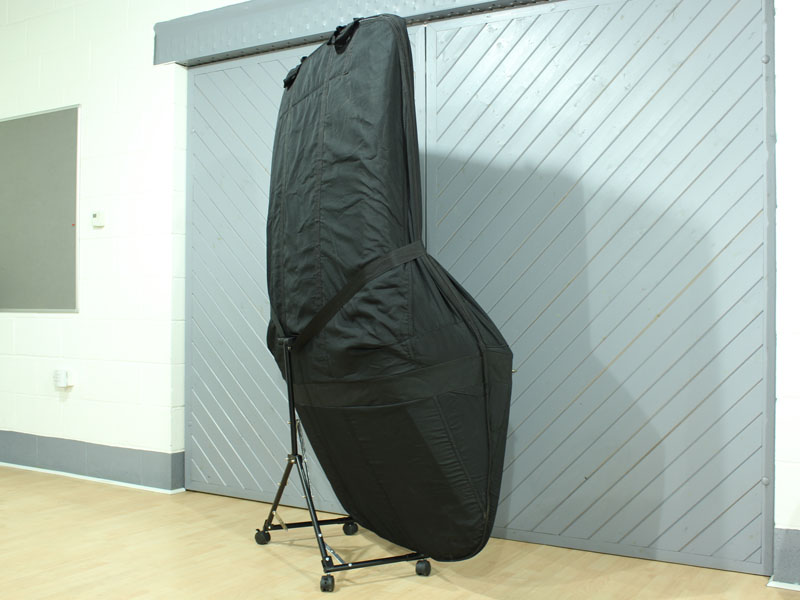 The E46 paintwork now had an impressive high gloss finish, but required a layer of protection to keep it that way. Prior to the sealant application, Gtechniq Panel Wipe was used to make sure any machine polish residue was completely removed before applying the sealant by hand. Gtechniq EXO v2 & C1 Crystal Lacquer Kit is a two-part system that adds a durable scratch resistant layer of protection to the surface, whilst providing extra ordinary levels of hydrophobicity (water repellence).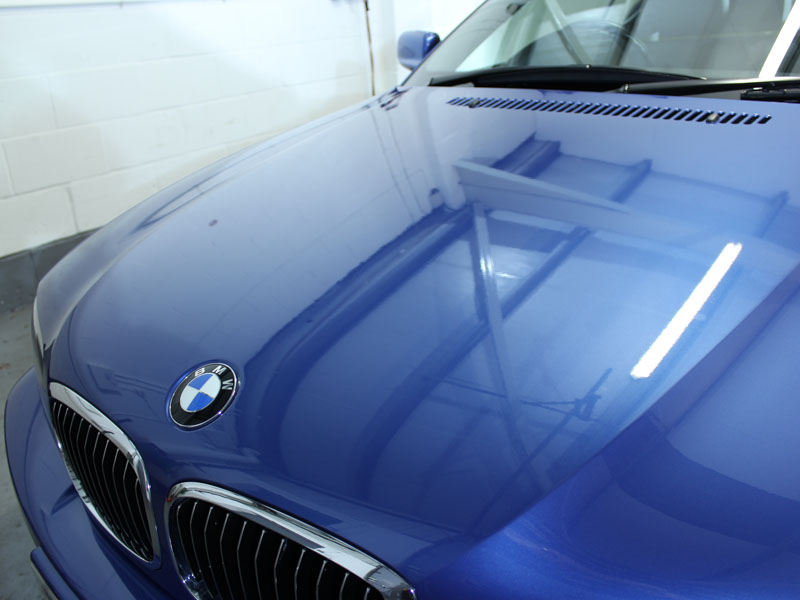 The E46 wheels were also carefully treated, ensuring that future brake dust could not settle onto the surface, making them much easier to clean. Swissvax Pneu was applied to the tyres to bring back a deep natural sheen. For the glass, Gtechniq G1 SmartVision was applied resulting in rain water beading away at higher speeds and therefore negating the need to use the wipers.
The work on this fine Alpina was nearing completion, but the soft top convertible roof was still to be protected. The surrounding bodywork was carefully masked off using 3M High Performance Tape, before RaggTopp Fabric & Vinyl Cleaner was applied using a non-abrasive Raggtopp Natural Horse Hair Convertible Top Brush to thoroughly work the product in. When the fabric was fully dry, Gtechniq I1 Smart Fabric Coat was applied and left to cure. This protectant seals each fibre allowing the material to breathe, whilst making it water proof and fully protecting it from the elements.
With the detailing work completed, this rare B3 S Convertible now looks fantastic, with a level of protection that will ensure it continues to do the Alpina badge justice for many years to come.
Ultimate Detailing Studio – Award Winning Detailing. Call 0845 838 1200 to discuss your requirements and arrange a free vehicle appraisal.
Ultimate Finish – Legendary Automotive Care since 1999.