BMW M5 with Akrapovic Exhaust System – New Car Protection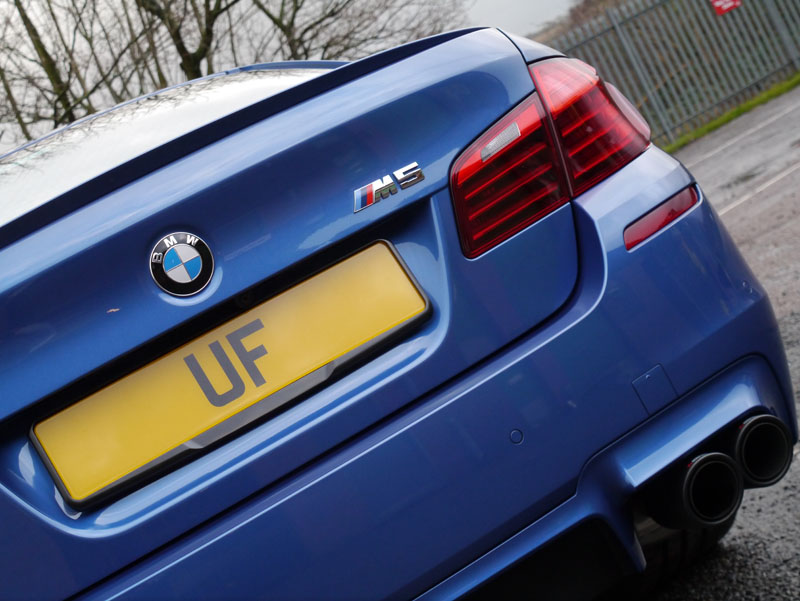 The BMW M5 Saloon is a car built for the discerning driver. It is a machine made for those who want luxury matched with high performance and precision handling – a true driver's car, in fact. The German-made speed-machine is a monster whose capabilities range from cruising across entire countries without breaking a sweat, to blasting down some winding mountain roads, to high speed autobahn flings where, should you have your M5's top speed de-restricted from the limited max of 155 mph, you'll more than likely be able to hit upwards of 18o mph.
0 – 62 mpg ( 0 – 100 k/ph) will be achieved in just 4.3 seconds too, so red-light drags will almost certainly be won against the majority of cars, should you feel the urge to do so. Not bad for a car weighing in at almost 2,000 kilograms unladen. Still, a twin-turbo 4.4 litre V8 engine producing 560 horsepower and 501 lb ft (680 Nm) of torque will do that for a car.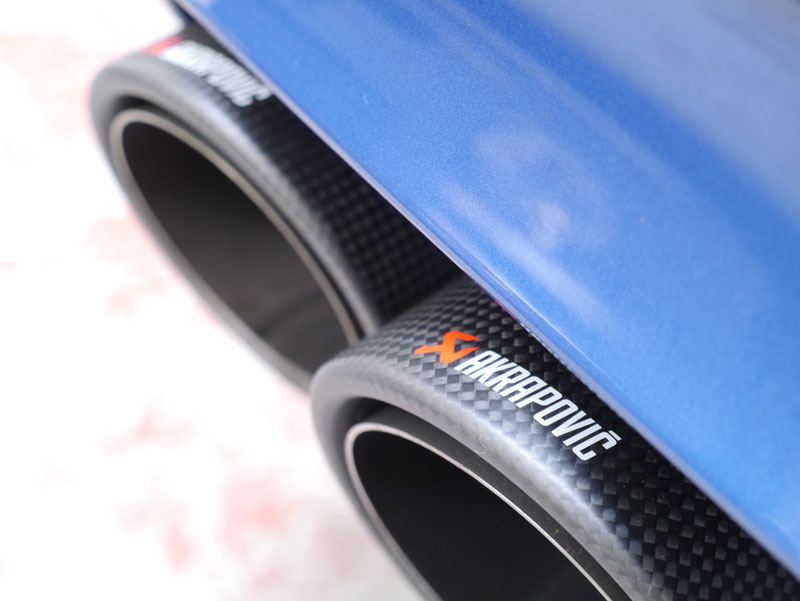 The BMW M5 is an undoubtedly one of the great cars of our time, but this one, recently brought in to UF for a New Car Protection Treatment was something even more special. It was fitted with a full 'Akrapovic' Evolution Line Titanium Exhaust system, freeing up even more power and torque, weighing 10 kilo's less than the standard system, and producing a noise that will rival thunder for attention.
Still, for now at least, the M5 would have to sit silently whilst UF carried out the New Car Protection Treatment.
The first stage was to cleanse the wheels and inner wheel arches thoroughly, firstly with the non-alkaline Bilt-Hamber Korrosol to remove any embedded metal brake dust particles, and then with the safe but effective Valet PRO Bilberry using UF Wheel Woolies soft brushes.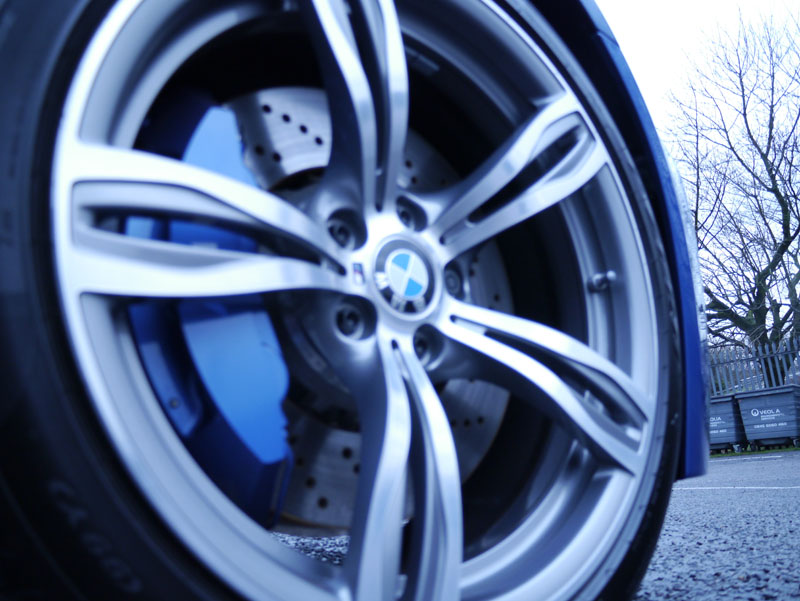 The next job was to remove the grease and grime from the doors sills and shuts and any more on the wheel arches, using Bilt-Hamber Surfex HD – a biodegradable product which UF regularly utilise, as it removes even heavy grime build-up without using any toxic ingredients.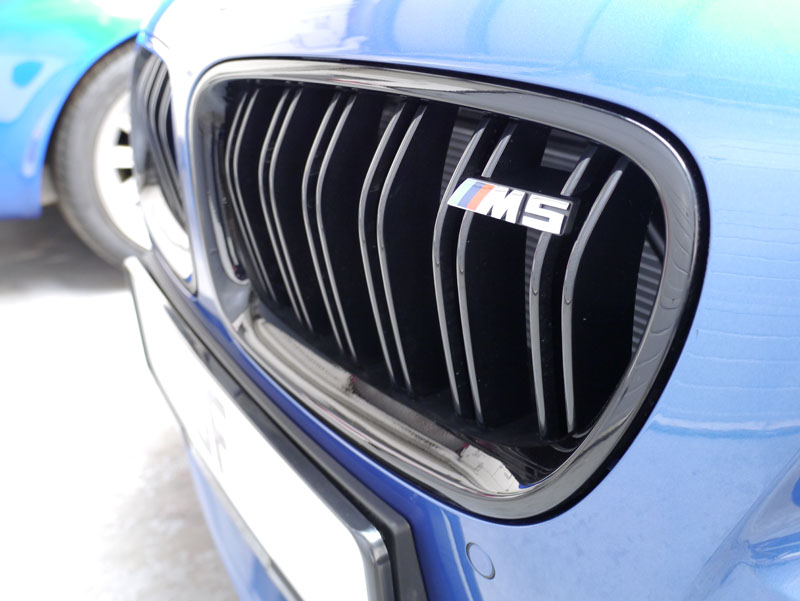 With these parts now cleaned, it was time to remove contaminants from the bodywork. The first part of the wash process is to utterly soak every square inch of the M5's exterior with Ultimate Snow Foam, before letting it settle and break down the layer of grime underneath, allowing it to be rinsed away from the paintwork safely. The car is rinsed using water filtered through an Aqua Gleam De-Ionising Water Filter, which purifies it by taking out harsh minerals that normally cause water spotting or streaking on paintwork after the car is dry.
Next in the wash process was to use a high-grade car shampoo – in this case the superb German-made Nanolex Reactivating Shampoo, before again rinsing it using the Aqua Gleam filtration system, and then a Gtechniq Zero Scratch Microfibre Drying Towel to ensure all the excess water was dried away.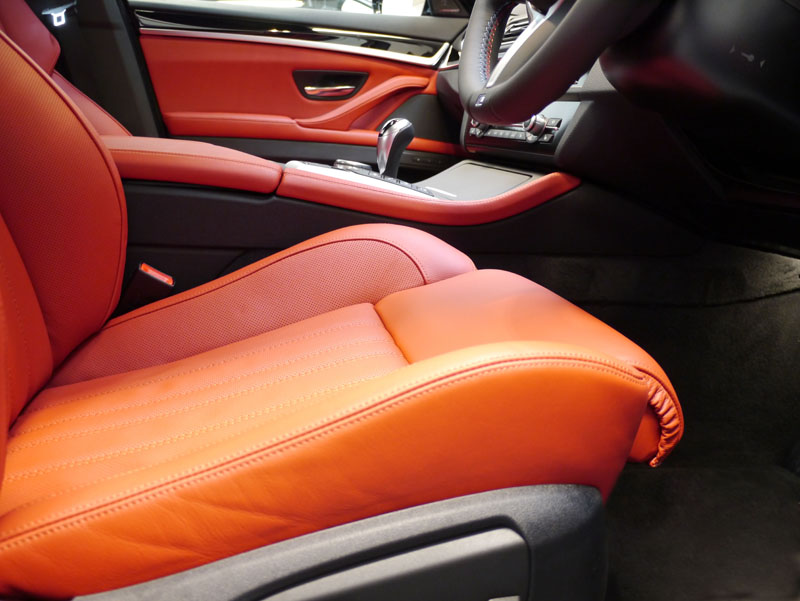 Whilst people are inclined to view their car as clean once they've washed it, this normally is not the case. Wash a car and dry it, and you will find that running your hand over the panels, the paint surface will feel rough, and make a slight rasping noise as you do so. This is because fallout from all sorts of things such as bird dirt, industrial pollutants, road salt, dirty rain and much more become engrained into the paint, contaminating it and causing the above to happen. To remove this contamination, UF used the UK-made Bilt-Hamber Auto-Clay Original, a gentle detailing clay designed to remove harmful contamination from vehicle paint finishes, improving its durability and increasing the gloss level of subsequent waxes.
With the clay process completed and the ingrained dirt removed, any imperfections in the paint finish are now more obvious, so swirl marks and light scratches become visible to the naked eye. To remove these imperfections from the paint, bring the BMW's magnificent blue paintwork back to a high shine and to prepare it for the final protection, it was refined by hand using Poorboy's Professional Polish, a wax and silicone-free compound.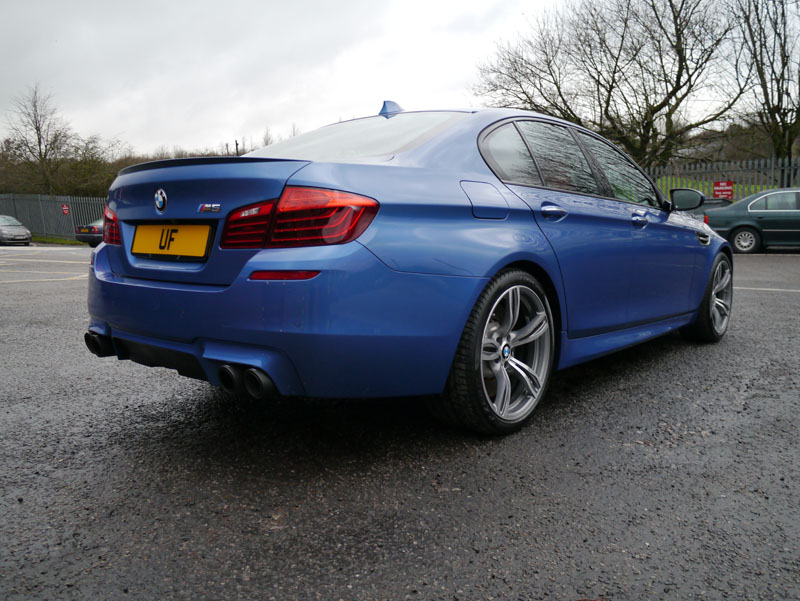 After the Poorboy's had been worked in, and the finish looking immaculate once again, all the car's panels were wiped down with Nanolex PREMIUM Paint Cleaner, to make sure any excess polish was removed, readying the surface for it layers of protection.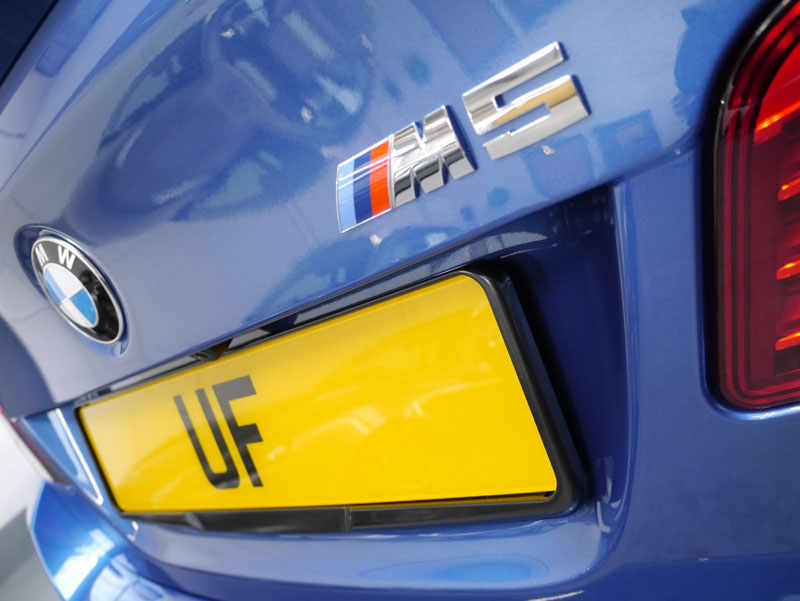 Before waxing the M5, a coat of the tough and durable Nanolex PROFESSIONAL Paint & Alloy Sealant was applied. This product bonds itself permanently to the paint surface, making it extremely hydrophobic, and physically repelling dirt and grime, which also makes future cleaning far easier.
As well as this, the customer also requested UF use Swissvax Crystal Rock – a long-lasting wax which contains a high percentage of grade No 1 Brazilian Carnauba, aiding paintwork further in its water beading properties, as well as leaving a beautiful depth to the paint.
Now the bodywork was protected, it was time to do the same for the rest of the car, which included applying Nanolex PROFESSIONAL Paint & Alloy Sealant again, but this time to the alloy wheels to make sure that brake dust and road grime doesn't etch into the finish, before Swissvax Pneu was applied to the tyre walls giving a natural look to the rubber.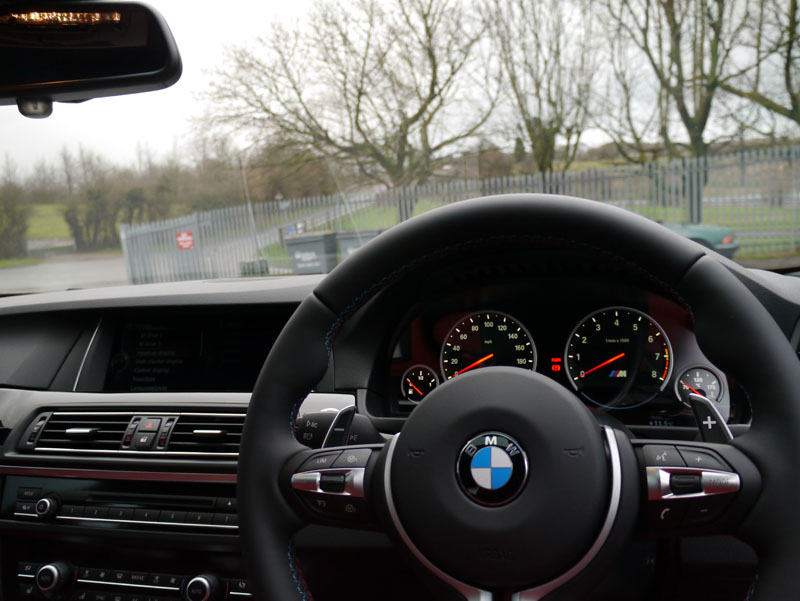 The glass was cleaned with Nanolex Glass Cleaner – a non-streak ethanol-based cleaner which cuts through even heavy contamination – before Nanolex ULTRA Glass Sealant was applied to the exterior side, making water sheet away extremely proficiently, hugely aiding the driver's visibility in heavy rain.
The final touch was to make sure the exterior plastic trim looked its best, by applying Nanolex Trim Rejuvenator, which not only brings back the lustre to trim, but also forms a chemical bond, protecting it further against UV rays which make trim fade quickly.
The UF New Car Protection Treatment now complete, this mean BMW M5 now looked as stunning as it sounded.
Ultimate Detailing Studio – Award Winning Detailing. Call 0845 838 1200 to discuss your requirements and arrange a free vehicle appraisal.
Ultimate Finish – Legendary Automotive Care since 1999.