Ferrari 458 Italia Detailed At The Ultimate Detailing Studio™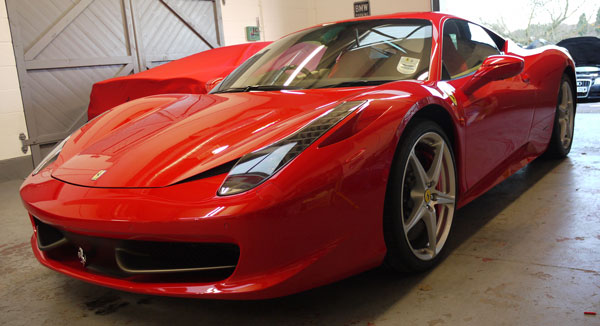 The Ferrari 458 is the latest thoroughbred to emerge from the elite Italian stable. Apparently the successor to the F430 this car is built from an entirely new design and uses technology Ferrari has employed through its Formula 1 experiences!
Originally unveiled at the 2009 Frankfurt Motor Show, the 458 was designed by Pininfarina and features a 4.5 litre V8 and deformable wings for better aerodynamics. The 458 currently holds the world record for power per litre in a naturally aspirated car. 0-100km/h in 3.4 seconds, top speed of 325 km/h, braking distance of 32.5 metres from 100-0km/h – it's a serious piece of engineering!
So understandably we were pretty excited to have one in the flesh (so to speak) arrive in our Ultimate Detailing Studio! A previous attempt at machine polishing this car had left it with holograms which were marring the beautiful red paintwork. Professional detailer, Rob Tomlin got to work with some 3M Fast Cut Plus, 3M Extra Fine Compound and 3M Ultrafina SE Polish. Having corrected the paintwork he applied 2 layers of Swissvax Scuderia (exclusive carnauba wax designed specifically for Italian paintwork). The glass was finished and sealed with Gtechniq G1 ClearVision Smart Glass. Bilt-Hamber Auto-Balm on the wheels to keep them shiny and protected and a spritz with Swissvax Motor Shine over the engine. Swissvax Metal Polish on the exhaust tips, Swissvax Pneu Glossy on the tyres….. sixteen hours later the 458 was looking absolutely fantastic – even if we do say so ourselves!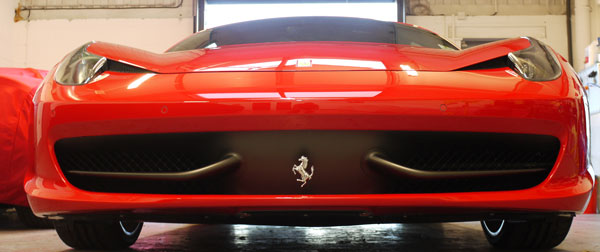 View more images of the Ferrari 458 Italia here