Gloss Enhancement Treatment for a Subaru Impreza WRX STi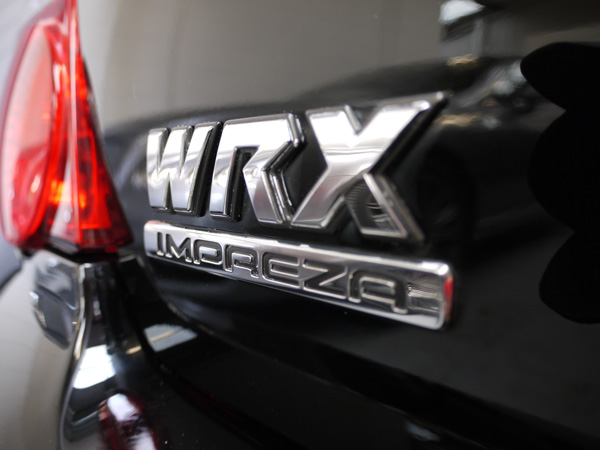 Japanese paintwork is notoriously soft and black is the most difficult of all to work with. So when this fantastic example of a Subaru Impreza WRX STi came in to the Ultimate Detailing Studio for a Gloss Enhancing Treatment our Master Detailer knew it was going to take all his considerable skill and years of experience to get the paintwork looking 'spot-on'!
The paintwork had quite a few swirls and scratches in it which wasn't in itself a problem – Subaru paintwork is very easy to cut back – it's the refining that takes the time and the skill! – Master Detailer, UDS
Initially the car was pre-cleaned using Ultimate Snow Foam to remove any larger particles of dirt to avoid scratching the soft dark paint any further.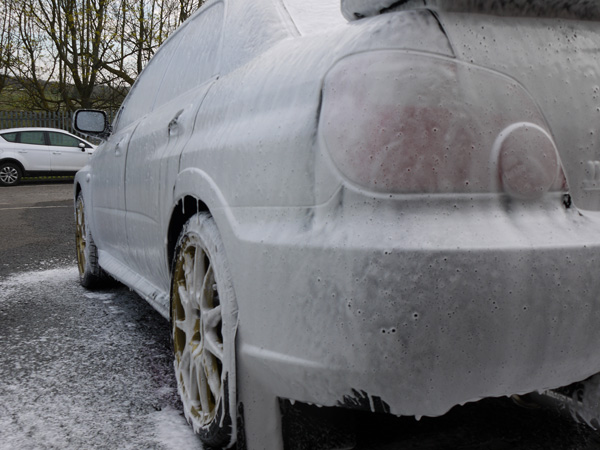 Then using Gtechniq G-Wash, a Swissvax Waschpudel and the two bucket method the Subaru was thoroughly washed. Meguiar's All Purpose Cleaner was used on the door shuts and wheel arches. As the alloys had a fairly heavy build-up of brake dust particles they were treated with Bilt-Hamber Korrosol. Korrosol is a new product from Bilt-Hamber, specifically designed to remove metallic particles from paintwork and metal substrates by actively seeking out and acting on the particle, causing it to shrink, thereby breaking the bond between the particle and the surface.
Bilt-Hamber's Korrosol worked brilliantly – I just sprayed it on to the wheel, waited for the colour change and then rinsed it all away! It worked so quickly and doesn't damage the lacquer on the wheel or on paintwork, so it's a definite permanent feature in the detailing routine from now on! – Master Detailer, UDS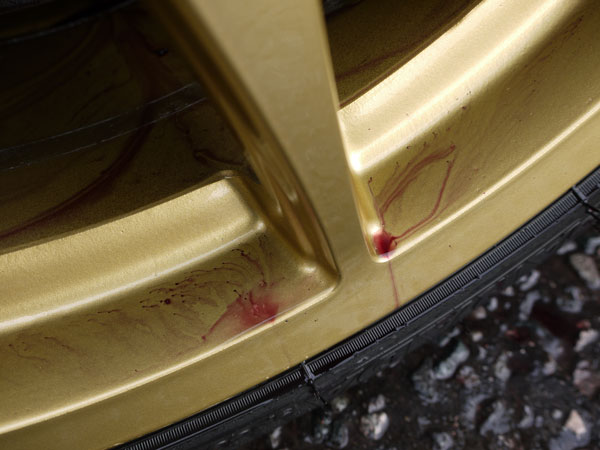 Thoroughly cleaned the Subaru was given a pure water rinse with an Aqua Gleam filter and patted dry with Swissvax Micro Dry Wonder Drying Towels. Then it was time to bring it indoors and for our Master Detailer to assess the paintwork with a Defelsko PosiTest Paint Depth Gauge and a 3M Sun Gun Colour Check Light – an ultra-bright light that shows up the true condition of the paintwork.
I could see the paintwork needed quite a bit of attention, so I chose to start SCHOLL Concepts S40 with a yellow 3M Polishing Pad and then for the refining process I swapped to 3M Ultrafina and the 3M Blue Finishing Pad. I had to be careful though because even this combination was prone to leaving faint holograms! – Master Detailer, UDS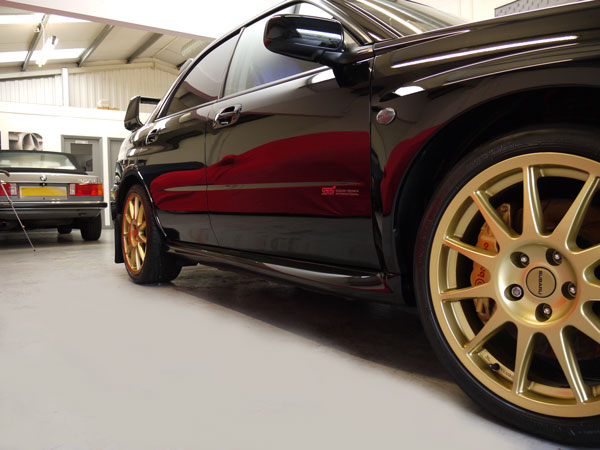 It took our Master Detailer a long time to get the paintwork refined to a standard he was happy with. Afterwards the hard work needed protecting with a super durable coating so, having wiped the paintwork down with IPA solution he applied two coats of Gtechniq EXO v2.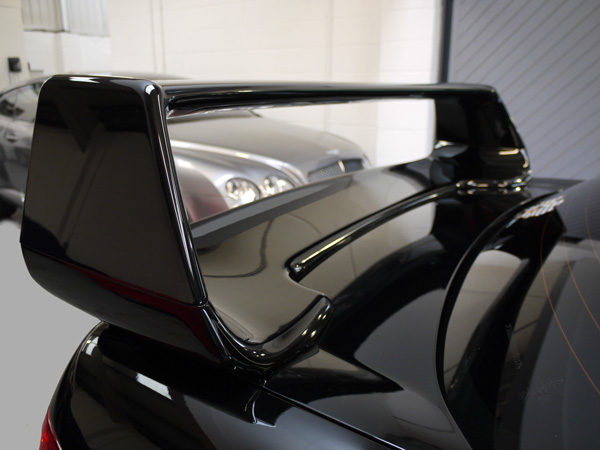 The results were absolutely stunning!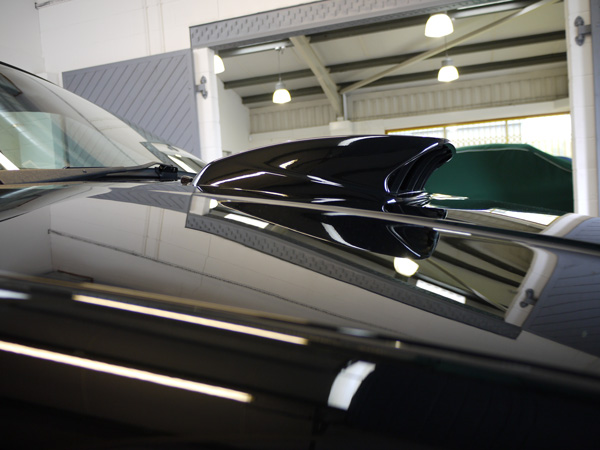 Having brought the wheels back to their golden best, our Master Detailer used Gtechniq C5 Alloy Wheel Armour to give them a heat resistant, non-stick, heat resistant coating to protect the wheels from the inevitable brake dust contamination and road grime build up. With C5 on the wheels they would be much easier for our customer to keep clean in the future.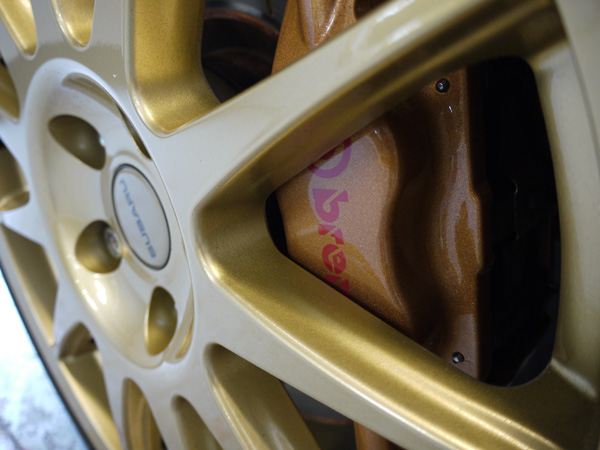 By the time our Master Detailer had finished with the Subaru it was ready to take on anything the British weather can throw at it. The EXO v2 coating will ensure this Impreza stays looking shiny for years to come!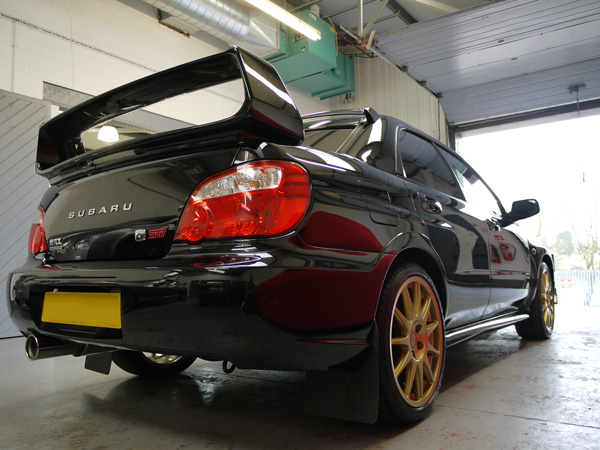 Ultimate Detailing Studio – Award Winning Detailing. Call 0845 838 1200 to discuss your requirements and arrange a preliminary inspection.
Ultimate Finish – Legendary Automotive Care since 1999.