Gtechniq EXO Complete Kit
Gtechniq recently introduced EXO Ultra Durable Hybrid Coating, a semi-permanent blend of inorganic and organic materials providing exceptional levels of dirt and water repellency. They have now released the Gtechniq EXO Complete Kit containing everything required to ensure EXO is easy to apply and gives the best possible results.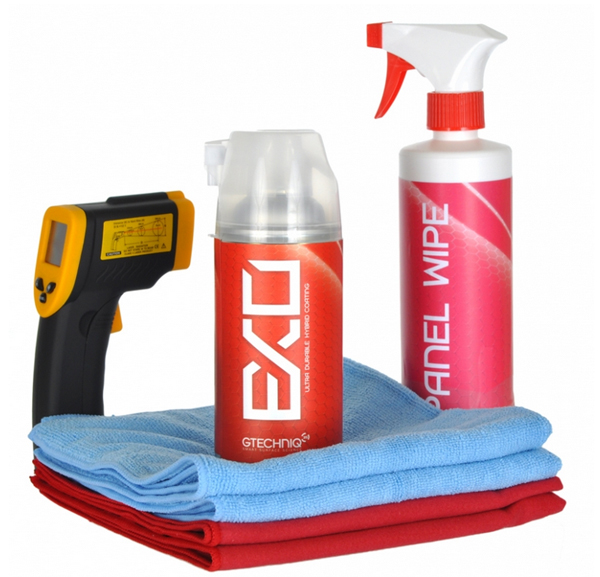 EXO forms a covalent bond with paintwork to become a "second skin". The inorganic quartz-based under coat is topped by an organic, high gloss top coat, thus providing ultra durability with an eye-blinding shine.
In order to prepare your paintwork effectively for EXO, first ensure it is free from swirls, scratches, blemishes, stains and other marring.  P1 Nanocomposite Polish and P2 Hologram Removing Polish will take care of most issues. If you have a machine polisher use in conjunction with the Hot Swap polishing pads, however both compounds can be used by hand; the Tri Foam Oval Applicator Pad is two sided – the white provides extra cut whilst the black is softer.
Once your paintwork is perfected wipe down each panel carefully with Panel Wipe to ensure the surface is free from any residue. EXO requires the panel temperature to be at least 20 degrees Celsius in order for the strong, covalent bond to occur. Once bonded, EXO provides a glossy, water and dirt repellent surface that is highly resistant to scratch and normal wash process chemicals.
EXO isn't just for paintwork – it can be used on a wide variety of substrates including glass, plastic, stone, fabric and metals!
The new EXO Kit contains a full sized, 410ml can of EXO (enough for 6 applications!), 500ml of slow evaporation Panel Wipe, a remote laser thermometer and 4 x MF1 Zero Scratch Microfibre Buffing Fleece.