McLaren MP4-12C receives a 'New Car Protection Detail'
A long-standing UF customer collected his brand new McLaren MP4-12C recently and within hours had brought it to the Ultimate Detailing Studio for a New Car Protection detail.
A close inspection of the silver metallic paintwork revealed DA (Dual Action Machine Polisher) marks, fine surface swirls and holograms; surprising given McLaren's reputation for attention to detail and the MP4's price tag !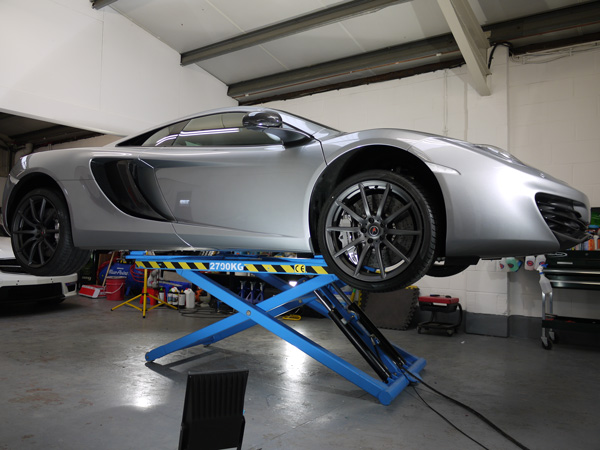 Following the correction and finessing of the MP4's paint finish, Master Detailer, Rob Tomlin carefully applied Gtechniq C1 Crystal Lacquer. C1 chemically bonds to paintwork to become the new surface layer of the vehicle, giving it unrivalled resistance to UV rays, repelling dirt and makes for easier cleaning. In tests C1 lasted up to 10 times longer than dealer applied products.
To achieve the clarity evident in the pictures, Rob applied a couple of layers of Swissvax Crystal Rock by hand. Crystal Rock has one of the highest carnauba contents of any wax on the market (76% by wax volume of pure Brazilian ivory carnauba). Silver is a particularly difficult colour to give depth of shine and to really do the metallic flake justice, Crystal Rock was the only choice. It coats paintwork in a smooth and glossy, yet tough and protective, water-repellent film, bringing a high gloss shine to even white and silver paint colours. What's more, a layer of Crystal Rock Wax lasts 6-12 months !
A coating of Gtechniq G1 Clear Vision Glass Sealant was applied to the windows, providing a water and dirt repellent surface for better vision during adverse driving conditions. The wheels, which take the full force of the driving fury needed protecting too. The wheels on the MP4-12C have a factory special matt finish, so after discussion with Gtechniq, C5 Alloy Wheel Armour was agreed to be not only safe, but the ideal solution to protect the finish from brake dust build up and etch – a super-star finish for a true supercar.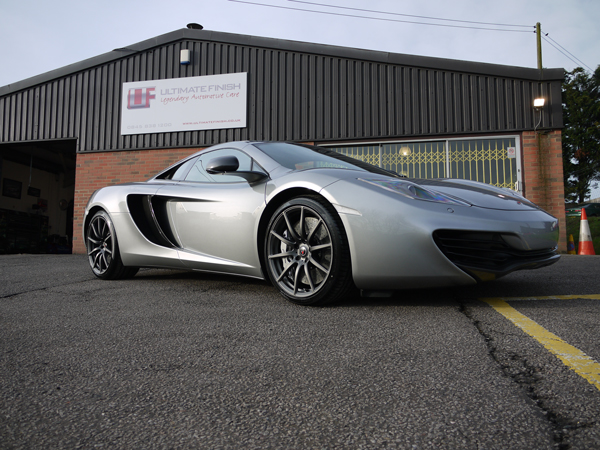 About the McLaren MP4-12C:
McLaren's new MP4-12C is quite simply, a master piece of design and engineering.
The clue is in the name – all McLaren's Formula 1 race cars have been designated MP4 since 1981 (when the M represented the sponsor, Malboro). These days MP4 stands for McLaren Project 4 – as a result of the merger with Ron Dennis's Project 4. The MP4-12C shares its name with the F1 car which featured in the 1997 race season. That particular car had a second brake pedal which the driver could apply to the inside rear wheel to counter understeer when exiting corners. The MP4-12C has a similar system which McLaren calls 'brake steer'.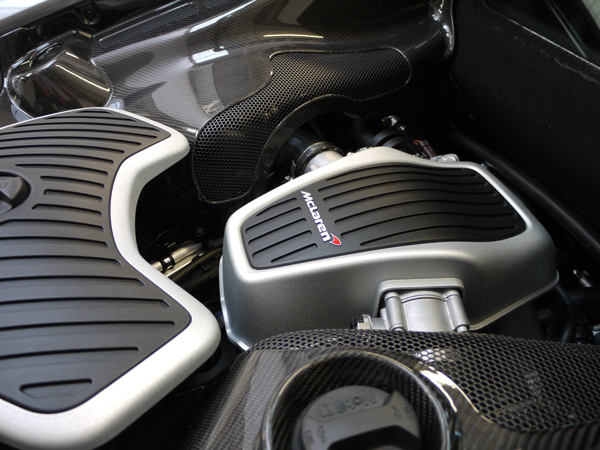 As with their F1 cars the MP4-12C is built around the driver, and for the driver. The main shell is created from a single piece of carbon fibre known as the Carbon Monocell. With no seams or joints it offers maximum protection for the driver with minimum weight.
Weight compromises performance. So weight saving has been key during the design and production of this car. McLaren instructed the design team to make this car as light as possible whilst retaining maximum strength and safety for the driver and passenger. McLaren gave the team complete freedom to design from scratch, without the burden of having to use carry-over parts. The innovation that arose from this remit was nothing short of remarkable.
The average supercar weighs in at between 1250 and 1800kgs. Having reduced the weight of the built vehicle to around 1200kg McLaren demanded designers find a way to reduce the weight by a further 5%, bringing the total weight to 1140 kg. How? Radiators mounted alongside rather than in front of the engine meant less pipework and therefore less weight. Aluminium and iron brakes instead of carbon ceramic save 2kg per brake. Other weight saving features include a bespoke electrical architecture, an active air brake system, frameless windows, a new concept exhaust system and a race-car, lithium-ion battery.
The MP4-12C also features a 3.8L twin-turbo V8 engine which gives superb performance whilst maximising fuel efficiency and CO2 emissions unbeaten by other supercars. A completely new, specially designed drivetrain has allowed the centre of gravity to be significantly lowered thereby reducing roll through corners. The MP4-12C also incorporates a magnesium dash support beam, rather than steel – another industry first.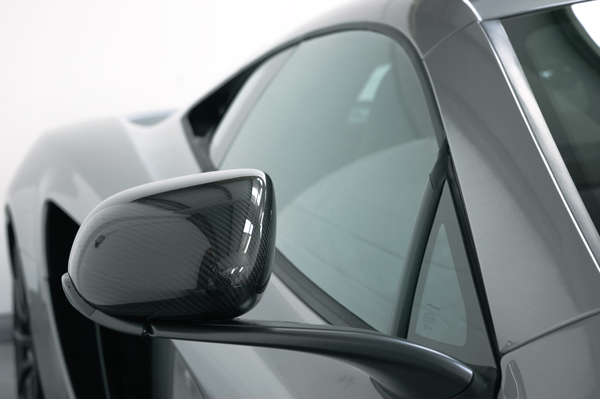 View more images of the McLaren MP4-12C here.