Paul Dolden Details: BigBoi WashR Pressure Washer Review
There is no getting away from the fact that if you are serious about car detailing and car care, one of the key components to get the job done effectively is most definitely a pressure washer. However, with there being so many on the market to choose from, where do you start? One of the newer options making rather a name for itself is the BigBoi WashR Pressure Washer.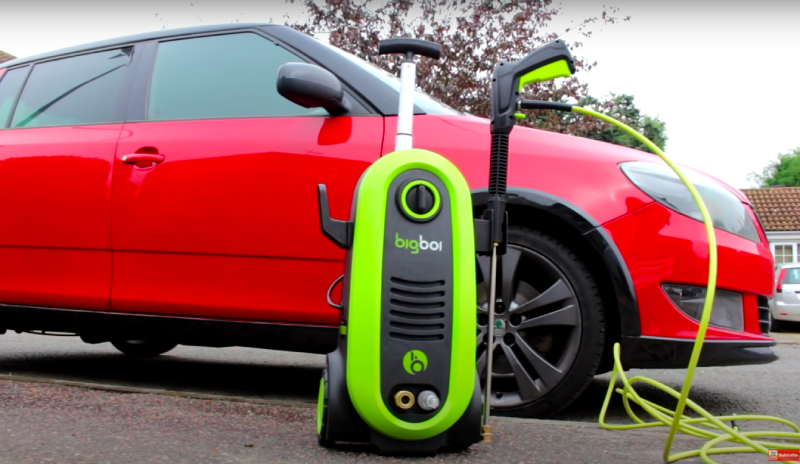 Paul Dolden has amassed a loyal following on his YouTube channel 'Paul Dolden Details' and he was keen to try out BigBoi's first attempt at a pressure washer for one of his upcoming detailing product review shoots. BigBoi are primarily known for producing their contactless drying aid machines, but since delving into the pressure washer side of things it has certainly proved a nice feather in their detailing cap.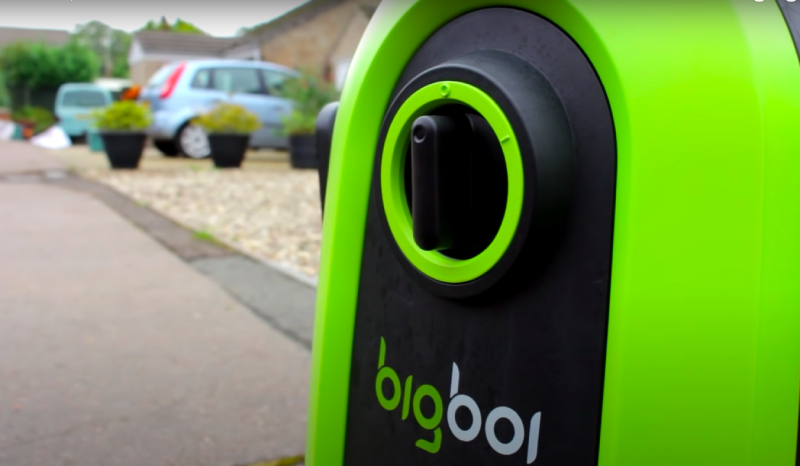 WashR Pressure Washer – The Complete Package?
Whether you are a professional detailer or a weekend enthusiast, one of the key things for consideration before purchasing a pressure washer is your budget. The BigBoi WashR Pressure Washer certainly sits at a more agreeable price-point compared to some of the more established names on the high street, plus it comes with a snow foam cannon as standard and four varying degree nozzles – but how does it perform?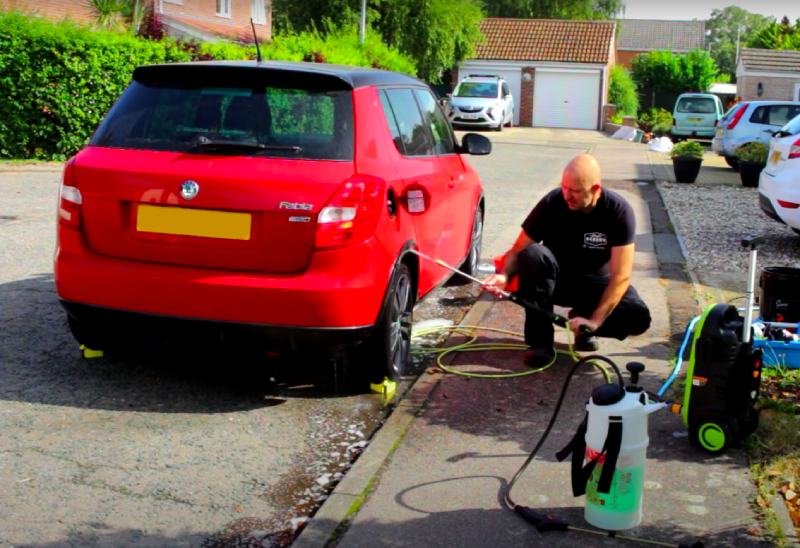 It's at this stage that we hand over to our good friend Paul Dolden and you get to see exactly what you've got to look forward to if you do make the BigBoi WashR your next pressure washer. Enjoy!
The Best Pressure Washer For Detailers?
BigBoi WashR Pressure Washer £249.00
A premium heavy-duty pressure washer with a quiet brushless induction motor. The BigBoi WashR Pressure Washer also features a total stop system (TSS) which senses water flow in the pump, meaning when the trigger is released, water stops flowing through the pump. Universal 1/4 inch quick connect attachments are supported all round.
The brushless induction motor contains frictionless moving parts which will mean the unit does not require servicing as frequently as other pressure washers.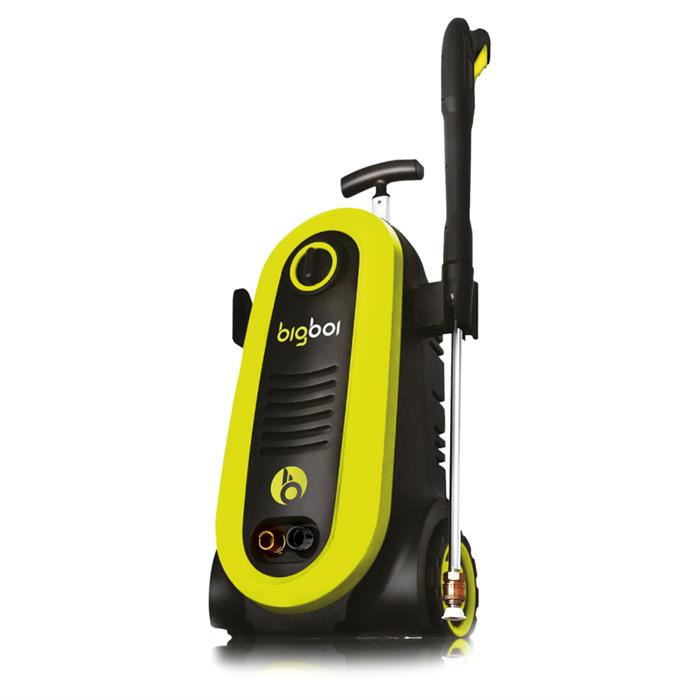 Voltage: 240V/50HZ
Motor: 1600W (Peak) Induction
Maximum Pressure: True 2600PSI
Max Flow Rate: 6.5L to 7L/min
Hose Length: 8m lime colour
Max Water Temp: Can accept up to 50 C
Power Cable Length: 3m
Pressure Nozzle Connection: 1/4 Inch
Power Plug: UK Certified Standard
(L x W x H): 60 x 37 x 33cm, 14Kg
NEW: BigBoi FoamR Pro Snow Foam Cannon £60.00
The newly designed BigBoi FoamR Pro Snow Foam Lance is an upgrade on the standard cannon and features a transparent 1 litre bottle including five-way patented technology allowing you to select from varying spray pattern options. Deliver super-thick foam in either cone, jet, horizontal fan, vertical fan or down and tailor your output specifically for your detailing task in hand.
The materials used in the make-up of the BigBoi Foam Cannon includes a high-quality brass, with the large, re-enforced bottle wearing the BigBoi emblem on a high-quality hope plastic. The newly-designed big mouth plastic cap enables the easy screw on/off of the bottle and means the filling process is much easier with less chance of product spillage.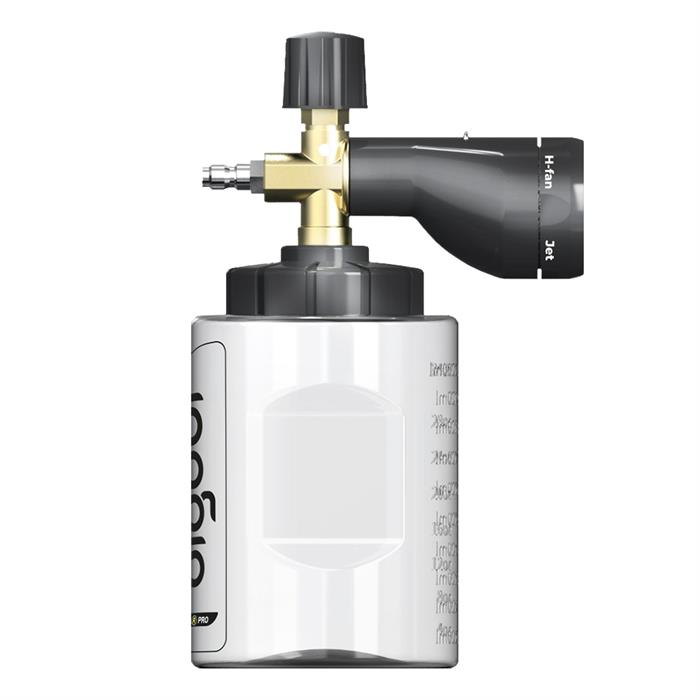 High-pressure foam cannon for use in conjunction with a pressure washer
5-way patented spray technology-twist for desired spray pattern
Apply snow foams, shampoos etc
G14″ Quick connector
Control knob to set chemical mixture rate
Spray nozzle twist for desired spray pattern
Toggle feature for turning solution off & rinsing
Big mouth cap for easy filling
Sturdy & comfortable skeleton type nozzle
Extra wide transparent 1 litre soap bottle
Wheel Woolies 3-Piece Wheel Brush Kit £45.95
A luxury set of premium wheel and trim brushes custom designed and developed for car care enthusiasts detailers & valeters. Three different sizes allow safe and effective front to back cleaning of even the most complex designed wheels.
Large Wheel Woolie (overall length of 18″ with a 3″ super-soft wool head) – ideal for reaching deep into wheels or cleaning wheel wells.
Medium Wheel Woolie (overall length of 18″ with a 2″ super-soft wool head) – ideal for smaller gaps, air diffusers, door jams and engine bays.
Small Wheel Woolie (overall length of 8″ with a 1″ super-soft wool head) – ideal for tighter gaps and narrow spoke wheels.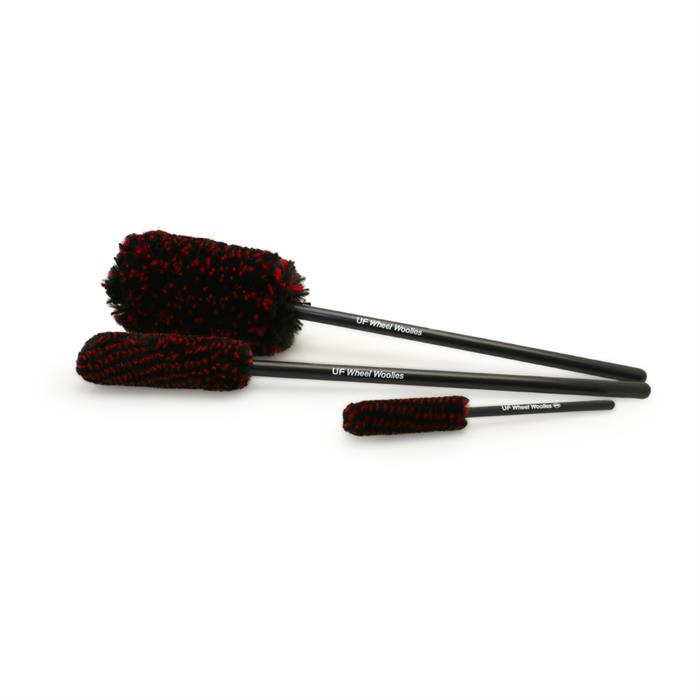 Ultra-Soft polypropylene fibre heads
Super-Strong flexible non-scratch handles
100% metal free
Suitable for all wheel types & finishes
Chemical resistant
Visit Ultimate Finish for the best car care and detailing products from around the globe!
Have a question on any of our products? Email sales@theultimatefinish.co.uk or call 01474 360 360.
Our team is on hand, Monday to Friday, 8am-5pm.