Not Sure About The Value Of New Car Protection – Read On!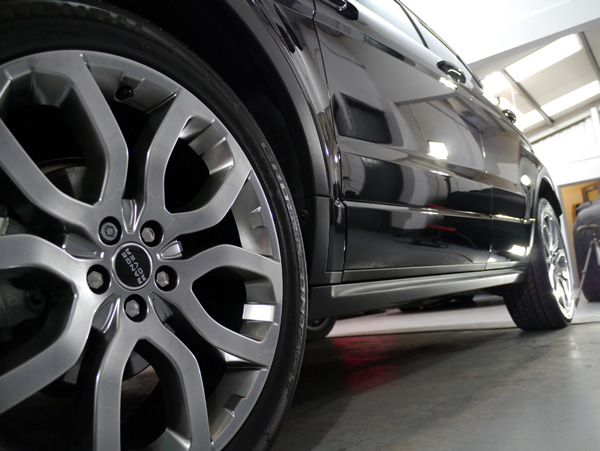 The Range Rover Evoque Si4 is the petrol version of Range Rover's quirky SUV. It has an impressive 237bhp and 251lb of torque leading Autocar to describe it as "a hot hatchback with an especially good vantage point". Not surprisingly then our customer was very excited when he collected his brand new Evoque Si4 in metallic Santorini Black. Very highly spec'd up this Evoque is a statement in performance and luxury – it would be rude not to get protection for this fresh investment.
Our customer always meant to have a New Car Protection Treatment applied, right from the start, but as it does, 'life' got in the way. Just six thousand miles and several car washes later the damage was done. Our customer knew he had to bring it in as quickly as possible and so 'life' was firmly put on hold to have the Evoque attended to!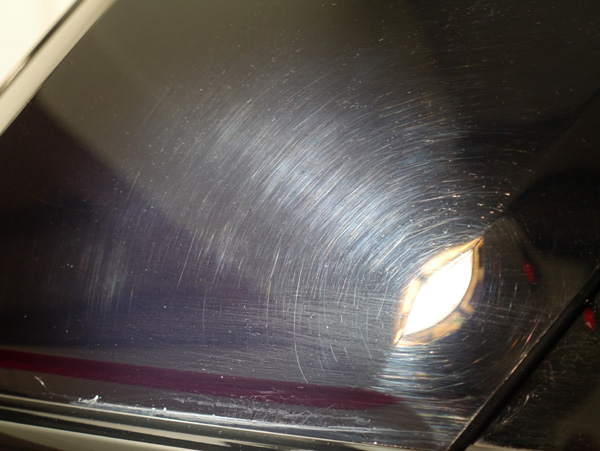 It may only be six thousand miles but it provides plenty of opportunity for paintwork to suffer! Too late for New Car Protection, it was now time for a Gloss Enhancement Treatment.
People just don't realise how much stress paintwork takes. If a car gets protected right from the outset it's always a more cost effective option for the owner. The longer it takes to remove the swirl marks the more it costs, plus you have the inconvenience of being without your car for longer. New Car Protection can be done in a matter of hours. – Master Detailer, UDS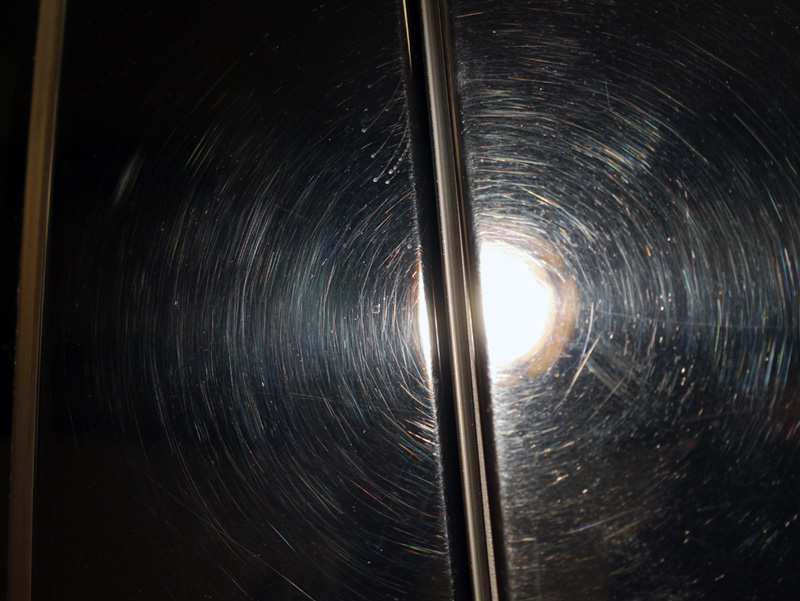 Initially the Evoque was pre-washed using Ultimate Snow Foam. The wheels were quite heavily contaminated with baked-on brake dust and tar, so these 20 inch rims were cleaned using Bilt-Hamber Korrosol, an iron contamination remover. When brake pads shred during braking hot particles attach to the hot wheel surface. These particles embed themselves into the substrate and swell as they begin to oxidise. Korrosol sprayed on to the wheels breaks this bond by shrinking the particles allowing them to be freely rinsed away.
Next the door, boot and bonnet shuts were all cleaned with Meguiar's All Purpose Cleaner and the car given a full wash using Gtechniq G-Wash. The bodywork had gathered a lot of road tar so our Master Detailer used the Dodo Juice Basics of Bling Clay Bar and Born Slippy Clay Lube to make the paintwork feel as smooth as glass. The Evoque was then washed again, rinsed with an Aqua Gleam de-ionising water filter and then patted dry with Gtechniq Zero Scratch Microfibre Buffing Fleeces.
Clean, dry and decontaminated, the Evoque was inspected with a 3M Sun Gun Colour Check Light and a PosiTest DFT Paint Depth Gauge Combo.
I always start out with the softest compound and pad combination I think will do the trick. Sometimes this means I have to go up a grade, sometimes two, but it's best to start as gently as possible. In this instance I tried 3M Ultrafina SE Polish with a 3M Blue Polishing Pad and it worked a treat. – Master Detailer, UDS
The 3M blue combination took out the swirling and put a fantastic shine into the paintwork. Everything was then wiped over with IPA solution to remove any polish residues and prepare it for the glass coat sealant.
Glass coat sealants dry very hard, providing a tough sacrificial top coat which help protects the clear coat from scratching, bird droppings, UV rays and other harmful environmental and industrial fallout. In this instance our Detailer selected Gtechniq C1 Crystal Lacquer + finished off with a layer of Gtechniq EXO v2. The combination of the fully synthetic C1 + and the hybrid synthetic / organic EXO v2 offers a fantastic combination of scratch-resistance and high gloss shine. On Santorini Black it looked dazzling!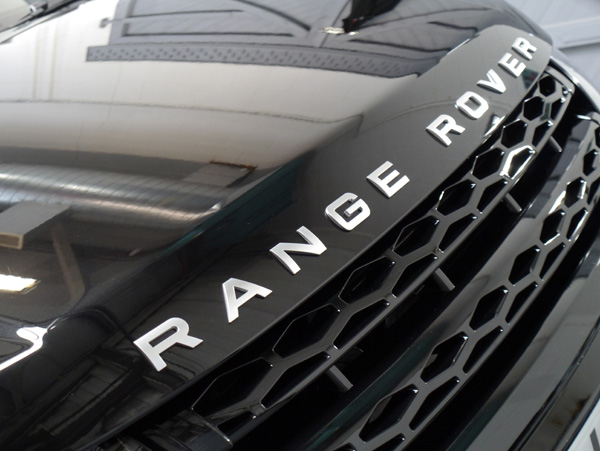 The Evoque is quite sculptured, with lots of scoops, hollows and curves, so it's quite fiddly to actually detail, but it's a beautiful looking vehicle and once it's been properly done it looks fantastic. – Master Detailer, UDS
The wheels were also treated to a coat of 22PLE VM1 Rim & Metal Coat to prevent the build-up of brake dust, to make them shiny and to keep them looking that way! With the glass all cleaned including the panoramic sunroof, the tyres finished with Swissvax Pneu and the plastics all coated with 22PLE VR1 Signature Plastic & Trim Restorer the Range Rover Evoque Si4 was ready to roll!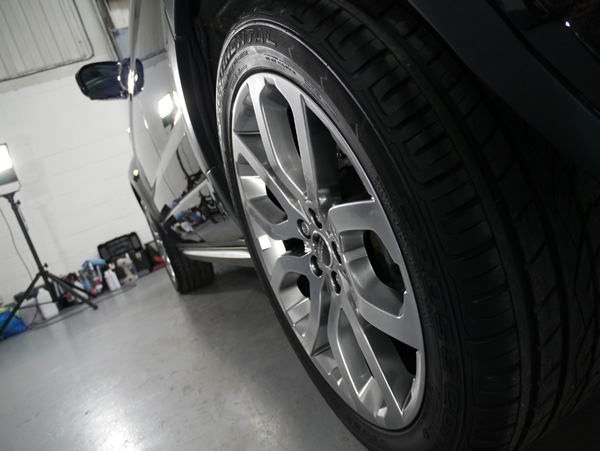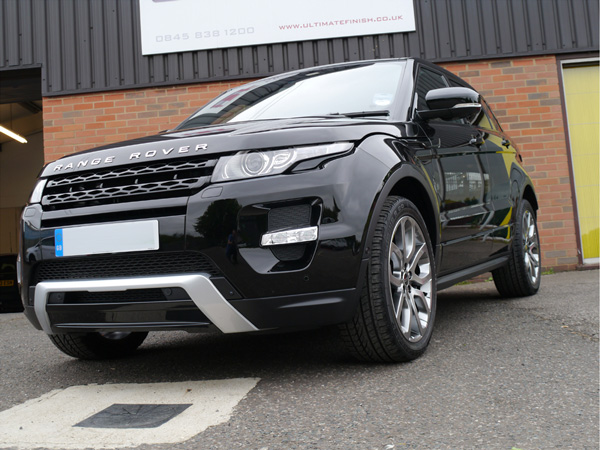 Ultimate Detailing Studio – Award Winning Detailing. Call 0845 838 1200 to discuss your requirements and arrange a preliminary inspection.
Ultimate Finish – Legendary Automotive Care since 1999.