The Gadget Show goes Valet Crazy ! – Series 16 Episode 8

The Gadget Show, home of the new, the innovative, the mad, the practical, the outrageous, the ultimate….came to the conclusion that car cleaning had moved on a bit from the days of Fairy Liquid, bucket and sponge. The idea came to them for an episode challenge related to car cleaning – and of course when they needed help, they called on Ultimate Finish !
So the request came – would we help them put together a variety of products specifically designed to make car cleaning easy, fast and fun? We were only too happy to help out, so we contacted several of our car detailing manufacturers (who all pitched in), put together a range of products for The Gadget Show Team and sent them a big pile of goodies. The Gadget Show took one look and decided they needed a crash course in how to use it all, so Ultimate Finish Managing Director, Jez Gilman made a few trips up to their studios to demonstrate the items.
"As you can imagine it was quite a task" said Jez after the day's filming was over, "for the most part our products are aimed at customers who want to spend a bit of time on their vehicles, but time was a critical factor on The Gadget Show challenge. Certain products lend themselves to this; the Ultimate Snow Foam and pressure washer foam lances are good examples. But polishing and waxing are processes that usually take time to do in order to get the most out of the products. At the Ultimate Detailing Studio it's not uncommon for our Detailer to take a whole day to detail a car! But the criteria  for The Gadget Show was different. It was great fun to do and I think we showed that, even when you're in a hurry, the right products will still make a big difference."
On the day of filming Ultimate Finish was invited to the corner of a car park where a local car cleaning firm, 'Mr Valet', had allowed The Gadget Show to set up two bays under marquees. After a briefing on the day's proceedings and following introductions to the team, filming got underway.
The Teams: Pollyanna was joined by three scouts from three local scout groups – 32nd Perry Hall Birmingham, 64th Birmingham and 177th Birmingham, whilst Ortis's team was made up of three actresses from Hollyoaks, Abi Phillips, Anna Shaffer and Jazmine Franks.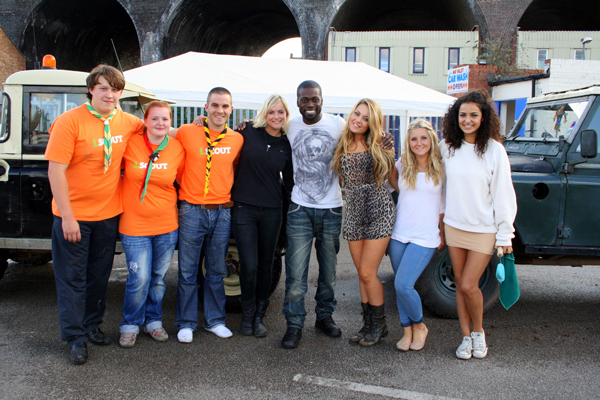 The Challenge: The presenters were issued with three addresses where they would find three vehicles in desperate need of cleaning. They would ride out to their clients on portable electric transport and then, drive the vehicles back to the valeting bays, wash, polish and wax each vehicle in the fastest possible time and then be judged on both vehicle cleanliness and time elapsed for the whole process.
The Cars: Pollyanna's team cleaned a Mini, a Land Rover Defender and a Honda CRV. Ortis's team got a Smart Car Four Two, a Land Rover Defender and a BMW X5.
"The teams really had their work cut out for them", said Jez. "The cars were all really dirty, and the last vehicles were 4 x 4s and so as well as being absolutely filthy they were huge!"
And The Winner…. Pollyanna and her team of Scouts.
"It was a really great day, fantastic that we were asked to be part of this challenge, and so much fun to see the the Gadget Show team in action," Jez said. "Of course we're not surprised Pollyanna and the Scouts won. Some may say there was a hint of favouritism going on, but we reckon it was because she had the foresight to grab the Ultimate Snow Foam and Ultimate Snow Foam Lance which gave her a massive advantage!"
The Products:
Ultimate Snow Foam
Ultimate Snow Foam Lance
Aqua Gleam De-ionising Water Filter
Meguiar's Lambswool Washmitt
Meguiar's Bucket & Grit Guard
Meguiar's G220V2 DA Polisher
Meguiar's 7" Soft Buff Polishing Pad
Meguiar's 7" Soft Buff Finishing Pad
Meguiar's Ultimate Compound
Meguiar's Tyre Dressing Applicator Pad
Dodo Juice Born to be Mild
Dodo Juice Soft Touch Drying Towels
Dodo Juice Mellow Yellow Wheel Cleaner
Dodo Juice Captain Crevice Wheel Mitt
Dodo Juice Supernatural Machine Stick
Dodo Juice Fantastic Fur Microfibre
Dodo Juice Clearly Menthol
Dodo Juice Mint Merkin
Dodo Juice Tooled Up Detailing Bag
Swissvax Car Bath
Swissvax Waschpudel
Swissvax Cleaner Fluid Professional
Swissvax "Swissvax Best of Show"
Swissvax Wax Applicator
Swissvax Pneu
Swissvax Protecton
ValetPRO Bilberry Wheel Cleaner
ValetPRO Long Reach Wheel Brush
ValetPRO Citrus Tar & Glue Remover
Bilt-Hamber Auto Clay (Soft)
Gtechniq P1-500ml
Gtechniq C4 Trim Restorer 25ml
Zaino Tri-foam Applicator Pads
Zaino Z5 Pro
3M Glass Cleaner
3M Tyre Restorer
Unfortunately due to the time constraints not all of the products were used and a lot that were used didn't get mentioned. Ultimate Finish would like to say a big "thank you" to the following manufacturers (in no particular order!) for their help making this feature:
Dominik Berry @ Meguiar's
Dom Colbeck @ Dodo Juice
Samantha, Andrew and Stuart @ Swissvax UK
Matthew Bailey @ 3M
Gregory Spink @ ValetPRO
Johnny Hole @ Zaino Europe
Rob Earle @ Gtechniq
Tags: The Ultimate Finish, Ultimate Finish Snow Foam, Ultimate Finish Snow Foam Lance The Gadget Show