Why Choose UF Studio For Your Car's Detailing Requirements? – Part I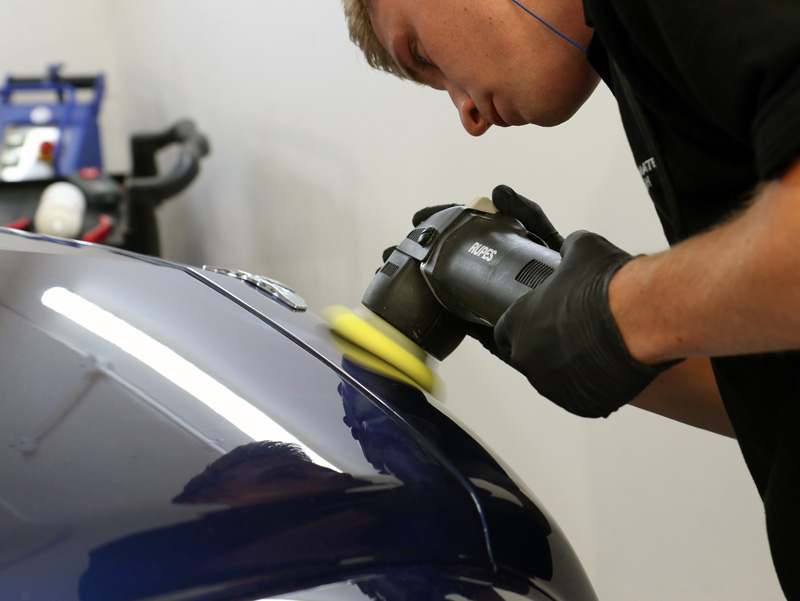 For many people, their car is a passion and therefore keeping it looking its best is an important part of owning that car, forming a significant part of their enjoyment of it. It's also true that for many, after property, a car represents their biggest investment. As such, ensuring the appearance of the vehicle is kept looking its best is important from a resale perspective: a well-looked after vehicle is always going to command a higher price than one with dull, tired paintwork, hazy glass and pitted wheels. As people are keeping their cars longer these days, it makes sense to make sure they are protected and well-maintained to ensure their longevity.
It's hardly surprising then, that detailing has seen a surge in popularity. From enthusiasts maintaining their vehicles at home to those who engage the services of professional detailers to protect their vehicle.
Over the last decade, we've seen a significant rise in the number of car owners recognising the value of investing in the protection of paintwork, wheels, and interiors. New Car Protection treatments, in particular, have surged in popularity as owners seek to protect their vehicle from the outset – the most cost-effective and practical solution to long term effective maintenance. – Jez Gilman, Managing Director, UF Studio
For some car owners, detailing their own vehicle is a favourite past time and with the variety of products available, it's possible for enthusiasts to maintain their vehicles at home. There are some ceramic sealants with excellent protective and hydrophobic functions, such as Gtechniq Crystal Serum Light and Kamikaze Collection Miyabi, available for purchase and use by car care enthusiasts. However, as ceramic sealants are intended to protect the paintwork for months if not years, it's essential to ensure the paintwork has been properly prepared beforehand. This involves intensive decontamination to remove both visible and hidden contamination, followed by polishing, by hand or machine, to remove swirls, scratches, oxidation or any other type of blemishes that mar the appearance of the vehicle. This level of preparation can be daunting for enthusiasts who may not have the confidence, the knowledge or the equipment to perform the processes. Increasingly, enthusiasts are turning to professional detailers to perform the initial detailing treatment and apply a ceramic coating which will then allow them to more easily maintain their vehicle at home. But with so many businesses popping up claiming to be 'detailers', how do car owners choose a detailing studio?
Ultimately, choosing a studio comes down to finding one that demonstrates the knowledge and expertise of a specialist practitioner, whilst also having access to a range of products and the right tools that allow them to perform detailing treatments to the highest standard.
Headquartered at Brands Hatch race circuit in Kent, UF has been involved in the car care industry for over twenty years, retailing the most exclusive and the most popular products for customers to use at home. UF Studio has been taking care of customer's vehicles directly for nearly fifteen years and has the knowledge and the equipment to provide a range of detailing services, from comprehensive New Car Protection packages, to Full Paintwork Correction treatments. Perhaps just as importantly, UF's detailers are self-confessed 'petrolheads' themselves and customers can rest assured their vehicles will be treated with the utmost respect whilst in their care. Offering a consultative approach, owners can discuss their requirements and expectations, and the detailing treatment can be matched to the expected vehicle usage, owner's budget and desired result.
To appreciate the level of skill involved in detailing, and providing, therefore, a compelling reason for choosing UF Studio, an understanding of what's involved during detailing processes is required.
All detailing treatments begin with decontamination to remove a variety of problematic issues. At UF Studio, each step is carried out using specialist products dedicated to the type of contamination, and using non-contact methods as far as possible to reduce the chances of incurring swirls in the paintwork.
Oils – diesel spills, traffic film and general road grime fall into this category, along with dealer designations for new cars usually written on new car windshields.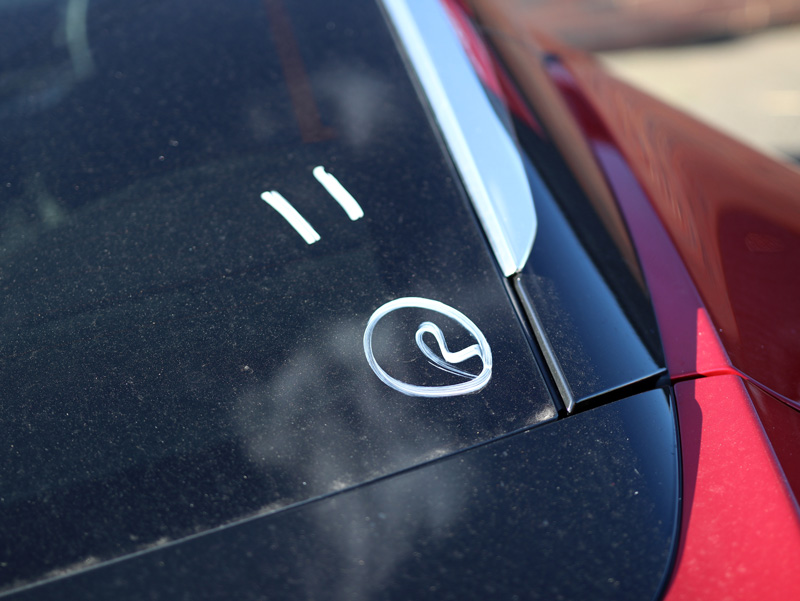 Removal requires a degreasing agent which is sprayed over the whole vehicle, with particular attention paid to areas likely to collect such contamination: engine bays, fuel caps, wheel arches, boot, bonnet and door shuts and around the catches.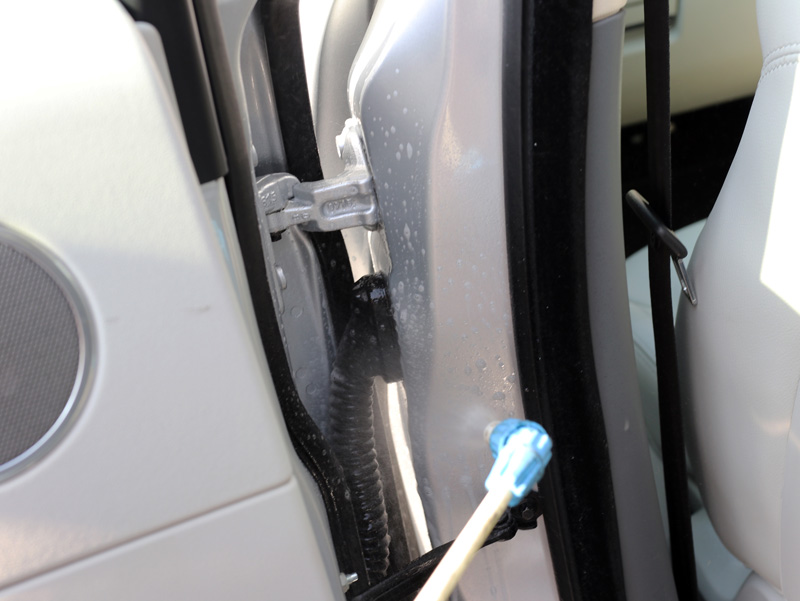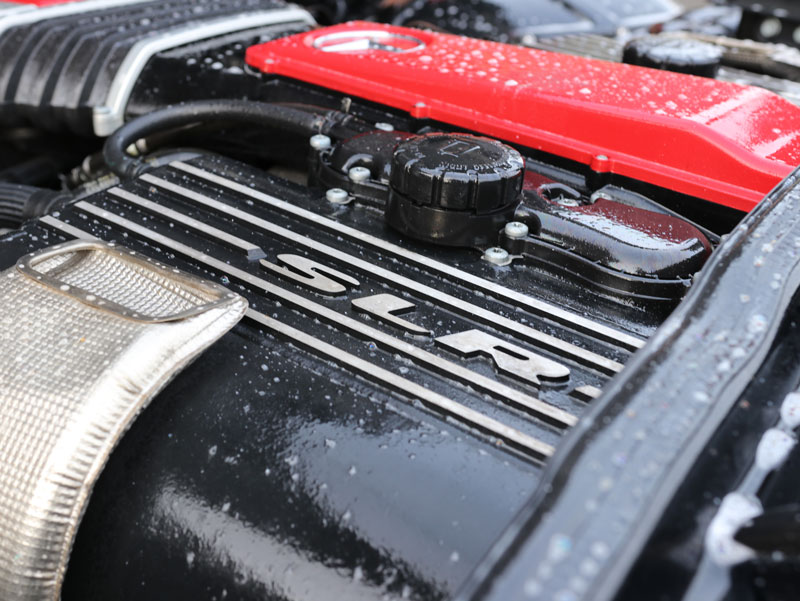 Using a pump-up sprayer allows the product to be forced into tight, hard-to-reach areas that might otherwise be missed. UF Studio use a trolley jack to raise each corner of a vehicle, in turn, to increase the gap between wheel and arch, allowing for a more comprehensive cleaning process.
Adhesives – tar, bug squash, glue from transportation coverings on new cars, and tree sap are all commonly found adhesive-type contaminations. These are removed using products formulated to break down the sticky bonds they form. By allowing the product to dwell, minimal if any agitation is required.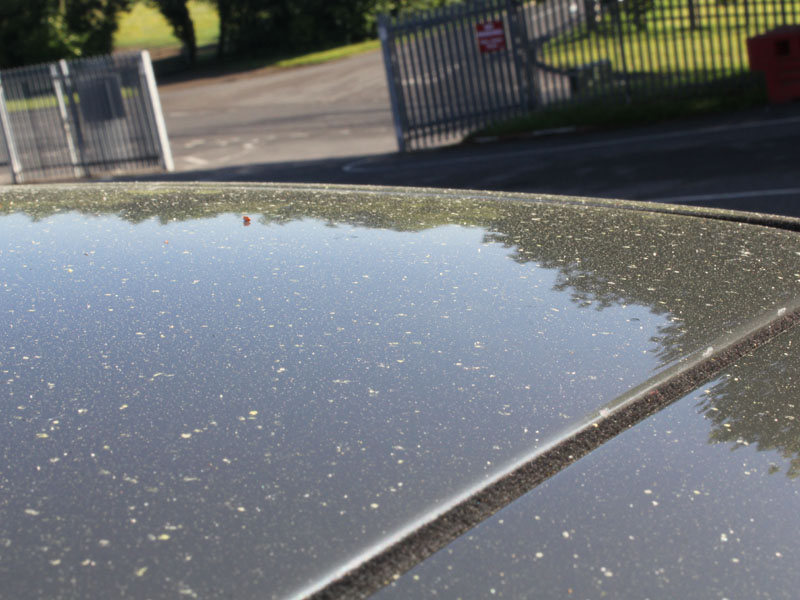 These types of products are far more effective than rubbing at the contamination with a wash mitt; a process more likely to incur swirls in the paintwork than be effective at removing the adhesives.
Brake dust – iron contamination is extremely corrosive: when brakes are applied, the pads shred sending tiny shards of hot, sharp particles into the air. These land on the first substrate they encounter and quickly form bonds. Immediately, they begin to oxidise, swelling as they do so and left in situ, will cause pitting in the wheels clear coat.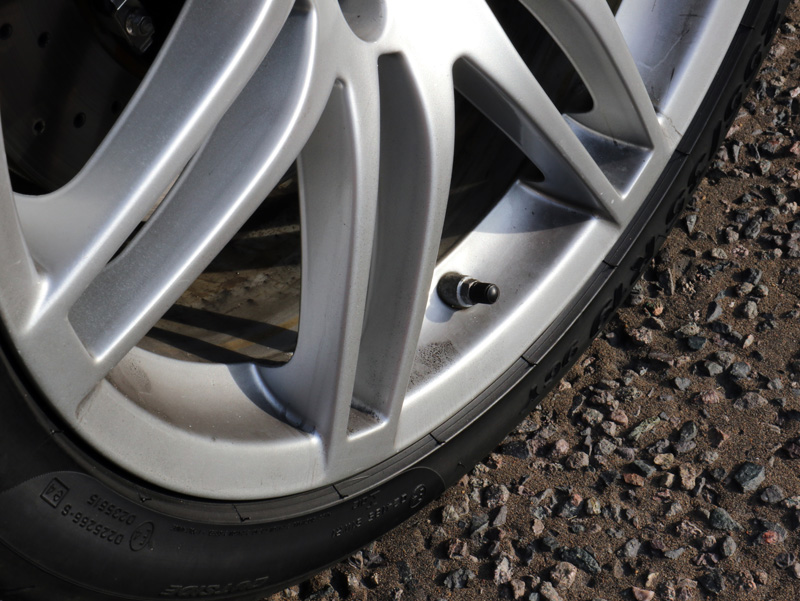 The most effective and safest way to remove this type of contamination is using a dedicated iron remover. These products contain an active ingredient that causes​ the particles to shrink, breaking their bond with the underlying substrate. The particles can then be rinsed away.
It's important to note, scrubbing at these particles with a wash mitt will seldom dislodge them and, if they do, the sharp particles are then dragged across the paintwork or wheel lacquer causing damage. Iron removing products change colour on contact with ferrous contamination, the colour deepening until the chemical reaction is spent. The effect can be quite eye-opening, as it effectively highlights the extent of ferrous contamination. – Matt Back, Master Detailer, UF Studio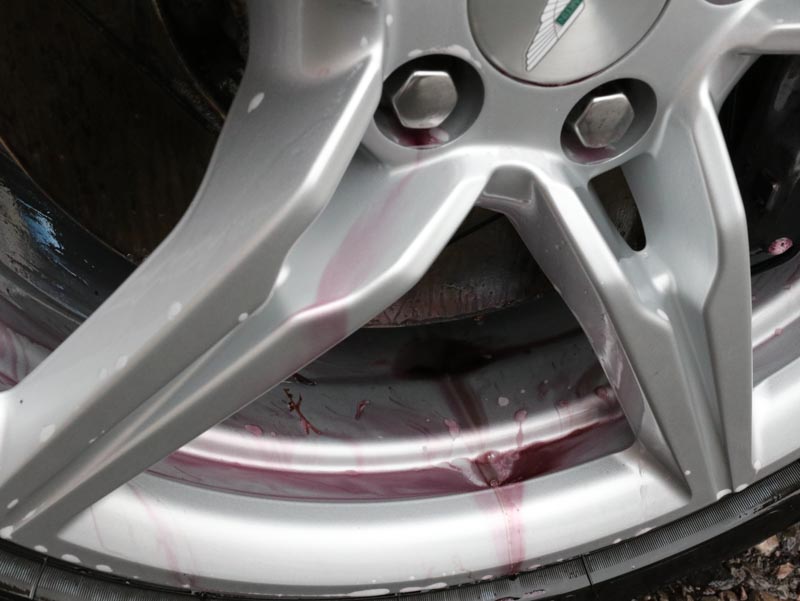 Non-contact decontamination methods are vastly preferable to using a wash mitt and elbow grease – they're more effective and safer for the paint. When cars are heavily contaminated, we may need to use a clay bar or clay mitt to shear stubbornly bonded contamination away from the surface of the panels. In extreme cases, a denibbing tool is required and extraordinary care must be taken when using this as one slip could gouge paintwork. We do not recommend denibbing tools for enthusiast use. – Matt Back, Master Detailer, UF Studio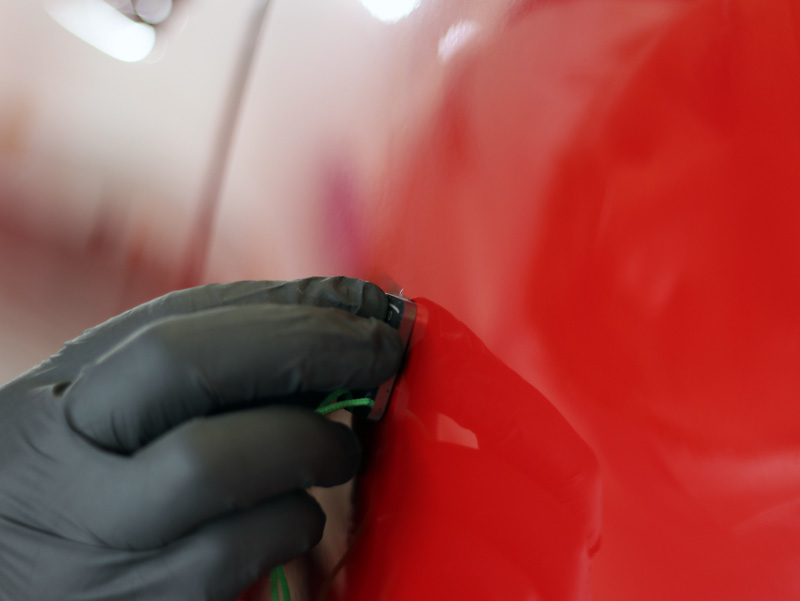 Pre-cleaning – prior to the main wash, a high foaming product such as Ultimate Snow Foam is used to eliminate larger particles of dirt and grit that might otherwise become trapped in a wash mitt and scratch the paintwork. The thick lather lifts particles away from the surface, encapsulating them within the foam and allowing them to be easily rinsed away.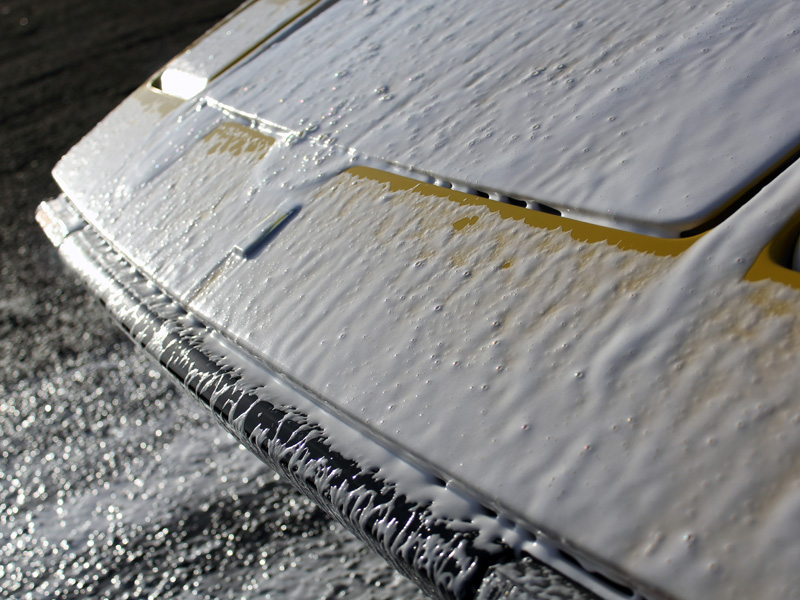 Washing – is carried out using two buckets, both with Grit Guards, keeping the wash solution separate from the rinse water.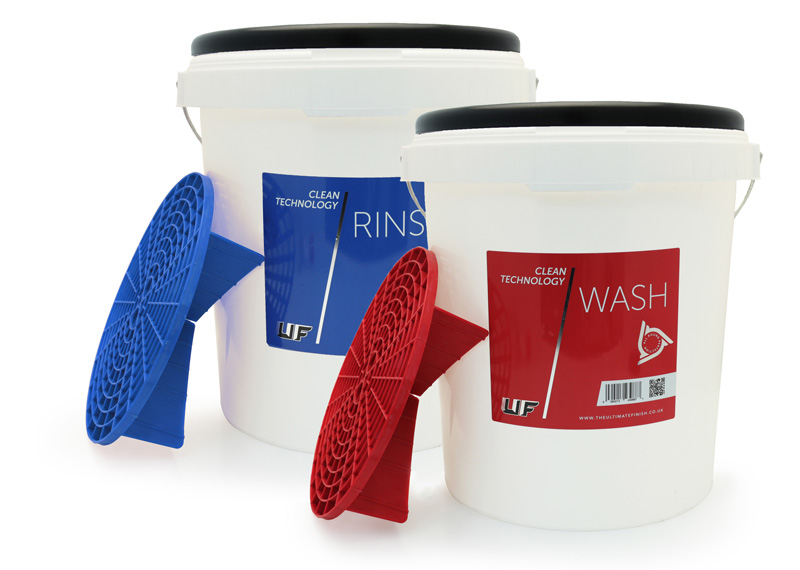 A mitt is loaded with shampoo from the Wash Bucket and a section of the car cleaned. The mitt is rinsed in the Rinse Bucket, brushed against the Grit Guard, releasing dirt and grit from the mitt's pile and allowing it to settle to the bottom of the bucket. The mitt is wrung out before being loaded with wash solution again. This process helps prevent dirt removed from the panels being reintroduced. By the end of the process, the rinse water is noticeably dirty whilst the wash water remains clean.
Pure water rinse – UF Studio use purified (de-ionised) water to deliver a final, pure water rinse. Aqua Gleam is a similar system and is available to users wanting a spot free finish when washing their car at home.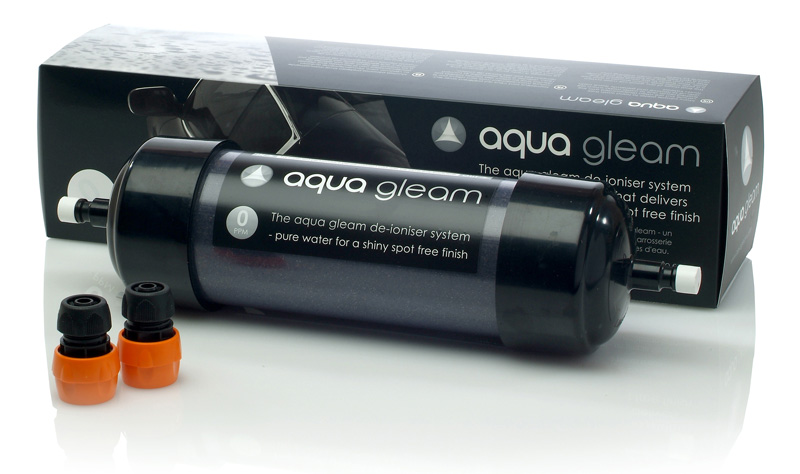 The filtration system contains a media that neutralises the impurities in tap water responsible for water spot marks. This is an important step as water spots can mark paintwork and be troublesome to remove (more on water spots later).
After the vehicle has been rinsed, it is brought inside UF Studio and carefully placed on a hydraulic ramp so it may be raised or lowered, allowing the detailers better access to all areas of the vehicle. Easier access allows for more comprehensive drying and ultimately, ensures the vehicle is always at the optimum level for machine polishing. It also allows for wheels to be removed for comprehensive cleaning and protection or should the wheels need sending away for refurbishment.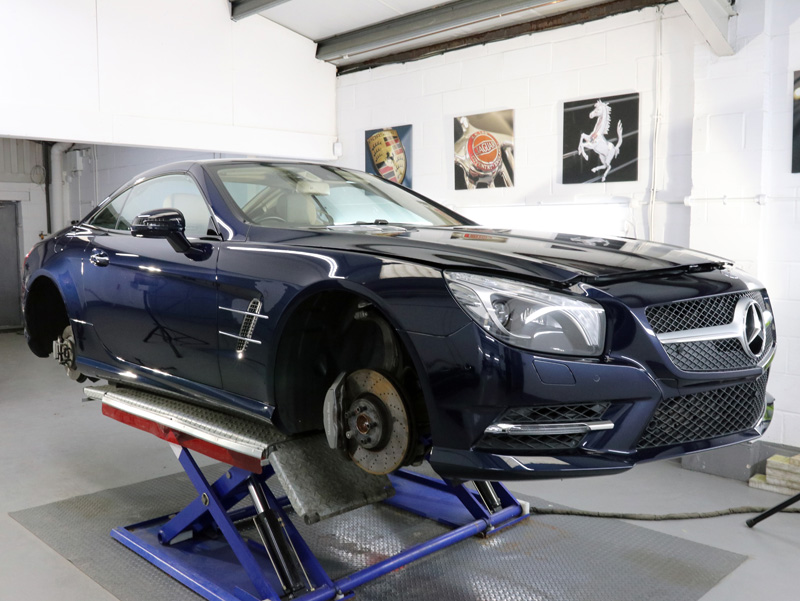 Drying – a common cause of marking paintwork is the use of chamois leathers or even drying towels. As the towels are wiped back and forth, the flicking of the edge of the material against the paintwork can leave marks that require polishing out. UF Studio use a BigBoi BlowR Pro car dryer, a touchless system for chasing water off panels and out from behind areas that naturally trap water such as around badges and between grille fins.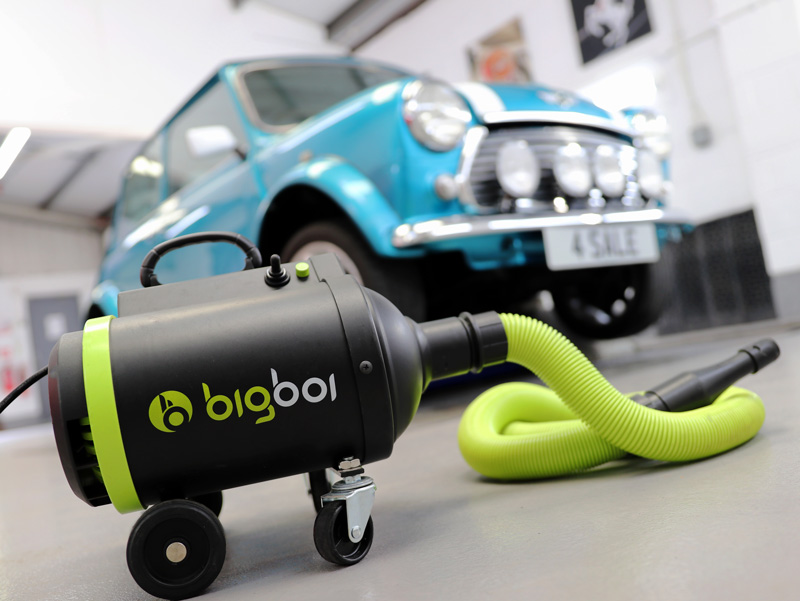 The BigBoi is the only dryer specifically produced for the detailing sector and uses two powerful motors to direct filtered air across the vehicle. The unit uses BigBoi Temperature Technology (BTT) to warm the air to twenty degrees Celsius above ambient air temperature for faster drying times.
There are many areas of a vehicle that trap water that traditional drying methods are ineffective at reaching. The BlowR Pro forces these droplets out, preventing them leaving streaks on the paintwork. In addition, should these drops of water escape during sealant application or before the sealant has cured, they will cause the sealant to become opaque rather than optically clear, requiring time-consuming​ removal and subsequent reapplication of the sealant. – Matt Back, Master Detailer, UF Studio
High-intensity lighting – once the car is clean and dry, the paintwork is inspected under high-intensity lighting, the better to show irregularities and blemishes in the paintwork. This requires specialist lighting to be truly effective as regular lighting is too diffuse to highlight all paintwork defects. UF Studio use SCANGRIP, a specialist lighting manufacturer that has produced a range of hand held and floor mounted lamps and torches for the automotive sector. Using COB (chip on board) LED technology, their lamps provide a uniform spread of light (rather than having a central point of light where the effect becomes increasingly diffuse the further it is from that centre) and most lamps offer a choice between warmer light (4500K) and colder (6500K), to perfectly illuminate paintwork defects, no matter the colour of paintwork being corrected.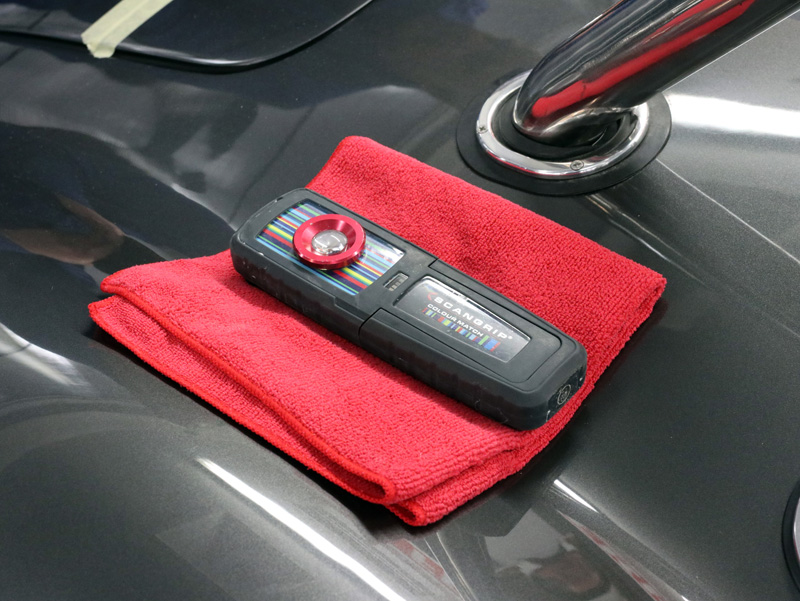 As the inspection is carried out, particular areas of damage are noted on a Vehicle Appraisal Sheet for reference during the machine polishing stage. Find out more about SCANGRIP lighting technology in a recent article: Shining A Light On It.
Measuring paintwork – at this point, a paint depth gauge is used to take multiple readings over each panel. Paint depth gauges measure the distance between the uppermost​ surface of the clear coat and the underlying metal to return a combined depth comprising of primer, paint and clear coat. Knowing the overall depth, measured in microns (µm) is key to determining the optimum and safest methods to use to achieve enhancement or correction of the paintwork. The total thickness of the various layers on most modern cars is between 67µm and 198µm.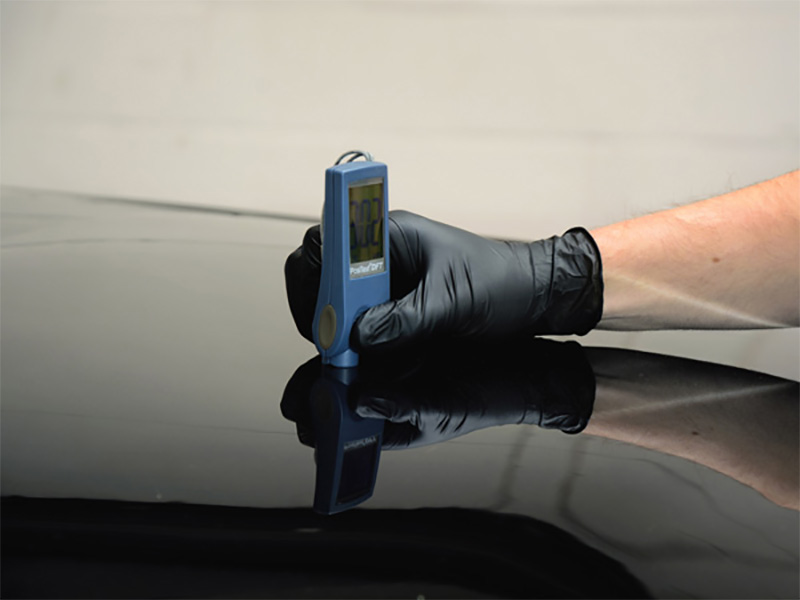 Variations in the readings tell the detailer a story of the vehicle's history: an area where the paint is significantly thicker may indicate a bodyshop repair and / or respray; a sign the vehicle has sustained significant damage at some point. Lower readings may indicate the vehicle has had a 'smart repair' and this requires extreme caution as the semi-permanent nature of this type of repair makes it highly susceptible to removal during machine polishing. Low readings may also be the result of the vehicle having been subject to overly aggressive machine polishing techniques and this could mean a significant amount of the protective clear coat may have been removed. This is significant for two main reasons: first, care must be taken not to burn through the clear coat and down to the primer, and second, as the clear coat contains UV inhibitors, using a high quality and long-lasting ceramic coating is highly advisable to give the paint pigment the best possible protection against UV fade and staining from industrial and environmental fallout.
Thin paint has to be managed sensibly. An experienced detailer will know when it is unsafe to remove an imperfection, will be able to determine when it is safer to allow some blemishes to remain, rather than destroy the remaining protection. That specialist knowledge, having that level of understanding of paint and how it behaves, is just one of the reasons we see customers returning to us each time they swap vehicles. – Matt Back, Master Detailer, UF Studio
Paintwork Defects – Machine polishing itself is both a science and an art. To appreciate the level of care and experience required for this, it's important to understand the types of defects paintwork is subject to.
Swirl marks: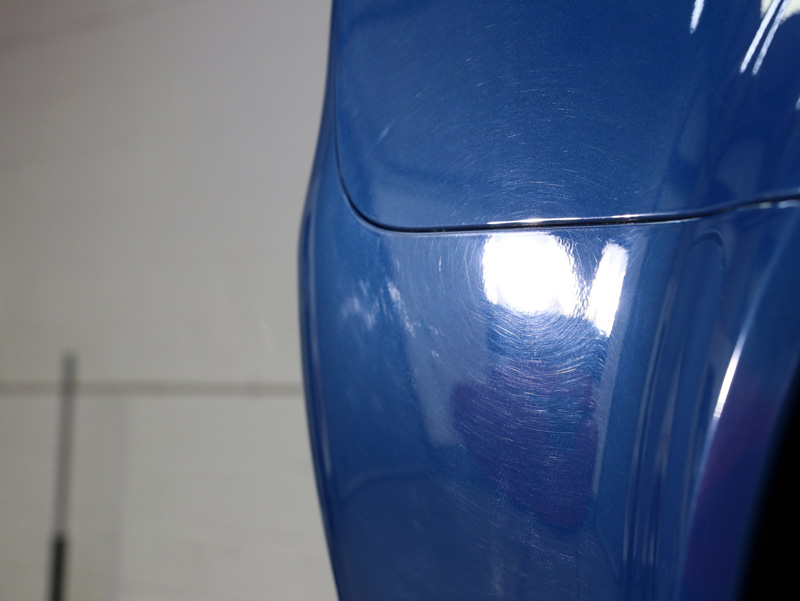 Typically caused by washing the car using the wrong equipment or poor wash techniques, swirls are seen as clusters of fine lines in circular or oval patterns, like spiderwebs, in the surface of the clear coat. Their spiderweb appearance is actually a trick of the light; the longer running edges reflect strong light back towards the point of light, causing the circular appearance. Swirls cause the paintwork to lose gloss as well as colour clarity so that paintwork appears dull, tired and lack-lustre.
Found on: Swirls are found on most cars, even brand new ones, due to hurried wash techniques at dealerships, prior to customer collection.
Scratches: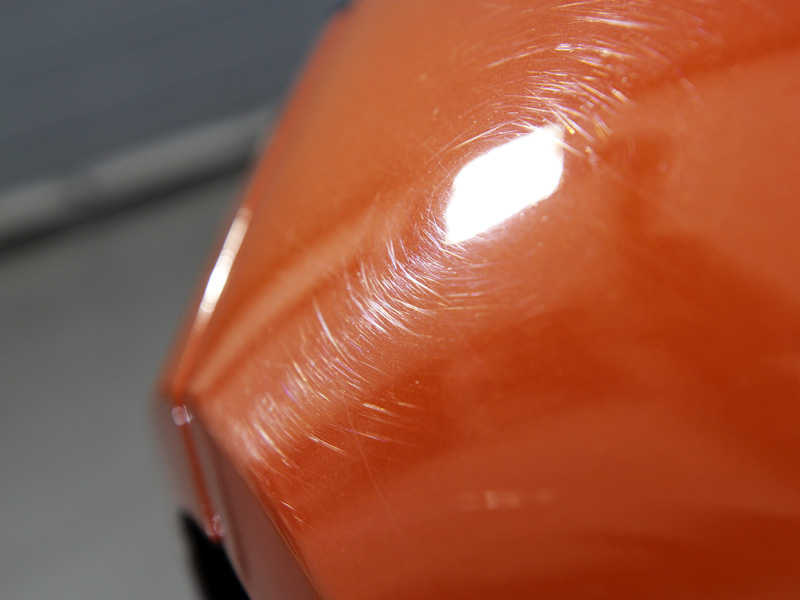 Single, deeper lines found in that penetrate deep into the clear coat or even deeper, through to the paint. Some may even go down to the primer and these are visible as pale or whitish lines. They are often the result of large particles of grit caught in a wash sponge or mitt and dragged over the paintwork. They can also result from contact with hedges or bushes, or from contact from belt buckles, handbags, etc. being pressed up against the car. Scratches are often found around boot, bonnet and door handles where jewellery, usually rings, are worn and catch the paintwork repeatedly as the handles are operated.
Found on: Typically, scratches are found on cars with a few thousand miles on the clock, or older, although occasionally they are found on new cars due to inexperienced operatives using dirty equipment.
Pigtails: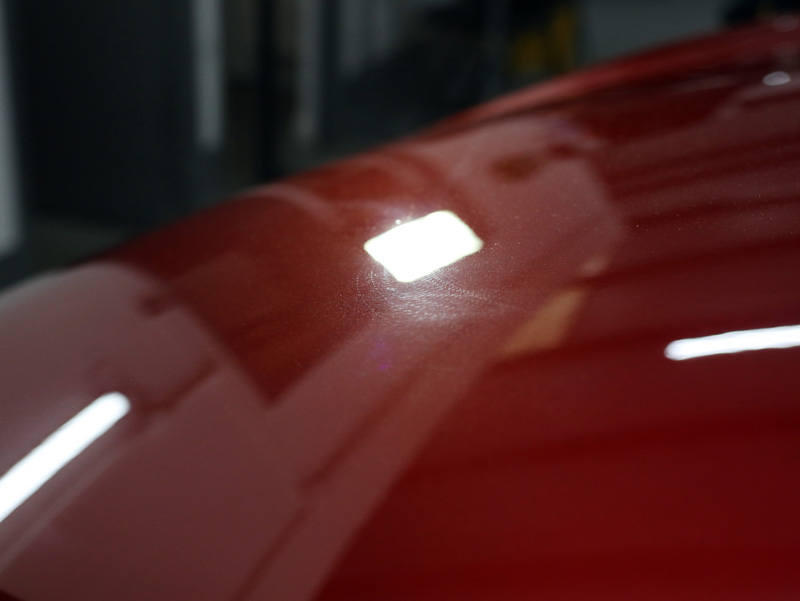 These are tight, curly lines typically caused by the oscillation of an orbital polisher when that polisher is used inexpertly. This same result can also be achieved by improper use of a dual action or rotary polisher. Sometimes it is purely the motion of the polisher combined with an overly aggressive pad and compound combination, sometimes they occur as a result of grit being caught in the pad. Either way, they happen through lack of care or through lack of knowledge of machine polishing techniques.
Found on: Pigtails aren't usually found on new cars unless a dealership has found blemishes on the paintwork and has attempted to remove them prior to customer collection. They are more commonly found on older cars where previous detailing treatment has been sought and the operator's knowledge and techniques have been substandard.
Buffer Trails / Buffer Marks / Holograms: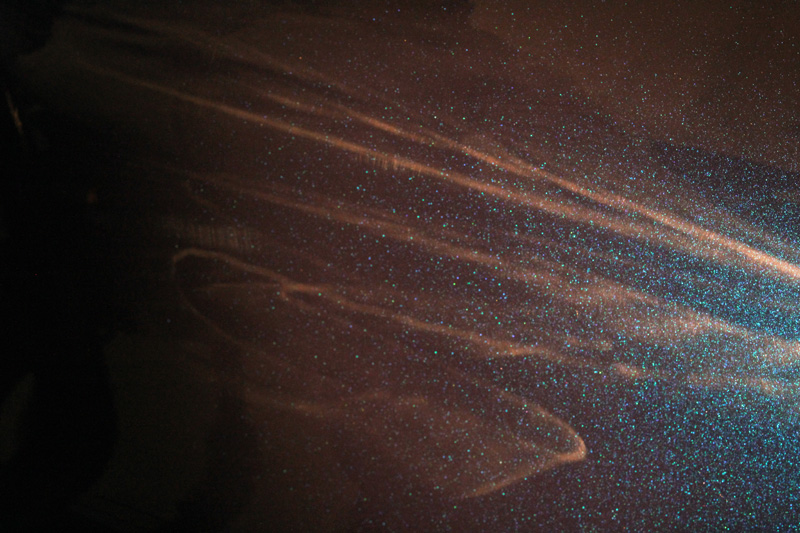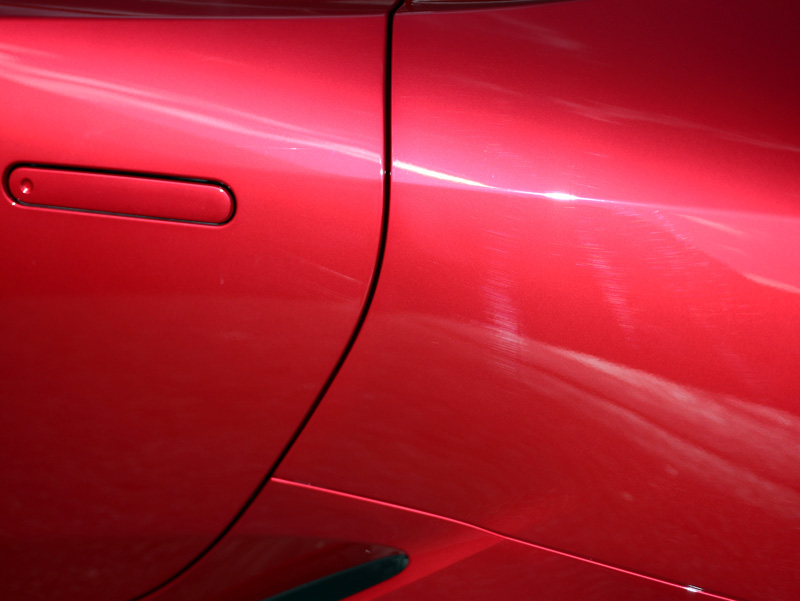 These circular marks are caused by rotary machine polishing when an area is worked for too long, at too high speed or an overly aggressive pad and compound combination is used. Under bright light, these marks leave a trail showing the path of movement the polisher's operator followed.
Found on: As with pigtails, these types of marks are more commonly found on older cars where previous detailing treatment has been sought and the operator's knowledge and techniques have been substandard. However, from time to time, these are found on new cars and usually occur at the factory, where hurried paint finishing has taken place.
Water Spots: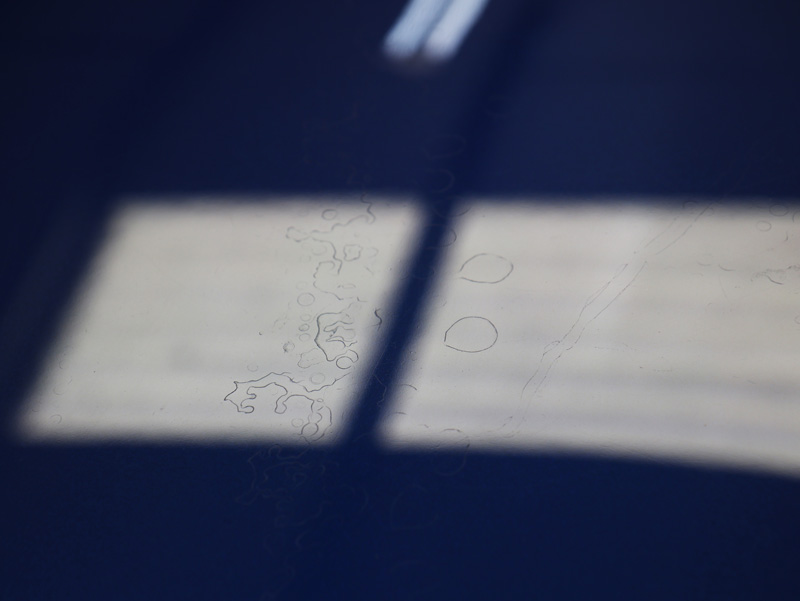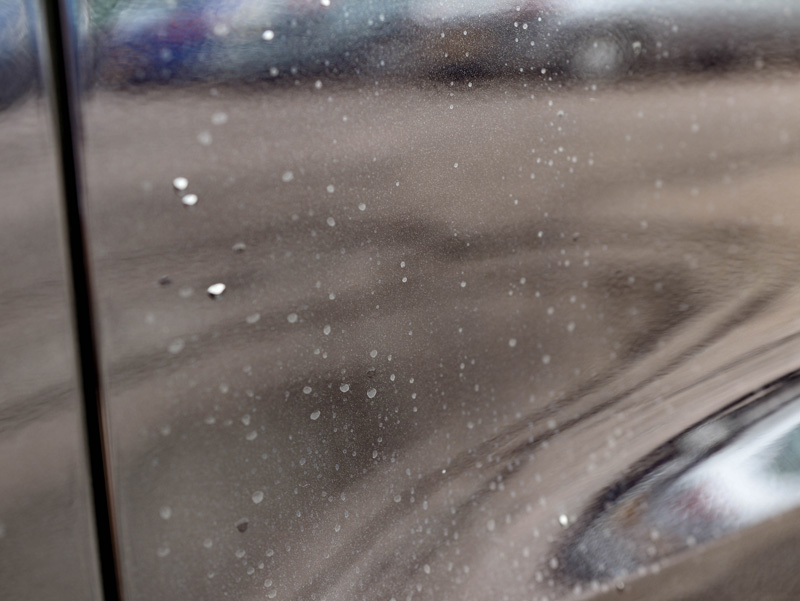 These can present in different ways. First, they are the result of minerals contained within rain or wash water left behind on the surface of the clear coat once the water evaporates. These deposits can feel gritty and look like ring marks on the paintwork where the water has lain as a droplet on the car. Water spots can also leave distinctive ring marks in the clear coat where the corrosive elements of the minerals have chemically etched into the surface. In single stage paint (quite rare as most modern vehicles have clear coats), the water can be absorbed into the paint leaving faded sub-circular stains.
Found on: any car left outside in the rain and not dried off afterwards. These are more likely to etch into unprotected paintwork more quickly and therefore water spot marks are often found on new cars which are left on dealership forecourts.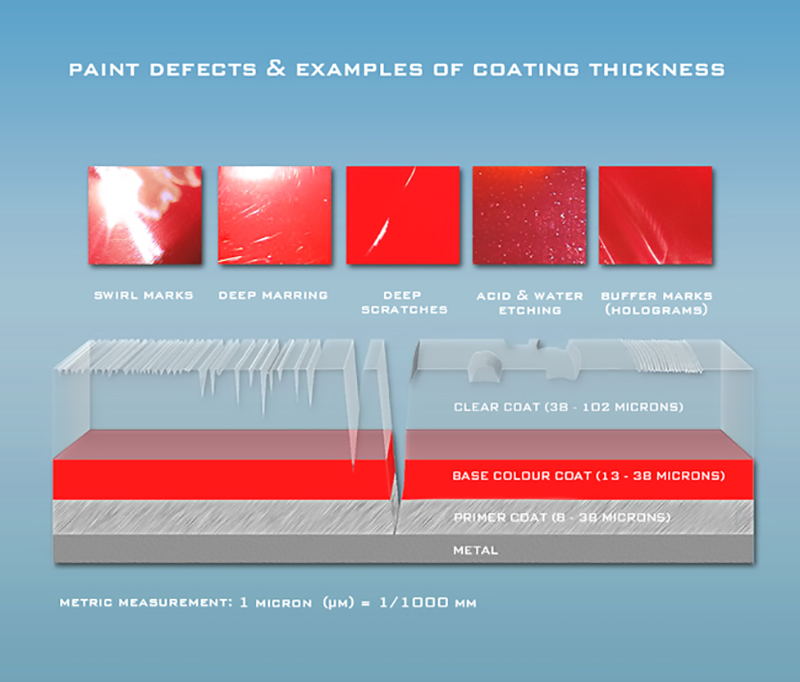 Once the condition of a vehicle's paintwork has been assessed and the types of defects identified, it's time to move onto the machine polishing stage.
Next week, in Why Use UF Studio For Your Car's Detailing Treatment? – Part II, we explain the variety of polishers, pads, compounds and other tools UF Studio use to successfully enhance the appearance of your vehicle. We'll also share details of exclusive, professional-only ceramic coatings UF Studio has access to as well as the range of other protective treatments available for your vehicle.
If you're considering having your vehicle's appearance cosmetically enhanced and protected, or would like to discuss the most appropriate detailing treatment for your vehicle, call 0333 800 8004 or complete the online form here to receive a bespoke, no-obligation quotation via email.
UF Studio – Award Winning Detailing.
UF Direct – Shop The World's Best Car Care Products