2007 Bentley Continental GT – Luxury Redefined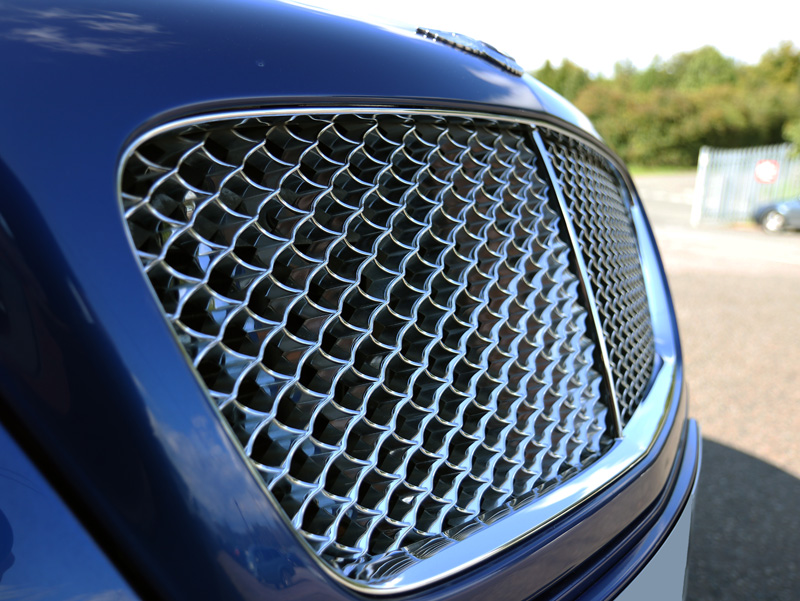 Powerful, refined, luxurious, exhilarating: this is grand touring as it's meant to be – so say Bentley in reference to the Continental GT. Even the briefest glance at the Continental GT will support that statement, underlining that although the GT was launched with a more modest price than its larger siblings, Bentley compromised nothing on quality.
First produced in 2003, the Continental GT is equipped with a 6.0-litre twin-turbocharged W12 engine, producing 552 bhp at 6,100 rpm, and torque of 650 Nm at 1,600-6,100 rpm. Featuring a Torsen-based (limited slip-differential) permanent four-wheel drive, the Continental GT achieves 0-62mph in 4.8 seconds and a top speed of 197mph. Not bad for a car weighing in at over two tonnes.
The owner of this Continental GT is an existing customer having brought his Rolls-Royce Ghost in for a Gloss Enhancement Treatment several weeks previously. For the Ghost, he had opted for a Platinum sealant upgrade using Kamikaze Collection ENREI Coat as the final protective coating. Impressed with the results and ease of forward maintenance, requested the same level of service be completed on his Continental GT.
Although not used daily, the Continental GT is driven on a regular basis. On arrival at the studio, a full and thorough decontamination was required.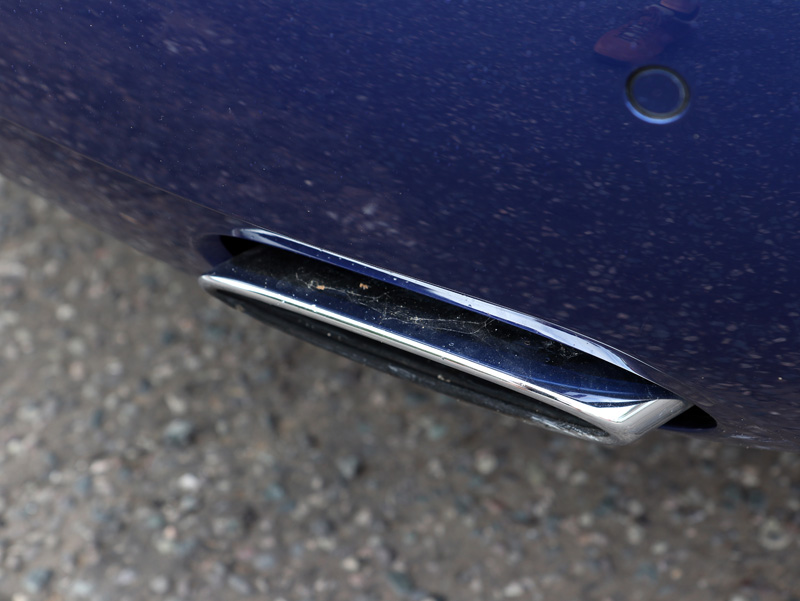 Chalk deposits from previous polishing were caught around badges and grilles which over time had become baked on.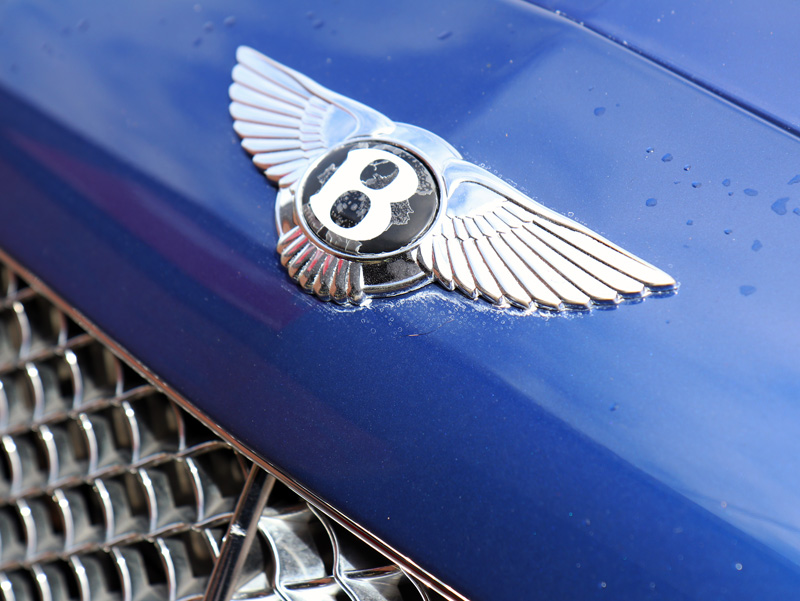 Stored outside, pollen had also bonded to some of the cars panels, a common problem at this time of year.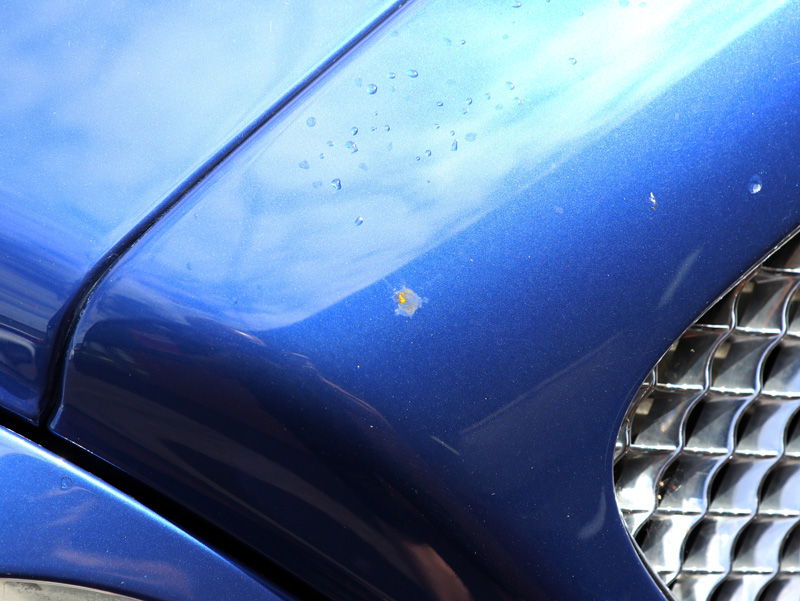 The Bentley Continental GT is equipped with 20-inch Mulliner 7-spoke split rims and these had collected heavy contamination including a large amount of highly corrosive brake dust.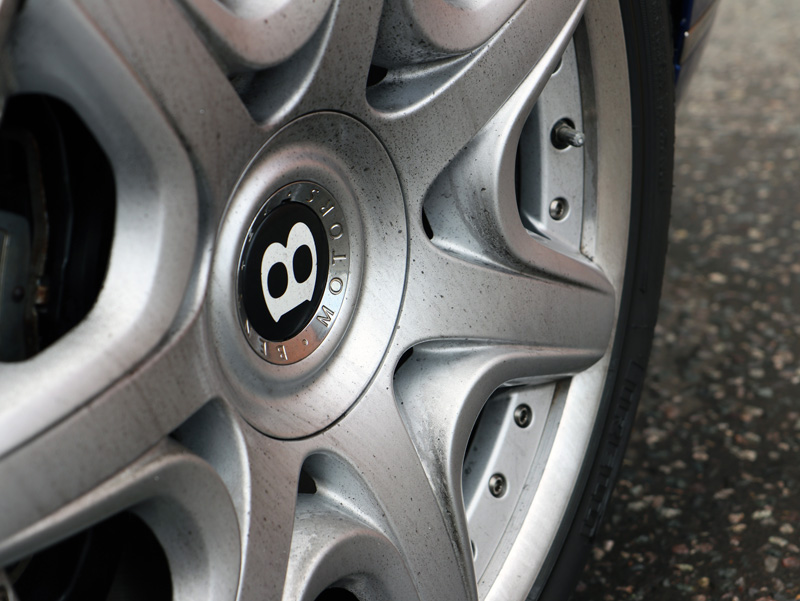 The brake dust was treated with Fireball Iron Burn (Extra) which contains an active ingredient that shrinks iron particles, causing them to break their bond with the underlying substrate and allowing them to be safely rinsed away prior to any contact cleaning.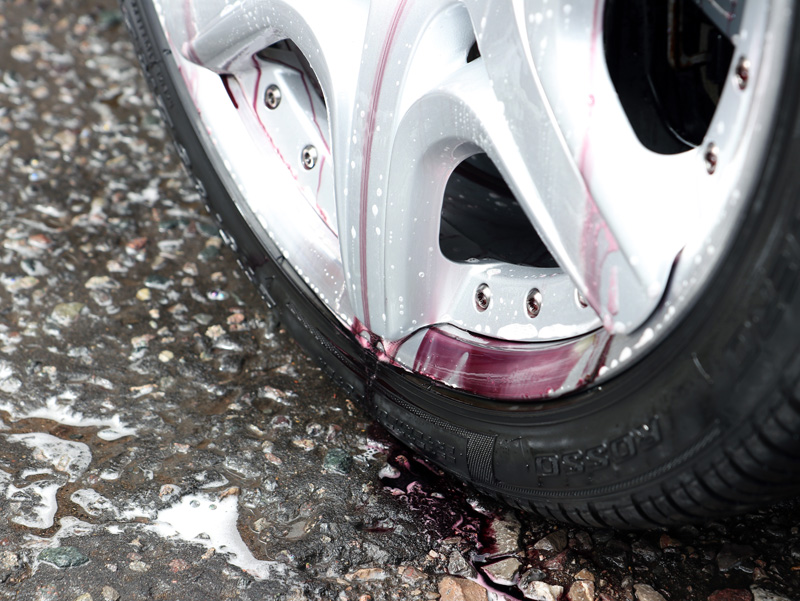 Allowing the solution to dwell on the alloys for around 3-4 minutes, the colour change to purple indicated that the active ingredient was working and the neutralised metal particles could then be rinsed off using a pressure washer.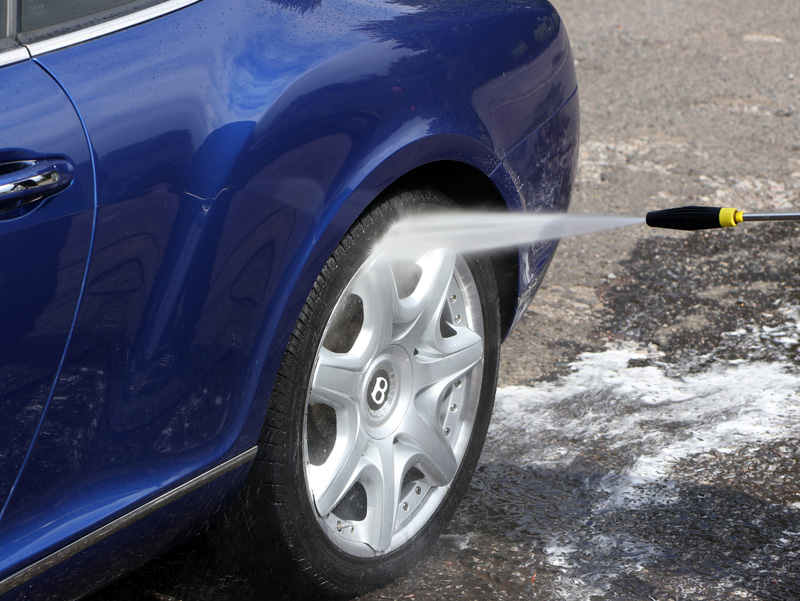 To remove the tree pollen bonded to the panels, Gtechniq W8 Bug Remover was sprayed onto the surface and left for around 5-6 minutes to soak in before rinsing. W8 breaks down sticky adhesive bonds such as those formed by pollen, squashed bugs and tree sap. Following this, the bodywork was treated with a solution of Bilt-Hamber Surfex HD, a water-based, biodegradable degreasing agent.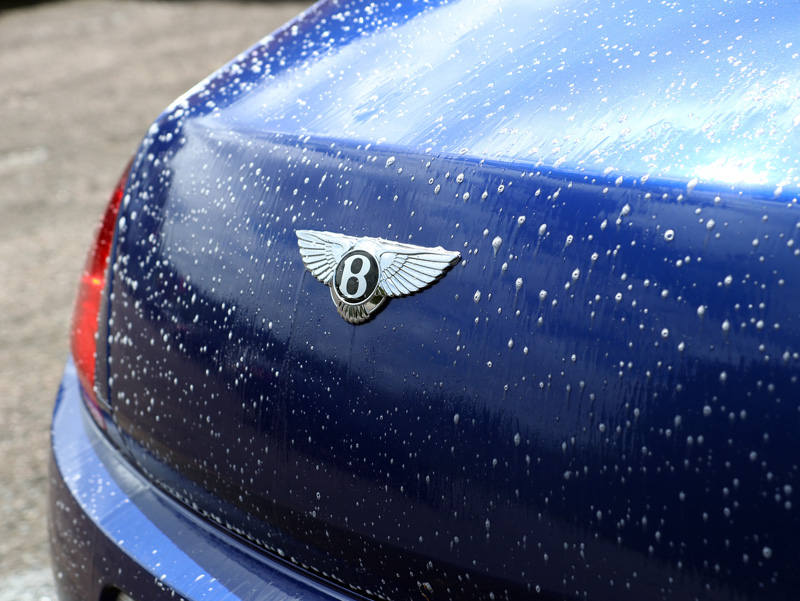 Before the main wash, the car was pre-cleaned using Ultimate Snow Foam applied through a foam lance attached to a Kranzle K-1152 pressure washer. Ultimate Snow Foam is a high foaming product and together with the pressurised water creates a thick, creamy lather that clings to the panels. The foam lifts larger particles of dirt and grit away from the surface of and the contamination can then be easily rinsed away with the foam before a wash mitt comes into contact with the paint. This helps protect the paintwork from accidental swirl marks and scratches, commonly introduced during the wash process.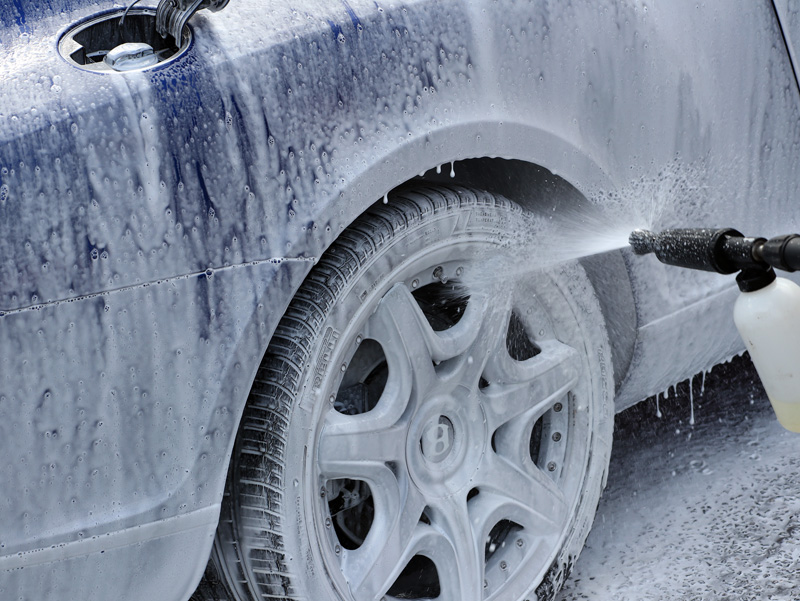 Protecting paintwork at each stage of the detailing process by using non-contact methods to remove contamination is essential. Machine polishing will remove swirls and scratches, however the clearcoat acts as a barrier, protecting the paint pigment from damage and UV rays which cause them to fade. Each time the clearcoat is machine polished, a few microns are removed. As the UV protective elements tend to migrate to the upper layer of the clearcoat they're the first to be removed with excessive machine polishing. For this reason, it's preferable to avoid introducing swirls in the first place.  – Matt Back, UF Detailing Studio
Using Nanolex Pure Shampoo and an Ulti-Mitt Double Sided Merino Wash Mitt, the Two Bucket Method was used to wash the car. Wash water and rinse water are kept in separate buckets, both of which contain Grit Guards. The mitt is loaded with soapy water from the Wash Bucket, a section of the car washed and then the mitt is rinsed in the pure water Rinse Bucket, the wash mitt brushed across the Grit Guard to dislodge particles of dirt. After wringing the water from the mitt, it is dunked back into the Wash Bucket, and the process repeated until the car is clean. The suds are then rinsed off the vehicle using a pressure washer before an Aqua Gleam De-ionising Water Filter is attached in-line with a hose to deliver a final, pure water rinse. The car is then dried using highly absorbent, ultra-soft microfibre towels before being brought inside the studio and inspected under high-intensity lighting. Where areas of damage were identified, their location and severity were noted on the Vehicle Appraisal Form for reference during the machine polishing stages.
The bonnet is rather long on the Continental GT and so it's quite usual to see water spot marks here. This Bentley was no exception. The marks are caused by evaporates left behind in impure water. As the water evaporates the impurities are left behind. They can cause etching on the paintwork as seen here. There are dedicated products which are designed to remove these deposits without harming either the clearcoat or the protective coat if there is already one applied. – Matt Back, UF Detailing Studio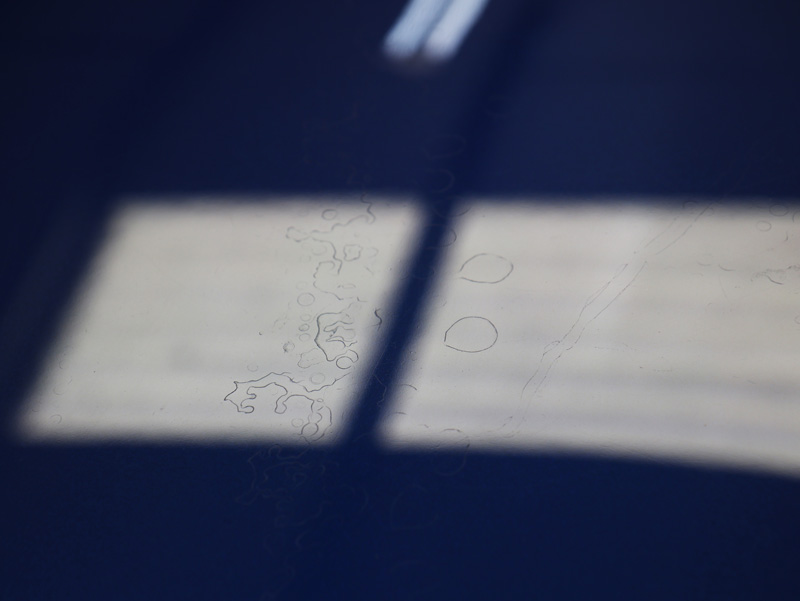 The paint inspection had revealed some areas of heavy swirling with some deeper scratches, in particular, an area close to the badge on the boot lid, and also on the rear quarter.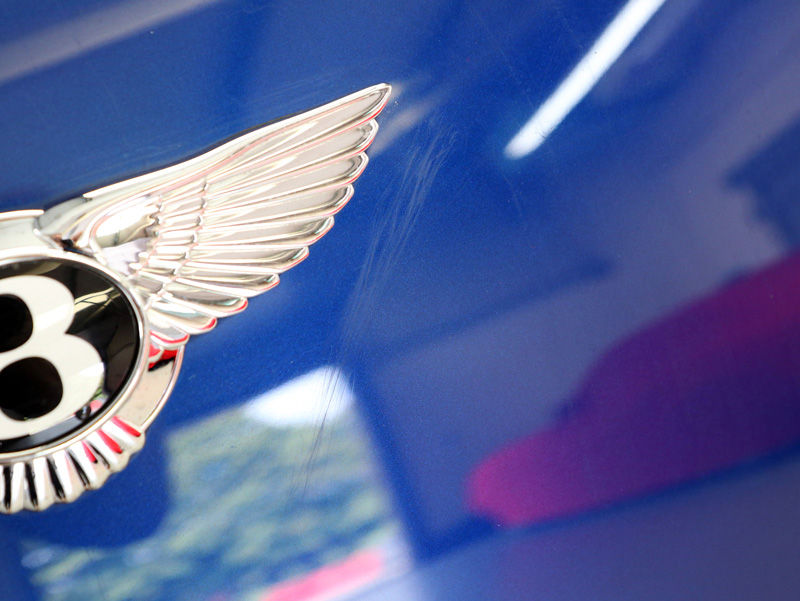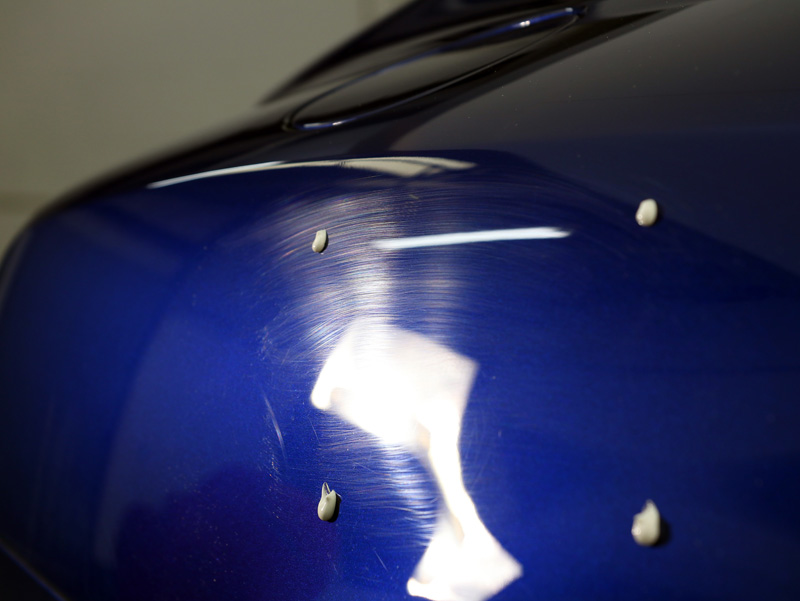 To correct the paintwork, a RUPES BigFoot Duetto dual action polisher was used with a Kamikaze Collection Banzai Dynamics Polishing Pad and Koch-Chemie Heavy Cut H8 Compound. Banzai Dynamics pads feature Dot Point Polishing (DPP) technology, where the nippled surface of the pad allows for improved air circulation. This is a useful feature for when long periods of machine polishing are required to eliminate heavy blemishes and allows for a more comprehensive break down of the diminishing abrasive particles in the compound.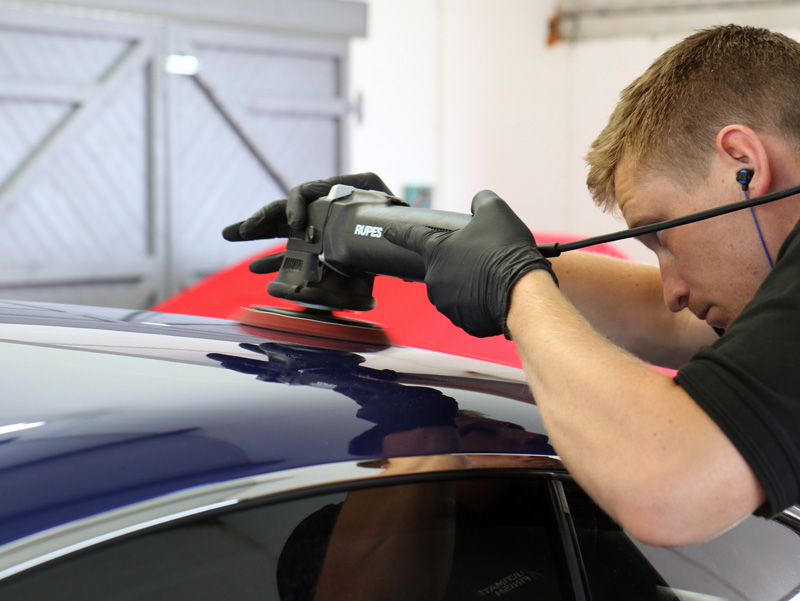 For areas requiring a more intense, concentrated action, a RUPES LHR 75E Mini dual action polisher was used with a RUPES Yellow Fine Polishing Pad.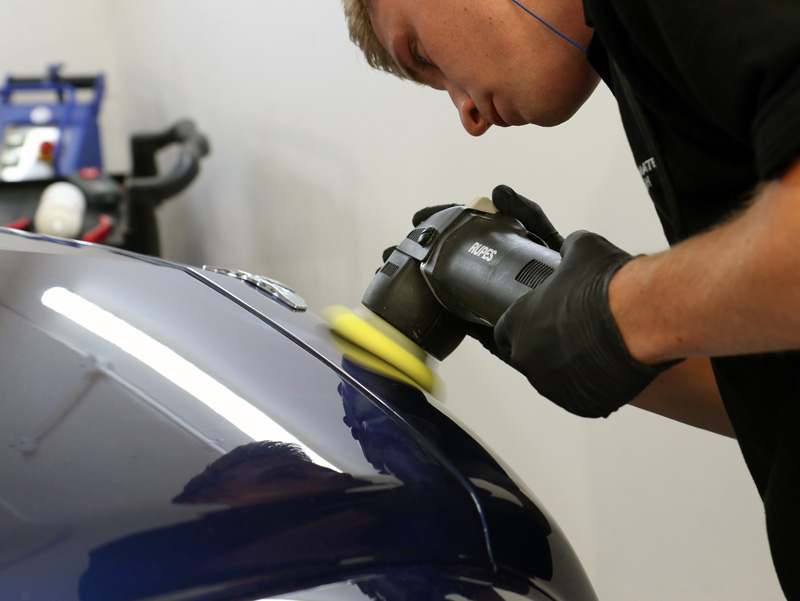 Following correction, refining the paint was completed using Menzerna Super Finish Plus 3800 compound and a SCHOLL Concepts Black SofTouch Waffle Pad.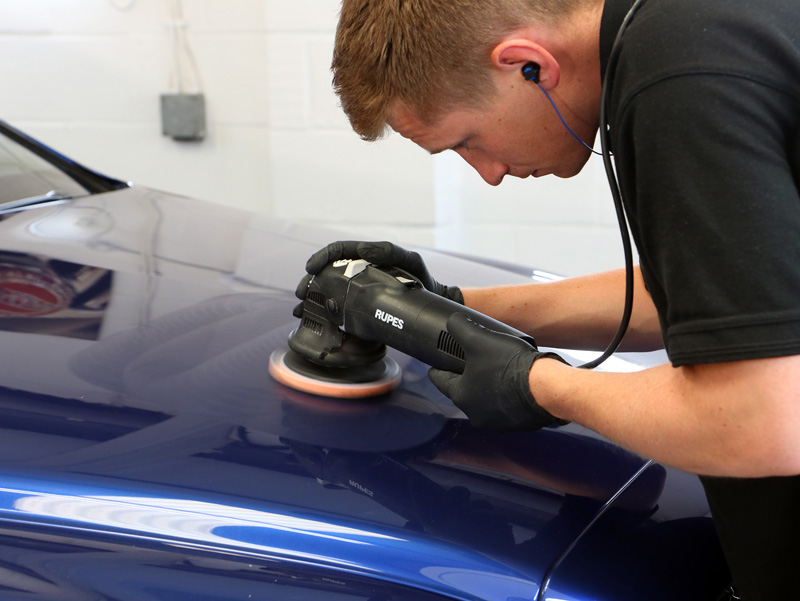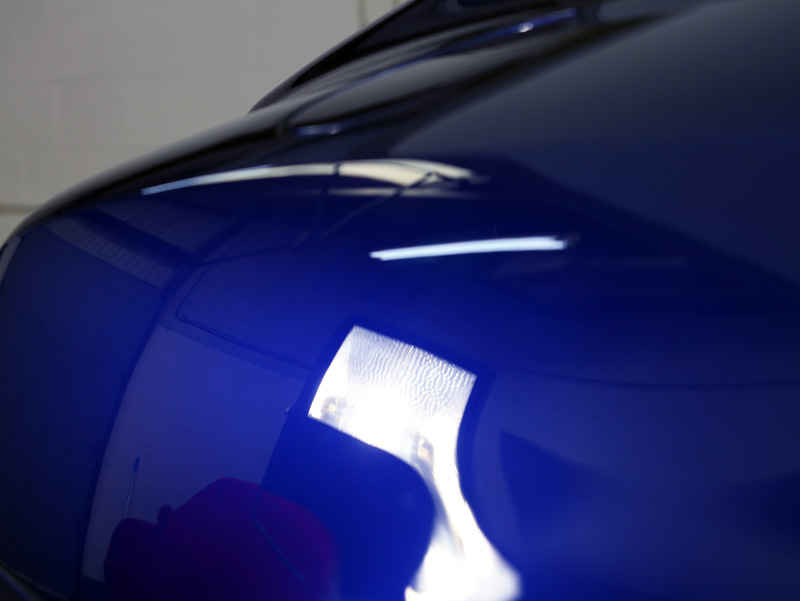 The headlights on the Bentley had become clouded and hazy, primarily as a result of UV degradation but acid rain, chemicals from the roads and wash solutions also play a part. Previously, it had been necessary to replace clouded plastics but now, machine polishing can remove the damage.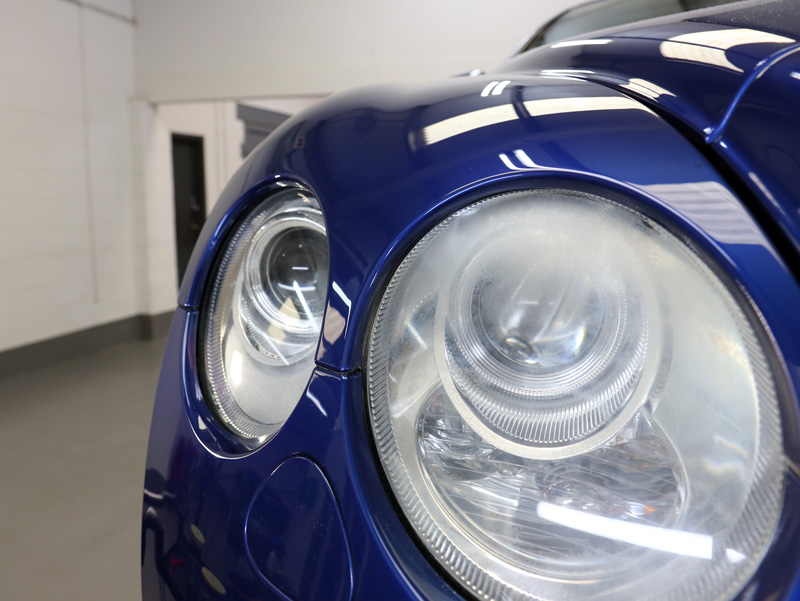 To restore clarity to the plastic, the headlamps were machine polished using Koch-Chemie H8 and a RUPES 4 Inch Yellow Polishing Pad on a RUPES BigFoot Mini polisher.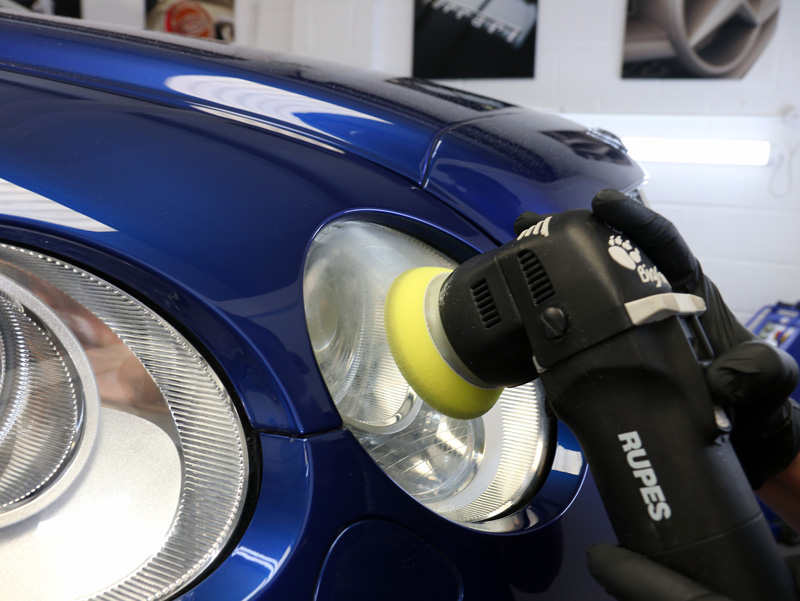 Soon, the clouding had been removed and clarity restored to the headlamp.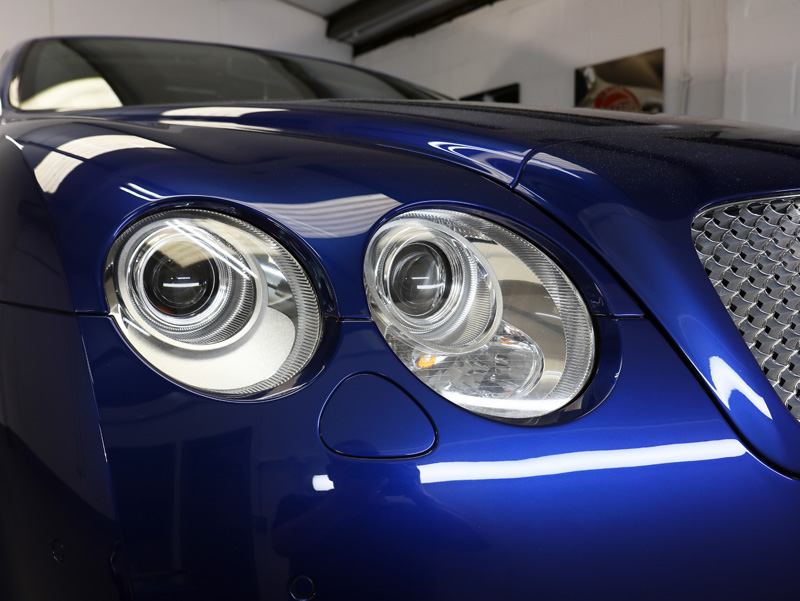 With the machine polishing stages complete, the paintwork was sprayed with a solution of Gtechniq Panel Wipe, buffed off to remove any polish and silicone residues in preparation it for the protective coating.
Kamikaze Collection ENREI Coat represents the latest innovation in nanotechnology-based coatings. ENREI Coat is a two-stage sealant, firstly a primer layer is applied to prepare the surface ensuring it is smooth and uniform. The chemical formula is designed to enhance the bonding potential with the top coat, ensuring the highest possible performance in terms of protection and longevity. ENREI provides superior resistance to chemicals, repels water and therefore water-borne contamination, oils and grime. Treated surfaces remain cleaner, longer and maintenance washing is therefore much easier, requiring less pressure and negating the need for harsh chemicals.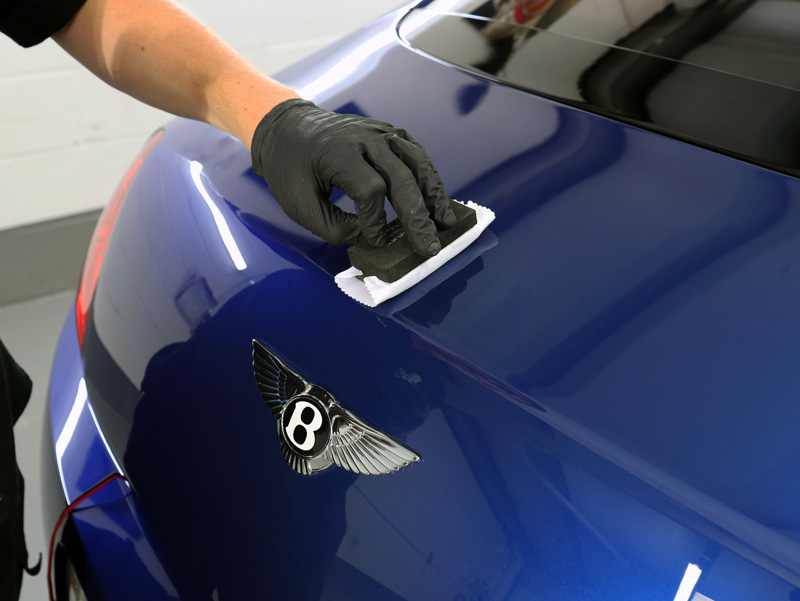 The performance of ENREI Coat is not just in the engineering of the product, but also in the very specific method and technique of application. Additionally, ambient room temperature and humidity also have to be within specific parameters otherwise the chemical bonding process cannot occur. So long as these parameters are met, once cured, ENREI delivers an absolutely outstanding gloss and a protection that will endure. As the process for applying ENREI is tightly controlled, this coating is available as a service only through Kamikaze Collection trained and certified detailers, guaranteeing the highest levels of quality control. Maintaining the gloss and hydrophobic function is straightforward as long the correct post wash maintenance procedures and products are used. – Matt Back, UF Detailing Studio
The windows were first cleaned, then treated with IPA before Kamikaze Collection Intenso Window Coat was applied. This provides a hydrophobic barrier that repels water and dirt, causing rain to roll into beads and blow away easily, even when driving at relatively low speeds. The ultra-slick formulation also eliminates wiper judder, so driving during inclement weather conditions is considerably easier and less tiring.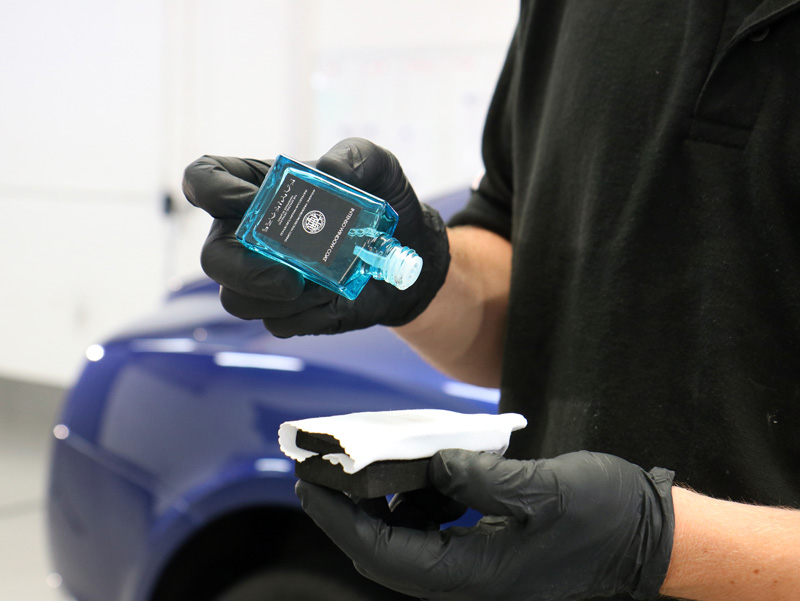 The alloy wheels were wiped with Gtechniq Panel Wipe before being coated with Kamikaze Collection Stance Rim Coat. Whilst some sealants deteriorate when the wheels heat up, Stance Rim Coat is resistant to extremely high temperatures, repelling brake dust particles and providing continuous protection from road grime, salts and oils. Treated rims are easily maintained during the weekly wash.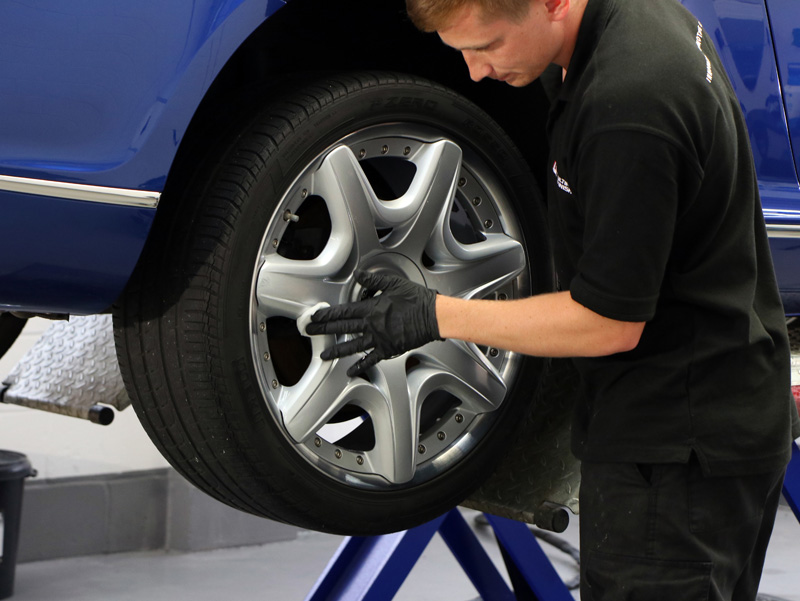 The Bentley Continental's two-piece, twenty-inch wheels are shod with bespoke Pirelli P-ZERO tyres. To show these off and complete the look, the tyres were dressed with Gtechniq T2 Tyre Dressing to leave a natural, satin sheen.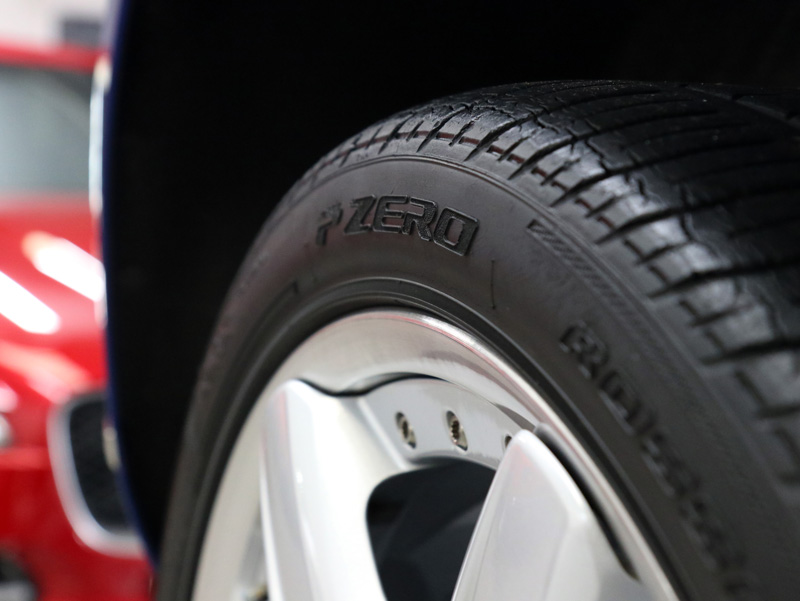 The detailing treatment now complete and the paintwork restored, the fully protected Bentley Continental GT was ready to collect. Powerful, refined and luxurious indeed!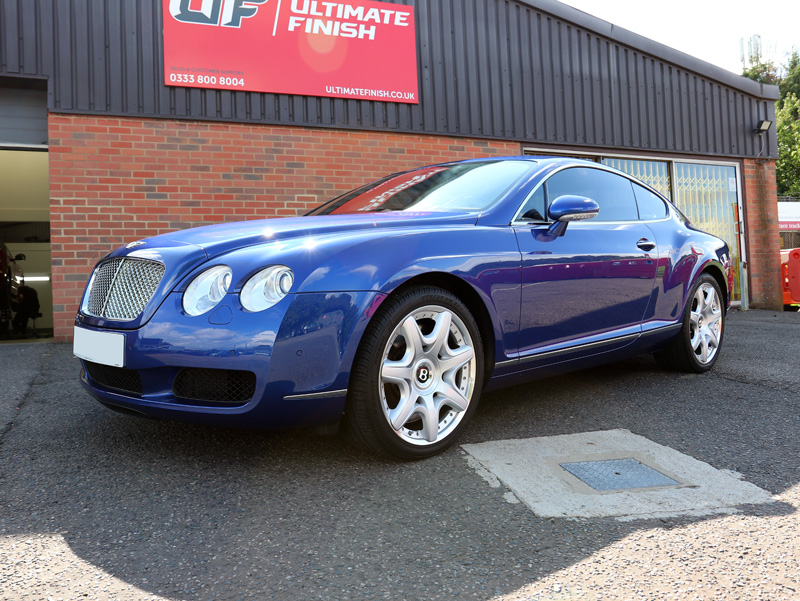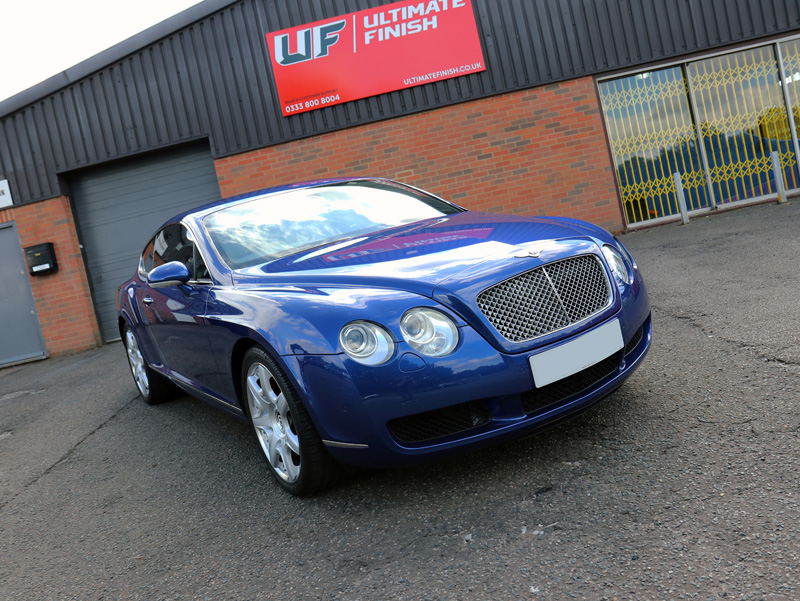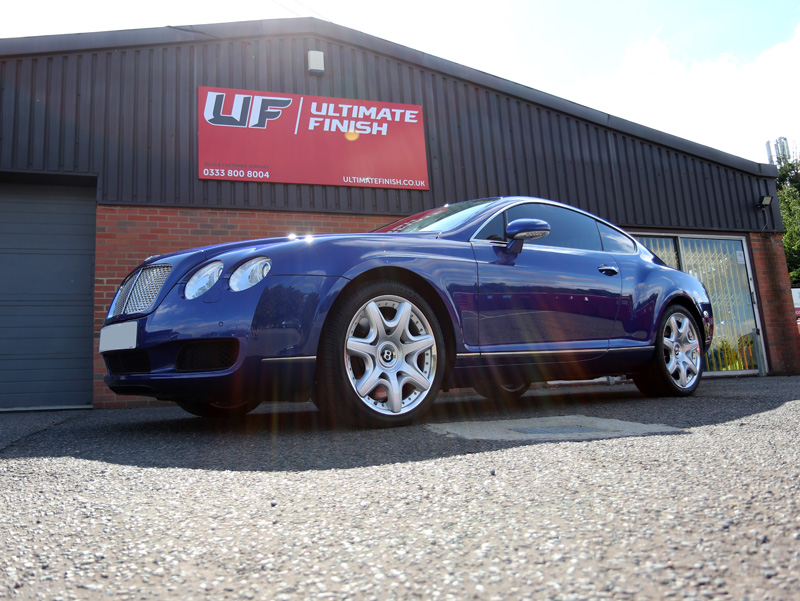 UF Detailing Studio – Award Winning Detailing. Call 0333 800 8004 to discuss your requirements.