Alfa Romeo Giulia Super 1600S: Autoglym UHD Wax Protection
There are plenty of cars that come through our studio doors which often divide opinion when it comes to them being classed as truly 'beautiful'. But in the case of the Alfa we are focusing on in this detailing article, there was little debate to be had here at UF.
Produced between 1962 – 1978 and with a robust little 1.6-litre twin cam engine under the bonnet, the Alfa Romeo Giulia Super 1600S can take credit for being one of the first 4-door saloons built with real performance pedigree. The Super managed to produce 95 BHP back in '69 and with its boxy styling, oozed character and charm. Over 50 years later, the little Alfa still has it.
They were known to be pretty lively handlers in the bends with eye-catching acceleration for its time. 0-60mph could be reached in a shade under 12 seconds – not bad for a 1600 block and capable of competing with many a sports car of the same era quite comfortably. The whole package provided with the Super made it very popular indeed.
We were thrilled to take in this lovely Giulia Super 1600S, first registered in 1969 and wearing a high gloss red – perfect for a wax protection once we had thoroughly cleaned, dried and polished. The vehicle maintains its original left hand drive configuration and is in very good condition after having recently had some significant refurbishment works undertaken.
Iron Contamination Treatment
Visiting the studio as part of a pre-sale preparation, we begin with the treatment of iron contamination using Fireball Ultimate Iron Burn. Applying the solution to the car via a spray trigger, it is left to dwell for a few minutes. Soon, the product begins to turn to a pinky-red colour having made contact with any iron particles that were in place. Once the colour has fully changed, all solution is rinsed away using a pressure washer and at the same time removes any contamination. We then circle the vehicle with a Kwazar Sprayer and apply Bilt-Hamber's Surfex HD de-greaser.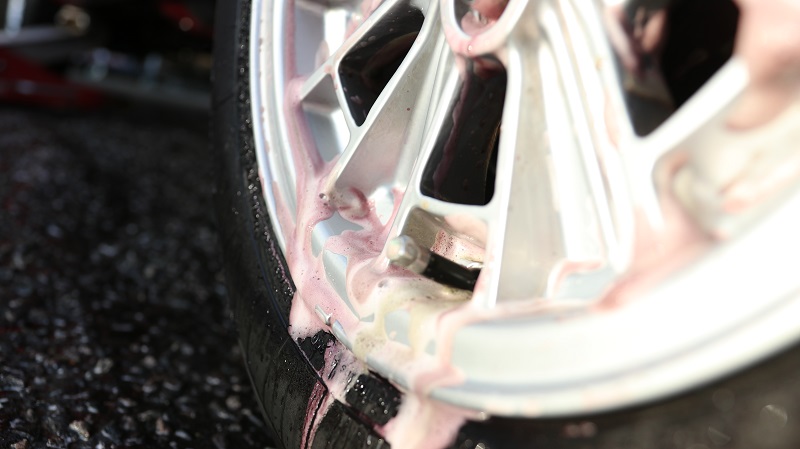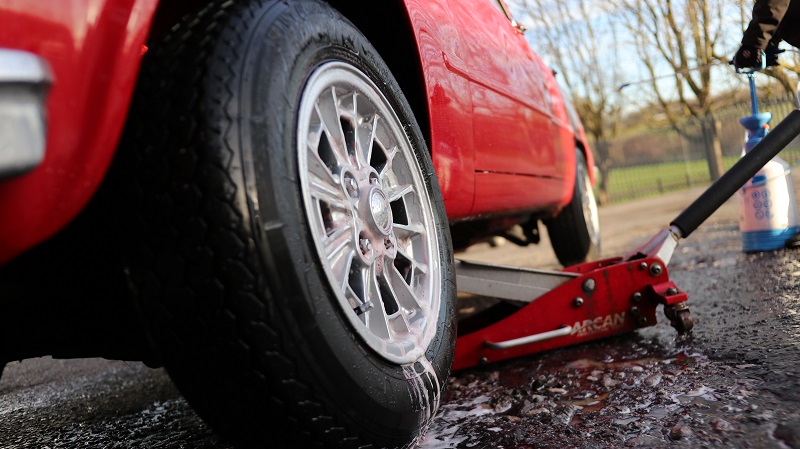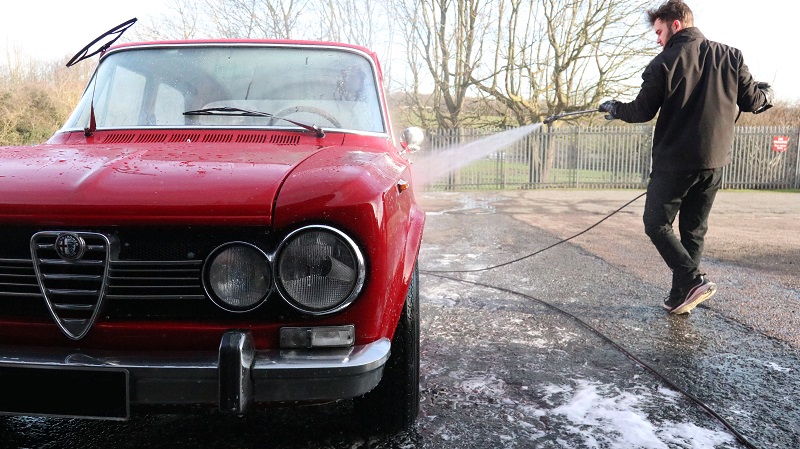 Removing the larger particles of dirt and grit was next on the agenda prior to starting on the main wash. This was done thanks to Ultimate Snow Foam, which is applied via a foam lance. A nice thick layer of solution is deposited all over the vehicle until completely 'whited out' with the Alfa's red paint no longer visible. Once the foam is fully rinsed away a combination of a Bilt-Hamber Double Sided Wash Mitt and Valet PRO Concentrated Car Shampoo are used for the Two Bucket Method.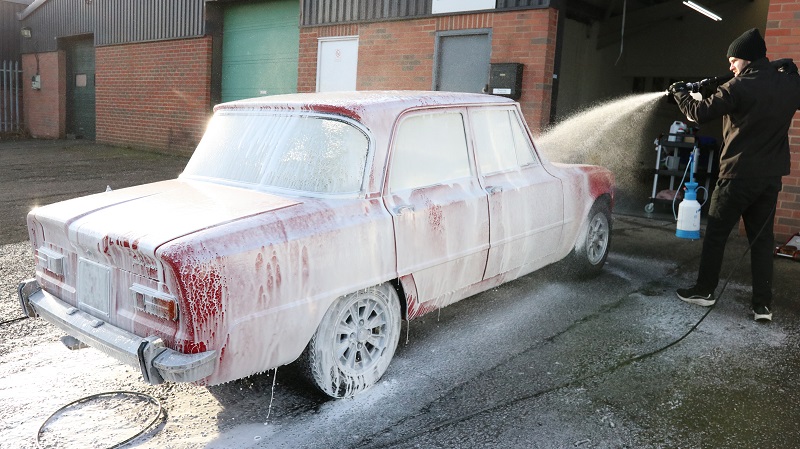 A lot of shampoos can leave a residue which might hamper the bonding of a later wax or sealant application (wax in the case of this Alfa Romeo Giulia), but Valet Pro's pH-neutral properties mean this won't be the case here.
Once loaded up with suds, the wash mitt is passed over the vehicle to ensure the removal of any remaining contaminants. Together with the mitt, a Swissvax Detail Brush is also used on headlamps, grill, badges and fuel filler flap. The soft bristles on the brush are ideal for the more delicate areas without being abrasive.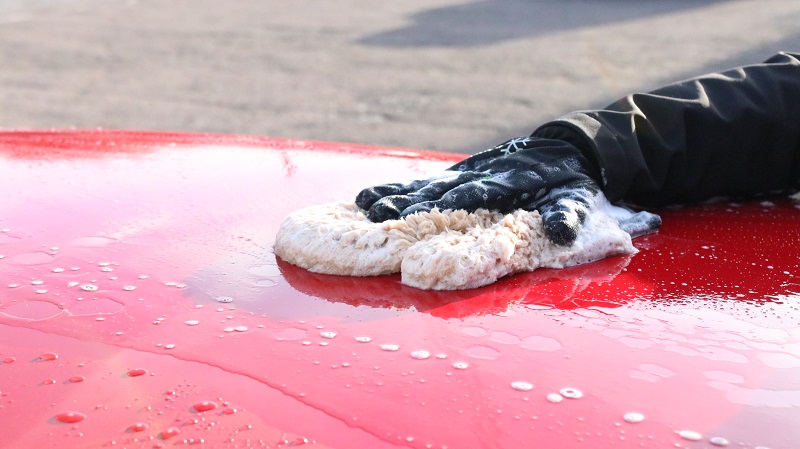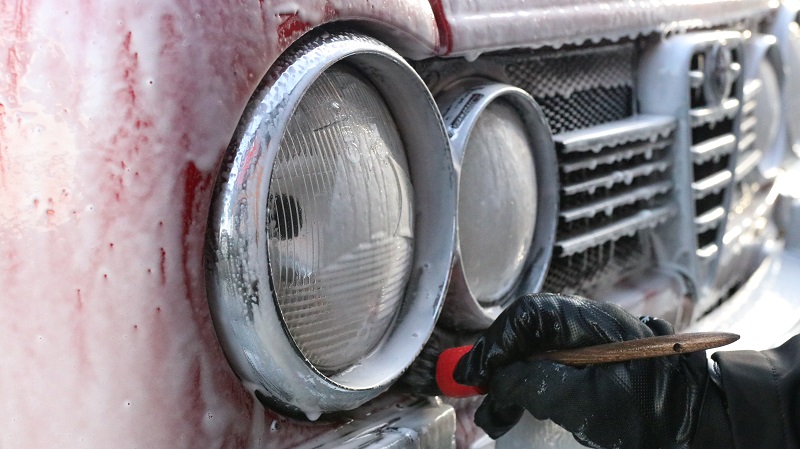 Suds are then rinsed away and an Aqua Gleam De-Ionising Water Filter is used to enable a final rinse using pure water. The filter removes impurities which may lead to water spotting on the paintwork. The car re-enters the studio to be dried using our BigBoi Pro Touchless Car Dryer.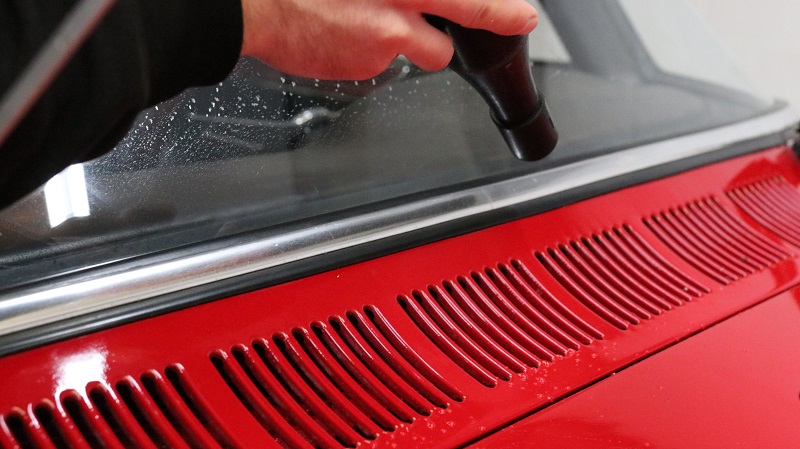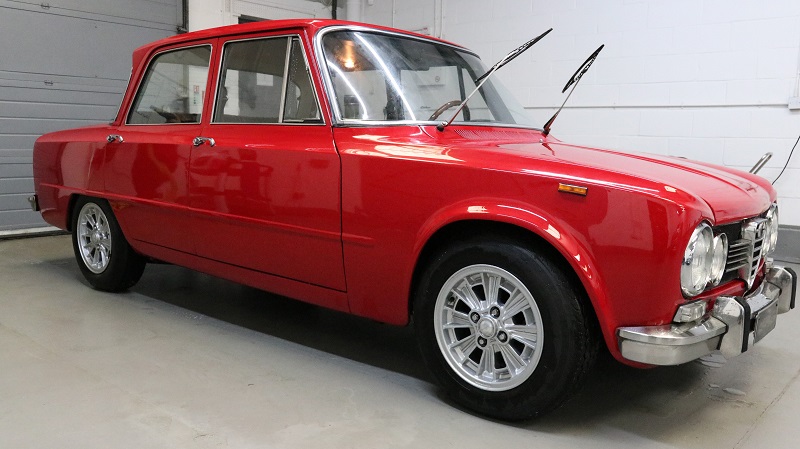 Into The Studio & Under The Lights
Often, a car can appear to be in fantastic condition, until it is caught under direct sunlight and those are the conditions our studio lights aim to replicate. With the 2-pack paint on this Alfa Giulia Super coming in at over 50 years old, there were obviously some age related blemishes when we got it under the microscope, but our pro-detailer noted that this was clearly an example of a very well maintained Super 1600S.
The Alfa's 1-Stage Gloss Enhancement Treatment would be achieved thanks to just one polish – Herrenfahrt's 1-Step Polish X-Cut 1000, but when it came to machines and pads, there would be a number of variations needed.
Although the Alfa Giulia may appear to be relatively simple in terms of its exterior design, the lower sections of the bodywork are actually quite contoured. This was a great example of why it is so important to have the correct tools at your disposal for tackling varying degrees of panels. Use a machine polisher which has a head or throw that is inappropriately large and it will be difficult to focus the machine polishing on the precise spot needed.
For the slightly wider, flatter surfaces, our pro-detailer uses a RUPES LHR75E Mini in conjunction with a Foam Medium Polishing Pad.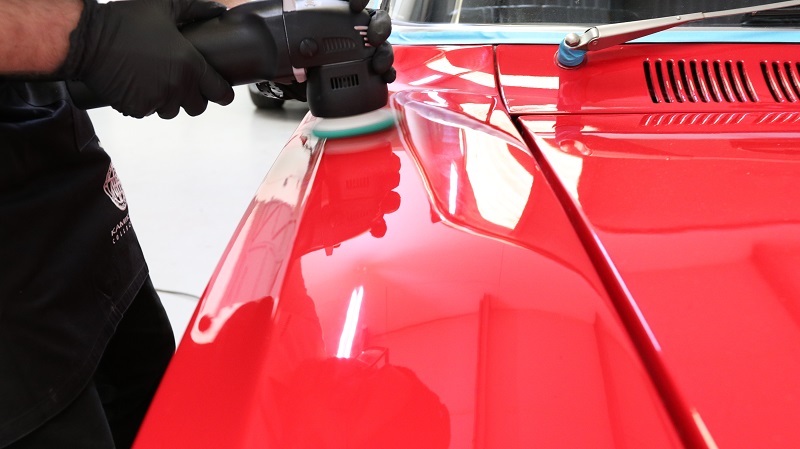 A RUPES Nano iBrid with a Foam Medium Polishing Pad is deployed on very tight areas – the small throw and head perfectly suited for tackling.
Then for the biggest surface areas such as the bonnet, roof and door centres, a RUPES LHR 15ES Dual Action Machine Polisher is used, this time with a Scholl Concepts Compounding Pad due to some slightly deeper swirls and blemishes being present.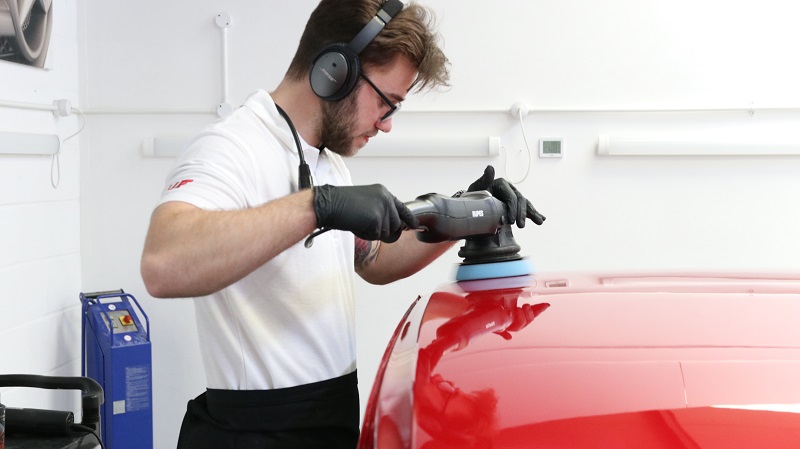 With all the machine polishing now completed, the gorgeous red finish is already jumping out of our studio ahead of the final wax protection treatment we had planned
Protection With Autoglym UHD Wax
For the protection phase of the Alfa Romeo Giulia's detailing service, we would be waxing and we were anticipating some beautiful results with the high gloss red paintwork on the 1600S.
The wax comes courtesy of Autoglym's Ultra High Definition range – UHD Wax Kit. It's an organically refined grade of carnauba which is super-easy to apply and remove, leaving a tremendous high-gloss finish.
Using the ergonomically-designed applicator pad (slightly wet on the white side), which has a particularly sturdy grip to sit nicely in the users hand, a small amount of wax is taken from the tub and applied to each panel one at a time in a circular motion to leave a thin layer.
The wax is then taken off after 10 minutes – it is worth noting how easy the wax is to remove using the Hi-Tech Finishing Cloth as provided in the kit. The protected surfaces will now repel water, dirt & contamination.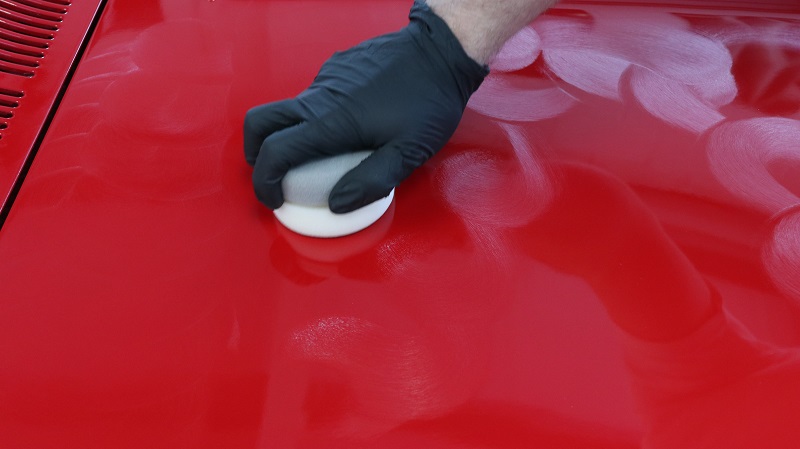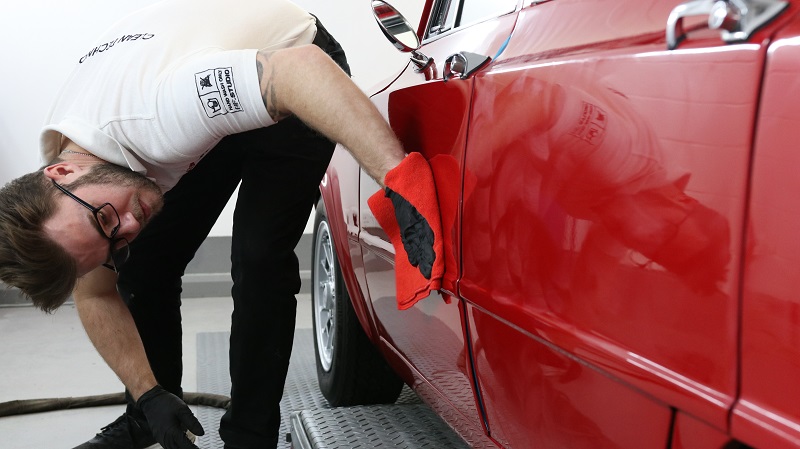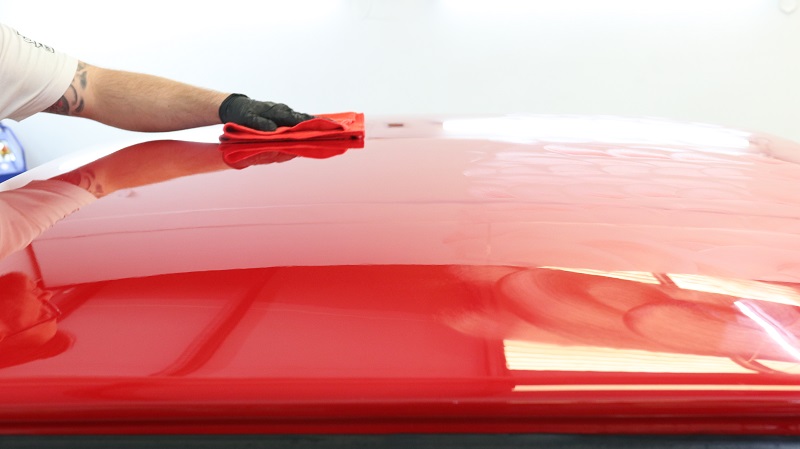 As a final step, the Alfa Romeo Giulia chrome bumpers and exhaust are treated with Dodo Juice Metal Of Honour using a UF Microfibre Buffing Fleece – the paste wax is specifically designed to deliver a high shine and at the same time offers long lasting protection.
In an era where waxes aren't perhaps the most popular choice when it comes to protecting your vehicle, there is definitely still a feel of unrivalled satisfaction gained from waxing a car, then buffing to a beautiful finish like we achieved with this beautiful Alfa Romeo Giulia.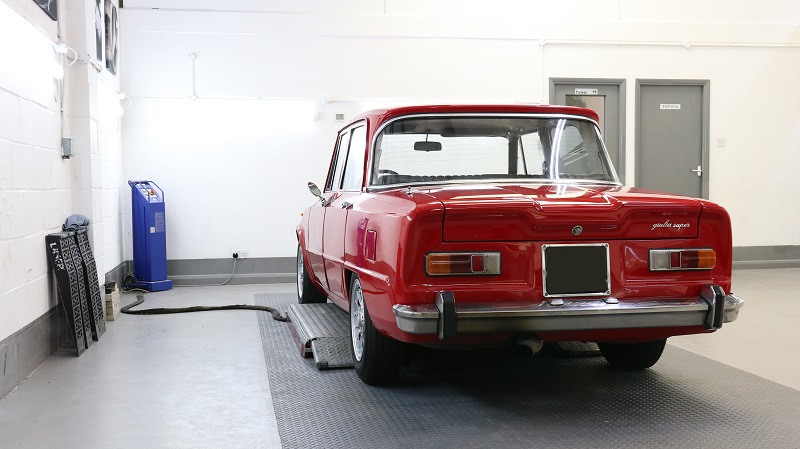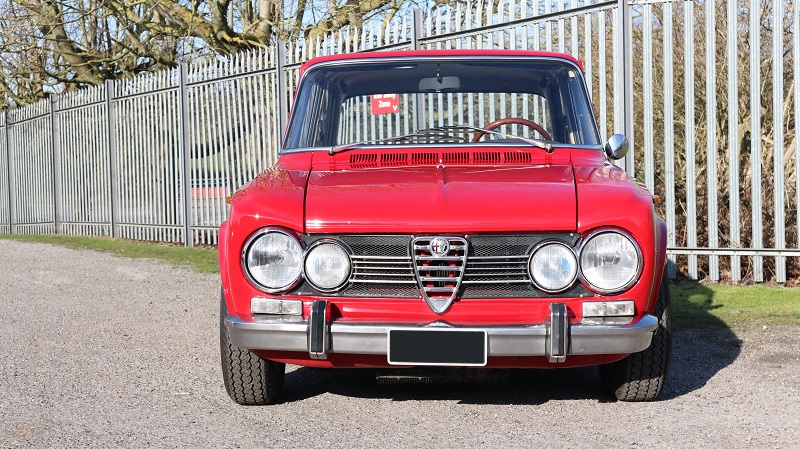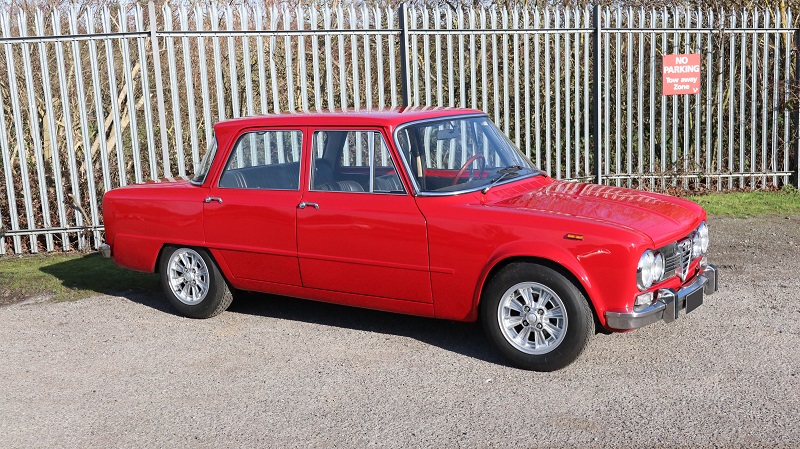 Featured Products Used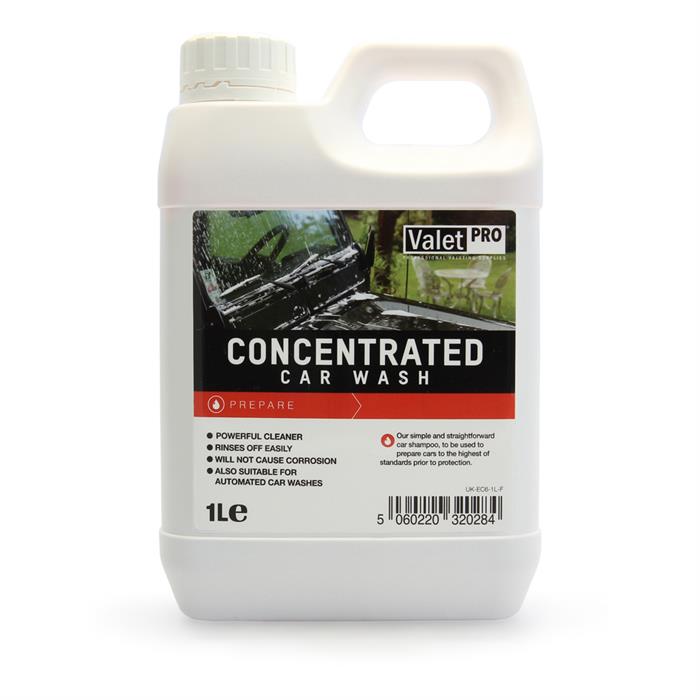 Valet PRO Concentrated Car Shampoo 1 Litre £6.30
Wax-free solution for wash stage
pH-neutral – won't strip or degrade existing wax layers
Highly concentrated – 10-30ml per 5 litres of wash water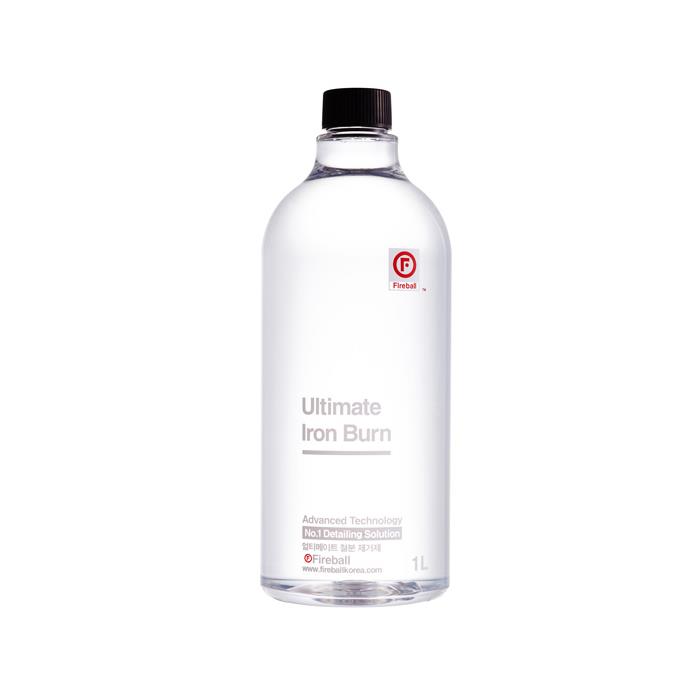 Fireball Ultimate Iron Burn £17.55
Spray-on iron contamination remover
Shrinks particles, causing them to break their bond with substrate
Particles can be easily rinsed away without the need for scrubbing at the paintwork
Safe for use on wheels & bodywork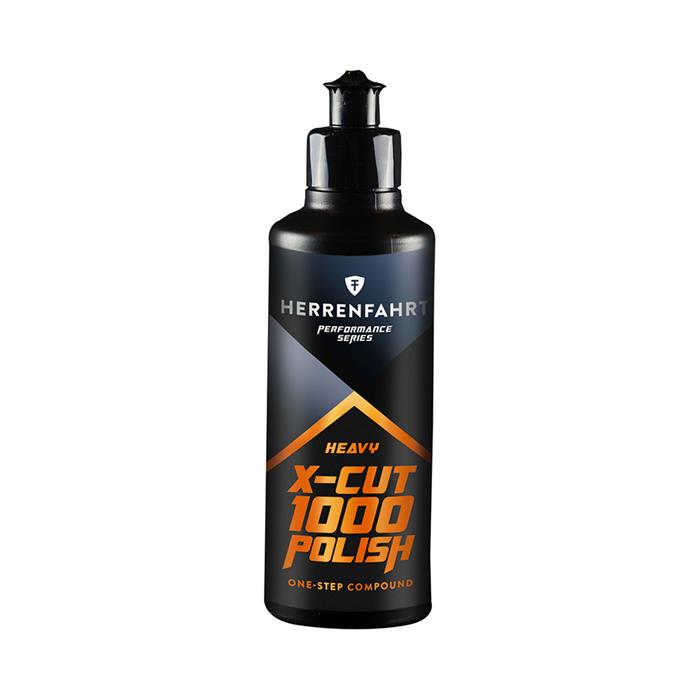 Herrenfahrt 1-Step Polish X-CUT 1000 £14.95
Cut & Finish in one step
No swirls or holograms
No dusting & easy to wipe off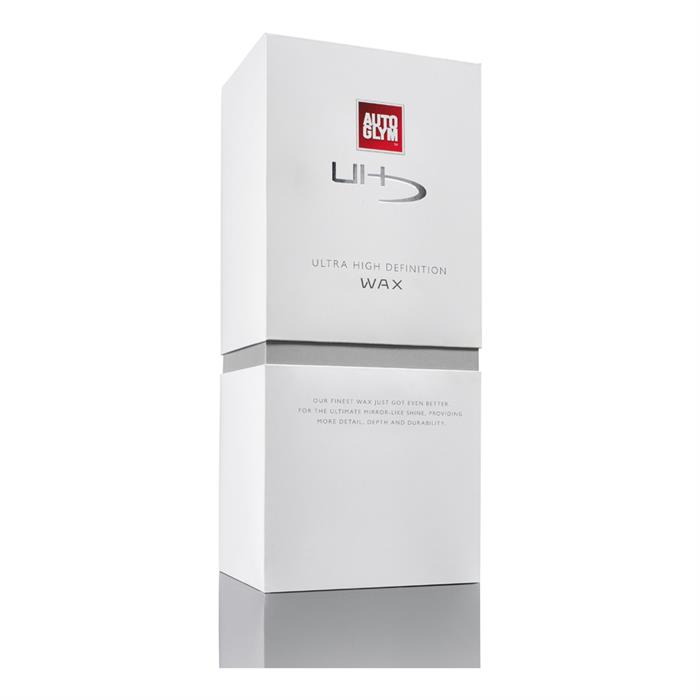 Autoglym Ultra High Definition Wax £56.30
Organically refined grade of carnauba delivers a stunning finish
Easy to apply & buff
Protected surfaces repel water, dirt & contamination
For use on all gloss paint finishes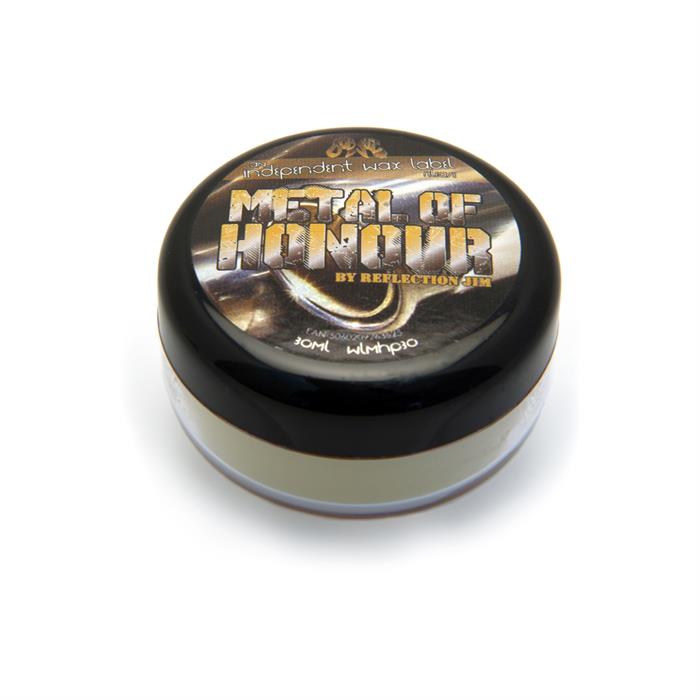 Dodo Juice Metal Of Honour £8.96
Protects the shiny finish of metal after polishing
Helps prevent rust spots & deterioration
Suitable for all brightwork including exhaust tips & trim

Shop The World's Best Car Care Products – Ultimate Finish
Award-Winning Detailing – UF Studio