Quantum Silver Aston Martin Virage Volante Has Its 'Miyabi' Restored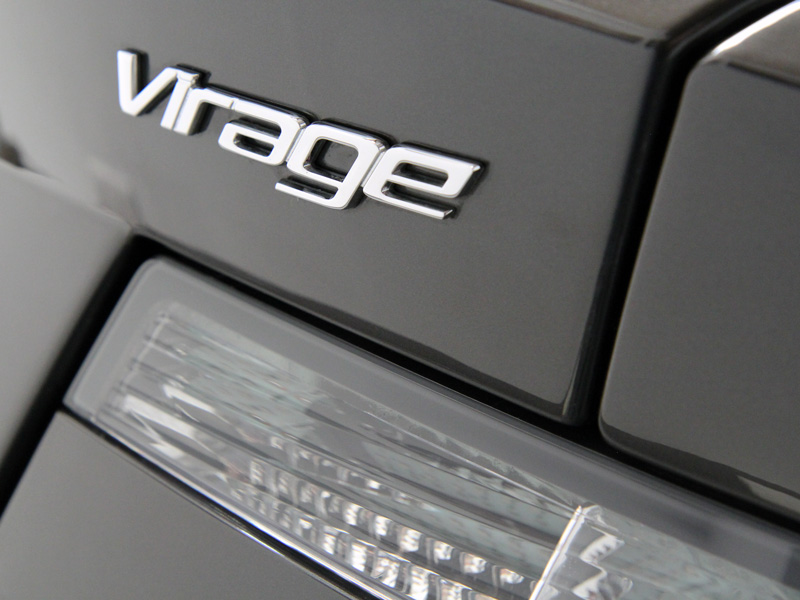 The Aston Martin Virage turns more than a few heads, in part, as would be expected from this luxury British brand, for its show-stealing looks. However, it's the Virage's performance capabilities that make it really stand out from the crowd. The 6-litre V12 engine is capable of catapulting the 1890kg car from 0-62mph in just 4.6 seconds and has a top speed of 186 miles per hour. With a torque of 570 Nm 420 lb-ft, it's bound to smooth out a few wrinkles – apart from the smile lines of course!
The owner of this 2011 Virage Volante in stunning Quantum Silver was keen to have the paintwork enhanced and ultimately restored to its former shining glory, so he brought it to UF's Brands Hatch based Detailing Studio for an appraisal.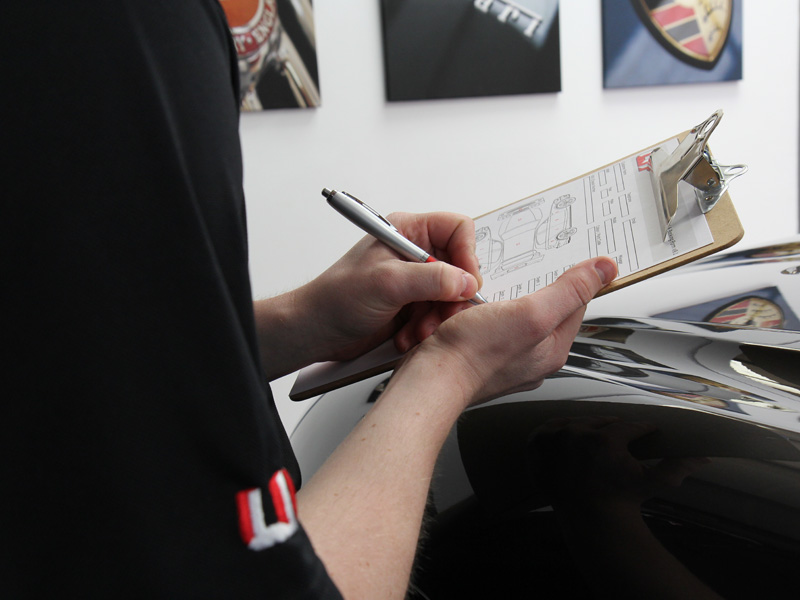 Before determining the most suitable service for the vehicle, we first conduct an initial assessment of the paintwork for different types of damage. In particular, we are looking for signs of poor washing and polishing techniques at the dealership which inevitably result in swirl marks, holograms and in some cases deeper scratches. – Jez Gilman, Managing Director, UF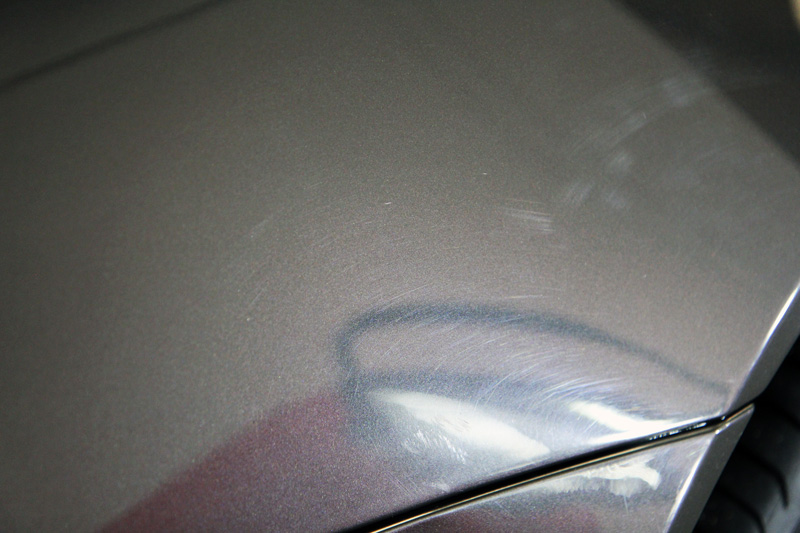 On completion of the initial assessment, the owner can decide which treatments they want from the comprehensive range of award winning services on offer. As well as the various levels of paint correction and protection these include Wheel Refurbishment, Leather Repair and Protection, and Paintless Dent Removal. Customers can also choose the protection element for their paintwork: an exclusive carnauba wax for a candy gloss shine, a ceramic sealant for maximum swirl protection and extended coating longevity, or a combination of the two.
In this instance, the customer opted for a Gloss Enhancement Treatment to take care of the swirls, Stone Chip Repair, Convertible Roof Protection, Leather Protection and Alloy Wheel Protection. Given the intended use of the vehicle, a combination of ceramic sealant and carnauba wax was chosen for the final protection of the paintwork.
Prior to any detailing work being carried out the vehicle first needed decontaminating, removing iron particles from shredded brake pads, sticky residues from bugs and tree sap, as well as degreasing to remove diesel splatters and road grime. Potential problem areas such as around the petrol cap, bonnet, boot and door catches were also degreased. The Virage was then pre-cleaned using Ultimate Snow Foam to remove larger particles of dirt and grit from the surface of the paint and wheels, before being washed using the Two Bucket Method and an Ulti-Mitt Double Sided Merino Wash Mitt. These processes ensure the paintwork is put at minimal risk from incurring any additional swirls or scratches. The fabric roof was shampooed then rinsed thoroughly to ensure all traces of the cleaner were removed.
After washing it's important to make sure that the roof is thoroughly clean and free of suds. Any soap residue that is left on the fabric will act as a trap for dirt and moisture, encouraging rain to seep through the hood and eventually cause mildew. Also the fabric has to be completely dry and as such it was allowed to dry overnight and then blasted with a hot air dryer to be sure it was completely moisture free prior to the sealant application. – Matt Back, UF Detailing Studio
The Virage was then given a pure water final rinse using an Aqua Gleam De-Ionising Water Filter connected in-line with the hosepipe, before being hand dried using ultra-soft microfibre towels.
Once clean and dry, the Virage was brought inside the studio for a thorough inspection. Using a 3M Sun Gun II Colour Check Light each panel was assessed for damage.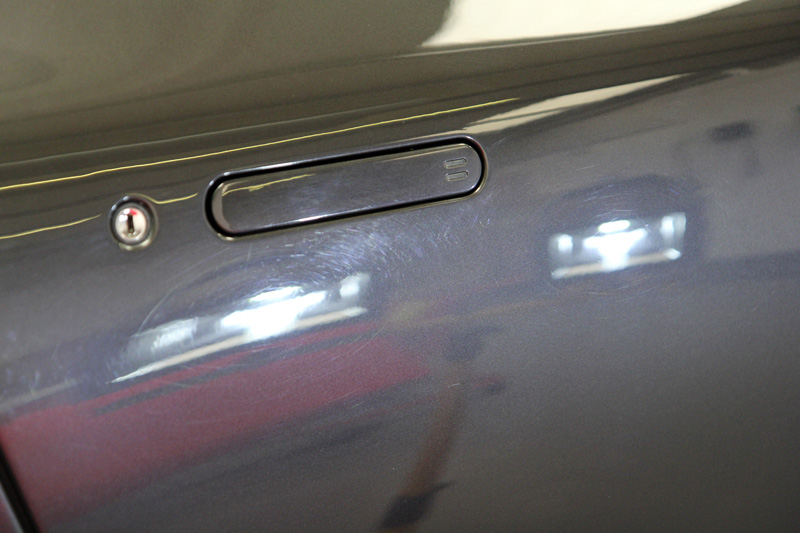 In this instance, the paint was badly swirled, most likely from poor washing techniques. There were some stone chips on the front bumper and also the headlamp covers and there were also some scuffs on the panels under the doors. Nothing out of the ordinary and there weren't any random deep scratches that needed attention. – Matt Back, UF Detailing Studio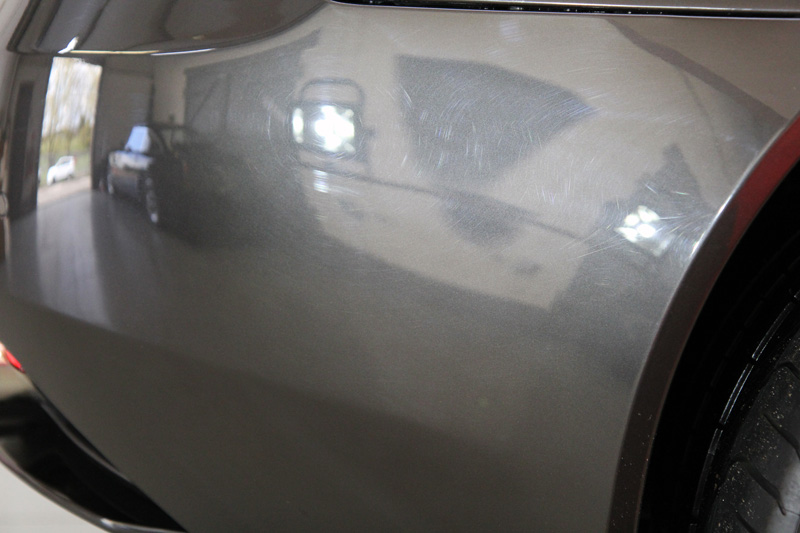 A PosiTest DFT Paint Depth Gauge was used to take several paint depth readings over each panel to check for any discrepancies in the paintwork.
Before machine polishing it is advisable to know the depth of the paint. Some primer, paint and clear coat combinations are very thin, some are thicker. As machine polishing removes blemishes by removing layers of clear coat, it's a good idea to know how much you have to play with to prevent accidental burn-through. – Matt Back, UF Detailing Studio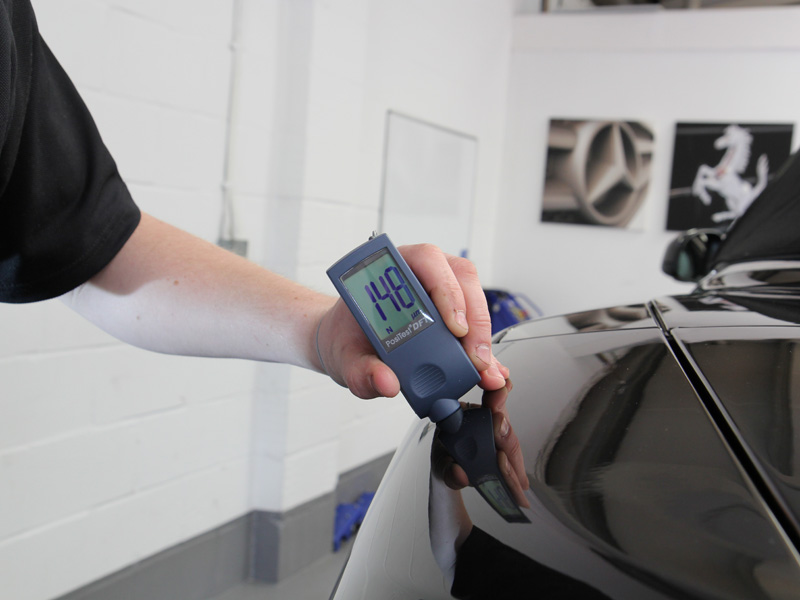 To tackle the stone chips on the bumper, the paint code was identified and given to ChipEx who mix paint according to the car manufacturer's colour formulation, so the colour matches precisely that of the car. The product also works to fill in the gouge left by the impact of the stone, helping to bring the pit back up to the level of the rest of the paintwork. These two factors significantly improve the appearance of 'road rash'.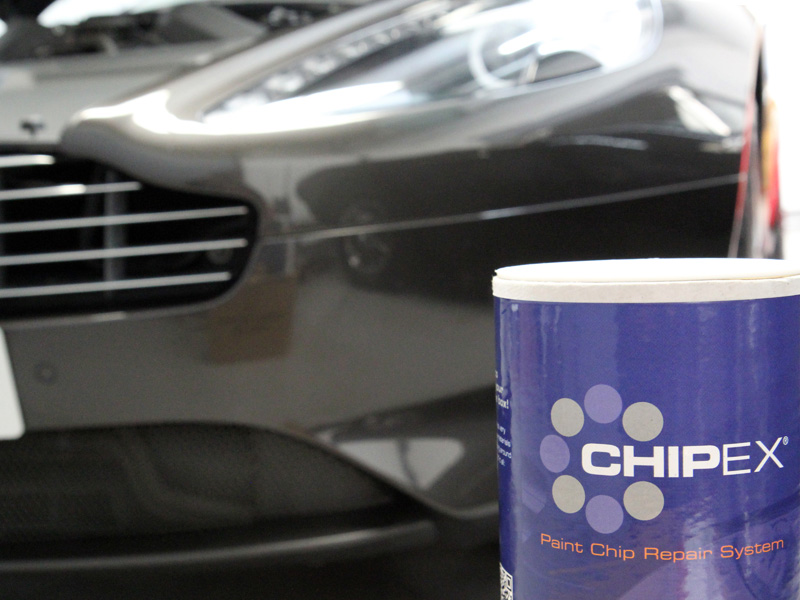 The paintwork was corrected using a FLEX PE14-2 Rotary Machine Polisher with a 3M PERFECT-IT III Yellow Polishing Pad and a combination of SCHOLL Concepts S17+ and S2 Orange. To refine the paint and enhance the gloss, SCHOLL Concepts S40 professional-grade final finishing polish was used on a black SOFTouch Waffle ultra-fine foam pad.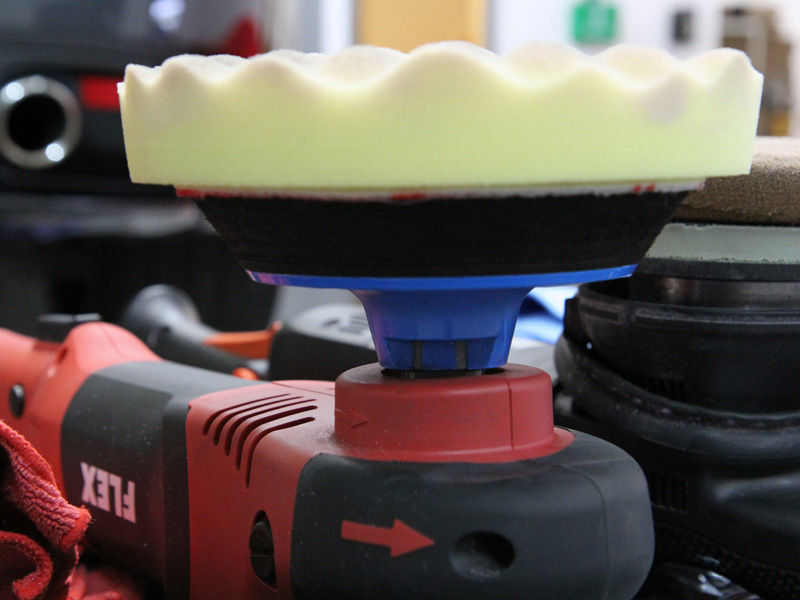 The paintwork on the Aston Martin was challenging as, although the paint was quite hard, and therefore required a strong cutting action to remove blemishes, once corrected it then marked quite easily. So I was looking for a combination of a cutting compound for scratch resistant paints, but with a fine finishing action. Combining the two SCHOLL Concepts products on a medium pad, in a 2:1 ratio meant I could achieve a little more bite in the initial stages of correction. The compounds then diminished and, combined with the burnishing action of the yellow pad, left a glossy finish without micro marring. – Matt Back, UF Detailing Studio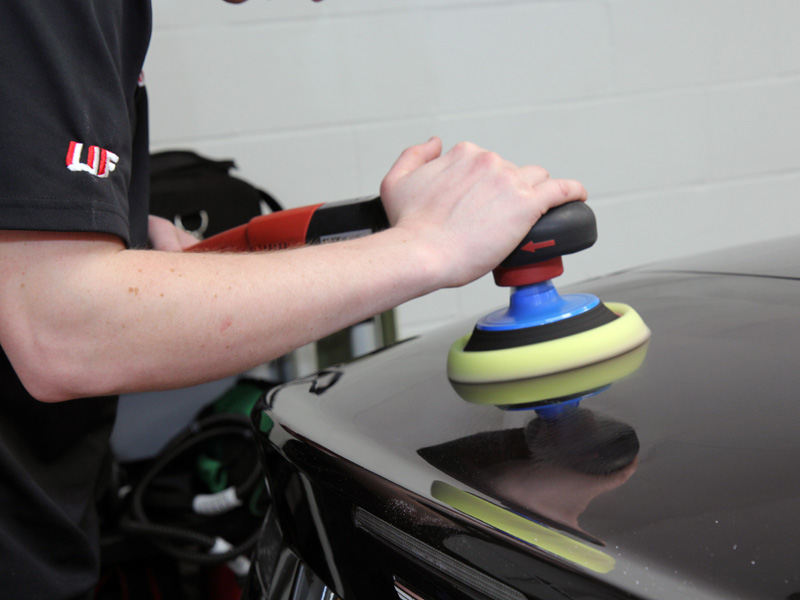 Before applying any sealant it is important to ensure the substrate is completely free from polish residues, oils, fillers and contaminants. The active ingredients in sealants are able to form a greater number of bonds with a clean substrate, making the sealant layer more effective at repelling water and dirt, as well as providing more durability. With the paintwork now corrected and refined, the Virage was carefully washed and dried once more and treated with Nanolex EX Residue Remover.  Then, a layer of Kamikaze Collection Miyabi Coat was applied, left for 10 minutes to partially cure and then carefully buffed off. In the Japanese language, 'miyabi' portrays an aesthetic ideal of elegance and refinement, of everything being 'just so'. A perfect choice then, for the British motoring equivalent!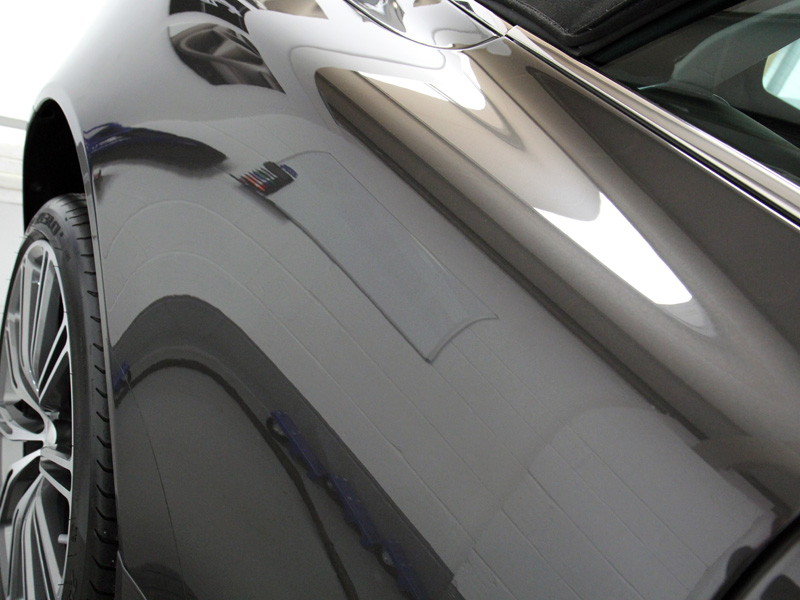 After allowing Miyabi to fully cure for around 3 hours, the Virage was finished with an additional layer of Kamikaze Collection Infinity Wax to add extra gloss and to bring out the metallic flake in the Quantum Silver paintwork,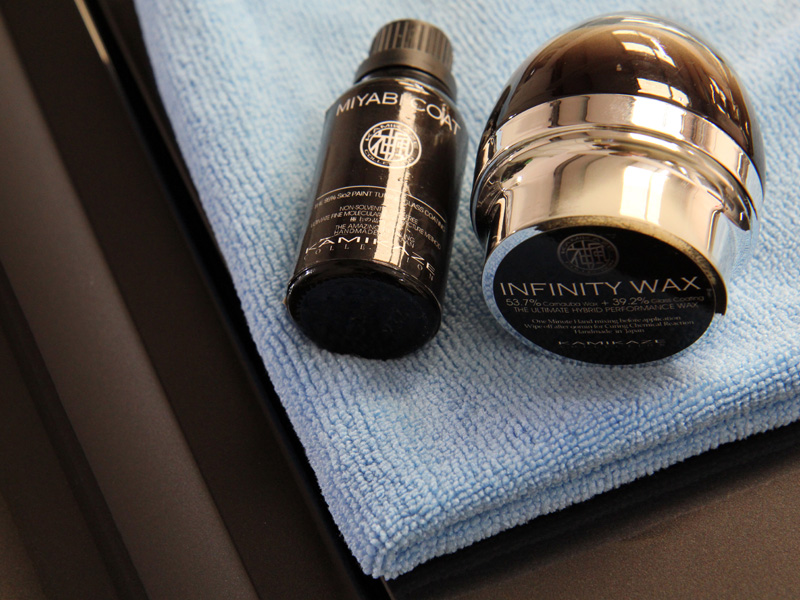 Infinity is a unique product in as much as it is a natural carnauba wax with added ceramic sealant elements, so the result is a durable coating with the wet-look, candy gloss shine associated with carnauba waxes. You actually mix the product for sixty seconds to activate the ingredients prior to applying it to the car. It looks fabulous as a stand-alone product but using it over a coat of Miyabi just gives it that extra edge, extra hydrophobic power and extra shine. – Matt Back, UF Detailing Studio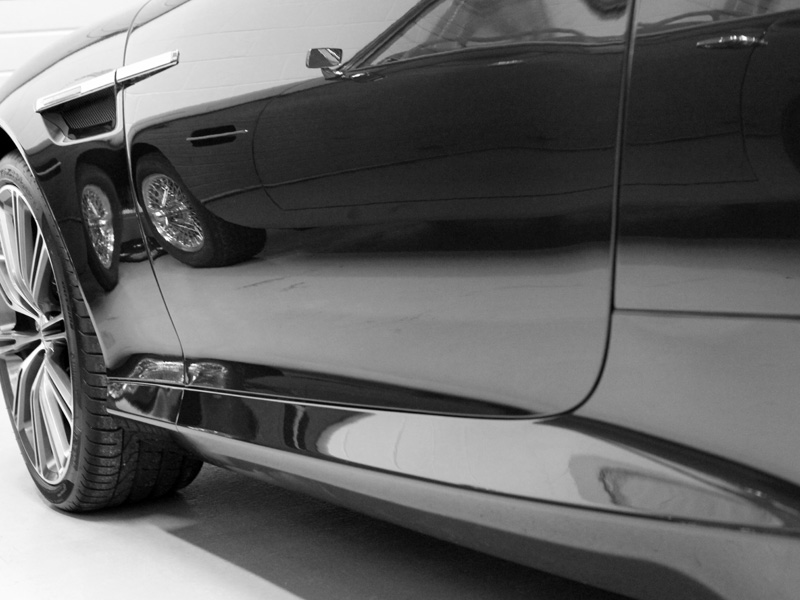 The fabric soft top on the Virage was sealed with Gtechniq I1 Smart Fabric Anti-Bacterial. I1 is specifically designed to repel water and oil-based liquids, helping to prevent staining. Unlike many fabric waterproofing products, Smart Fabric AB coats each fibre individually, thus leaving the overall texture of the fabric unaffected. The anti-microbial function kills bacteria and inhibits mould and mildew growth helping to keep the top in 'as new' condition.
The leather interior was first cleaned using a Colourlock Mild Leather Cleaner to remove surface dirt. To protect the surface from dye transfer and abrasion, the leather was then treated with Colourlock Leather Shield.
The best way to protect modern leather from wear and tear and staining is to use a non-sticky, abrasion and UV-resistant coating. Creamy leather conditioners are great for classic leather, but for most modern leather the thick creams lay on the surface and can cause shiny patches which attract dust. Put the two together and you have an abrasive paste that grinds away at the leather each time you sit on the seat. Using a sealant helps repel dye, oils and stains and doesn't leave a shiny surface. – Matt Back, UF Detailing Studio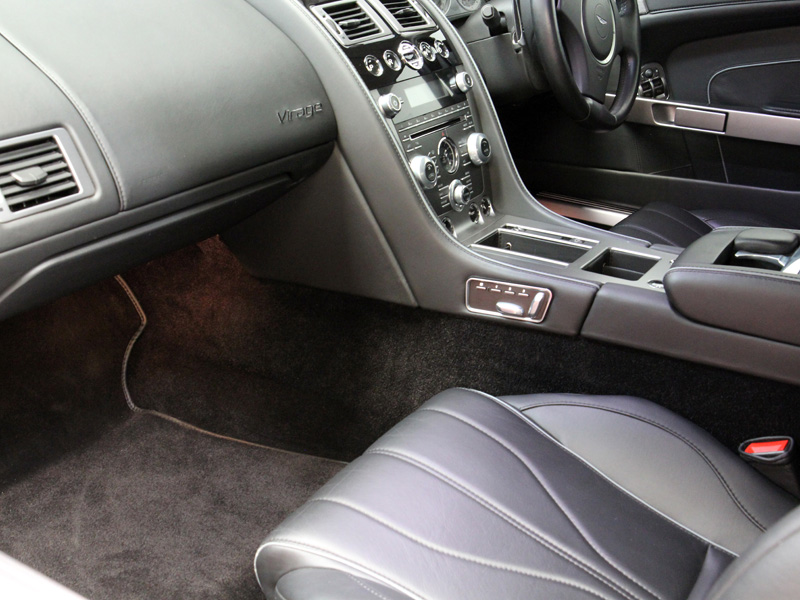 For the Alloy Wheel Protection, the wheels were given a coating of ceramic Gtechniq C5 Alloy Wheel Armour. This ceramic sealant has a high tolerance for heat, so will not burn off when the wheels become hot when being driven. The coating repels dirt, water and oils and also inhibits the build-up of brake dust particles which have the potential to bed into the wheels surface and eventually compromise the clear coat. Being hot when they first come into contact with a wheel, they bond instantly and when cool they set hard, making them tricky to remove. C5 reacts with the surface rheology of the wheel to help prevent the contaminants bond from forming as quickly, making the particles easier to wash away during the weekly wash and negating the requirement for highly acidic or highly alkaline wheel cleaning products.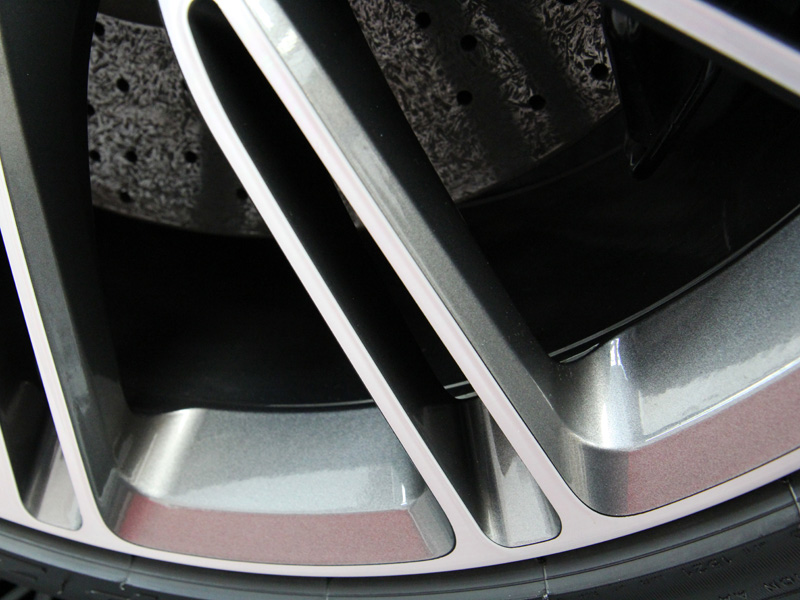 An application of Gtechniq T2 Tyre Dressing gave the tyres a long-lasting, natural satin sheen, adding the final touch to the Virage Volante, truly ready to soar again!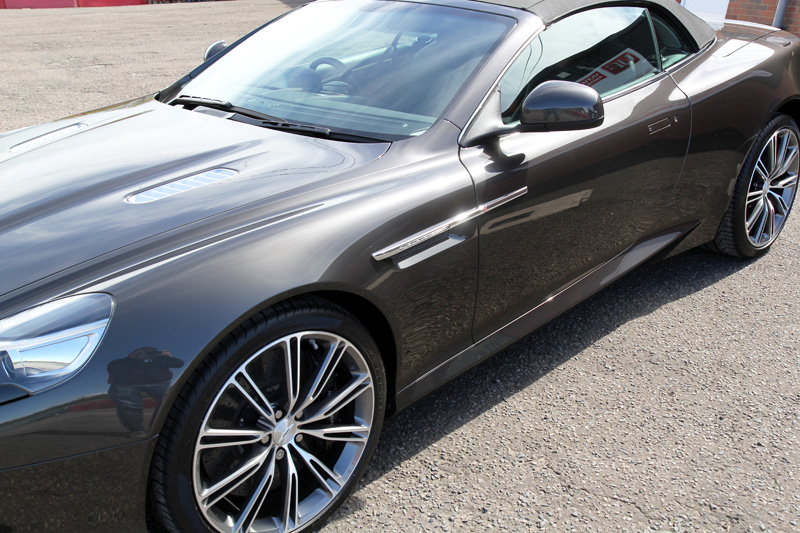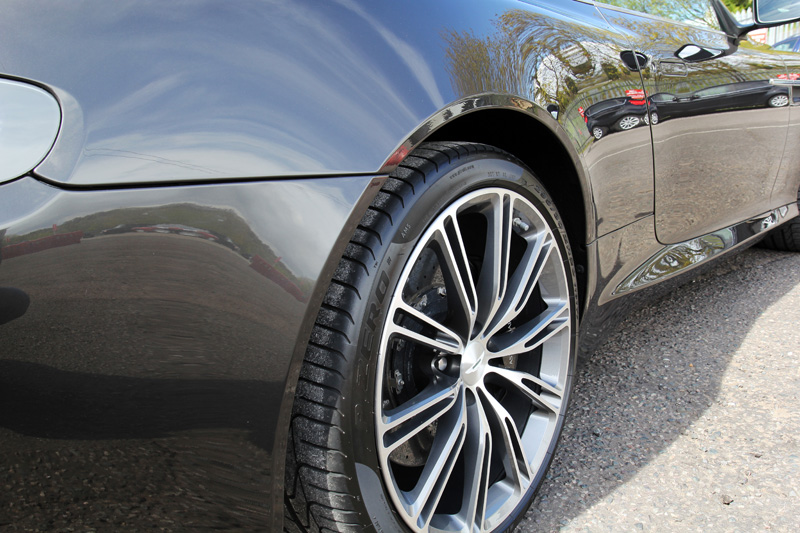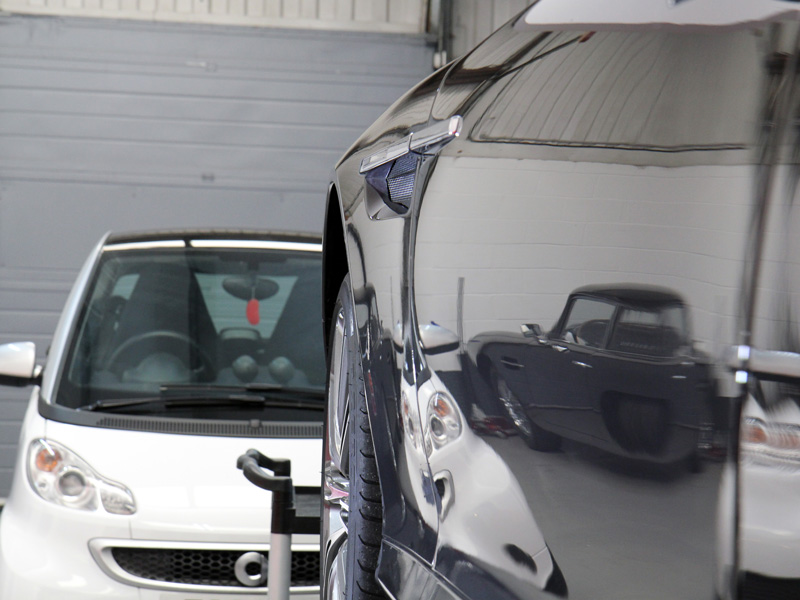 UF Detailing Studio – Award Winning Detailing. Call 0333 800 8004 to discuss your requirements and arrange a free vehicle appraisal.