Audi RS3 Sportback – Gloss Enhancement Treatment Plus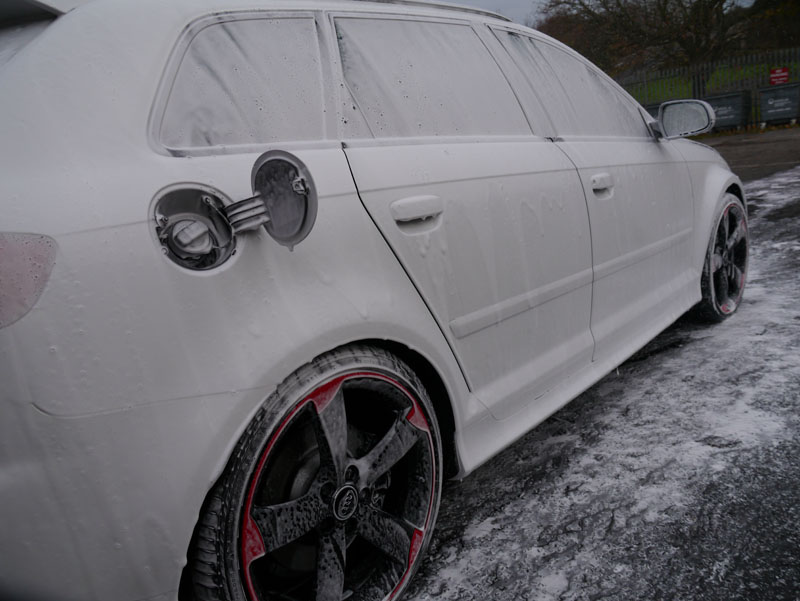 The inconspicuous RS emblem on the front and rear of any Audi denotes three things; Power, Speed, Handling. Yes, for years now, Audi have been making their RS-version cars with big horsepower, and while those two letters may not mean anything to the average car user, petrol heads know their fearsome reputation. Add something else to the list above; Respect.
The Audi RS3 Sportback is no different. The 2.5 litre, 5-cylinder turbocharged petrol engine kicks out a mighty 335 horsepower and 332 lb ft of torque, equating to a 0 – 62 mph time of just 4.6 seconds. This means it'll eat a Porsche Cayman S for breakfast, before going on to hit a limited top speed of 155 mph. Truly then, this is rather a beast.
This particular RS3 Sportback was booked in to Ultimate Finish for Gloss Enhancement, but there was something else that needed our attention, and urgently.  Small particles of cement had settled onto all of the cars external surfaces – yes parking near to an active building site
has its draw backs! Nasty stuff, but we have the products and know-how to remove the unwanted contamination safely and effectively.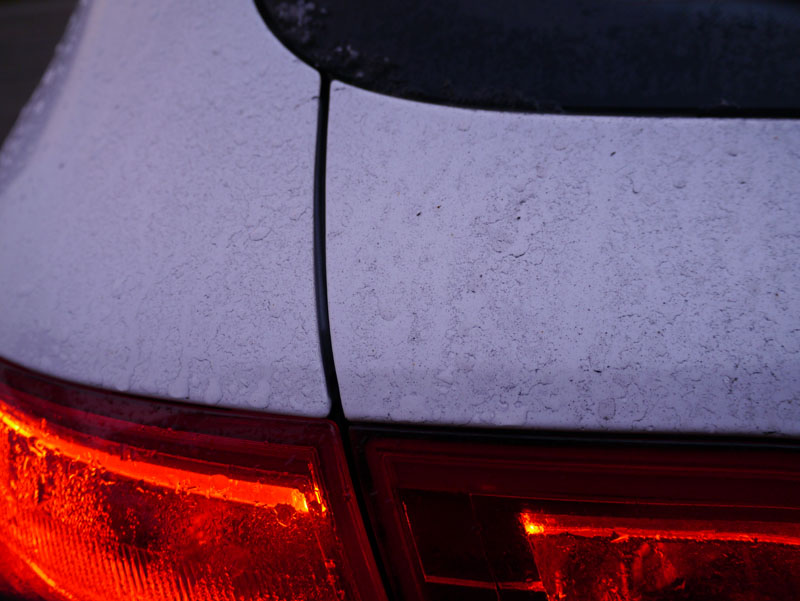 Firstly, the wheels were treated with Bilt-Hamber Korrosol Fallout Remover, to remove
as much of the ingrained brake dust and particles of cement as possible. Next, Valet Pro Bilberry Wheel Cleaner was used to final-clean the wheels.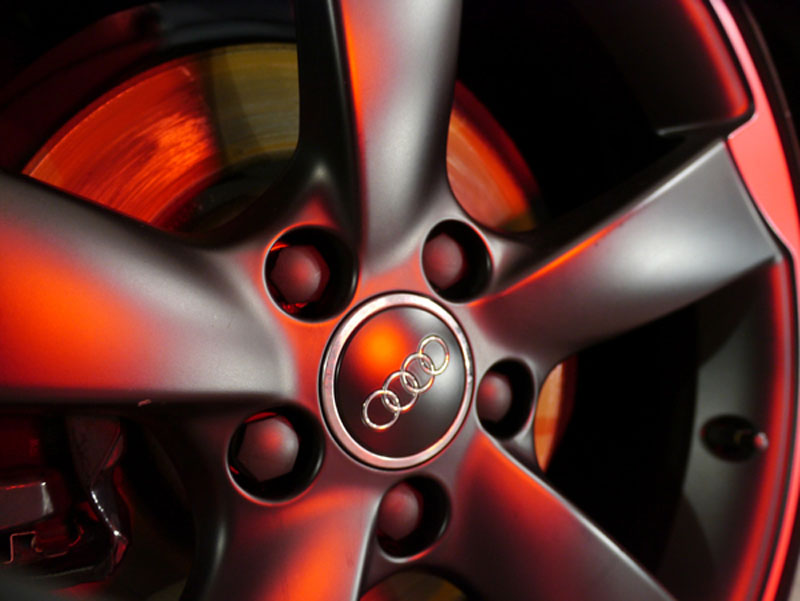 TheRS3 Sportback was then pre-washed twice using Ultimate Snow Foam, the first to soften the grime and cement dust, and the second to allow it to soak into any gaps and shut-lines to aid removal.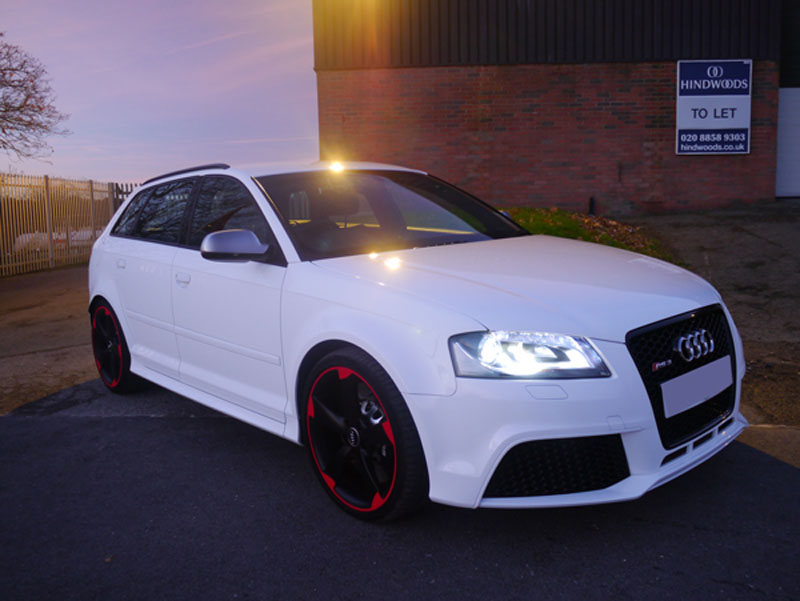 Once that was done, and we had removed as much as possible, it was on to the wash stage. We use an Ultimate Finish Two Bucket Set complete with Grit Guards to avoid any extra swirls being put into the paint during the wash process. Our choice of car shampoo was Valet Pro Concentrated Shampoo, which does not contain unnecessary wax or any other gloss enhancing agent.
Bilt-Hamber Surfex HD – a non-solvent based product – was put to use degreasing the door shuts, underneath the bonnet and around the boot edges where grime quickly builds up. The RS3 Sportback was then rinsed with water first run through an Aqua Gleam De-Ionising Water Filter, which filters out the minerals that cause watermarks, leaving a streak-free finish. Any water still around was carefully soaked up using the super-absorbent Gtechniq Zero Scratch Microfibre Drying Towel.
The RS3 Sportback's paintwork was left rough from the length of time that  the concrete particles had sat on the surface prior to attending our Brands Hatch Studio, so to reverse this, we used a Bilt-Hamber Auto Clay Original clay bar to create a slick finish in readiness for further correction.
Of course, it's almost impossible to get the finish we wanted by hand, and the paintwork needed machine polishing too. For this stage, we used the FLEX PE14-2 150 Rotary Machine Polisher, plus SCHOLL Concepts S40 Anti Swirl-Compound Black on a SCHOLL Concepts Black Waffle Pad – soft in texture to make sure the S40 was worked in gently, but leaving a high shine to the paint.
The Audi RS3 was looking its best once again, but a few finishing touches remained. Nanolex PREMIUM Glass Polish was employed to make sure the glass was polished and slick, ready for the sealant it needed. We used Gtechniq G1 ClearVision Smart Glass – which lasts up to an incredible 2 years – on the front windscreen, and Nanolex URBAN Glass Sealant and the sides and rear glass. These will give the driver and passengers optimum vision out of the windows in even the heaviest rain, plus ice and snow are far easier to remove in winter.
The final finish was applied by hand on the paintwork, wheels, trim and light lens using Gtechniq EXO (v2). This nano-technology based sealant is a blend of organic and inorganic ingredients, the combination of which produces strong UV absorption and is exceptionally hydrophobic (water resistant) and oleophobic (oil resistant). It also imparts a depth of shine which is normally very difficult to achieve on white paint.
All in all, this RS3 Sportback looks crisp and fresh again, free from the cement that blighted this über-quick German monster.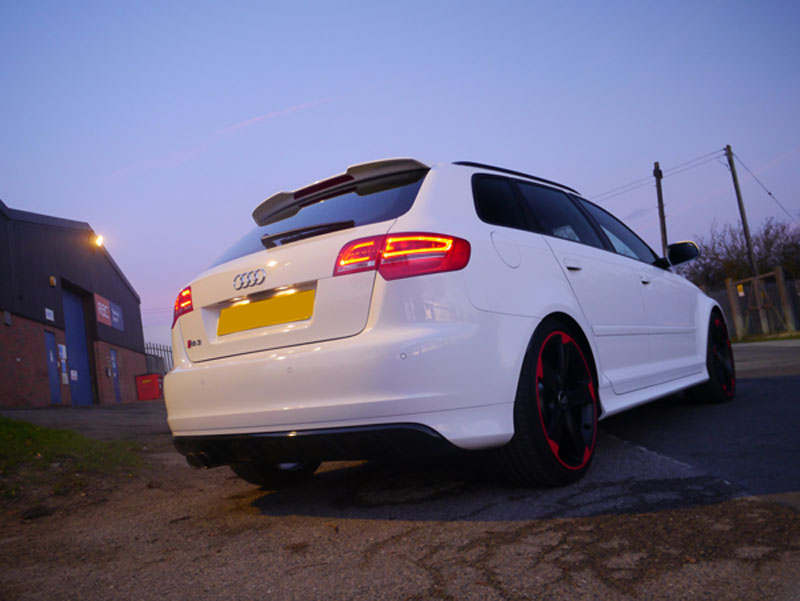 Ultimate Detailing Studio – Award Winning Detailing. Call 0845 838 1200 to discuss your requirements and arrange a free vehicle appraisal.
Ultimate Finish – Legendary Automotive Care since 1999.