Clean Technology for a 2015 Range Rover SD4 Evoque Pure Tech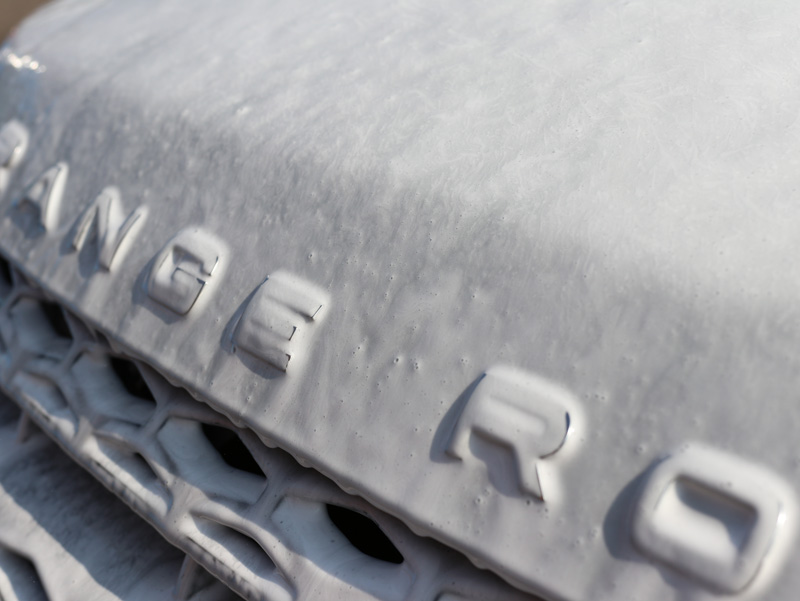 The Range Rover Evoque is Land Rover's most successful model ever and it's easy to see why: Land Rover off-road capability and Range Rover sleekness and style all tied up with a pleasing price point guaranteed to capture the attention of a wider audience than some of the bigger models on offer. Classed as a subcompact crossover SUV, the Evoque first went into production in 2011 and it's never looked back. As popular now as it was when it first came onto the scene, the Evoque appeals to city dwellers as much as to those living in rural areas. The Evoque's enduring popularity along with superb build quality has led to them retaining their resale value too – another tick in the 'reason to purchase' column.
One of the key factors in determining the resale value of a vehicle is its appearance. As a result, New Car Protection Packages have become increasingly popular. Protecting a vehicle from new is always preferable however, there is still a large percentage of the population yet to fully appreciate the benefits in ceramic coating protection over and above the weekly wash. For those buying a pre-owned vehicle, taking the opportunity to have the vehicle restored to its original appearance and then protected ensures they close the gap between purchase and resale, maximising their price retention capability.
The owner of this Evoque had spotted a great example – the right model at the right price and with relatively low-mileage for the year, he immediately recognised an opportunity. Within a week of purchase, he had booked it in with UF Studio for a Gloss Enhancement Treatment to restore the paintwork, along with Alloy Wheel Protection to preserve the 20-inch rims and a hydrophobic coating for the glass. To help maintain the leather interior, a Leather Protection Treatment was ordered, encompassing a deep clean of all the leather upholstery and trim, followed by protection with an abrasion-resistant nano coating.
Although a low-mileage example, this 2015 Range Rover Evoque clearly told the tale of not having been looked after as well as it could have been. Even prior to cleaning, the swirls in the piano black trim were highly visible.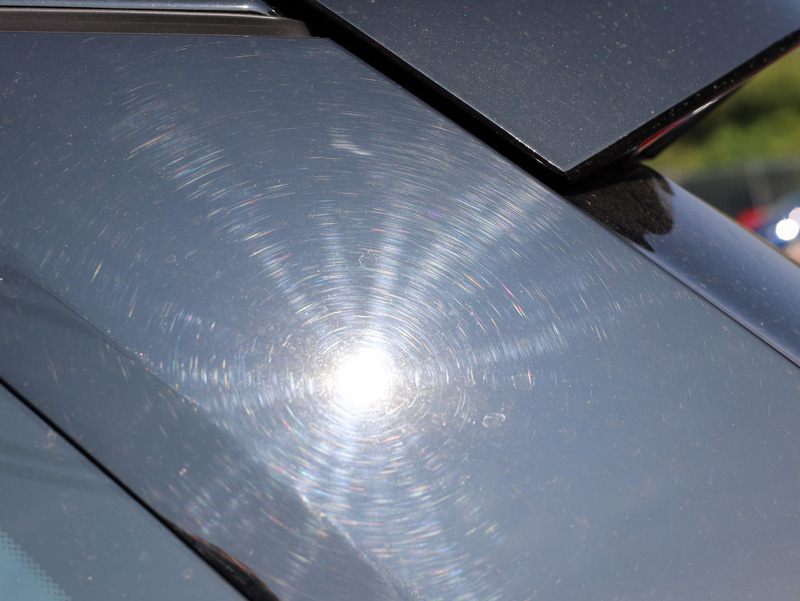 The first order of the day was to thoroughly decontaminate, pre-clean and wash the whole car to remove debris and fallout.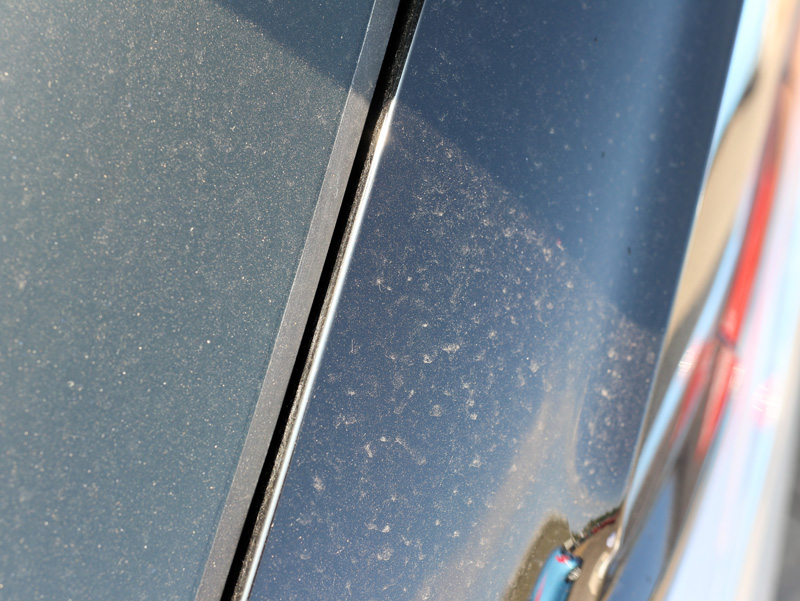 There are various types of contamination cars tend to collect: tar, tree sap, iron particles (from brake pads which shred when the brakes are applied), pollen, bird droppings, road grime (an oily mixture of dirt from the roads and oil and diesel splatters) as well as a gritty dust, particularly prevalent during the prolonged hot, dry spell we've had recently. All of these have the potential to harm the paintwork either through etching, pitting or scratching. Removing them safely is best-achieved using products designed specifically to work on that type of contamination specifically whilst minimising the amount of direct contact required. – Matt Back, Master Detailer, UF Studio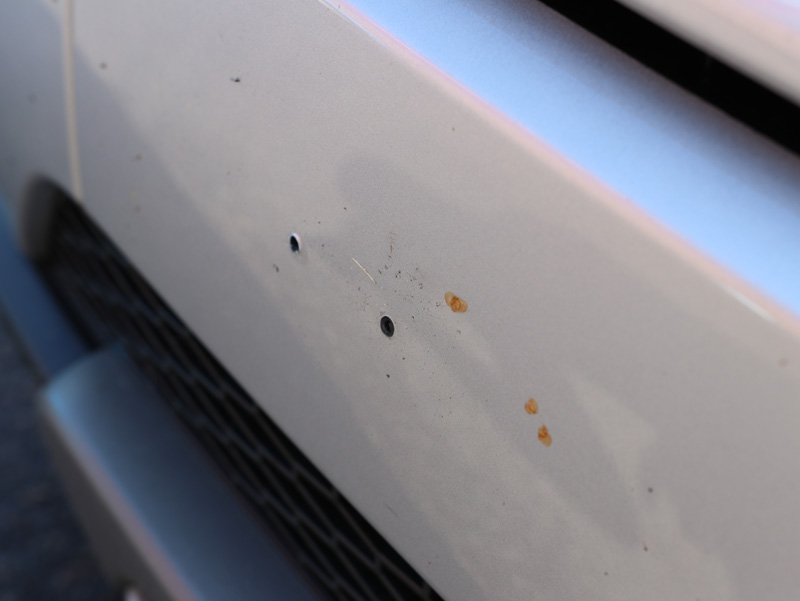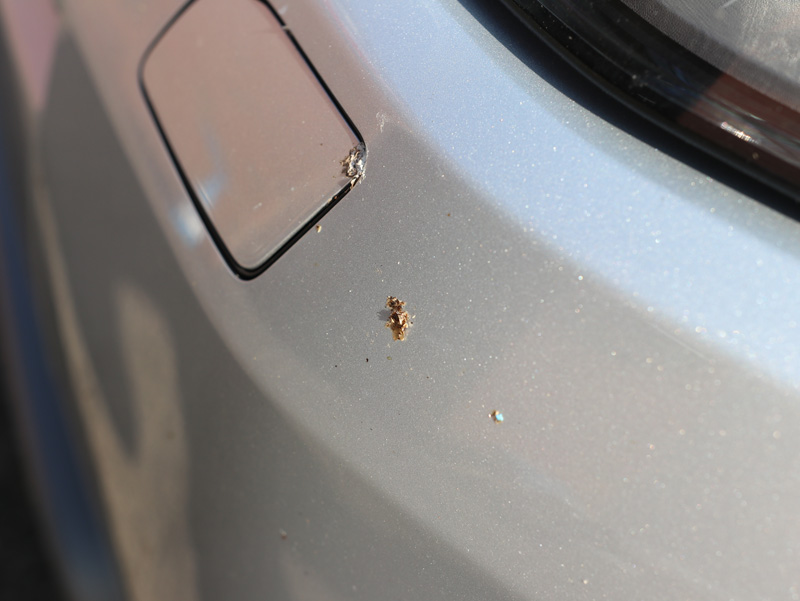 The process began with Bilt-Hamber Surfex HD, an all-purpose cleaner that acts as a degreasing agent. This was applied to the wheels and wheel arches to remove road grime. By using a Kwazar Orion Super Pro+ Pump-Up Sprayer, the cleaner could be directed up under the lip of the wheel arch to get the coverage required.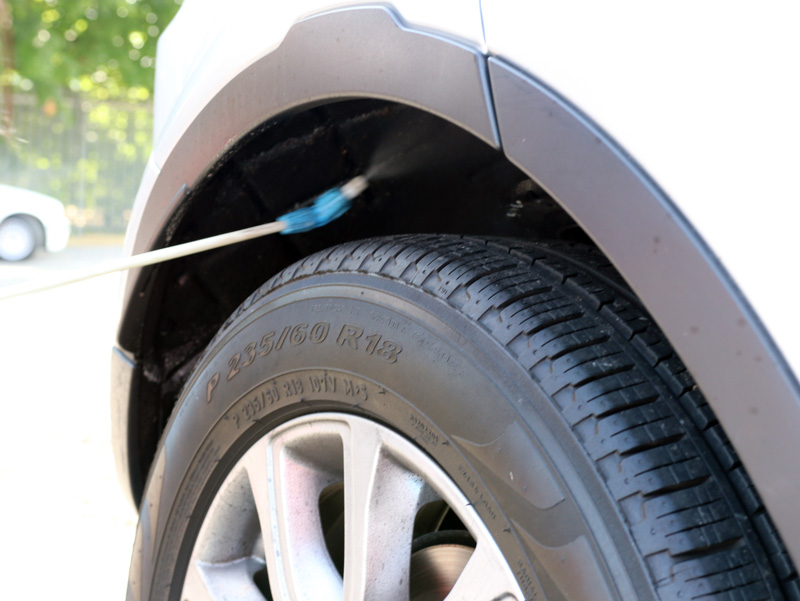 After being allowed to work for a while, the solution was rinsed away. Degreaser was then applied to the wheels and after a period of dwell time, the solution was agitated with Wheel Woolies before being rinsed away. Valet Pro Bilberry Wheel Cleaner was then sprayed onto the wheels, acting on surface dirt and debris.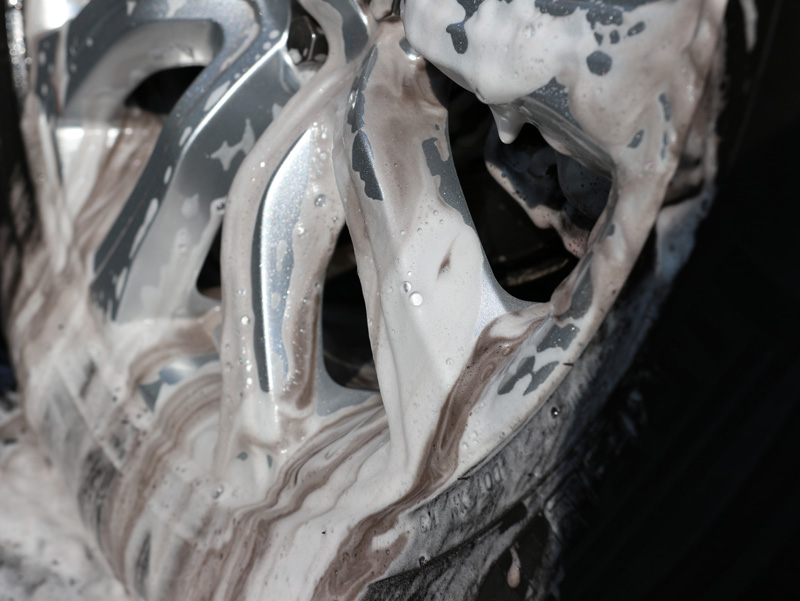 Using a Kranzle K-1152 TST Pressure Washer, the area was completely rinsed. An iron contamination remover was then applied. The active ingredient changes colour on contact with ferrous particles, shrinking them and causing them to break their bond with the underlying substrate. The Evoque had collected a considerable amount of iron contamination, not unusual for a heavy car with an automatic gearbox.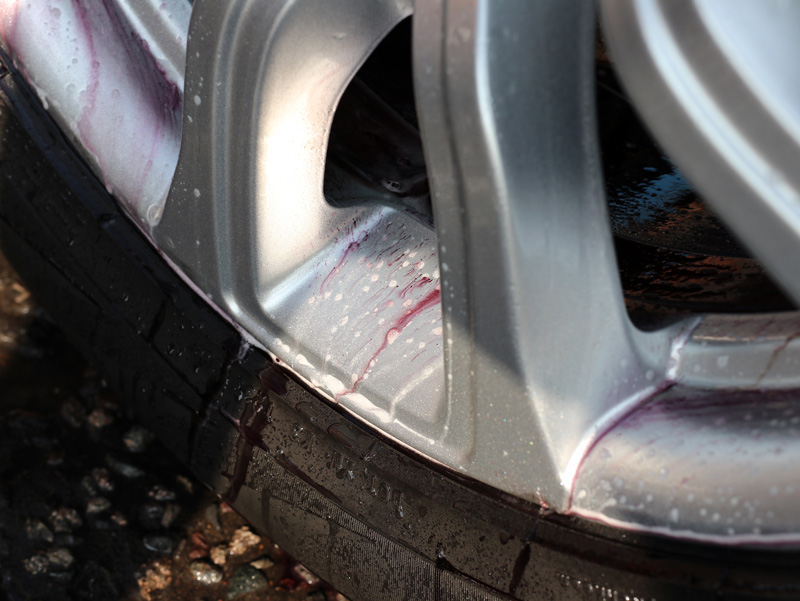 Iron particles embed into the surface of lacquer and swell as they oxidise. If they're not regularly removed, they have the potential to cause pitting in the surface – unsightly and expensive to resolve. These particles are hard to remove without a dedicated product and even if you are successful removing them with a wash mitt, chances are, you'll scratch the paintwork as you do so. This is why non-contact, dedicated products are always a safer option. – Matt Back, Master Detailer, UF Studio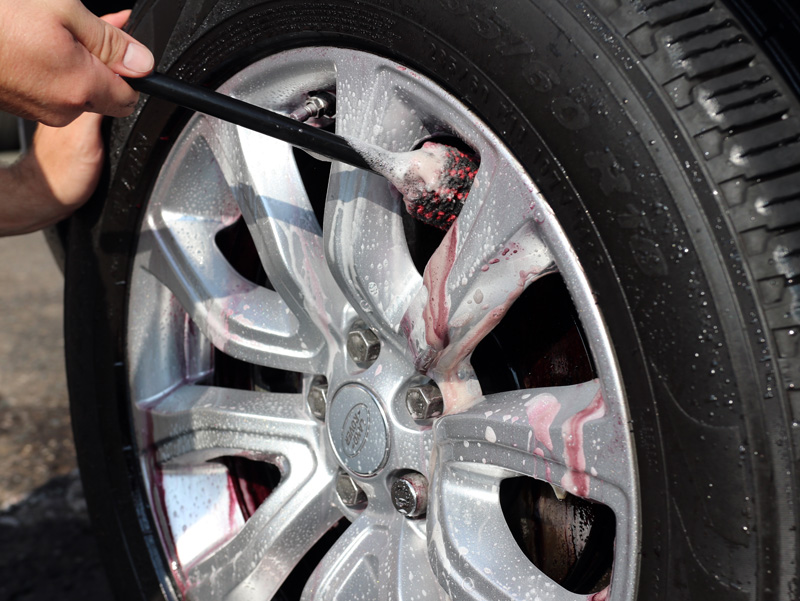 After rinsing the area again, the door shuts were then degreased carefully, using the Orion's spray head to precisely direct the degreaser to the areas required. The catches, natural areas for grime and dirt to accumulate, were agitated with a detailing brush to ensure all traces of contamination were loosened, allowing them to be easily rinsed away with a directed jet of clean water.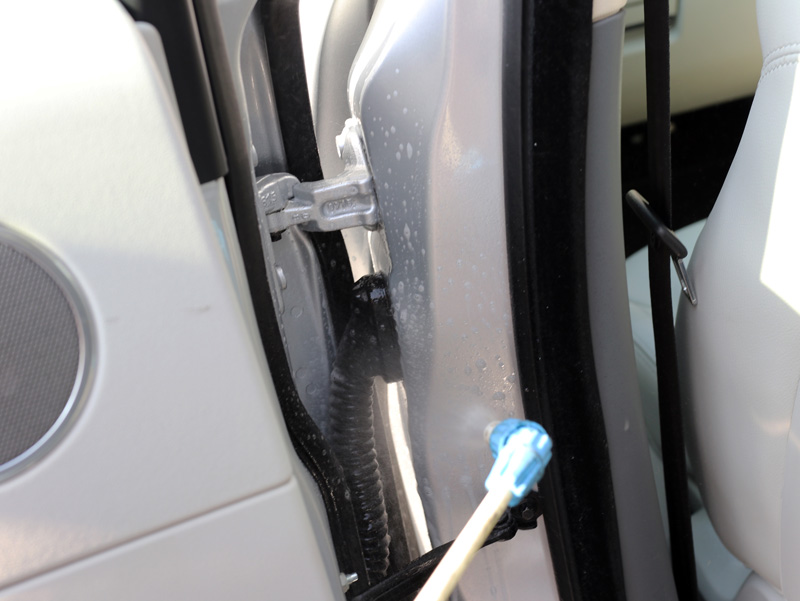 The front facing panels such as the bonnet and grille had also collected bugs and their squashed remains were evident. Gtechniq W8 Bug Remover was sprayed on specifically to tackle this sticky contamination.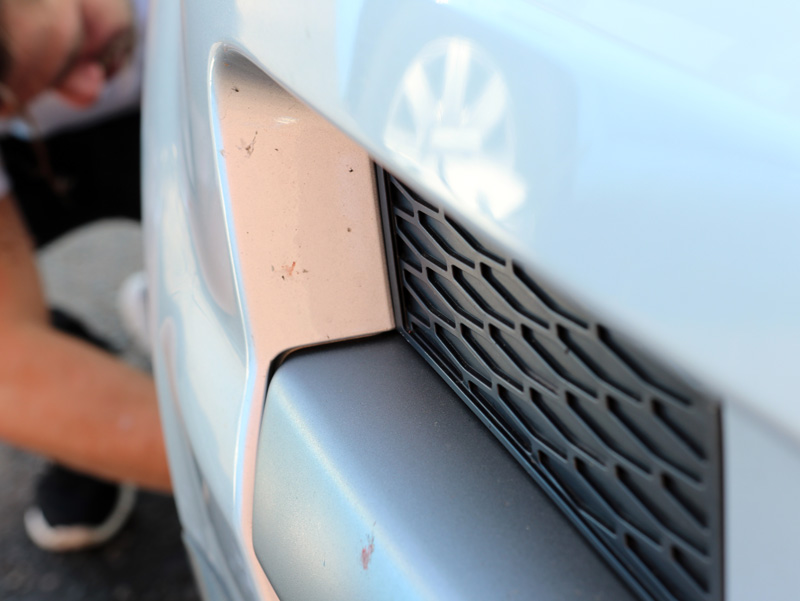 The innards of bugs are corrosive, so they can cause discolouration and etching in the paintwork. They're also sticky and removing them with car shampoo usually requires some rather enthusiastic rubbing at them with the wash mitt – but this is exactly how swirls and scratches end up marring the paint finish. Again, using a dedicated product, you're able to dissolve the sticky bonds and allow the bugs to be easily rinsed away. – Matt Back, Master Detailer, UF Studio
Ultimate Snow Foam pre-cleaner was then applied using a Kranzle-adapter foam lance. The high-pressure water mixes with the high-foaming product and air to create a thick, creamy lather that clings even to vertical surfaces for a longer dwelling time.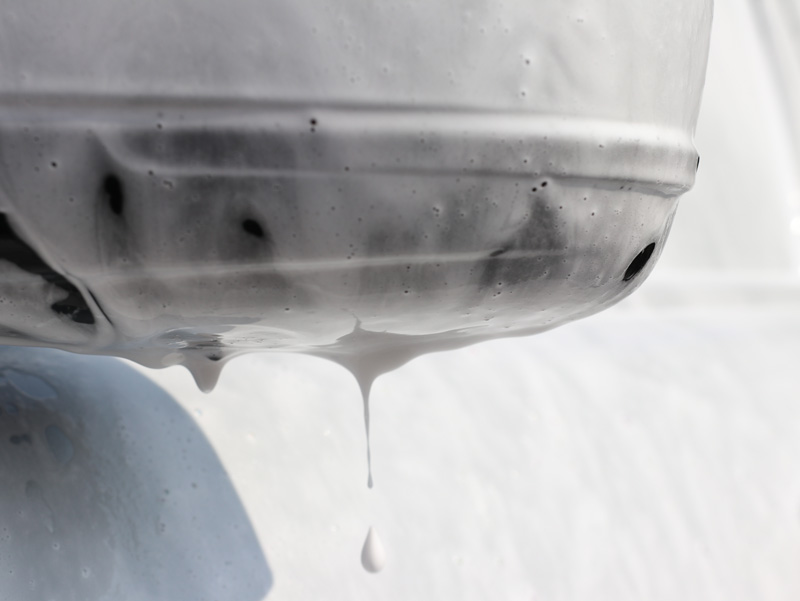 The lather lifts larger particles of dirt, grit and other contamination away from the surface of the panels and encapsulates it within the foam. After being allowed to dwell for a few minutes, the foam was rinsed away and the Evoque washed using the Two Bucket Method, keeping wash solution separate from rinse water, preventing dirt removed from the car from being reintroduced to the panels. After rinsing again, an Aqua Gleam De-ionising Water Filter was attached in-line with a hose to deliver a final, pure water rinse.
Aqua Gleam's should not be used with a pressure washer as they force a high a volume of water through the media and exhaust it too quickly. The pressure from a hose is sufficient for drenching the car with pure water and this helps to eliminate water spot marks, as the impurities in tap water are neutralised by the media in the filter. This means a car can be left to air dry without white deposits forming – a great time-saving device if you're washing your car at home. – Dean, Detailer, UF Studio
The Evoque was brought into the detailing studio and carefully placed on a hydraulic ramp. A BigBoi BlowR Pro car dryer was used to thoroughly dry the car, the warm, filtered air blasting trapped moisture out from behind badges, grilles and mirror housings, ensuring the car was completely dry.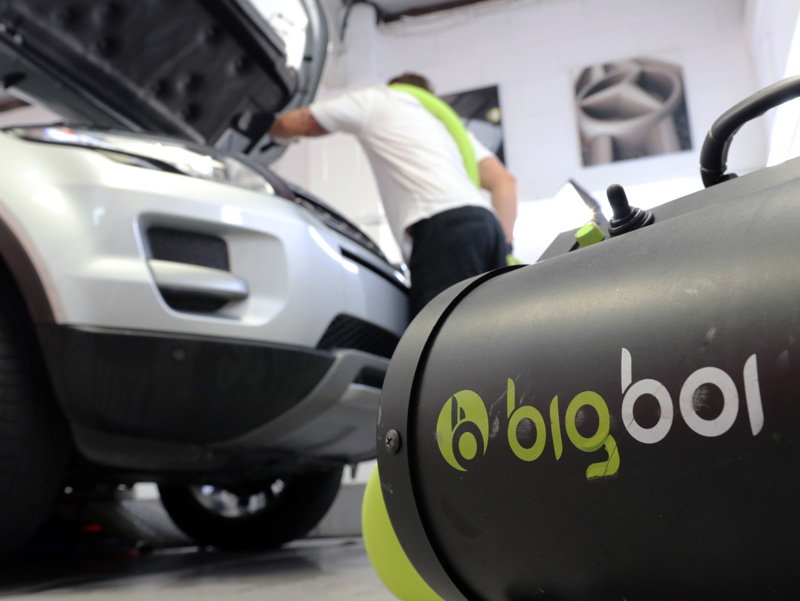 The 'fingertip test' revealed the surface felt bumpy, indicating the presence of contamination still bonded to the surface. To remove this, a clay bar was used to shear the contamination away, leaving the surface as smooth as glass to the touch. This will affect the overall gloss and reflectivity of the finished surface.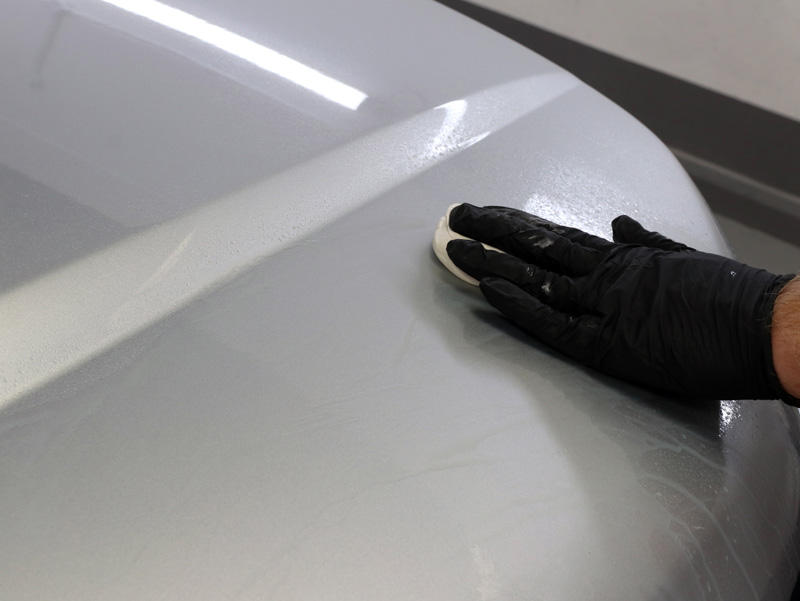 The paintwork was inspected under high-intensity lighting and areas of concern noted on a Vehicle Appraisal Sheet for reference during the correction stage. The paintwork was determined to be moderately hard, so the RUPES UHS One-Step polishing system was used. Designed for high solid scratch resistant paintwork, the diminishing abrasives of the compound along with the cell structure of the pad work in perfect harmony with a BigFoot LHR 15ES dual action polisher to remove defects and leave the paintwork ready for refining.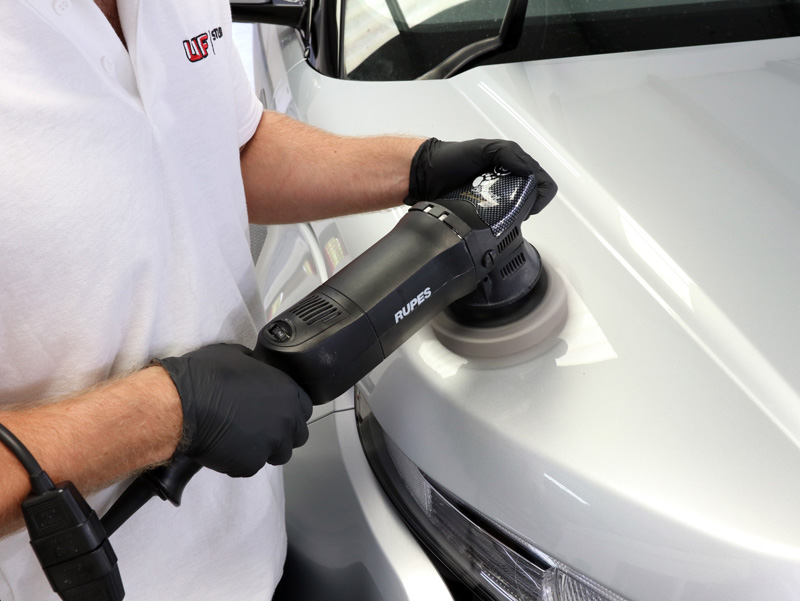 This step was accomplished using Menzerna Super Finish Plus 3800 and a RUPES Yellow Polishing Pad.
To tackle the swirls on the piano black trim, a RUPES BigFoot LHR 75E Mini dual action polisher was used. The smaller head of the polisher concentrates the action over a narrower area, ideal for along door pillars and over curved surfaces.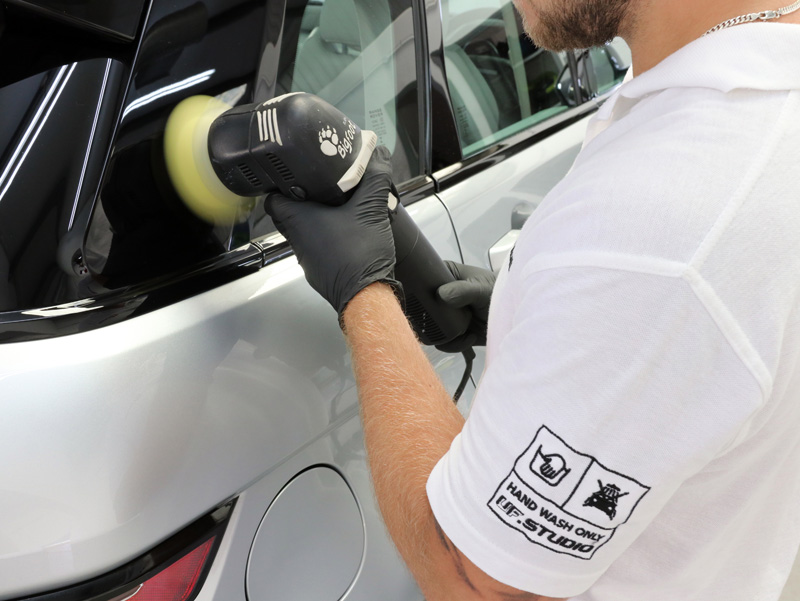 The windscreen was polished to ensure it was completely free from any fine scratches such as can occur when dirt caught beneath wiper blades is rubbed back and forth. Once polished, it could then be coated with Kamikaze Collection Intenso Window Coat. This provides a hydrophobic barrier that repels water and dirt, keeping glass cleaner for longer and improving the driver's visibility during inclement weather conditions. The super slick formulation helps the wipers glide across the glass, avoiding the common issue of wiper judder.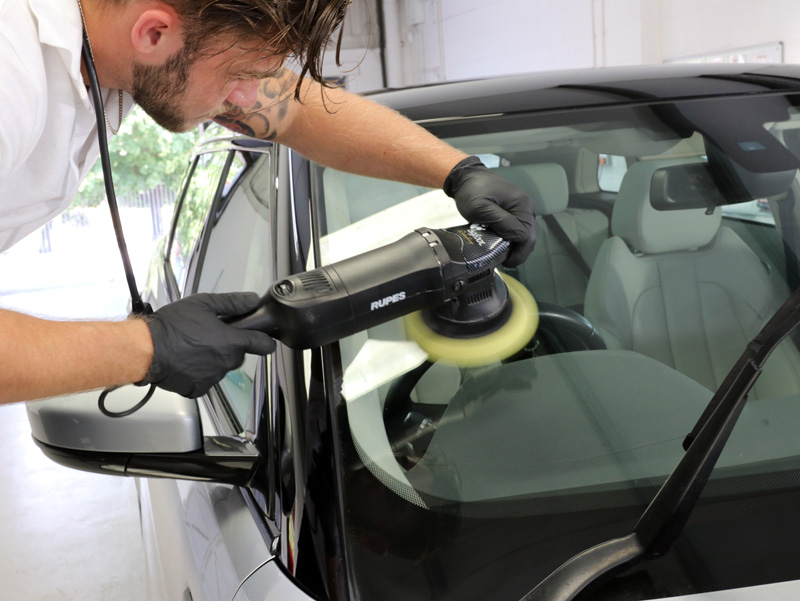 Now swirl-free and gloss enhanced, the paintwork was wiped with Gtechniq Panel Wipe to prepare it for a protective ceramic coating.
UF Studio offers four levels of service when it comes to selecting a ceramic coating protection with Platinum service being the highest level. This uses Kamikaze Collection ENREI, a state of the art 2-stage sealant composed of No.1 Base Coat Primer and No.2 Top Coat for the ultimate in protection and gloss.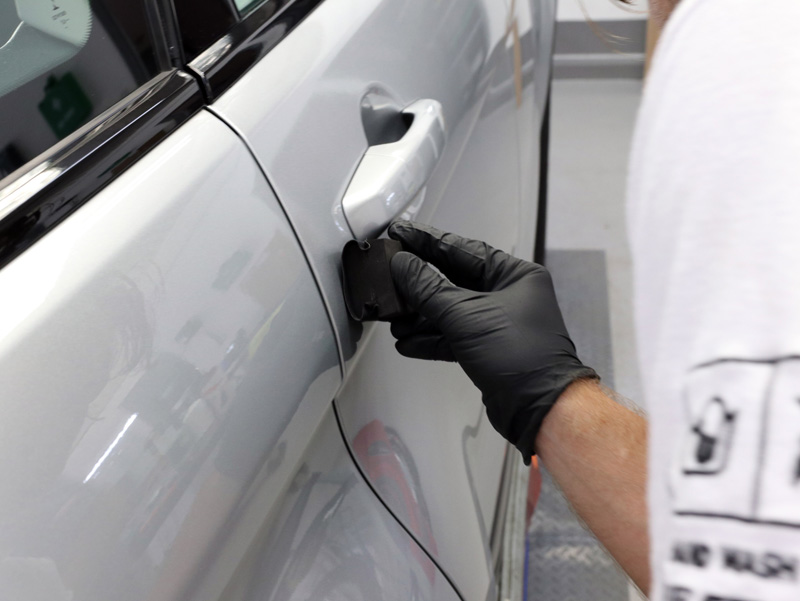 Kamikaze Collection has spent many thousands of hours researching, testing and developing application methods to determine which will achieve optimum results. For the coating to perform to its maximum, it must be applied using these specific techniques and in tightly controlled environmental conditions: the temperature must be within set parameters to ensure the chemical reaction occurs, the process by which the chemical bonds form between clear coat and coating, and then again between No.1 Base Coat Primer and No.2 Top Coat. Humidity must be controlled so moisture does not become trapped within the molecules as the layers cure. Failure to adhere to the application instructions or the stipulated environmental conditions will result in a decreased performance of the coating so, to protect the reputation of ENREI, it is available only as a service through authorised studios where the detailers have been trained and certified by Kamikaze Collection. – Matt Back, Master Detailer, UF Studio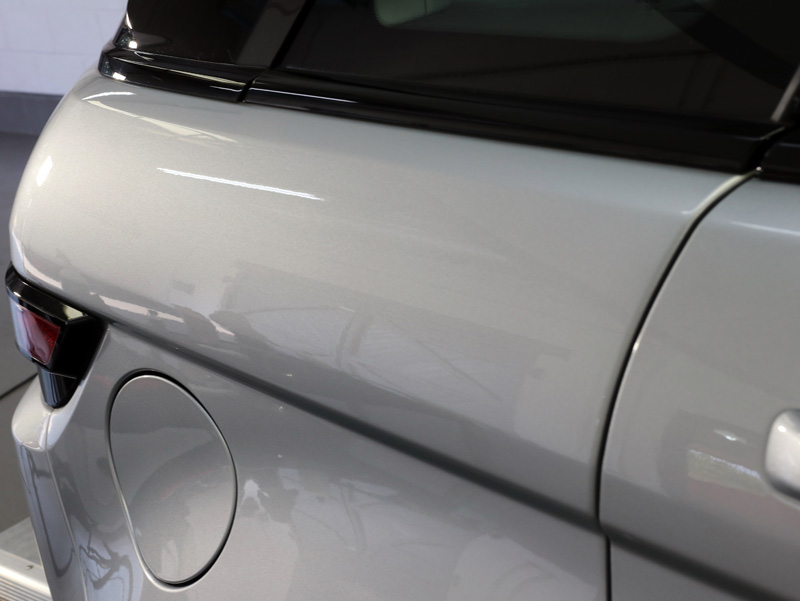 Whilst ENREI was curing, the alloy wheels were prepared with Panel Wipe and then protected using Kamikaze Collection Stance Rim Coat.
Alloy wheels are an expensive component and they're prone to collecting all types of damaging contamination, particularly iron fallout. Stance Rim Coat forms a protective barrier, inhibiting iron and other contamination from adhering as effectively to the surface, so they can more easily rinsed away. Additionally, Stance Rim Coat is virtually impervious to extremes of pH and so protects against chemicals typically found on wintry roads. – Dean, UF Studio
Using Colourlock Mild Leather Cleaner, the upholstery was thoroughly cleaned, the foaming solution lifting dirt from the leather's pores. Once clean, the leather was gently heated using a hair dryer, allowing the pores to open up. Kamikaze Collection Musashi Leather Coat was then applied and allowed to cure, forming an abrasion-resistant, hydrophobic barrier that will protect the leather from stains. The UV inhibitors will also help prevent pigment fade from exposure to sunlight.
To clean and brighten the chrome exhaust tips, Britemax Metal Twins were used. First, Easy Cut Metal Polish was applied to a polishing pad and used to remove tarnishing and soot deposits. Then, Final Shine Metal Sealant provided a finishing gloss and a protective layer. In the future, carbonised emissions will not adhere as stubbornly to the protected metal, making it easier to clean.
To complete the detail, Gtechniq T2 Tyre Dressing was applied to the tyres to deliver a natural satin finish. This Range Rover Evoque was now looking as good as new and equally as ready for the road as the rough!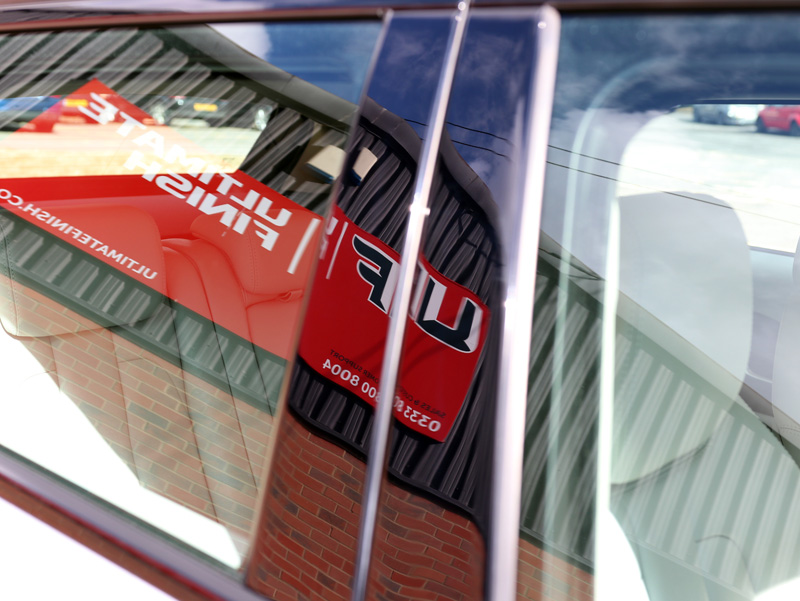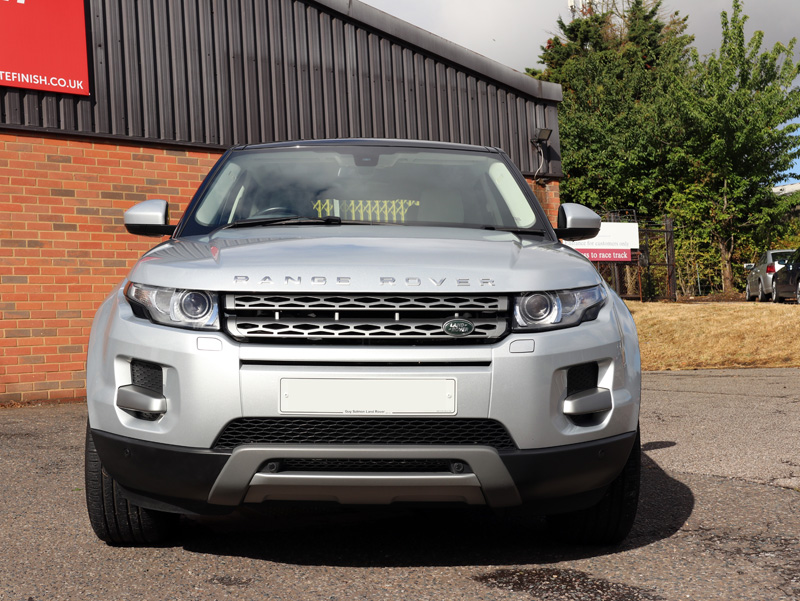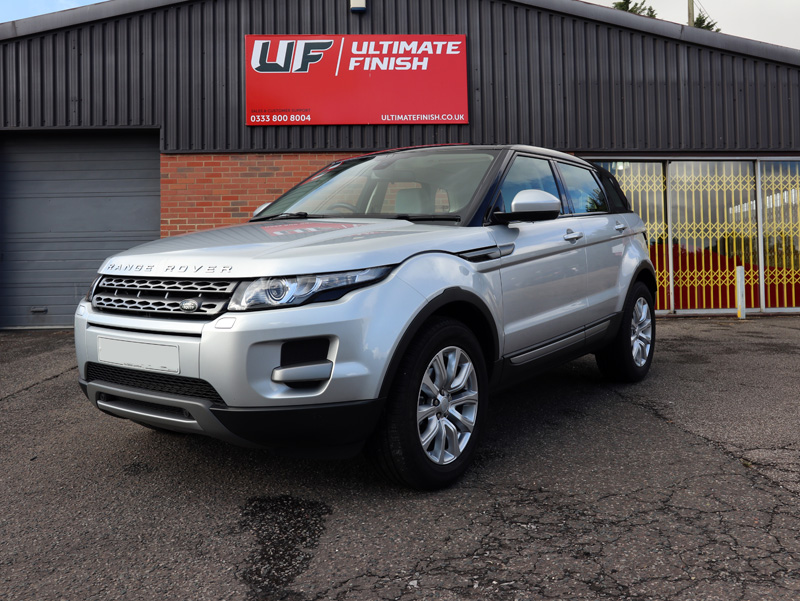 UF Studio – Award Winning Detailing. Call 0333 800 8004 to discuss your requirements or complete the online enquiry form here to receive a bespoke no-obligation quotation by email.