Series-1 Daimler Sovereign Restored To Its Former Glory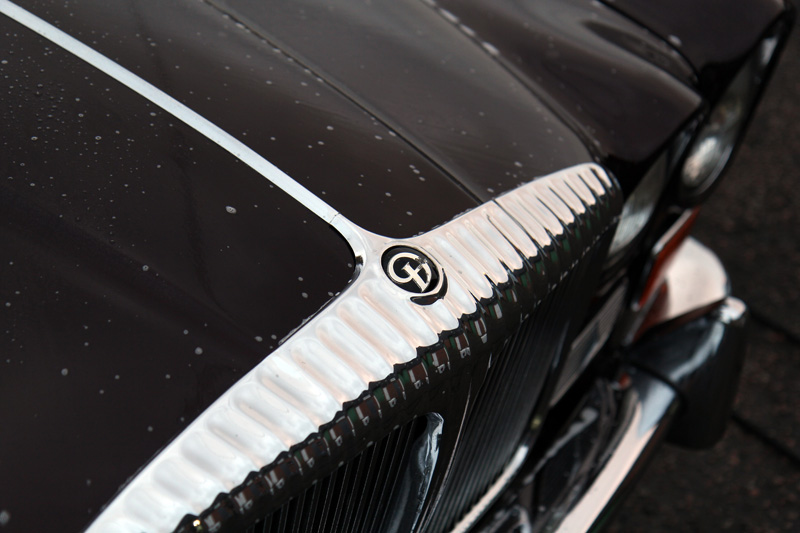 The Sovereign was a range of Jaguar-built cars with the luxury Daimler badge attached. Classed as a full sized luxury sedan and (in this instance) based on Jaguar's popular XJ6 model, this rear-wheel drive classic is powered by an inline six-cylindered engine delivering 178hp, capable of shifting the heavy car from 0-60mph in around 9.5 seconds.
Jaguar models were known for their 'grace, pace and space', a tagline that would serve them well today as much in the era of the Daimler Sovereign. The owner of this particular example had his heart set on restoring the 'grace' aspect and so booked his car into UF's Brands Hatch Detailing Studio for a Gloss Enhancement Treatment.
When the Sovereign arrived it was dirty and even through the dirt, the scratches were visible in the daylight. The first step was to thoroughly decontaminate and clean the bodywork and wheels starting with an application of Gtechniq W6 Iron & General Fallout Remover. This spray-on product contains an active ingredient which shrinks iron particles, most commonly derived brake pads shredding when brakes are used.  As the particles shrink, the bond between them and the substrate is broken, allowing the particles to be rinsed away without the need for rubbing them with a wash mitt.
The next stage was to treat the car for sticky contamination such as tree sap, tar deposits and bug remains. Gtechniq W7 Tar & Glue Remover was applied and allowed to dwell for a few minutes, dissolving the adhesive components. The solution was rinsed away before the car was degreased using Gtechniq W5 Citrus All Purpose Cleaner. W5 removes oily deposits such as petrol and diesel which splatter up from the roads during wet conditions.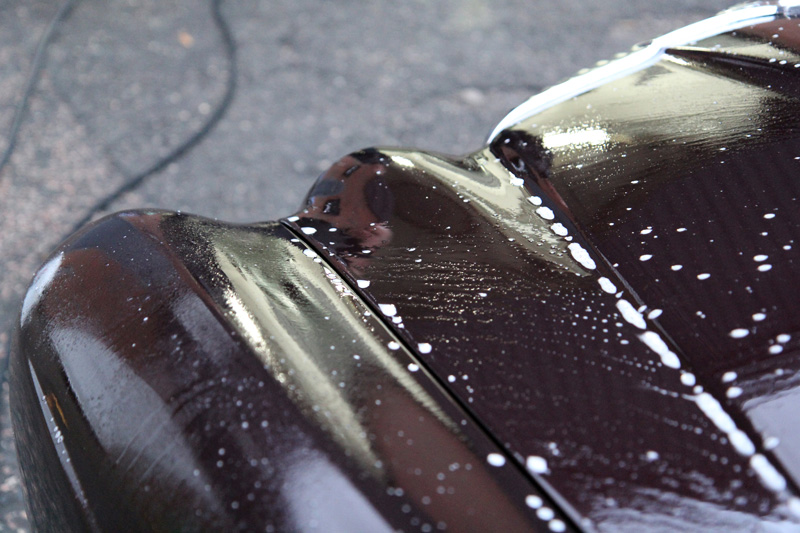 The Daimler was then treated with Ultimate Snow Foam. Applied through a foam lance attached to a Kranzle K 1152 TST Pressure Washer, the thick bubbles cling to the vertical surfaces of the car, lifting larger particles of dirt and grit away from the paintwork and encapsulating them within the foam. After a few minutes, the foam can be rinsed away, carrying the contamination safely away before a wash mitt comes into contact with the paintwork.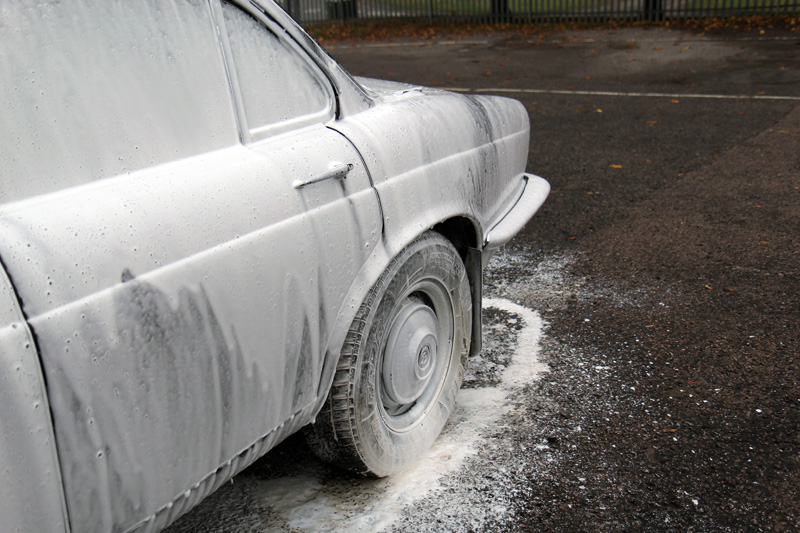 Rubbing a wash mitt over a dirty car is how most swirls and paintwork damage occurs, so removing as much of the potentially harmful contamination prior to commencing the main wash process is essential. To this end, we use non-contact decontamination methods as far as possible to preserve the integrity of the paint. – Derek Ginger, Master Detailer, UF Detailing Studio
After being thoroughly washed using the Two Bucket Method, an Ulti-Mitt Merino Wool Wash Mitt and Nanolex Pure Shampoo, the Daimler was given a pure water rinse using an Aqua Gleam Deionising Water Filter. It was then dried with soft microfibre towels. The car was then brought into the studio where the paintwork was closely inspected under high-intensity lighting.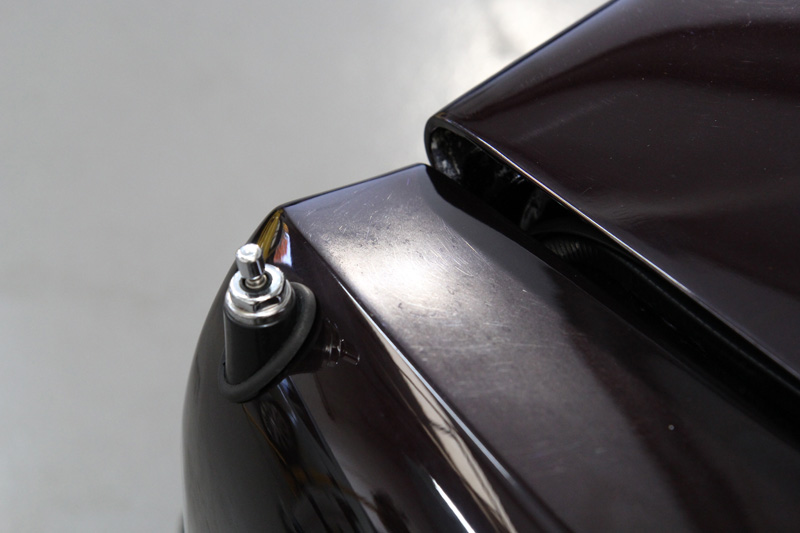 With the paintwork completely clean, the swirls and scratches were even more evident to see, particularly since dark paintwork shows up every little mark. From the owner, we knew the car had been subjected to a rebuild and a respray and the paint depth readings confirmed that. As a result, I knew the paintwork was likely to be a different consistency to that you would normally find on a vehicle of this vintage. As it turned out, a reasonably aggressive combination of pad and compound was required to tackle the severe swirling. – Derek Ginger, Master Detailer, UF Detailing Studio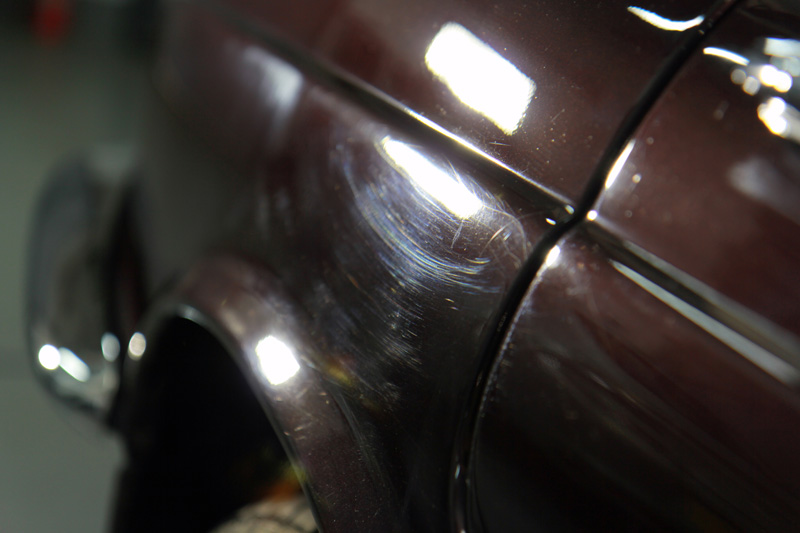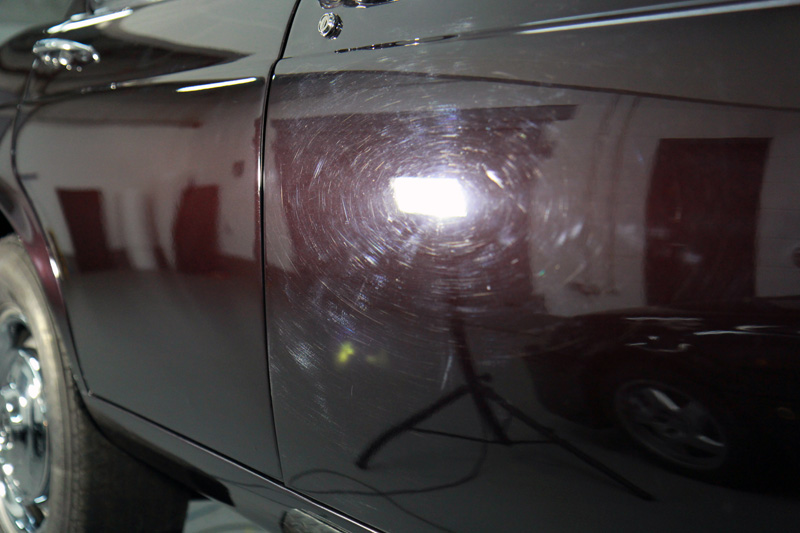 A RUPES LHR 75E Mini was used for much of the paint correction, along with a RUPES LHR 15ES for the broader, flatter areas. Both were used with a Kamikaze Collection Banzai Dynamics Polishing Pad which has dot point polishing (DPP) technology. This helps reduce heat build-up so is perfect for working on harder paints over longer periods of time. Menzerna Heavy Cut Compound 400 worked well on eliminating the heavier paintwork blemishes.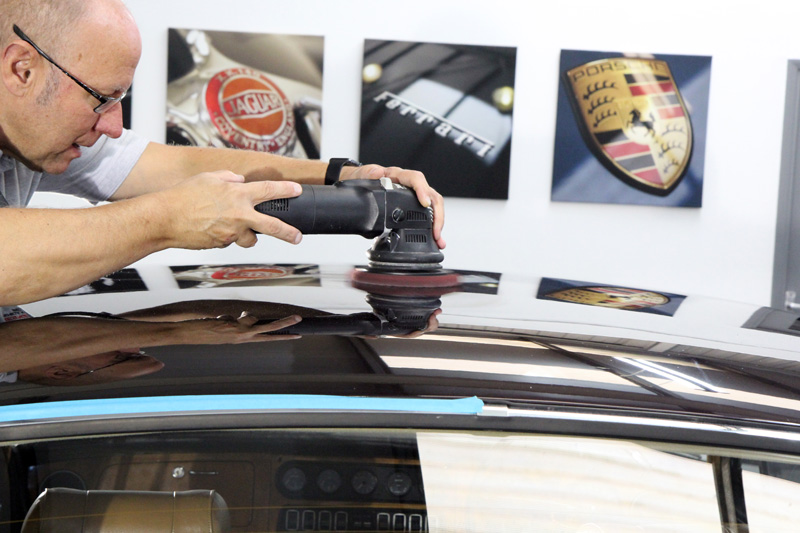 Along the smaller areas such as door pillars and around the number plate wells, a FLEX PE8-4 Rotary Machine Polisher was used with an extender bar and a 3M PERFECT-IT III 3 Inch Yellow Spot Polishing Pad. This allows for a direct, intensive polishing action over a small area, perfect for tackling particularly stubborn scratches and swirls. A RUPES 4 Inch Green Medium Polishing Pad was used to provide the right level of cut over the smaller, angled area of the slightly flared wheel arches.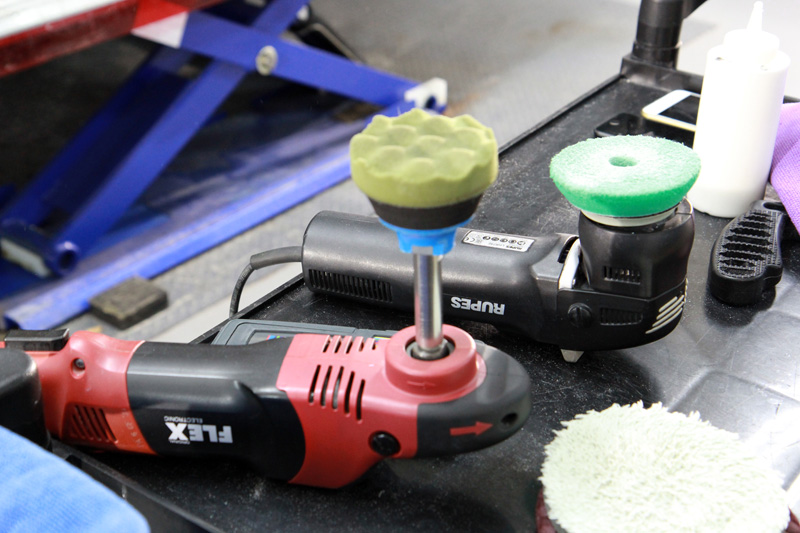 To refine the paintwork, a 3M PERFECT-IT III Black Polishing Pad was used with Menzerna Super Finish Plus 3800. Capable of removing fine scratches, swirls and holograms, Super Finish Plus 3800 leaves the highest possible gloss shine and reflective finish, perfect for showing off the deep, aubergine-coloured paintwork.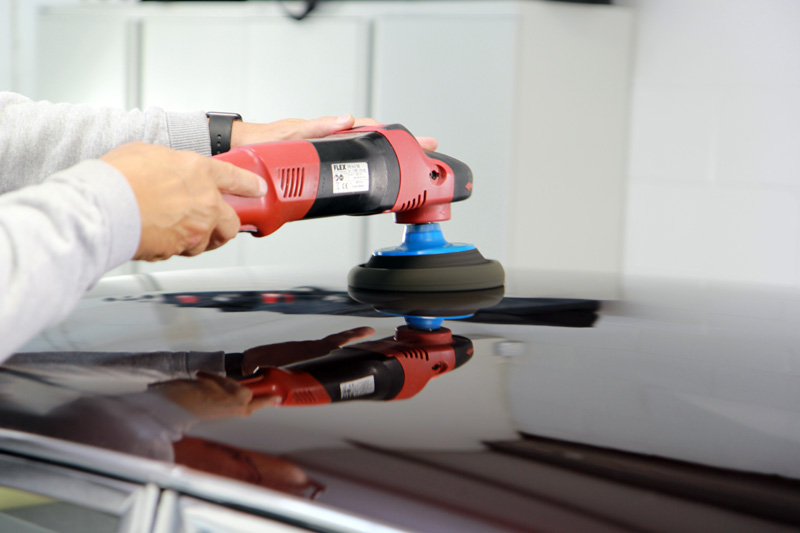 With the paintwork now restored, the final stage was to protect it. Typically, with classic vehicles a carnauba wax is preferred, however, the owner was keen to provide an element of swirl resistance to the paintwork. As a result, Kamikaze Collection Miyabi Coat was used as an initial protective base layer. As well as imparting a brilliant shine, Miyabi Coat also provides a hydrophobic function, encouraging dirty water to bead and roll away from treated surfaces. Then to add a supreme shine with a deep wet look glow, such as can only be found with an exclusive carnauba wax, Kamikaze Collection Infinity Wax Hybrid was applied.
Infinity works differently to any other hybrid wax coating. Containing a blend of ceramic coating elements and pure carnauba, Infinity must be stirred thoroughly for sixty seconds to activate the ceramic sealant additive before being applied using a soft foam applicator. Then, it's allowed to cure for around ninety minutes so the sealant can fully bond with the paintwork before being buffed off with a soft microfibre. The gloss it leaves is stunning! – Derek Ginger, Master Detailer, UF Detailing Studio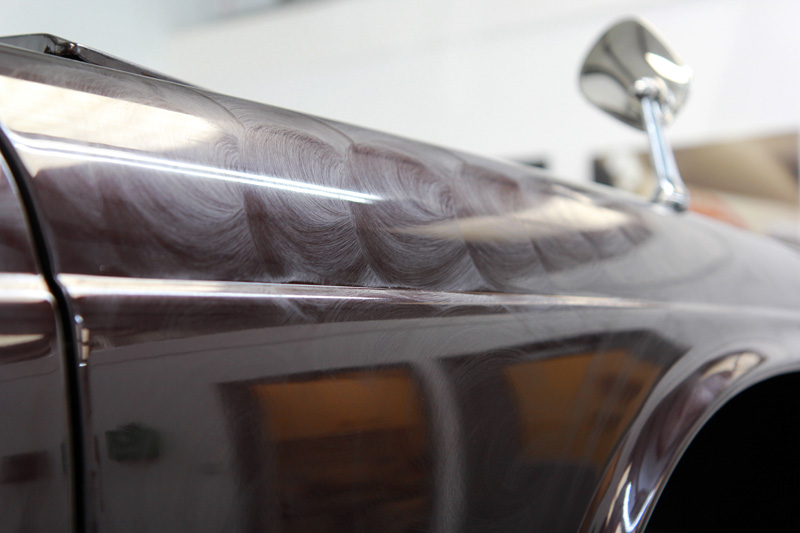 With the 'elegant' Miyabi underneath and Infinity over the top, this Daimler Sovereign certainly had got its 'grace' back!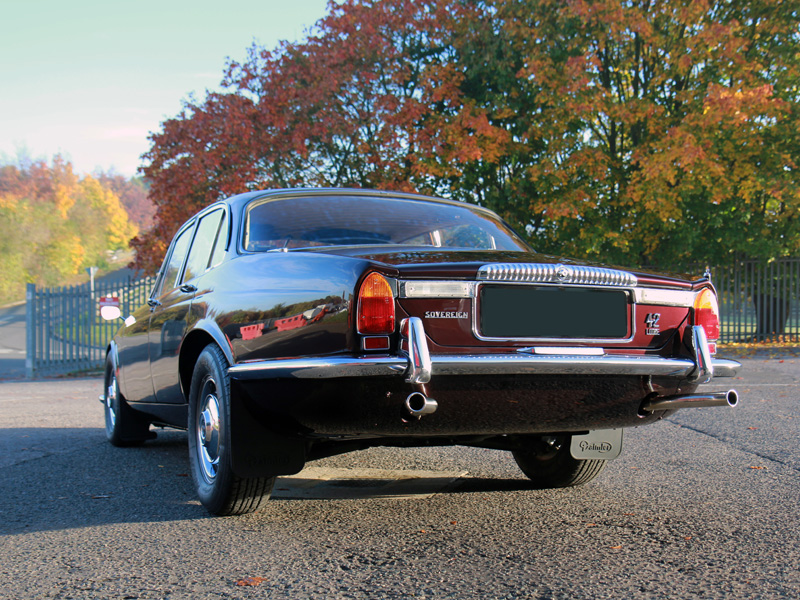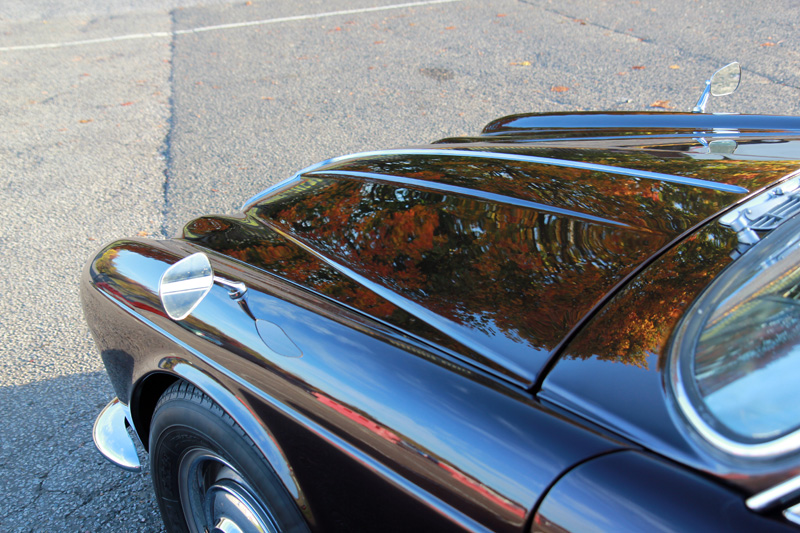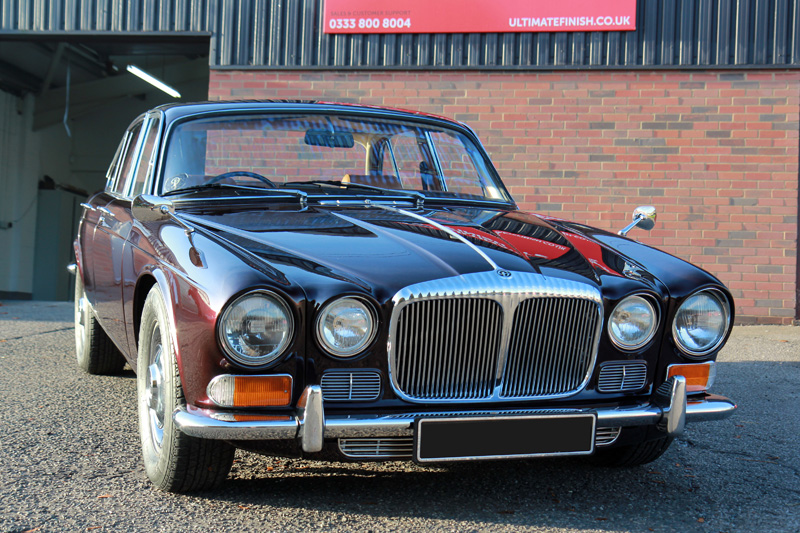 UF Detailing Studio – Award Winning Detailing. Call 0333 800 8004 to discuss your requirements.