Porsche Cayman Receives An Alligator-Like Shine!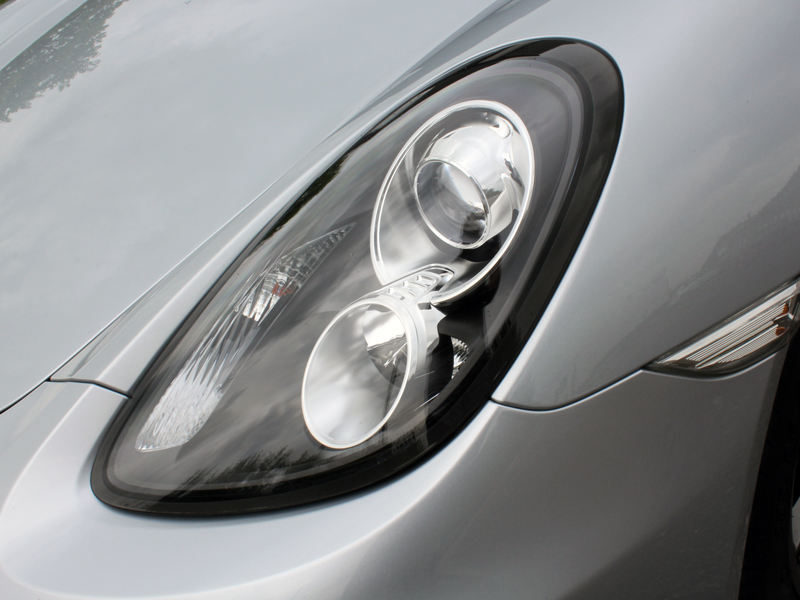 The Porsche Cayman was named in honour of the alligator-like reptile, the caiman. With its agile handling and snappy interior, this mid-engine, rear wheel drive two-seater sports car certainly lives up to its namesake! That aside the Cayman remains one of the most practical luxury sports cars available.
Cayman owners tend to be very attached to their cars, none more so than the owner of this silver Cayman. As a daily driver it had collected its fair share of wash damage and scratches. The owner was very keen to get it back to showroom condition so booked it into the Ultimate Detailing Studio for a Gloss Enhancement Treatment.
Initially the Cayman's number plate was removed to allow for more thorough cleaning.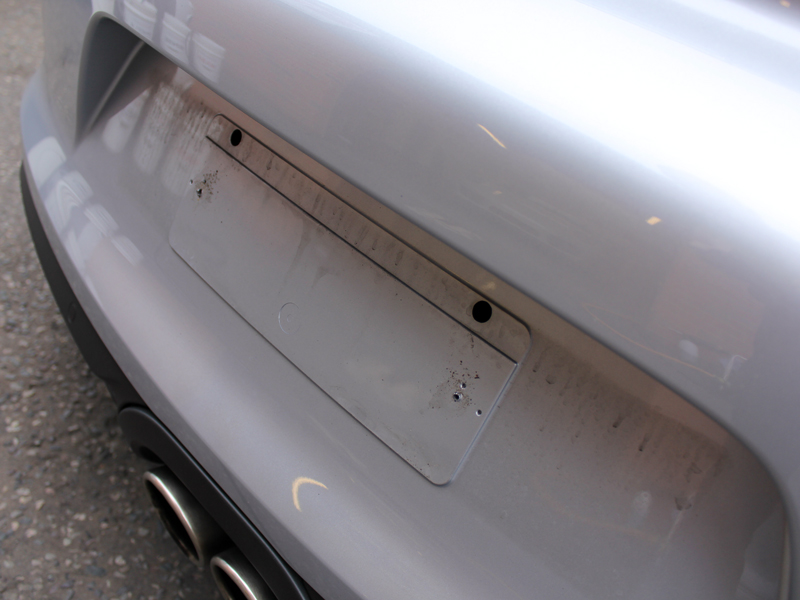 The Cayman bodywork and wheels were treated with Bilt-Hamber Korrosol, an iron particulate remover which changes colour when it comes into contact with metal contamination. This shows where the product is working, highlighting the extent of the contamination.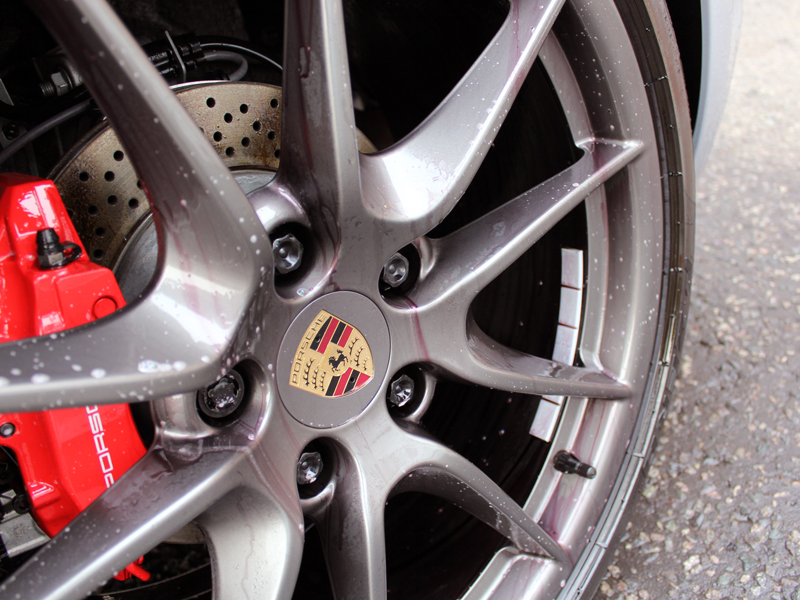 Whilst driving along cars tend to collect small metal particles, typically from brake pads which shred when they get hot. These particles imbed into paintwork and wheels and begin to expand as they rust, eating into the surface. Left untreated they have the potential to cause quite a lot of damage, so an iron fallout remover is an essential part of the tool kit. Typically they work to shrink the metal flakes causing the bond between the flake and the substrate to be broken, allowing the contamination to be freely rinsed away. – Derek Ginger, Master Detailer, UDS
Once the Korrosol was rinsed off the bodywork and wheels were treated with Bilt-Hamber Surfex-HD, a water-based degreaser which easily removes oily traffic film without stripping essential oils from the paintwork.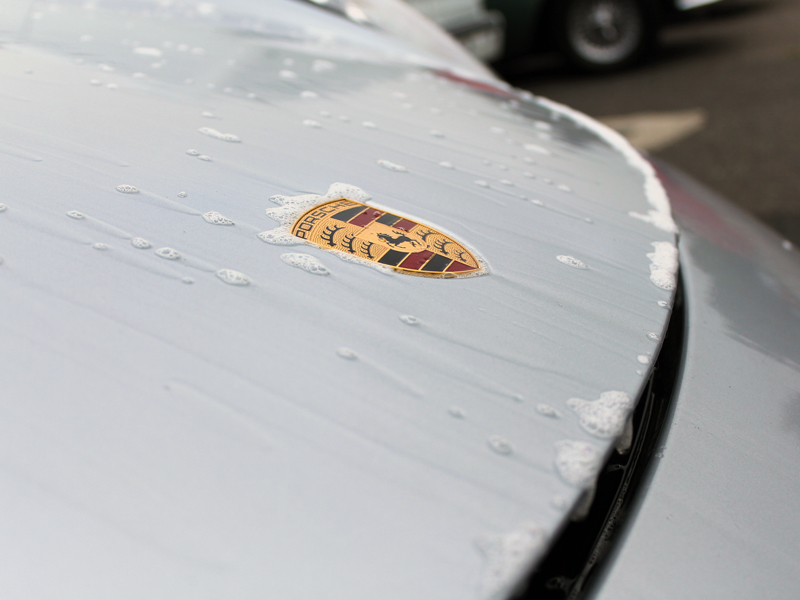 Surfex-HD was also used on the bonnet, boot and door shuts, using a detailing brush to agitate the dirt stuck into the hard to reach spots.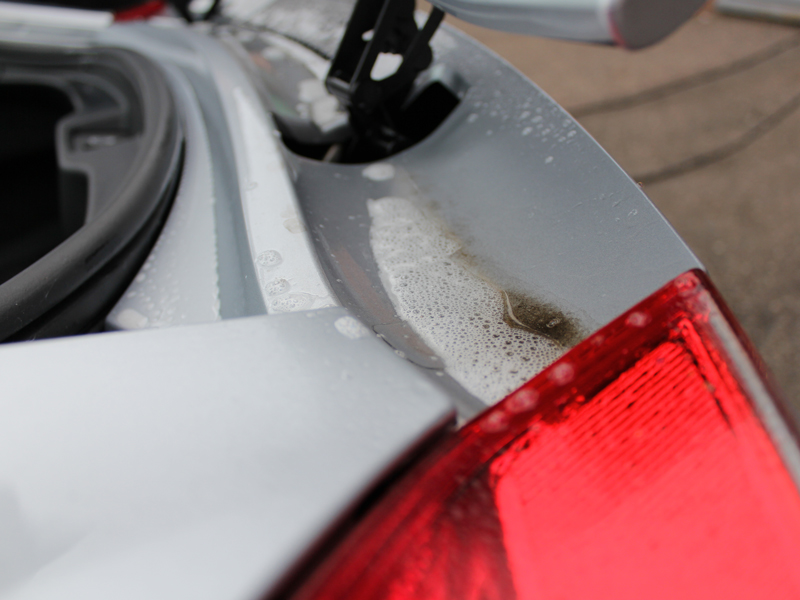 The Cayman was rinsed and then the wheels washed using POLISHANGEL MINT+ wheel cleaner gel. The thick formulation clings effectively to vertical surfaces, so allows the cleaning agents to work for longer. Then the whole car was given a pre-clean using Ultimate Snow Foam, a high foaming, non-contact pre-wash solution which removes larger particles of dirt from the bodywork, thereby reducing the chances of incurring scratches and swirls during the wash process.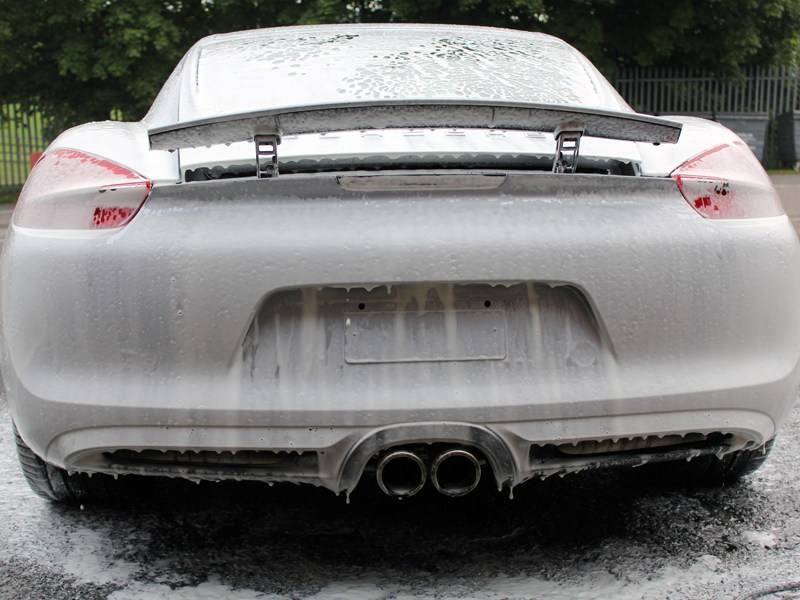 A second application of Ultimate Snow Foam was applied and used as a lubricant for the Dodo Juice Square Sponge Clay Pad. Clay pads act to pull any remaining bonded contamination to leave the paintwork smooth.
We don't always need to use a clay bar or Sponge Clay Pad – it all depends on how much contamination has become firmly embedded. The more the car has been driven, the more contamination it collects. The final look of the car is determined by how well the car is prepared, so making sure the paintwork is completely clean and clear of all bonded contamination is absolutely essential. – Derek Ginger, Master Detailer, UDS
Once the Cayman was decontaminated it was rinsed, then given a thorough wash using the Two Bucket Method, POLISHANGEL CarnaubaFlakeWash | Flake and a Microfibre Madness Incredimitt. Then the suds were washed away and an Aqua Gleam deionising water filter used to give the Cayman a final pure water rinse, eliminating the chances of water spot marks forming.
Dried with soft clean microfibre drying towels the paintwork was inspected under high intensity lighting.
It's hard to be sure what condition paintwork is in whilst it's dirty as traffic film can mask problem areas. As it transpired the paintwork wasn't in too bad condition, all things considered. A few swirls and some scratches on the bonnet, but nothing too serious which, given the car is driven daily, was pretty amazing! – Derek Ginger, Master Detailer, UDS
Using the Flex PE14-2-150 Rotary Machine Polisher with a SCHOLL Concepts Black SofTouch Waffle Pad and POLISHANGEL Master Compound Polish I, the paintwork was corrected. Then it was refined using POLISHANGEL Master Final Polish II and a 3M Black High Gloss Polishing Pad to make the paintwork smooth, refined and very glossy. To give the finish durability, two coats of POLISHANGEL Viking Shield were applied.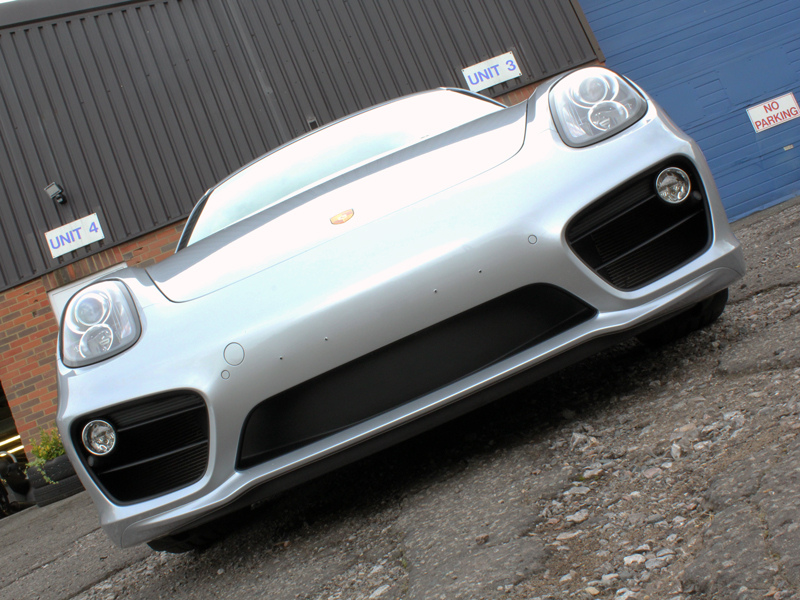 Then, for added depth of shine, a final layer of CARNAUBA ARTS™ | Silver Alunite was applied.
Viking Shield was formulated for harsh Scandinavian winters, so it's extremely durable to harsh weather and road salts. Silver Alunite is specifically formulated for silver-coloured paintwork. It contains a colour-charge that makes silver really ping – which is usually quite hard with silver and light coloured paintwork! – Derek Ginger, Master Detailer, UDS
The glass was cleaned using POLISHANGEL Cristal Agent before being sealed with Cristal Rain | 9H, a highly durable sealant which provides a hydrophobic barrier, encouraging rain water to bead on contact with the windshield and then driven off by the wind. This reduces the strain on driver's eyes when driving in bad weather.
The black trim was sealed using Gtechniq C4 Permanent Trim Restorer, a UV-resistant durable coating based on nanotechnology. The formulation ensures it bonds to the plastic and does not wash off either during the weekly wash or in heavy downpours.
The alloy wheels were coated with POLISHANGEL Supersport | PTFE Wheel Wax to provide a durable, heat resistant barrier that repels brake dust, dirt adhesion and oily grime deposits.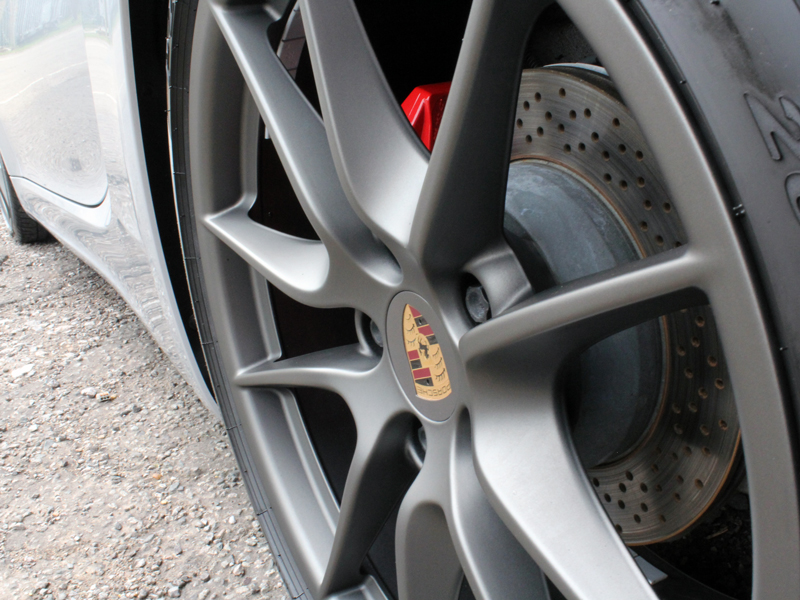 The tyres were dressed using POLISHANGEL Honey, a long-lasting, non-sling dressing which leaves a natural satin sheen.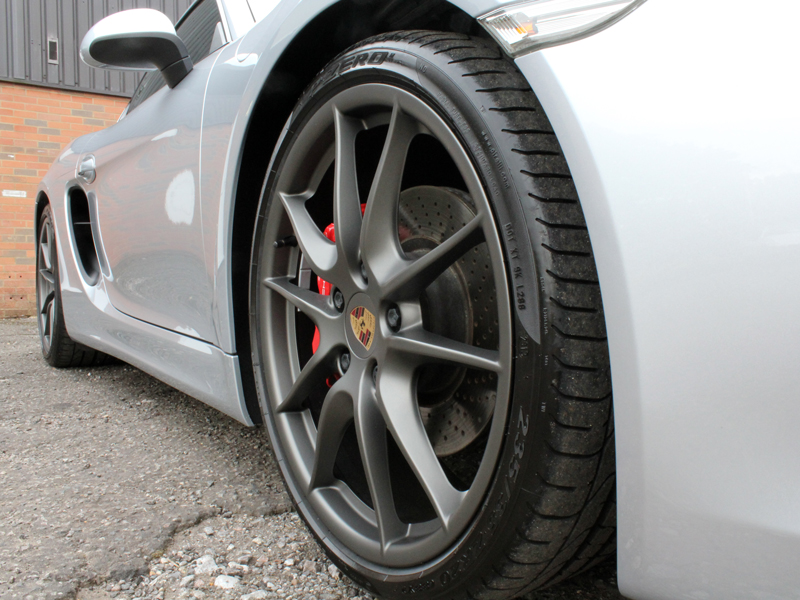 The end result was jaw-dropping and the customer was very happy indeed. This alligator had a lot to sing about as it snarled away up the road!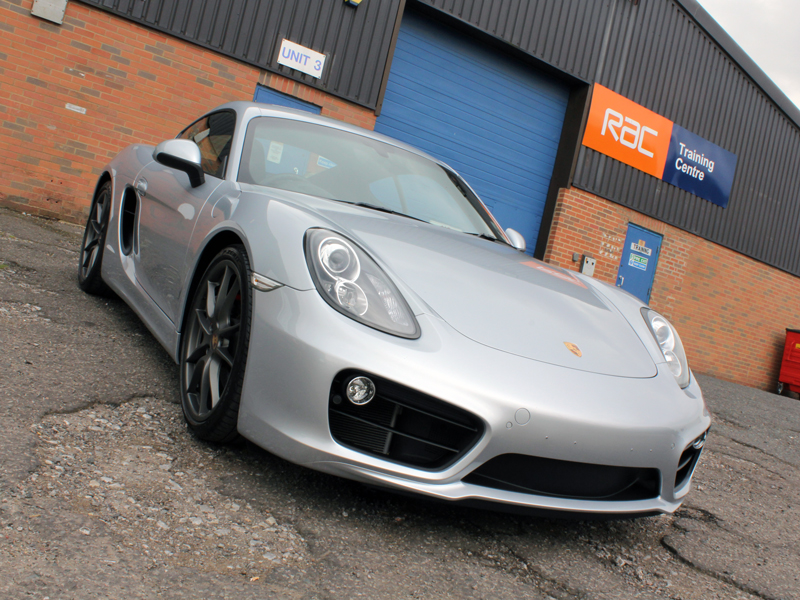 Ultimate Detailing Studio – Award Winning Detailing. Call 0845 838 1200 to discuss your requirements and arrange a free vehicle appraisal.
Ultimate Finish – Innovative Automotive Care since 1999.