G3 Pro Introductory Kit from Farécla Now Available at UF
Quite naturally, we love a good car care kit here at UF and when Farécla told us about their latest addition to the range, the 'G3 Pro Introductory Kit', we were obviously very excited!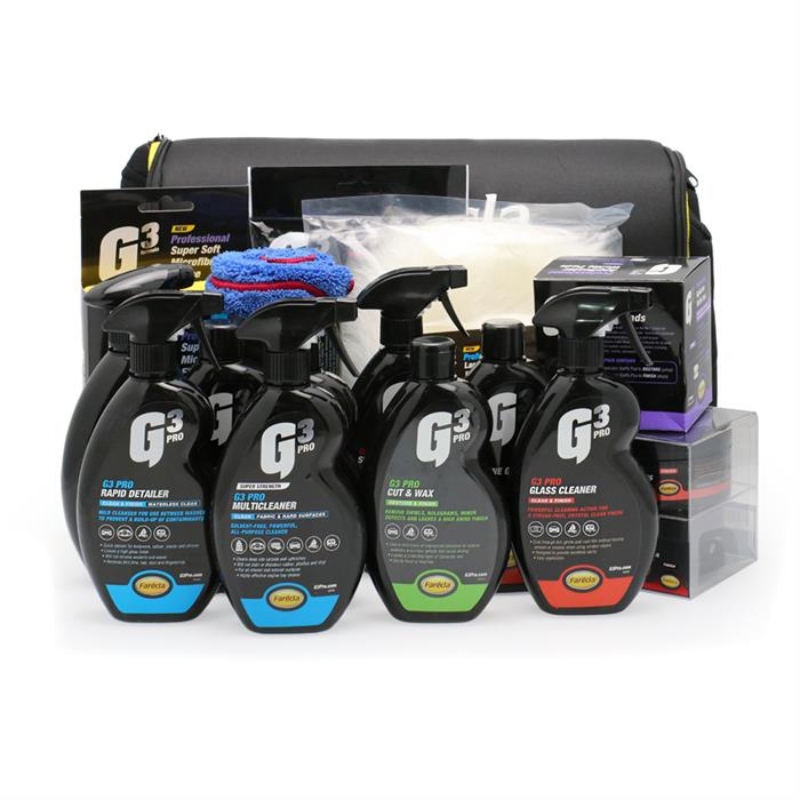 With a massive 15 products included, along with the free Detailing Kit Bag, car care kits really don't get much more complete than this. Here's a brief run through of just a few of the highlights inside that you've got to look forward to!
What's in The G3 Pro Introductory Kit?
Well quite simply, everything you need to comprehensively clean your car's interior and exterior, from top to bottom! As Farécla themselves say, 'Create Your Masterpiece' with this selection of carefully crafted detailing products that will enable you to Clean, Restore and Finish.
Clean, Restore & Finish with G3 Pro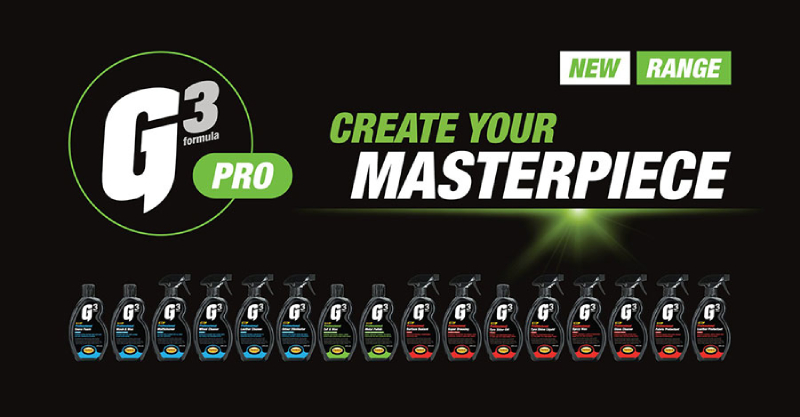 Seeing as there are such an abundance of products available in the G3 Pro Introductory Kit, we thought we'd hand pick one from each of the 'Clean', 'Restore' and 'Finish' categories just to whet the appetite. You can of course purchase these singularly from UF too if you're looking to sample the range prior to investing in the full kit – all links to our online store are below.
G3 Professional Snow Foam (500ml)
G3 Professional Snow Foam is a pH neutral cleaner, safe for use on all surfaces and paint finishes. It is ideal for touchless cleaning and maintenance washes, before carrying out any full exterior maintenance.
High foaming performance softens and lifts dirt, making it easier and safer to remove potentially damaging particles without touching the surface. G3 Professional Snow Foam is a pH neutral product and will not strip any previously applied sealants or waxes. Use before your shampoo and wash stage.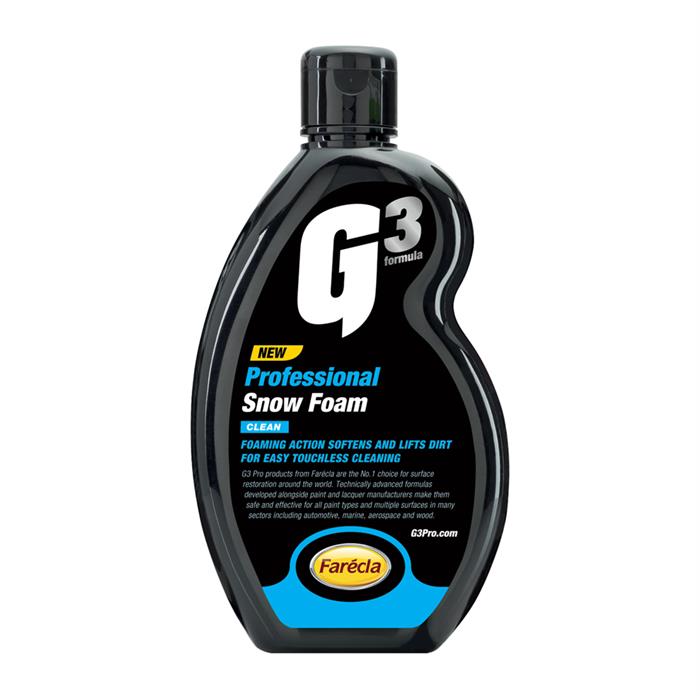 pH neutral snow foam for maintenance cleaning
Soaks & softens dirt to prevent surface scratching
Will not remove pre-existing wax or sealant layers
Silicone free – bodyshop safe
G3 Professional Cut & Wax (500ml)
G3 Pro Cut & Wax is a mild abrasive polish which can be applied either manually by hand or via the use of a machine polisher using wool or foam pads. Ideal for the home or professional user, G3 Professional Cut & Wax is designed to remove minor surface defects such as swirl marks, holograms and oxidation, before leaving a protective layer of carnauba wax for a high gloss shine – essentially carrying out 2 jobs in 1.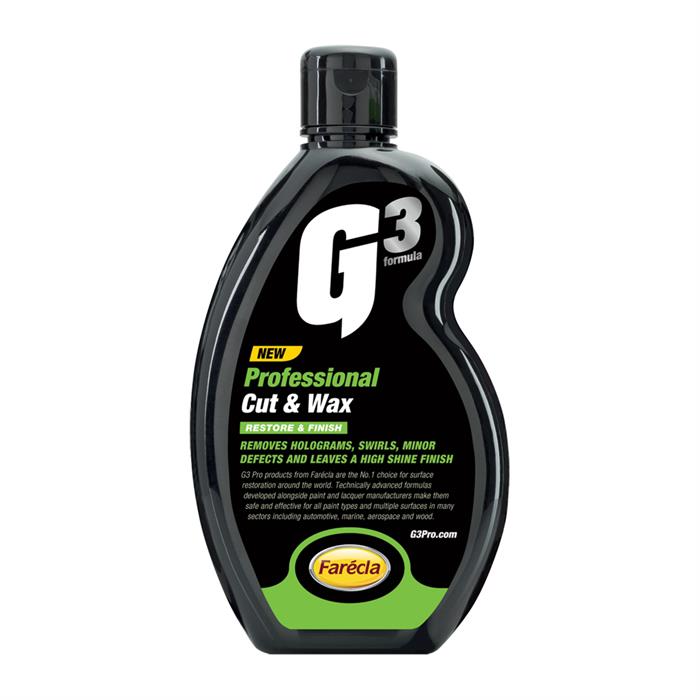 All-in-one cutting polish, gloss enhancer and paint protector
Easy one-step application
Silicone free – bodyshop safe
Apply by hand or machine polisher
Suitable for home users or professionals
G3 Professional Spray Wax (500ml)
G3 Pro Spray Wax enhances the surface gloss level and prolongs previously applied wax finishes. The product is silicone-free, temperature insensitive and also contains UV inhibitors. G3 Pro Spray Wax offers outstanding water repellence properties to keep your vehicle cleaner, for longer. Minimal product is required, meaning it is quick and economical, with a light mist buffing off immediately to deliver optimum performance.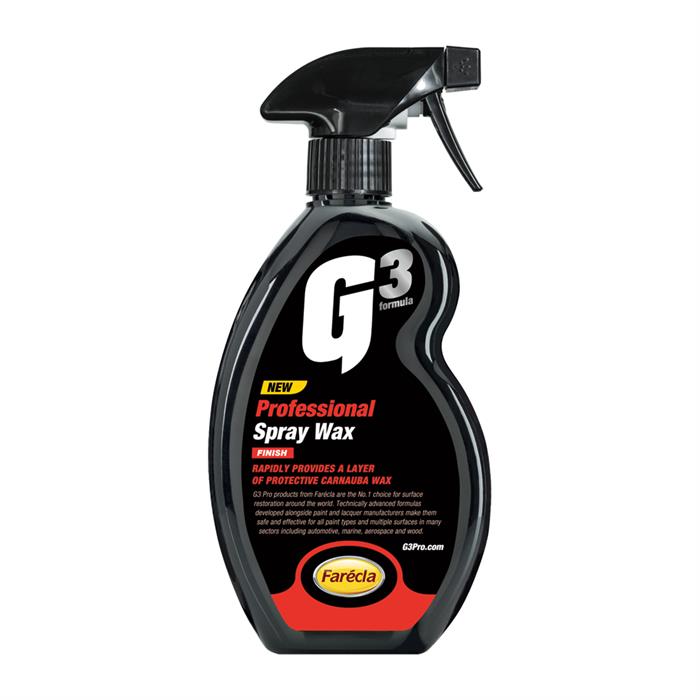 Quick, easy to use durable
Can be used on wet or dry paintwork, gel coats & lacquered surfaces
Leaves a 'just waxed' look
Does not stain rubber or plastics
Contains UV inhibitors
Silicone free – bodyshop safe
The full range of Farécla G3 Pro products can be found here.
Visit Ultimate Finish for the best car care and detailing products from around the globe.
Have a question on any of our products? Email sales@theultimatefinish.co.uk or call 01474 360 360.
Our team is on hand, Monday to Friday, 8am-5pm.