Introducing: Farécla G3 Pro Range Now Available at UF
In 2020 UF took on a new range of Farécla products to make up a complete system machine polishing kit. The G Plus Dual Action Polishing Machine + 3 Pads hit the UF shelves along with a compound and polish from the exciting 'G3 Pro' range.
With the above going down a storm among the UF faithful since launch, we are now pleased to say (and after plenty of demand) that we've expanded the Farécla G3 Pro offering!
The Farécla brand is famed for making a name for itself with its impressive offering of cutting and finishing products, helping to provide solutions for automotive body shops, detailers and composite manufacturers. Quite naturally then, the expansion of the Farécla product offering has developed into a broad detailing and car care range, in the shape of 'G3 Pro'.
G3 Pro – Clean, Restore & Finish
The G3 Pro range is comprised of every detailing product you need to care for a car – developed for professionals, and available to enthusiasts, the range of interior and exterior cleaning, paint correction and finishing products are reasonably priced and simple to understand, thanks to the colour coded labels; Blue=Clean, Green=Restore and Red=Finish, simple!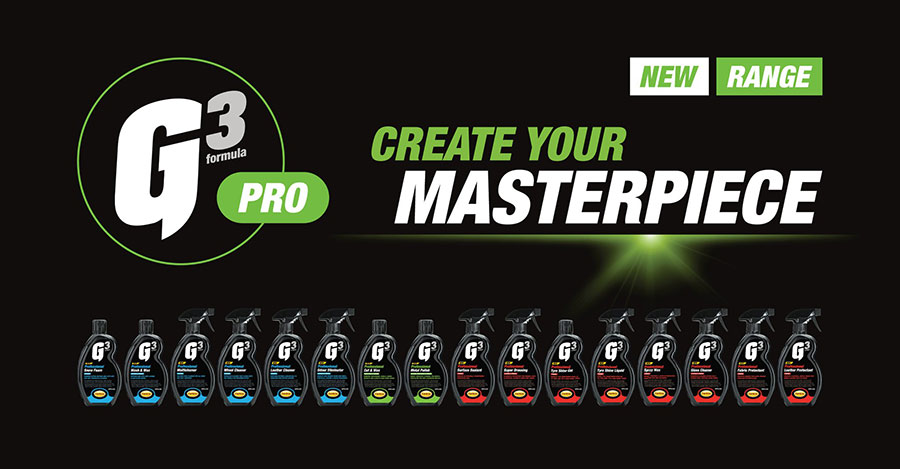 With some stand-out products already taking award accolades from Auto Express such as G3 Professional Spray Wax, the G3 Pro range is certainly making a name for itself on the detailing scene.
Take a browse of UF's selection of featured G3 Pro below – there is something for everyone, no matter what your car care focus might be this weekend!
G3 Professional Snow Foam £9.50
G3 Professional Snow Foam is a pH neutral cleaner, safe for use on all surfaces and paint finishes. It is ideal for touchless cleaning and maintenance washes, before carrying out any full exterior maintenance.
High foaming performance softens and lifts dirt, making it easier and safer to remove potentially damaging particles without touching the surface. G3 Professional Snow Foam is a pH neutral product and will not strip any previously applied sealants or waxes. Use before your shampoo and wash stage.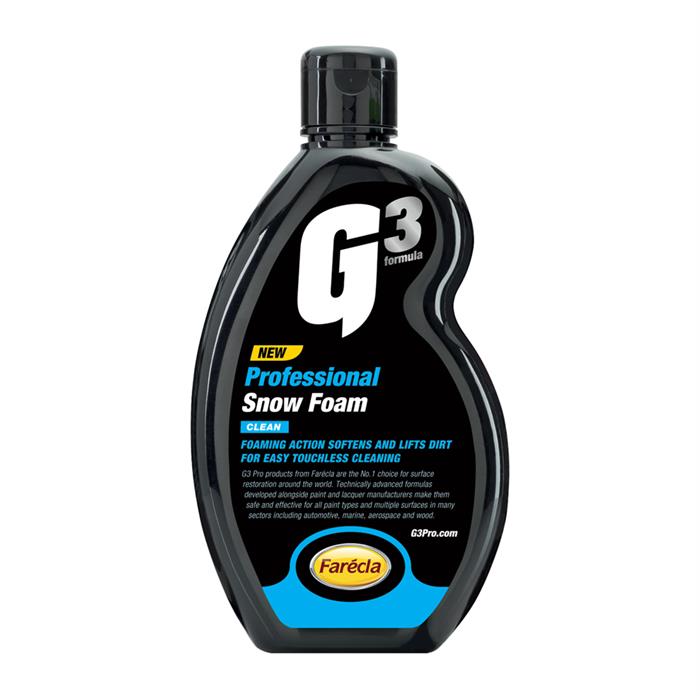 pH neutral snow foam for maintenance cleaning
Soaks & softens dirt to prevent surface scratching
Will not remove pre-existing wax or sealant layers
Silicone free – bodyshop safe
G3 Professional Scratch Remover Liquid £10.00
Using Engineered Abrasive Technology particles, G3 Pro Scratch Remover Liquid permanently removes minor scratch marks – the kind that will not stop a fingernail when run over the surface.
The appearance of deeper scratches will be diminished as G3 Pro Scratch Remover Liquid spreads easily and is particularly ideal for larger surface areas.
For the treatment of smaller surface areas, G3 Pro Scratch Remover Paste is recommended.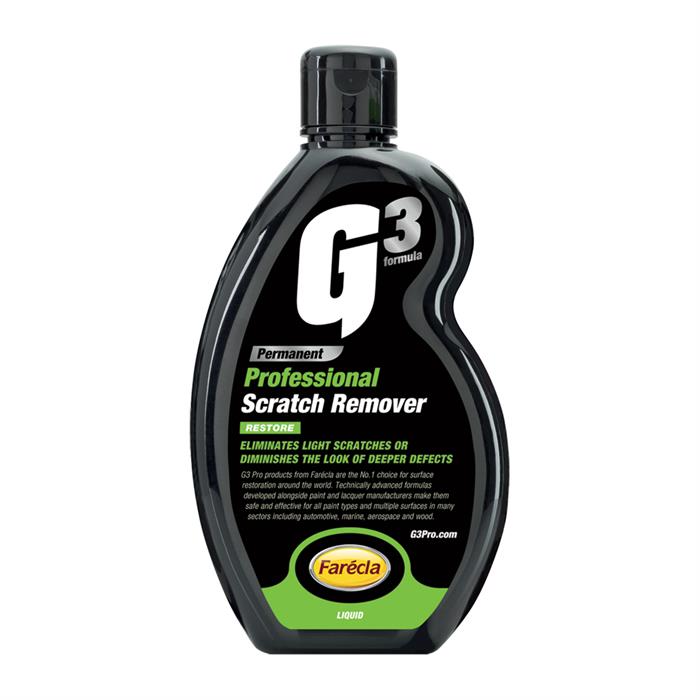 Easy to spread liquid
Ideal for larger areas
Silicone free – bodyshop safe
Removes minor scratch marks
G3 Professional Deep Clean Clay Mitt £15.00
Offering a viable solution to the ordinary clay bar, the re-usable G3 Professional Deep Clean Clay Mitt uses an advanced rubber polymer technology that easily removes ingrained dirt, bugs, tar spots and dulling pollutants from paintwork, windscreens and headlights.
Easy to use, the Deep Clean Clay Mitt will glide across lubricated surfaces, collecting unwanted and unseen pollutants, thoroughly preparing surfaces for the polishing or protection process thereafter.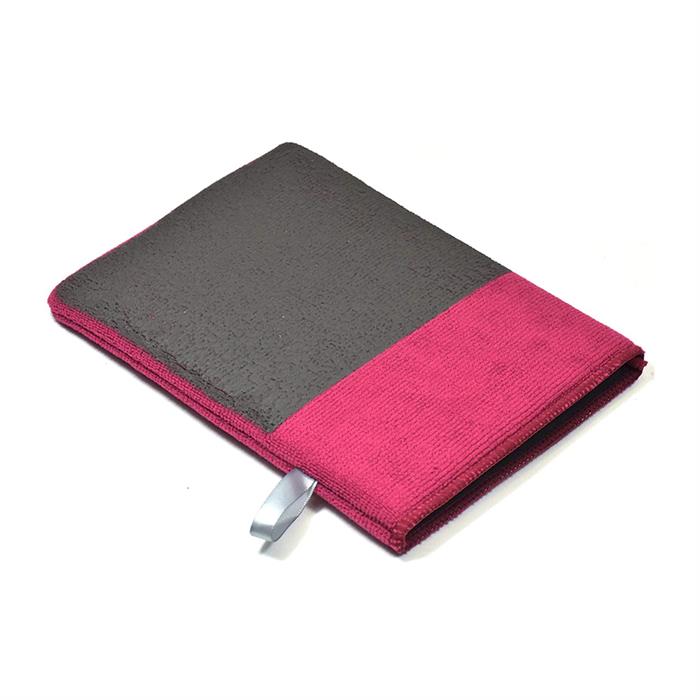 Easy to use
Removes ingrained dirt
Lasts up to 5 x longer than traditional clay bars
Does not need to be thrown away if dropped, unlike clay
G3 Professional Rapid Detailer £9.00
G3 Pro Rapid Detailer is a mild cleansing spray for use between washes to prevent the build-up of contaminants that can become ingrained into your paintwork.
Removing light dirt, dust and fingerprints, G3 Pro Rapid Detailer will leave a 'just-waxed', high gloss finish without stripping any pre-existing waxes from the surface. The versatile product can be used on a multitude of substrates including paintwork, rubber, plastic and chrome.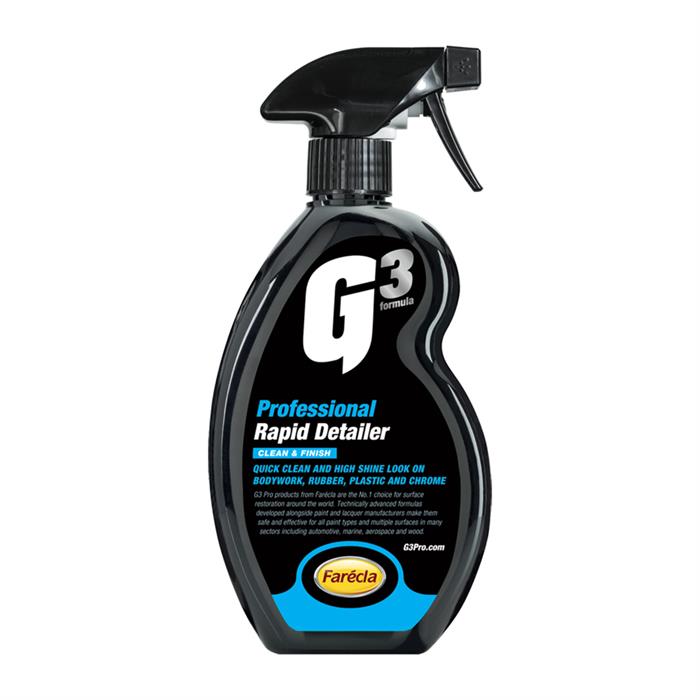 Quick clean
High shine finish
Use on bodywork, rubber, plastic and chrome
Will not remove sealant or waxes
Removes bird lime, sap, dust and fingerprints
G3 Professional Scratch Remover Liquid £10.00
G3 Pro SuperGloss Paste Wax is a highly refined wax which delivers the perfect blend for an extremely even application. Comprised of selected hydrocarbons, micro-waxes and high-grade carnauba wax, the end results from this paste wax are an exceptional ultra-high gloss finish, including up to 6 months protection.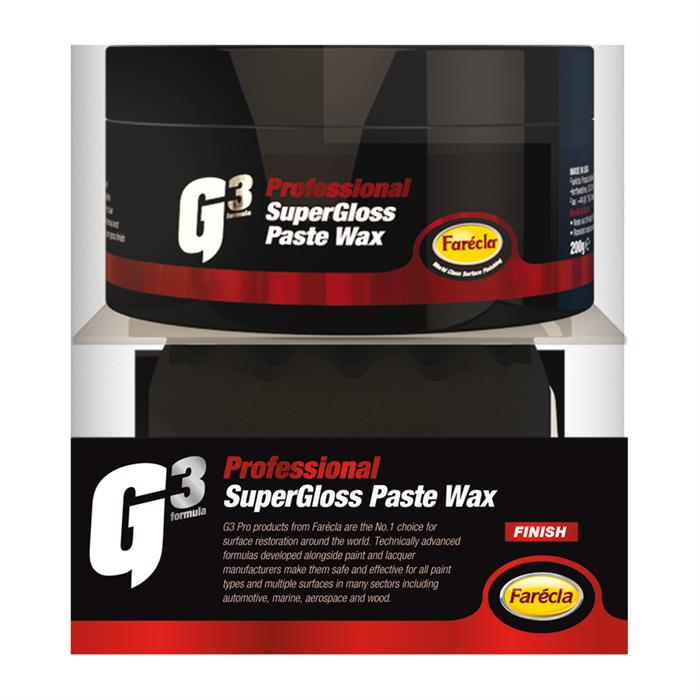 Ultra-high gloss finish
Contains high-grade carnauba wax
Up to 6 months protection
G3 Pro Black Applicator Waffle Pad Included
The full range of Farécla products can be found here.
Visit Ultimate Finish for the best car care and detailing products from around the globe.
Have a question on any of our products? Email sales@theultimatefinish.co.uk or call 01474 360 360.
Our team is on hand, Monday to Friday, 8am-5pm.