Menzerna Polishing Compounds Exclusively Available From UF
The increase in popularity of machine polishing has given rise to rapid advances in the formulation of compounds and polishes to facilitate the process. Menzerna has long been the choice of professional detailers, but with the increased sophistication of the consumer, Menzerna is gaining a foothold with the car care enthusiast too. UF has received many requests for this line and, having used them extensively in their Detailing Studios, appreciate the quality of the products. The performance evident in the results means UF has taken the step to introduce Menzerna into their extensive portfolio and can now exclusively offer the complete range to customers.
As a company, Menzerna has been creating surface polishing products for 125 years. Manufactured in Germany, Menzerna Car Care Products were initially formulated for the automotive manufacturing industry where speed is of the essence. Time constraints on the production line necessitate fast and efficient elimination of imperfections and overspray with consideration to the cleanliness of the environment. Menzerna's goal was to improve the efficiency of the polishing process and the quality of the polishing results. As a result, they have formulated products that achieve results quickly and with minimal dust generation. They've been so successful in their product design Menzerna is the supplier of choice to Rolls Royce, Bentley, BMW, VAG and Porsche.
Recently Menzerna has completed an extensive overhaul of their product portfolio, streamlining the range, reformulating some products and rebranding the entire line. Some established products have been renamed to fit within the new format:
FG400 is now Menzerna Heavy Cut Compound 400
POS34A is now Menzerna Heavy Cut Compound 1000
FG500 is now Menzerna Heavy Cut Compound 1100
PO234 is now Menzerna Medium Cut Polish 2200
PO85RD3.01 is now Menzerna Medium Cut Polish 2400
PO203 is now Menzerna Medium Cut Polish 2500
PO85U is now Menzerna Final Finish 3000
PO106FA is now Menzerna Super Finish 3500
PO85RD is now Menzerna Super Finish Plus 3800
The new livery is colour coded and numbered, designed to make the products easily identifiable by their process category. Their filler and silicone-free formulation make them popular with everyone, from car manufacturers, professional detailers and car body and paint shops to the everyday car care enthusiast.
Menzerna has been a staple in my detailing kit for many years. However hard or soft the paintwork, however marked and blemished it is, there is a Menzerna product to deal with it. The consistency is perfect: the products are easy to work with and they don't dry out and become sticky when you're working them for longer periods, even when using a rotary. They don't contain fillers or silicones so there's virtually no drop back and even the heavy compounds produce very little dust. Derek Ginger, Master Detailer, UF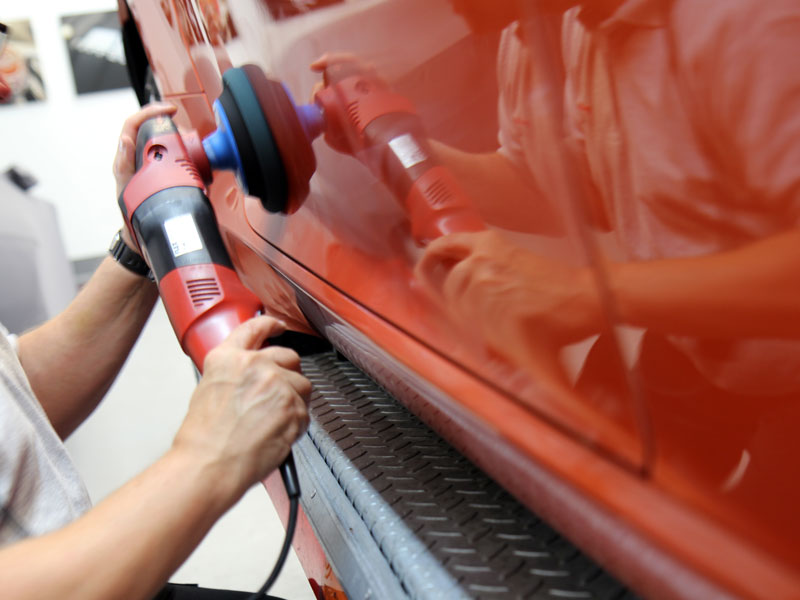 The Polishing Programme
The Menzerna product line up is broken down into categories, defined by process:

In addition, each product is labelled with numbers. The first number, written in large font, indicates whether the product belongs to the Cut (1), Polish (2), Finish (3) or Protect (4) category. The subsequent numbers indicate the level of cut in comparison with other products in the same category. The smaller the number, the more abrasive the product. Thus, a label with a large '1' in red writing indicates Category 1 – Cutting. 1000 is a heavier cut than 1100.

The polishing stage (yellow label, numbered 2) includes three grades of medium cut compound, the finest of which is 2500.

The refining stage (green label, numbered 3) has three grades of final finish polish ranging from 3000 to 3800 (finest).

There are three last step or protection products (blue label, numbered 4) and are simply identified by the product name.

Products are also assigned groupings by function:
A – Standard Products – suitable for all applications
B – Alternative Products – for non-standard applications including older paintwork
C – Special Products – perform multiple functions in one step or have a unique characteristic
D – Accessory Products – outside of the main processes but integral to them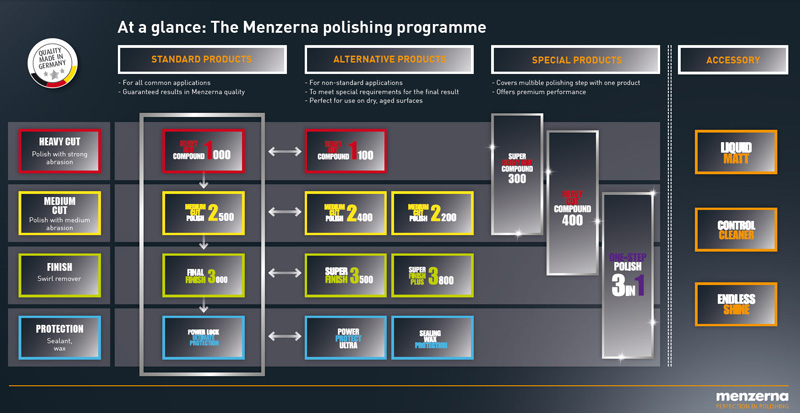 Special Products perform multiple steps in the machine polishing process. Their category is indicated by silver labels but adheres to the colour coding and numerical formula. As such, Super Heavy Cut 300 Compound is colour-coded red, for Cut and the 300 indicates a heavier level of cut than Heavy Cut 400 Compound. Their Special Product designation indicates both of these compounds perform two stages of the cutting process.
Accessory Products are just that – accessories. Some or all may be required, depending on the job at hand. Liquid Matt is designed to produce the same result as wet sanding. Control Cleaner removes polish residues and should be used between each stage of the compound, polish and protect process to support the visual inspection of the paintwork. Endless Shine is a quick detailing spray that can be used after a maintenance wash to boost existing sealant layers.
UF is pleased to have been selected as the UK's exclusive online retailer offering the complete range of Menzerna compounds and polishes.
If you have any questions on any of our products, please get in touch either by emailing sales@theultimatefinish.co.uk or calling on our new landline and mobile-friendly number, 0333 800 8004. Our team is on hand, Monday to Friday, 8am thru 6pm to take your call.