Shining A Light On It: SCANGRIP Second Generation Detailing Lights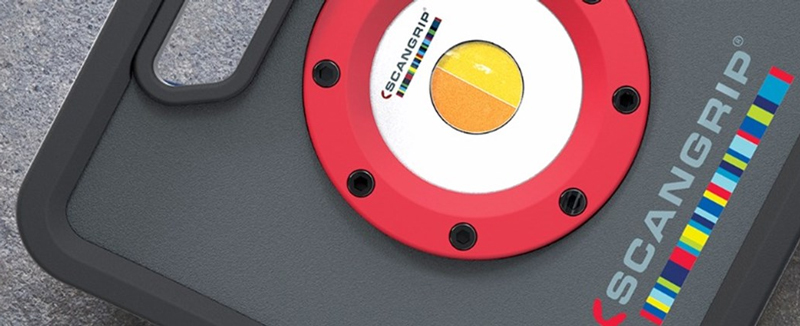 As every car care enthusiast and professional detailer knows, bright sunshine shows up every little swirl, scratch and blemish on paintwork. In detailing circles, lighting is assessed based on the 'D-Standard' or daylight standard. Recreating that level of brightness in the studio or garage requires specialist lighting, as regular overhead strip lights are too diffuse and typically, the wrong colour temperature, to be truly effective. Many hand-held lamps provide a beam of light where the lighting is focused on the centre, becoming more diffuse as the beam pools outwards.
SCANGRIP is a Danish company that has, quite quickly, achieved great success with their continually developing range of professional lighting solutions. In order for a light source to be suitable for high-level detailing and paint correction work, certain criteria need to be met:
Correlated Colour Temperature (CCT): The temperature affects the 'warmth' or the 'coolness' of how light appears to the human eye and is measured in Kelvin (K), where zero Kelvin is the temperature at which all molecular movement stops (also known as Absolute Zero and is equivalent to minus 273 degrees Celsius). Daylight is a blueish white and to recreate the effect of daylight, the colour temperature of the light source needs to be 5000 K or higher. Warm light is created with bulbs of 2000 – 3500 K. White light is produced by bulbs with a colour temperature of 3500 K or above.
Luminous Flux (lm): Measured in lumens (lm), this indicates the amount of total light available (at a frequency that can be seen by the human eye). The higher the rating, the brighter the bulb is perceived to be.
Illuminance (lx): Measured in Lux (lx), this denotes the amount of light available over a specific unit of area. It is the equivalent of 1 lumen per square metre. A given amount of light will appear dimmer if spread over a larger area than over a smaller area. Therefore, the higher the Lux rating, the larger the area that can be effectively illuminated by the source.
Colour Rendering Index (CRI): This is measured on a numerical scale of 0-100. The higher the CRI, the more accurately the eye is able to perceive colour. The are 15 'R' values in total, yet traditional work lamps used for colour recognition take into account only the first 8 R values out of the 15 value scale. To produce better lighting specifically designed for more accurate colour matching, SCANGRIP second generation work lamps introduce CRI+. This scale takes an average of all 15 R values to allow for better colour recognition.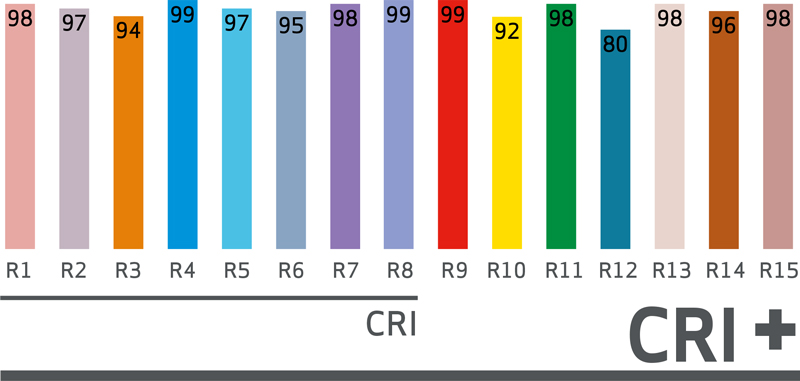 SCANGRIP gathered feedback from detailers and automotive paint shops throughout Europe and used that information to develop lighting solutions with their customer's concerns in mind. One of the key issues was the lack of flexibility for altering the colour temperature of the light. Cooler "day light" works better to highlight blemishes on darker coloured surfaces as it creates more contrast to the darker surface, better highlighting imperfections to the eye whereas lighter colours reflect more light and a warmer "sun light" will create more contrast to these colours. When colour-matching we are not just looking at the imperfections on the paint, but the colour underneath the surface.  A problem when colour matching with one light type has been that the colour may look correct in sunlight, both in reality and with a colour matching light, but when it's in the shade or in indirect light, such as on a cloudy day, it looks different. So being able to change the colour temperature of the light when colour matching means that the detailer can to check the quality of the work under different circumstances. In answer to these specific issues, SCANGRIP's second generation of lights feature a dual colour temperature, so that detailers may switch from warmer to cooler light, as required. – David Thompson, SCANGRIP Marketing Manager, UK & Ireland
SCANGRIP lamps use COB (chip on board) LED (light emitting diode) technology to provide a uniform spread of light and have been constructed with practicality in mind. Lamps are IP rated for dust and water ingress and fixed lights also carrying an IP shock rating. Additionally, the glass lenses are solvent resistant and easily replaceable.
SCANGRIP is continuously driving development in lighting and battery technology, leading to the diverse range of solutions and accessories available today, with new equipment added regularly. Here, mainly their second-generation products are featured.
SCANGRIP MatchPen – Pocket-Sized Inspection Light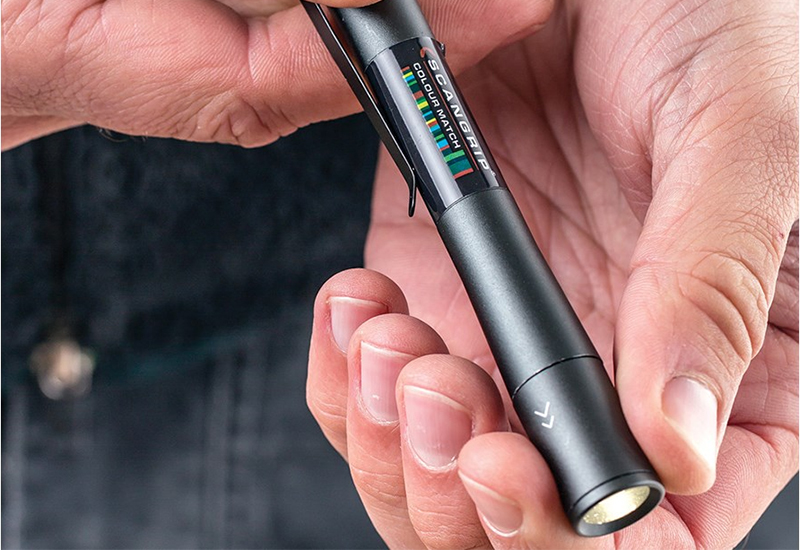 This pocket-sized penlight is easily portable, ideal for on-the-go paintwork inspection. Using two AAA batteries, it features a focus function allowing the beam to be concentrated between the angles of 10 degrees and 70 degrees for a more concentrated beam as and when required.
CCT: 4000 K
Luminous Flux: 100 lm
Illuminance: 300/4000 lx at 0.5m
CRI: 95
I-Match 2 – Hands-Free Inspection Lighting.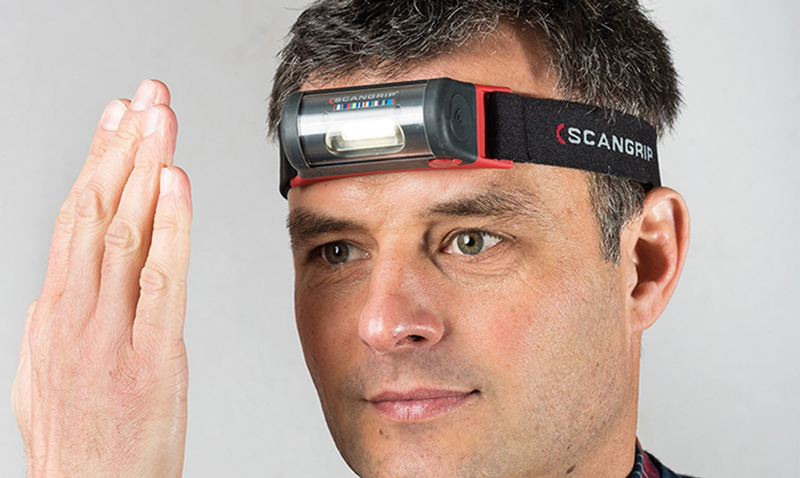 Wearable lighting with motion-activated sensors – simply waving a hand in front of the light will switch it on and off. The second generation of this lamp allows the operator to choose between two lumens output: 50% or 100%. Unlike most headlamps that shine from a point, with the light expanding towards the object of attention, the I-MATCH-2 emits a wider beam to give a more comprehensive overview. It also features the latest in rechargeable technology with an operating time of 2.5 – 5 hours (depending on lumens selection) with a recharging time of 4 hours.
CCT: 4500/6500 K (Step 1/2)
Luminous Flux: 80/160 lm (Step 1/2)
Illuminance: 300/500 lx (Step 1/2)
CRI: 96+
Sunmatch 2 – Rechargeable Work Light For Close Inspection Work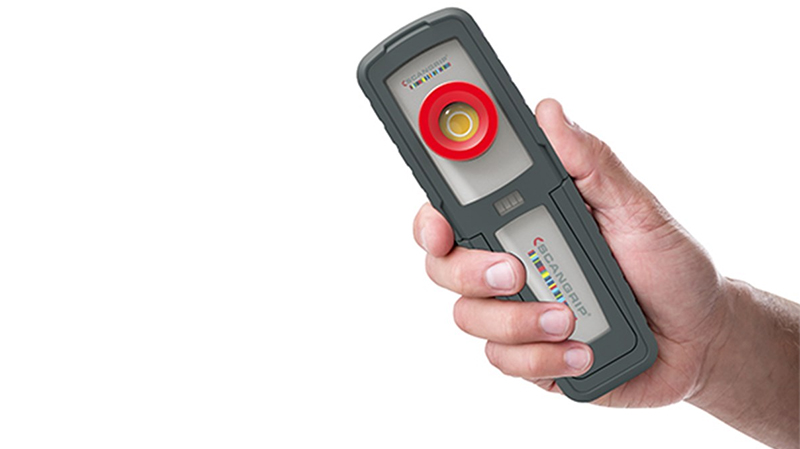 A hand-held light small enough to be carried in a pocket, this light features a selectable lumens output and intelligent battery indicator which automatically switches the light to low mode after 3 minutes of continuous use in high output mode. As well as saving battery life, this also guards against overheating.
CCT: 4500/6500 K (Step 1/2)
Luminous Flux: 500/250 lm (Step 1/2)
Illuminance: 1300 / 250 lx at 0.5m
CRI: 96+
Multimatch 2 – Powerful Rechargeable Work Light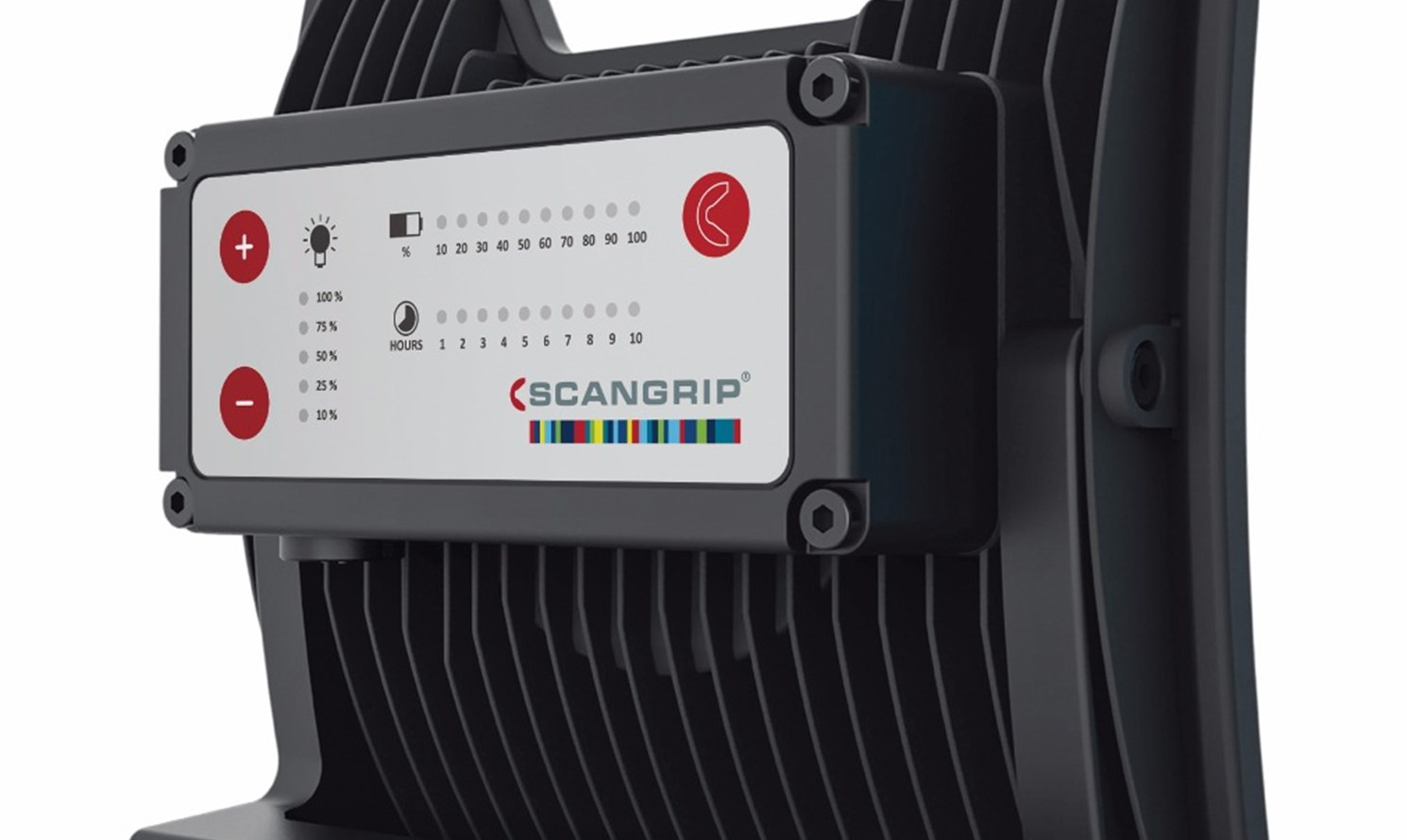 A powerful and rechargeable work lamp that can be powered by battery or by power chord. A five-step dimmer switch allows you to adjust the lighting to the required level and the two colour light function switches between warm and cold light as desired. Using battery mode, operating time is 1-14 hours with a recharging time of just 2 hours. The design of this light is unique and carries an EU patent.
CCT: 4500 / 6500 K (Step 1/2)
Luminous Flux: 250 -2500 lm
Illuminance: 3500 lx at 0.5m
CRI: 96+
D-Match 2 – The Most Powerful Work Light Available!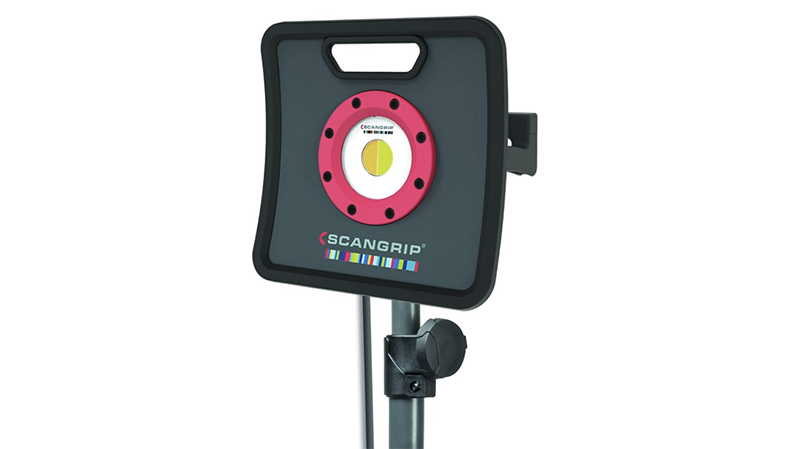 Currently the strongest work lamp available anywhere in the market, the D-Match 2 provides up to 5000 lumens. It also features a 5 stage dimmer to select lighting output and a two-colour switch for warm or cold lighting. The flexible stand allows it to be easily positioned and angled when mounted on a SCANGRIP Tripod or Wheel Stand.
CCT: 4500 / 6500 K (Step 1/2)
Luminous Flux: 500 / 5000 lm (Step 1/2)
Illuminance: 8000 lx at 0.5m
CRI: 95+
Accessories: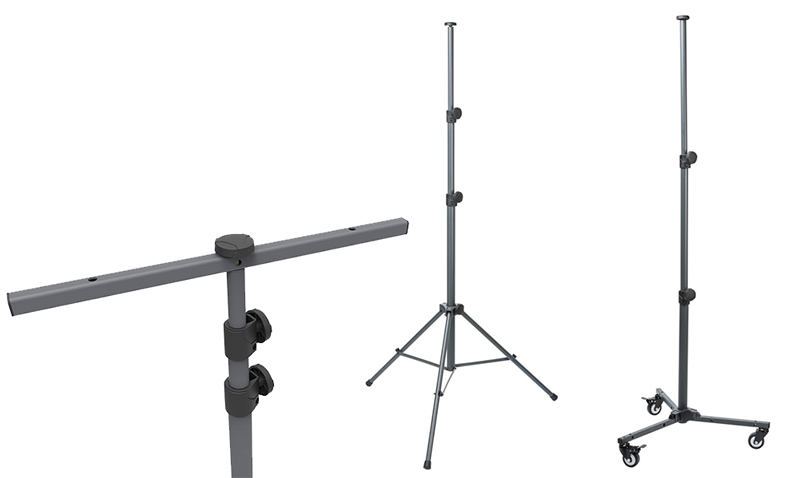 When working in a studio or garage, Multimatch and D-Match lights can be mounted directly on to SCANGRIP's Dual Bracket which holds two lights. These can then be fitted to a SCANGRIP Tripod or Wheel Stand. The Tripod is constructed from durable powder coated steel and a welded steel mounting cap. The main rod is extendable between 1.35m and 3 metres high so lights may be positioned exactly as required. Additionally, integrated clips mean work cables can be safely secured to the legs.
The SCANGRIP Wheel Stand allows for maximum portability as the lights may be continually rolled around the vehicle as work progresses. The wheels glide easily even over uneven surfaces and two wheels lock, to secure the stand in place. The Wheel Stand extends from 0.75m up to 1.8m high, with the lowest point being particularly useful when working on the side panels of a vehicle.
The SCANGRIP range is available now at UF. If you have any questions regarding your lighting requirements or for any other product enquiries, please get in touch either by emailing sales@theultimatefinish.co.uk or calling on 0333 800 8004. Our team is on hand, Monday to Friday, 8am thru 6pm to take your call.