Swissvax add 'Finish' to their Cleaner Fluid Professional Range
Brand new from Swissvax, the Swissvax Cleaner Fluid Professional 'Finish', a final polish which ensures a high gloss, hologram free finish on both modern and traditional paint finishes.
Formulated specifically for use with a rotary machine polisher, the clever nano-abrasive technology refines the paint surface without introducing micro-scratching, swirls or holograms, leaving you with a perfectly clear finish.
The Swissvax Cleaner Fluid Professional Range: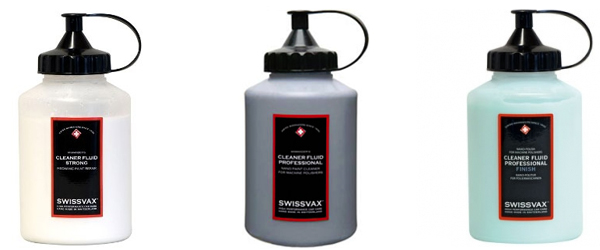 All the products in the Professional range perform at their best when used in conjunction with a machine polisher. This is because the nano-abrasive elements react more effectively given the optimum friction levels which are only achievable with a Dual Action Machine Polisher or a Rotary Polisher.
When Swissvax Cleaner Fluid Professional (the original) was released it provided a one-step solution, even for when a multi-stage approached was required. Using one product for paint correction and refining saved bundles of time, so was a major hit with both professional detailers and the avid Swissvax car care enthusiast.
Swissvax Cleaner Fluid Strong provides a fantastic result for badly marked paintwork. It will successfully remove heavy over-spray and oxidation, severe swirl marks and scratches, but because it uses polishing oils it nourishes paintwork during the polishing process.
Swissvax Cleaner Fluid Professional 'Finish' provides an alternative for when the paintwork is in relatively good condition. If the clear coat has only light scratches and swirls, or if you want to add that extra level of gloss then the new Cleaner Fluid Professional 'Finish' makes short work of the finishing process.
With the assurance of Swissvax quality, the professional range provides a solution to every paintwork problem. So, whether you're working on severe marring, mild blemishes, soft modern paintwork or older paint systems, the Swissvax Cleaner Fluid Professional 'Finish' is a fantastic addition to the range.
All that's left to do is to protect the paint with your favourite Swissvax wax!