Fast Car Magazine 'Tool Of The Month' – RUPES LHR 15ES
If you're into cleaning cars and I mean, REALLY cleaning cars then you probably know what this is – if not then let me tell you. It's a Random Orbital Polishing Machine called the BigFoot RUPES LHR 15ES. The machine is designed to make a truly random orbit, but manages to stay perfectly balanced, so much so that you can polish one-handed and keep total control at all times.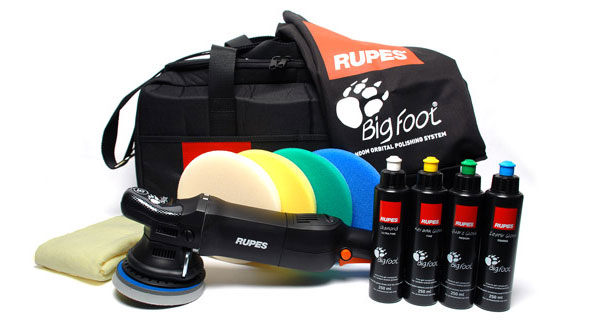 This is a one-step, zero hologram polisher that achieves amazing results in super quick time with minimal fuss. The kit comes complete in a cool hold-all with four grades of compound and four colour-coded foam pads (plus an awesome apron). Start with a medium compound and pad, and if it's not aggressive enough, then try the next one.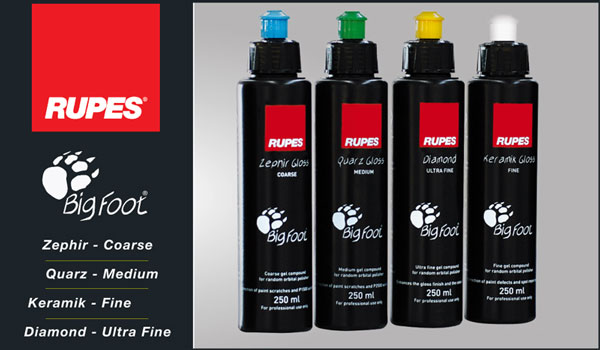 We tried the most aggressive compound supplied with the kit and managed showroom results in literally seconds – with no risk of damage to the paint. And that's what sets the BigFoot apart. A lot of orbital polishers if misused, will remove paint – (that's why you see pro-detailers mask a car's edges with blue detailing tape), but there's no need with the BigFoot, making it perfect for amateurs and pros alike.,
It's so quick too – with a 15mm orbit (compared to 8mm on most polishes) you can cover a panel in minutes. The best part is that no annoying holograms or swirls are created. The when you've finished polishing simply wax – and you're done.
Adjustable speed for ultimate control
Four grades of compound to suit the job
Random orbital motion for the perfect finish
The result is swirl free gleaming paint
Modest Matt, Chief Tester at Fast Car Magazine is a fully qualified Advanced Automotive Engineer, A member of IMI and a level 4 technician. He has worked for Honda, Saab, Peugeot and the MOD in the past, so he knows a good product when he sees one !
The Verdict: RUPES has done a great job of making this kit user-friendly – so easy in fact that your dog could probably do a decent job of rejuvenating your paintwork. Fast Car #334
Article courtesy of FAST Car Magazine, number 334, October 2013. Fast Car is the UK's Number 1 Selling Modified & Performance Car Magazine.
RUPES BigFoot Deluxe Edition Machine Polishing Kit is available From Ultimate Finish.