New RUPES DA System Now Available From UF
When it comes to automotive machine polishing, the name RUPES is world renowned for being one of, if not the leading producer of quality products. With a wide range of machines, pads, compounds and accessories to satisfy both professional and amateur enthusiast needs, one of the biggest reasons behind the RUPES success story is their ability to constantly keep improving their products, together with the performance they will deliver for customers.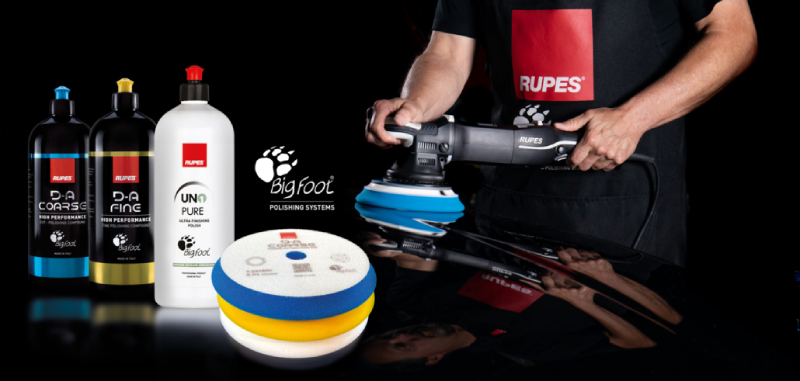 This summer saw the launch of a new DA System, with the aim being to take the simplification of machine, compound and pad combos from RUPES to the next level. Over 2 years have been spent by RUPES, painstakingly developing these products, including extensive testing and input from RUPES divisions all over the world – the results are a system they are extremely pleased with, and they've every good reason to be.
In this blog, we are going to take a closer look at how this new RUPES DA system works and most importantly, where the new improvements can be found in the latest additions.
DA System: New Compounds & Polishes
Introducing, DA Coarse, DA Fine, and UNO Pure. They join the current RUPES line of compounds which are associated with random orbital and gear driven tools. This means that for RUPES enthusiasts, the system becomes unified and compatible with any orbital tool movement, that includes random or gear-driven. The new products all wear the distinctive new colour-coded branding and are available to purchase in both 1L or 250ML sizes.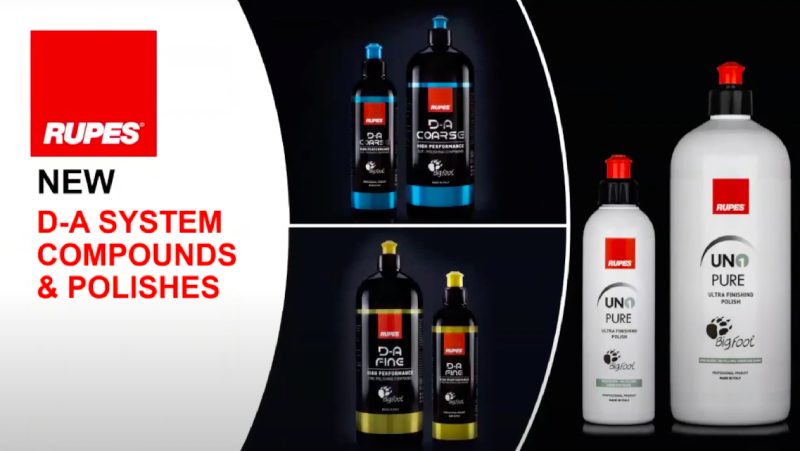 Inside the bottles, RUPES have used their latest breakthroughs in abrasive technology, which they developed, tested, refined, blended, and packaged in-house! The finished article means these compound and polish formulas are being perceived as not just a step up for RUPES in terms of quality, but the benchmark in the industry. The new BigFoot liquids will no doubt be well received by detailers worldwide as they boast improved cutting performance, striking finishing ability and an even easier user experience. Here's our run through of DA Coarse, DA Fine and UNO Pure.
RUPES DA Coarse High-Performance Cut Compound Gel From £12.95
RUPES DA Coarse is the latest high-performance compound from RUPES designed for maximum efficiency. This fast cutting compound is ideal for users who want quick defect removal and smooth user experience on every type of paint. The formulation is optimised to achieve the best performance if used with RUPES Coarse blue foam, DA wool pads, or coarse microfibre discs together with BigFoot Dual Action Polishers, including both random orbital and gear-driven tools. DA Coarse represents a significant advancement in the world of cutting compound performance and finishes with excellent clarity, low dusting, and easy wipe off.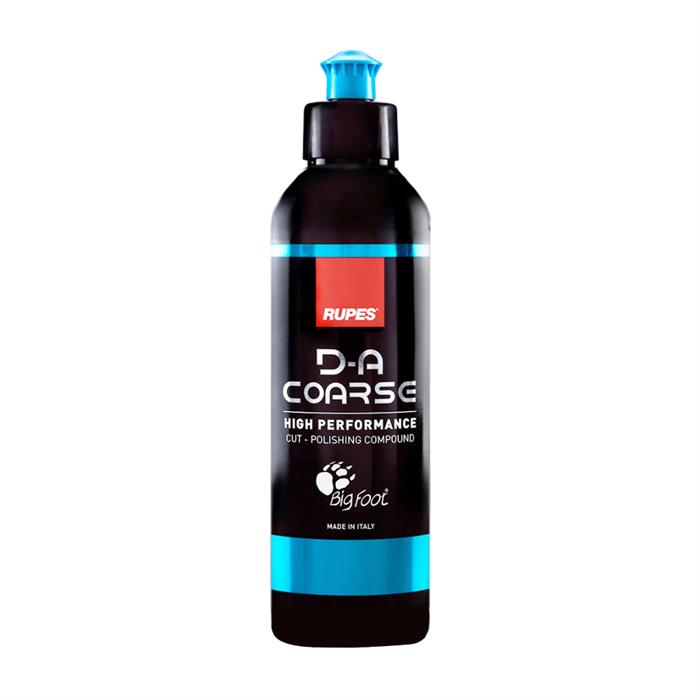 High-performance cutting compound
Durable lubrication system for an extended polishing cycle and longer working time
Low dusting formula reduces post-compound clean-up work
One-step moderate-to-severe defect removal and finishing on most paints
Sanding mark and severe defect removal
Recommended for random orbital or gear-driven polishers
RUPES DA Fine High-Performance Compound Gel From £10.95
RUPES DA Fine is the result of extensive testing to develop a fine polish that combines noticeable cutting performance with impressive finishing. The proprietary formula developed and blended in-house by RUPES is designed to perform with Dual Action polishers, including both large-stroke random orbital and gear-driven tools.
Colour-coordinated to RUPES yellow foam, wool, and microfibre pads, DA Fine delivers excellent defect removal, incredibly high finish quality, and a super-easy wipe off for excellent user experience. DA Fine represents the perfect second polishing step after DA Coarse on virtually every type of painted, gelcoat, or varnished finish or as a stand-alone solution for light polishing needs.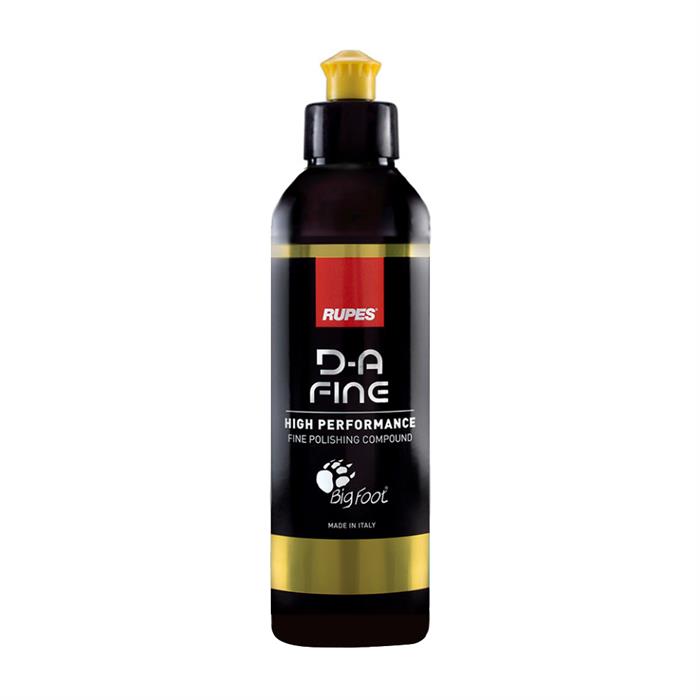 Excellent cutting performance relative to most 'fine' polishing compounds
New micro-abrasive technology and proprietary blend enhance finishing ability
Easy wipe-off, for fewer towel marks on soft paints or delicate surfaces
Easy application when used with RUPES colour-coordinated pad system
One-step light defect removal and finishing on most paints
Can also be excellent 2nd step polish following DA Coarse Compound
Recommended for use with BigFoot Random Orbital or Gear-Driven tools
RUPES UNO Pure Ultra Finishing Polish From £9.95
UNO Pure is a universally compatible, ultra-fine abrasive polish designed for use on all tool types, including Rotary, Random Orbital, or Gear-Driven Orbital. The proprietary formula developed and blended in-house by RUPES, uses the latest in abrasive technology to produce the highest possible optical clarity and reflectivity when used with RUPES BigFoot polishing system tools and pads. UNO Pure is ideal for very soft or haze-prone paints or can be used in jeweling applications to create a show car finish, even on dark colours. The absence of fillers, ease of use, easy wipe-off ensure the best user experience, and body shop safe formulation makes it the ideal solution for a variety of applications.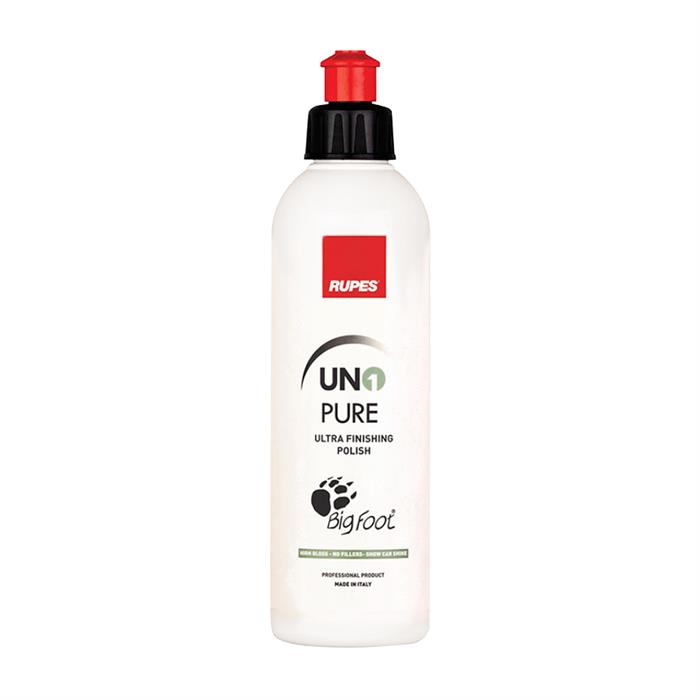 Universal across all BigFoot Polishing System Movements
Smooth user experience with easy wipe-off
Unmatched finishing quality, even on the softest paint systems
Validated for all paint types, including single-stage, clearcoat, hard, soft, or "sticky" paints
Versatile applications, change the pad to change the performance
No intentional filling ingredients or protection properties. Leaves the finish 'Pure' and ready for the application of a protective product
For best results, use with RUPES Ultra Fine White Finishing Foam Pads
DA System: New Foam Pads
The new DA Foam Pads are available in 100MM (4″), 150MM (6′) or 180MM (7″) and just like the corresponding compounds, join the current random orbital and gear driven foam pads in the BigFoot polishing pads line. The new, proprietary foam formulas and new pad profile have been extensively tested to deliver great performance and improved user experience on all the BigFoot orbital polishing systems.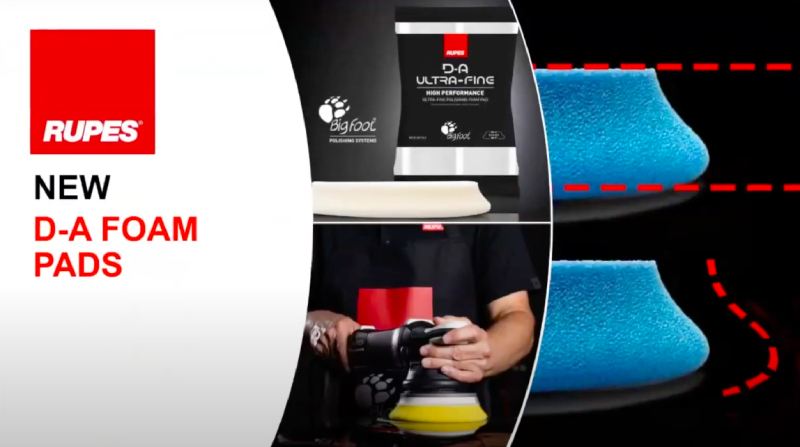 All of the new pads come in a specially designed, new foil packaging – and it is not just for cosmetic appearance. As always with RUPES, there is good reason for the change. The packaging offers UV protection to prevent pad material degradation and all pads are now fully sealed to ensure dust or any other contamination cannot set in. The sealed packets also ensure that moisture or humidity do not affect the pads in any way.
RUPES DA Coarse High-Performance Pad Blue From £6.95
The DA Coarse foam pad is specially designed to be used with both random orbital and gear-driven tools. The unique open-cell foam material removes mild to severe defects from most paint systems when paired with RUPES DA Coarse compound.

New foam formula increases cut & produces a better finish
Provides the best aspects of previous RUPES blue & green pads
Increased durability
Ideal for all orbital movements
RUPES DA Fine High-Performance Pad Yellow From £6.95
The DA Fine foam pad is the most versatile foam pad in the RUPES BigFoot range, delivering an effective rate of defect removal and capability for high-gloss finishing on most paint systems. Pair with RUPES DA Fine polishing compound for moderate to fine defect removal, paint refinement, or final finishing after heavy compounding steps.

Same material formula as the original yellow random orbital yellow foam
Slight colour change for visual distinction
Added performance due to profile change
Compatible with all orbital movements
RUPES DA Ultra Fine High-Performance Pad White From £6.95
The DA Ultra Fine foam pad is made from the finest grade of foam, designed for ultra-high gloss finishing and polishing haze-prone or very soft paint surfaces. The unique material composition of the DA Ultra Fine pad can also be used for the application of sealants or waxes when no correction is required. Pair it with UNO Pure ultra-fine universal polish to remove extremely fine defects or to bring out a show car level finish on even the most difficult-to-finish vehicles.

New foam formula offers improved finishing ability
Great performance on all paint types, from very hard to very soft paint
Compatible with random orbital and gear-driven movements
The full RUPES range is available to purchase from Ultimate Finish here.

Visit Ultimate Finish for the best car care and detailing products from around the globe.
Have a question on any of our products? Email sales@theultimatefinish.co.uk or call 01474 360 360.
Our team is on hand, Monday to Friday, 8am-5pm.