Gtechniq Ceramic Coatings at UF Studio
Gtechniq is a British designer and manufacturer of innovative car care products. They use the term 'smart surface science' because it cleverly captures what they do on so many levels. Using cutting-edge techniques to harness the power of nanotechnology, their coatings provide long-lasting protection for every surface found on a vehicle, from paintwork to metal, plastics to rubber and leather. A range of their products is used by UF Studio, and as a Gtechniq-approved centre, UF Studio has access to Gtechniq's professional-only coating, Crystal Serum Ultra.
The Gtechniq story began in 2001 when quantum physicist Drew Gill, disappointed with the performance of car care products available, decided to engineer his own. His idea was "to engineer the world's most beautiful, perfectly finished, smartest and most intelligent surfaces" and the concept behind 'smart surface science' was born.
Using his particular area of knowledge, Gill appreciated how structures worked at the nanoscale and as such, was uniquely placed to solve the problem as to how to engineer products unlike anything previously seen within the car care industry. The challenge was to produce a coating that would be incredibly hydrophobic, to induce a self-cleaning function, encouraging rainwater and waterborne contamination to bead away from the treated surface, rather than adhere to it. In addition, the coating needed to be durable, beyond that offered by the polymer sealants or natural waxes that were widely available. Of course, the coating had to be optically clear, with a level of gloss to enhance the natural gloss of the car's paintwork and clear coat. C1 Crystal Lacquer was the result. Since then, Gtechniq has continued to combine their knowledge of nanochemistry and supramolecular chemistry (a group of non-covalently bonded molecules, particularly in a sphere, rod or sheet-like formations) to deliver products that offer truly durable protection. The paint sealants offered at UF Studio are Crystal Serum Light, and Gtechniq's professional-only flagship coating, Crystal Serum Ultra, with the option of combining it with a layer of EXO v4 Ultra Durable Hydrophobic Coating. All of Gtechniq's coatings provide resistance to swirls, the leading cause of paintwork becoming dull and lack lustre over time. The coatings are virtually impervious to extremes of pH, and so are resilient to acid rain etch and harsh wash chemicals and making them less susceptible to road salts used to keep roads clear during winter.
Gtechniq Crystal Serum Light (Standard)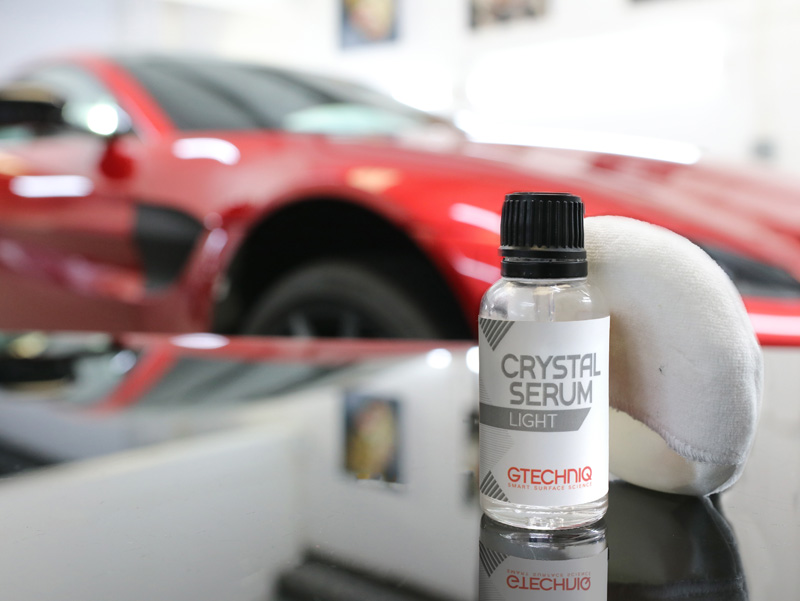 Crystal Serum Light is the enthusiast version of Gtechniq's professional-only Crystal Serum Ultra. The toned-down formulation provides up to 80% of the durability of Crystal Serum Ultra but without some of the elements that make it more challenging to apply. It's a popular choice with enthusiasts who enjoy taking care of their own vehicles, but for those who are looking for a professional to ensure the paintwork is properly prepared first, but still want to keep costs to a minimum, Crystal Serum Light provides a sensible balance between performance, longevity and cost.
Gtechniq Crystal Serum Ultra (Pro Single Layer)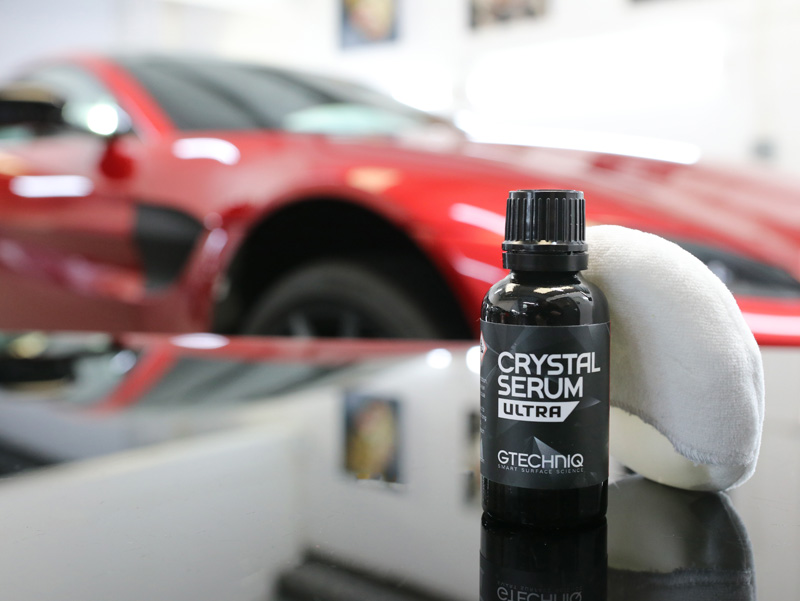 The principle reason ceramic coatings work so well is to do with the size of the molecules involved: at the nanoscale, the surface area-to-volume ration is large, making the structure inherently very strong. Crystal Serum Ultra makes full use of this technology having been engineered to cure as two separate but bonded layers using nanoparticles of two different sizes: 7 nanometres and 20 nanometres. As the coating hardens, the smaller particles settle in the gaps left by the larger molecules. This allows for an extensively integrated section, securely bonding the upper layer to the lower layer. The lower layer cures to a hardness of around 7H (on the pencil scale of hardness) providing a reasonably hard layer but with the added property of being flexible. The upper layer cures to around 9H to provide a tough surface. The combination of the two means Crystal Serum Ultra is both durable and flexible, the lower layer acting as a cushion and the upper as a guard, the better to withstand wash swirls. Crystal Serum Ultra's performance relies in part on the coating being applied in a prescribed manner, with ambient air temperature and humidity within set parameters. In addition, the coating must be kept in this controlled environment until the initial curing phase has passed. Once cured, the coating can only be removed using aggressive machine polishing techniques. This is part of the reason for the coating being available only through accredited professional detailers.
Crystal Serum Ultra represents a major leap forward in ceramic coating technology with the introduction of the smaller nanoparticle. Ceramic coatings are inherently tough, but by using a smaller particle to increase the cross-linked area ensures the coating is securely bonded with significantly more comprehensive coverage than traditional coatings. This has an even greater contamination repelling function than ever before, preserving the integrity of paintwork in a way never previously achievable. – Rob Earle, Managing Director, Gtechniq
Gtechniq Crystal Serum Ultra Black (Pro+ Dual Layer)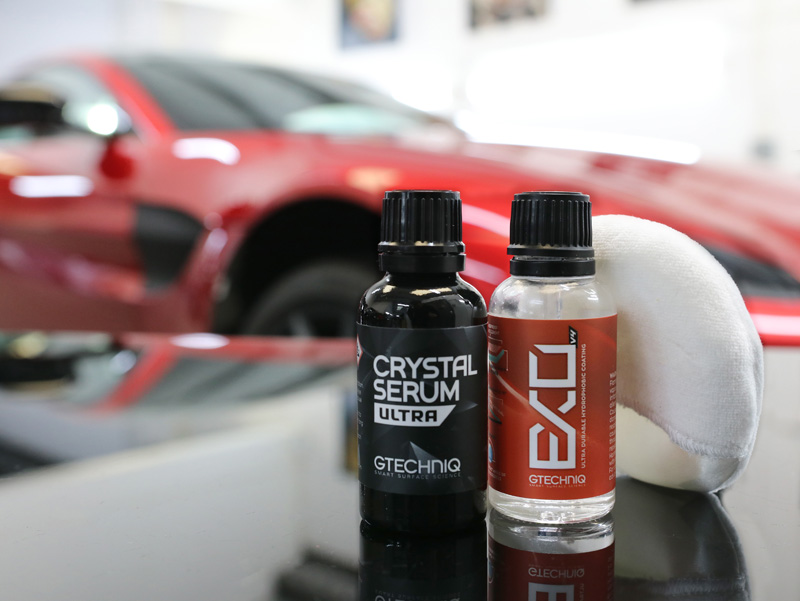 The slickest, most hydrophobic coating in the Gtechniq arsenal, EXO v4 is used as an additional layer over the top of Crystal Serum Ultra to enhance the water repelling function. This property helps to keep treated surfaces cleaner for longer. Now in its 4th formulation, EXO v4 has a lower volatile organic compound composition and slower flash off times resulting in the hydrophobic film forming a more consistent, uniform layer. Durability tests have shown this latest formulation delivers around 30% improvement in performance even during winter, particularly in respect of the coating's ability to withstand heavily salted roads. It's easy to see why the combination of Crystal Serum Ultra with EXO v4, also known as Crystal Serum Ultra Black, is such a popular choice!
Whether you're looking to protect your vehicle from new, restore the paintwork on a daily driver that wasn't initially protected with a ceramic coating, or whether you're looking to restore your classic car to show condition, UF Studio has the detailing service to suit your requirements.
UF Studio – Award Winning Detailing. Call 0333 800 8004 to discuss your requirements or complete the online enquiry form here to receive a bespoke no-obligation quotation by email.
UF Direct – Shop The World's Best Car Care Products