Gtechniq – Celebrating 20 Years Of Smart Surface Science
It seems hard to believe that we are now celebrating 20 years since Gtechniq were founded by quantum physicist Drew Gill. It's no exaggeration to say that the influence Gtechniq have had in the detailing industry across that period of time really has been hugely significant.
With a big emphasis placed on the science behind the brand, it has seen Gtechniq take a simple idea and propel themselves right to the front of a crowded industry, both in terms of the products manufactured and the processes involved in detailing as a whole. It would be difficult to picture a detailing world without Gtechniq.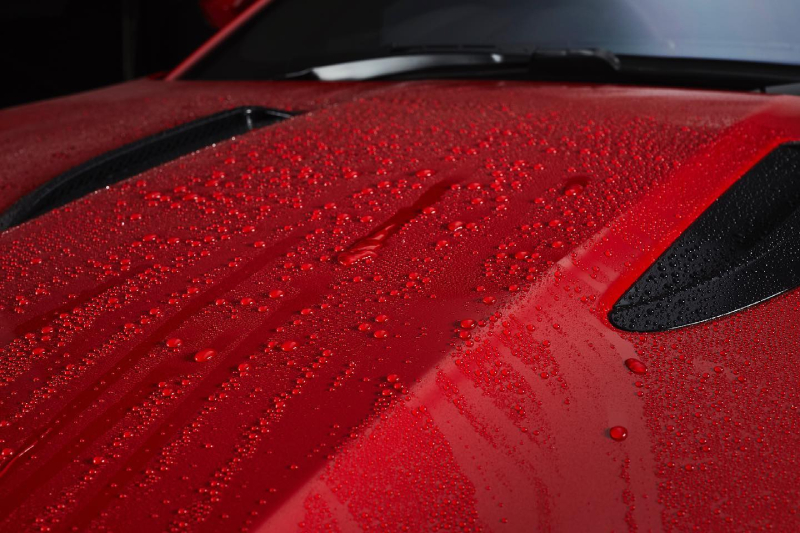 In this special blog, we are going to go back to where it all started for Drew and Gtechniq, taking a look at what has made their products and techniques revered the world over, including a special mention to some of their stand-out products which continue to be some of the most popular sellers right here at UF.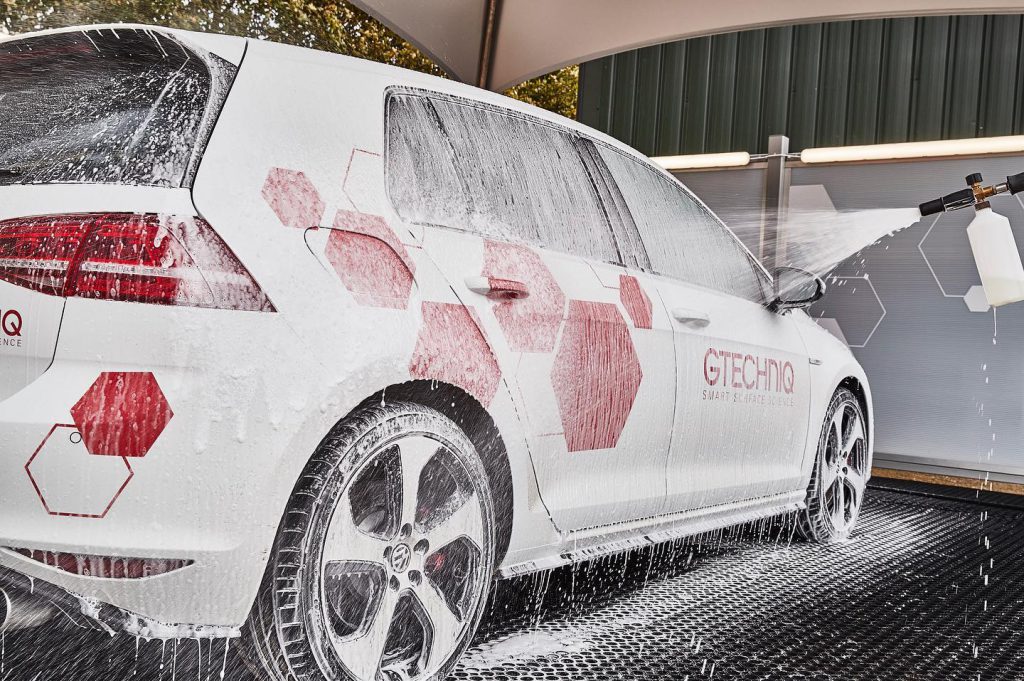 A Birth Owed To Pure Science
Like so many quality car care and detailing product manufacturers, the inception of Gtechniq is largely thanks to the creator being somewhat disillusioned with their choice of products when tackling their own particular process.
In the case of Gtechniq's founder, Drew Gill, it was the void in performance of the paint protection products he had at his disposal at that particular time. Ranging from waxes, to new-fangled polymers and PTFE based miracle treatments, there was simply no solution available to Drew on the market which he felt would deliver. That goes for delivering on several fronts – meaningful durability, cosmetic enhancement and the all-important protection.
Drew's background enabled him to understand exactly how surfaces worked on a more granular scale – knowing how the forces, shapes and structures reacted would also enable many, ground-breaking enhancements to occur.
The type of surface improvements and damage preventatives which are now demanded in car care, but were just an idea 20 years ago, include the likes of dirt repellency, ease of washing, swirl, UV and stain resistance and longer-term gloss and colour stability.
Revolutionary Technology Meets Science
Gtechniq's very own smart surface science deploys a combination of the latest hi-tech nanochemistry and supramolecular chemistry, plus extensive stress testing in their lab and also in the real world. Once happy, the general rule of thumb for all products wearing the Gtechniq logo is that they will be easy to apply, high-performing and reasonably priced.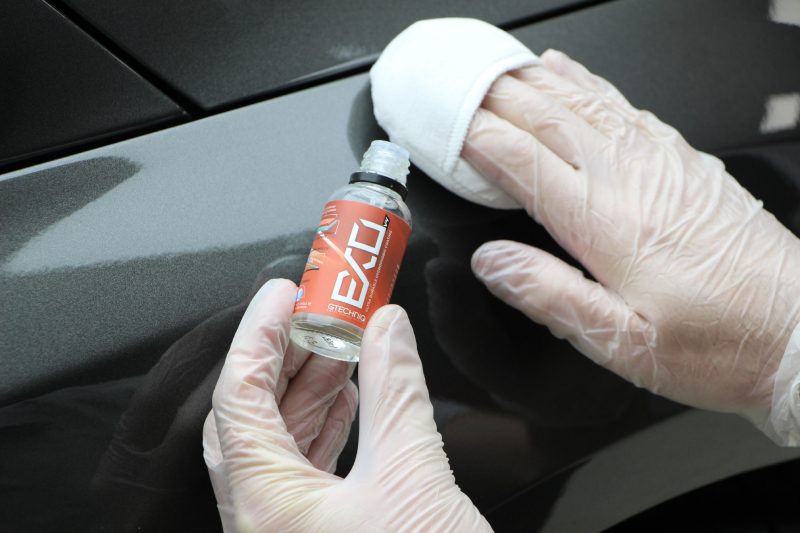 Using their wealth of experience, Gtechniq continue to drop products on to the market which are often class leading and packed full of innovation, continuing their aim of improving every aspect of surface care. Firmly established as one of the leading ceramic coatings in car care, Crystal Serum Light + EXO V4 Kit offers superb protection and an exceptional level of gloss. The product is a successful adaptation of Gtechniq's 'pro-only' coating Crystal Serum and gives amateur users the opportunity to enjoy the best of Gtechniq for their own personal use.
Another recent example of Gtechniq's continual product evolution saw the arrival of Easy Coat. The easy-to-use ceramic coating provides excellent durability for all exterior surfaces and boasts an ultra-easy product application, with the solution connecting to a regular garden hose using the kit provided. It has certainly proved to be extremely popular among UF subscribers already!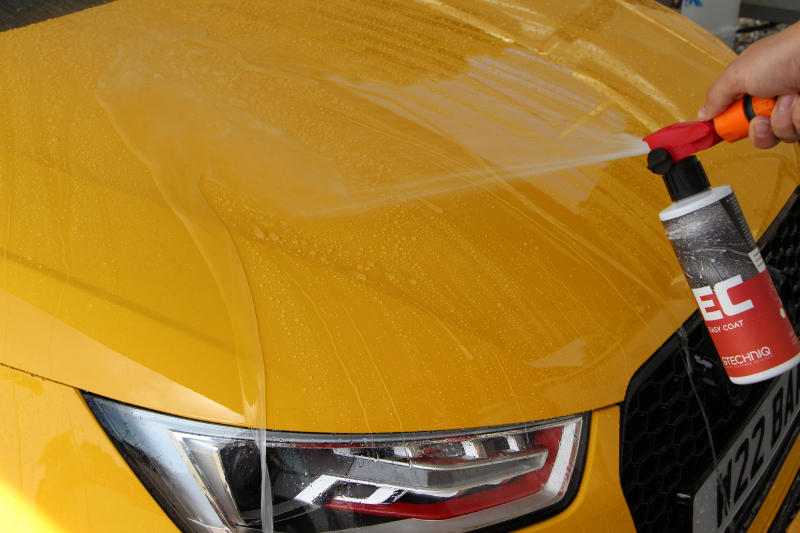 Products For Each & Every Detail
Testament to the continual improvement and advancements in the Gtechniq range is the ongoing demand from both professional detailers and regular car care enthusiasts who remain loyal to one of the stand-out brands in the industry.
The last 10 years has seen the Gtechniq product offering stride forward in the automotive sector, so much so that there is now a dedicated Gtechniq product for all occasions to help clean, maintain and protect your vehicle.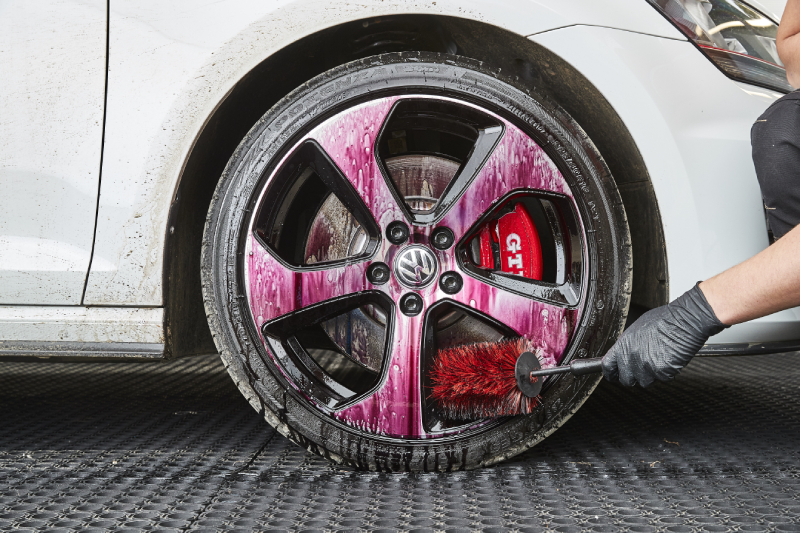 Popular maintenance products such as G-Wash, W6 Iron & General Fallout Remover and W5 Citrus All Purpose Cleaner have become regular 'top-up' items for so many who demand reliable, hard-working products they can depend on to keep their Gtechniq protected vehicle in tip-top shape.
Along with a comprehensive maintenance kit containing all of the above, we've handpicked an assortment of some of Gtechniq's most popular and proven sealants that will have all your automotive surfaces from glass to paintwork and wheels to trim, looking their best and protected for the harsh weather that lies ahead.
Essential Maintenance Kit £75.00
The Essential Maintenance Kit contains all of the must-haves you will need to look after your Gtechniq protected car and purchasing the kit will earn a saving of 15% when compared to buying each item individually. Comprised of products that will assist you in safely pre-washing and washing your vehicle, the Essential Maintenance Kit also includes T2 Tyre & Trim Dressing, a firm favourite among enthusiasts looking to keep that fresh-look satin black finish where needed.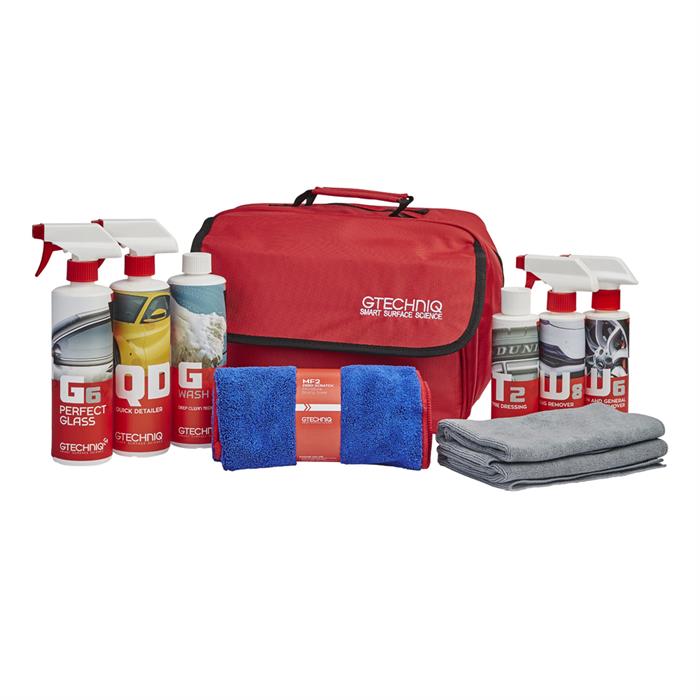 1 x G-Wash – 500ml
1 x QD Quick Detailer – 500ml
1 x G6 Perfect Glass – 500ml
1 x W6 Iron & General Fallout Remover – 250ml
1 x W8 Bug Remover – 250ml
1 x T2 Tyre & Trim Dressing – 250ml
2 x Zero Microfibre cloth
1 x Zero Scratch Microfibre Drying Towel
1 x Gtechniq branded kit bag
Crystal Serum Light + EXO V4 Kit From £84.95
Based on Crystal Serum, Gtechniq's flagship coating which is suitable for professional application only, Crystal Serum Light (CSL) has been designed with the car care enthusiast in mind.
Crystal Serum Light forms strong chemical bonds with paintwork to provide significant resistance to wash-induced swirls. It also provides an impressive resilience to extremes of pH, such as those found in some car wash products, traffic film removers, industrial fallout and environmental factors.
Crystal Serum Light provides exceptional levels of gloss, but for added reflectivity and unbeatable water-beading, finish with a layer of Gtechniq EXO Ultra Durable Hybrid Coating.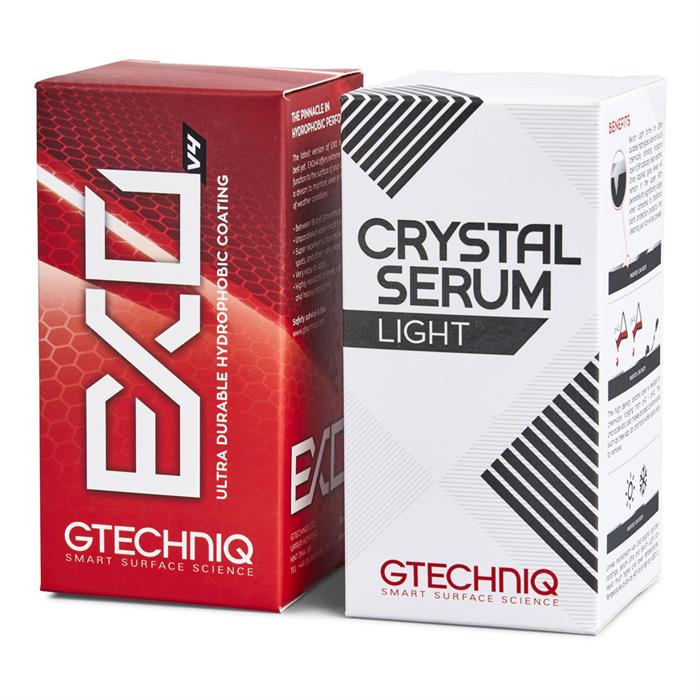 User-friendly – very easy to apply
Exceptional gloss levels
CSL provides a tough, durable resistance to wash-induced swirls
Provides a slick finish inhibiting the adherence of contaminants
Inhibits staining from industrial & environmental fallout
One layer provides up to 80% of the protection of Crystal Serum
Can be removed using traditional 3 stage polishing techniques
Can be layered for increased protection
Add a layer of EXO for unbeatable hydrophobic function
C5 Alloy Wheel Armour From £22.50
Independently proven to outlast other rim coatings, C5 uses a unique chemical bond to become the functional surface of your rims making them dirt and brake dust repellent as well as being much easier to clean in future maintenance cleans. A single application lasts up to one year and the cosmetic results certainly do not disappoint.
Chemical bonding provides superior durability
Surface rheology provides excellent stain & contaminant resistance
Based on similar technology as our C1 and C4 coatings
Very easy to apply: wipe on, wipe off formula
C4 Permanent Trim Restorer From £22.50
3S nano composite coating restores trim to 'as new' condition without altering gloss level. Strong UV absorption filter and chemical bond ensures maximum durability with a single application typically maintaining a flawless finish for up to two years!
C4 uses a covalent or chemical bond to actually become an extension of the plastic molecule it's protecting. C4 swaps part of its molecular structure with the surface molecules of your car's trim to provide a protective coating of unparalleled durability.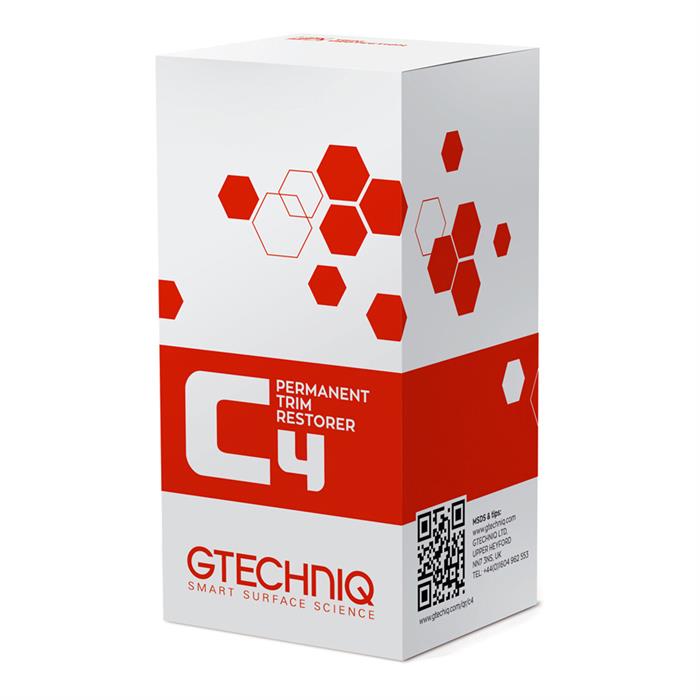 Provides thin clear film – does not add sticky gloss
Restores all but the most faded trim to 'as new'
One application can last up to 2 years!
Use on correctly prepared surfaces for maximum benefit
Clearvision Screen Kit From £17.25
The perfect windscreen solution for the winter months. With G1 on your windscreen you can say goodbye to smears and benefit from superb visibility in all weathers.
Better visibility in rain, sleet, fog and snow is all about safety. And the safety benefits are not just the obvious ones that self-clearing screens bring. Rain and grime-free screens also means greatly reduced eye fatigue, which can lead to drowsiness and loss of concentration whilst driving. Once properly prepared and applied, the satisfaction of seeing the water glide away from the windscreen is unrivalled.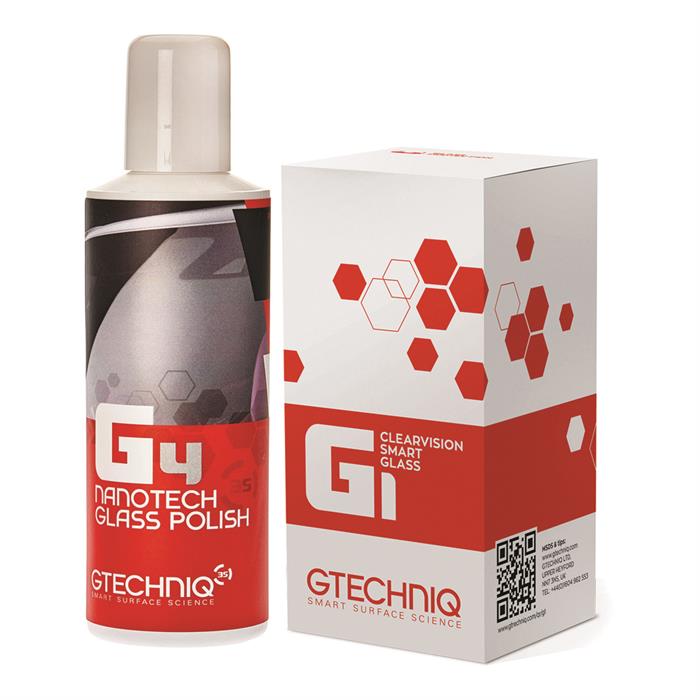 Smear free finish
Easy to apply
Kit includes Free G2 Residue Remover
Reduces Driver Fatigue
Ideal preparation for winter months
Superb visibility and hydrophobicity
The full range of Gtechniq Products can be found here.
Visit Ultimate Finish for the best car care and detailing products from around the globe.
Have a question on any of our products? Email sales@theultimatefinish.co.uk or call 01474 360 360.
Our team is on hand, Monday to Friday, 8am-5pm.