Kamikaze Collection Ceramic Coatings at UF Studio
Kamikaze Collection is a revolutionary range of high-end boutique car care products designed and manufactured in the heartland of the ceramic coating industry: Japan.
Japanese paint finishes are known for typically being quite soft and therefore easy to mark. Avid car care enthusiast and professional detailer, Kai Morita, was determined to find solutions to some of the most common challenges detailers face and so, in 2013, he founded Kamikaze Collection International.
The Japanese car care industry has pioneered the growth of the glass coating industry, historically based on inorganic chemistry. Durability and hardness of the coatings have been the main focuses and key selling points of these coatings, but for Kamikaze Collection CEO, Kai Morita, many of these claims were overstated or unrealistic. Instead of following the crowd, Kai Morita is on a mission to combine state-of-the-art technology with traditional know-how, and Kamikaze Collection International prides itself on delivering truly innovative and unique products without relying on hype. Drawing on a decade of experience within Japan's domestic product development network, Kamikaze Collection has developed relationships with forward-thinking, technologically advanced associates to produce a range that is truly revolutionary – the performance of the products testifies to the success of this approach. Employing the 'kaizen' approach, Kamikaze Collection focuses on continuous improvement: there is always room for improvement; therefore there is no 'best', only 'better'. Through hard work and persistence, Kai has been growing the reputation of Kamikaze Collection, forming key relationships with partners and respected detailers around the world and UF Studio was among the first in UK to be fully certified and part of the Kamikaze Collection detailer network.
All of Kamikaze Collection's coatings provide resistance to swirls, the leading cause of paintwork becoming dull and lack-lustre over time. The coatings are also virtually impervious to extremes of pH, and so are resilient to acid rain etch and harsh wash chemicals and making them less susceptible to road salts and chemicals used to keep roads clear during winter. UF Studio offers customers a choice of Kamikaze Collection ceramic coatings including Miyabi Coat as Standard protection. With access to Kamikaze Collection's professional-only coatings, UF Studio also offers Zipang Coat as a single stage protection or with the option to add a base layer of Miyabi. Finally, UF Studio also offers Kamikaze Collection's most advanced professional-only coating, ENREI.
Kamikaze Collection Miyabi Coat (Standard)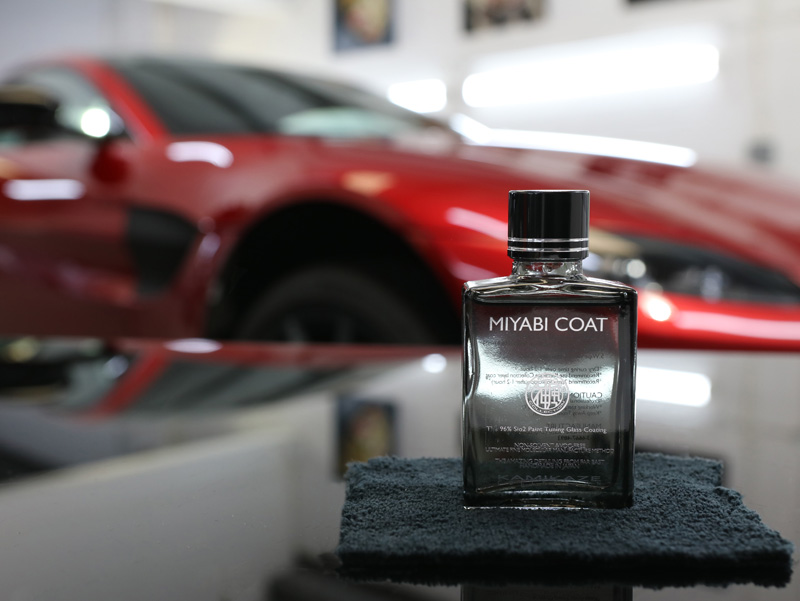 Miyabi Coat's name is derived from 'miyabe', the Japanese word encompassing the aesthetic ideal of elegance and refinement. Kamikaze Collection wanted to produce a coating that showed off the essential beauty and clarity in paintwork and with Miyabi Coat, they succeeded. Miyabi's formulation uses smaller molecules than the average glass coat sealant, making it less prone to water spotting – a common challenge – and as a result, treated surfaces are far easier to care for during the weekly wash. Available for avid enthusiasts to purchase should they wish to complete a detailing treatment at home, Miyabi is one of the Standard coatings offered by UF Studio for car lovers looking to ensure their paintwork has first been comprehensively and thoroughly prepared by professional detailers.
Kamikaze Collection Zipang Coat (Pro Single Layer)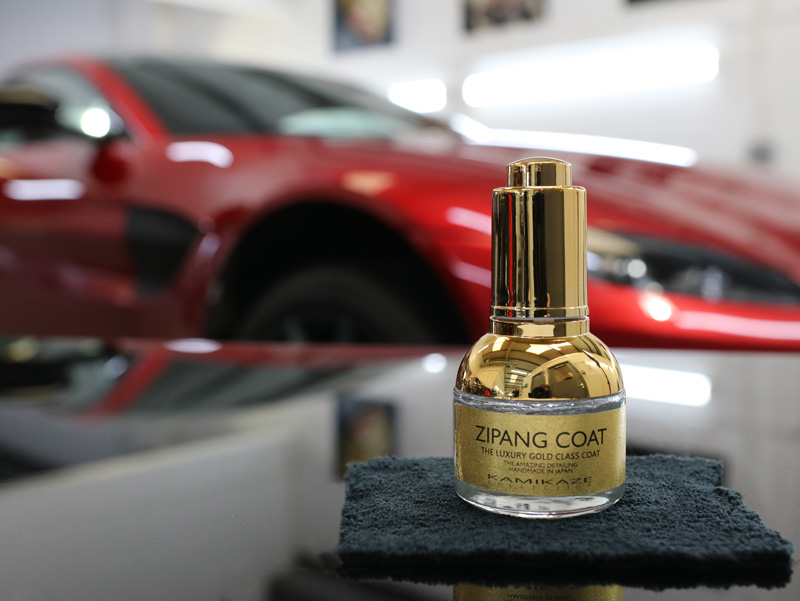 The word 'Zipang' is derived from the name Marco Polo gave to Japan when he discovered it, calling it The Land of Gold. In developing Zipang Coat, Kamikaze Collection wanted to produce 'a beautiful coating' that would bring out the gloss and 'fire' in paintwork. Drawing on knowledge gleaned through the development of their first professional-only coating, ISM PRO, and combining this with new chemical wizardry, Zipang Coat has used an enrichment formula to provide even deeper levels of gloss than its predecessor. A key distinguishing feature of Zipang Coat is its self-healing ability, activated by warmth: the appearance of minor swirls will reduce with exposure to sunshine or water hotter than 75 degrees Celsius. This helps maintain the 'as new' appearance of paintwork for longer.
Kamikaze Collection Miyabi Coat / Zipang Coat (Pro+ Dual Layer)
To increase the hydrophobic function and for additional protection, Miyabi can be finished with a layer of Zipang which has the added benefit of further enhancing the shine.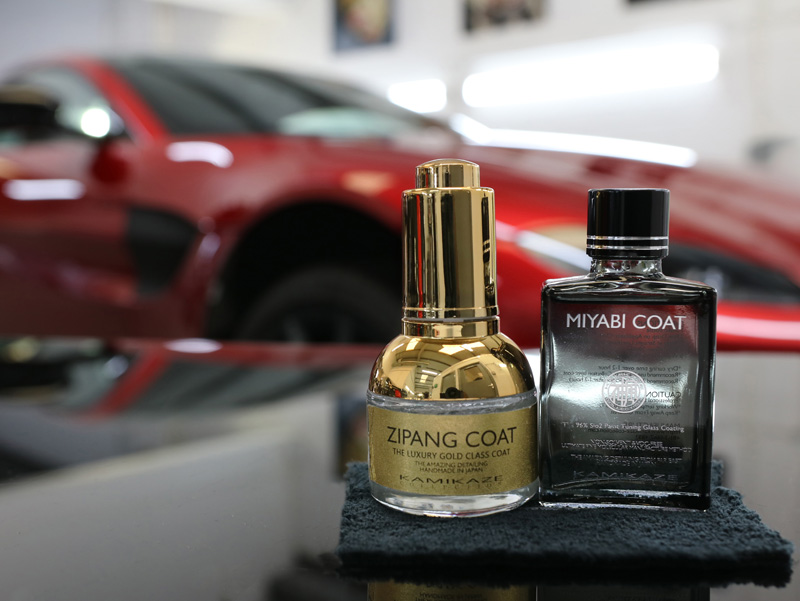 Kamikaze Collection ENREI Coat (Ultra 2-Stage)
ENREI Coat is a 2-stage sealant that combines organic and inorganic elements to provide superior protection from chemical and environmental contamination whilst delivering a candy-gloss shine. No 1. Primer Base Coat has been engineered to have a high chemical affinity to clear coat as well as to No.2 Top Coat. This enables it to lock into the clear coat's surface, levelling it out to become completely uniform (for better reflectivity) and also acts as a primer for the top layer. No.2 Top Coat provides the highest level of protection from industrial and environmental contamination and longevity. As the two layers fuse and cure, they form a matrix formed of the smallest molecules, the better to repel water, dirt, and contamination that, as a result, will not bond as readily. Maintenance washing is therefore much easier, negating the need for harsh chemicals as contamination slides away from the surface. This helps to keep the paintwork free from wash swirls and maintain the 'as new' look for longer.
Whether you're looking to protect your vehicle from new, restore the paintwork on a daily driver that wasn't protected with a ceramic coating, or whether you're looking to restore your classic car to show condition, UF Studio has the detailing service to suit your requirements.
UF Studio – Award Winning Detailing. Call 0333 800 8004 to discuss your requirements or complete the online enquiry form here to receive a bespoke no-obligation quotation by email.
UF Direct – Shop The World's Best Car Care Products.