Mercedes-Benz SLS AMG Soars In For 1K-Nano Protection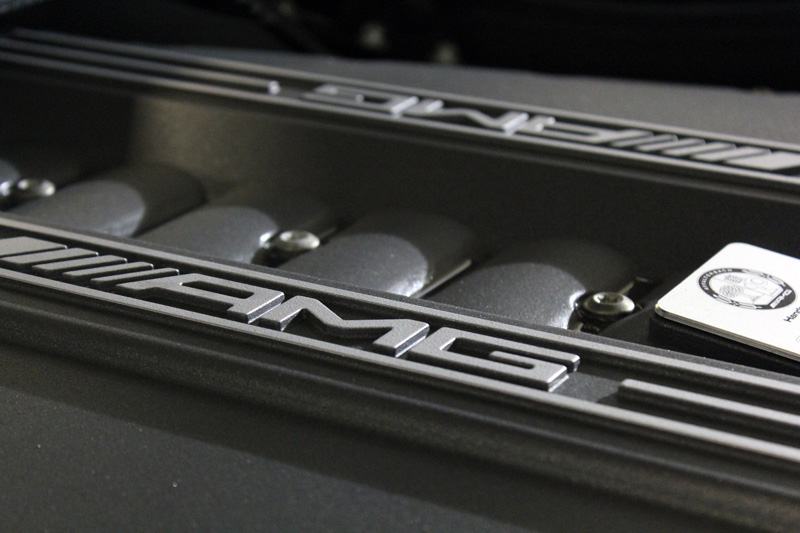 Impressive on paper, overwhelming on tarmac – the Mercedes-Benz SLS AMG has been turning heads since it was unveiled at the Frankfurt Motor Show in 2009.
The SLS was designed from the ground up by AMG who reportedly were given carte blanche to come up with a car engineered to thrill like no other sports car before it. Drawing from design and technology in the world of motorsport, the SLS AMG features the most powerful standard-specification naturally aspirated V8 engine in the world and the AMG Speedshift 7-speed dual clutch transmission boasts a shift time of under 100 milliseconds. The aluminium space frame keeps it light and with a ride height of just 369mm the SLS AMG lets the driver feel the speed in an utterly visceral way.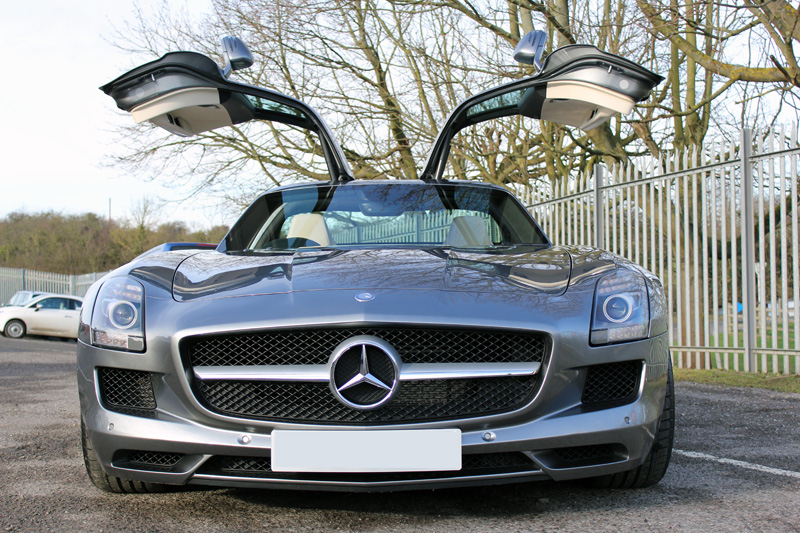 The interior is laid out in the same way as a race car – focussed on the driver – and bears a striking resemblance to an aircraft cockpit. Soft Nappa leather and solid metal finishes give a handcrafted feel of luxury seldom found in sports cars and yet with 176-litre luggage compartment – there's even room to pack for a weekend away!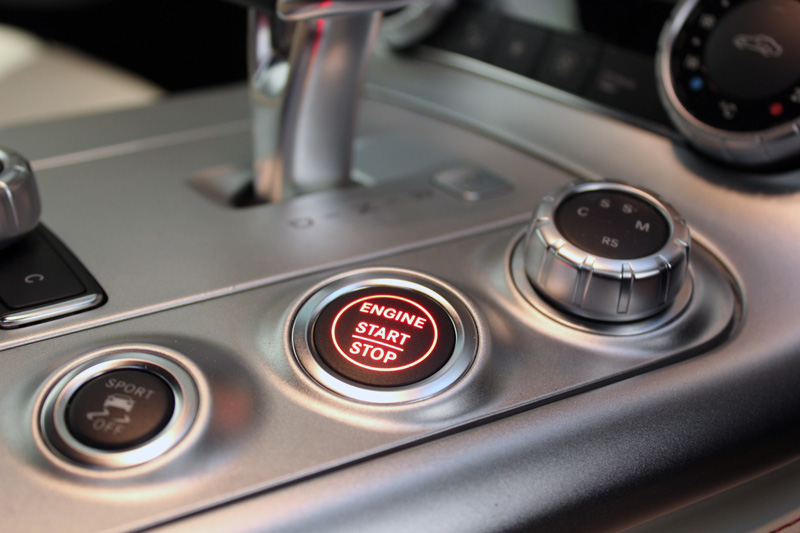 This Imola Grey SLS AMG belongs to a long-standing customer of Ultimate Detailing Studio, so when he needed it preparing for winter storage he booked it in for a treatment. Recently Koch Chemie had delivered a sample of their nano-ceramic sealant '1K-Nano' and, as Koch Chemie is a partner of Mercedes-Benz, this seemed the ideal opportunity to evaluate it.
The paintwork was in fairly good condition – hardly surprising as there was only around two thousand miles on the clock. A few swirls and, surprisingly, I did find a couple of RDS (Random Deep Scratches) but nothing major. These cars are simply jaw-dropping to look at and I couldn't wait to get started on it! – Derek Ginger, Master Detailer, UDS
To begin with the car was treated with Nanolex Wheel Cleaner & Iron Remover to deal with any ferrous contamination. Then it was gently degreased using Gtechniq W5 All Purpose Citrus Cleaner. After rinsing, Ultimate Snow Foam was sprayed on and allowed to dwell, the foam lifting larger particles of dirt and grit away from the surface of the paintwork.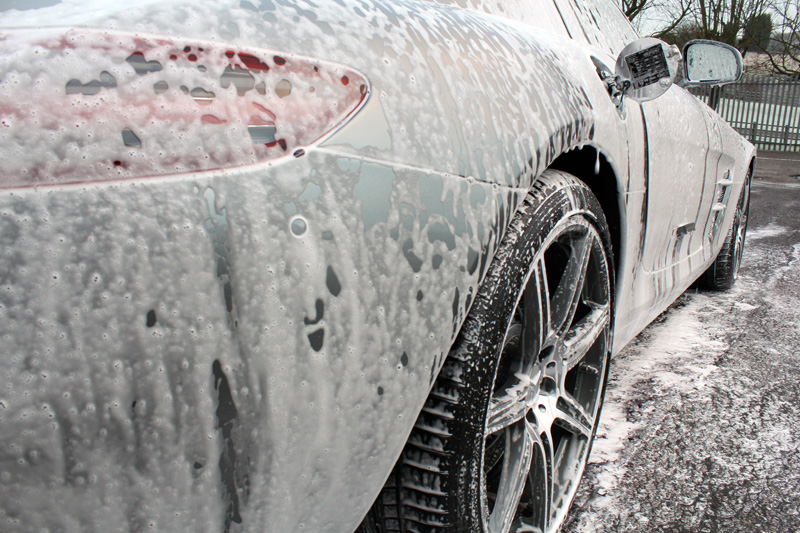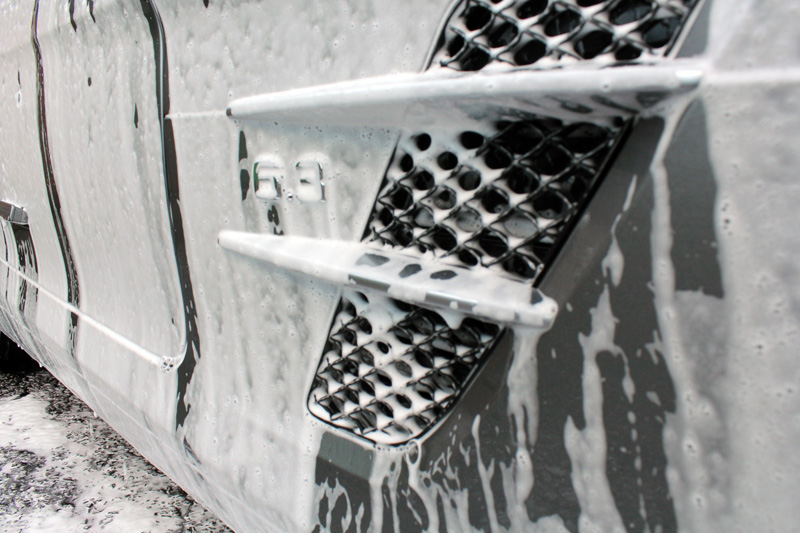 The SLS AMG was then washed carefully, using the Two Bucket Method and Swissvax Car Bath. After rinsing, an Aqua Gleam filter was connected to the hose to give the car a final, pure water rinse. The car was then dried and brought into the studio for inspection.
Mercedes paintwork is notoriously hard so I decided to opt for the RUPES UHS System. The pad and compound have been engineered specifically for Ultra High Solid ceramic paints which are typically difficult to remove blemishes from. The UHS System works as a one-step process and it's dust-free, so all in all it was the ideal solution for taking care of the few swirls and scratches on the SLS AMG. – Derek Ginger, Master Detailer, UDS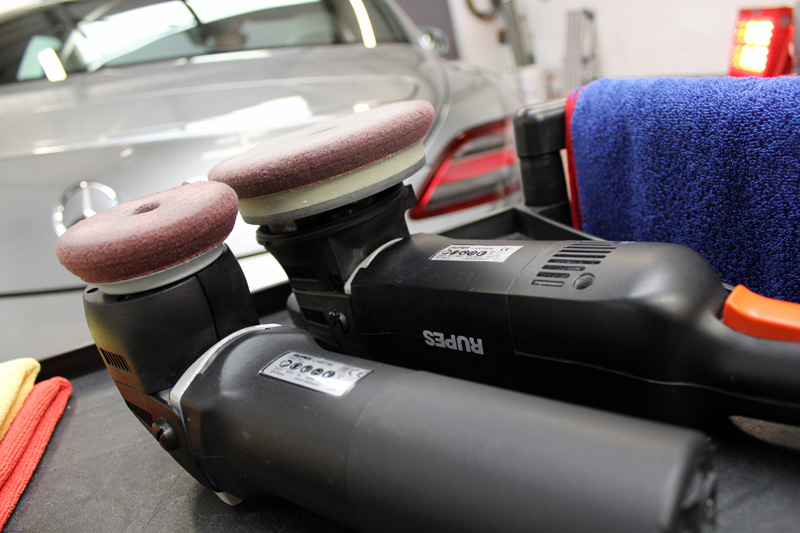 With the paintwork corrected and refined it was time to apply the sealant. Koch Chemie states 1K-Nano builds a protective layer, 5-8nm (nanometres) thick which provides protection from the elements as well as being highly hydrophobic. Dr Ralf Münzenberg, Research and Development scientist at Koch Chemie says:
With 1K-Nano we have been successful in developing a product that features an extremely high gloss and smoothness level, that also conjoins firmly with the paint structure for a long period of time and that is resistant to chemicals and abrasion.
1K-Nano works by the sealant forming covalent bonds with the substrate, in the same way as other nano sealants. The application process however, is by machine polisher.
Most nanotechnology based sealants are applied by hand, but 1K-Nano is different. After decanting it from the 'host' bottle into an applicator bottle the product is then applied to a soft machine polishing pad. Applying the sealant in this way gives a very even layer, much more so than when you apply by hand. This went on so easily, it was a real pleasure to work with. – Derek Ginger, Master Detailer, UDS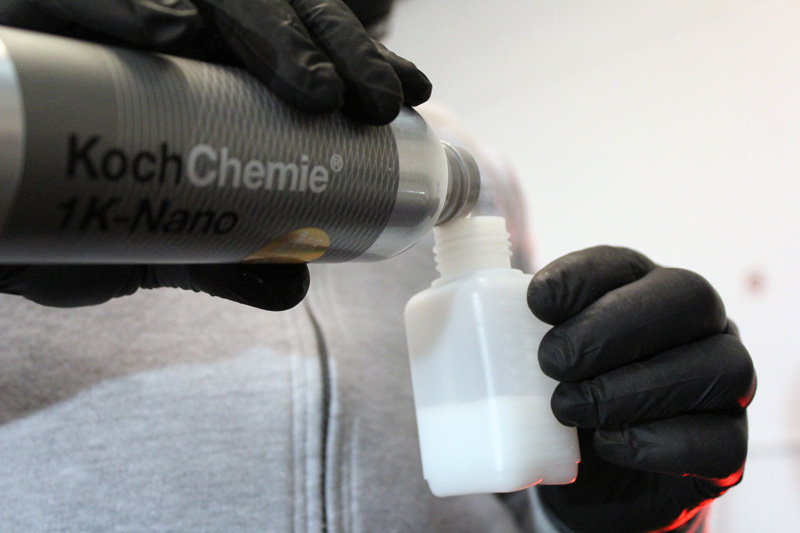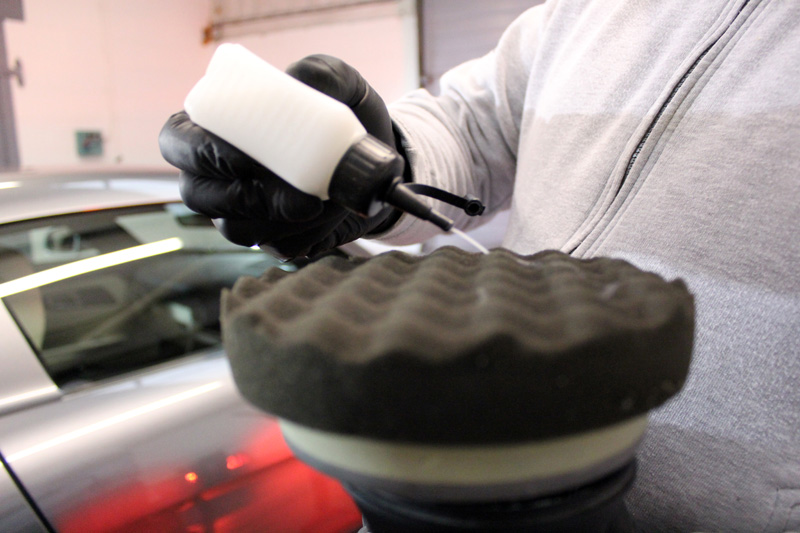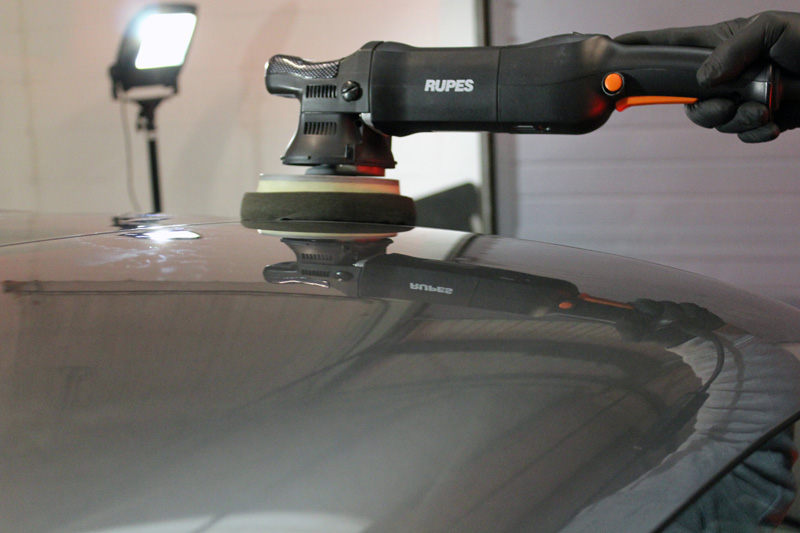 Once the sealant has been applied it was allowed to cure briefly before being buffed away.
When the sealant goes slightly cloudy it's time to wipe it with a microfibre. No real buffing is required, it comes off very easily – unless you leave it too long and then it becomes a bit tougher. There are no time constraints with this sealant either, once it's been applied it cures within a couple of hours – brilliant if you're in a hurry to take the car out again! – Derek Ginger, Master Detailer, UDS
The results were very impressive.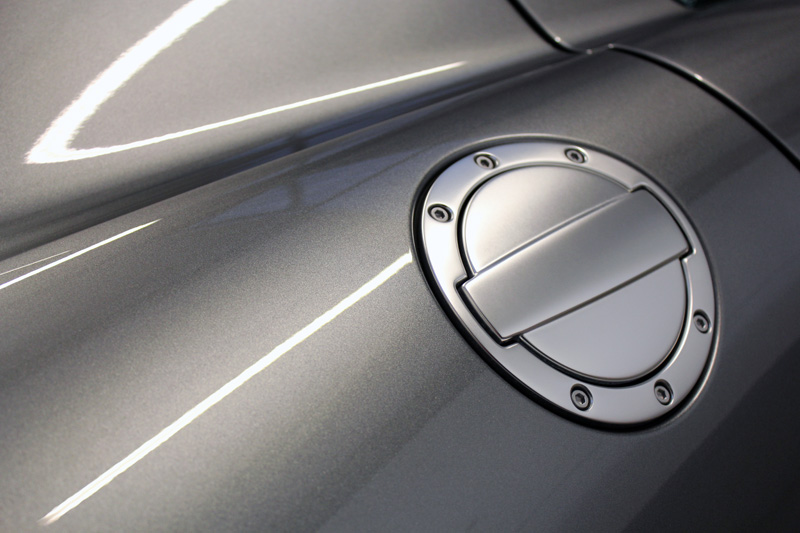 1K-Nano left a really high gloss, a lovely, sleek and smooth finish. The paintwork felt silky to the touch. It's marketed as being highly resistant to chemicals, environmental and industrial fallout – although as this car is going into storage it's unlikely to see any of those contaminants for a while! It will be interesting to see how 1K-Nano performs over time but certainly the finish it leaves is extremely good. – Derek Ginger, Master Detailer, UDS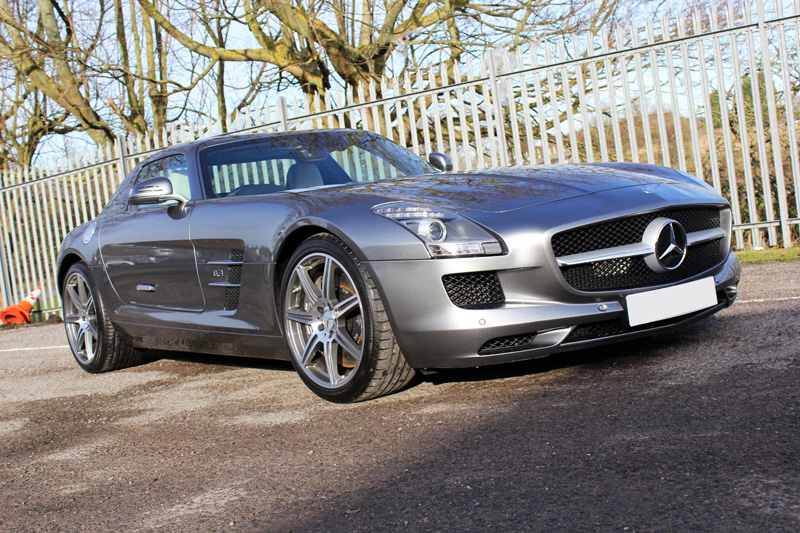 The customer arrived to see the results of the work and was chuffed to bits, remarking that it was a shame to waste the effect by putting the car into storage. At least he knows the SLS will be fully protected and ready for when he needs it again.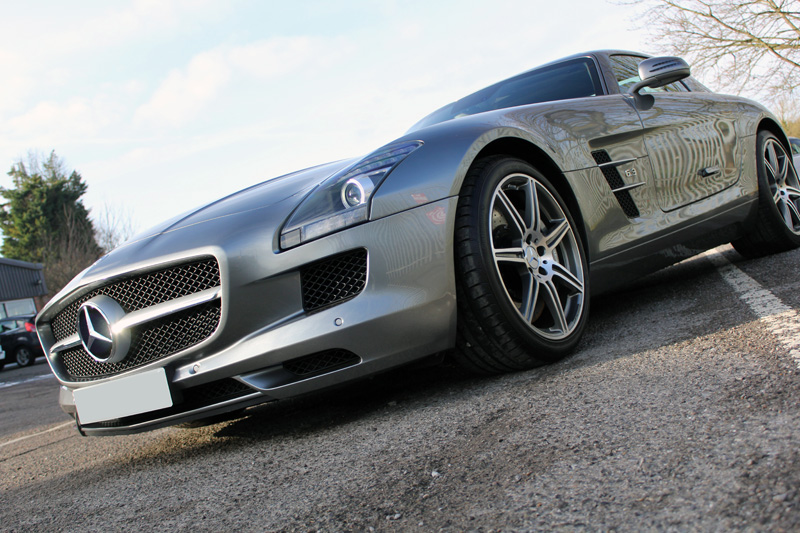 Ultimate Detailing Studio – Award Winning Detailing. Call 0333 800 8004 to discuss your requirements and arrange a free vehicle appraisal.
Ultimate Finish – Innovative Automotive Care since 1999.