911 Carrera GTS: Peace Of Mind Protection For A New Porsche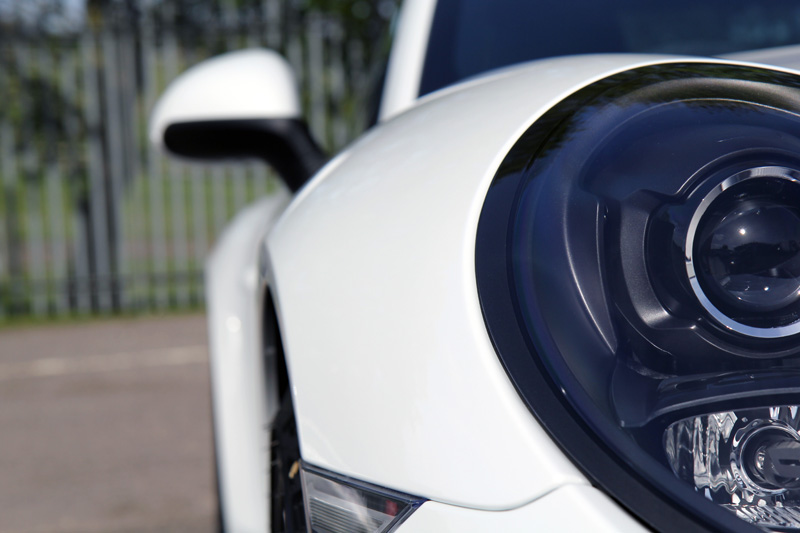 A new car represents a significant investment, particularly if it's the latest model Porsche 911. It's the sports car to have, to drive daily, on the road or on the track. Loved the world over, the new 911 Carrera GTS has been described by Chris Evans as "a back-to-basics, raw-and-ready stick-shift, designed to emulate the 911's glory days of the Seventies. And they've pulled it off, big time." Such praise does not come lightly, but one look (and five minutes on the open road) and it's easy to see what Mr Evans means! However, having bought a brand new 911 (or any car for that matter) how do you go about ensuring it stays looking as good as the day it left the dealership?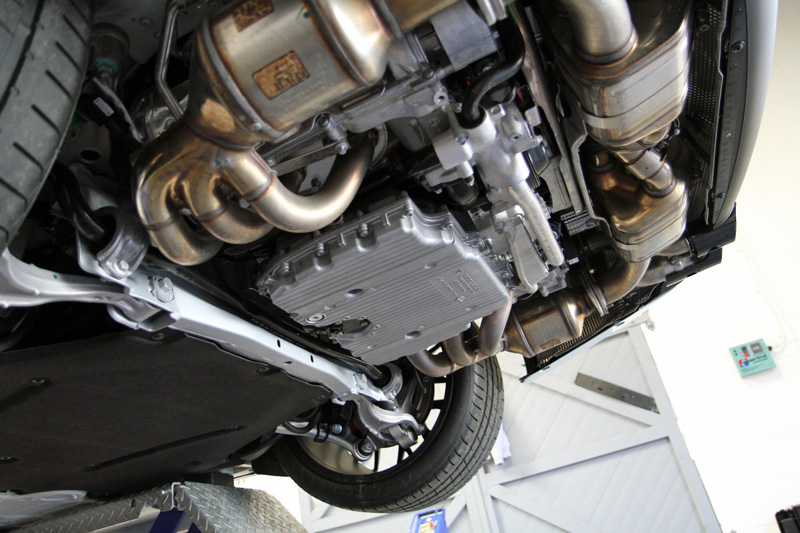 These days almost all dealerships offer a protection treatment as part of the optional extras package when they're selling the car. They're tied in to a contract with a single car care manufacturer, a contract undoubtedly negotiated on the basis of price rather than performance and on how long the sealant takes to apply. Whilst some of these treatments do offer a level of protection, their degree of effectiveness also depends on the skill of application. Often the task of applying the treatment falls to an outside contractor with no real ties to the dealership. Ultimately, the primary focus for the contractor and the dealership is turnover, not the lasting protection of a car they've sold.
The answer is to eschew dealership offerings and have your new car protected by an independent studio. An independent studio's only concern is providing the highest level of protection with products created using the very latest technology the car care market has to offer. It was with this thought in mind that this customer brought his brand new 911 Carrera GTS to the UF Detailing Studio.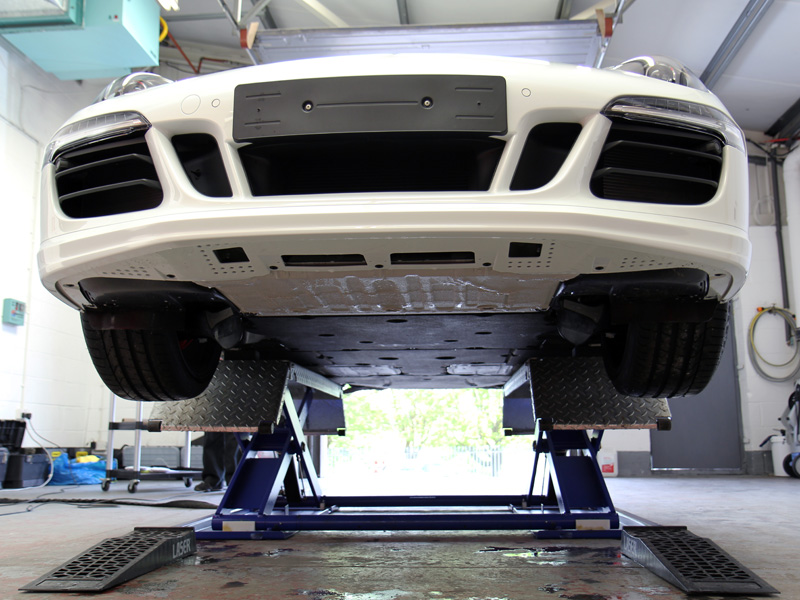 The concept behind New Car Protection Treatment is simple – you want your car to stay looking as good as new for as long as possible. It's not just the aesthetic aspect although of course, we want our cars to look nice, it's also about preserving resale value. Poor washing techniques result in swirls and scratches marring the paintwork, making it look dull and tired. The key to avoiding this is to have a tough, swirl-resistant sealant applied and then to ensure the car is cleaned using a process of decontamination and pre-cleaning before washing. – Jez Gilman, Managing Director, UF
Even though the 911 was brand new, a thorough decontamination process was followed*, with the car first treated for ferrous contamination, treated for tar and adhesive deposits before being degreased and finally pre-cleaned with Ultimate Snow Foam. The 911 was then washed using the Two-Bucket Method and given a final, pure water rinse with an Aqua Gleam deionising water filter. After being dried and inspected under high intensity lighting, the paintwork was given a light polish using a FLEX PE14-2-150 rotary machine polisher, a Flexipads PRO-Detail Hex-Logic Black Finishing Pad and RUPES Keramik Gloss No 3, ensuring there were no fine swirls in the paintwork and giving it a high gloss finish. The paintwork was now ready for a protective, nano-ceramic coating.
Nanotechnology-based sealants are inherently very tough as a result of their molecular structure: the surface area of each atom is large compared to the internal volume and therefore these sealants offer the highest level of swirl resistance. They are able to withstand extremes of pH, so reducing paint dulling as a result of swirls, harsh wash chemicals, acid rain etch, environmental and industrial fallout.
The bodywork, trim and wheels were first cleansed using Gtechniq Panel Wipe to remove any traces of polish residue, leaving the surfaces completely bare. This allows the sealant to form the highest number of bonds possible with the substrate, ensuring the maximum performance, longevity and durability of the sealant.
On this occasion, Gtechniq Crystal Serum was selected as the sealant to protect the bodywork. Crystal Serum is the newest nano-based sealant from Gtechniq and has been subjected to years of research and testing.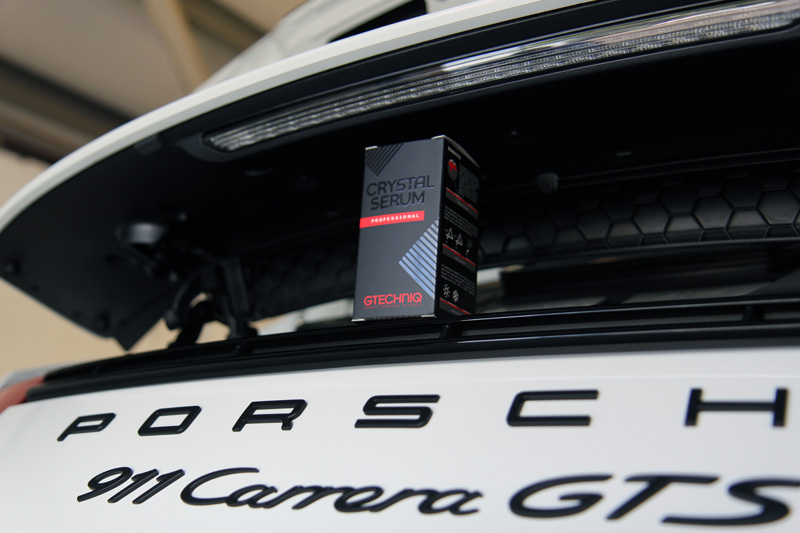 Crystal Serum provides a tough, dual layer barrier which protects the substrate from swirls, fallout and UV as well as being virtually impervious to high and low pH chemicals. The toughness comes from the nanotechnology structure, the underneath layer of which flexes under pressure whilst the top layer remains extremely hard. Contamination, oils and water are repelled, forced to roll into beads by the hydrophobic nature of the sealant. These beads blow easily away from the treated surface, keeping the surface cleaner for longer. As dirt cannot adhere as fiercely to a treated surface, no harsh chemicals are required during the weekly wash process and the requirement for 'scrubbing' at the paintwork with a wash mitt is greatly reduced. These factors combine to offer thorough protection for the paintwork, keeping it looking as new for longer. Crystal Serum must be applied in carefully controlled conditions and as such is available as a service and may only be applied by Gtechniq-accredited detailing studios. Gtechniq is so confident in the performance of Crystal Serum it carries a seven year guarantee!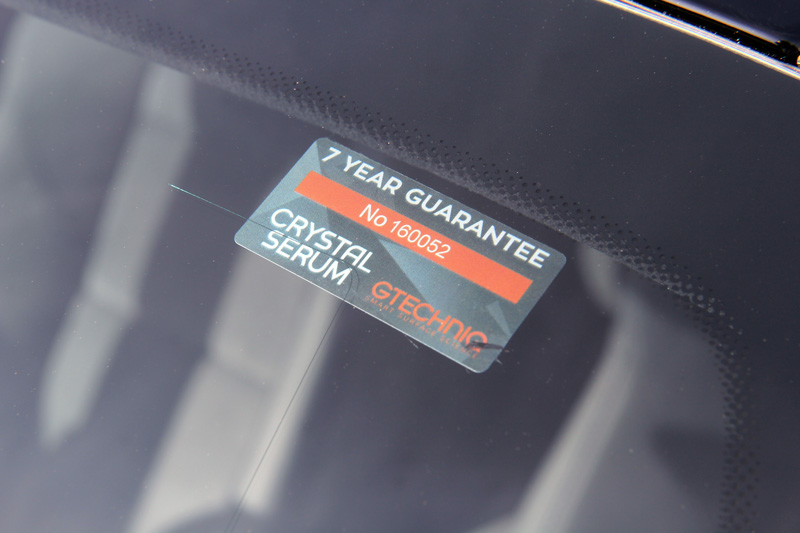 Polycarbonate headlight covers are subject to hazing through scratching and oxidation. In order to inhibit such wear and tear the headlight covers were also protected using Gtechniq Crystal Serum.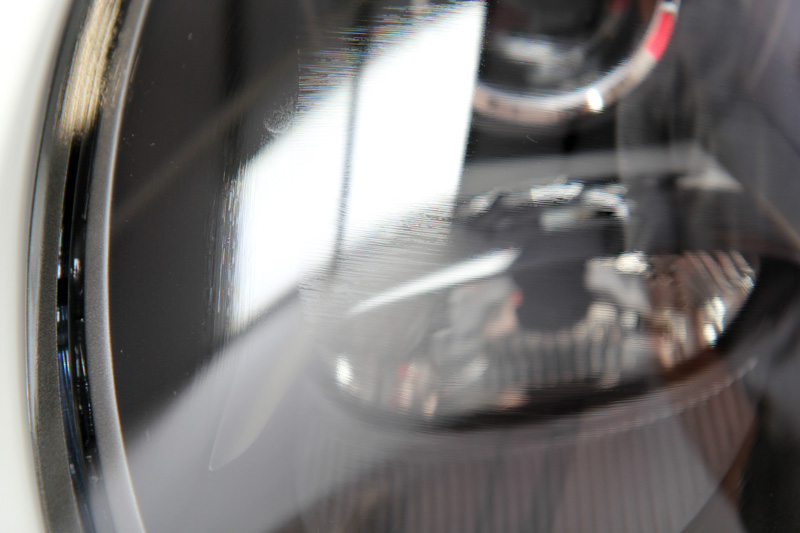 Taken as individual parts, the alloy wheels are expensive assets in their own right. Closest to the ground they are submitted to the daily onslaught of road grime, oils, grit and dirt thrown up by the roads as well as harmful contamination from brake pads shredding during braking. These particular alloys had a matt finish, so to protect them Nanolex Ultra Matte Surface Sealant was used. This heat resistant sealant prevents contamination from bonding to the wheel's surface and makes the maintenance wash much easier. Again, the need for harsh chemicals is eliminated due to the anti-stick property of the sealant.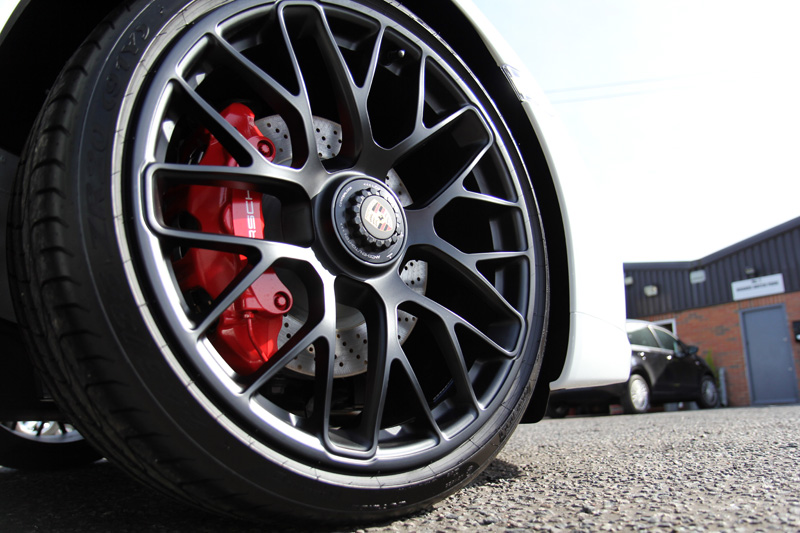 The glass was treated with GYEON Q2 VIEW, first being cleaned using GYEON Q2 CLEANSE then sealed using GYEON Q2 REPEL. Once cured, this hydrophobic sealant repels water, causing it to form beads which blow away whilst driving, even at lower speeds. This improves visibility and makes driving in adverse weather conditions safer and less tiring.
The plastics and exterior trim were coated with Gtechniq C4 Permanent Trim Restorer. Unlike many trim protectors, the nanotechnology-based formulation of C4 means it does not wash away with the rain or during the weekly wash. Typically one application will provide up to 24 months protection from harsh chemicals, industrial and environmental fallout as well as UV fading.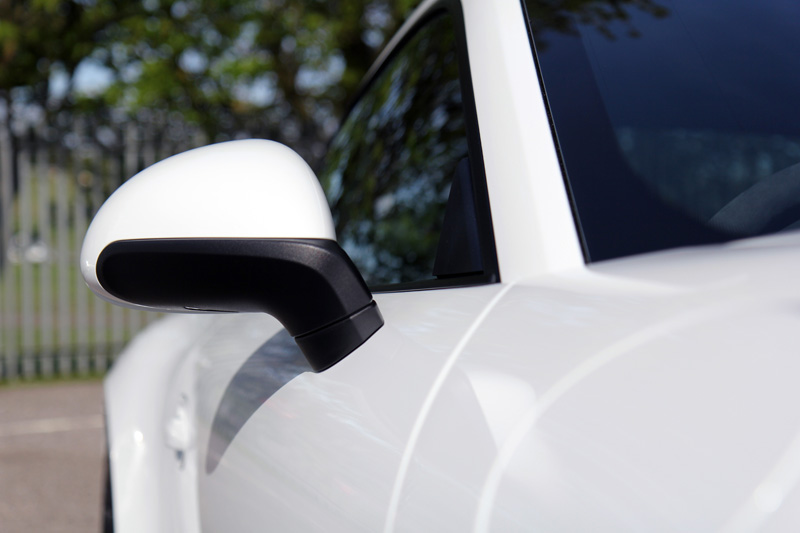 The exhaust tips, being new had not been subject to a build-up of carbon deposits, so an abrasive metal cleaner was not required. Instead the tips were burnished using Gtechniq M1 All Metal Polish, a chemical cleaner which leaves a bright lustre. They were then cleansed with Panel Wipe and protected with Crystal Serum to ensure future carbon deposits are easy to remove.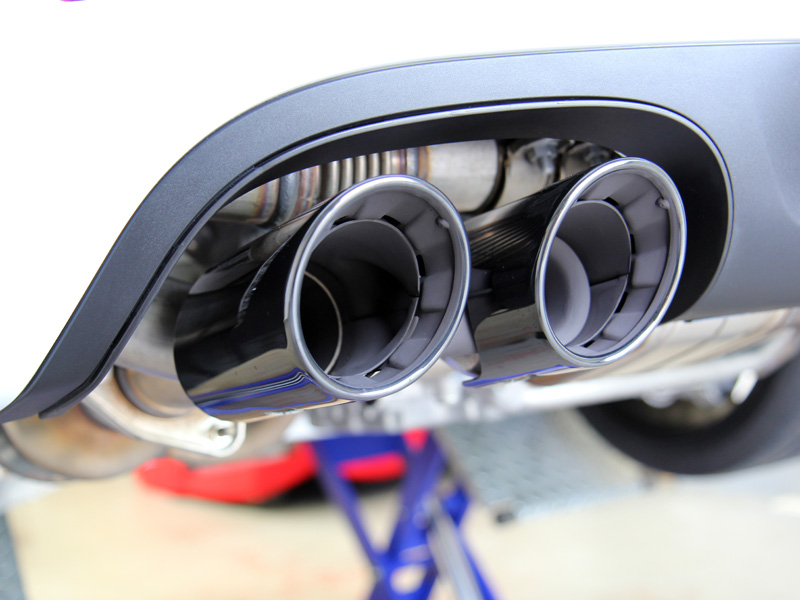 The key to New Car Protection Treatments is to use the most durable products that provide the highest level of protection, tailored to the individual surface material, be it paintwork, glass, plastic or metal. Once coated these surfaces will stay looking 'as new' for longer, allowing the owner peace of mind that the car's appearance is guaranteed and the residual value preserved. The difference in resale prices for vehicles in 'good' condition as opposed to 'poor' condition is potentially enormous. Whilst initially you may think you'll never want to change your vehicle, it's nice to know you'll still be able to achieve top dollar for it should you change your mind! – Derek Ginger, Master Detailer, UF Detailing Studio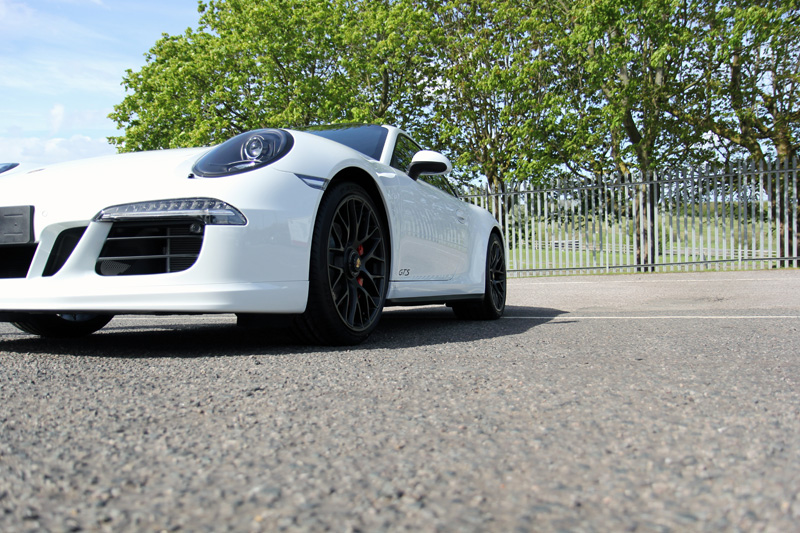 In addition to exterior coatings provided by the New Car Protection Treatment, protection for both Fabric and Leather vehicle interiors is also available.
*For an in depth review of decontamination process please see our earlier article: Crystal Serum Cures Water Spot Woes For Porsche 911 997.
UF Detailing Studio – Award Winning Detailing. Call 0333 800 8004 to discuss your requirements and arrange a free vehicle appraisal.
Ultimate Finish – Innovative Automotive Care since 1999.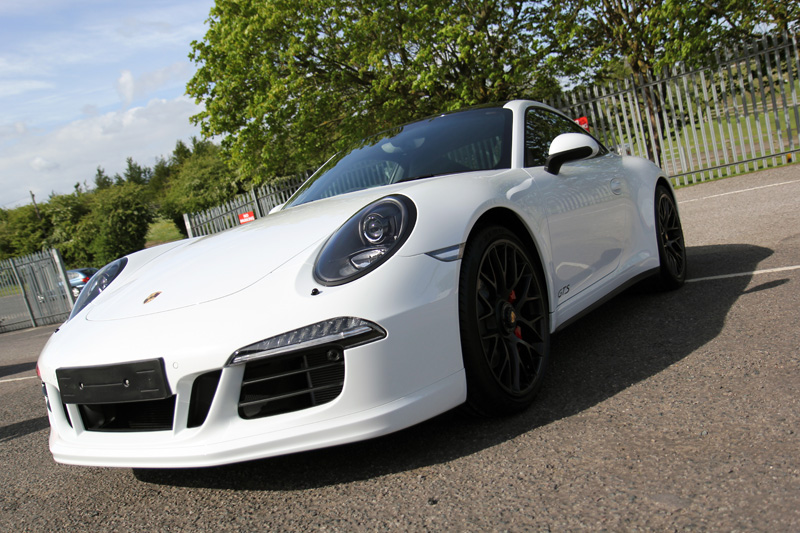 Reference:
Evans, C. 2015. The Porsche 911 Carrera is one of the greatest 'things' the human race has ever created. [Online]. 25 April. [Accessed 15 May 2015]. Available here.
Read more about nanotechnology and its role in car care.