Porsche 911 (996) Carrera 4 – Gloss Enhancement Treatment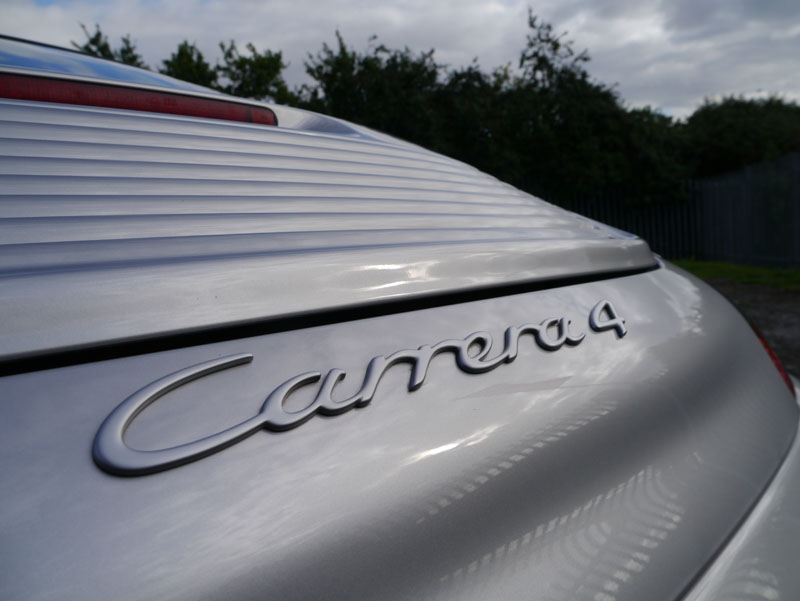 The Polar Silver paintwork on this early (996) Carrera 4 was in remarkably good condition considering it has covered 93,000 miles and gets used on a regular basis (not hidden in the garage!) It has all original paint too – the paint depth readings showed a fairly uniform thickness of paint over each panel, indicating the paintwork had not been subject to any damage or repairs. The 996 was at the Ultimate Detailing Studio for a Gloss Enhancement Treatment to remove some swirl marks, minor scratches and oxidation and to be finished with a nano-glass coat sealant and a layer of Swissvax Crystal Rock State of the Art carnauba wax. In addition our customer required a Leather Protection Treatment, Alloy Wheel Protection and a Clear Vision Glass Treatment. The headlamps also required some attention to remove scratches and hazing.
Initially the boot, bonnet, door shuts and wheel arches on the (996) Carrera 4 were cleaned using Bilt-Hamber Surfex HD and the wheels and bodywork treated with Bilt-Hamber Korrosol, designed to remove iron contamination, usually derived from hot brake pads.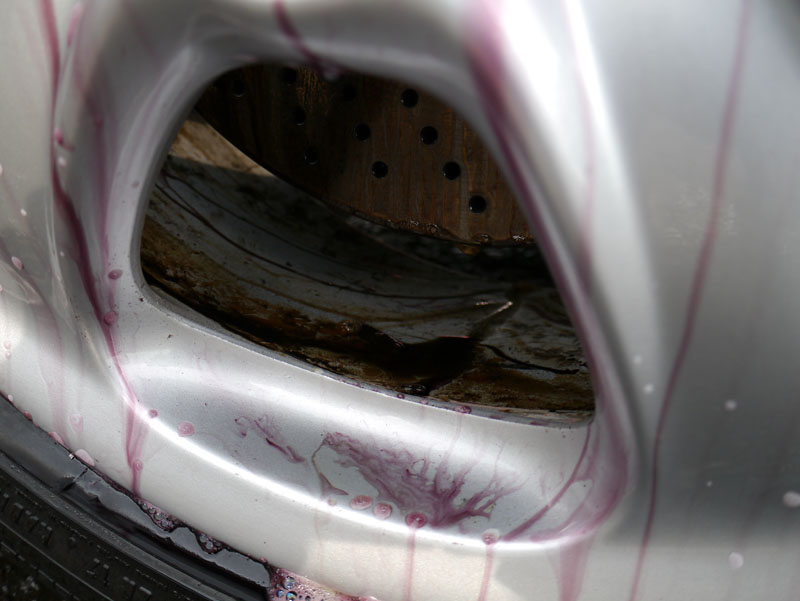 The tyres on the (996) Carrera 4 were degreased (also using Surfex HD) to strip away remnants of tyre dressings. The Porsche was then pre-cleaned using Ultimate Snow Foam, allowing the larger particles of dirt to rinse cleanly away. On the second application of Ultimate Snow Foam our Detailer used a Dodo Juice Fine Grade Square Sponge Clay Pad to remove bonded contamination from the paintwork, using Ultimate Snow Foam as a lubricant.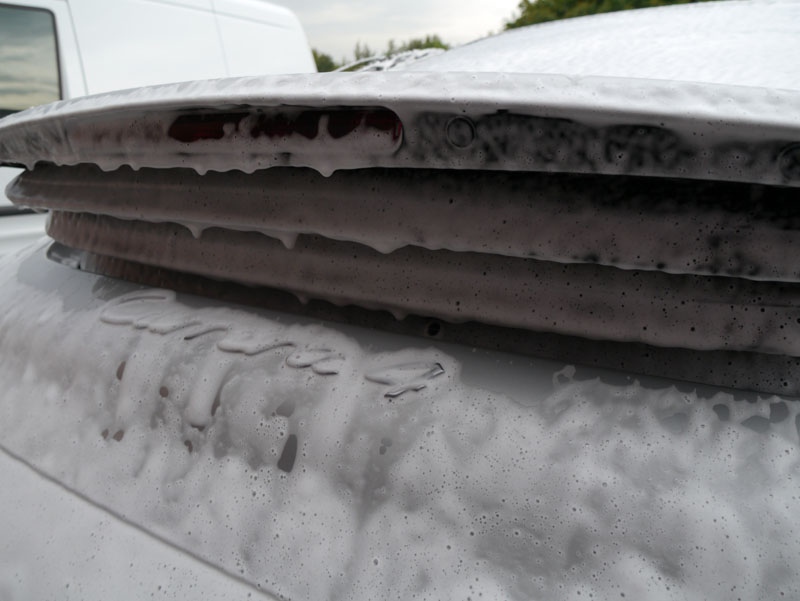 Then the (996) Carrera 4 was rinsed clean and the main wash began, using the Two Bucket Method, a Microfibre Madness Incredimitt and Gtechniq G-Wash. Once clean, the Porsche was jet washed and then given a final rinse with an Aqua Gleam pure water rinse system.
Under a 3M Sun Gun Colour Check Light the scratches and swirls could be seen clearly. Our Detailer determined the best course of action was to use the RUPES LHR15ES with a microfibre polishing pad and SCHOLL Concepts A15 1-Step All-Round Polish.
The paint was 'sticky' so I decided not to use a rotary machine due to the possibility of introducing holograms. The RUPES BigFoot with SCHOLL A15 was a great combination. The scratches and swirls were removed easily and didn't need too much refining. – Master Detailer, UDS
Our Detailer then used Gtechniq Panel Wipe to ensure the bodywork and wheels on the (996) Carrera 4 were wiped free of compound residue. This allows the glass coat sealant to form the maximum bond to the substrate, producing ultimate protection and longevity. The glass was cleaned using Gtechniq Clear Vision Smart Glass, a residue remover followed by a sealant which forms a hydrophobic barrier, dispersing rain water and making driving easier during bad weather conditions.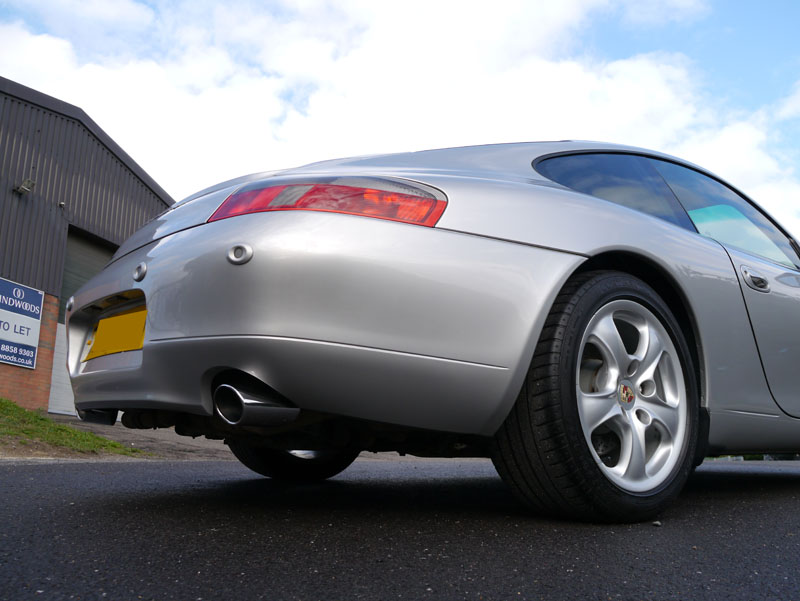 I decided to apply Gtechniq EXO v2 on the 996 because of its class leading hydrophobic properties and high gloss – particularly good for silver which is difficult to enhance the shine. The final layer of Swissvax Crystal Rock finished the bodywork off perfectly. – Master Detailer, UDS
The interior leather on the (996) Carrera 4 was all cleaned using Swissvax Leather Cleaner and then sealed using Gtechniq L1 Leather Coat which actively repels liquids and protects from UV rays, keeping the leather stain free and colour-fast. The tyres were dressed with Swissvax Pneu to give the final, satin sheen touch to a perfectly gloss enhanced Porsche. The wheels were protected using Gtechniq C5 Alloy Wheel Armour, a highly heat resistant scratch resistant and wash chemical resistant coating which actively repels water, dirt and road grime and inhibits the build-up of brake dust.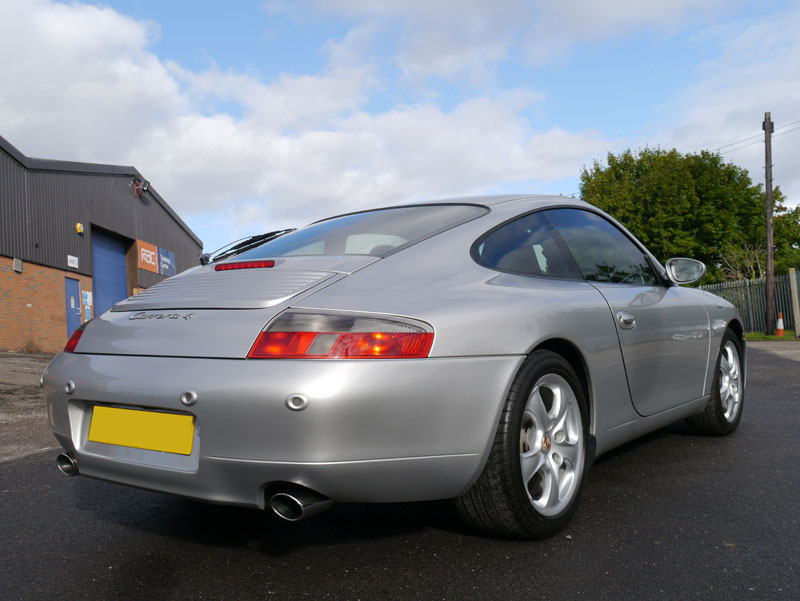 Finally, the Porsche was given a layer of Swissvax Crystal Rock carnauba wax, applied by hand to add extra clarity and depth of shine to the now sparkling polar silver paintwork.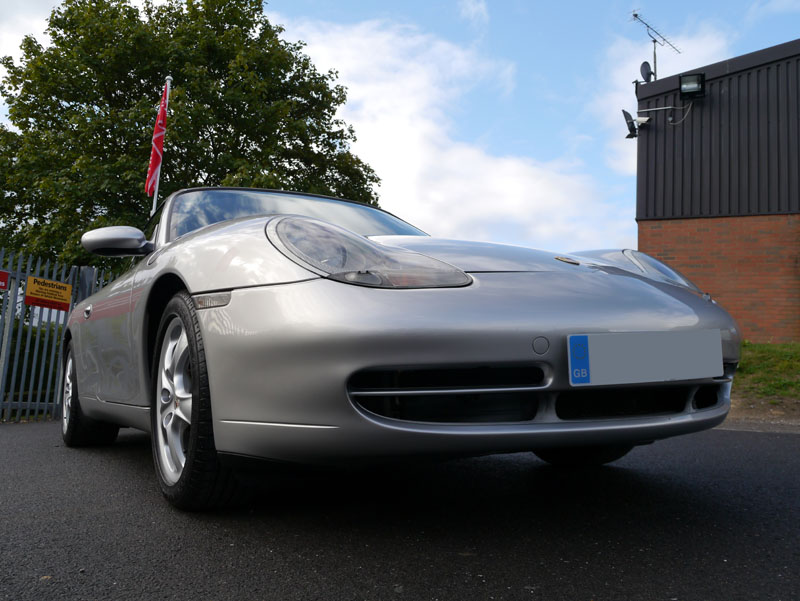 Ultimate Detailing Studio – Award Winning Detailing. Call 0845 838 1200 to discuss your requirements and arrange a free vehicle appraisal.
Ultimate Finish – Legendary Automotive Care since 1999.