Range Rover Sport V6 – New Car Protection with Crystal Serum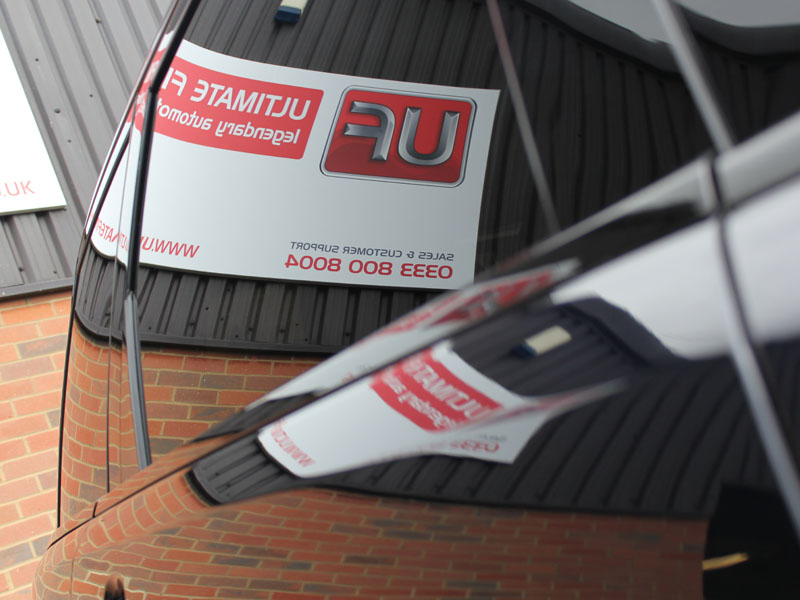 The Range Rover Sport – agile, dynamic, comfortable, well built, good off-road and yet cruises effortlessly down a motorway. Popular with the car buying public since its launch, the 'Sport' and has built up a steady following. The all-new 2014 model features an enhanced, more 'assertive' driving position and a cockpit focused around the driver, so everything a driver needs is at his or her fingertips. The all-aluminium chassis makes the car stronger, so it's better for handling and for safety, as well as lighter to allow for better fuel efficiency and performance. It's really no surprise the Range Rover Sport was voted 'Best Large SUV 2014' by judges at What Car? magazine!
As an expansive and expensive piece of road-going real estate, the sensible option on buying a brand new Range Rover Sport, is to have it protected, right from the start.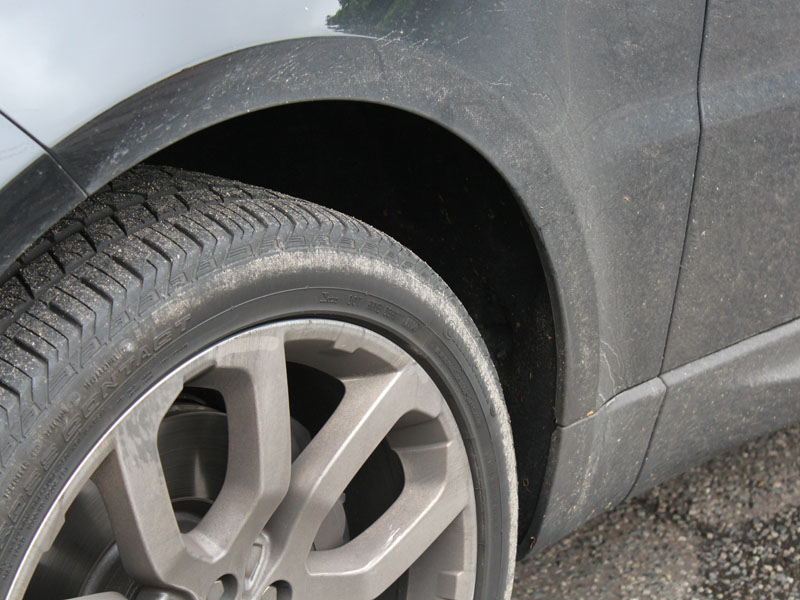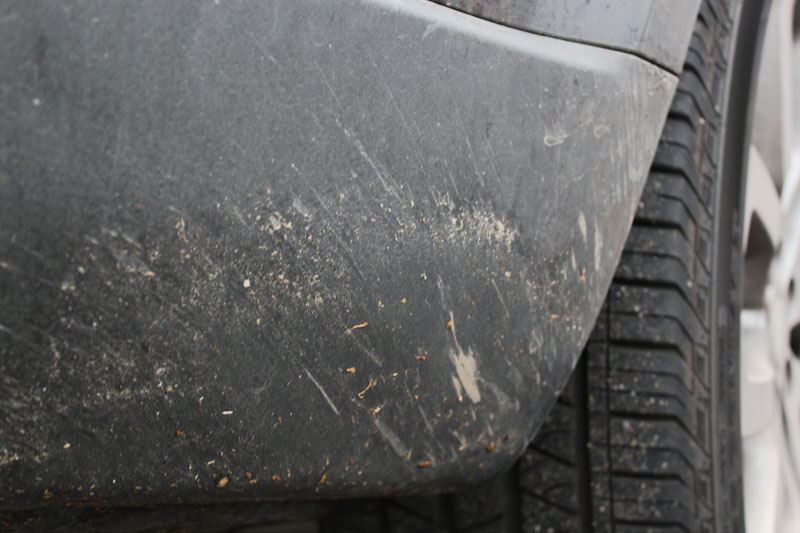 The latest Range Rover Sport booked in to the Ultimate Detailing Studio was a brand new purchase for our customer, who brought it in having driven around 800 miles.
It had been raining quite hard when the customer brought the Range Rover in and as a result it was really dirty, covered in grime thrown up from the wet roads. I needed to thoroughly clean it before I could really assess the condition of the paintwork. – Master Detailer, UDS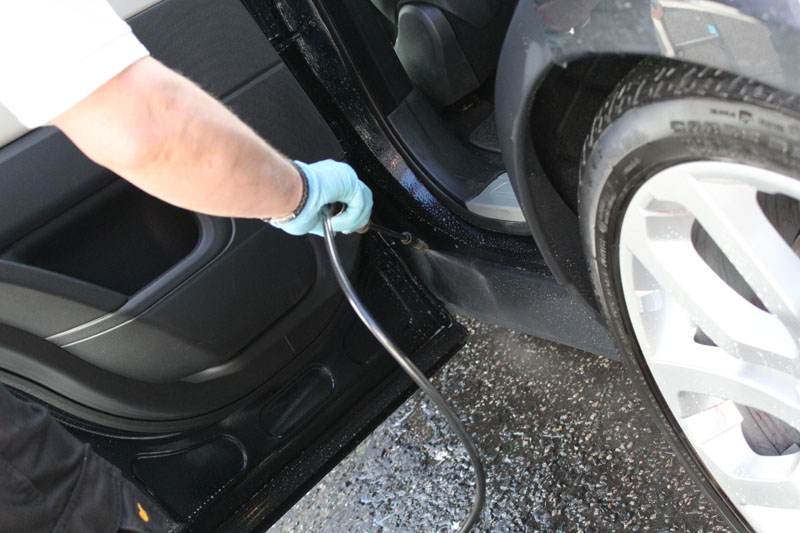 Beginning with decontamination and degreasing, the Range Rover was first treated with Bilt-Hamber Korrosol to remove any bonded inorganic contamination from the bodywork and wheels. Korrosol has a colour-change function, changing to a purple-red when in contact with contamination. This makes it easy to spot when it's working. Having allowed it to dwell for a while the Korrosol was rinsed off before Surfex HD was sprayed over the car, including under wheel arches and on to bonnet, boot and door shuts for a thorough degreasing. The wheels were cleaned using Valet PRO Bilberry Wheel Cleaner. The Range Rover was then treated with Ultimate Snow Foam, to lift the larger particles of dirt away from the surface of the paintwork.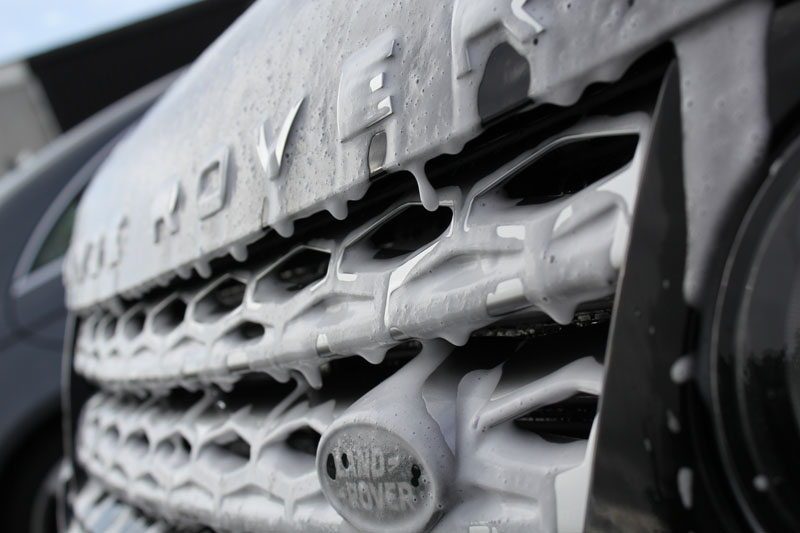 When the car first arrived I thought that the paint was a flat black colour. Using Ultimate Snow Foam helps to prevent incurring scratches and swirling on paintwork during the wash process and this is particularly important for darker colours. Once thoroughly clean I could see that it was actually a metallic black with a subtle blue tint. All the same, dark colours show up every little imperfection, so it's best to limit the likelihood of introducing any new ones into the paintwork! – Master Detailer, UDS
Finally, the Range Rover was washed using the Two Bucket Method, a Microfibre Madness Incredimitt and Dodo Juice Born to Be Mild Shampoo. Then having rinsed the suds away, the car was given a final rinse using an Aqua Gleam De-Ionising Water Filter. These innovative products remove the impurities in water which cause water spot marks and also help impart a natural sparkle on the paint.
Having checked with Range Rover to obtain the colour code, it was actually a premium metallic black, 'Mariana Black' to be precise. It's an optional colour for the Range Rover Sport and it really was striking. Also, now it was clean I could see quite a lot of swirl marks in the paintwork which would need to be removed before I could apply the sealant. – Master Detailer, UDS
Using a FLEX PE14-2-150 with a 3M Perfect III Black High Gloss Polishing Pad and SCHOLL Concepts S40 Anti-Swirl Compound the bodywork was refined to leave a high gloss finish, free from swirl marks.
S40 was the perfect choice – it contains iPT, or intelligent Powder Technology, which is micro-fine aluminium oxide compound that removes blemishes without creating micro-fine scratches which would require refining. For this reason S40 is particularly good on dark colours and scratch resistant paints. The paintwork had to be perfect before I applied the sealant, particularly with Crystal Serum which is very durable. Any swirls not completely removed would be sealed underneath the protective layer for a long time! – Master Detailer, UDS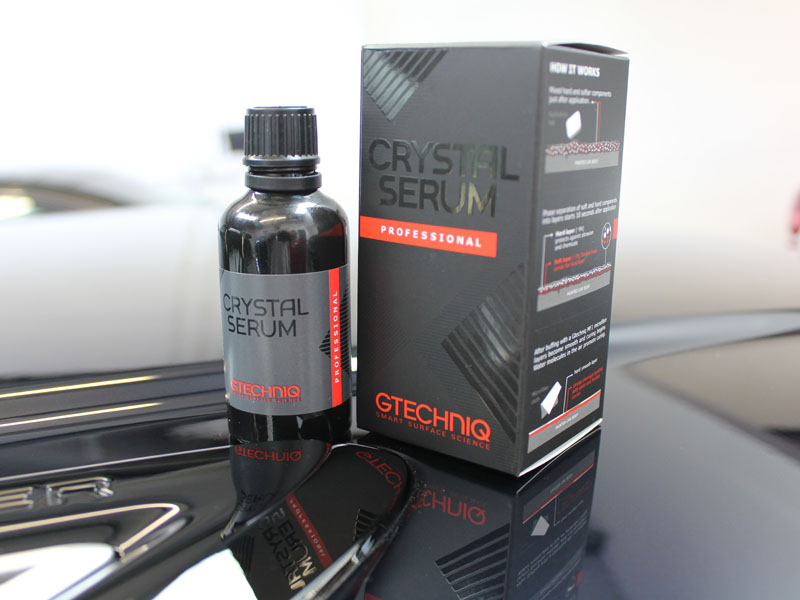 Once perfected the paintwork, wheels and trim were cleansed using Panel Wipe, a cleaner which removes all traces of polish residue to leave the surface completely bare. This allows the sealant to form the maximum number of bonds with the paint, ensuring maximum performance and durability. Once residue-free, Gtechniq Crystal Serum was applied to the bodywork. Crystal Serum is only available through the Gtechniq Accredited Network as it is suitable only for professional application.
Crystal Serum is a relatively new product and we spent a long time in the testing stage to be sure we got the formula absolutely right. The aim was to create the very first composite nano ceramic sealant that combined ultimate resistance to wash chemicals and swirls whilst providing a high shine. Once applied Crystal Sealant forms into two layers: the lower layer with a value of 7h on the hardness scale, is quite thick but retains some flexibility, whilst the top layer is thinner and harder, with a hardness value of 9h. This combination makes it highly resistant to wash swirls and chemicals whilst providing an extremely high candy-gloss finish. It makes it a very good choice of sealant for enthusiasts who love to keep their cars looking 'as-new' as well as for cars that are likely to be used every day, yet require protection for preserving their resale value. – Rob Earle, Managing Director, Gtechniq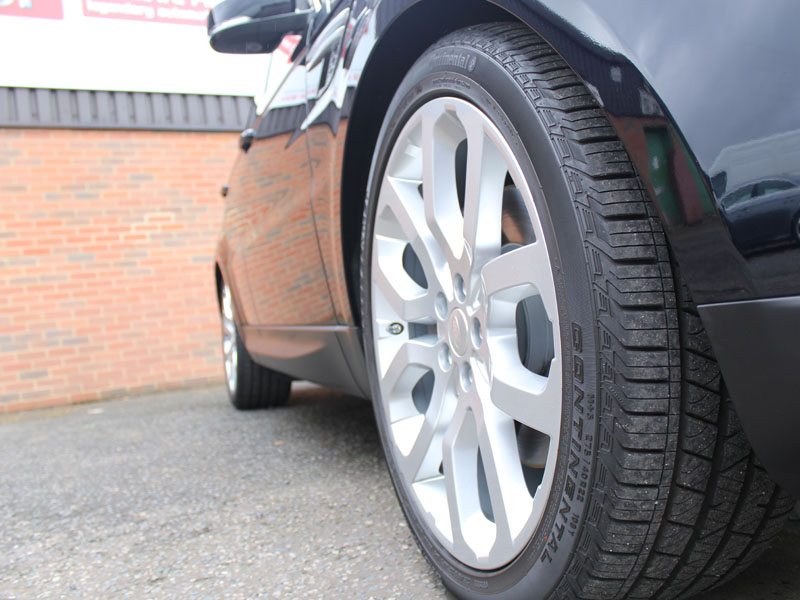 To protect the wheels from brake dust adhesion, road grime build up and tar spots, Gtechniq C5 Alloy Wheel Armour was applied. Then C4 Permanent Trim Restorer was applied to the exterior trim to prevent fading from UV rays. The windows were sealed with Gtechniq G1 ClearVision Smart Glass, a water repelling coating which encourages dirty rain water to bead and blow away, making driving in bad weather conditions less tiring. The tyres were dressed using Swissvax Pneu to leave a natural satin sheen.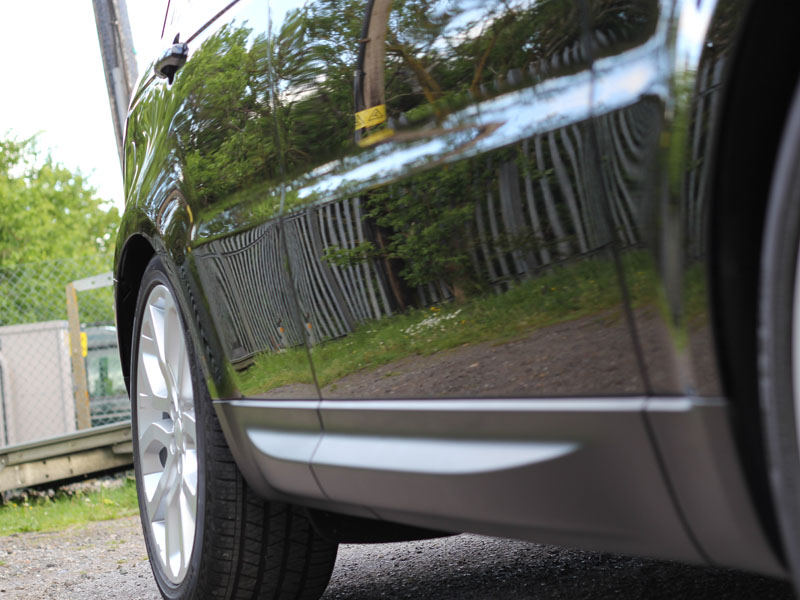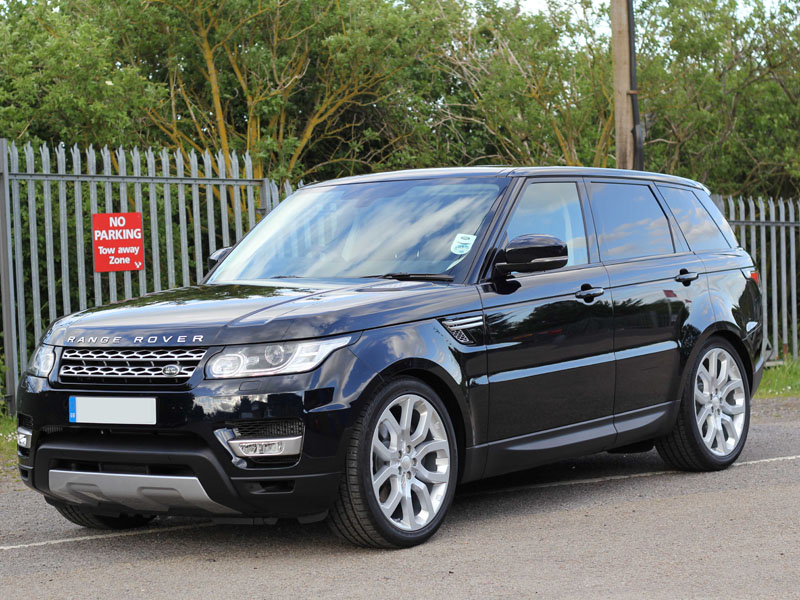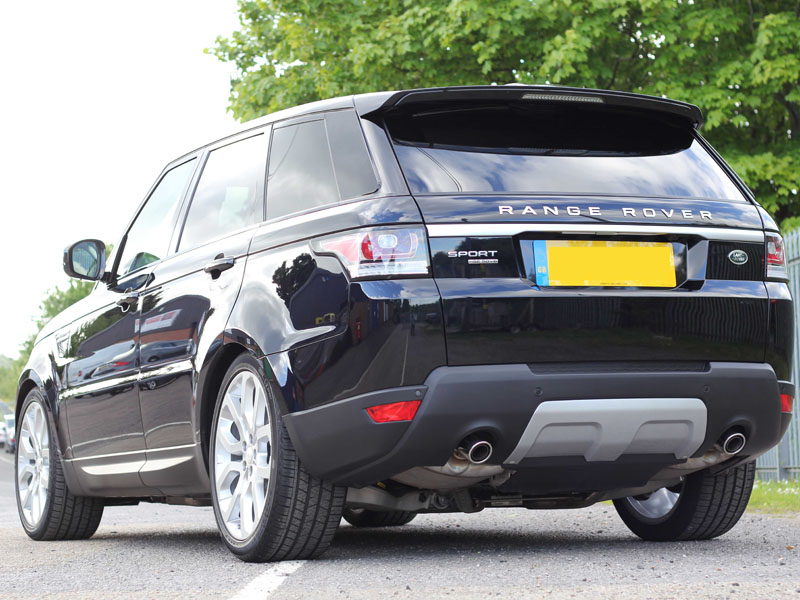 It wasn't raining when the customer collected his Range Rover Sport, so he could see the perfected, protected result in the sunshine. He drove away very happy!
Ultimate Detailing Studio – Award Winning Detailing. Call 0845 838 1200 to discuss your requirements and arrange a free vehicle appraisal.
Ultimate Finish – Legendary Automotive Care since 1999.