2017 Porsche 991 GT3 4.0 – A New Car Cosmetically Restored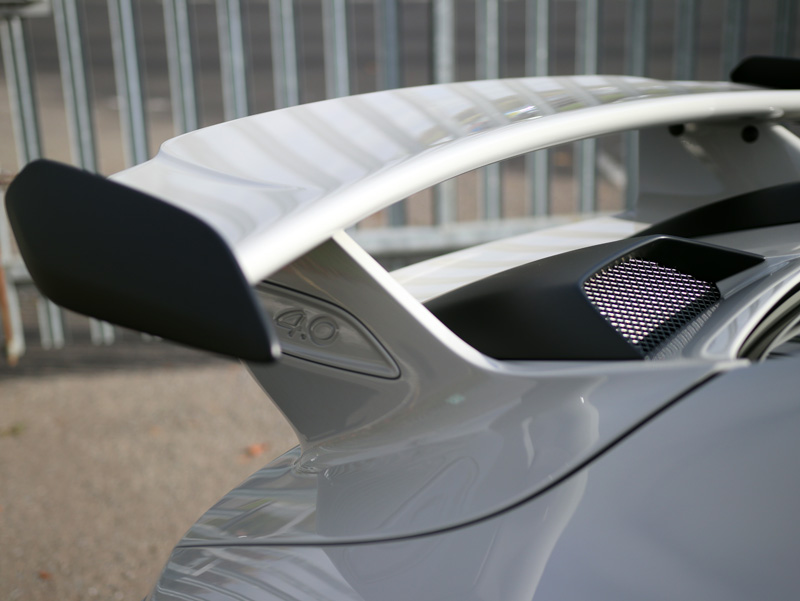 New Car Protection requires that new cars, by definition, are in an 'as new' condition cosmetically. However, unfortunately, experience has shown this is not always the case. Whilst on the surface, the paintwork may look shiny, closer inspection can reveal holograms and even sanding marks, the result of hurried factory finishing, plus swirls and scratches from poor washing techniques prior to hand-over. Subsequently, before carrying out a protection treatment, it is first necessary to restore the paintwork to pristine condition.
We see many brand new cars arrive at UF that require paint correction. Factory finishers and dealership valeters have different priorities to those of the owner. At the factory, they're under strict deadlines to roll the vehicles out to transport. At the dealerships, franchised valeters have a limited amount of time and budget to prepare the car before it's handed over, inevitably this leads to poor finishing. For the new owner, the car represents an investment or the realisation of a dream or, at the very least, an expensive new toy! So, protecting the vehicle's appearance and in turn, preserving its resale value are priorities. As an independent detailing studio, we have the resources and knowledge to ensure each vehicle is meticulously prepared and comprehensively protected. Our priorities are the owner's priorities. – Jez Gilman, Managing Director, UF
This indeed was the case for a brand new Porsche 991 GT3 4.0 that recently arrived at UF's Brands Hatch Detailing Studio for New Car Protection, Alloy Wheel Protection and Glass ClearVision Treatment. The owner, a long-standing customer had previously brought his 2014 GT3 Clubsport to the studio for detailing work and was well aware of the benefits that protection packages using the very latest technologically advanced products can bring.
Having collected his new 4.0 Litre GT3 from the Porsche dealership, the customer could not resist getting to know the car and took a little time out to run it in! After a couple of hundred miles and under strict instructions not to wash the car prior to the work being carried out, he dropped the car off. Subsequently, upon arrival, it was covered in road dirt, bird droppings, as well as some tar and iron contamination.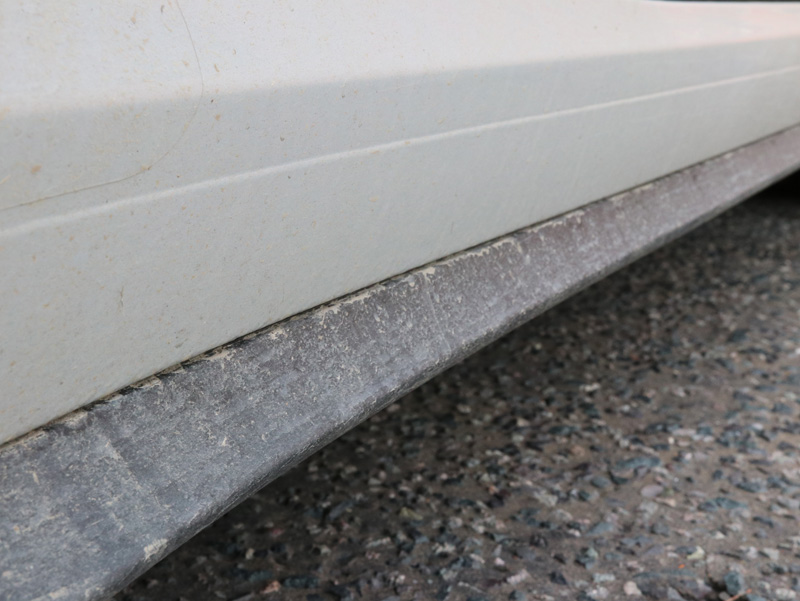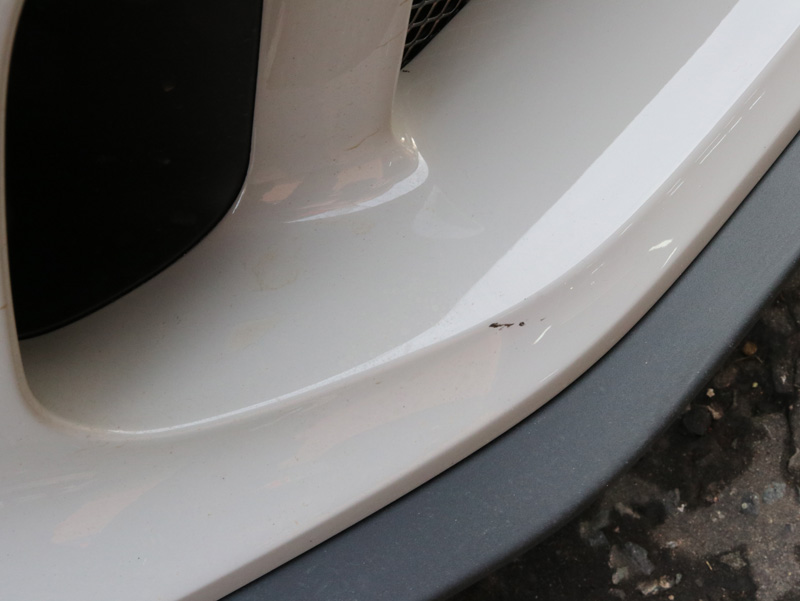 As to be expected, the wheels and calipers were also dirty and in need of thorough cleaning.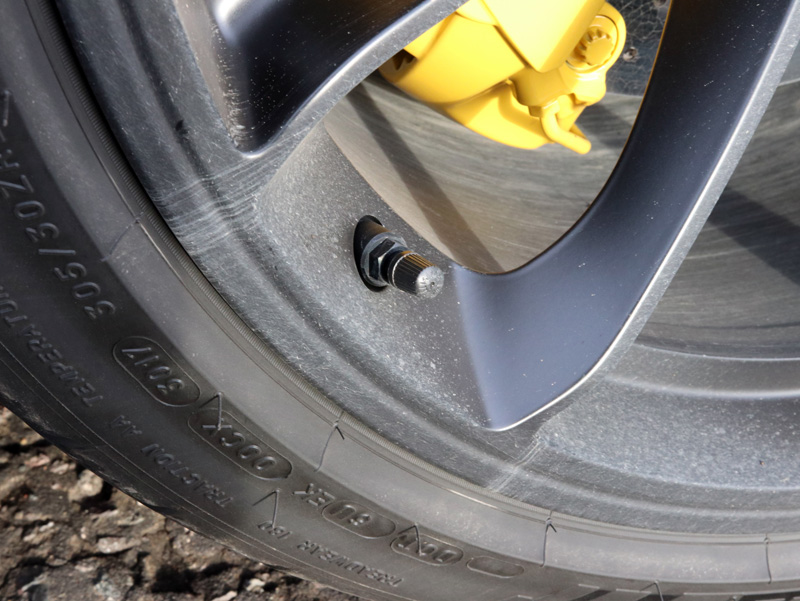 Although the 991 GT3 has ceramic brakes, it may have collected the iron contamination either from passing cars or during transport from the factory. Often, new cars are transported via rail, so iron from train brakes can end up bonded to the wheels or bodywork. – Matt Back, UF Detailing Studio
Initially, the 991 GT3 was treated with Bilt-Hamber Korrosol, a spray-on product with an active ingredient that works to shrink iron particles, releasing them from the substrate to which they've bonded. A colour-change ingredient reacts with ferrous contamination, so when the colour stops deepening, the product and contamination can safely be rinsed away. Using a non-contact product designed specifically for this type of contamination is the safest method for removing the tiny, sharp particles without the need for rubbing at the paintwork with a wash mitt – a process that can incur swirls.
The 991 GT3 was then treated for adhesives using Gtechniq W7 Tar & Glue Remover. This dissolves sticky contamination, such as tar deposits and any glue residues from when the protective transportation film was removed at the dealership. After rinsing, the car was sprayed with a degreasing solution, Bilt-Hamber Surfex HD, to remove diesel splatters and road grime. Using a Kwazar Pump-Up Sprayer with a fibreglass wand and variable nozzle allows solutions to be sprayed into hard to reach areas and the adjustable spray tips make for accurate application along boot, bonnet and door shuts.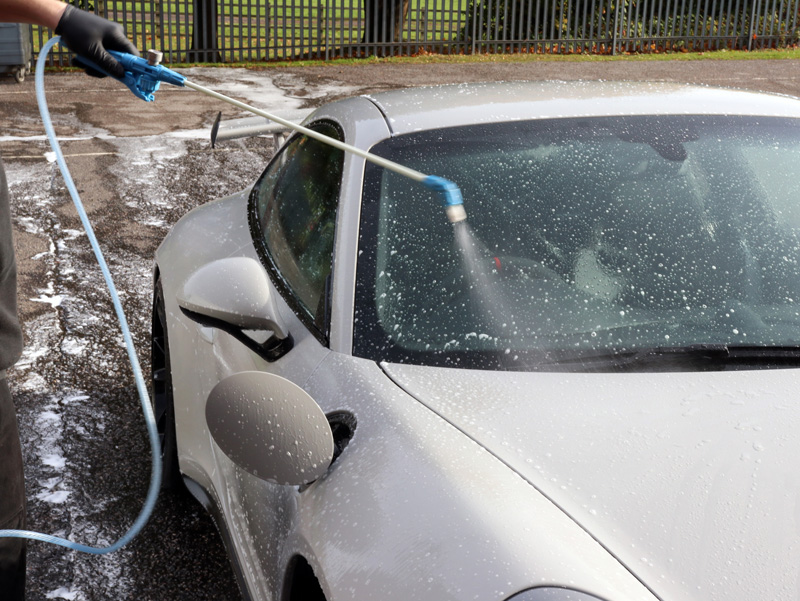 After the degreaser was rinsed away, the 991 GT3 was raised at each corner using a trolley jack to allow easier access to the wheel arches. Then the wheels and arches were comprehensively cleaned.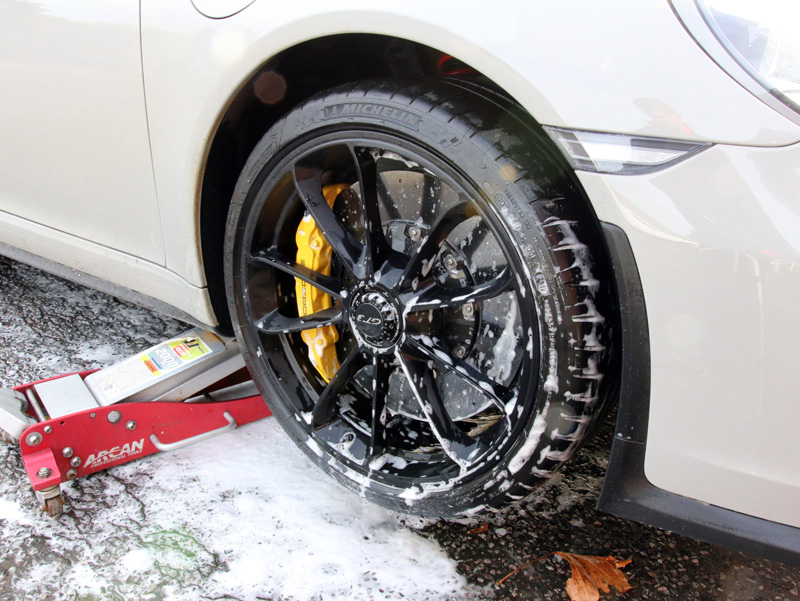 The GT3 was pre-cleaned using Ultimate Snow Foam applied through a foam lance attached to a Kranzle K-1152 Pressure Washer. Ultimate Snow Foam is a high-foaming cleaner and when applied with the pressurised water creates a thick lather that gets into all nooks and crannies, such as grilles and recesses and clings, even to vertical surfaces. Left to dwell for a few minutes, the lather lifts larger particles of dirt and grit away and encapsulates them within the foam. The contamination and foam are rinsed away, completing the non-contact, decontamination stage of the detailing process.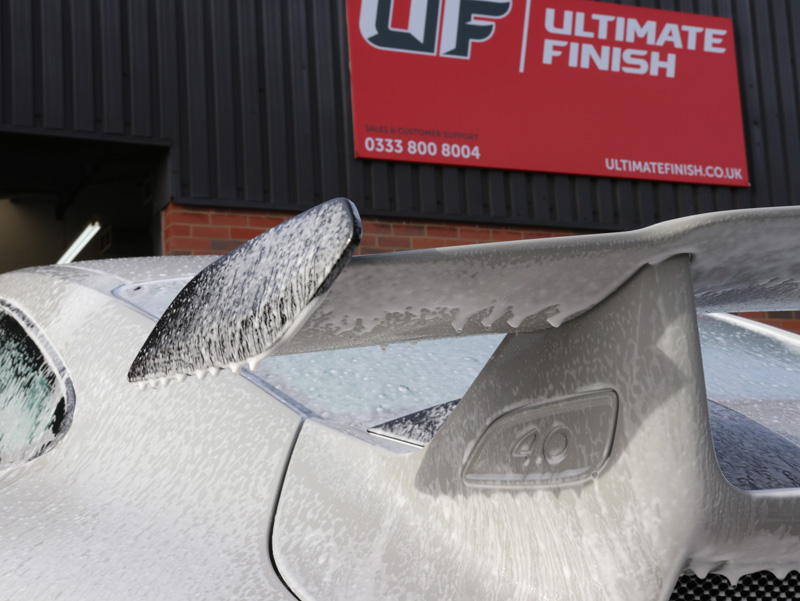 The Two Bucket Method was used to wash the 991 GT3. This involves keeping Wash solution separate from the Rinse water, to prevent the dirt collected by the mitt being reintroduced to the panels of the car. To further help prevent this, both the Wash Bucket and Rinse Buckets contain Grit Guards, against which the mitt can be repeatedly brushed to release particles trapped in the mitt's fibres and helping to keep the grit in the bottom of the bucket.
Once the car was completely clean, it was rinsed free of suds before an Aqua Gleam De-ionising Water Filter was attached in-line with the water supply to deliver a final, pure water rinse. This filter eliminates white water spot deposits and leaves a shiny finish to the paintwork. The GT3 was brought into the detailing studio where it was dried using a BigBoi Touchless Car Dryer. The BigBoi eliminates the opportunity of marring paintwork by introducing a non-contact method of drying the vehicle, with the added benefit of forcing droplets from around trim and grilles; areas likely to trap water. Having been specifically designed with the car care industry in mind, BigBoi car dryers are more powerful than other air blowers and use warm, filtered air.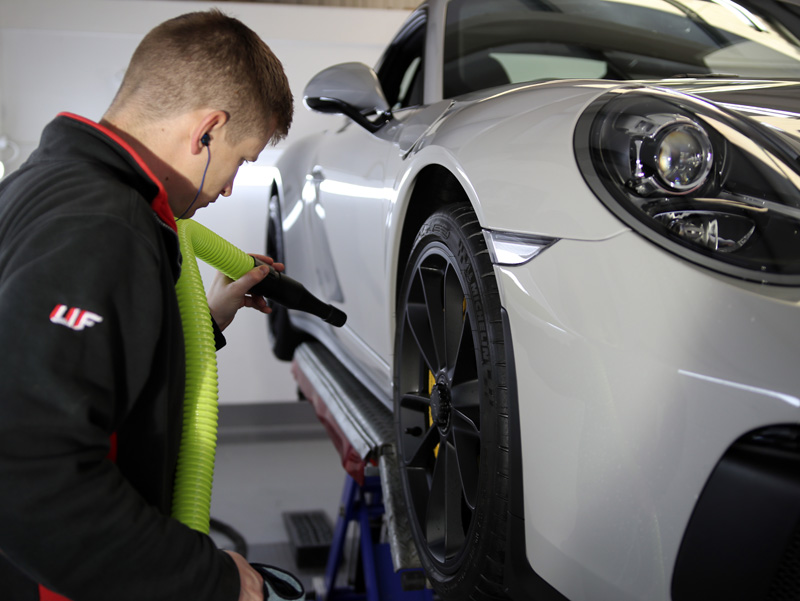 The paintwork was inspected using a SCANGRIP Sunmatch detailing light to reveal the true condition.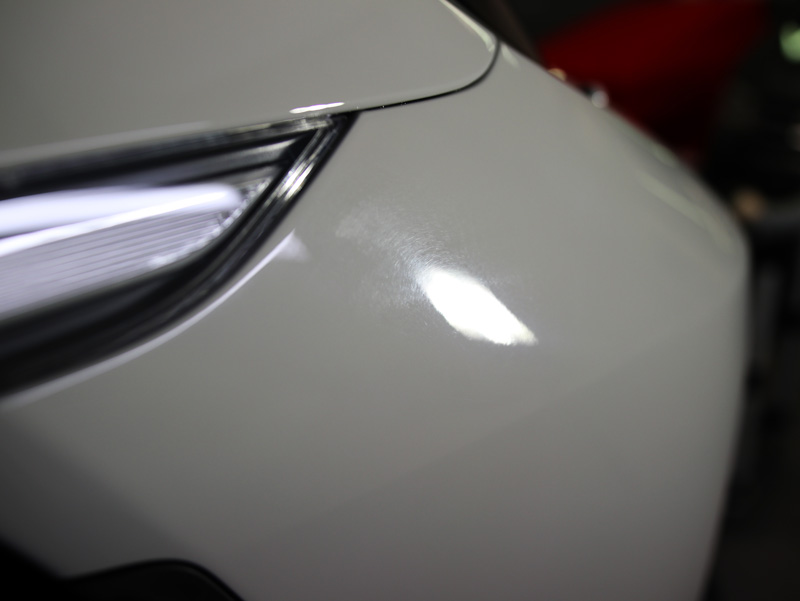 Close inspection revealed factory DA sanding marks on multiple panels, particularly evident on the four corners. Typically, factory finishers do not have enough time to complete the compounding and refining stages required to effectively polish out all the sanding marks. To the untrained eye, spotting this type of blemish can be quite difficult. Many owners may not even notice. However, before a car can be protected with a ceramic coating, it's essential to ensure these imperfections are removed and the paintwork is pristine. – Matt Back, UF Detailing Studio
To correct the areas where the sanding marks were the most prominent, a RUPES LHR 75E Mini dual action polisher was used with a RUPES Medium Polishing Pad and Menzerna Heavy Cut Compound 400.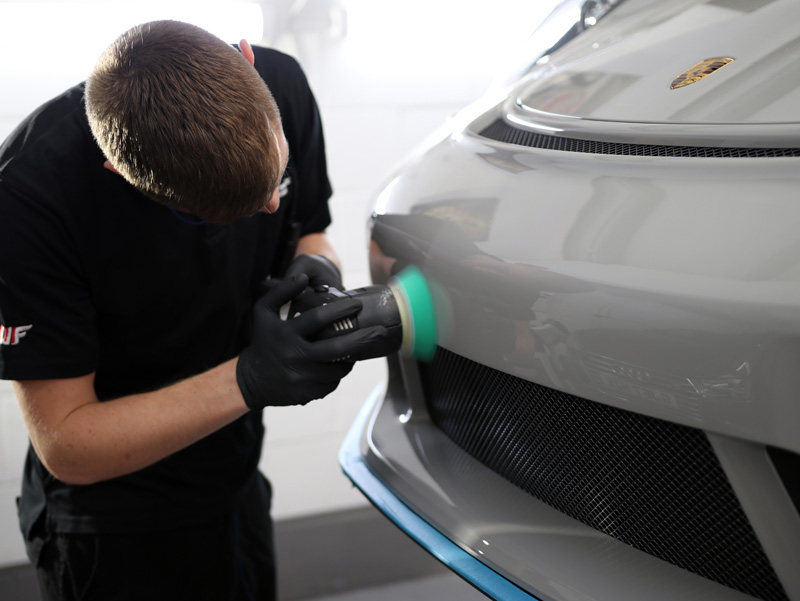 The LHR 75e Mini focuses the polishing action over a smaller area to allow for better heat generation, while the hole in the centre of the RUPES pad, along with its foam construction allows for good air circulation. This combination was also used on the front bumper, where the plastic responded well, the blemishes being comprehensively eliminated.
Once the sanding marks were removed, a RUPES LHR 12E Duetto dual action polisher was used with a Kamikaze Collection Banzai Dynamics Polishing Pad and Menzerna 2200 Medium Cut Polish to refine the finish.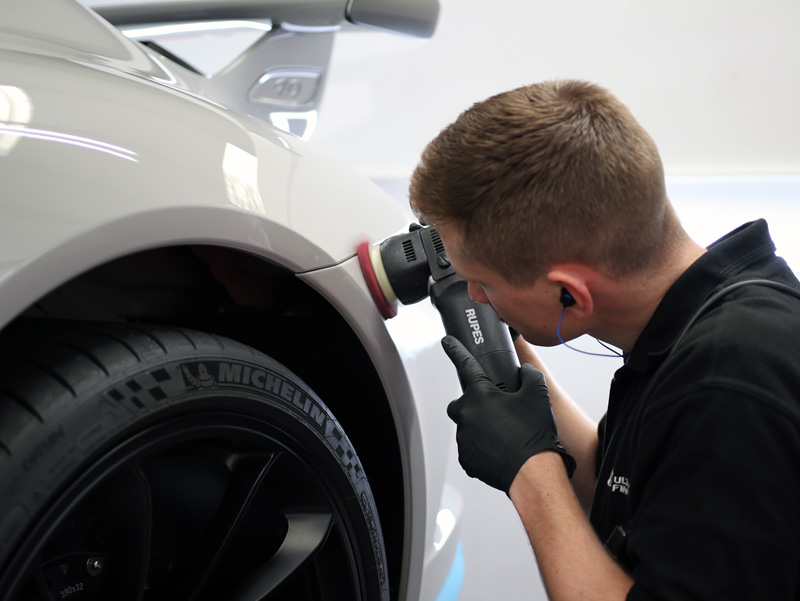 Finally, the 991 GT3 was polished using Menzerna 3800 Super Finish Plus compound and a 3M PERFECT-IT III Black Finishing Pad to leave the paintwork glossy and ready to be coated.
Each panel was sprayed with Gtechniq Panel Wipe to remove any polish residue or silicone that may interfere with the bonding process of the final protective sealant, in this case Kamikaze Collection's flagship sealant, ENREI Coat.
ENREI Coat is a ceramic sealant designed and developed by Kamikaze Collection, a Japanese manufacturer of high-end boutique detailing products. Each product offers an innovative solution for common car care challenges. ENREI is two-stage coating consisting of a No.1 base primer coat, designed to provide a smooth, even and receptive surface for the No.2 top coat to bond to. In order for both layers to cure effectively, ambient temperature and humidity must be tightly controlled. The application protocol, involving both the method of applying the layers and the curing times, is also strictly defined having been painstakingly researched and developed in-house by Kamikaze Collection. ENREI is applied using specially developed short-fibre suede cloths, and all of these factors have been implemented with a view to producing maximum performance and longevity from the coating. As a result, ENREI is available as a service only through detailers who have been trained in its application by Kamikaze Collection and hold their certification of approval. Once in place, ENREI provides a highly durable hydrophobic and oleophobic (water and oil repelling) barrier. Dirt and grime cannot adhere as effectively to the coating, making the car easier to clean during the weekly wash. Additionally, ENREI delivers a show-stopping gloss, worthy of a beloved vehicle!
The satin finish wheels were treated with Panel Wipe before Nanolex Matte Spray Sealant was applied. Highly heat resistant, Nanolex Matte provides a long-lasting barrier repelling dirt, oils, grime, and water. Although of less concern for a vehicle with ceramic brakes, Nanolex Matte also inhibits the build-up of brake dust.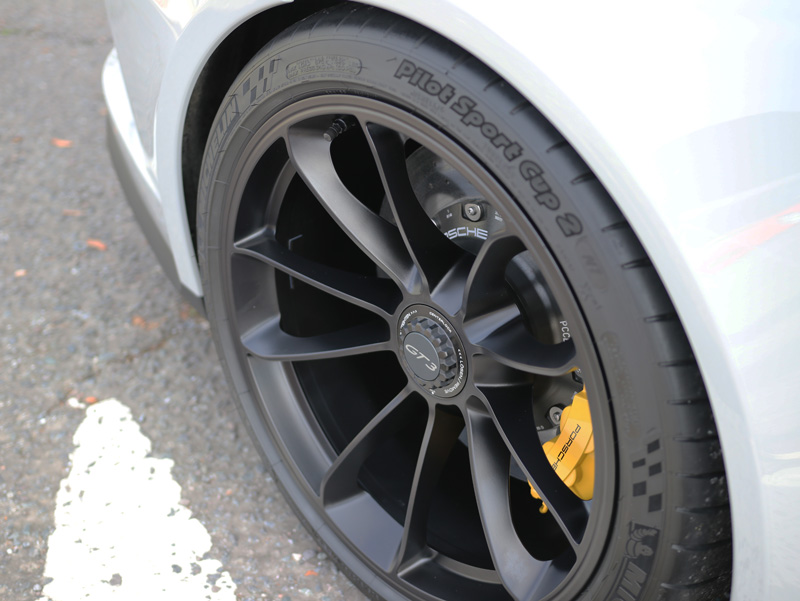 To help reduce driver fatigue during poor weather conditions, Kamikaze Collection Intenso Window Coat was applied to the windscreen. Intenso is intensely hydrophobic, helping to quickly disperse rainwater and contamination contained within it.
The owner uses his cars regularly, on an almost daily basis, so it was important to him that the paintwork and hard-working alloy wheels were fully protected from the elements. In addition, coming into winter, having a hydrophobic barrier on the windscreen was important, particularly as it also helps prevent ice from sticking to the treated glass. – Matt Back, UF Detailing Studio
With the paintwork now looking 'as new' and with each surface comprehensively protected with cutting-edge nanotechnology-based coatings, the 991 GT3 was ready to wow!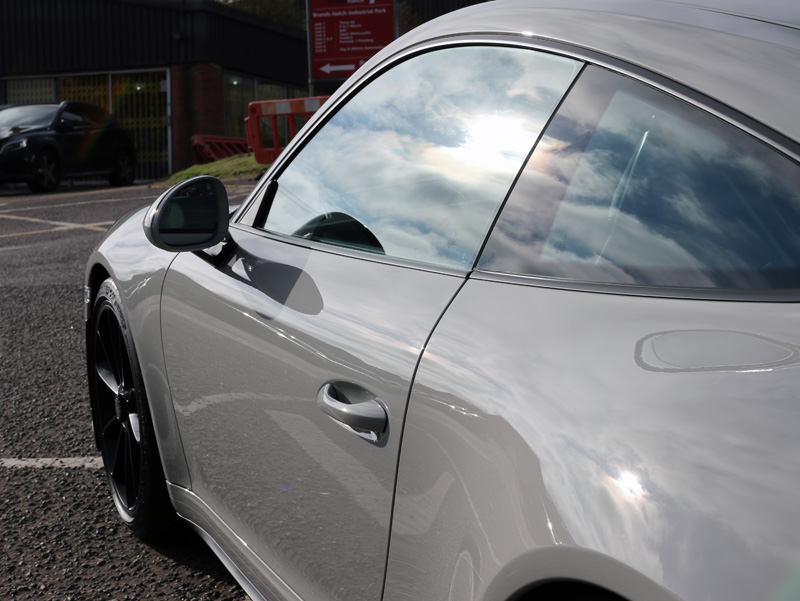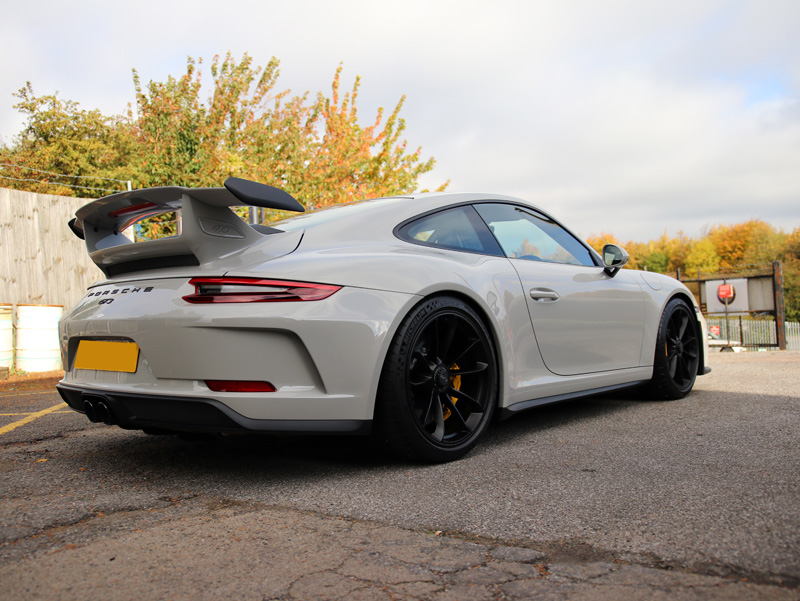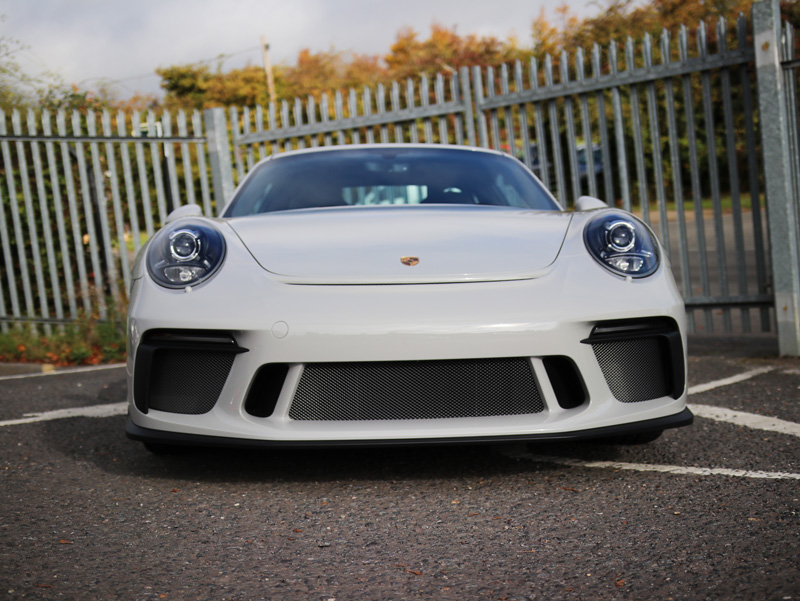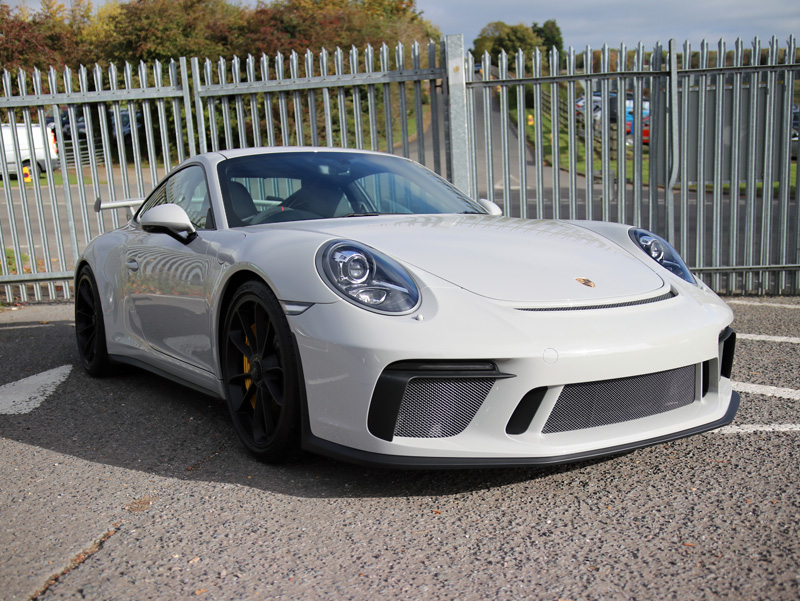 UF Detailing Studio – Award Winning Detailing. Call 0333 800 8004 to discuss your requirements.