Porsche 911 GT3 RS – Tested At Nürburgring, Protected At Brands Hatch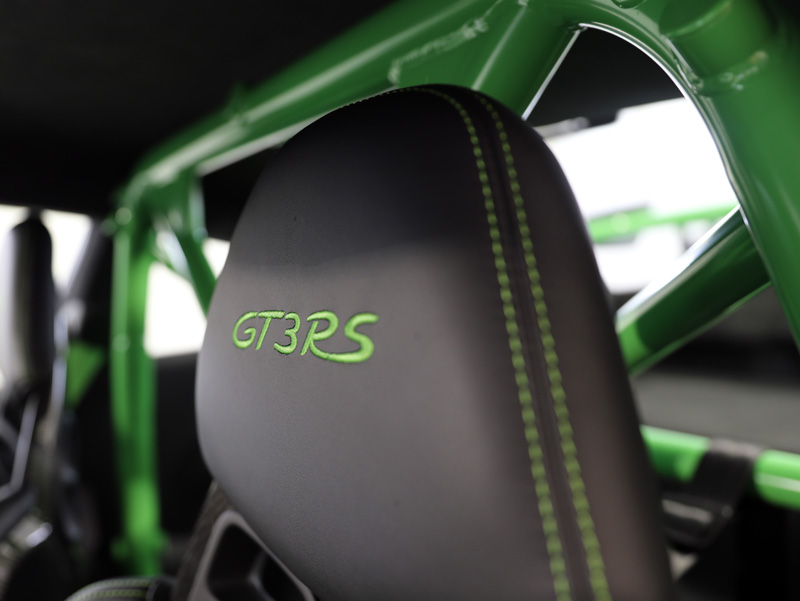 In an age where the car buying population and the manufacturers who service them are embracing technology's increasing role in the driving experience, Porsche has introduced a car designed to remind us what the immersive driving experience is all about. Enter the second generation 991 GT3 RS.
The first generation 991 GT3 RS was a remarkable driving machine, fiercely aggressive yet responsive and effortlessly thrilling. The second generation even more so. Keeping the naturally aspirated, 4-litre flat-six engine from its predecessor, the Gen 2 boasts 513 horses and a rev limit of 9000 rpm. The extra power is derived from the new intake and exhaust systems, coupled with changes to Porsche's DME (Digital Motor Electronics) engine management. The Gen 2 shaves a tenth of a second off the Gen 1's 0-62mph time, coming in at 3.2 seconds.
On its own, the increase in power could cause some nervous reactions, however, Porsche has countered that with a re-envisioned chassis, drawing on experience from the 911 GT2 RS. Add in a re-tuned rear wheel suspension and tweaked aerodynamics providing additional downforce and you have a drive that is truly remarkable. Gen 1 has 80 per cent of the downforce of the GT3 Cup racing car; the Gen 2 has even more. When it comes to high-speed stability, the Gen 2 has the ability to corner as if it's on remarkably slick rails.
The GT3 RS has received a facelift: at the front, it features low-drag air scoops (also known as NACA scoops, NACA being the National Advisory Committee for Aeronautics, the precursor to NASA, the National Aeronautics & Space Administration), a reshaped bumper with reimagined ducts optimising airflow for brake cooling and new LED indicator lights. The rear bumper too has been modified, now boasting larger air extraction ducts, newly structured lights, modified supports for the rear wing and newly shaped end plates for the wing.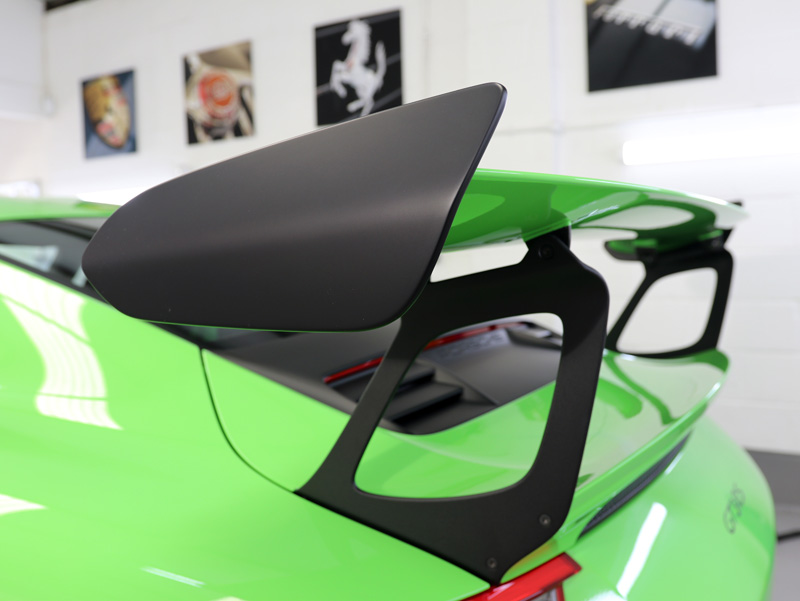 Carbon body panels, plastic window, a new lightweight engine lid and a magnesium roof shave weight off the car, whilst the full bucket seats are made from carbon fibre. Porsche eliminated some of the soundproofing material too, so this 991 GT3 RS connects the occupants to the driving experience in a very real way!
All these weight-saving measures have been incorporated into the design to fulfil one key mission: be faster. Astoundingly, the new GT3 RS lapped the Nürburgring-Nordschleife in 6:56.4 minutes, an amazing 24 seconds faster than its predecessor! This sees Porsche take back the record for the fastest production model around the prestigious track from Lamborghini. Mission accomplished.
The stunning example that arrived at UF Studio recently, was spec'd in Lizard Green, the official launch colour that had debuted at the Geneva Motor Show earlier this year. The overall look was complemented with 20″/21″ forged aluminium wheels finished in Satin Aurum (Gold).  This car was purchased to drive and drive hard, so keen to ensure his appreciating asset was fully protected, the owner booked it in for a complete New Car Protection package. Understandably, he couldn't resist giving the car a quick work out before delivering it to the Brands Hatch studio. Consequently, it arrived with driving debris over the paintwork and wheels, in particular, tar and bug squash across the front bumper and road grime on the sills and wheels.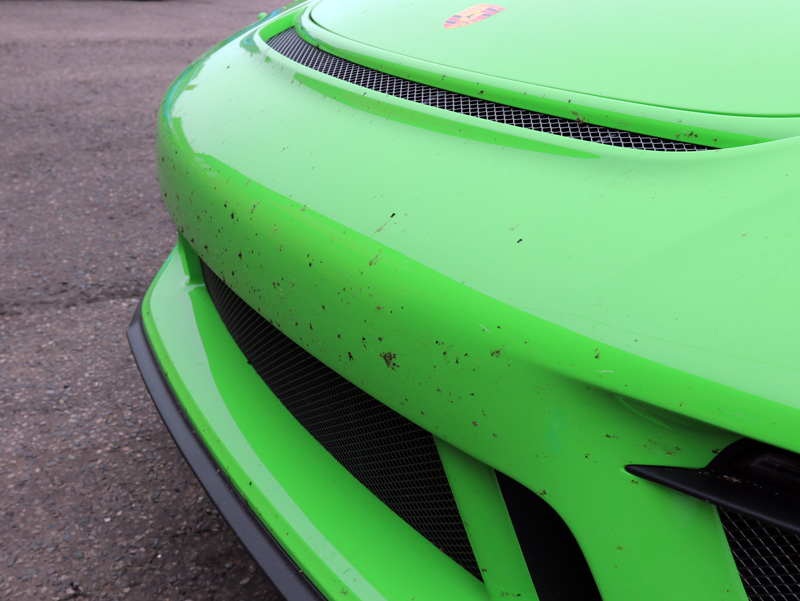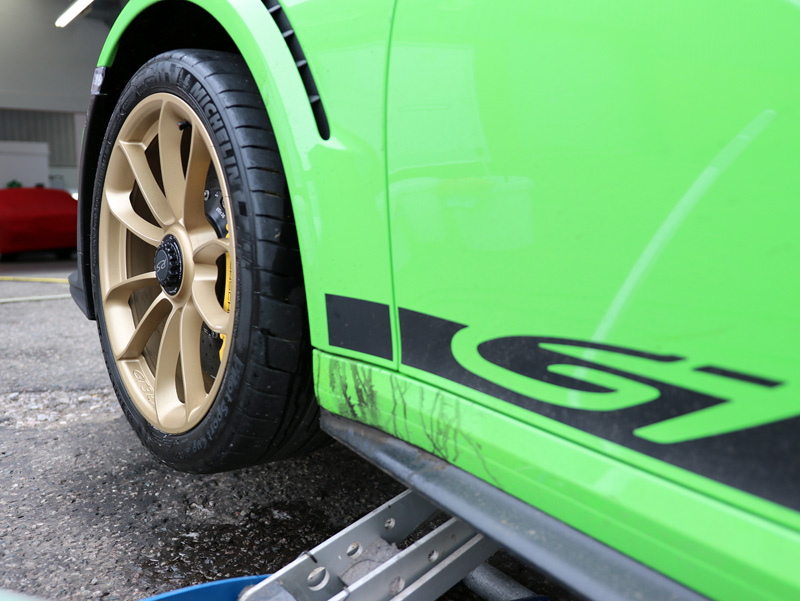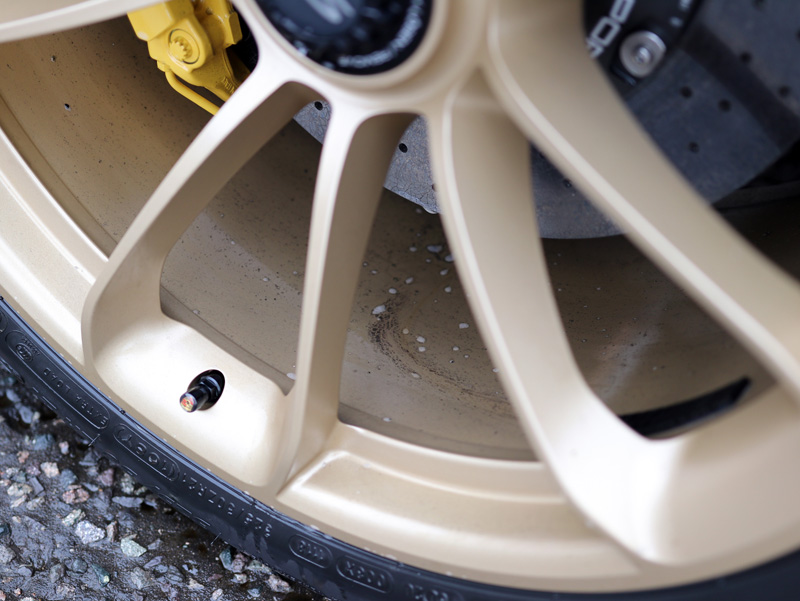 To limit the chances of cross contamination, the dirtiest areas are cleaned first. These typically are the wheel arches and wheels. As the clearance between the tyre and wheel arch is narrow, a trolley jack was used to raise each corner, in turn, to increase the gap and allow for easier and more comprehensive cleaning.
First, Bilt-Hamber Surfex HD was applied to act as a degreasing agent, removing oily deposits such as diesel splatter. After rinsing, Valet Pro Bilberry Wheel Cleaner was applied to eliminate general dirt and road grime that will have baked onto the rims.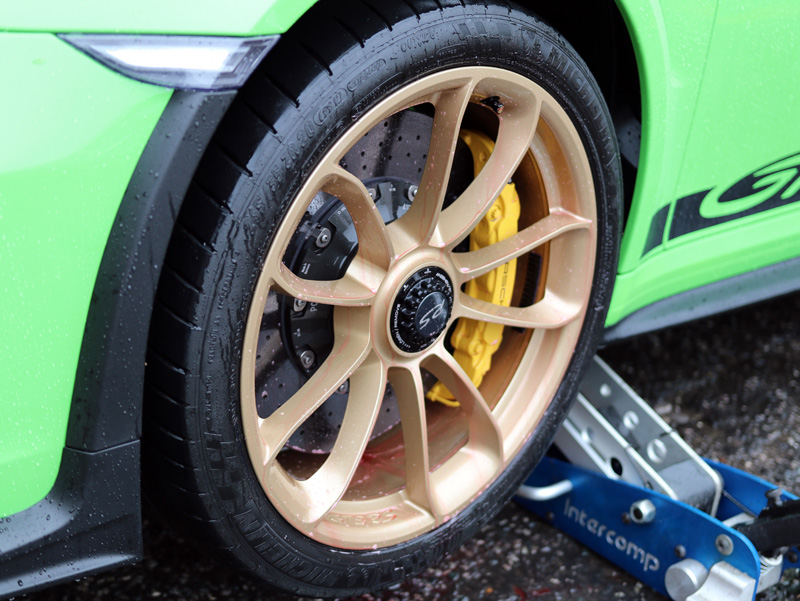 The GT3 RS is fitted with Porsche Ceramic Composite Brakes (PCCB) and therefore brake dust was less of an issue, eliminating the requirement for an iron fallout remover. We simply needed a wheel wash that would act quickly on baked on dirt and grime without too much agitation. This keeps the cleaning process safe, guarding against inadvertent scratches and swirls. – Matt Back, UF Studio
Once the wheels and wheel arches were rinsed, the bodywork was treated with Surfex-HD. After a further rinse, high-foaming Ultimate Snow Foam was sprayed onto the vehicle, the thick foam clinging even to vertical surfaces for longer dwelling times. The bubbles lift larger particles of dirt and grit away from the surface and encapsulating them within the foam, allowing them to be easily rinsed away. This non-contact form of decontamination makes the main wash safer for paintwork, eliminating the contamination most likely to become trapped in a wash mitt and scratch and swirl the paintwork as the mitt is rubbed across the surface.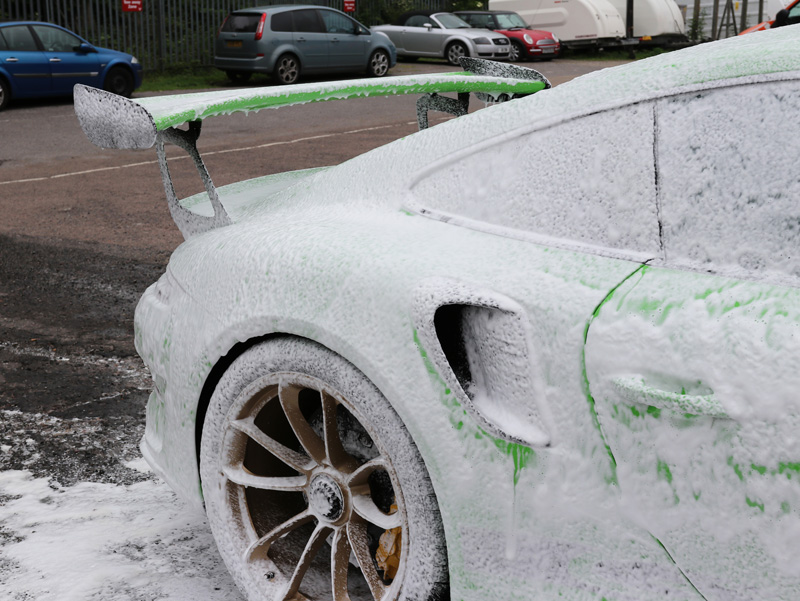 The main wash was completed using the Two Bucket Method. This keeps wash and rinse water in separate buckets to avoid dirt removed from the bodywork being reintroduced. The wash mitt is loaded with wash solution and a section washed. The mitt is then rinsed in the Rinse Bucket and rubbed across the Grit Guard placed in the bottom of the bucket. This helps release particles from the mitt's pile which then sink to the bottom of the bucket. Once the whole car has been cleaned, the suds are rinsed away before an Aqua Gleam De-ionising Water Filter is used to deliver a final, pure water rinse. The GT3 RS was then brought into the studio and placed on a hydraulic ramp. A BigBoi BlowR Pro Touchless Car Dryer was used to chase water off the panels and out from behind areas that would normally trap it: mirror housings, grilles, badges and wheels.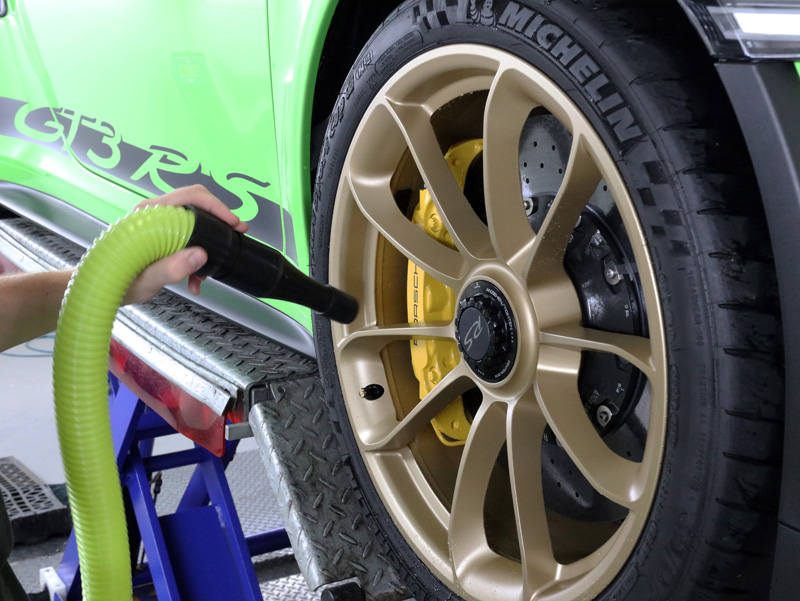 The paintwork was inspected under high-intensity lighting to reveal areas of damage. Generally, the condition was good apart from some DA sanding marks around the bumpers.
It's not uncommon for sanding or buffer marks to be found in difficult to reach areas, typically a result of time pressure for the factory finishers. The rest of the paintwork was reasonably blemish-free, and so required only a light polish with a finishing compound and soft buffing pad to ensure the Lizard Green paintwork was pristine. – Matt Back, UF Studio
To tackle the sanding marks, a RUPES BigFoot LHR15 ES was used with a RUPES Microfibre Polishing Pad and Koch-Chemie Heavy Cut H8.02. The microfibre pad provided the right amount of cut whilst the centre hole allows heat build-up to dissipate, preventing paintwork marring. H8.02 provides a high level of lubricity allowing the area to be worked for longer.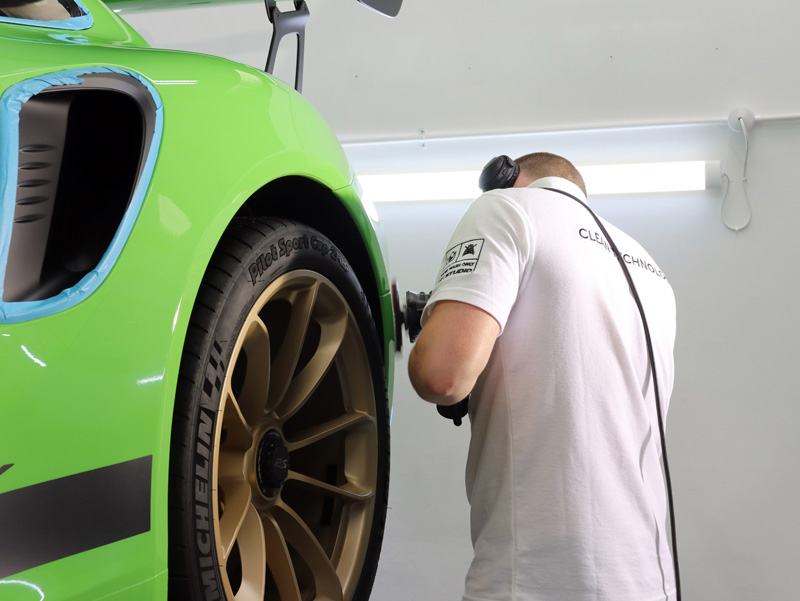 To provide a superior overall shine to the solid paint, a RUPES Yellow Polishing Pad was used with Menzerna Medium Cut Polish 2500. This compound contains diminishing abrasive which eliminates any swirls and light blemishes, breaking down to reveal a high gloss finish. For narrow areas such as along the area between the roof panel and door, a RUPES BigFoot LHR 75E Mini was used. The Mini has a smaller head and therefore the point around which the throw centres is smaller, providing a superior polishing action.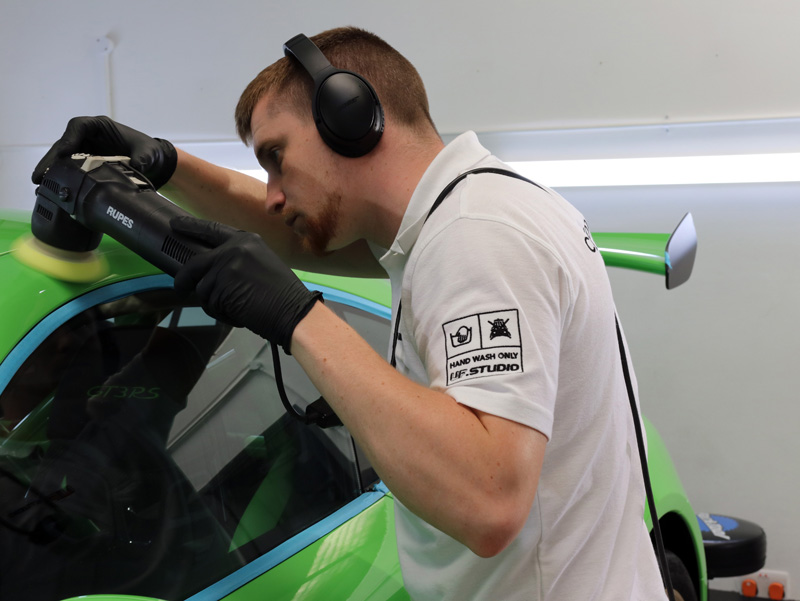 With the paintwork now looking better than when it left the factory, every surface including external plastic trim and wheels were treated with a solution of Panel Wipe. This eliminates polish or silicone residues, preparing the surfaces for protection. Kamikaze Collection ENREI, the latest in ceramic coating technology was chosen as the final protective coating.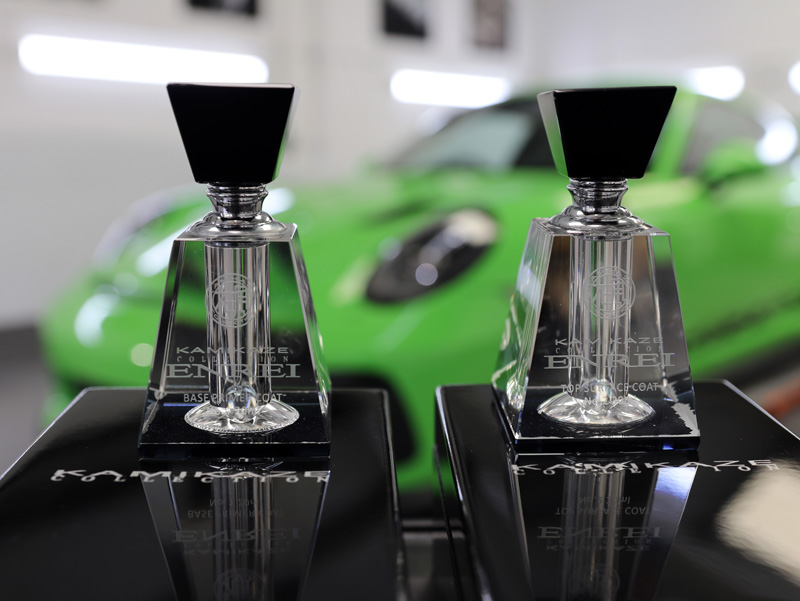 Kamikaze Collection is a boutique manufacturer of innovative car care solutions designed and engineered at the centre of the ceramic coating industry. ENREI is their flagship coating and consists of two-stages: No.1 Base Primer Coat and No.2 Top Coat. Base Primer Coat has been engineered to have a high chemical affinity with both the car's clear coat and with the No.2 Top Coat, forming strong chemical bonds with both, providing a long-lasting hydrophobic protective barrier against contamination build-up whilst delivering a seriously impressive shine.
The key to ENREI's performance lies not only in the formulation but also in the method of application which has been extensively researched and developed by Kamikaze Collection International. In addition, ambient temperature and humidity must be within strict parameters to ensure maximum performance and longevity from the coating. As a result, detailers must have received training and achieve Kamikaze Collection certification to gain access to ENREI. Consequently, this service is only available through the Kamikaze Collection UK Detailer network.
ENREI No.1 Base Coat was applied using a block and suede applicator, allowed to cure for between 3-5 minutes (depending on ambient temperature) and buffed off to a high-gloss finish.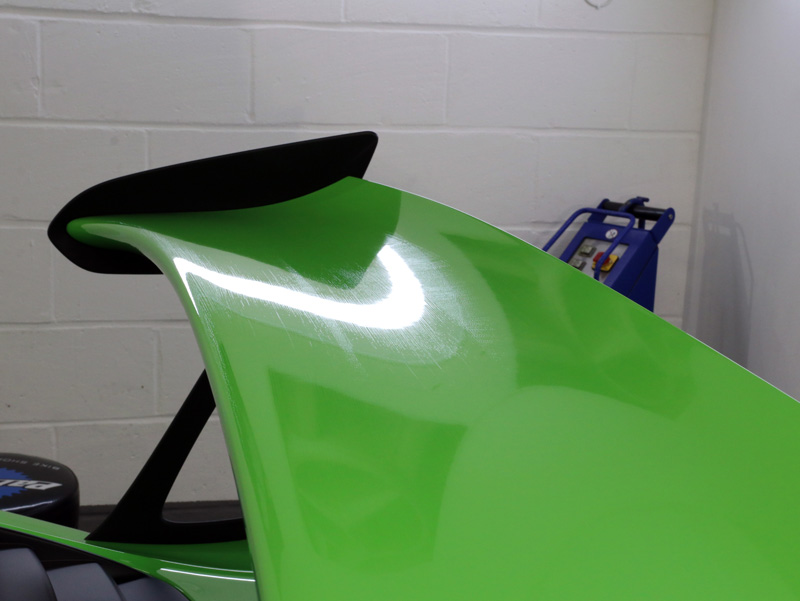 The coating hazes and after a few minutes appears to thicken as it cures.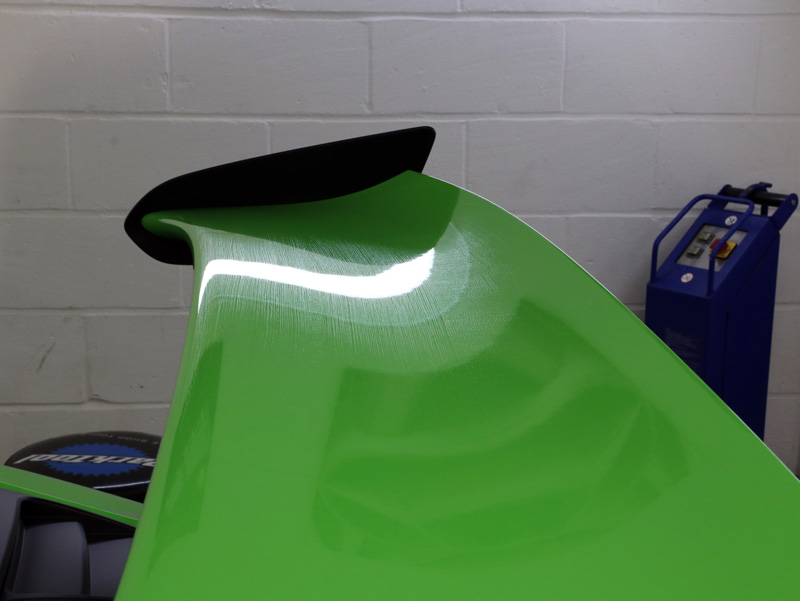 After ENREI No.1 Base Coat had been removed, No. 2 Top Coat was applied and allowed to cure for 5-10 minutes before being buffed off to provide a resilient, hydrophobic barrier. Whilst this was curing, the wheels were coated with No.2 Top Coat.
ENREI No. 2 Top Coat does not add gloss, No.1 Base Coat Primer does that job, so it's perfect for protecting satin or matt finishes. Top Coat provides a barrier to water and waterborne contamination, oils, dirt and grime build-up. Therefore, treated wheels will remain cleaner for longer and be easier to clean during the weekly wash. The brake calipers were also coated to help keep them looking as good as new.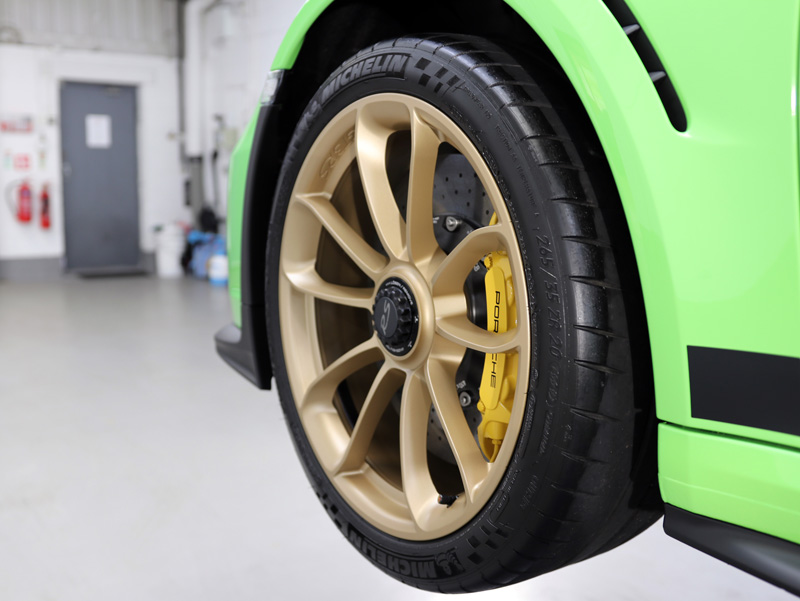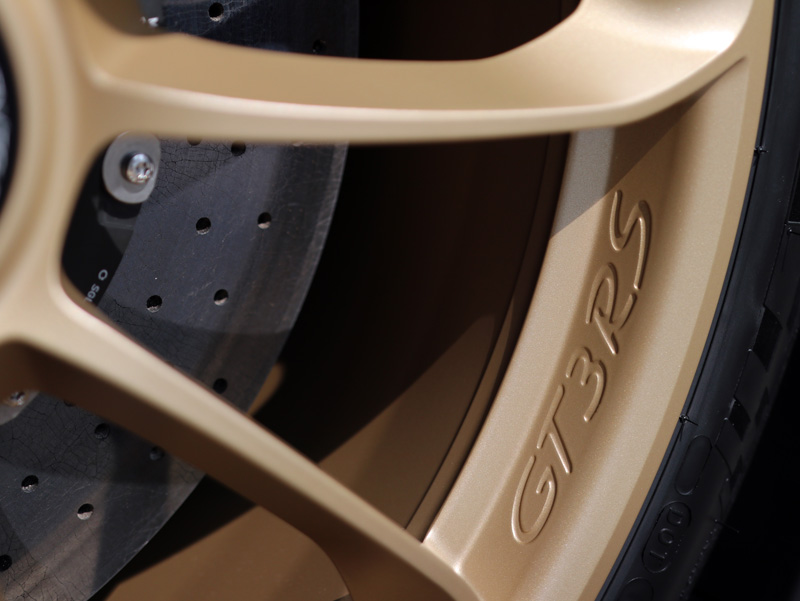 The tyres were finished with Gtechniq T2 Tyre Dressing to deliver a long-lasting, natural satin sheen to perfectly complement the finish of the Aurum wheels.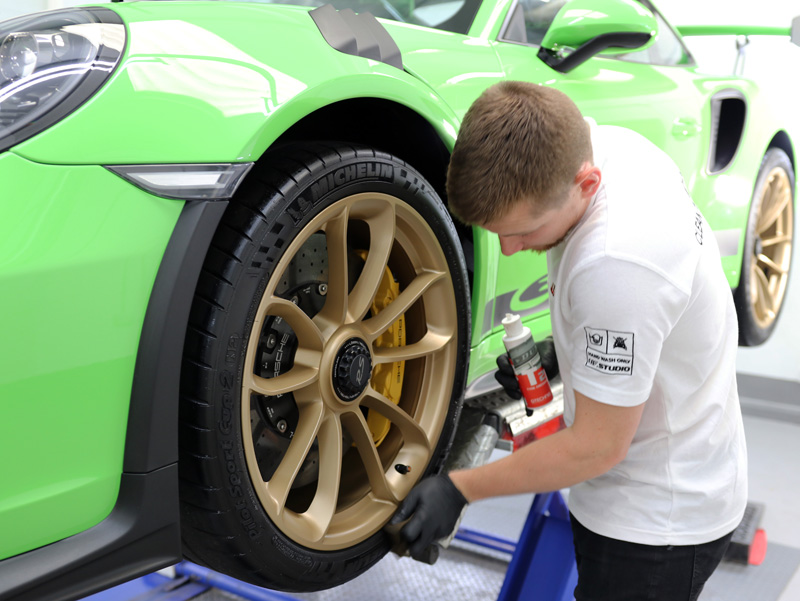 To ensure optimum visibility during inclement weather conditions, Nanolex Ultra was applied to the windows, providing a hydrophobic barrier that encourages rain to form into beads on contact. The beads then blow away easily, carrying any contamination, keeping the glass cleaner for longer and making conditions less tiring for the driver.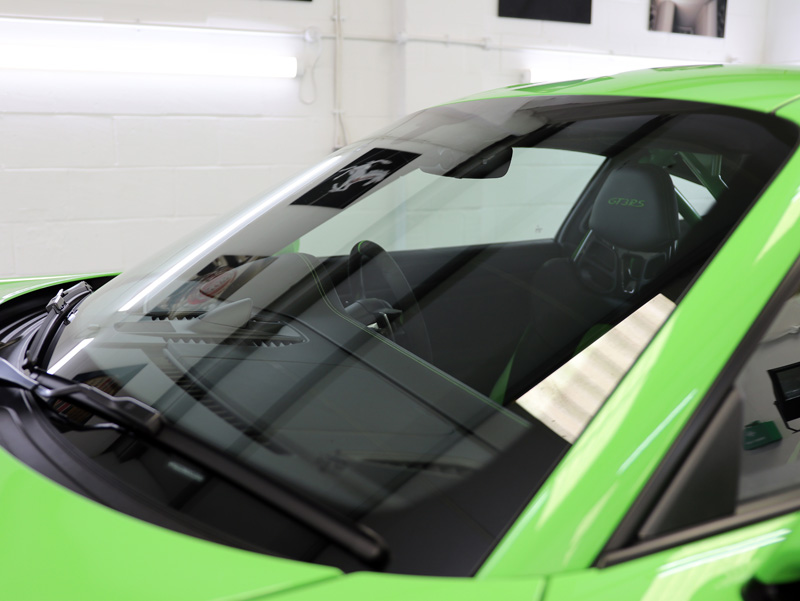 Nanolex Ultra provides a water and dirt repelling barrier, working even at relatively low speeds, so even when driving around town, rainwater is dispersed easily. It works at higher speeds too, as tested and approved  by Motorsport Team Hohaus at the Nürburgring round of the VLN Endurance Championship! – Matt Back, UF Studio
The black plastic trim was also sealed using No.2 Top Coat to inhibit fading from UV, industrial and environmental fallout out.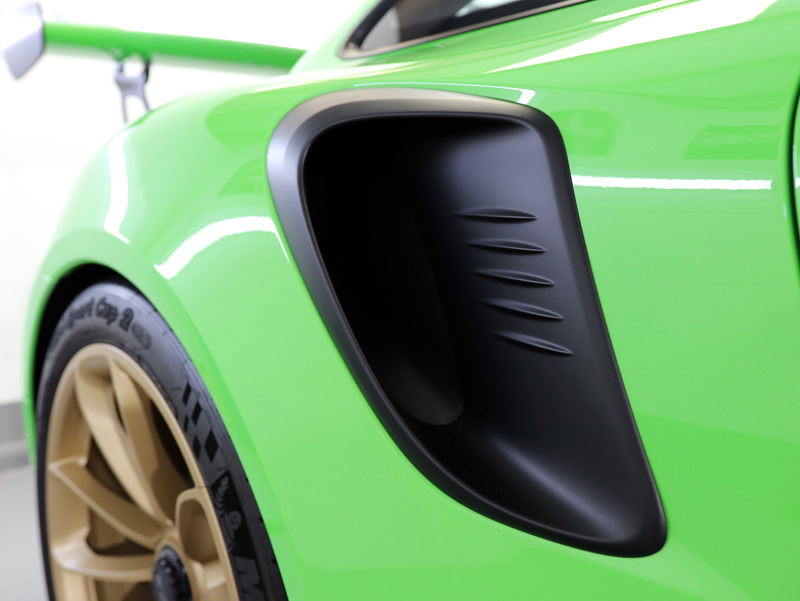 With the detailing work complete and the GT3 RS now fully protected, it was ready to take on whatever the road or track can throw at it!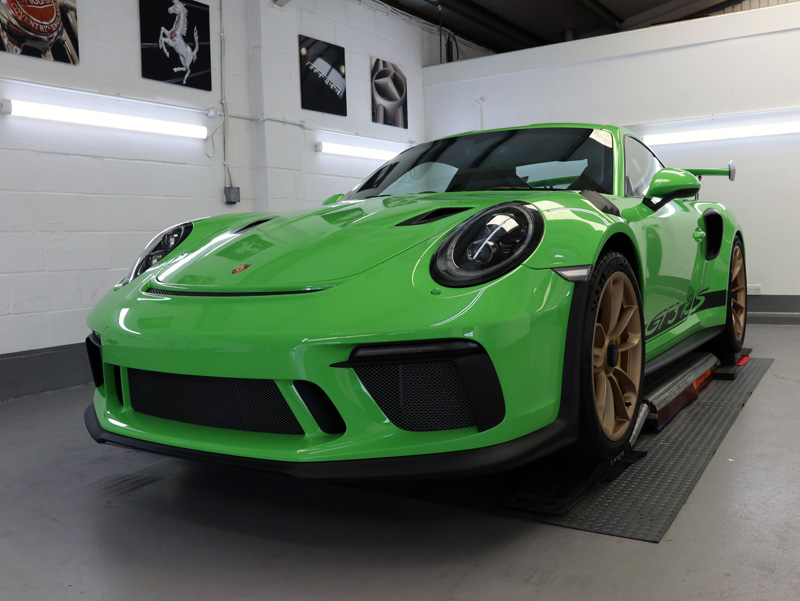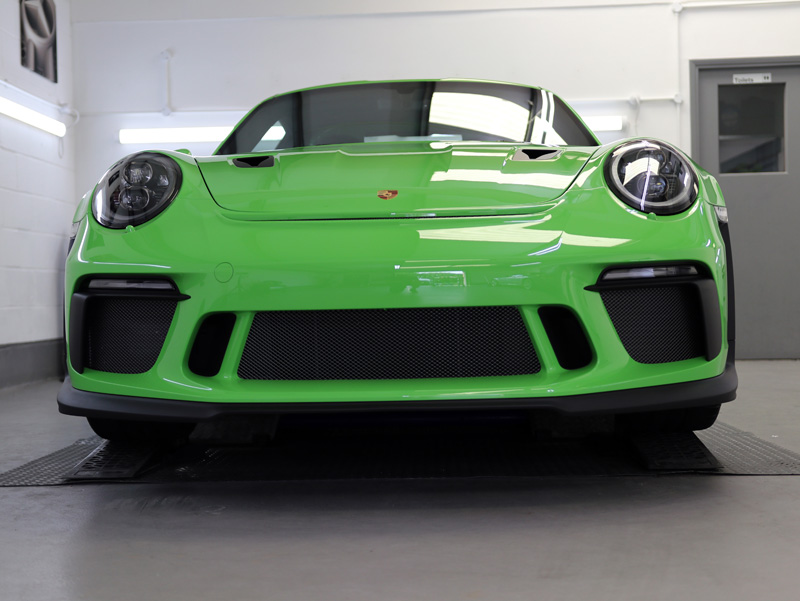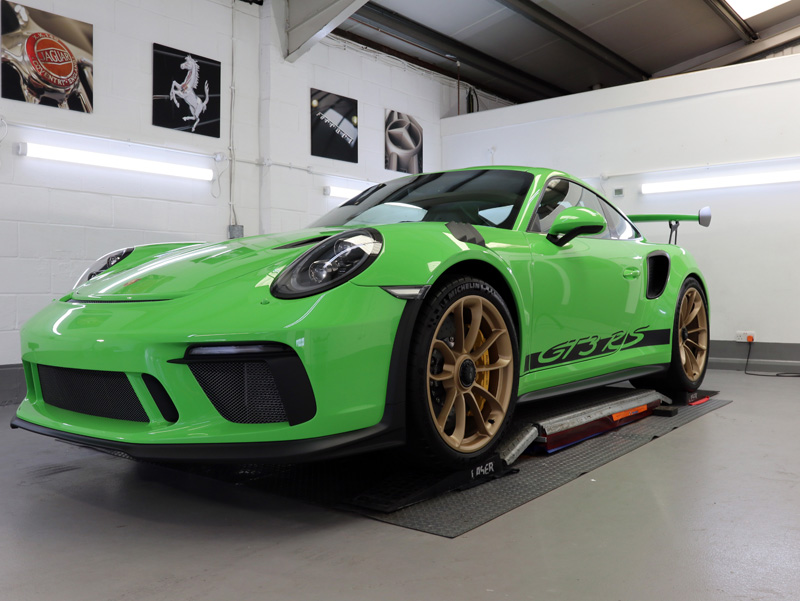 UF Studio – Award Winning Detailing. Call 0333 800 8004 to discuss your requirements or complete the online enquiry form here to receive a bespoke no-obligation quotation by email.