Jaguar F-type R – A Big Cat Gets The Cream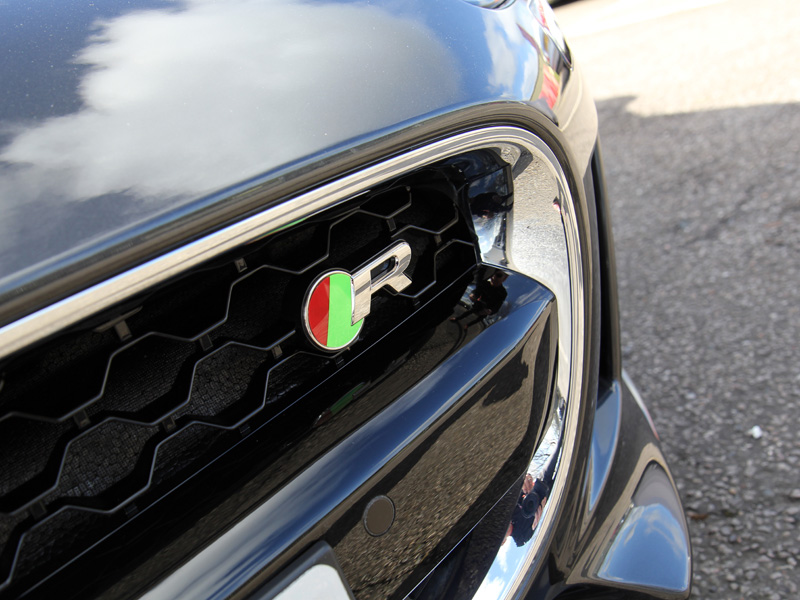 Hearing a big cat roar is enough to set most nerves jangling and spines tingling, but there's something truly special about this cat.
Powered by a supercharged 5.0-litre V8 engine delivering 550PS and 680Nm of torque, the Jaguar F-Type R delivers a thrilling 0-60mph in around four seconds. The addition of the solid roof means the F-Type R has a true monocoque shell, significantly improving torsional rigidity. It also features a modified suspension. Combined with the Jaguar's Torque Vectoring and Electronic Active systems, these elements allowing for better handling through corners and arguably, more thrills for the driver who dares to take advantage of these adjustments! The F-Type R is unmistakably a product of Jaguar's racing legacy.
This particular F-type R had been treated to a deluge of upgrade options, including carbon ceramic brakes, twenty-inch Storm five spoke rims with satin black and polished finish and performance tyres, as well as the most luxurious interior cabin on offer. Having bought this car recently, the customer was keen to have the paintwork and wheels protected in order to maintain its impressive looks.
The owner had driven his F-Type R from London to UF's Brands Hatch based Detailing Studio in Kent for a New Car Protection Treatment. The typical English weather had not been favourable and consequently the car had collected a considerable amount of fallout en route.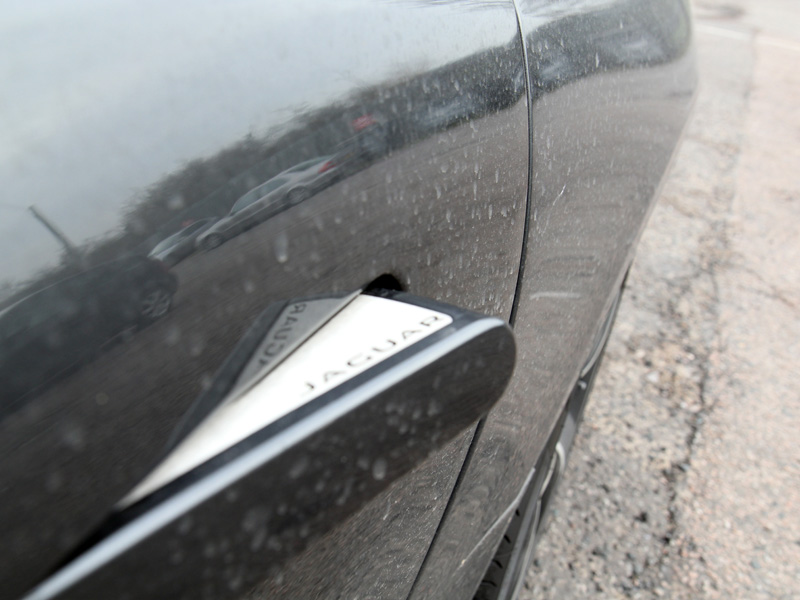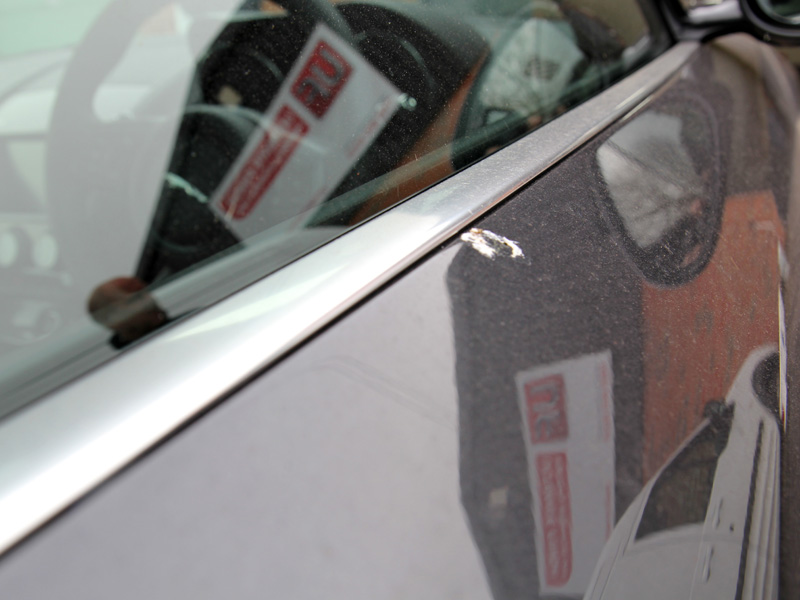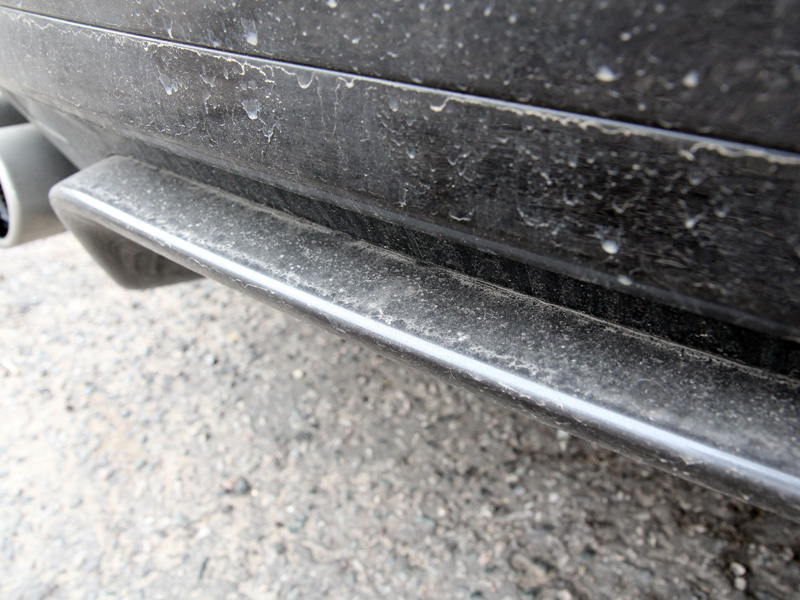 The F-Type was extremely dirty when it arrived at the studio. The elevated pollution in London had combined with the rain to produce a particularly nasty mix of fallout that had bonded to the car leaving gritty deposits. If you were to start washing a car in this condition with a wash mitt and soapy water, you would undoubtedly put swirl marks into the paintwork. Using non-contact measures to remove this fallout prior to washing the car protects the paintwork from damage. – Derek Ginger, Master Detailer, UF Detailing Studio
Although this Jaguar had been fitted with carbon ceramic brakes which do not produce iron fallout in the same way as standard brakes, the car was still treated for iron contamination to eliminate particles collected whilst the car was in transit. Next, the F-Type was thoroughly degreased using Bilt-Hamber Surfex HD to remove any left-over traces of transportation wax missed by the supplying dealership and any oily road grime collected during the drive to Brands Hatch.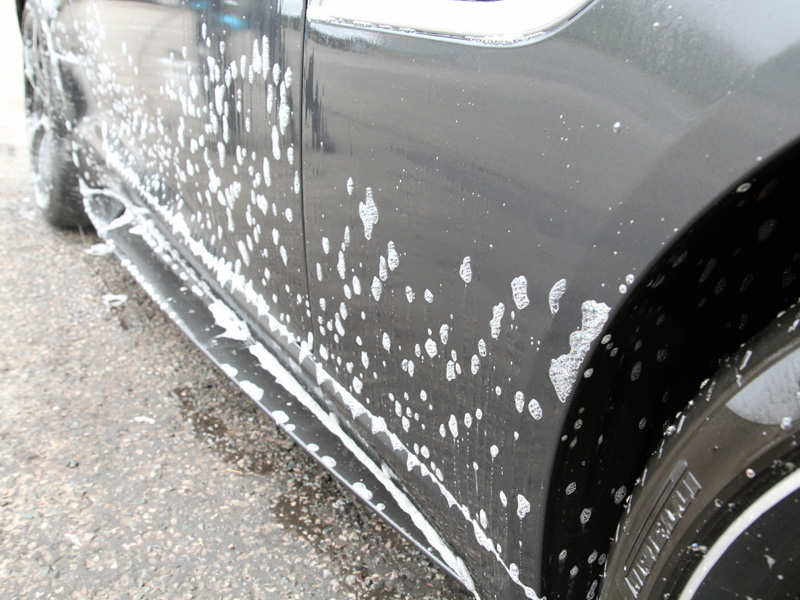 After rinsing, the F-Type R was pre-cleaned using Ultimate Snow Foam. The thick foam is created by forcing the concentrated liquid through a Snow Foam Lance with a pressure washer. Applied to the car, it clings even to vertical surfaces, gets into tight areas, lifting larger particles of dirt and grit away from the paintwork and holding it in the foam. This can then be rinsed away before a wash mitt comes into contact with the surface. As such, the main wash is rendered much safer for the paintwork.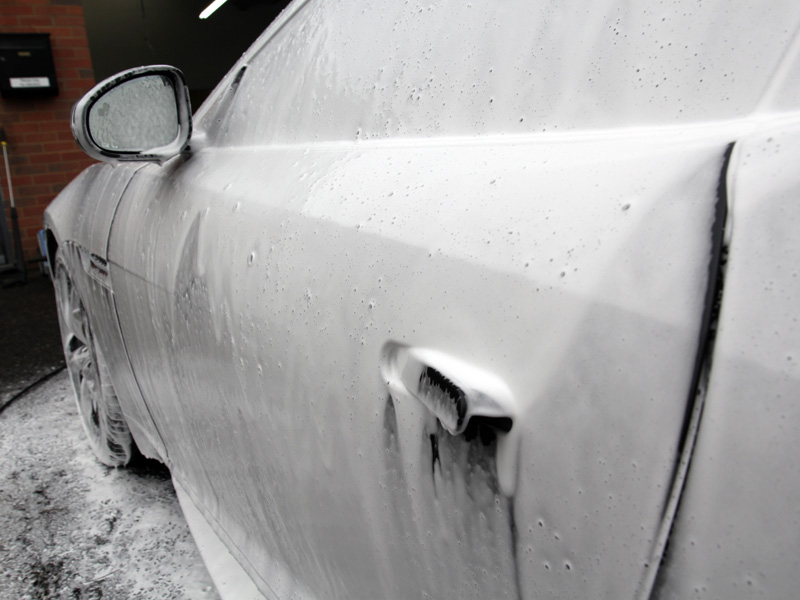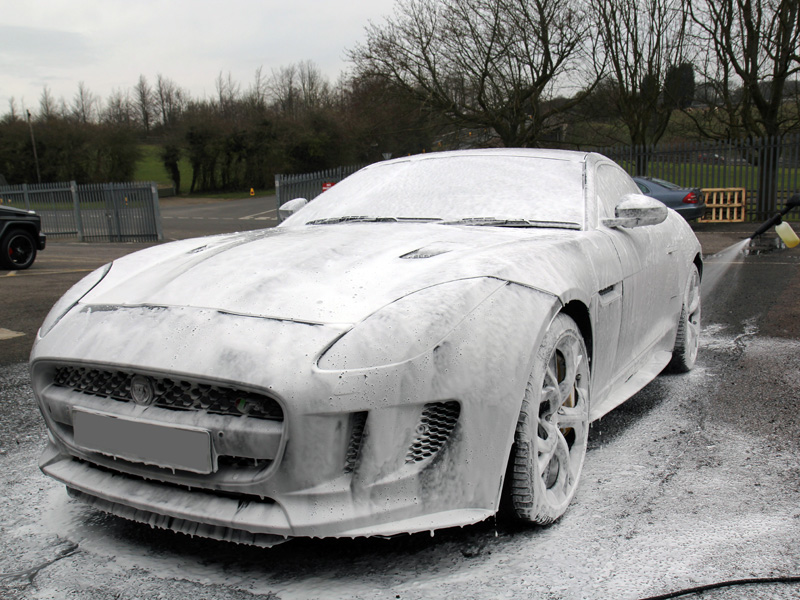 Once the suds had been rinsed away, the car was washed using a separate Wash Bucket and Rinse Bucket, both equipped with Grit Guards, an Ulti-Mitt Double Sided Merino Wash Mitt and Nanolex Pure Shampoo. Phosphate and NTA-free, pH-neutral, Pure is gentle whilst the active surfactants ensure perfectly clean paintwork. After rinsing again, an Aqua Gleam De-ionising Water Filter was connected in-line with the hose to give the F-Type R a final, pure water rinse. The car was then dried using UF Ultra-Soft Microfibre Drying Towels and brought into the detailing studio. Here the paintwork was inspected for damage under high-intensity lighting.
Although the car is new, it's not uncommon to see swirls and scratches in the paintwork. These may happen at the finishing stage at the manufacturer or could be a result of hurried washing techniques at dealerships. However they're incurred, it's important to ensure they're removed prior to sealing, as, once the sealant is in place the damage is beneath it and cannot be tackled. In this instance, there were a few swirls in the paintwork which had to be eliminated. – Derek Ginger, Master Detailer, UF Detailing Studio
To perfect the paintwork and ensure a high-gloss finish the Jaguar F-Type was lightly machine polished using a FLEX PE14-2 Rotary Polisher and Menzerna Super Finish Plus 3800 with a 3M PERFECT-IT III Yellow Polishing Pad . The car was then ready to be protected.
Different protective products suit different applications – for example, carnauba-based waxes deliver an amazingly deep, wet-look gloss with a warm glow that looks fantastic, but because they're a natural product they are less resilient to fallout and contamination. As such we usually recommend them for show cars or occasional, fair-weather driven vehicles. For cars that are going to be subjected to the elements daily, especially in polluted environments such as big cities, we invariably recommend nano-ceramic sealants for their enhanced imperviousness to extremes of pH and resilience to wash-induced swirls. – Derek Ginger, Master Detailer, UF Detailing Studio
In this instance, Kamikaze Collection ISM Hydrocarbon Coat was selected as the main protection. This sealant blends optically clear hydrocarbons with ceramic coat elements to provide a high shine with long-lasting performance delivering protection to paintwork that lasts for up to twenty-four months. To increase the shine and the hydrophobic performance, once ISM had cured, Kamikaze Collection Infinity Wax Hybrid was layered over the top. Infinity Wax Hybrid combines ceramic elements for additional protection, with high-quality carnauba for that distinctive candy-gloss shine.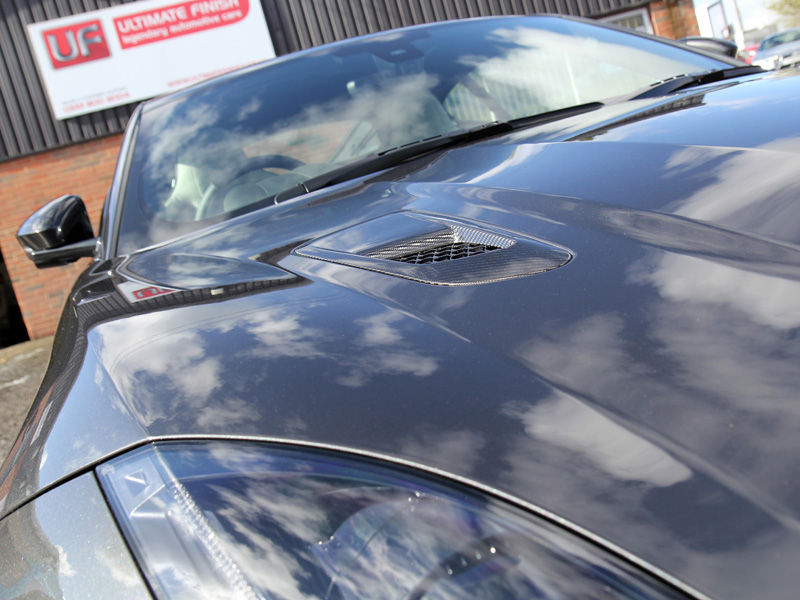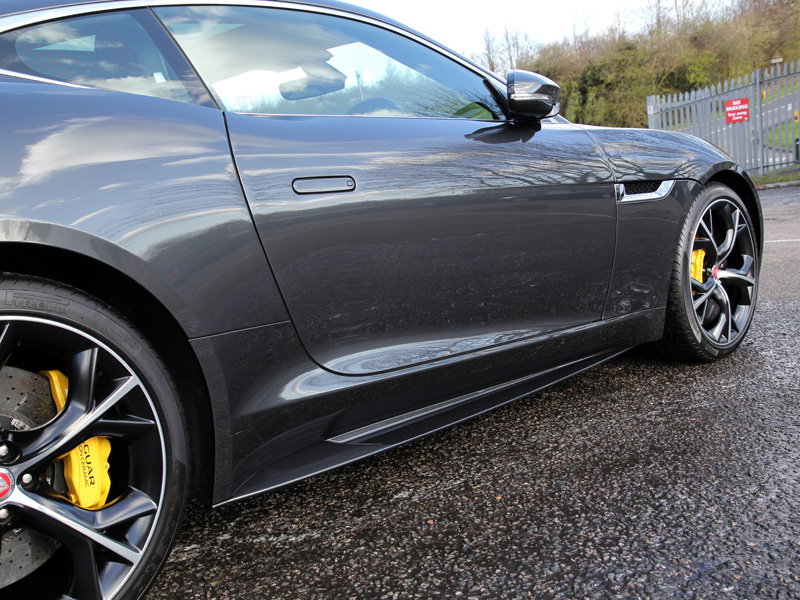 The hydrophobic function of any sealant is an important factor in enabling it to repel dirt and oil – it means contamination does not adhere to the surface as readily – so it's much easier to wash. When you reduce the need for friction whilst cleaning paintwork with a wash mitt, you're helping to prevent wash induced swirls and it will also result in the car staying cleaner for longer. – Derek Ginger, Master Detailer, UF Detailing Studio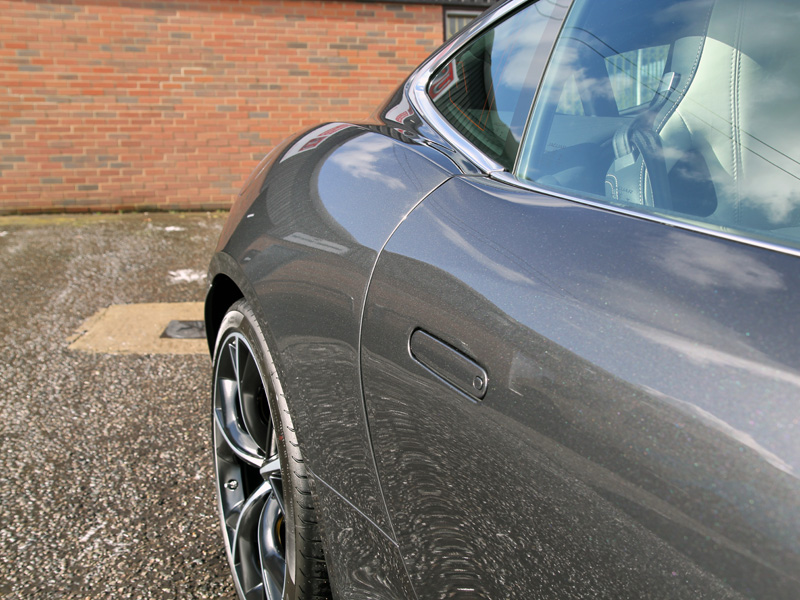 The glass was coated with a layer of Gtechniq G1 ClearVision Smart Glass. This forms a hydrophobic barrier for the windows, encouraging rainwater to bead on contact and allowing it to be blown easily away, even when driving at relatively low speeds.
The wheels were protected using Gtechniq C5 Alloy Wheel Armour. This heat resistant nano-ceramic sealant does not burn off when wheels are hot and inhibits the adhesion of dirt and oils to the treated surface. The quad exhaust tips were cleaned using Gtechniq M1 All Metal Polish and then also protected with C5 to discourage the build-up of soot. The tyres were dressed with Gtechniq T2 Tyre Dressing to provide a long lasting, natural satin sheen.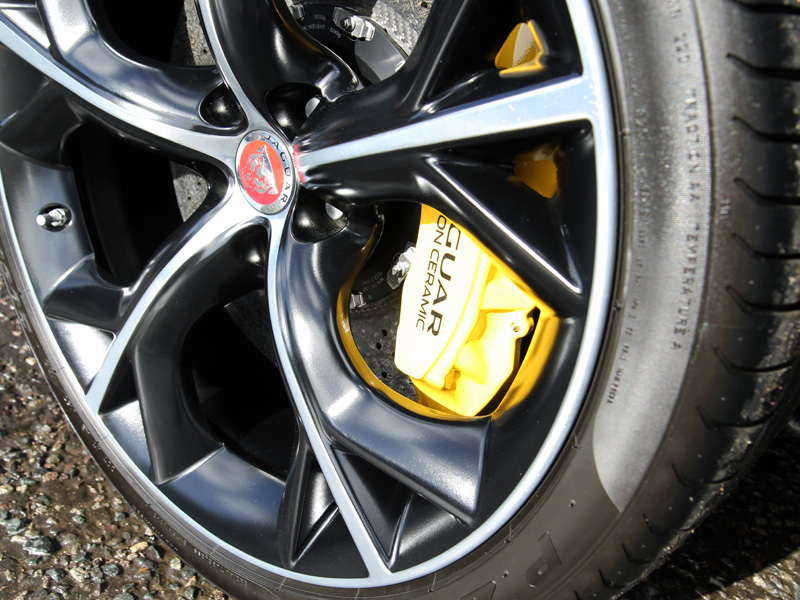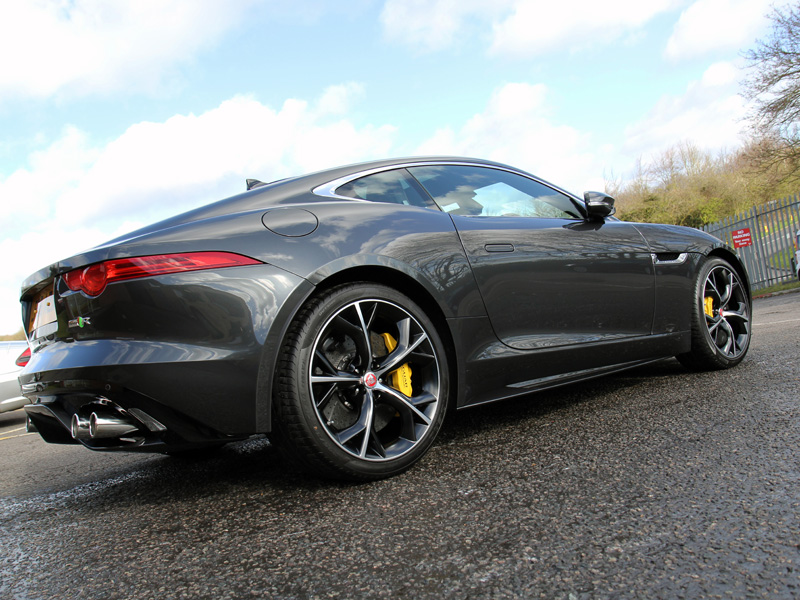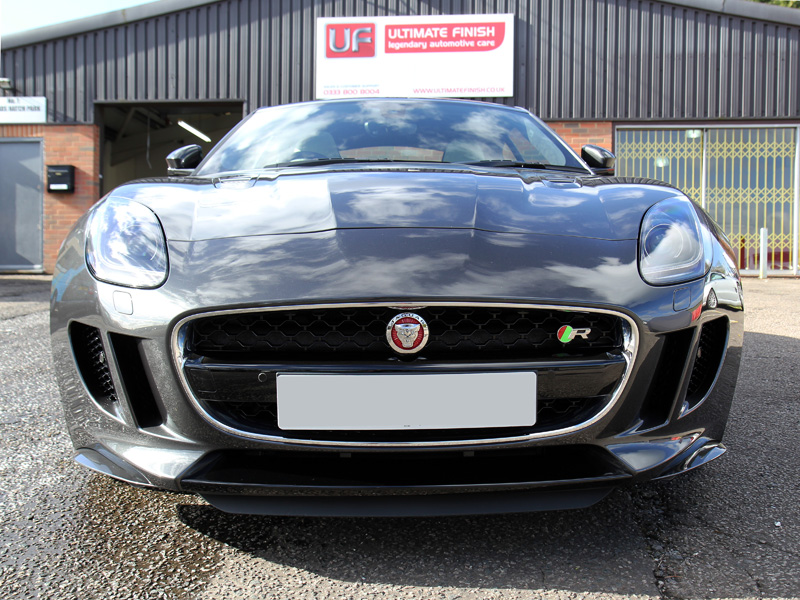 UF Detailing Studio – Award Winning Detailing. Call 0333 800 8004 to discuss your requirements and arrange a free vehicle appraisal.