Aston Martin V8 Vantage – Restored and Protected – Part II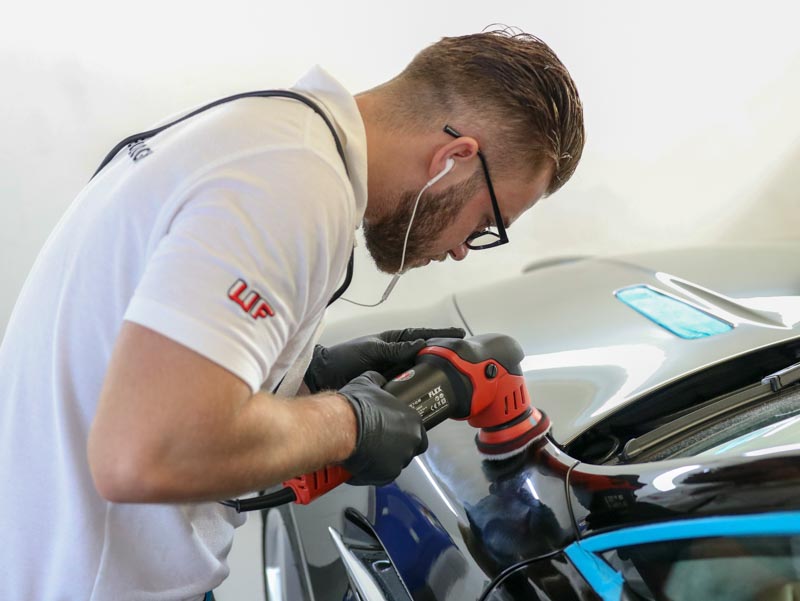 In Restored and Protected – Part I we highlighted the multi-stage machine polishing required to remove serious defects from the Aston Martin's paint and it was now ready to have paint protection film (PPF) strategically installed on the car prior to the remaining paintwork, wheels and glass being ceramic coated.
XPEL's specialist software creates highly customised patterns for precise coverage and they carry the patterns for many thousands of cars. ULTIMATE PLUS is the most advanced PPF available and uses special elastomeric polymer technology. A true self-healing film, it repairs itself from small scratches and swirls with the application of heat – either hot water, sunshine or a heat gun. It protects paintwork from gravel rash, rock pebbling, and the corrosive action of salt, bug remains and bird droppings. In addition, the film's super slick surface inhibits contamination settling thus preventing it from becoming stained. Engineered to resist UV rays, unlike many PPFs, ULTIMATE PLUS does not become yellowed with exposure. The film can be stretched and compressed to follow the contours of the vehicle precisely, ensuring the finish is perfectly clear, free from wrinkles and ripples and therefore with no obvious seams. For customer peace of mind, ULTIMATE PLUS carries a ten-year warranty.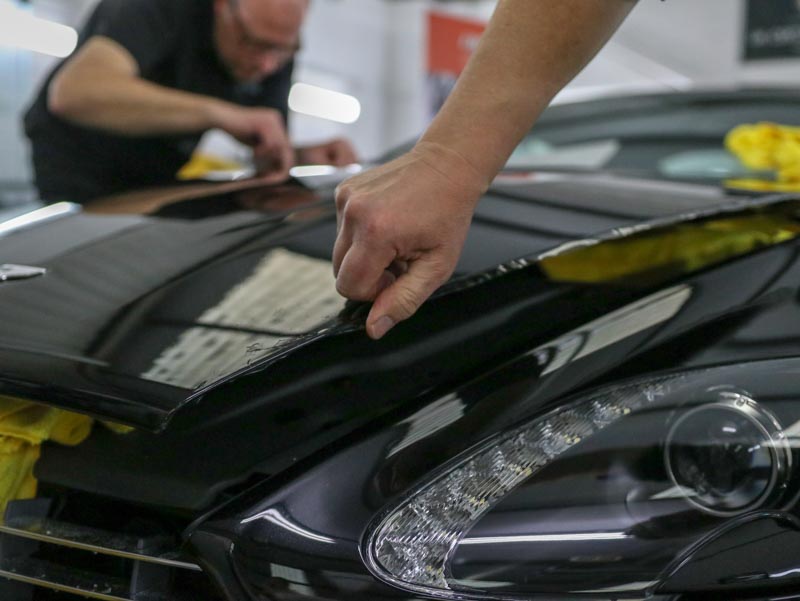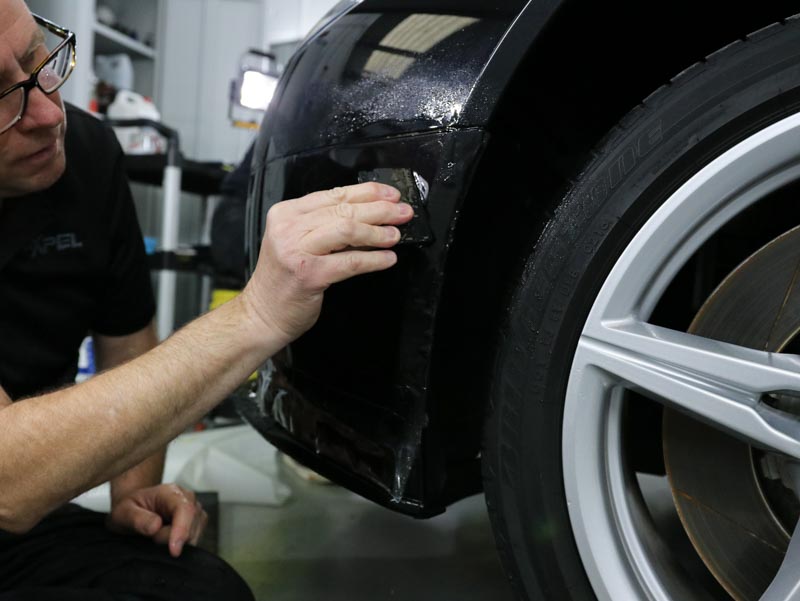 The bonnet louvres were removed to allow the PPF to be neatly tucked through the hole, avoiding unsightly cut lines.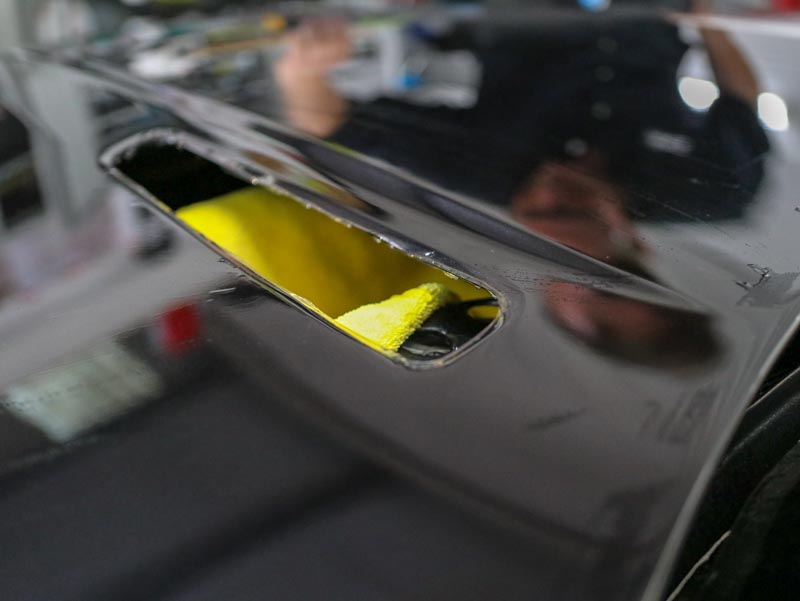 Once ULTIMATE PLUS has been applied, it must be left to settle for 24 hours as the gel used in the installation process evaporates through the polyurethane film. Once settled, Gtechniq EXO v4 Ultra Durable Hydrocarbon Coating was applied, the flexible nature of the sealant perfectly suiting the film and adding a further layer of hydrophobic protection.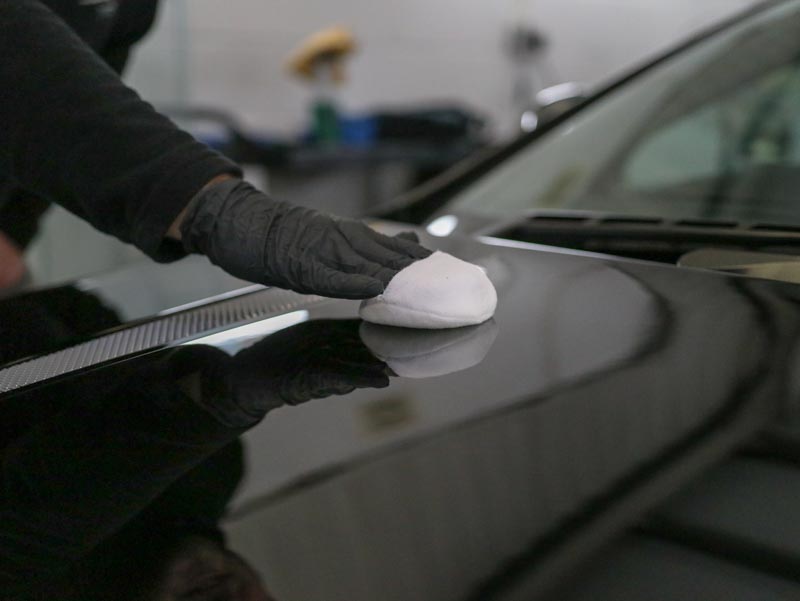 The rest of the Vantage was sprayed with Gtechniq Panel Wipe to remove any residues of polish, clear coat or gel used during PPF application as all of these might interfere with the ability of the ceramic coating to bond effectively to the clear coat. Gtechniq Crystal Serum Ultra (CS ultra) was then applied. Crystal Serum Ultra is Gtechniq's most protective, durable coating yet. Its unique formulation uses nano-molecules of two different sizes: 7 nanometres (nm) and 20nm. A nanometre is one billionth of a metre or a millionth of a millimetre. A human hair is around 75,000nm in diameter. Comparing a nanometre to the diameter of a human hair is roughly similar to comparing an inch and a mile in ratio terms. As the coating cures, the larger molecules bond with the clear coat and the smaller molecules settle into the gaps left over, similar to sand settling into a glass jar filled with pebbles. So, taking the nano-formulation of Crystal Serum Ultra, it's easy to see why this coating is so comprehensively protective.
CS Ultra must be applied under controlled conditions, with ambient air temperature and humidity within set levels to ensure the curing occurs fully and without introducing water vapour to the coating. Once applied, CS Ultra must be allowed to cure for at least twelve hours prior to exposure to the elements. In this instance, after allowing CS Ultra to harden for around ninety minutes, EXO v4 was applied over the top to add a further layer of hydrophobicity, gloss and slickness to the finish.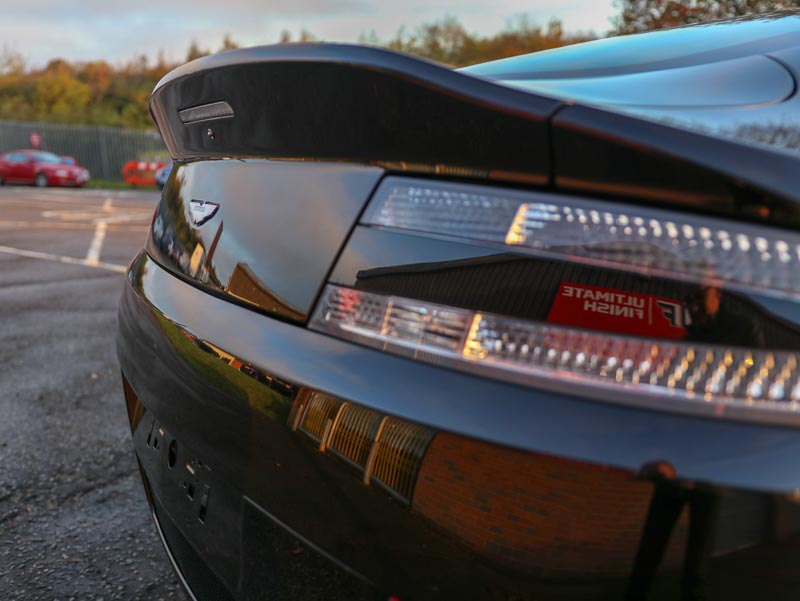 CS Ultra really is an impressive coating and one of the most popular options for visitors to the studio. Gtechniq is so confident in the performance of CS Ultra, the coating carries a manufacturer performance guarantee of nine years. Due to the strict instructions for application and to ensure quality control of the result, CS Ultra is available only as a service through Gtechniq-approved detailers. For enthusiasts looking for a similar result they can achieve at home, Gtechniq offers Crystal Serum Light which is also highly protective. However, we'd suggest customers ensure their paintwork is swirl-free prior to application. – Matt Back, Master Detailer, UF Studio
Whilst CS Ultra and EXO v4 were curing, the 19-inch alloy wheels were treated with Panel Wipe before being coated with Gtechniq C5 Wheel Armour. C5 bonds with the wheel's lacquer to provide a stain resistant, contamination repelling barrier that helps to prevent brake dust build up. Treated surfaces are easier to maintain during the weekly wash, with dirt and grime easily washed away using non-astringent wheel cleaning solutions. To complete the look, Gtechniq T2 Tyre Dressing was applied to the tyres, protecting them and producing a natural satin sheen.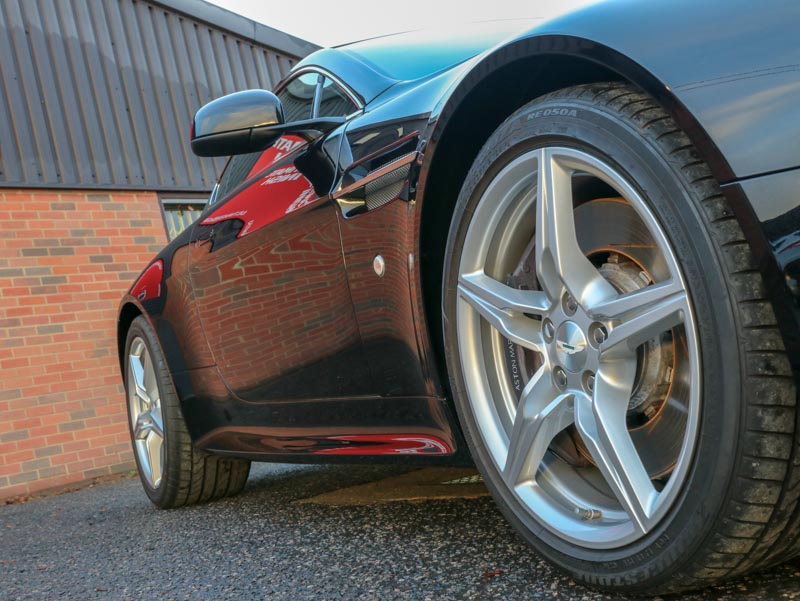 With winter approaching, the owner of the Vantage had elected to have a hydrophobic coating applied to the windows and windscreen to help repel rain and prevent ice and snow from adhering as strongly to the glass. Gtechniq G1 ClearVision Smart Glass was applied, one coat to the side windows, two layers for the rear window and front screen. G1 forces rain to form into beads on contact, encouraging the beads to be easily driven off the surface even whilst driving at relatively low speeds. This helps improve visibility during inclement weather, reducing eye strain and the risk of driver fatigue.
The following day, with the Vantage's owner due to arrive, the vehicle was given a final pre-delivery inspection. The coating had cured with perfect clarity and all that remained was to remove any stray dust particles using a Supernatural Detailing Duster. Made from soft wool, the duster is first stroked to produce a slight electric charge, then gently run over the paintwork, the electric charge attracting any dust particles which are lifted away by the natural fibres.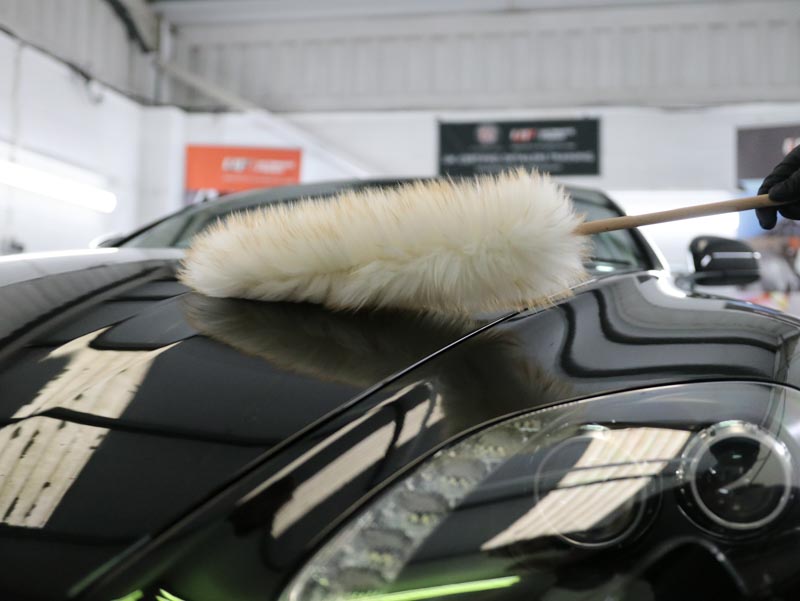 The Aston Martin V8 Vantage was looking as good, if not better than new and was now ready to grace its new home!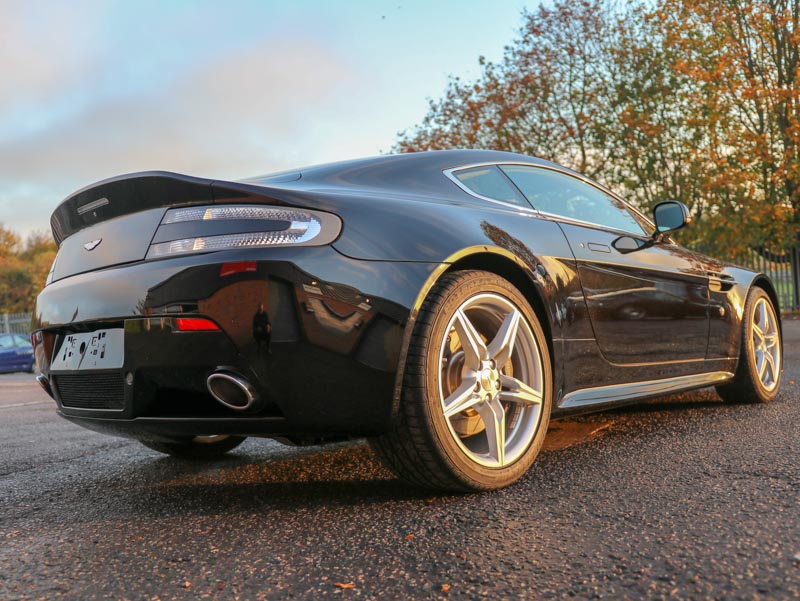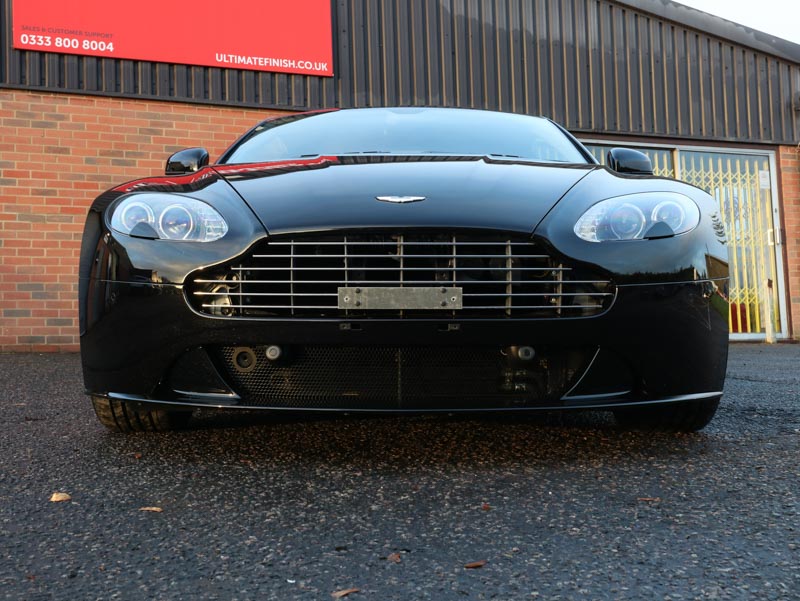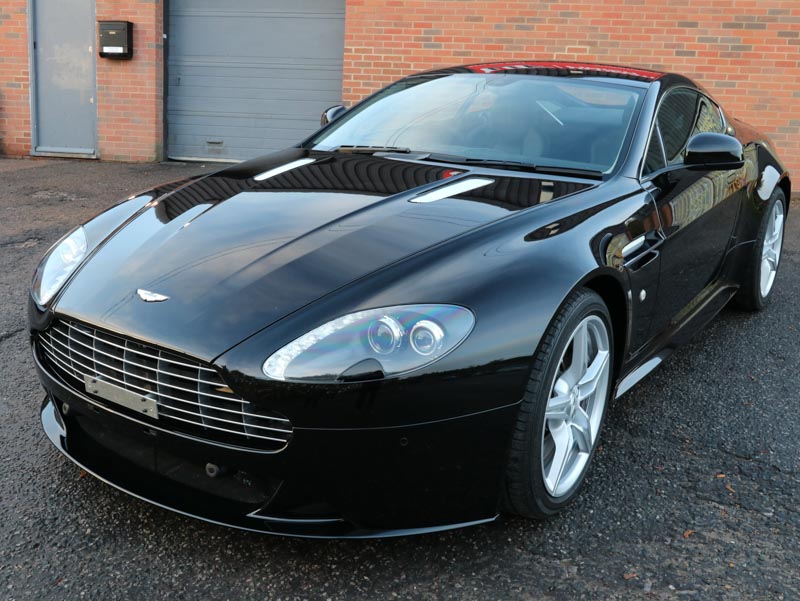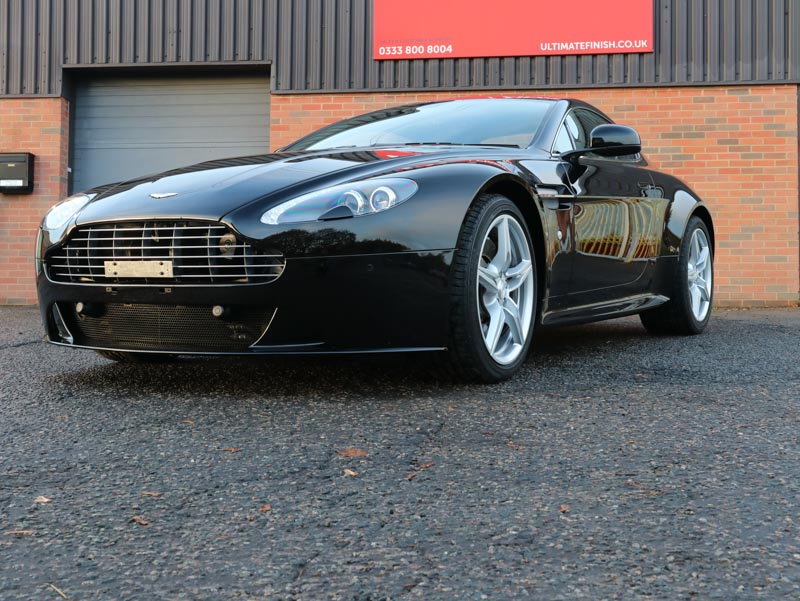 UF Studio – Award Winning Detailing. Call 0333 800 8004 to discuss your requirements or complete the online enquiry form here to receive a bespoke no-obligation quotation by email.
UF Direct – Shop The World's Best Car Care Products