1969 Aston Martin DBS Protected With Swissvax Best Of Show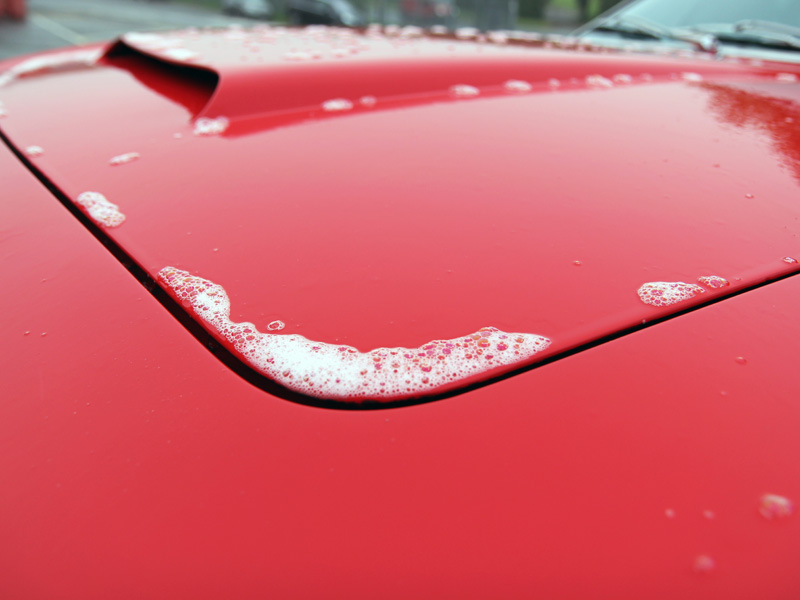 The Aston Martin DBS is a grand tourer manufactured between 1967 and 1972. Originally intended as a successor to the DB6, both models ran concurrently for the first three years, during which time the DBS featured as George Lazenby's 007 car in 'On Her Majesty's Secret Service'.
Featuring a straight six engine, the DBS was meant to bring a fresh, modern feel to the Aston Martin line-up, incorporating a fashionable fastback style rear end and squared off grille front. However, true to Aston Martin classic styling, a host of other features remained including the familiar front air scoop and side air intakes. Although another DBS model (this time a V12) was released in 2007, the classic DBS was the final car built whilst on David Brown's watch.
This DBS had been recently acquired,  and given the age of the vehicle plus the likelihood of finding typically soft paintwork, was booked into UF's Brands Hatch-based Detailing Studio for Paint Correction. Initially, the DBS was decontaminated, with Bilt-Hamber Korrosol to remove traces of iron contamination from the bodywork and wheels, followed by a thorough degreasing using Bilt-Hamber Surfex HD, a water-based degreaser that gently removes organic and oily residues as well as water-deposited grime. Many Bilt-Hamber products contain anti-corrosion properties, making them ideal for classic cars.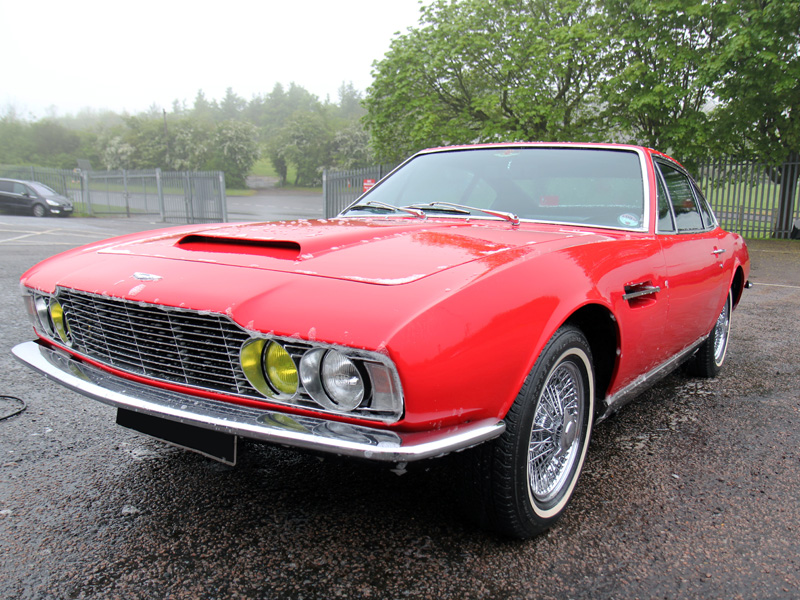 After rinsing, the DBS was treated with an application of Ultimate Snow Foam. The thick foam clings to vertical surfaces, lifting larger particles of dirt and grit away from the sensitive finish and encapsulating the contamination within the suds. This can then be rinsed away before a wash mitt comes into contact with the paintwork.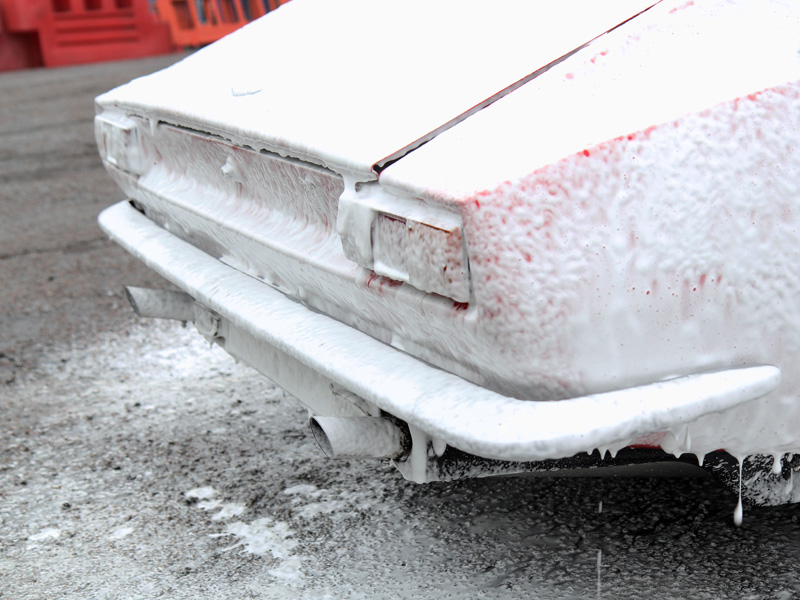 Using a separate wash and rinse bucket, an Ulti-Mitt Double Sided Merino Wash Mitt and Swissvax Car Bath, the DBS was carefully washed. The tried and tested 'Two Bucket Method' is an excellent way to minimise the chances of inflicting swirl marks and scratches into the paintwork during the wash process by separating the 'wash' water from the 'rinse' water. After rinsing, an Aqua Gleam De-Ionising Water Filter was attached in-line with the hose to give a final, pure water rinse. The DBS was carefully dried using Ultra Soft Microfibre Drying Towels and then brought into the studio for inspection under high-intensity lighting.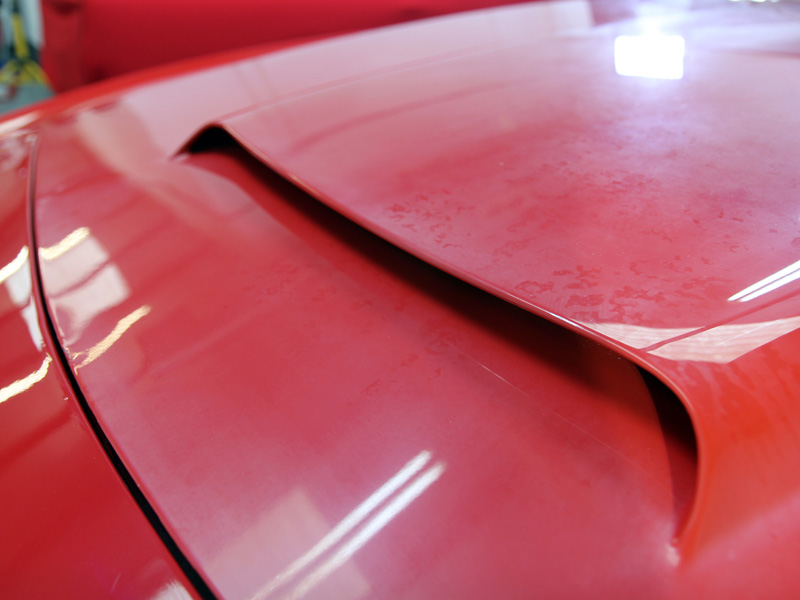 Whenever you're dealing with a classic car, close inspection using the right type of lighting is essential. You must be able to see, clearly, exactly what the blemishes are and where they are in order to eliminate them. Classic cars can have hidden histories and many of them have spent years without receiving regular attention. Even when kept indoors, depending on the type of storage unit, damp and dust can all affect the condition of the paintwork. The paint on this DBS showed signs of severe oxidation, swirls, scratches, and staining. – Derek Ginger, Master Detailer, UF Detailing Studio
Before any machine polishing was undertaken, multiple paint depth readings were taken over each panel.
It's common for classic cars to have been repainted, whether down to damage or whether it's been a complete colour change. As a result, taking paint depth readings is imperative so you know how much paint you have to play with before using a machine polisher. The DBS had clearly been repainted as the paint thickness varied from panel to panel and I therefore needed to be extremely circumspect about my compound and pad selection. Whilst correcting the paintwork I changed the pad and compound combination on several occasions and also switched machine polishers, changing between a RUPES Duetto, a LHR 75E Mini, and a FLEX PE14-2 with a spot pad, depending on the size of the area and the level of correction required. It was a real challenge to get the right combination in order to ensure a uniform finish. – Derek Ginger, Master Detailer, UF Detailing Studio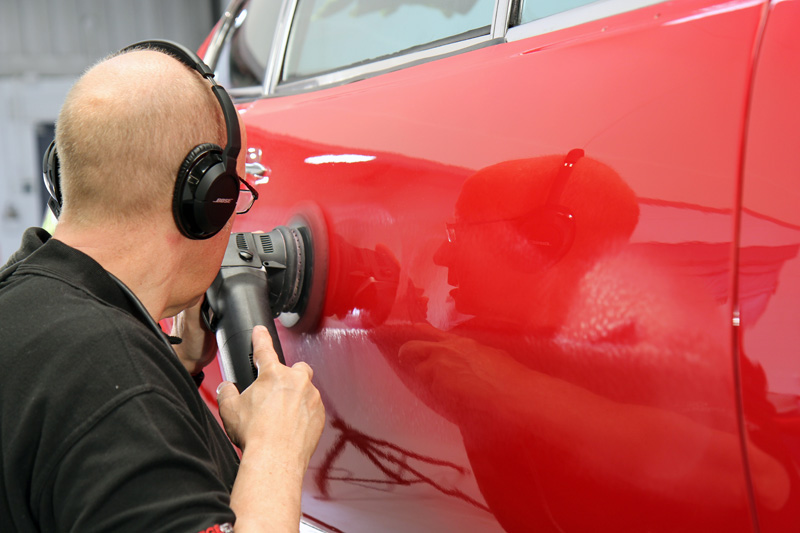 Designed for soft paint, Kamikaze Collection Banzai Dynamics Polishing Pads were used for the majority of the paint correction, the five-inch pad on a RUPES Duetto and a three-inch pad on a RUPES LHR75E Mini with a combination of Menzerna medium cut polishes. In addition, a FLEX PE14-2 rotary polisher was used with a 3M spot pad for the smaller areas of paintwork that required extra cut.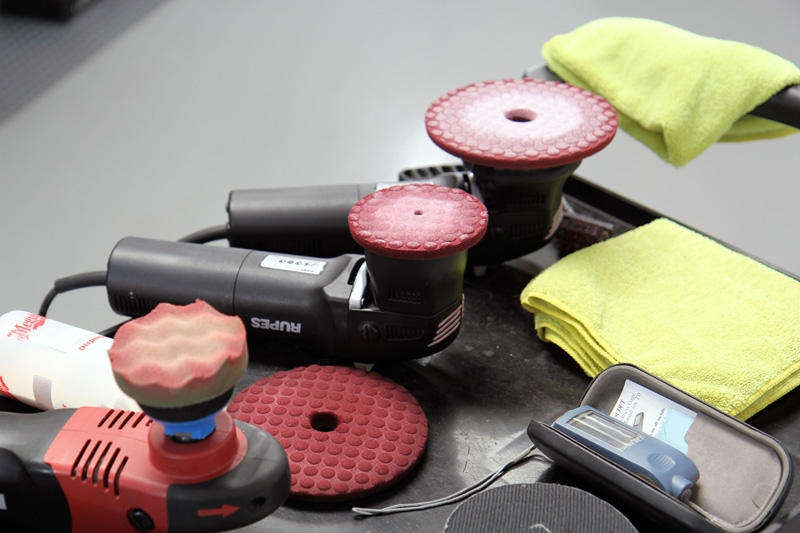 Refining soft paintwork can be trickier than the correction process as it tends to mark easily, and if you're not careful can put fine scratches back into the finish making it look dull and lacking in clarity. – Derek Ginger, Master Detailer, UF Detailing Studio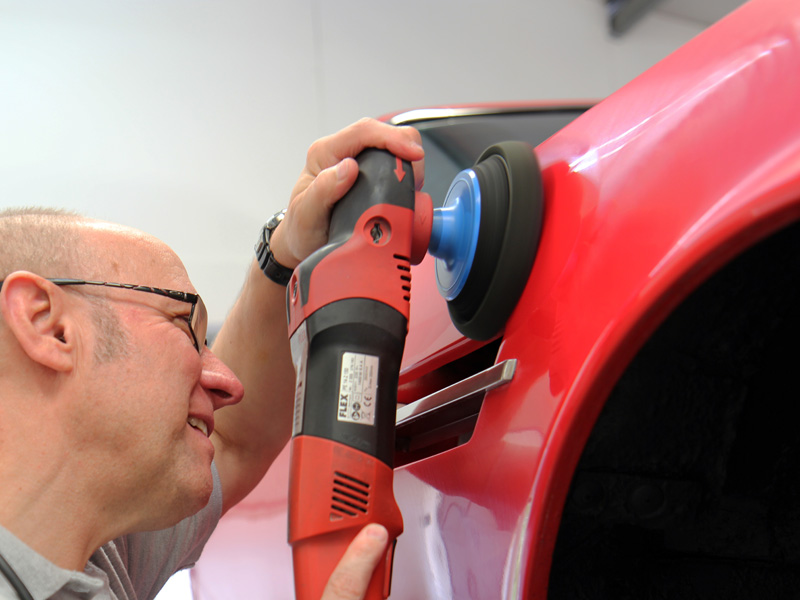 A FLEX PE14-2 was used to refine the paintwork, with a 3M PERFECT-IT III Black Polishing Pad and PolishAngel Master Final Polish II. The softness of the foam pad along with the burnishing action of the rotary polisher brought the red paintwork up to a high gloss.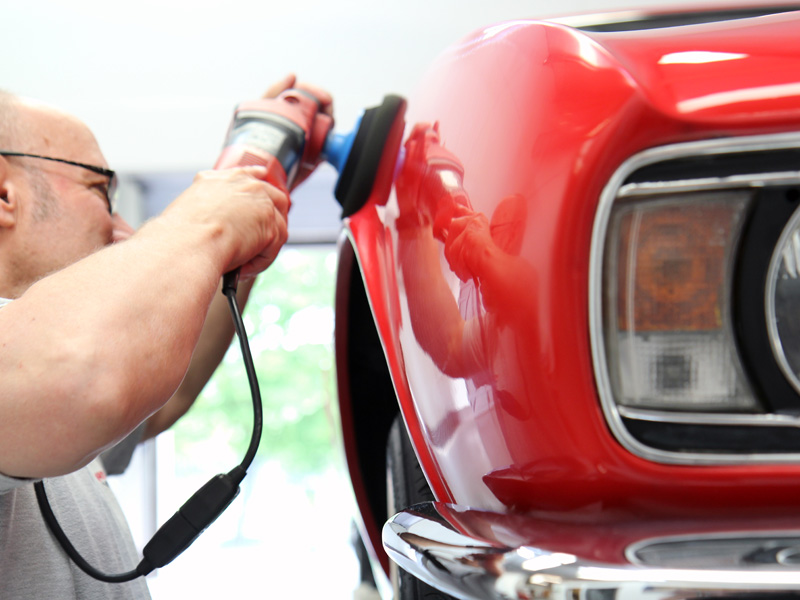 The wire wheels were removed from the car and carefully polished both sides to remove any tarnishing. They were then protected using Swissvax Autobahn Wheel Wax. Naturally water repelling, Autobahn also acts as a non-stick barrier, encouraging dirt and grime to fall away from treated surfaces rather than bond to them.
The DBS was purchased with the intention of being a 'high days and holidays' car, rather than being subjected to regular driving and the associated wear and tear. Indeed, the owner was due to collect the DBS for an Aston Martin Owners Club Concours event where he had been invited to display the car. To make sure it was looking its best, the car was initially hand polished with Swissvax Cleaner Fluid, an abrasive-free paint cleaner that preserves and nourishes the paint using polishing oils. Finally, a couple of layers of 'Swissvax Best Of Show' concours wax were carefully applied and buffed off to a lustre and depth of shine worthy of any show winning classic.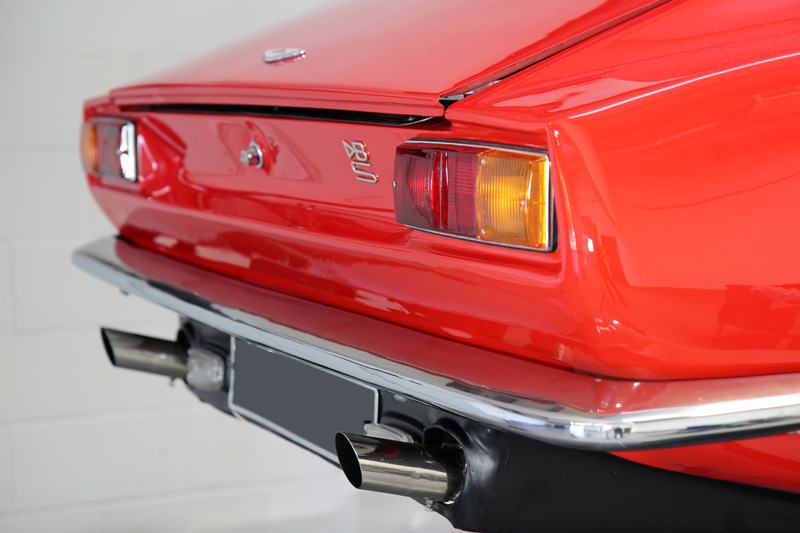 You could be forgiven for thinking that a hard ceramic sealant would be the best option for super-soft paint such as this, but they require the paintwork to be first cleansed using a panel wipe. Whilst this leaves the paintwork perfectly free of residue, it can strip out essential oils from older paint and even with the most careful application can put swirl marks back into the soft finish. Swissvax Best of Show is perfect for a car like this: it's super soft, easy to apply and buffs off effortlessly. In addition, the natural glow of the grade-one carnauba really brings out the warmth in the red paintwork. The level of gloss it imparted was spectacular. – Derek Ginger, Master Detailer, UF Detailing Studio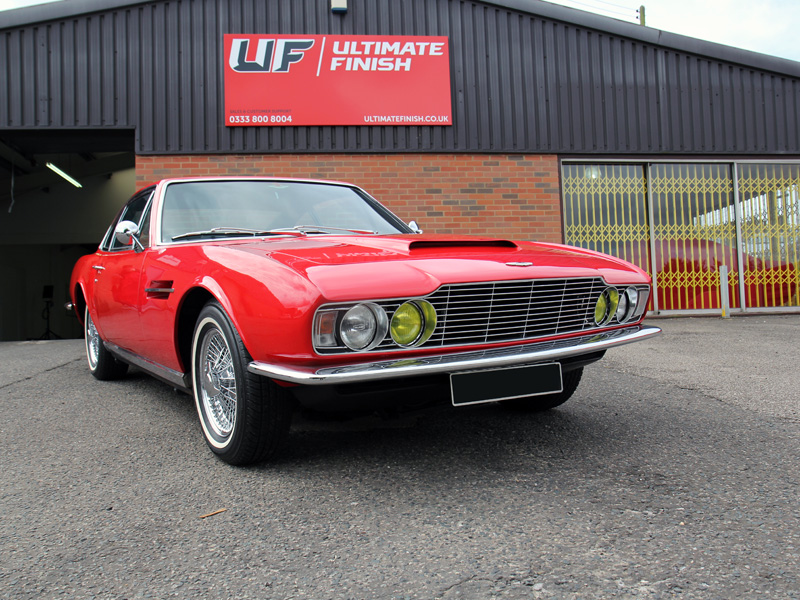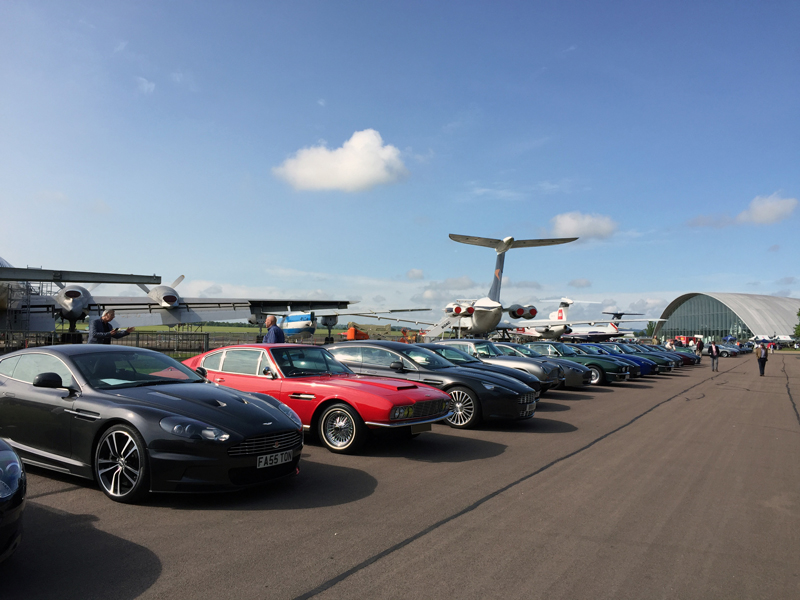 After the show, the DBS was returned to the detailing studio where it was washed, the wire wheels cleaned and the tyres dressed with Swissvax Pneu to give a natural satin sheen.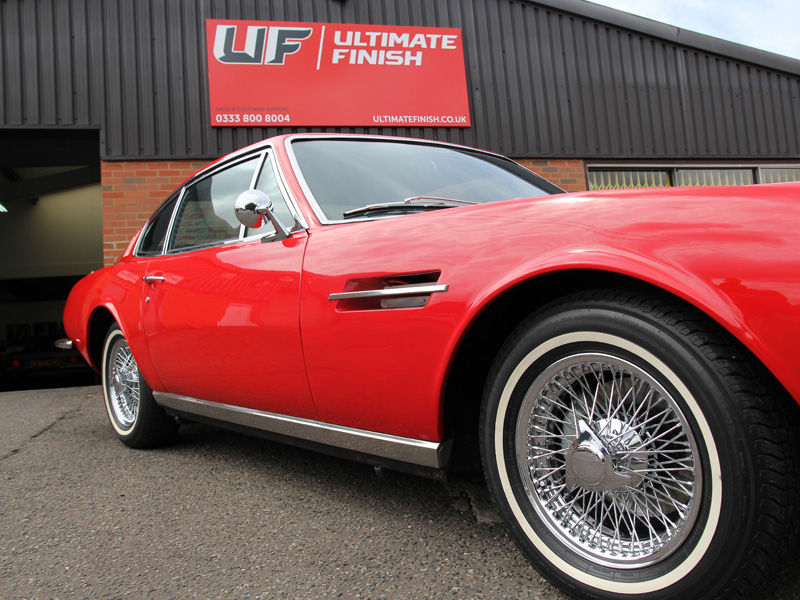 The deep wet-look shine looked spectacular, even on a slightly overcast day!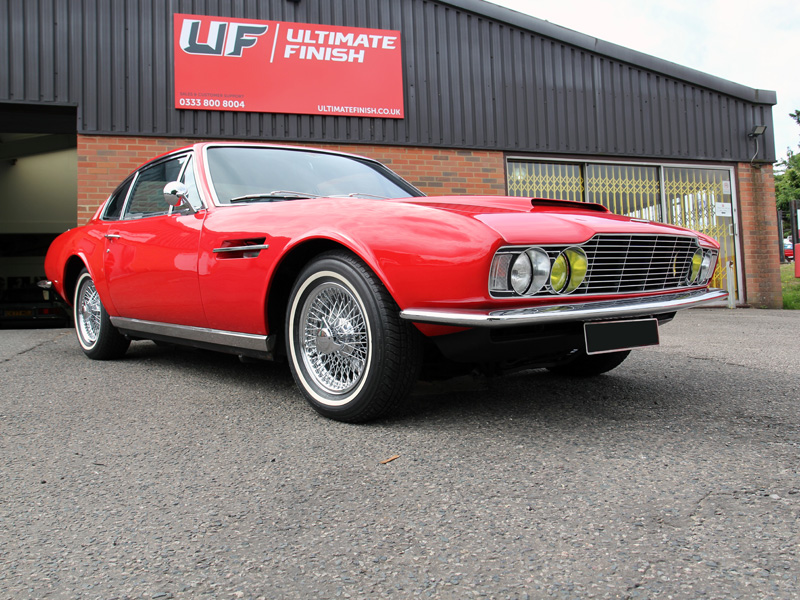 To protect the DBS when not being used, the owner ordered a fully tailored indoor cover. Made by UK manufacturer, Specialised Covers, a bespoke cover pattern specifically for the 1969 Aston Martin DBS was chosen in red Prestige+ with contrasting black piping. This soft, thick fleece material protects against accidental knocks and dings, whilst remaining breathable to ensure condensation does not accumulate beneath. The tight weave inhibits dust from penetrating, keeping the paintwork beneath, pristine.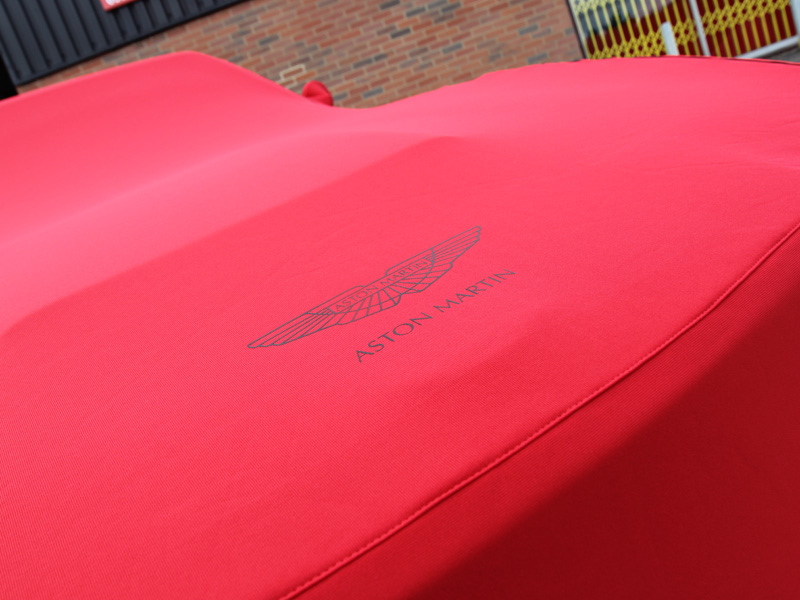 The cover fits like a glove, although it does seem a shame to hide the glorious paintwork beneath!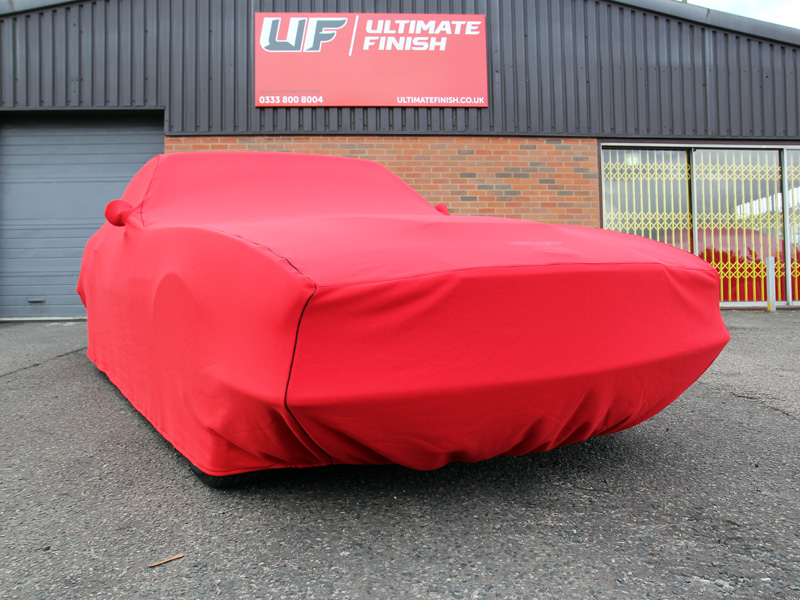 UF Detailing Studio – Award Winning Detailing. Call 0333 800 8004 to discuss your requirements.