Iconic 300 SL Roadster Given The Swissvax Star Treatment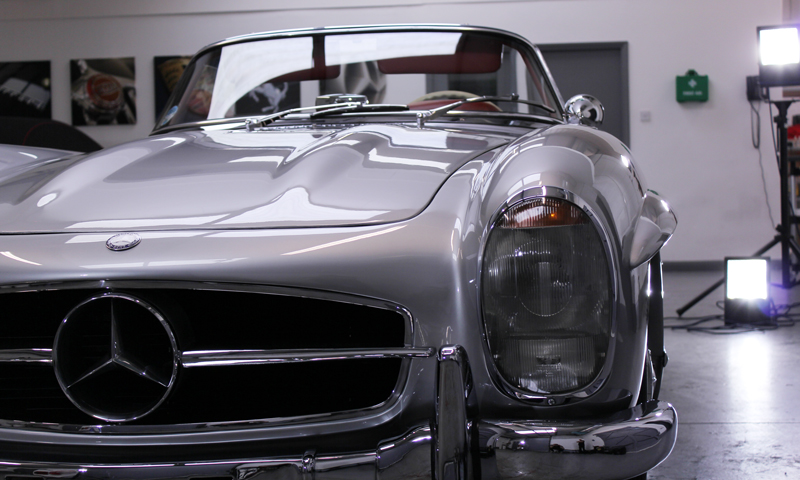 When it comes to collectibles, the Mercedes-Benz 300 SL Roadster has to be up there with the most desirable of assets. Apart from the gently curved wings and the classic elegance of the interior, everything about the 300 SL Roadster screams 60's Silver Screen Icon. The designation 300 SL represents the engine displacement (300) and SL is the abbreviation for Sport Licht, or Sport Light. Engineers who designed a fighter jet engine during WW2 built an engine injection system that shot fuel directly in to the cylinders. These engineers took that system and put in into the 300 SL, giving it a top speed of 160mph and making it the fastest production car of its era.
As if the overall look and power isn't enough, the finishing touches complete picture. The 300 SL came with a full leather interior and luggage in matching colours, custom-tailored to fit the compact boot space. When a 300 SL Roadster arrived at the Brands Hatch Ultimate Detailing Studio for a Paintwork Correction Treatment, there wasn't a person at The Paddock entrance who didn't stop and stare!
Georg Weidmann, CEO of Swissvax AG is a well-known and respected car enthusiast who has a 300 SL of his own:
For detailing a true classic such as the Mercedes-Benz iconic 300 SL, the Swissvax range of products is ideal as you are confronted with multiple surface materials: the Bakerlite steering wheel, the abundance of chrome bright work. – Georg Weidmann, CEO Swissvax AG
For Derek Ginger, Master Detailer at Ultimate Detailing Studio, Swissvax was his first choice:
When you have such an iconic car you immediately think 'Swissvax'. Their entire range is built around preserving the prestige of these classics and, having a comprehensive range, there was a product for every part of it. I knew we'd need it too, as the paintwork was scratched and marred causing it to look very dull. The roof needed deep cleaning, the interior leather was looking a bit tired and the brightwork all needed sprucing up. – Derek Ginger, Master Detailer, UDS
To begin the fabric hood was rinsed then sprayed with Swissvax Lotus Neutraliser, agitated with a brush to remove ingrained dirt, bird dropping stains and tree sap, then rinsed clean. The bodywork and wheels were treated with Korrosol to remove iron contamination, then degreased using Bilt-Hamber Surfex-HD.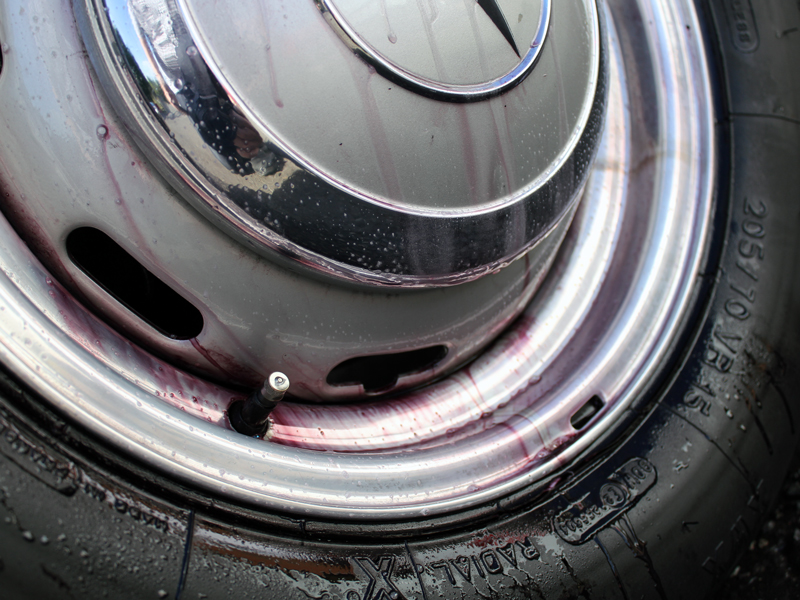 The wheels were washed using Swissvax Wheel Cleaning Concentrate and a combination of different sizes of  Wheel Woolies to get into the grooves of the rims before being given a thorough pre-wash cleanse using  Ultimate Snow Foam.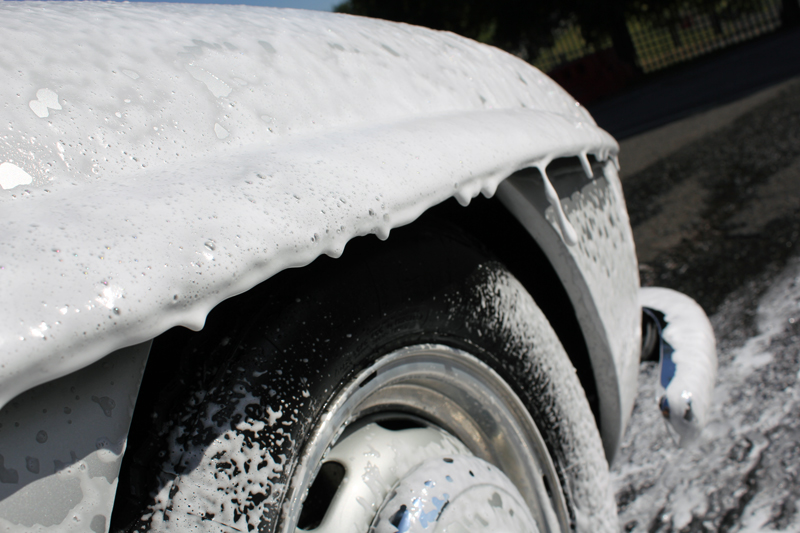 The 300 SL was carefully washed using the Two Bucket Method, Swissvax Car Bath and a Waschpudel, then dried using a Swissvax Micro-Dry Wonder Drying Towel. After taking paint depth readings the bodywork was machine polished using Swissvax Cleaner Fluid 'Professional' Regular on a SCHOLL Concepts Orange Neo Spider Polishing Pad.
I selected this combination initially as I didn't want to use anything overly aggressive. As it was I spent a long time making multiple passes over each section. The Neo Spider Pad is excellent for this sort of work as the criss-cross lattice allows for better air circulation, so you don't get too much heat build-up as you're polishing. – Derek Ginger, Master Detailer, UDS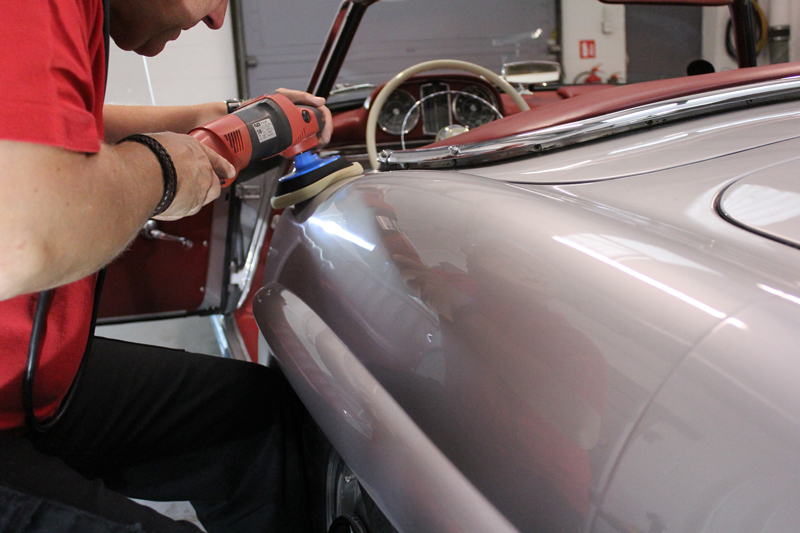 To finish and refine the silver paintwork, Swissvax Cleaner Fluid 'Professional' Finish was used on a SCHOLL Concepts Black SofTouch Waffle Pad.
The glass was cleaned using Swissvax Crystal glass cleaner, then the tyres were sprayed with Swissvax Pneu and worked in with a Swissvax Pneu Brush to leave a lasting natural sheen.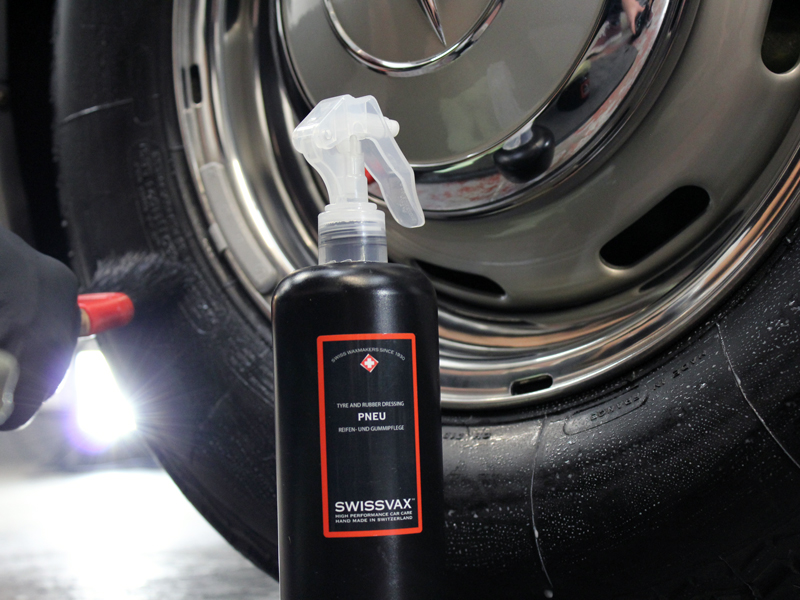 The wheels were protected with Swissvax Autobahn Wheel Wax, a heat resistant protection containing PTFE, a non-stick element which inhibits brake dust and grime adhering to the rims. This makes the wheels much easier to clean and maintain in the future.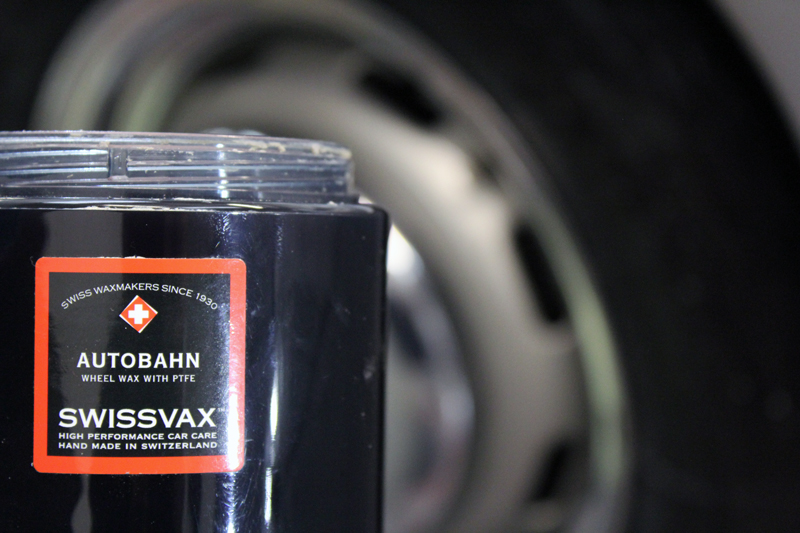 Finishing the wheels and the tyres really started to make the final look of the vehicle come together. I really like the natural sheen that Swissvax Pneu imparts on tyres. – Derek Ginger, Master Detailer, UDS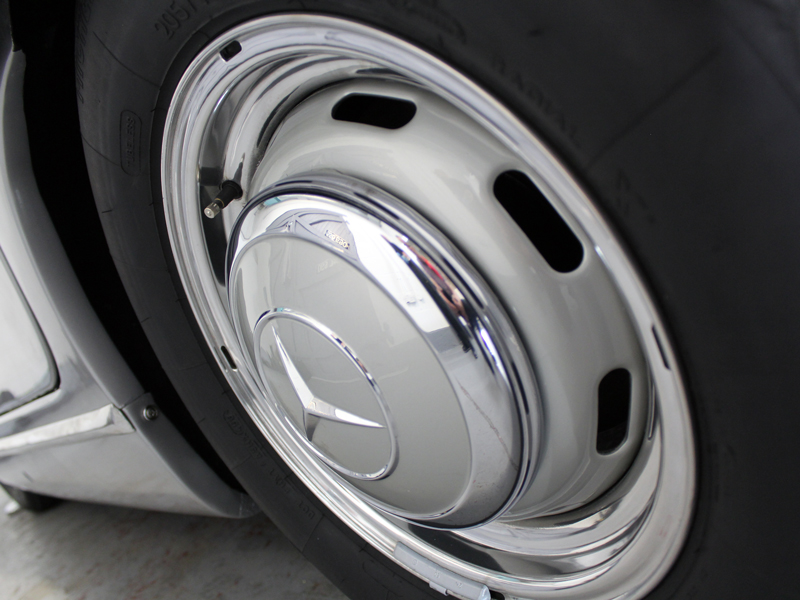 After leaving overnight the fabric hood felt dry to the touch, but to be sure it was completely dry prior to sealing, the car was left out in sunshine for an hour. Then the hood was sprayed with Swissvax Lotus Protectant to provide beading and protection properties for years to come. Lotos Protectant contains up to 15 times higher concentration of active protection ingredients per volume than other sealants.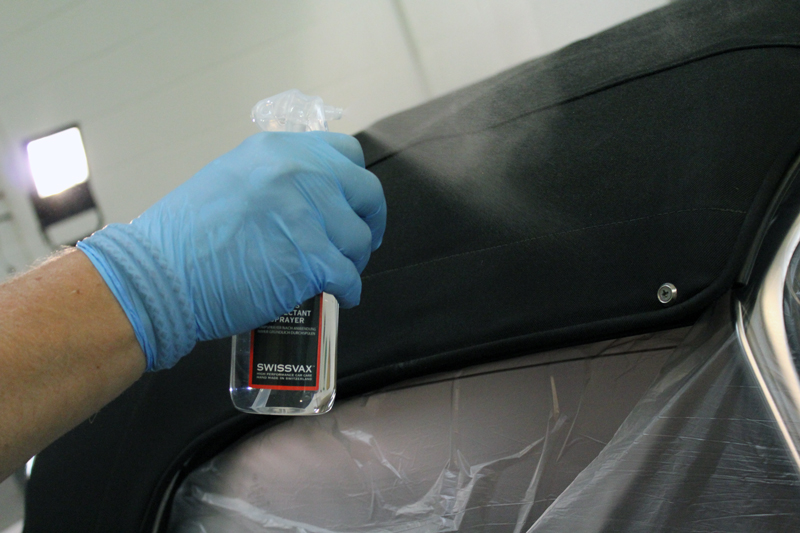 With the paintwork corrected to an optically clear finish it was time to apply an initial layer of Swissvax 'Swissvax Best of Show' carnauba wax. This gives the silver paintwork a deep, glossy wet look.
As easy as silver paintwork might be to keep clean, it is difficult to render it really sparkling and shiny as it lacks the mirror effect of dark colours. Swissvax 'Best of Show' wax is known for its soft-edged reflections and can produce a 'glow' on silver that goes beyond the word 'shiny'! And it comes in handy this wax does not leave any white residues, especially on a car like the 300 SL with lots of chrome applications, screws, vents, concealed aluminium door handles, rubber, etc. – Georg Weidmann, CEO Swissvax AG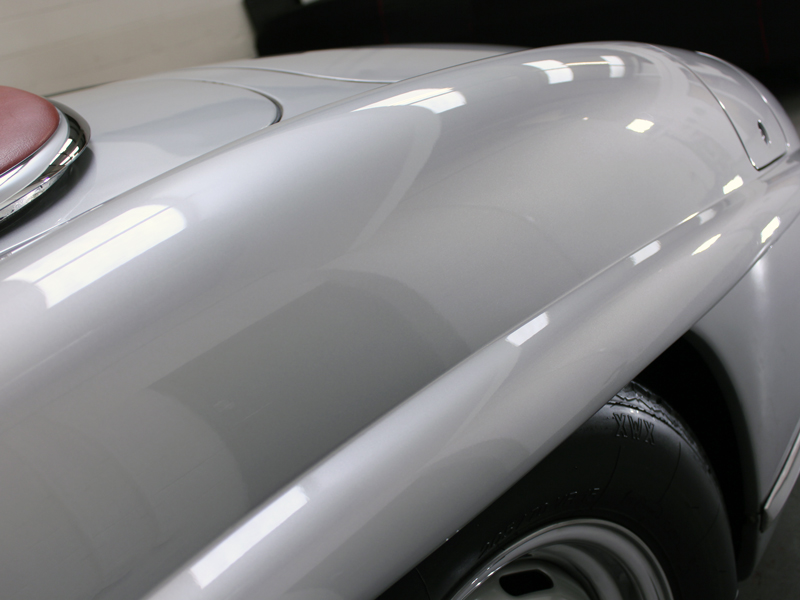 The 300 SL interior is entirely finished in leather and the original bespoke leather luggage fits perfectly into the compact boot space. All the leather was cleaned using Swissvax Leather Cleaner Forte to remove ingrained dirt and bring the striking red colour back to the original shade as first manufactured in 1961. After the cleaning process the leather was protected using Swissvax Leather Milk with Vitamin E and finished with Elephant Leather Preserver – a final sealant which helps keep the leather moisturised and also inhibits dye transfer.
The leather interior, with its perforated seats, requires a colour safe leather cleaner and a non-marking leather milk with UV-protection against the sun, followed by 'Elephant' Leather Preserver to protect the leather from moisture and rain drops. – Georg Weidmann, CEO Swissvax AG
The 300 SL's bespoke luggage set was also given the same treatment.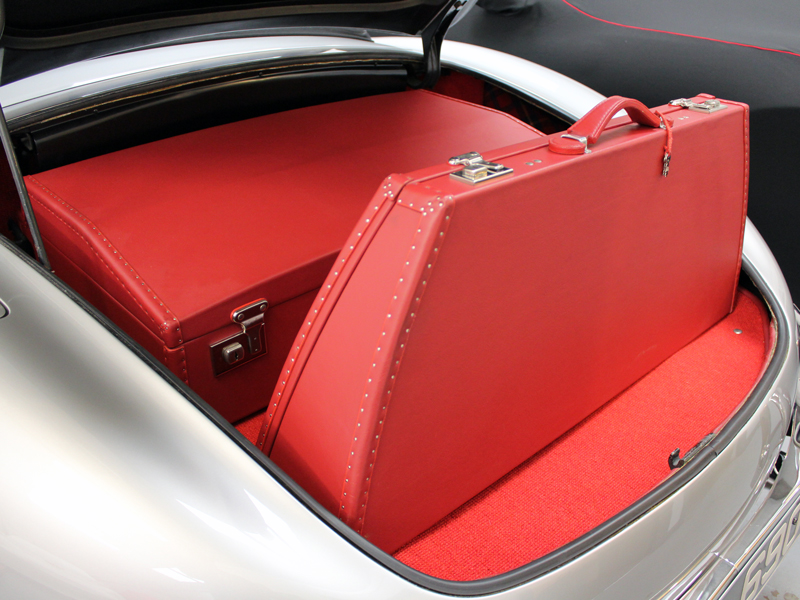 The newly rebuilt engine was masked, washed with Swissvax Engine and once dry treated with Swissvax Motor Shine Protectant.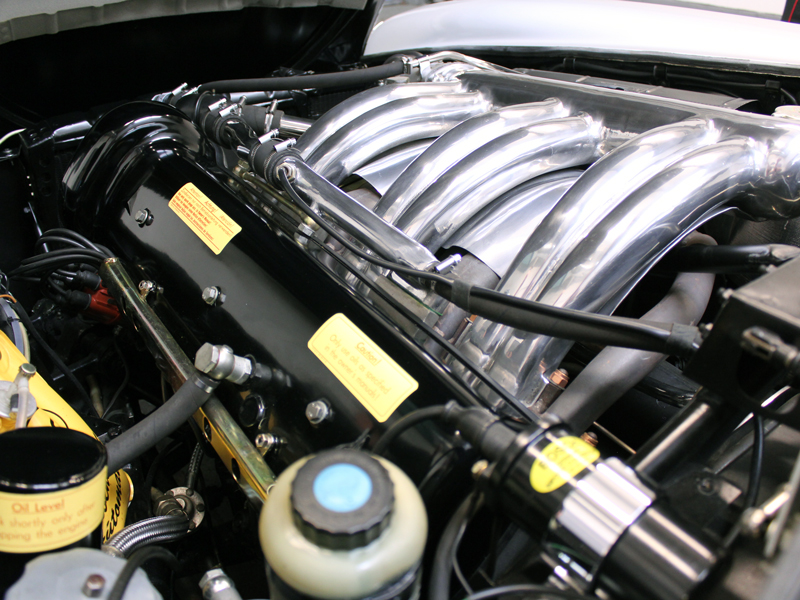 The interior chrome was intensively cleaned using Swissvax Metal Polish restoring its factory shine.  As Georg Weidmann described it, Metal Polish is perfect for this type of car:
… especially on the dashboard with delicate switches and levers. There are aluminium parts in the engine compartment too which require a high-end metal polish that is effective yet gentle and absolutely safe to use.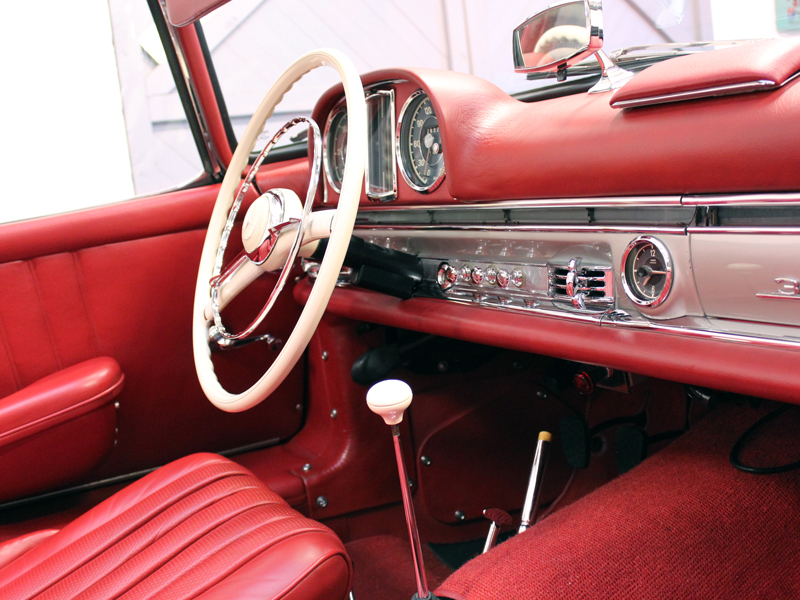 The Bakerlite steering wheel and gear stick knob were cleaned with Swissvax Quick Finish Interior, using a detail brush to get into the groove around the handle.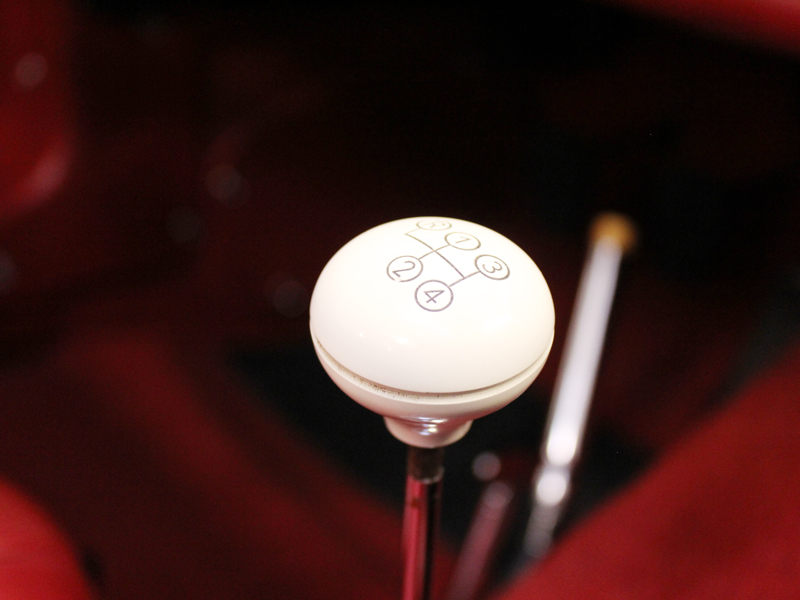 The door rubbers were treated with Swissvax Seal Feed to nourish and re-plump them. The exterior chrome bumpers and details had some traces of tarnishing, so these were restored and polished using Swissvax Metal Polish.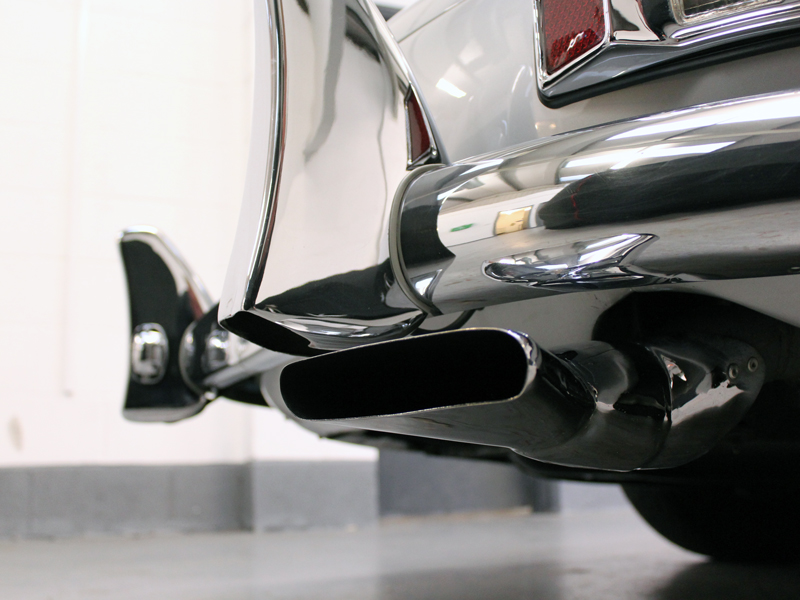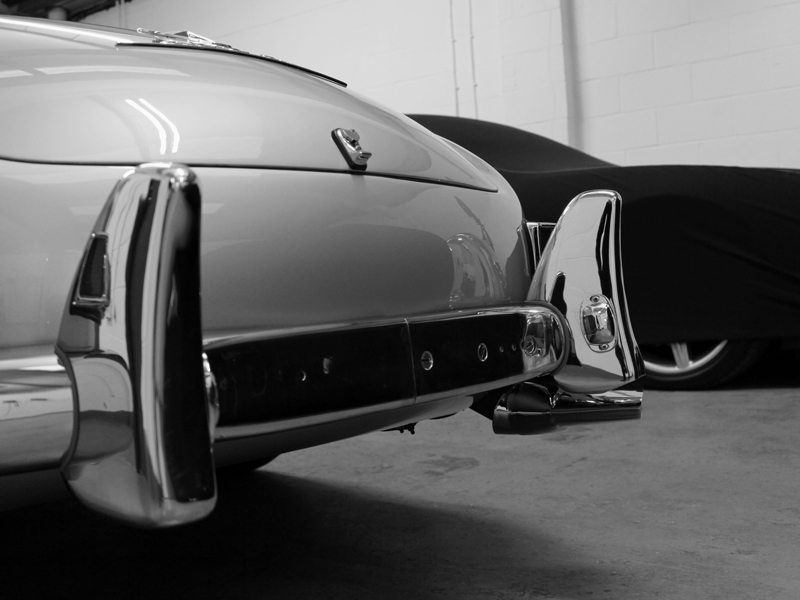 With everything else completed a second layer of Swissvax 'Swissvax Best of Show' wax was applied and left to cure before being carefully buffed off.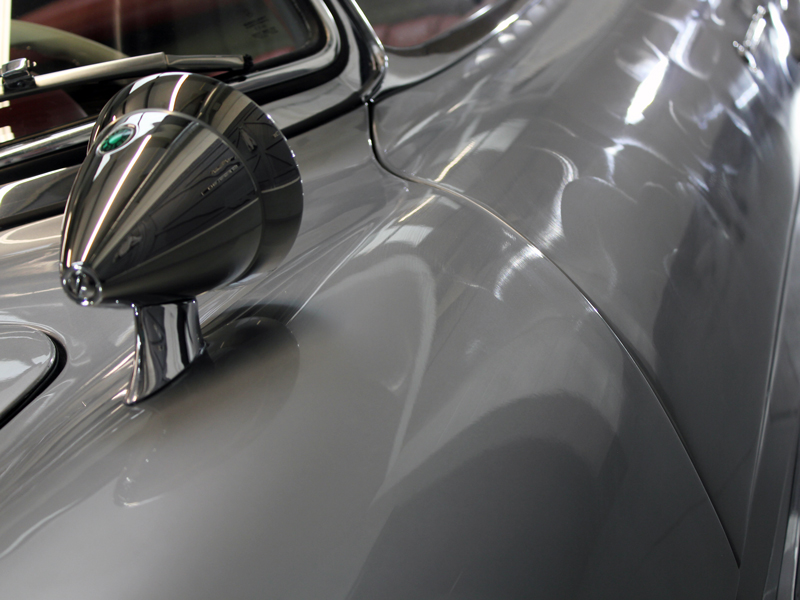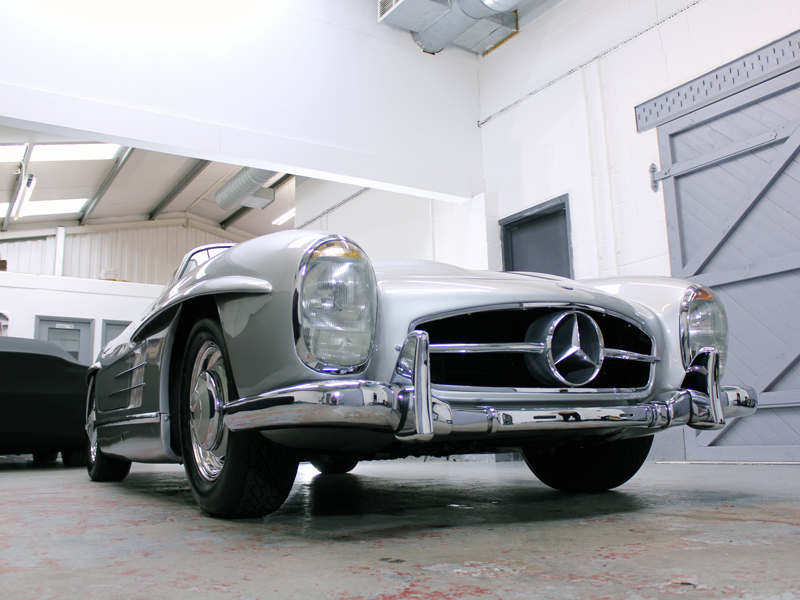 A detail brush was used to ensure there was no excess wax caught in the edges of the badging and model lettering.
The integrated system of Swissvax products not only gives spectacular results but also peace of mind that all the different substrates  on this true collectors car will truly be cared for. Georg Weidmann, CEO Swissvax AG
To ensure the vehicle was given every measure of protection possible, the owner requested a fully tailored indoor cover. Using their luxurious Prestige material, Specialised Covers created a bespoke cover to incorporate one wing mirror on the driver's side and completed it with the Mercedes Benz logo on the front. These super soft covers protect the vehicle from dust and accidental knocks when it's not being driven.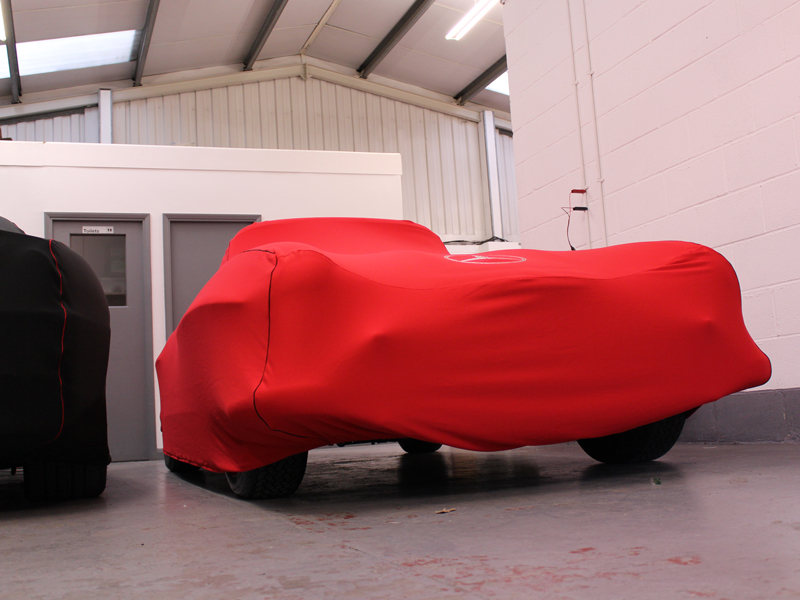 It seemed a shame to cover up the car but the Prestige is so soft it really does protect the paintwork. Swissvax products were absolutely the right choice for this exquisite car and with the treatment complete the 300 SL looked fantastic. All that was missing was Grace Kelly in a headscarf! The customer was absolutely over the moon with the results too – I think he could hear Monaco calling! – Derek Ginger, Master Detailer, UDS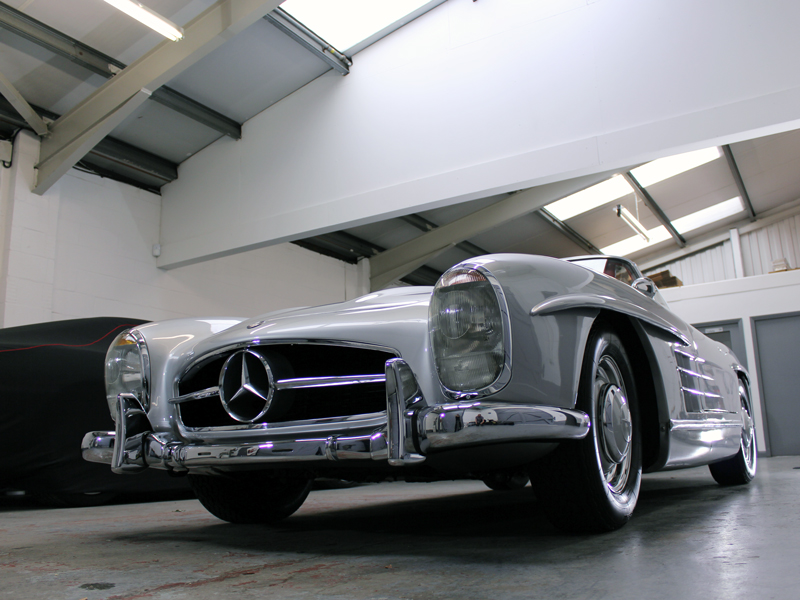 Ultimate Detailing Studio – Award Winning Detailing. Call 0845 838 1200 to discuss your requirements and arrange a free vehicle appraisal.
Ultimate Finish – Innovative Automotive Care since 1999.